Day 1: FAMILIARIZING
Julie and I left for LAX somewhere close to 6:30pm. By this time, we had already given Tahia her milk and she had yet to have her dinner. But we knew that leaving her for the next three weeks wouldn't be easy.
So both Julie and I each gave her many kisses and a long embrace. I don't think Tahia knew what we were doing; actually, she probably thought more about getting out of our hugs and onto the freedom of walking around.
In any case, we made it to the airport with no problem. In fact, it wasn't crowded at all on this Wednesday evening. We had plenty of time to eat a quickie dinner, watch as much of the Clippers-Memphis game that we could, and then get right on the pretty packed Air France plane to Paris.
We both looked forward to this trip as it would be the first time both of us would be there together (let alone do a completely independent trip like we used to of just us two since Tahia's birth). And given how tired we were from the hectic day of packing, doing work-related stuff, and taking care of Tahia all simultaneously, we were hoping the red-eye flight might help somewhat.
Unfortunately, we rarely ever sleep well on planes and this 11-hour flight was no different. Mercifully, we departed and arrived on time in Paris on Thursday afternoon at 5pm.
Even though the airport here didn't make us fill out a bunch of immigration and customs forms, it still took quite a bit of time to finally collect our bags and then try to find our way towards Paris city centre by train (putting their mass transit, or at least our ability to learn it, to the test).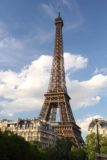 It wasn't until about 7:50pm when we finally arrived at our hotel, which was within walking distance from the Eiffel Tower. It was my first time seeing it live and I must say that it was impressive. However, Julie had reserved dinner at this place called Chez Dumonet, which was authentic bistro food for 8:30pm and we were in a bit of a rush to get out the door to meet our reservation. So we left at 8:05pm, which was barely enough time for us to get changed into something a little more decent by Parisien standards.
Of course that also meant getting familiar with the metro system. And when all was said and done, we finally made it to Chez Dumonet at about 8:45pm. Fortunately, our place was still reserved despite us being 15 minutes late.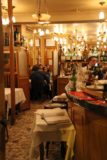 And when we got seated, we could tell right away that this was an authentic place. After all, the menu and wine lists were completely in French. Fortunately, I spent the last 6 months brushing up on my French while on the train commuting to work so it put my acquired language skills to the test.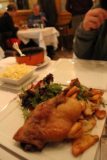 Nonetheless, Julie knew what we were having. Duck Confit, Beef Burgognon, and Souffle for dessert. The dining experience lasted about 2 hours, which wasn't surprising given how busy they were but also given how seriously the French take their food and wine and the dining experience as a whole.
In other words, nobody's in a rush when it comes to dinner.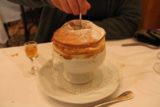 The food was excellent. It was no doubt the real deal. Even the Grand Marnier Souffle was excellent (it had an eggy texture) and not like cake, which some restaurants back at home would try to convince you of.
Although the meal was pricey for bistro food, we knew Paris wasn't cheap. Plus, getting to talk to the waiters in French felt empowering. In fact, we found out that attempting to communicate in French when we were asking for directions to get here helped a lot as well, especially when we bought a 3-day Paris Metro pass in which case the lady seemed more receptive to me for trying than when Julie initially tried to ask her questions in English.
So I told Julie with a wide grin on my face, "It feels good to be needed, because you're gonna need me a lot on this trip…"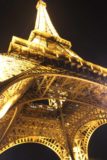 It was about 10:45pm when we finally left the restaurant. Getting pretty familiar with the metro system, we made it back to the Eiffel Tower area pretty quickly (less than 15 minutes or so).
We could've returned to our room to sleep right away and try to adjust our body clocks to Paris time, but with the weather kind of cooperating this evening (with rain in the forecast later this weekend), we tried to seize the moment and check out the Eiffel Tower under the lights.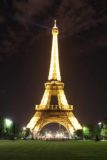 So we did that, taking what photos we could with me struggling with the night portrait shots (the EOS 7D didn't have a night portrait macro mode like the EOS 20D, which really annoyed me). I guess I'm just not good enough with the camera to set it up for night portrait on the fly.
Anyways, it was finally 12:25am when we got back to our hotel. Julie meant to shower and brush before sleeping, but she just crashed onto the bed. Indeed, our difficulty in sleeping on the plane only spilled over to now when we finally got to catch some zzzs in a bed.
Despite our jet lag, we couldn't wait to see the city together for tomorrow's full day. Better set the alarm to ensure we don't oversleep…
Visitor Comments:
No users have replied to the content on this page