Day 2: TOURIST MODE – ON
It was 9:15am when I awoke. I was very surprised to notice that our alarms didn't seem to have done the job to wake us up. It was either that or we never heard it go off at 8am. Still, I was groggy as I forced myself into being alert. I also woke Julie up to ensure we wouldn't spend today in our hotel room sleeping!
In any case, the skies looked ominously darker than yesterday. Even though the forecast called for partly cloudy skies, it was looking like it might be raining today.
It was 9:55am when we got out of the room. Now it was time to flip the switch. Tourist mode – on…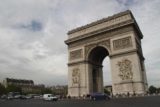 First and foremost, we were getting onto the Metro and got off at the Charles de Gaulle Etoile stop. When we got up out of the subway and onto street level, there was L'Arc de Triomphe right before us.
It was hard to get photos as cars would zoom on by the big roundabout. There was even some stairs going back under the road then re-emerging right underneath the four-sided archway.
We wasted no time snapping a few photos and getting underneath the structure. It seemed like the morning sun managed to show itself so we had some glowing sunlight shining right on one of the south faces of the structure.
Way out north, we saw La Defense, which was a big squarish-looking arch.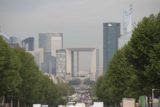 After getting our fix of the structure, we proceeded to walk south along the Av. de la Champs Elysee. There was some patisserie that Julie read about that she wanted to try called Laduree. It was known for macarons. I guess who needs a Thomas Keller restaurant when you can have the real thing here in Paris?
In any case, we got ourselves a few mini-macarons, and I guess Julie set her expectations a bit high so it wasn't as good as the trouble it took to get here. Apparently, the main store was also being renovated so it looked like they were operating out of some portable structure just across the sidewalk from the main shop.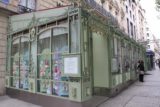 The place left a bad taste in her mouth when she tried to take photos of some macarons in the shop, but then someone in the store made her delete the photos she had just taken. We weren't sure what the big deal was, but I wondered what would've happened had Julie just left the photos on there and left. What would they do?
Next, we walked back to the train station and started to go on the yellow line 1, which seemed to following along the Seine River on the north side while stopping at all the main attractions bordering the river's northern banks. Julie picked up some croissants as our breakfast on the go.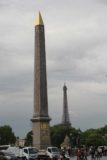 At 11:40am, the next stop we arrived at was the Place de la Concorde when we realized that we overshot the Grand Palace. We took a few street level shots of the Egyptian obelisk here as well as some fountains. We then briefly checked out the Jardin des Tuilleries before hopping back onto the Metro to backtrack to the Grand Palace stop.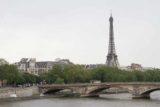 Once we got off the Grand Palace stop, we saw what appeared to be a pretty famous bridge over the Seine River fronting the Eiffel Tower. There was some lady using a tripod filming herself doing some kind of reporting. She seemed to have found a pretty choice spot so I took a few photos from the same spot but I tried not to disturb her work.
We walked towards the Grand Palace as we went past a couple of museums it seemed before crossing the Seine and seeing the Grand Palace before us. However, street level photos were lacking and it started to rain as we were about to leave the area and head back to the metro. It was about 12:35pm when we left.
Next, we took the Metro line 1 to the Louvre Museum stop. As we were passing amongst a bunch of high end fashion stores, Julie saw there was a food court.
In a bit of a surprise, Julie wanted to eat at this food court, which I thought was strange considering there was so much better authentic French fare than this food court.
Not surprisingly, we had a quick lunch at some Spanish paella and tapas stand and not surprisingly, the food was worse than some of the Spanish places we've been to at home.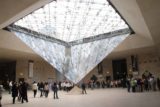 When we were done with the meal at 1:10pm, we proceeded towards the Louvre underground entrance where we got to take a few photos of some upside-down pyramid that reminded me of something we saw from the Tom Hanks movie on the Da Vinci Code.
Once we were done with that, we headed up to street level where we could see the glass pyramid before us surrounded by some architecture that I believed was the Louvre itself. By this time, the rain had stopped again and the sun was coming out.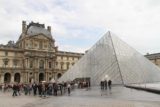 Since neither Julie and I were museum buffs, we didn't feel the need to queue up behind the hordes of other people waiting to get in. So we snapped a few fun photos of Julie putting the pyramid down to size before walking along the Seine River in the direction of the Notre Dame Cathedral.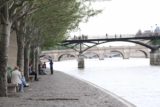 At long last Julie and I were having a little stroll alongside the Seine, but it didn't seem to be as laid back and as romantic as I had anticipated. Perhaps it was the grey skies and the fact that the river seemed wider and the sights at this part of the river not as interesting that we didn't linger at river level for too long.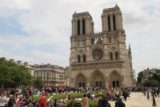 We continued walking alongside other tourists and cars as we finally made it to the front of the Notre Dame Cathedral. When we finally saw the grand facade of the cathedral, I couldn't help but be reminded of Royce Hall at UCLA, which was obviously a bite off of the real deal here in Paris.
The lawn area right in front of the Notre Dame Cathedral was quite crowded so we took our photos and continued heading in the direction of the L'Ile Saint-Louis. This time though, all the walking we did plus the appearance of the sun made us have a little craving for some ice cream.
It turned out that a handful of my coworkers recommended us having ice cream at this place called Berthillon. One gave us very good advice about not falling for a bunch of joints that were selling Berthillon ice cream but they weren't the Berthillon shop themselves.
I guess it was a good sign that the further east we went, the more people we saw holding cones in their hands eating the ice cream. It must've meant that we were getting closer to the real deal.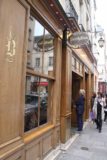 It wasn't until about 2:55pm that we finally went right to the Berthillon Ice Cream Maker's (Glacier) shop. We treated ourselves each to a cone of two scoops. I got two scoops of French vanilla bean while Julie got a couple scoops of a mango and a strawberry sorbet. She wasn't as happy with her ice cream, but she definitely liked mine as it was definitely authentic French vanilla. However, it was a bit pricey as each scoop was tiny and at least 2-3 euros I think.
It was a good thing we got our ice cream when we did because then the next wave of customers showed up and inundated the front of the shop.
Next, we got off the L'Ile de Saint-Louis and walked along the Rue de St-Germaine since it seemed like the road that was near a creperie (called Little Breizh) that she wanted to check out as well as another bistro restaurant (Chez Rene). Those food indulgences were going to be for this evening, but at least we scoped out the area and knew where to go.
By about 4:35pm, we finally made it back to the Mercure Hotel. Even though it had been a pretty long day of walking and sightseeing, we still hadn't done any touring of the Eiffel Tower during daylight. So that's what we had set out to do next.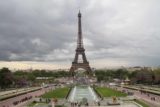 By 5:25pm, we left our room and proceeded to walk the familiar streets towards the base of the Eiffel Tower. Despite the non-optimal weather, there were still heaps of people lining up to go up the elevators reaching higher up the steel structure. Thankfully, we weren't going to be one of them.
After a few more minutes of walking, we followed the crowd towards some overlook in front of some palace-like building with a view over some fountain and towards the Eiffel Tower. So we were killing some time checking out the place and taking photos, but we figured perhaps a night photo from this spot later in the evening would be the way to go.
It was about 6:10pm when we left the Eiffel Tower at the Toscadero Metro stop and headed back down along line 6 towards line 10. Then we headed east on line 10 towards the Maubert stop where we would have to hoof it towards Chez Rene.
We got to Chez Rene a few minutes early so we just killed time by walking towards a view of the Notre Dame Cathedral from across the Seine River. But it didn't take long before we had to get back to Chez Rene.
Once inside, we were promptly seated and had another round of Duck Confit along with Coq au Vin. After having this meal, I think I was starting to get bistro'ed out, but at least it was another chance for me to practice my French with the waiters as well as not get hit in the wallet as hard as last night as this meal was more on the order of about $55USD or so (yesterday's was closer to $120USD).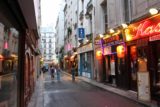 We were done eating at around 8:30pm, and at this point, Julie was determined to go to the Little Breizh for some crepes. When we finally got there, the place was crowded. We didn't have to wait long to get seated, but the seating was tight. I was basically squeezed between a lady behind me and the table right up against my gut. My camera was off to the side around my shoulders and for short while I was obstructing traffic of the waitress' thoroughfare.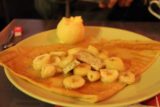 In any case, Julie and I split a crepe called the bananec, which was kind of like banana flambee though we added on a scoop of yummy French vanilla ice cream plus we also tried some Breton Apple Cider. Apparently, crepe and apples are big in the north of France (especially in Brittany) so I guess it wasn't surprising that I think Breizh had something to do with being from Brittany. I had also heard that Normandy was known for crepes and apples as well, and that's the first department we're visiting once we leave Paris' Ile de France Department and start touring the rest of France.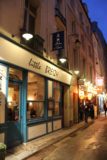 One of the waitress' shirts had an interesting saying on it that said something like "why learn American when tomorrow everyone's speaking Breizh?" Funny. I tend to like regional or international T-shirts, but I don't think I'd pass for being a Breton.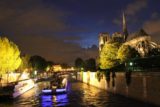 After leaving the Little Breizh, we walked back to the Seine River for a night view of the Notre Dame Cathedral across the river. Now with the night lighting, the scene took on a different flavor. Still, it was picturesque and colorful.
Then, after having our fill of this part of town, we took the Metro back to our familiar hotel where we could use the toilet before going back out for one last look at the Eiffel Tower on the north side.
However, as we were leaving the station where Line 10 connected with Line 6, we saw some young men in the act of doing graffiti. Yet I didn't think these were the typical troublemakers trying to deface stuff just for kicks. After reading some of what they wrote, it seemed like they were making political messages about banks, nuclear power, etc. It definitely seemed like they were trying these tactics to dissuade voters from voting for Sarko (Sarkozy) in the runoff elections coming up.
In any case, I was a bit amused by this bit of so-called "creative intervention" where someone does something to confront or motivate others to act about a particular issue.
At 11pm, we were back on the town for that last bit of night photography of the Eiffel Tower's north face.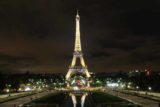 We took the metro to the Trocadero station where we were right at the viewing area of the fountain as well as the lit up Eiffel Tower. We were too late for the 11pm sparkly lights, but we stuck around for the midnight one.
It was too bad that I didn't bring my tripod for this trip in the interest of packing light, but maybe it was a little too shortsided on my part. Taking photos in the dark without a tripod was difficult. It was also not easy for Julie and I to take couple photos.
At 12:25am, we finally made it back to our room where we'd spent the next couple of hours taking a shower, brushing our teeth, and deciding whether or not (and how) to visit the Versailles Palace tomorrow…
Visitor Comments:
No users have replied to the content on this page