Day 3: UNFORESEEN EXPENSES
On this morning, both of our alarms woke us up. Today, Julie was keen on getting an early start and visiting the Chateau de Versailles so she saw to it that we were out the door as soon as possible.
It turned out that by 7:30am, we had left the hotel. Then, we promptly headed to the RER station, which happened to be accessible from the familiar Bir-Hakeim station we'd been using a lot on this trip.
And it looked like we had caught the 7:40am RER train just in time as it was departing. From yesterday's research, we looked for the train with "VICK" across its front, and even though the TV monitor at the RER C station suggested a different quai or platform, it was a good thing we saw those letters. And once we hopped on and saw the next stop when it got there, we knew we were headed in the right direction.
The train ride was pretty quiet and uneventful. Before we knew it, we were already at the train station for Chateau Versailles-Rives Gauche by about 8:10am. But that was when we realized that our 3-day pass wouldn't let us out the turnstiles as it was apparently outside Zones 1,2, and 3.
The lady behind the window seemed annoyed that we would be all the way out this way with invalid tickets, but we were perfectly willing to pay for the tickets if someone was manning the window. Otherwise, us and a few other people were stuck.
Julie was even stuck between one of the aisles as gates on both sides wouldn't open for her.
Eventually, the lady behind the window just opened the door and let us through.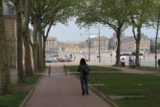 By that point, we hastily walked looking across the street for a ticket window that would sell tickets to the Versailles, but no one was open at the time.
So it wasn't until around 8:30am when we made it into the entrance area for the Chateau Versailles. There were already quite a few tour bus loads of people along with others waiting along with us to purchase some tickets. Unfortunately, the ticket window wasn't open until 9am and so it was a long wait considering that more and more tours were parading onto the queueing up entrance line. Note that the entrance line and the ticket line were two separate things so that meant we'd have to wait in line twice.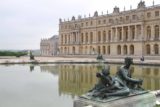 Both Julie and I took turns taking photos of the garden behind the Versailles castle (so one was left behind to hold our place in line). But as grand as the scene was, for some reason it didn't really do it for me. Perhaps it was my bias towards natural things and not ways people can misspend public money towards extravagant things.
Pretty much by around 9:15am, we had gone through the metal detectors, and rushed our way into the main chambers of the castle.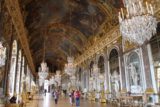 We pretty much bee-lined it towards the famed Mirror Room, which was really a long corridor of sparkling chandaliers hanging beneath frescos as the hall was flanked by mirrors on one side and windows on the other. I'm sure this wasn't the most optimal or relaxed way of visiting this attraction, but for me, I certainly didn't mind the abridged visit. However, I did mind the price being paid for something so contrived.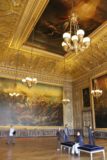 Eventually after going through all the main chambers, we made one last loop going through the Dauphine area. This area was also gaudy but not quite to the same extravagance as that of Louis' ones.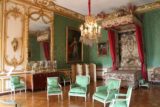 Eventually we were done with our Versailles visit in something like around 1 hour. But I was kind of glad we got this place out of Julie's system (by the way, her first visit to a chateau wasn't Versailles as she had originally thought). I couldn't talk her out of this, but at least we were at the train station at about 10:25am.
Unfortunately, we happened to have taken the wrong train so we had to get off at Porchefontaine a few minutes later. So there we were waiting for about 17 minutes at Porchefontaine, which really spelled like piss. I had never known that an outdoor train station like this could be so smelly, but I guess derelicts or homeless (which I believe are consequences of social problems) here could be anywhere whether it's a rich country or poor country.
So mercifully at 10:42am, the Juvisy-bound train showed up and we proceeded to ride this train all the way back to Champs de Mars where we returned to our room by 11:15am. There, we used the toilet and noticed that the Mercure staff finally fixed the clogged bathroom sink that we had been dealing with the past couple of nights.
By 11:40am, we returned to town. This time, Julie and I took the metro and went hunting for a place to have authentic and good escargot for lunch. Julie's first choice was this place called L'Escargot Montorgueil.
We spent about a solid 40 minute or so on public transport taking multiple connections before finally showing up in front of its facade at 12:30pm. The commuting included what seemed like the sardine line on Line 7, which was always packed with people. It was probably as crowded as we've seen the trains in Paris so far. Perhaps it was because today was Saturday?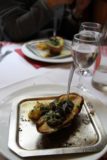 In any case, the desired escargot restaurant was closed. In talking to a worker at a neighboring restaurant, from what we could understand, that restaurant was either closed for three months or had been closed for three months. Whatever the case, we weren't eating at this place today so we had to find another escargot alternative.
Julie eventually settled on this place called Au Bistro Rue de La Marche St Honore. This cozy little cafe served up some escargots in baked potato, which apparently was the way it was originally done in Bordeaux. We learned about this place from TripAdvisor, which Julie consulted on the previous two bistros as well.
Roughly some 15 minutes later, we arrived at the bistro.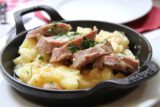 We each enjoyed the escargots in potato, but I think Julie was still bummed about not having the escargots in a shell with lots of garlicky butter and a lemon kick (Julie's preferred way was apparently the Burgundy-style escargots). There was also some kind of Lyonnais Sausage over potato that we had as well, which was pretty good.
However, the 4 euro (almost $6 USD at current rates) water was a bit of a shocker. Maybe asking for l'eau plat doesn't necessarily mean tap water. Either that or they don't do tap water here.
At 1:35pm, we were sated and proceeded to take the metro towards La Cite, where we would check out the St Chapelle Cathedral. We had seen some pictures of the impressive stained-glass windows in the interior of the cathedral so we figured we mind as well get this last bit of sightseeing in.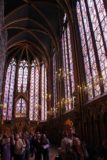 After waiting in line to buy tickets at 2:05pm, we were finally done photographing St Chapelle as we were back at the metro at 2:50pm. Unfortunately, there was scaffolding from restoration work in one section of the stain glassed windows inside of the high chamber while the outer facade also had some ugly shrouds around it as well.
It was a bit of a bummer, but despite that, the cathedral and its sheer scale of stained-glass windows were pretty interesting.
Once again, we were back at the room at 3:25pm. This time, we took out some balm to get for Julie's mom who contended it was sold in the Paris Chinatown somewhere. And so 20 minutes later, we left the room despite fighting a bit of fatigue. We still had some "errands" to do regarding getting Julie's mom's wish list so off we went.
After some pretty extensive metro hopping, we were at the Tolbiac stop at 4:20pm. The area looked bad, and I guess it shouldn't be a surprise considering everywhere we've been where there's a Chinatown, it tended to be in some of the city's worst areas.
Nonetheless, after taking a bad detour and costing us some 40 minutes, we finally got back on track and into the Chinatown area (13th Arrondissement). That was when Julie and I were busy looking for apothecaries specializing in Eastern medicine, but we couldn't seem to find any. And after asking several people (it definitely helped speaking Chinese since my French has plenty of room for improvement), Julie's mom's requested balm was nowhere to be found.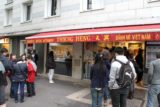 The weather started raining in earnest almost the whole time we were in Chinatown, and it seemed like the skies couldn't decide whether to just commit to rain or sun. Nonetheless, after striking out on our errands, we did try some delicious Vietnamese banh mi.
In fact, I wondered aloud whether the Chinatown here was more like Little Saigon in Garden Grove, CA. Perhaps it was because there were many Chinese-Vietnamese refugees who ended up in France. Julie's relatives, whom we didn't have time to visit on this trip, are residents of Paris and were probably one of those who found their way here by way of Southeast Asia.
After about 6:15pm, we made it back to the Tolbiac station where we waited to catch the train back to our room so we could unload then make a beeline for some Christian Constant bistros that Julie was itching to try out.
It was 6:40pm when we left the room, but we made a bit of a miscalculation taking mass transit instead of just walking past the Eiffel Tower. The direct walking route would've been much faster, but it turned out that we didn't arrive until about 7:30pm.
By then, Les Cocottes (Julie's first choice) was busy and we'd have to wait for 30 minutes before we got to try out the food.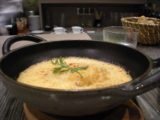 We had some different fare like Langoustine Ravioli and some kind of sea bass with clams and thyme dish. It wasn't filling, but it was pretty good. We were even exchanging foodie recommendations with a pair of Americans who happened to be sitting next to us.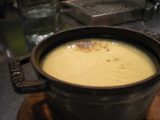 After finishing off Les Cocottes, we then headed back in the pouring rain towards the hotel, but not before Julie decided to have a second dinner at some place called "Dome" or something like that.
Unfortunately, we were blindsided by another 6.5 euro of 1.5L Evian water in a glass. Once again, we'll have to figure out how to just insist on plain water (or maybe they know it but it's a way of ripping off unsuspecting tourists?).
In any case, we did have escargot as well as French Onion Soup – two more classics we hadn't really had on this trip so far.
It turned out that the food at this place wasn't great, and perhaps we should've known better considering its menu was in all sorts of languages, which often times means tourist trap. Moreover, we had spent another 27 euros or so (think $40 USD) on top of what we had already had at Les Cocottes.
So when we were done eating, we paid in cash, and then walked back to the Mercure Hotel. The whole time I was wondering whether the weather might let up a little when we get to Etretat tomorrow.
Both of us really looked forward to going to France's countryside, but the question still remains whether the wet weather we'd been having will persist…
Visitor Comments:
No users have replied to the content on this page