Day 4: FATAL FAUX PAS
We awoke to our 6am alarm. Although we probably could've easily ignored it and kept on sleeping, I found that getting up at this hour wasn't as difficult as the previous two days despite us sleeping after midnight last night. Perhaps the effects of jetlag were wearing off with this being the start of our fourth day on this trip.
Today was the day we were supposed to say farewell to Paris until the very last night of the trip.
But at the same time, we wanted to videoconference back home with the internet connection so maybe we could see Tahia and she could see us. We were starting to get concerned that maybe she wouldn't recognize her parents anymore given her short attention span at this age.
So we managed to get the Skype set up and were able to connect with them at around 6:15am. It was about 9:15pm back home at the time so Tahia was sleeping. Instead, we spoke to both our moms. It was fun to see how my mom reacts to Tahia's behavior especially when compared to my brother's son. They're definitely two different individuals, but my mom indicated that Tahia and Joshua seemed to be learning more habits from each other! They were even baby talking to each other in which no one else could understand.
The call lasted roughly 30-45 min. We told them that perhaps we could try again some 12 hours later or so. See if we could finally see Tahia again, but that would be contingent on whether we could get internet at our next place, which was Etretat.
It was about 7:45am when we were done packing and left the hotel. It was now drizzling and wet, but at least it wasn't showering like last night.
When we got to the Bir-Hakeim station, our 3-day metro pass no longer worked. I guess they don't go by a 72-hour time period. Instead, they go by calendar days.
Oh well, we bought another one-way metro pass at close to 4 euros for the both of us. Still not bad considering how far we had to go.
As we were moving further and further away from the Eiffel Tower as seen from the line 6, and I guess that was sort of symbolic that we were about to leave the stereotypes of France (especially this notion that Paris is pretty much France) and really start to see the rest of the country.
We ended up going up to the Etoile stop which we had expected to transfer on Line 1 to link up with Gare de Lyon train stop. Unfortunately, Line 1 was closed until 10am (apparently they've been doing this on this line for all Sundays this year based on what I was able to translate from the closure signs).
Fortunately for us, there was an alternate train we were able to take, which was the RER A4 line from Etoile to Gare de Lyon. That pretty much saved us for this morning.
At 8:20am, we arrived at the Gare de Lyon, then we started walking around looking for the car hire place, which was supposed to be within or near the Gare de Lyon.
We'd eventually find it (a Hertz office) and got our rental car at 8:55am. But as we were loading up the car with our stuff, we were dismayed to see that the car charger for our GPS was missing! I swore it was in my bag when we left home, but it was conceivable that it was forgotten in the hectic hours we were trying to get ready for the trip while at the same time tending to Tahia as well as some other errands that were going on at about the same time.
In any case, c'est la vie. We were now in damage control mode.
How would we be able to navigate through Paris to get out of the city and then out into the countryside without our GPS to aid us?
So after a bit of tense moments trying to figure out on the fly what to do, we decided to just swallow the cost for this 3-day rental and use the Hertz GPS at some 20 euros a day (almost $30 USD). Thus, we at least wouldn't be flying blind. However, the interface on that GPS was different than ours (even though they also use Garmin Nuvi). So that meant I couldn't upload waypoints from my laptop onto their unit nor could we try using their cable for our GPS so we would have a way to download our trip log and any additional waypoints we would've marked. Oh well, at least we still had the all important feature of navigating.
So with that out of the way, we finally left in the rental car at 9:50am.
The drive out of the urban jungle of Paris wasn't trivial, but at least the GPS did help us navigate out of it. Apparently, this Hertz GPS also gave us a heads up if there were mobile speed cameras (something I doubted our own GPS would be able to do).
The drive out into the countryside was a bit of a pleasant surprise as there were more trees and lots of farms. It contrasted mightily with what we were used to seeing for the last three days in Paris.
The roads were quite smooth. They were so smooth that it was pretty easy to doze off and be lulled to sleep. Julie was trying to keep me propped up with some French radio, but I don't think we were able to pinpoint the same station on SNCF's website that Julie liked when I was researching train schedules.
Another thing that I was already starting to realize was that in addition to the high gas prices (something on the order of close to 2 euros per liter), there were also numerous autoroute toll stations. I'm sure these would add up pretty quickly. I guess the smooth roads were a result of paying back into it for its use (something we could certainly learn and borrow back at home).
At 12:05pm, we were near the city of Le Havre. We didn't go all the way to the city and opted instead to head straight for Etretat. Under the partially rainy skies, we were wondering if our experience here would be marred by bad weather.
Whatever the case, it was 12:45pm when we finally arrived at the tiny beach town of Etretat, which was known for its majestic cliffs with three notable natural arches.
Unfortunately, free parking wasn't easy to find and we ended up parking on some inclined road on the western side of town then lugging all our stuff back down the hill towards the Hotel d'Angleterre (the walk probably took at least 5-10 minutes with some non-paved pebbly stretch of trail which meant they beat up on the luggage wheels).
And even the suboptimal parking spot we had required us to get lucky with someone else leaving. We saw other places that were our first choices like Hotel Dormy and the Detective Hotel, but the former was too expensive compared to the one we chose while the latter one was fully booked.
Well, at least I didn't expect to be driving while we were in town.
Our arrival was still too early for check-in. The proprietress was quick to point out that we should go see the cliffs right now because the sun was out. Apparently, her suggestion seemed to indicate that there hadn't been sun for a while.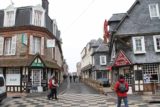 So we heeded her advice and got to it. I wouldn't say it was totally sunny as it was still quite overcast, but we could see that the skies were lightening up.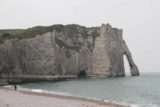 And in a few minutes, we passed through the quaint and charming town center of Etretat before finally getting right at the beach where we could see the grand Falaise d'Aval. We also saw a smaller one looking in the other direction (Falaise d'Amont), but we could see that it was currently high tide so walking under these arches or even getting close to them wouldn't work.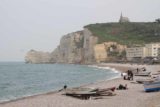 When we were done with our quick photo orientation of the lovely beach and cliffs at Etretat, we went back into town for a lunch at this place called La Flotille. We knew that it was another one of those local joints since the menu was entirely in French and the workers didn't seem to speak much English. But that was OK since I once again had to put my French lessons to get by.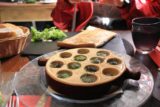 The food was pretty good (the escargot was definitely the kind Julie looked for in Paris but couldn't find). We also tried a salad, which also included foie gras as well as smoked duck, ham, and some other stuff including the greens. Meanwhile, Julie got a salmon crepe. We didn't have any room left for their delicious-looking dessert crepes, however.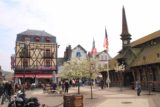 We then walked around the town seeing some of its more charming spots. The place was quite picturesque and happening, but it wasn't chaotically busy like in Paris. Julie appreciated breathing the clean air though you still can't say you couldn't smell the smoke of cigarettes.
After our brief town orientation we returned to the Hotel d'Angleterre at 3:10pm where the proprietress showed us to our chambre (room) while indulging me on practicing French.
Julie napped until about 4:30pm. At that time, we took our laptop back down into the petit dejeuner (brekkie) room of Hotel D'Angleterre where it seems to be the only place there was internet in the accommodation (actually, it seemed the whole first floor and even the front garden area were ok). When we finally connected to Julie's mom, we had just missed my mom (hence no videoconferencing with her iPad) and so we missed yet another opportunity to see Tahia and for her to see us.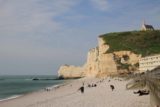 So by around 5pm, we went back into town. The weather seemed to be improving though still hazy and overcast, but we could see the sun was trying to break through. The temperature was still chilly though so it required jackets.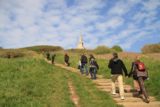 We ended up walking back through Etretat town and then go up the stairs to some kind of small church or something at the top of the cliff overlooking Falaise d'Amont. At this time, the tides looked like they were low so I was looking forward to getting a closer look at the smallest of the three arches in the area.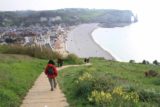 The views of the town from up the top of the cliffs were dramatic. We could see the attractive Falaise d'Aval as well as the context of Etretat town and the stony beach fronting it. The sun was still trying to break through, but it gave me hope that the weather for tomorrow would improve.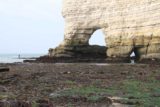 After taking a bunch of photos up here, we then walked on the pebbly beach past some lovers unashamed of their PDA (public displays of affection) while marveling at the white cliffs and some of the erosion on display. We even noticed a section of the cliff that looked like it had shed a real big chunk.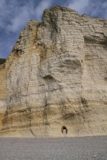 We also noticed a pair of what appeared to be man-intervened entrances. At the time, we weren't sure if they were there to discourage tourists from going in or if they had some kind of historical value to them (it turned out that they were probably there during World War II as bunkers or hideouts). Whatever the case, we weren't going in.
Eventually, I made it to an exposed rocky section fronting Falaise d'Amont. Unfortunately, the wet and jagged rocks here were too slippery and wet. Plus, they were covered in both algae and seaweed that I knew that I'd be unnecessarily risking damage to body and equipment if I had kept going just to get the full frontal view of Falaise d'Amont.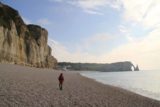 So after snapping photos from this vantage point, Julie and I walked back into town, grabbed an ice cream, and then were back in our room at 6:40pm. I decided against pushing my luck at going towards Falaise d'Aval even though now was low tide. I guess I'll try tomorrow first thing in the morning when the low tide should be around 7:15am.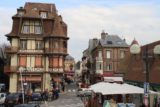 Now, we were going back into town for dinner. I lazily decided not to bring my camera but that would be a decision I would later regret.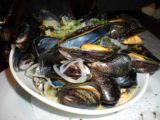 Anyways, we had dinner at La Bicorne, which was an interesting meal in which each of us got a different fixed price menu. It turned out that my limited French prevented me from realizing that in my fixed price menu, I had mussels (moules) for both appetizer and main so I was totally musseled out. Julie's selections were delicious as her fish dish was fresh and tasty and her salmon spread appetizer was different and delicious as well. We were both stuffed and tired when we were done eating at this restaurant at 9pm.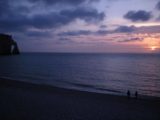 With the sun still out, we decided to check out the beach one last time this day. That was when we saw that there was a pretty sunset that was happening. It was cold this evening so we didn't stay for the full sunset, especially since it looked like the sun was hiding behind the clouds in the distance. However, I was kicking myself for not bringing my DSLR to dinner and hence to this event. Who knows what the weather would be like tomorrow?,br>
We were back at the room at 9:30pm where Julie continued to research some places to eat tomorrow (that was when we figured out that the garden area had a decent internet connection) while I was busy unwinding and composing this entry to the travel journal. And yet despite the relaxing pace to Etretat (especially when compared to Paris), it still wasn't until midnight when we went to bed…
Visitor Comments:
No users have replied to the content on this page