Day 5: ETRE EN ETRETAT
I awoke to my 4:30am alarm, but it was still dark outside. So I took my time quietly getting ready to take advantage of the morning low tide to get close to both of the biggest and most scenic arches in Etretat – Falaise d'Aval and Manneporte. I was being discrete so as to not disturb Julie, who needed some sleep as I believe she was sleep deprived (as was I) from a combination of jetlag and sightseeing in Paris late into evening up to this point.
After dilly dallying a bit in our room, I finally left at 5:20am.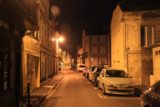 The very first thing I heard were the gulls outside. I guess when it's quiet like this, the sounds of Nature take over.
It wasn't until I got past the town when I finally heard the mixing sounds of gulls added with waves. There were also a fisherman or two dragging their boats across the pebble beach and onto the frigid English Channel.
I had to don my headlamp given the low light, and I was a bit concerned about walking on the slippery rocks covered with algae and seaweed. When I was confronted with such terrain en route to get closer to the arch, I wasn't sure if I should continue. I'm sure the fisherman must've wondered what this crazy tourist is doing.
Eventually, after some ginger walking, I ended up inside a large cave-like alcove at 5:55am. The first thing I noticed was that there was a metal ladder leading up to a ledge with some signs. Normally you don't put signs somewhere unless there was some indication that the area is accessible. So I decided to go up the ladder and get up to the signs to read them.
The signs were pretty much warning signs though one that did catch my eye said that this ledge atop the alcove was high ground in case one got stranded due to high tides. I could only imagine how harrowing it would be to be caught up there at high tide, especially since it would be nearly 12 or 13 hours before the tides get low enough that you could probably make your escape.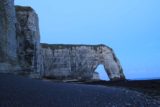 Next to the signs was a tunnel, which I took. Good thing I had my headlamp with me because it would've been pitch black without it. On the other side of the tunnel, there were a pair of openings with a view of an enclosed beach as well as the second arch called Manneporte.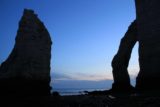 As I held onto some railings on my descent into the enclosed beach, I realized that with the low light, it was hard to take photos. However, I did manage to get some moody shots from beneath Falaise d'Aval.
En route to the backside of the underside of Falaise d'Aval, I noticed a little tunnel. I wasn't sure if it was another tunnel that would get me closer to the arch's belly, but it turned out that the tunnel got smaller and smaller even though I could see an opening. I didn't feel like crawling.
One thing that was interesting in this tunnel was a bunch of molluscs clinging to the tunnel walls. I wasn't sure what these organisms were, but I'm sure they were abundant due to the fact that few people come in here.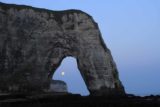 As I got out of the tunnel, I continued along the enclosed beach. That was when I started to notice that there was a full moon through the span of Manneporte.
Are you kidding me?
This was one of those rare moments where you get to witness a pretty rare event when a celestial body can be seen through a natural arch.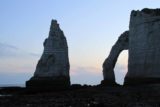 Of course I took heaps of photos of Manneporte and full moon as well as turning around to shoot Falaise d'Aval.
As the morning continued, there was more light becoming available. So that made photography a little easier.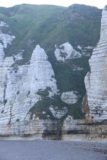 Continuing along the pebble beach, I noticed there was a ladder at the base of the white cliffs that seemed to lead up a very steep "trail" probably to the top of the cliffs. I wasn't about to take it though as I saw up ahead there was a ladder and railings that took me under the massive span of Manneporte.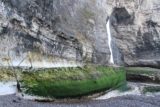 As I got closer to the opening of Manneporte, I took advantage of the railings which kept me from slipping on the slippery algae-covered surface leading to a dropoff. Once I was within the span of Manneporte, I took as many photos as I could of the Falaise d'Aval through the span of Manneporte. The wide angle of the lens I had was helpful here.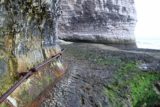 On the other side of the arch, there was another ladder, where I descended onto another enclosed but small alcove. It appeared there was a trickling waterfall, but I wasn't sure if it was the one I had read about previously.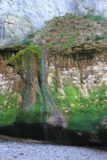 In any case, I took photos of it, and I tried to proceed further up another set of precarious railings. However, it appeared that further progress was non-trivial. I decided I would turn around here and start heading back to Julie so I would be at the room by 8am as promised. The time was 7am.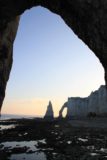 As I carefully made my way back, I started to see the warm glow of the morning sun start to strike parts of Manneporte. I couldn't wait for it to fully glow so I took what photos I could before moving on. The same could be said about the spire behind Falaise d'Aval.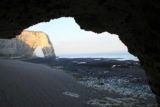 Eventually, I got back through the tunnel, noticed there was an arrow pointing me towards the ladder (further proof that this is a pretty accessible area), and took advantage of the morning light to take more photos of the front side of Falaise d'Aval, which was starting to lose its warm glow as the sun was getting stronger by the minute.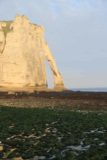 At 7:55am, I was back at the hotel. Julie was still in bed, but she told me that she had gotten up early to make a Skype videoconference to home. So she got to see Tahia, finally. However, she was doing this while the breakfast room was closed (she did it in the garden) so it was too dark for them to see Julie. That meant Tahia still hadn't seen her parents for the past 5 days or so. We'll have to try again when we get to Lyon perhaps.
We spent the next couple of hours having breakfast takeaways from a local boulangerie before doing some research taking advantage of the brekkie room being open so we could surf the web. We were particularly looking for info on Darty shops in both Paris and Lyon, and apparently there was one near the Gare de Lyon Part Dieu. Hopefully, they have the mini-USB cable that we need. Otherwise, we're pretty screwed.
Meanwhile, Julie was looking up some TripAdvisor reviews about restaurants in Etretat. It appeared that there was a creperie that she was interested in called Le Lann Bihoue though she also looked at other establishments and their rankings. Apparently, that would be the lunch crepe place to look forward to after our excursion today.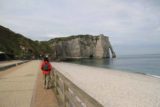 We started the clifftop hike at 10:10am. Julie had read in LP that Monet was from Le Havre. So that probably explained why his works were so popular in this area. After all, it was said that Monet came to Etretat in his time and painted the arches that were here, especially Falaise d'Aval.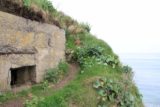 It wasn't until about 10:25am when Julie and I were ascending the cliffs on the Falaise d'Aval side. We noticed a handful of bunkers that were here, and we figured they were probably remnants of World War II when there was a lot of fear of invasion on the beaches here.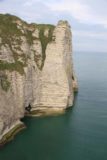 I guess that made sense since we had read on a sign in the town centre that one of the old-looking buildings that is now a souvenir shop was once an American hospital for the wounded personnel in both French and American militaries.
By about 10:30am we were pretty much above most of the stairs. Now it was a routine of walking along the scenic cliffs with some overlooks and spurs leading to overlooks that would slow us down and make us take more pictures.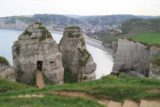 We had to be careful around the cliff edges because they were unstable and there weren't guardrails in most spots. In fact, some of the trails seemed like they were for daredevils (I recalled one where the trail went onto a very narrow ridge to get to the edge of one of the arches). I know for sure in the States, they wouldn't have half these trails due to fear of law suit.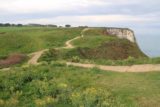 In any case, that golf course right next to the trail and cliffs seemed a bit out of place here. Now I heard that Pebble Beach is said to be one of the most scenic golf courses in the world, but after having been there and now this one in Etretat, I'd have to say that Etretat's has definitely gotta be up there and perhaps even better than Pebble Beach.
Perhaps now we could better appreciate why the Scots invented the game of golf given a similar climate to what we were experiencing here in Etretat, so there was no shortage of water for the greens.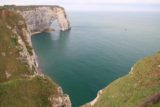 So we continued on along the cliffs at a very leisurely and relaxed pace. It was so relaxing that Julie and I were either holding hands or walking side-by-side most of the time.
There were also plenty of other people on the trail as well. There were even women who weren't properly equipped for such muddy (given the wet weather) and rugged walking as they'd wear dress shoes for outdoor purposes. It was reminiscent of what we observed in some parts of China.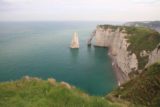 In any case, we took in an overlook right above Falaise d'Aval, which offered a majestic view of Etretat, its beach, the hidden beach behind it, and even a frontal view of Manneporte. There were some birds almost posing for some of our landscape photos, but we didn't mind. After all, they were here before us.
The next major overlook was atop Manneporte, and this offered some fine views of Falaise d'Aval. We stopped for a few more photos while showing to Julie how far I went in this morning's low tide scramble.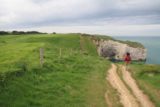 After leaving this overlook, there was one gully section where the trail descended pretty steeply before ascending in earnest. The ascent was especially muddy and slippery.
It wasn't until about 11:40am when we were right at the junction for the last cliff cutting out to the ocean was when it started raining again. Fortunately, we had our rain ponchos though just as we were getting used to having them on, the weather stopped raining.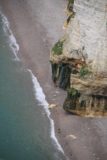 As we walked further out onto this cliff, we could see there was a waterfall with dual plumes coming out of the base of the cliff on an isolated beach well behind Manneporte.
After seeing this, I was kicking myself for not going far enough as all I had to do was to get through the difficult scramble (which was now a rocky outcrop due to high tide) during the pre-dawn morning hike. Oh well, at least I still had it documented and now I had my excuse to talk about the arches here in the context of waterfalls!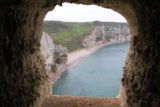 There was also a little hole near the end of the cliff where we could get a fair view of some people on the beach as well as the beach and cliffs themselves. I believe this hole was probably partially or totally man-modified due to its seemingly strategi position to scout incoming enemies or allies on the beach during war times.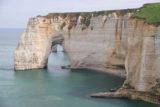 Unfortunately, it seemed like I also had to brush through some poison ivys in order to descend to the "window," which seemed to have left a fairly annoying pain in my shin even though it was covered. Well whatever the case, it wasn't severe enough to make me stop what we're doing and head back to the town.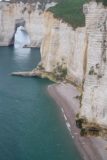 This was the end of the line for us and we would eventually leave at 12pm. We opted not to do the entire loop around the golf course as we just wanted to get back to town and try the crepe place that ranked top on TripAdvisor reviews concerning this town.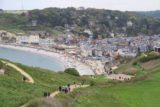 At 12:40pm, we made it back into town, which now looked alot busier. In fact, the trail that we were on was also crowded and perhaps most of the crowd was from a particular tour bus since I heard German spoken amongst this group.
Continuing towards the quieter northern side of town, we finally found Le Lann Bihoue, which at the time we arrived still had empty seats.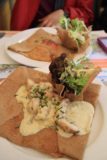 The menu was completely in French and I wasn't quite sure what all the menu items stated except for a few recognizable words. It kind of reminded me of how I might have trouble ordering from a Chinese menu containing only chinese characters since I could only make out bits and pieces of the vocabulary used, but it was still hard to figure it out the full meaning.
So I ended up asking what the speciality of the house was and so after she pointed out a particular scallop crepe (or galette which I think are savory crepes), I went ahead and got it. Julie didn't know what was in the other specialty of the house (named after the restaurant) so she ended up with a salmon crepe. Once again, the lack of English in a place like this forced me to utilize my self-taught French stuff to take educated guesses at our orders.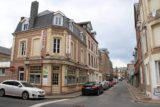 The dessert crepe of hot chocolate with chantilly cream and pear (the dessert was called Le Caiq) was divine! I don't think I ever had crepe as good as this. And I don't think I ever will. Still, the restaurant all of the sudden got busy when we were done with our meal. It was kind of amazing considering this place was way off the thoroughfare going through town yet it was so busy yet so good. Good thing the TA reviews were spot on about this one.
As we left Le Lann-Bihoue, we walked past another souvenir shop near the restaurant looking at photos from post cards, and it was at this point that I had an aha moment!
You see, the aerial photos taken on many of these works were probably from hangliders seen earlier in the day or yesterday. I could imagine how disruptive to the area planes or choppers would have been.
At 1:55pm, we made it back to our room. Both Julie and I were tired and now it was time to siesta or nap and perhaps get caught up a tad on some sleep.
When we awoke from our invigorating slumber, it was 4:55pm (a three hour nap). We ended up spending the next couple of hours in the petit dejeuner room doing stuff on the internet. Julie was busy checking out restaurants in the Mont-Saint-Michel (MSM) area since we knew internet would be limited and slow. We also get some TA recommendations regarding GPS-related electronic shops in addition to Darty. Apparently, there was also FNAC as well as a couple of auto shops which seemed more like long shots.
In any case, they both were at the Commercial Centre in Gare de Lyon Part Dieu, which was perfect for our logistics. The only area of uncertainty now was whether any of those vendors carried car charger cables a la carte.
During the time we were researching, we saw that it was raining hard outside. I guess it was a good thing that we took advantage of the good weather when we did. The weather was obviously changeable here.
The proprietress told us that this year was a wet year for this area. She said that this time of year was usually fairer. She offered up a guess that perhaps the rain had to do with change; as in Sarkozy losing the runoff election kind of change and perhaps hinting at an analogy with the change in the weather.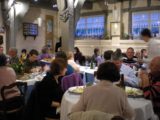 We arrived at our dinner spot at 7:05pm. We made good on our 7pm reservation at Le Galion (like the ship galleon), which was the highest rated restaurant in Etretat according to TA.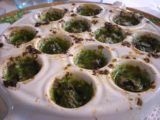 We ended up getting fish soup, oysters (now I finally knew what huitres meant) from Brittany, escargots Burgundy-style, duck confit, and escargot.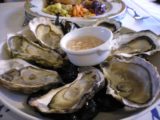 The creme brulee for dessert was very tasty and light as well. Though it did take at least an hour for just that dessert to come out. I guess the restaurant got really busy at that time.
They had a waiter there who spoke pretty good English and when we conversed with him (after revealing to him we were from LA), we learned that he lived in Phoenix as part of a foreign exchange program for business school. That explained a lot.
By 9:15pm, we were out of the restaurant and by 9:25pm, we were back in our room.
All in all, today was one of those days we'd remember as being a surprising highlight of the trip. Julie was pleasantly surprised considering that we went here for Nature, but the overall charm of the town and the food experiences were better than she expected.
Now it was time to pack up and get some rest. Tomorrow, we were getting an early start for MSM. We hope that it won't be as rainy over there as it had been for most of the trip so far.