Day 6: THE MAGIC KINGDOM
We awoke to our alarms at 5am. Today's early start was motivated largely in part by the long drive to the abbey of Mont-Saint-Michel, which was the main destination for today.
We had paid for our room yesterday so we were able to get our stuff together and out the door while everyone was still asleep. It was about 5:55am when we left Etretat.
At first, the drive out was a little confusing since we weren't sure if the GPS was pulling our chain again taking us on unconventional roads in the interest of shortcuts. But we'd eventually get onto the A29 while getting through a bunch more peages (toll booths).
Julie and I passed the time on the road noticing some signs and getting into discussions about France in general. Of particular interest was a sign indicating the Battle of Normandy.
That started a discussion between us of how the US invasion on D-day was really what prevented Nazi Germany from taking over Great Britain and ultimately most of Western Europe.
Instead of Hitler finishing the deal on Great Britain, I recalled from history class that Hitler thought the west was won and turned his sights onto the eastern front against Russia. But I think knowing what I know now, it could have also been that Hitler was running short on oil and had to turn to Russia to replenish the needed energy. Ultimately, that meant Germany had to fight a war on two fronts when the US invaded Normandy Beach.
Julie wondered how Germany got so powerful in the first place, and I speculated that perhaps they took resources from Jews within the country before killing them, which enabled them to build up their military, then acquire more resources after conquering other countries, and ultimately almost taking over all of Europe.
I saw parallels to how the Romans probably had no choice but to expand out of Italy after they probably deforested and depleted much of their needed resources which couldn't keep pace with their population growth. So they probably had to spread out and conquer others to keep the scheme going until corruption and being spread too thin opened the door for Vikings, Ottoman Turks, etc. to do them in.
This then got into a discussion about Japan constantly invading China. But when viewed in light of the fact that Japan itself didn't have a whole lot of resources, it made sense why they had to use force to expand. After all, no one was going to feel sorry for them so they had to do what they felt they had to do.
Of course, when killing people and the pain of loss occurs for the opposing side, that's when you have generational animosity. I'm sure there are parallels that can be drawn here and our involvement in the Middle East over oil.
I guess the takeaway from this discussion was that there are always haves and have nots. And one can't expect the have nots to sit idly and let their misfortune or circumstances get the better of them. So sometimes they take matters in their own hands and often at the expense of haves. Perhaps this is the crux of all conflicts in human history and it takes a real sense of respect of other people and other sides in addition to the systems that yield resources that sustain all of us to pre-empt degeneration into all out conflicts.
In addition to all this history talk (being that we're in Normandy and all), Julie would see something on a sign and ask me what they meant (since it was all in French). So I supplied her the answers with my limited French. I guess it was also a good test for me.
In the end, all this talk kind of took our minds off the rain for the most part. Yep, when we got close to the Mont-Saint-Michel (let's call it MSM for short), it was raining pretty hard and we were concerned about having to bring our stuff within the city walls while being exposed to the rain walking the causeway.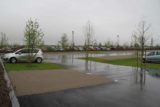 So all that was on our minds when we were told to park in one of the lots before the causeway leading into the island upon which the abbey sat. It was 8:55am when we arrived at the car park, which was a three-hour drive and exactly the duration that the proprietress at Hotel d'Angleterre in Etretat said it would be.
We had a little trouble figuring out where we were supposed to park since we had booked to stay a night within the walls of the abbey of the MSM. However, a parking attendant helped us out by talking over the intercom, where we ended up in P5, but then he told us to call the hotel once inside the car park and get the access code for car park P3, which was closer to the front.
Eventually we did all that, got our access code, and finally parked in P3 at 9:05am. We knew that it would probably be unwise to bring all of our belongings to the MSM so we went lean and brought just our PJs, toiletries, and valuables. We also donned waterproof gear given the rain. So we left the rest of the luggages behind.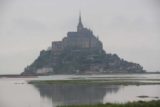 When we locked the car, we saw a shuttle bus before us and made a run for it. It turned out that it was a courtesy shuttle for accommodations within the MSM walls. So since we met this criteria, we were let on.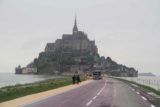 And then, we were shuttled to the MSM. It was high tide right now, but I managed to get a few shots of the impressive medieval structure from the causeway from within the bus. I wondered when the weather would let up so we could take our photos with a little less stress and when it's more photogenic.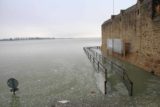 We were finally inside the walls of the MSM at 9:35am. However, since it was high tide, we noticed there was a walkway that was submerged. So we took a more direct way to get within the walls.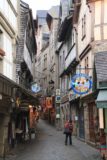 And right away, the narrow pedestrian streets with gothic arches and spires way above us totally reminded us of the type of environment we were treated to in Dubrovnik and Split in Croatia. Moreover, it was kind of like something out of the Lord of the Rings movies in places like the Tolkien-imagined Helms Deep or Minas Tirith.
We wasted no time finding the reception of our accommodation at the Auberg St Pierre. Not surprisingly, we were told that we were too early, but that was ok. We packed lean and we only left behind a black bag of our toiletries and clothes. Julie and I would be spending the morning touring the abbey area with my day pack. We would have plenty of time as the receptionist told us the room would be ready at around 13:30 or 14:00.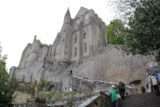 As we continued to ascend higher up the Grande Rue, we'd eventually get to the part where they offer tours of the inner abbey. It seemed like the logical thing to do so we went ahead and paid to do it.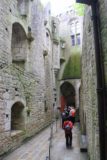 That was when we were on a bit of a walking tour from chamber to chamber; from hall to hall. It was kind of cool seeing how we were literally exploring quite a bit of the interior of a well preserved medieval abbey. There were so many nooks and crannies that I'm sure could tickle the fancy of anyone wondering if there were any dungeons and dragons in some of the hidden corners of the place.
I'd bet that a lot of the designers of role playing fantasy games were either inspired by visits to these places or were influenced by Tolkien and contemporaries who themselves must've visited such places like this. It was almost like fantasy role-playing come to life.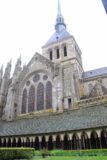 Anyways, we walked through numerous archways, monasteries, mess halls, etc. We could see how fortified the abbey would be as it was full of slits or holes to make it easier to snipe intruders or catch enemies off guard down below.
The tour didn't go up the uppermost spires of the abbey so we could only imagine what it would be like up there.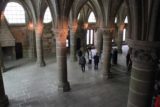 Julie and I also talked about Black Death given how close the quarters were here and how we could easily imagine how gross it was when people would dump their sewage right out onto the street.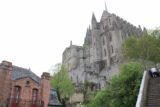 When we were done with this tour of the inner abbey, we then walked the ramparts which gave us a different perspective of the Grande Rue as well as different views of the upper abbey whose main spire went in and out of passing clouds.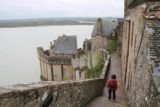 We were fortunate that the rain stopped for the most part the whole morning we were within the walls. However, when we were in the reception lobby at 12:05pm for internet researching places to eat, it was raining again when we left the building.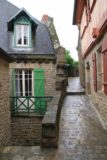 After having crepe at one of the joints just down the slope from our hotel, we finally checked into our room at 2pm. We had to walk up quite a bit of stairs while negotiating tourist traffic along the Grande Rue, but since we packed lean, it wasn't a big deal.
Plus, since it was raining outside, we figured we'd have a bit of a relaxing afternoon.
Then, at around 3:15pm, we got back on the web in an attempt to Skype home again. And unlike all the other times we've tried to do this during our trip, we managed to catch both our mums at home at around 6:15am. In fact, we also saw Tahia who had just woke up when mom tried to point the iPad at her so we could see her.
Indeed, it was the first time all trip that Tahia saw us while we saw her. It was such a happy and fun moment that the 30 minutes of trying to get Tahia to acknowledge us and respond to us happened very fast.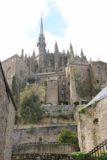 During the call, we also noticed that the sun came out at 3:45pm. When the call ended, we quickly left the room to try to take advantage of the window of good weather.
At 4:20pm, we were on the causeway. There was massive foot traffic at this time – most of it going away from MSM. We tried to get far enough on the causeway to see if we could get reflections of the abbey, but the low tide ensure that wouldn't happen.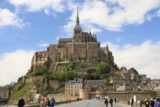 So we turned back and got back to our room at 5:25pm. En route to our room, we got hot trying to explore the last bit of the abbey. It turned out there wasn't much more to see.
After another hour in the room with Julie taking another nap, we were back in town at 6:50pm.
We went for a dinner at perhaps the most reputable dining spot in town called Le Mouton Blanc (the white sheep). I didn't have much expectations considering MSM is pretty touristy and the food in here was expected to be a rip off and subpar.
But this place exceeded our expectations and was even better than one of the places we ate at in Etretat (Le Bicorne). We didn't feel like splurging at Le Pre Sale, which meant having to go across the causeway again.
Each of us got a reasonably priced fixed price menu at 25 euro and 22 euro, respectively. Of course, we shared our stuff so we could each try as many different foods as possible.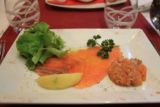 We ended up sharing an excellent salmon salade (a combination of salmon tartare and smoked salmon with greens in balsamic vinegar and olive oil), seafood soup, roasted leg of local lamb, local omelette, an apple sorbet drenched in heavy alcohol, and a chocolate sponge cake (more like a lava cake).
We also had one last go at the traditional apple cidre local in these parts. We're probably never going to view apple cider again when we get home. It's certainly NOT the Martinelli's soft drink you get at a local supermarket and drink with turkey at a family Thanksgiving dinner.
The portions were right, and for once we didn't really feel like we were overstuffed with heavy food (though that's not to say that this meal wasn't heavy either). It wasn't cheap, but it wasn't a rip off.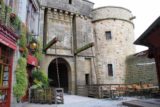 Even the service was faster than expected. It was so soon that we were out of the restaurant by 8:30pm. That meant that it was still pretty bright outside and we'd have to wait for a while before we could see the MSM in lights reflected in the tidal lagoon.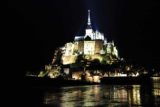 However, after taking a few photos of the eerie quietness of the town at his time of day, we went back into the causeway area again at about 9pm. That was when Julie and I witnessed the incoming high tide start to inundate the adjacent car park just flanking the end of the causeway. We also saw menacing clouds heading our way.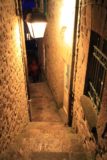 By about 9:30pm, we got back into the room to perhaps get some waterproof gear and still wait out the place to get dark. It definitely started to rain.
At 10pm, with rain ponchos and waterproof pants, we were back into the ville again. It started off sprinkling so we donned our rain ponchos.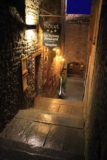 The lighting was low enough that we started to get those charming shots of empty narrow stone passageways with moody lighting. And when we got down to the causeway, we could see the Mont-Saint-Michel lit up and looking like the Magic Kingdom medieval style.
We tried walking down the causeway until the causeway itself wasn't in the way of photos, but with the low light, it turned out to be a useless exercise. So we headed back to the MSM. Fortunately, it looked like the tides were retreating again. So that meant that we were able to walk onto wet pavement where we probably got about as good a reflection shot as we were going to get on this trip without risking muddy legs and possibly getting stuck in quicksand.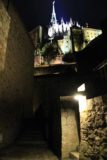 So at 11:10pm, we were back in the room, but not before taking a few more moody shots now that the ville was quiet again and all the restaurants were closed.
And so ended a pretty long and eventful day in France's second-most visited attraction.