Day 7: PART DIEU
Even though both Julie and I slept at around midnight last night, we still awoke to our 5am alarms knowing that we had a long travel day ahead of us.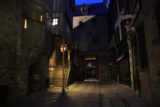 Once we got all packed (we really didn't have to take long for that since we were very lean for this night), we then went downstairs to the Auberge St Pierre entrance to their lobby. However, their front door was closed. I thought the lady yesterday said the reception was 24 heure sur 24 (i.e. around the clock). But I guess it really only pertained to dialing 9.
So we went back up to our room, dialed 9, and had a somewhat awkward though productive conversation with the receptionist who didn't speak English. What it sounded like he did was call up the shuttle to pick us up at the gate so we could get back to the car park. I guess we just left the key in the room since we had already paid for the night via booking.com.
We'd eventually get to the car park at 6:20am, but it wasn't until 6:35am when we left because we finally figured out that we had to pay 8.5 euros for the night of parking.
Once that was squared away, we finally embarked on a long drive back to Paris.
The drive was pretty uneventful as it started off with on and off rain with some patches of sunlight (a rare sight for almost this entire week in France) plus a pair of gas stops for brekkie and to try not to fill up too much since we pre-paid for the gas at the start of the driving part of the trip three days ago.
It was mostly smooth until we got closer to Paris. There was some slight slow down at Caen, but it seemed that the closer we got to Paris, the more traffic there was. I guess relatively speaking, it wasn't as bad as the traffic we get in LA, but the difference here was that we weren't quite sure where we were supposed to go. At least in LA, we knew exactly where we had to go so the traffic wasn't as worrying as it was here in Paris.
Although the GPS predicted we'd be at our destination by 10:30am, it wasn't until about 11:15am when we finally made it back to the Hertz lot at Gare de Lyon. Indeed, most of that delay was the embouteillage (traffic jam) on Paris' autoroutes plus a little bit of confusion on their local streets.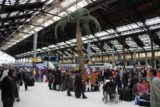 Inside the Gare de Lyon, which was a very busy hub of trains (kind of like a Grand Central Station in New York), we were hoping to catch the 11:53am train for Lyon. Unfortunately, the queues were too long for that train and so we settled for the 12:57am train instead. C'est la vie (that's life).
Hopefully, we'd still have time to run a bunch of errands that loomed over our heads since we had forgotten several things going into this trip – namely, the GPS charger as well as Julie's sunglasses. We even needed to pick up our rental car today.
Our TGV (train de grand vitesse or high speed train) was 10 minutes late. In any case, after having our subpar baguette sandwich lunch, we boarded the long train in the correct car and seats, and then were taken to Lyon. It was a scheduled two-hour train ride in which the GPS map indicated it would've been more like a 4-5 hour drive had we self driven.
Both Julie and I were able to get caught up on sleep a little bit on the TGV.
It didn't take long before we arrived at Gare de Lyon Part Dieu where we found out that our accommodation at Mercure Gare de Lyon was right next door. That was very convenient and so we were able to check into our room by 3:15pm (merely 10 minutes after disembarking the TGV).
Twenty minutes later, we went back down into the Part Dieu area where we crossed through the massive station (which for some reason reminded me of Kyoto's modern metro station), and we headed into the Commercial Centre, which was basically a massive shopping mall.
We went in there looking for a Darty where we were hoping to get the much-needed Garmin GPS charger. It turned out that we finally found one after wandering through the maze of people and stores.
Once that was done, we then tried to get Julie's sunglasses, which she had also forgotten back at home. It took nearly an hour for her to make up her mind (further reminding me why I HATE malls) before we were finally able to leave at around 4:45pm and walk right over to the neighboring Hertz kiosk adjacent to the Gare de Lyon Part Dieu.
It took a while to get the car since the person helping me with this rental was new. But once we got the keys to the car at around 5:30pm, we went straight to the Hertz lot and gave it a try.
The first thing that caught my mind was how big the car was. Apparently, we were upgraded, but I was thinking how bigger was not always better in Europe. To make matters worse, the AC wasn't working and I couldn't figure out how to release the parking brake in the car. Well, at least the car charger for our Garmin GPS worked so that was a big relief for us.
But clearly, this car wasn't going to work for us if we were going to be stuck with it for the next two weeks. So we went back to the Hertz kiosk.
After a little bit of a discussion with the senior staffer at the Hertz office, we finally managed to convince her that we'd rather have a smaller car in a lower rental category even though we had paid for a higher rental category as alternate cars in the category we paid for were all rented out.
In the end, we ended up with a brand new economy car, which it turned out was smaller but was still able to hold our luggages. Moreover, the trunk was covered and it was a compact diesel so we knew it was going to be fuel efficient.
Finally at 6pm, we were able to verify that the AC was working, the car charger was working, there was adequate trunk space, and that Julie's GPS was now keyed into our current location. We locked up the car and left it in the Hertz lot expecting to be able to start driving it first thing in the morning tomorrow.
Now with that ordeal out of the way, we walked into the Metro area. But apparently, there was no manned booth that was able to sell us two-day passes or something like that concerning the city's metro. In fact, we didn't even have enough coins to purchase two unlimited day passes. And no one seemed willing to give us petit monaie (small change) so we actually had to buy something in the Gare de Lyon Part Dieu before finally having enough change to buy the tickets to ride the metro here.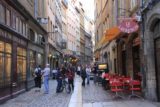 Indeed, at 6:35pm, we finally hopped onto the Metro and headed over to the Vielle Ville of Lyon (Old Lyon). We weren't sure what were the major sights in Lyon, and the town was really more of a base for us to explore outside the city than to explore the city itself though I did allocate one whole day to Lyon in our itinerary.
Well, it turned out that Julie's desire to see Provence for another day pretty much forced me use that full day in Lyon towards doing a long day trip to Cascade du Rey-Pic and Pont d'Arc. That would've freed up another day to do Provence as Julie was really keen on doing.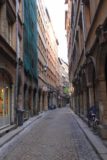 Eventually after about 7pm, we got out of the Vielle Lyon station and walked along the Rue St Jean, which apparently harbored a pair of publicly accessible traboules (passageways).
But what we didn't expect was the charming pedestrian dominated streets in this area along with an impressive cathedral frontingg one end of it.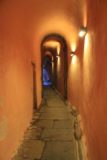 As we were walking the road in search of traboules, we realized that we missed them when we walked all the way to the end of Rue St Jean. But when we backtracked, we finally understood the layout of the area and then proceeded to find the pair of traboules in this quartier.
The traboules were very unassuming and easy to miss. But once you open the doors concealing their existence to casual passerbys, you're immediately entering a world of dingy tunnels an some residenes here.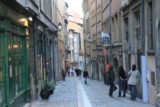 It was very atmospheric, but I guess it meant more because we read about the history behind this area and how the traboules were convenient or even secretive routes originally used by silk traders and then utilized by La Resistance during occupation by the Third Reich.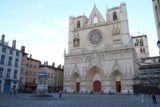 We wished we had a little more time to enjoy this surprisingly charming series of markets and cafes. We even heard quite a bit of english while walking this area. We had thought that Lyon for the most part was off the tourist radar. But all the english speaking people that were here proved otherwise.
Our hurried hour-long tour of Rue St Lean concluded with a 7:40pm boarding of the metro allowing us to catch another connection which would bring us closer to a Lyonnais bouchon we had read about.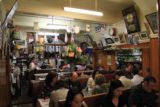 After getting off the correct stop at Hotel de Ville, we walked towards this place called Cafe des Federations, but a grand square with the front facade of Hotel de Ville as well as a large fountain next to an outdoor cafe really got our attention.
This place, which reminded me a lot of Zagreb in Croatia with its electric trolleys and large central square, captivated us. And we knew that after dinner when the lights would be on would be the time to linger in the square longer for night shots.
At 8:30pm, we fulfilled our reservation for Cafe des Federations. The street it was on was charming.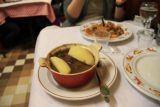 The Lyonnais buchon experience was definitely different than what we experienced in the bistros in Paris, Etretat, and Mont-Saint-Michel. It seemed like that highlight was the greens we were offered as a starter, which included lentils, dijon mustard dressing on salad, etc.
The fixed price menu had some common stuff within appetizers and dessert, but it also had a pretty invnentivev menu.
We finally left the cafe at 10pm. This place was packed when we left.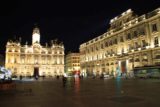 And as expected, the night lighting was charming so we spent some time taking night shots of the grand Hotel de Ville and the fountain. Eventually at 10:55pm, we finally returned to our room.
There were quite a few derelicts around the Part Dieu area as well as heaps of security personnel to ensure traveler safety. I guess the security personnel was a little reassuring. There were even security measures being taken at the Mercure Hotel, which kind of reinforced the notion that Lyon's Part Dieu area was a bad area.
It was 10:55pm when we finally got back to our room. It wouldn't be until midnight when Julie finally slept and until 1am when I finally tried to sleep. Nonetheless, it finally looked like our plans weren't lost and were finally looking up as our GPS scheme was finally back on track.
And so ended the first leg of our trip into Northern France. Now that we're more towards the south of France, we're sure to be embarking on the second stage of our Tour de France. And, oh yeah, the weather was sunny. Certainly that has to count for something in the coming couple of weeks, right?