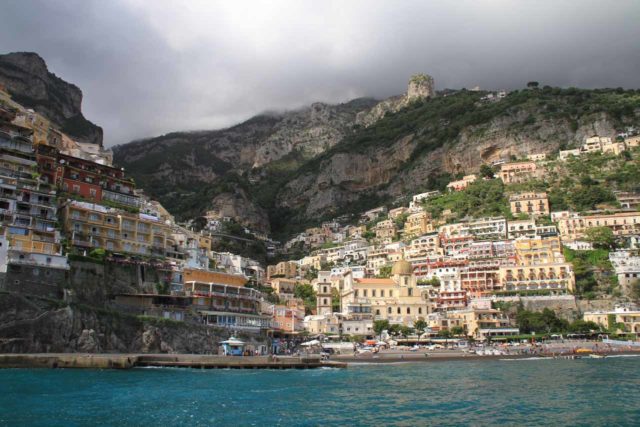 16-May 2013 to 20-May 2013:
As stuffed as we were, we finished that tiramisu. But we also accompanied that dessert with a heavily alcoholic lemon drink that might have been mixed with something like everclear or moonshine or something (it was called limoncello, I believe). I think the drink looked like it could've been a cocktail, but when Julie took her first sip, she gagged a little as she was totally thrown off by how strong the drink was.
Adella said, "Odio!" as she wanted to make sure we were having a very good meal. I had a feeling it was something that Roberto told us about on the drive here, and now I saw what he meant about that strong lemon drink. I was only able to finish half of my little glass (maybe slightly larger than a shot), but I knew Julie couldn't drink much more than another sip…
Day 1: CARPE DIEM
It was about 12:15pm when we arrived in Rome. The entire flight was pretty smooth going as we were able to sleep lightly for some 3 or 4 hours, but when it was about 2am (11am Rome time), the lights were on and the captain woke everyone up. I guess we were to have our brekkie before landing, but it certainly felt like we were in the middle of sleep before that happened. And so the jetlag begins…
Before the sleep, Julie was reading her Kindle (now a pretty customary practice for her on these past few trips) while I was watching Argo (great movie) and Skyfall.
After the brekkie, a young girl that was sitting next to Julie by the window (who looked like she was traveling on her own) conversed with us briefly. It turned out that she was going on a foreign exchange student program for five-and-a-half weeks. She said she would be staying somewhere two hours north of Rome in a tiny village so I guess her Italian (a language she was learning at University of Arizona) should quickly improve and get pretty close to fluent.
Meanwhile, I was already practicing some Italian with the stewardesses (mostly to get one of the ladies' attention to get the last tray of trash that I was holding onto when their trash bin ran out of space). There was a lady across the isle from me that said, "Bravo!" to me. I guess she didn't expect us to bust out some Italian. The girl that sat next to Julie also noted that as our conversation moved over to learning the language.
Anyways, the flight landed on time, we then shuttled from the airstrip onto the terminal area, and then we went through passport control and baggage claim without too much drama. The foreign exchange we saw was pretty outrageous at some 1.47 USD to 1 euro. But we knew we needed some cash on hand just in case so we exchanged a little bit knowing that we expected to exchange more in the city of Rome itself.
We noticed that we didn't have to fill out any immigration cards so that was a little unusual. At least it would save some trees.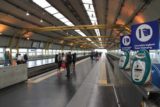 By about 1:15pm, we were waiting for a train to arrive so we could head from Fiumicino Airport all the way to the Termini Station in Rome. I guess that station was like Grand Central Station in New York where it seemed to be THE transport hub of Rome.
At 1:40pm, the train started to take off. The half-hour train ride went without a hitch, and when we arrived at Termini, we navigated our way out of the train station. Then, Julie and I figured out how to walk to our accommodation at Flowerome. That was where we met up with the proprietor of the property we were staying at, which turned out to be pretty roomy for Rome.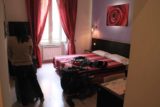 Anyways by about 2:40pm, we were checked into our room, got settled, and then proceeded to try to seize the day at 3pm. It turned out that the weather had cooperated so far when we were expecting some pretty crummy weather both today and tomorrow. After all, the forecast called for 90% chance of showers with thunderstorm possibilities on both today and tomorrow! So we knew that any extensive walking and outdoor activities would have to be taken care of today based on the forecast.
Ultimately, based on the Flowerome innkeeper's recommendation, we planned on a walking route that began from the metro stop at Spagna and the Spanish Steps. Then we would walk over to the Trevi Fountain (Fontana di Trevi), then walk over to the Pantheon, then the Piazza Navona, and finally the Campo dei Fiori.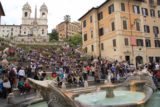 It took us a while to figure out the Metro machines mostly because we didn't realize that we really couldn't feed the machine anything that would make it produce a change of 6 euros or more. In other words, we couldn't feed it very much except the smallest of denominations, which we didn't have. So like in France, we had to purchase some chips on the cheap in order to break some of our bills, and only then were we able to purchase the one-way metro tickets.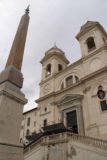 By about 3:45pm, we finally made it to the Spanish Steps. It sat overlooking a long and narrow square that was also quite crowded with people. The steps themselves were almost completely covered with people, but that only added to the atmosphere.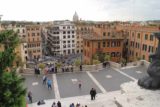 Julie and I took a bit of time soaking in this happening atmosphere at the Spanish Steps. And when we climbed up these steps, we were reminded of our last day in Paris last year when we joined a large crowd of people simply checking out the scene at the Sacre Coeur.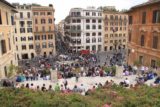 We probably spent nearly an hour here before we continued our walking tour.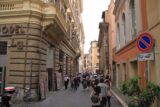 After going through a few narrow alleyways crowded with people plus one crossing of a major street, we were then at the crazy crowded square containing the Trevi Fountain (or La Fontana di Trevi). We thought the Spanish Steps had some atmosphere, but this place packed in even more people around its impressively large fountain. I'm sure it was also a haven for pickpockets so I reminded Julie for her to wear her backpack backwards. I had left my wallet in the hotel room so I wasn't as concerned about getting pickpocketed.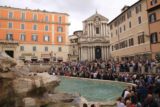 I noticed quite a few people trying to toss a coin over their heads and into the fountain, but the funny thing was that it was so crowded that some of these coin tossers were pretty far away from the fountain when they made their attempt at a wish. I wondered if anyone got an unpleasant surprise by being bonked on the head by one of these coins.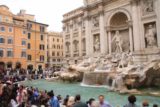 It was quite easy losing Julie in this crowd so we made sure to stick together after we initially got separated while getting lost in the moment taking photos. In fact, Julie discovered a pretty nifty panorama mode on her new iPhone 5 and so she was giving that little feature a whirl.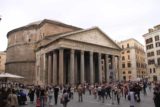 Continuing on the walk through more crowded and narrow alleys and cobblestone streets, we would eventually make it to the Pantheon at around 5:30pm. Unfortunately, they were observing holy mass until 6:30pm today so we could only check out the Pantheon from the outside.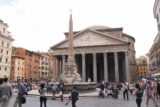 Julie was telling me how this was the building that had the hole at the very top of its dome. I wondered with the rain and/or expected rain coming whether that would render the Pantheon interior somewhat hazardous to walk given the water coming in from that hole.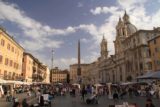 Anyways, after having our fill of the Pantheon, we then continued to walk and arrived at the Piazza Navona at 5:45pm. This square was an impressively large rectangular piazza that was very wide but not very thick. So the best photos that we took of the atmosphere here were from the sides of the piazza.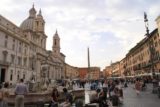 There was a fountain here with a pillar as well as some large facade of perhaps a church or cathedral. There were the usual peddlers that were cleverly dressed (seen plenty of these at famous sites throughout Europe now, including Paris) as well as many art displays from the space art on the street (nothing new there since we even saw this at Venice Beach, CA) as well as caricatures of famous figures and some abstract art of famous sights.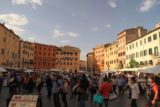 On the perimeter of this square were plenty of restaurants with folks vocally trying to lure any passer-bys into their dining area.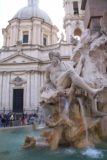 In perhaps a bit of a surprise to us, the sun came out at this time of the day with some pockets of blue skies. With the 90% chance of T-storms predictions of today and tomorrow, this surprise was very welcome. We could only hope that we would run into similar fortune tomorrow when we planned on seeing the Colosseum, St Peter's Basilica, and the Piazza del Popolo.
Since Julie wanted to be off her feet a little bit while having a dinner, we decided on going to one of the restaurants here in the Piazza Navona at 6:20pm. Clearly, it was a choice based on atmosphere as opposed to the expected quality of the food. So we didn't have much expectations on eating here, but it turned out that the spaghetti della pescatora (seafood pasta) and Julie's veal dish were pretty good (at least better than what we could expect back at home in LA).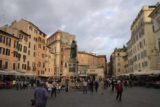 After our dinner, we then walked a little bit towards Campo dei Fiori (field of flowers?). This was a bit of a humbler square compared to the other ones we were at earlier on this walking tour. It seemed to feature a hooded figured statue perched atop a pedestal near the center of the square. That hooded figure reminded us an awful lot of the young Darth Vader in Star Wars Episode 3. But anyways, I digress.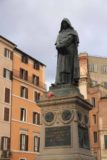 We finally had our fill for touring today as we then headed back towards the main busy street on Corso Vittorio Emanuele II. At first, we caught the 64 bus going the wrong way, but then after some locals helped us out, we got off the bus after a couple of stops and took the 40 bus going the other way at around 7:40pm.
The bus ride seemed to take quite a while as it made numerous stops and it didn't seem to make a beeline for the Termini Station. Nonetheless, we caught a glimpse of the Colosseum as well as some National Museum facade that looked like Caesar's Palace come to life (it was actually the Palazzo di Vittorio Emmanuele). So we noted to ourselves to go ahead and do the walk to take in these archaeological features as well as the grand structures en route to the Colosseum tomorrow.
By 8:15pm, we returned to our room. Unfortunately, there weren't any toiletries so we had to use the hand soap to shower. But that meant we couldn't wash our hair for the second day, and I could already feel how oily it was.
Nonetheless, we got settled, did what we had to do with photos and stuff, and finally connected with Tahia on Skype at 10:45pm (1:45pm PST). We knew it was late for her afternoon siesta so the call was short. But at least we were getting settled in on Italy, and now we had to cross our fingers and hope the weather wouldn't be too deplorable tomorrow, when we had even more things to see and do!
Day 2: THE HUMAN OCEAN
It was 7am when we awoke to the alarm. It was hard to wake up though because it was still 10pm back at home. Nonetheless, it was quite light outside though the skies were threatening with dark clouds. I still remembered when we didn't even wake up until well after 9:30am when we were in Paris due to jetlag but back then, we had 2 full days to enjoy the city. In this case, we knew that this was the only full day we would have in Roma so we had to make the most of it.
It wasn't until 8:05am when we finally left the accommodation to go sightseeing. And by then, it was already raining. We were afraid that the nearly 90% T-storm predictions we saw on the weather report prior to arriving in Rome would come to fruition at that point.
Yet the surprising thing was that the city was already wide awake as the Termini Station was very crowded. In fact, the Metro A line that we were about to take was already packed like sardines! It almost felt as if we were already behind on the day.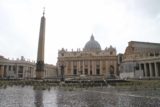 Anyways with the crummy weather, we decided to hit the Vatican first today. We originally thought that we could skip the museums and stuff since we weren't into the whole artsy scene, but since it was predominantly an indoor activity, perhaps we mind as well do it. So that was the plan.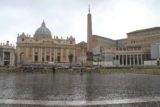 It was about 8:45am when we arrived at St Peter's Square. And even though it seemed like the rain was somewhat at bay from the time we walked from the Ottavio Station to the city walls of the Vatican, the rain came in force when we got to the columns surrounding the Piazza di San Pietro (St Peter's Square).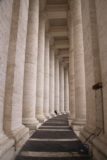 So we sought momentary shelter in between the columns surrounding the perimeter of the square (which was more like a giant circle), and then we tried to take some awkward photos, which was hard to do given the grandeur and size of the entire place. There were weather-worn chairs populating most of the square around an obelisk right in the middle of the square with a large church (which I'd imagine was the St Peter's Basilica) facing us in the far opposite end of the square.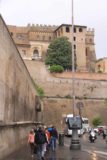 But with the bad weather and it still being somewhat early, we noticed that there weren't too many people out here. Did we make a mistake in coming to the square first instead of the Vatican Museums, which the signs were pointing to our right before we walked towards the square (ignoring many folks standing outside trying to lure people into their guided tours)?
So we walked back out towards the Metro Station for a block before turning left to continue along the Vatican walls. It wasn't until about 9:15am when we ended up standing in a very long line right outside the Vatican Walls that seemed like it went on forever. We were still backed off from a street corner near a three-way traffic light where on one corner was the Vatican Walls, and there was a lot of honking going on from the difficult driving conditions of pedestrians trying to cross the street with a lot of drivers trying to get past this rather difficult intersection near the start of the line. Indeed, seeing this made me glad we decided NOT to drive anywhere near Rome!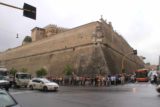 So while we were discouraged by the size of this queue, we started to estimate how long this line would take, and we reckoned it was probably at least 90 minutes. It reminded us of the queues at popular rides at Disneyland or Magic Mountain. Moreover, with our lone full day in Rome, we wondered if it was worth it to wait that long for independent touring of the Vatican Museum and the Sistine Chapel.
Anyways, that put us in the mindset to listen to this Indian lady who was one of many touts trying to sell guided tours. She picked up on the fact that we weren't in any mood to wait 90 minutes or so and that got Julie to start talking to her. When she said that a particular tour was about to leave at 9:30am, we decided to go for it (for 41 euros per person), and so we crossed that chaotic street and went to a tour office that was facing the intersection at the corner of the Vatican Walls.
After paying our fee, we met our English-speaking guide, which was really Italian-English as we really had to listen quite closely to understand what she was saying, but it was still coherent English nonetheless. If anything, it was training me to listen for some Italian filler words such as "Allora", "Dunque", and "Andiamo!" (since I knew at some point I would really have to use what elementary Italian I picked up from the Learn-to-Speak language lessons from the last four months).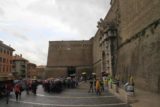 So the tour began at around 9:30am, and after listening to the guide for some 20 minutes or so as she explained the origins of both Rome and the Vatican to a cardboard map right outside the tour office, we then walked up towards the entrance to the Vatican where we jumped the long queue (though it did look like it was moving at a rate that people were adding to the queue), got our headphones, and then went through a shortened queue into a very crowded security and ticketing area.
As we went through security, we were a little worried that the black bag I was carrying that had water, books, and some extra jackets and stuff was going to be too big to take through on our tour (and we would have to leave it behind at some locker), but it ended up being a non-issue since they let us through.
Next, we had to wait at the ticketing area because there were quite a few women on our tour who needed to use the restroom, and there was a very long line. So it wouldn't be until well after 10:15am when we would finally start on our tour!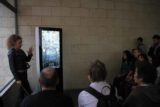 We started off by talking around this interactive map of the Sistine Chapel (La Capella Sistina) where the guide Serena spoke for nearly an entire half-hour going over all the details of each section of the chapel. It might have been a bit of information overload, especially since we were all chomping at the bit to get going on the tour, but she had to do this because the chapel was considered holy so no more talking/guiding inside (and of course no photo taking) inside the capella.
Anyways, one thing that Serena mentioned that definitely stuck with me and that she admitted was hard to say since she was a Catholic, was that Michelangelo was homosexual. And she even showed us some parts of the frescoes within the Sistine Chapel where there were two men kissing as well as another section where Michelangelo's boyfriend was sitting and looking towards the center.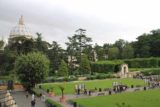 Apparently most of the tour didn't quite get the irony (given the respectful silence or indifferent silence by the tour participants – I couldn't tell which), but the thought of a homosexual working in some subtle hints of who he was in the most holy of holy places in the Catholic world was a supreme irony to me. When I explained it to this somewhat middle-aged or senior English-speaking tour participant next to me, we both busted out laughing.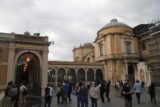 Julie couldn't conceal her smirk and chuckle either. She was actually quite surprised that the powers that be in the Catholic world let him get away with this. Nonetheless, that bit of insight from the tour guide definitely help carried me through the long lecture, and it probably helped us stomach the 25 euro per person premium to jump the queue and go with the guide (it was 16 euro per person unguided).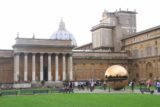 So once that was done (which was around 10:45am or so), we then navigated through a maze of people (as the guide called a "human ocean") as we crowded our way through cramped corridors filled with artistic works of art flanking us and even above us on the tall ceilings. I could totally imagine how much more enjoyable walking through these decorated halls might have been under more peaceful times, but when we were inundated with other people crowding through, we had to make an effort to stop to take photos where possible while we had to give in and accept the fact that there would be no way to take any photos without other people in it.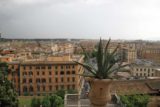 Actually, that was the time to take context photos! And I sure exercised the movie mode of the camera to take photos since I could use the LCD display to somewhat see what I was shooting while I raised my arms above the crowd to take photos.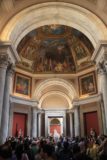 Serena said that this was actually not that many people compared to say Saturday and Monday since Sunday would be closed. It was hard to imagine how this place could be even more crowded than it already was.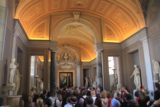 So after going through some long corridors of tapestries and even an attractive section of some golden-lit part with a scaffolding on one side (unfortunately), we then made it to the Stanze di Rafaello, which I'd imagine was a bunch of rooms that Rafael must have worked on or something.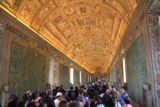 After going through room after room (despite how big each room was), they started to look the same after a while. I guess our guide Serena was right when she said early on that it's really easy to lose the sense of perspective once you go through the public parts of the Vatican on such a museum tour like this.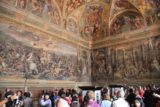 Speaking of which, the Vatican City itself was not allowed to be toured by the public since it was only occupied by some 300 residents who were mostly workers maintaining the Vatican Museum while also housing the papacy. So we were only able to look through a very small section of the Vatican through the museum tour.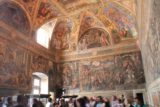 Well, after the Stanze di Rafaello, we went downstairs (many flights of steps), gave back the microphones, and then went for one last go at a toilet (which Julie gladly used) before we went up a flight of stairs and into a corridor that led right into the Sistine Chapel. This was at around 12:30pm, which we kind of knew that this tour would take the better part of the entire morning given the pace of our tour at the outset.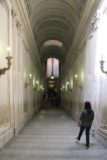 Inside the Sistine Chapel, it was mostly dark (I guess they tried real hard to protect the frescoes in here), and it was clear no one dared to take a photo in here despite there being almost entirely crowded with people just staring up at the impressive display of Michelangelo's work.
Julie asked me to point to the homosexual scene, and that was when I recognized what Serena showed us, which was to the topright as we faced back towards the entrance as well as the center right. Julie saw it and then gave another stifled laugh. It proved that Serena wasn't BS'ing us on the tour.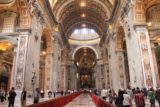 After the Sistine Chapel, we then walked out and towards the St Peter's Church, which was a massively roomy church where there was absolutely no way a singular picture could capture the size and grandeur of this place. Julie and I wondered how such a holy institution could contain such opulence, but considering this institution was on the order of a couple of thousands of years old (where newer works and structures were measured in terms of centuries as opposed to millenia), it really hit home the extent of the church's power over human history.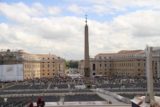 Anyways at 12:55pm, we were finally back out at St Peter's Square. However, this time, the sun was out! In fact, it seemed like the skies were clearing! Julie and I had worried going into this trip that both yesterday and today would be wet and miserable, but the weather was kind to us. Now we felt that we wouldn't feel compelled to return to Rome at the end of the trip after all!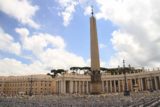 Next, Julie and I stopped by the Old Bridge Gelateria before heading back to the Metro Station at Ottavio. This gelato was way better and cheaper than the random place we had gelato yesterday somewhere near the Trevi Fountain. We made one quick stop at the Piazza del Popolo at 1:45pm, which was another one of Rome's main squares, before finally having lunch.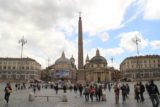 But when we got to the large and open square, I think we were a little "squared out". We took some obligatory photos from within the square, but we didn't feel they were all that photogenic. However, I did spot a lookout area above us to the far left side of the oval-shaped square, and that was where I was headed.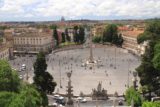 Meanwhile, Julie decided to do some reading for some lunch spots under the shade of the tall obelisk in the center of the oval square.
When I got up to the top of the panoramic view, I could see most of the oval-shaped square (except for some large trees blocking parts of the sides of the oval open area), and I could also see plenty of dome-shaped structures out in the distance.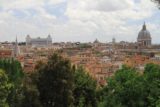 It was a view similar to what Julie and I saw at the Sacre Coeur in Paris, and I'm sure Julie would've liked this view, but I knew she wouldn't come up here and so I got my panoramic shots, and then bolted back down to the obelisk where she was reading.
Anyways, we were back on the Metro and got off at Termini again. Next, we walked a ways past our accommodation and towards a lunch spot somewhere between the Termini Station and the Colosseum. We finally lunched at this rather tucked away spot called il Nipotino del Solitario, but it turned out that the combination of cigarette smoke and the food itself wasn't all that great.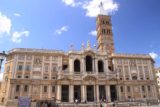 In fact, they had some delicious looking pizza, but the proprietor said pizza was only for dinner. Plus, the pasta dish with black pepper and truffles was missing the truffles. So the two dishes that drew us to this place weren't available. And we ended up finishing our lunch and finally feeling relieved to continue on our way out of there to get some fresh air (away from the cigarette smoke).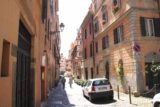 So we continued along some pretty quiet and narrow streets as we ambled along towards il Colosseo. In fact, we were actually trying to walk in shadier spots as the sun was definitely out between the patchy clouds and the weather had warmed up significantly. Funny how we were worried about seizing the moment given the predicted bad weather, but it ended up turning out pretty nicely for us.
I guess carpe diem was still a good mindset to have anyways because we definitely took nothing for granted up to this point.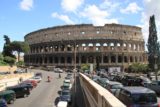 At 3:35pm, we made it to the backside of the Colosseum. It was definitely a quieter side of the impressively grand ancient structure, and we snapped a few photos here. But as we went through the metro stop B for Colosseo, we then ended up on the ground floor to join the scores of tourists passing before the front of the ancient monument.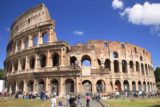 It turned out that we were between the Palatino and il Colosseo, which also featured some arch-like structure in front of it. And we took what photos that we could (again accepting the fact that there would always be people in the photo given how busy it was) but at least we could see the building glow with the afternoon sun.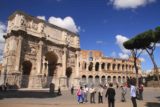 We would end up walking some 200m away from the Colosseum to get into the Palatine Hill and the Roman Forum. The ticket was 12 euros per person (a bargain compared to the Sistine Chapel), and we expected to breeze through this place thinking that a bunch of archaeological stuff on the ground wouldn't be all that appealing and that we were only after more elevated views of the Colosseum.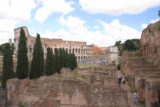 With both our legs sore and my shoulder very sore from carrying the black bag full of stuff, we were ready to call it a day. But as we explored il Palatino, the place was growing on us as we were navigating our way through the impressively extensive complex of the Roman Empire's past glory.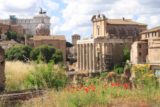 When we got to the Temple of Venus and Roma, that was when we got our views of the Colosseum. Julie and I had to get a little creative taking our couple shots using the stairs and a combination of our guidebook and the camera straps to steady the camera. And it was a good thing we got our shots when we did because at around 4:50pm, some lady was going around kicking everyone out as there was going to be some work done to this area.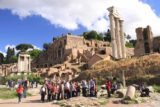 Had we showed up any later, we wouldn't have gotten our Colosseum shots and that would've really pissed off Julie who said our only reason for coming into Palatino was those shots of il Colosseo.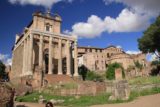 Next, we descended towards the Roman Forum, and when we got into the main area, we were surrounded by impressive structures that were either still left standing or were partially restored. It was almost like when we were touring remnants of ancient Greece at the Acropolis in Athens, but here in Rome, the archaeological remains were every bit as photogenic and impressive.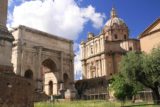 Julie and I were definitely glad we got to do this part of the city!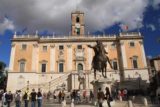 As we left the Roman Forum and Trajan Markets, we then ascended some steps towards another plaza by some Central Historical Museum. After taking some photos up there, which seemed to be right behind what I called "Caesar's Palace" which was really il Palazzo di Vittorio Emanuelle (that was somewhat modern at around 200 years old or so) because it resembled Caesar's Palace in Las Vegas (actually I'm sure the LV-version bit off of the real deal here), somehow I had lost Julie in the crowd.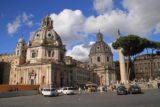 Thinking that she went looking for me at the front of "Caesar's Palace" I went down there looking for her, but she was nowhere to be found.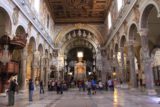 I started to going back up to the square in search of her and I still couldn't find her. So I started to look into some fancy cathedral in back of Caesar's Palace that led out to a balcony with grand panoramic views of Rome. But still no Julie.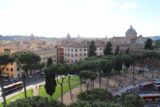 I then went through some steps and corridors that appeared to be part of some large museum, but I knew that Julie wouldn't be in the museum so I ended up back on the ground floor in front of Caesar's Palace again. But still no Julie.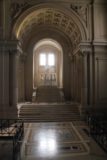 I then went across the street towards some Capitol-looking buildings trying to survey the ocean of humanity in search for her, but still no Julie.
Finally, I decided to go up to a couple of cops to see what my options were. They laughed but all they could say was that someone had to stay still, and he recommended that I go back to the last place we had lost each other then sit still. So I ended up going back to the square behind the museum up the stairs towards the top of the backside of Caesar's Palace.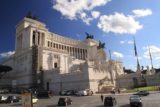 I would finally start to descend some long steps at the top of the square (the first time I would go down this way) and that was when I finally saw Julie's half-angry half-concerned look as she went up the steps towards me and I met here on the way down!
It was 6:10pm when that happened. But at least after we traded stories about what happened (along with accusations), we were finally able to tour the area together. Indeed, touring alone when lost definitely took away from the experience.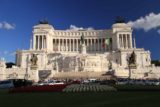 So Julie and I crossed a very busy street towards a lawn area where we tried to take photos of the front of Caesar's Palace. But the shadows of the late afternoon at this time that covered the lawn and flowers in front of us made the photos suboptimal.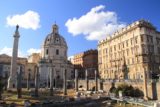 So we then took a pretty atmospheric stroll along the main street that connected the Palazzo di Vittorio Emanuelle (aka "Caesar's Palace") with il Colosseo.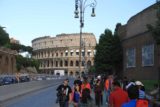 As we got closer to the Colosseum, we noticed there were four maps of Europe etched onto some of the Palatine Walls. There, we saw the extent of the Roman Empire over the centuries and were quite impressed by how far it expanded as it even went into Great Britain, the Middle East, and large swaths of Northern Africa as well as the Iberian Peninsula.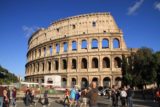 And with that, we took our last shots of the Colosseum before catching the Metro line B towards Cavour where would search for dinner as it was now getting late in the day.
We would initially search for this place called Trattoria Monti, but we were told that the first available opening wouldn't be until 9:30pm. So we passed on this place and ended up at this other place called Vecchia Roma (Old Rome).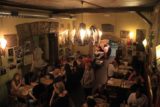 We got there at 7:40pm and we managed to get a seat without reservations since we would be occupying someone's seat who wouldn't be there until 8:30pm. In any case, we enjoyed this "amitriciana" dish that consisted of pork cheek bacon in thick spaghetti with tomato sauce while Julie got some veal (scallopine) with wine sauce. We also got some insalata mista (mixed salad), which was needed since we didn't eat any greens up to this point.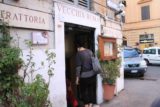 And as promised, by 8:30pm, we paid il conto (the bill) and left the restaurant. By now, we came to accept a few hidden charges no matter which restaurant we went to (from cuperto or cover, to servizio or service charge, and in Vecchia Roma, we had to take a 2 euro bread charge and 2 euro tap water charge).
We then did some last-minute grocery shopping in preparation for tomorrow's journey to Naples via train. And after getting one large water bottle along with some much-needed fruits, we then took the A line back to Termini where we were finally back at our accommodation at 9:10pm.
To say this was a long day was a total understatement. Our legs were very sore, both my shoulders were tender, and our lower backs definitely wore the stress of both carrying stuff and absorbing the shock of walking extensively on uneven and hard cobblestone streets. In fact, Julie couldn't envision how so many Italian women would wear high heels throughout the city while walking on these surfaces for prolonged stretches of time, but we knew about la bella figura (which was a mindset to always make a good first impression) and we figured that that was how Italians retained their fashion edge and good looks.
Anyways, we had that smoggy feel in our lungs as we couldn't breathe in totally, and we figured that was a combo of cigarette smoke and pollution.
So we got our much-needed showers, and used our spotty Wi-Fi connection to Skype back at home again. It wasn't a fulfilling call back home given the spotty connection with dropped videoconference calls and frozen pictures, etc. But at least we got to see our daughter and the rest of the family (or at least my Mom and my brother's son as it was a school day for both Tahia and Joshua) before signing off.
And so ended a very event-filled day. I recalled falling asleep despite the lights being still on and Julie doing something on the computer…
Day 3: WEDDING DAY
It was 7am when we awoke. Both of us were still groggy from the remnant effects of jetlag, but we still forced ourselves up knowing that today was a transit day to Naples. That said, we still slept sufficiently considering that I had vivid dreams (e.g. like I was at the right place to see the firefall in Yosemite but still somehow I missed it) so I figured that had to be a good thing in terms of getting caught up on sleep.
Anyways, after getting packed and ready for the day, it wasn't until around 9:10am when we finally left the hotel. At about 9:25am, we were within the Termini Station seeing that we had to queue up for the train ride to Napoli's Central Station. However, our ticket that we picked up from one of the machines in front of the crowd of people awaiting their turn said A196 and they were still calling on A170. I figured with a minute per customer, that would mean 26 minutes at least before our turn.
There were some self-help machines so we went ahead and gave that a try hoping that our credit card might work. However, we worried that we didn't have that smart chip in our card and that the machine might reject our card because of it (or worse, swallow it). In any case, as we navigated the menu on the machine, we saw that there was a train that was taking off at 9:39am, 9:45am, then 10:10am and 10:55am.
Clearly, we wanted to have the 9:45am train, but it was barely 20 minutes away. So when it got time to insert our payment, we put in our credit card, then it prompted us for a PIN.
Well, we thought that this was the firewall that prevented us from doing this ourselves. So we went back in line and hoped against hope with the big crowd of people waiting for their ticket number to be called.
In the mean time, we talked with a trio of Canadian ladies who were also in the same predicament we were in. However, they had already pre-booked seats and so they eventually realized that they were good to go. And so that left Julie and I alone together crossing our fingers hoping we wouldn't have to wait another half-hour or so for the next train.
It wasn't until around 9:35am when it dawned on me that perhaps we should try entering a PIN number that I thought we had established with this credit card. I figured it might be worth a try.
So I went back to the machine, went through its menu options, picked my seats, and then inserted my card for payment. And when it came time to enter the PIN, I did just that.
At first, the machine displayed something in Italian that made me concerned about the transaction being cancelled. But then the next screen said printing 1 of 2 passes, and I knew that we were in business.
So once I had the train tickets in hand (though the machine didn't give me a receipt), Julie and I quickly ran towards Binario 8 (Platform 8) where our train to Naples was stationed. And we frantically got into car #11 even though one of our tickets said car #8.
In any case, if the train was about to move, we'd at least be able to navigate from car to car within the train.
When we finally found a pair of seats where one ticket we were holding said we should be seated (seat 3B), we got settled, put our bags up in the overhead compartment above us, sat across an middle-aged Italian signora with a child, and started to get settled in just as the 9:45am train took off. It was only then that we realized that the other ticket we were holding said it was for car #11 and it was for seat 5A.
Julie questioned why I didn't reserve seats next to each other, but I told her that I did put us next to each other, but the machine probably assigned us the two available seats that were not reserved. We were also nervous about not putting our ticket through some validation machine, but in the fine print on the back, it did say that our tickets should be fine since our seats were reserved (i.e. the validation on applied to unassigned seats).
Anyways, it was all water under the bridge when the conductor came by and verified our tickets without incident.
For much of the 70-minute train ride, we were seeing a glimpse of some of the countryside that was absent the whole time we were in Rome. We were also flanked by a couple of foothill-like mountain ranges where the more inland mountains seemed to still have a trace amount of snow near their peaks. I guess that might bode well for us in terms of waterfalling in the Abruzzo area, which we expected to do the day we leave Positano (on the Amalfi Coast).
The train was zooming along very fast as if it was one of those French or Japanese bullet trains. I believe in this instance we were going on the order of some 149km/h (though most likely faster than this because the train was slowing down when I paid attention to what the screen above the aisle was saying).
Right around 10:55am, we were disembarking the train as advertised. And so Julie and I immediately navigated through the Stazione Centrale (Central Station) in Napoli, which had that familiar cigarette-smoke-filled air like in Roma. I guess Julie and I were just going to have to get used to the impact the second-hand smoke would have on our lungs no matter where we went throughout the country on this trip.
At around 11:05am, we were outside the Central Station. Next, we had to find our hotel called the Starhotel Terminus, which we knew was close to this station. A taxi driver eventually pointed us towards the hotel after asking where we were headed.
And so a couple of minutes later, we were in the lobby of the hotel. As expected, our room wasn't ready yet so we left behind our bagali (baggage) and traveled a little lighter as we sought out a place to have lunch. Naturally, since we were in Naples, we had to try the Naples-style pizza, which was supposedly where pizza got started.
The first place Julie went for was this place called Pizzeria Gaetano, which Julie found out about from TripAdvisor. Little did we realize that we would have to walk around 10 minutes through what turned out to be some pretty rough streets (as Naples definitely showed its gruffy self) on our way over there.
In between the chaotic streets full of honking motorists (which was a chorus of buses, personal autos, and Vespas all contributing to the cacophony) were a lot of seemingly North African or African immigrants who were aggressively trying to sell wares on the street (probably attesting to the degree of poverty they might have come from).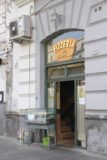 At about 11:40am, we'd finally find the Pizzeria Gaetano, which was a pretty humble-looking mom-and-pop shop.
Julie and I ordered a pair of pizza wheels – one was a margherita while the other was MOC-style pizza was basically buffalo mozzarella cheese with basils and actual tomatoes.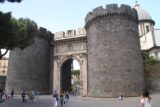 While we were waiting for the food, I went outside the restaurant to shoot photos of the Gate of Capuano (Porta di Capuano) and the Castelo di Capuano (Capuano Castle). The proprietor at the pizza place said those places were important artifacts of Naples. So with my interest piqued, I proceeded to head closer to the impressive structures.
There really wasn't a whole lot to the two attractions though the port certainly did look like it had a bit of a medieval flare to it. The castle, however, looked like it was some kind of correction center according to some inscription or sign outside its exterior that said something in Italian about a house of justice.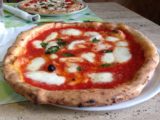 Anyways, by the time I got back to the pizzeria, the pizza showed up and it was time to finally have Naples-style pizza.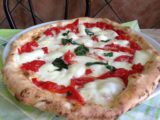 The pizza pretty much hit the spot, but Julie was hoping the pizza would be something more like Grimaldi's pizza in Brooklyn (by the Brooklyn Bridge). It turned out that the pizza crust a was bit too doughy for her liking as she complained it gave it a bit of a soggy texture. Meanwhile, Grimaldi's as well as Tony's Pizzeria Teatro in Boise, Idaho exhibited a crispier, thinner, and lighter-crusted pizza with the same authentic ingredients that made Italian pizza what it was.
When the lunch was done, the restauranteurs were kind enough to offer us some advice on the best ways to transport our way over to the attractions we were after (i.e. Castel di Nuovo and Castel dell'Ovo).
They actually recommended that we take the tram line 1 to the Stazione Maritima (the Maritime Station), but Julie recalled the receptionist and info center telling us to take the R2 bus from Stazione Centrale. So we ended up walking all the way back to Central Station, and then taking the R2 bus all the way to the Castel di Nuovo.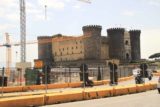 By about 1:05pm, we were finally at the Castel di Nuovo. We actually got off one bus stop too early so we noticed that there was quite a bit of construction activity going on around the castle.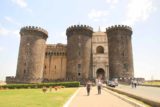 After a few minutes of walking towards the front of the castle (passing by the bus stop we should've disembarked at), we were then in front of the exterior of the castle itself, which was quite impressive.
Just then, we saw a sign indicating that all this construction activity was for a metro line that was supposed to come here. Come to think of it, there was also a lot of construction activity going on right in front of our hotel at the Central Station, which was probably also for the metro.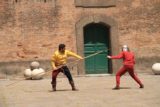 Unfortunately, the metro wasn't ready for our trip and so we had to use the bus plus quite a bit of walking. At least the cost was only 1.3 euros per person, which we thought was pretty reasonable.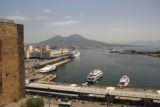 After paying our 6 euros a person to get into the castle, we showed up just in time to see some folks in Medieval costume sparring or preparing to put on some kind of show that would involve a fair bit of hand-to-hand combat with weapons.
That was a bit entertaining as plenty of employees and tourists alike were on the perimeter watching all these rehearsals take place.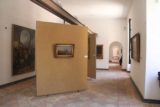 We also noticed that there was a wedding party that was going on at the lower ramparts of the castle, which it appeared that we couldn't access.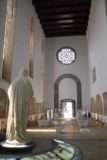 Anyways, we explored some of the museums as well as an open-air balcony or terrace where we were able to get some partial views of Mt Vesuvius with some towns hanging onto the base of the volcano with the notorious past.
We also noticed a very tall hallway with some art displays on the side as well as some marbled statue artifacts towards the back of the room.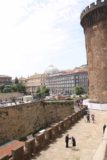 Meanwhile, there was a smaller room containing some paintings (probably oil or something) that reminded us of a small-scale version of some of the Stanze di Rafaello in the Vatican Museum.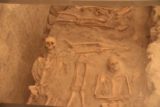 Towards the end of our time inside the castle, we were in an area that was showing glimpses of the excavation sites as well as revealed burial sites as there were still skeletons laying beneath the glass floors that we could peer into.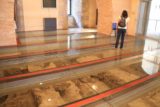 It was a bit creepy and unusual to be seeing skeletons down there, but this was probably the most interesting part of our self-guided tour of Castel Nuovo.
At 2pm, we were done touring the castle and proceeded to walk towards the area by Teatro San Carlo. When we were right in front of the theater, we looked across the narrow street and noticed a rather grand-looking mall, which was called the Galleria Umberto I.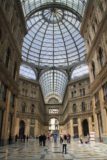 On top of the impressive facade of the entrance to the mall, the inside was very tall with a glass dome about its middle. I don't think I had ever stepped into a mall like this before, and it was worth the detour.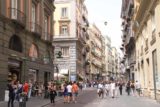 When we went out another exit, we found ourselves in a very busy and narrow street full of pedestrian traffic with the odd vehicle or Vespa weaving through the street. We merely passed through here, but we could start to feel the city's hidden charms come to life once we got past its gruffy first impressions.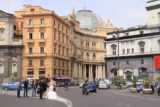 As we crossed a busy street towards what looked to be an opening, we noticed there was another couple in wedding garb standing in the middle of a busy street getting their photos taken. Clearly, Julie and I were seeing a theme on this day.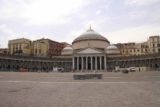 Eventually, we walked towards the the Piazza del Plebiscito, which was another grand square though this was shaped more like a semi-circle. One one side was a big capitol-looking dome (actually the Chiesa di San Francesco di Paola) fronted by a pair of statues on horses, while looking the other way was the Museu del Palazzo Reale, which was a very wide building.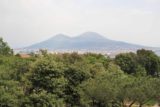 Clearly, there was no way a photograph would do this place justice, but Julie could at least try with her iPhone 5 and that panoramic stitch feature, which made me wish my DSLR camera had that kind of capability on the fly (instead of trying to kludge it together using Photoshop or something).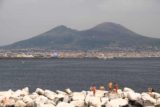 We then crossed through the square and walked downhill along the Via C Console towards Via Nazario Sauro, which was a street on the waterfront. Throughout this section of the walk, we could look across the Bay of Naples towards Mt Vesuvius.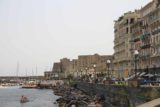 Julie and I were getting a kick out of some locals using the shoals and jettys here as beaches for sunbathing. So who needs beaches when you've got some rocks to lie on?
Still, with the warm and sunny weather (probably in the high 80s), we thought the scene was quite surreal as these sunbathers were laying out with the infamous Mt Vesuvius (il Vesuvio) in the background.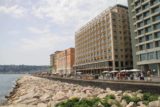 As we turned a corner and headed on Via Partenope, we were now on a promenade that very much reminded us of a quieter version of Nice, France. Of course in this instance, the walk was less hectic even though this street was lined with some pretty expensive hotels (probably in the 4 or 5 star category).
There was one unusual fountain called the Fontana dell'Immacolatella, which seemed to be associated with a Lion's Club as there was a rotary sign here. I used this fountain as sort of a foreground subject to juxtapose with Mt Vesuvius, but we also noticed some young folks using the fountain as drinking water (which was another thing we noticed in Rome as well). We weren't sure how safe the water was to drink here, but I guess some people swear by it.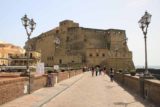 Eventually at around 2:45pm, we made it to the entrance of the Castel dell'Ovo (Castle of the Egg). This castle got its name because it was supposed to be atop some buried egg where it was said that if the egg broke, then misfortune and ruin would befall the city.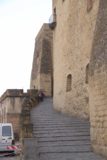 The approach to the castle was scenic, and just as we were making our way across the bridge towards the castle entrance, we noticed yet another parade of people from yet another wedding make their way out.
Julie noticed how some of the women were practically staggering and stumbling as they would walk with very tall stiletto heels on the uneven and unforgiving cobblestone surface. If we were having a hard enough time on flats walking on this surface, we couldn't imagine how much more difficult it would be to walk in those dress shoes on this surface.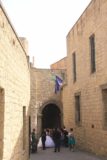 In any case, we were slowly ascending a walkway that seemed to climb gradually but relentlessly. At least it was mostly shaded on the eastern side of the castle, which was noticeably cool. We kept going up until we were stopped before yet another wedding party was busy taking photos.
So after getting by them without showing up in their wedding photos, we then got a few more looks across the Bay of Naples towards il Vesuvio. Then, we ascended into the sunny top of the west-facing side of the castle where we could look towards the hilly apartments and buildings comprising what appeared to be the Santa Lucia and Pizzofalcone Districts.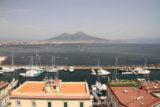 Behind the immediate waterfront and foothilll areas, we noticed a castle-like structure perched on top of the highest hill here, which was called the Certosa di San Martino with the castle being Castel Sant'Elmo.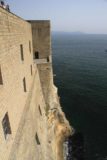 We even noticed some daredevils dudes at the base of the castle against the waves looking for a bit of a rough swim. I guess the Napolean youths here really can get creative in finding ways to seek relief from the hot Mediterranean sun.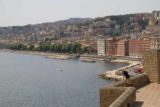 As we were walking back out of the Castel dell'Ovo at 3:15pm, it dawned on us that we didn't have to pay anything for the visit.
So now we were headed back the way we came as we walked along the promenade on the waterfront, then headed uphill back across the Piazza del Plebiscito, and then across the street between Teatro San Carlo and the front facade of Galleria Umberto I.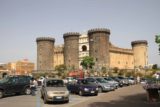 Finally at around 3:40pm, we waited at a bus stop right in front of Castel Nuovo. There was a machine there where we were supposed to buy a pair of tickets to get onto the bus, but apparently we had run out of change so it seemed like we were in a bit of a bind.
Just then, a young guy who was also waiting for the bus told us that we didn't have to worry about paying for the bus. He said he never did, and said practically nobody pays for the bus though he can appreciate the fact that people paying into the bus system keeps it running (or at least if they collected more, the buses might go around more frequently).
He then said that he felt no qualms about not paying for the bus when no one else was paying, so it was like why take the burden of paying if no one else was doing it. In a twisted way, I kind of saw where he was coming from because the whole environmentalist thing was kind of like that as well.
If no one was paying for their own mess, then why pay more for your own mess plus someone else's mess? To me, that was the very heart of why the environmentalist and sustainability movements would ultimately fail since the system itself didn't properly set the right rules or economic signals to make it a natural thing to do the right thing (especially if it wasn't going to be a fair system in the first place).
It was as if you'd be penalizing yourself for doing the right thing. So it made no sense to do it if it would ultimately make life harder on yourself.
So while we were waiting for the bus, we learned that he was French and he actually studied here in Naples. He had only been here for less than a year, though it seemed like he picked up the Italian rather quickly.
We only conversed briefly as Julie asked him if he had been to Nice (he hadn't been there) since the waterfront here in Naples reminded us of it, but that was when the R2 bus showed up in a rather crowded state.
So we took the French student's advice and boarded towards the back of the bus, joined the crowd, and kept a low profile.
During the bus ride, there was some kind of an altercation near the front door between an black guy and an heavy-set Italian guy. At one point, the Italian guy got out the bus and expected the black guy to follow him so they could settle whatever score they were keeping and duke it out in the rough Napolean streets.
The black guy didn't oblige when the bus took off and that really pissed off the Italian guy as he gave some unflattering hand gesture.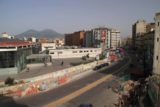 So with that bit of drama out of the way, we finally got off at the Napoli Stazione Centrale, then walked to our Starhotel Terminus, where we promptly checked in at 4:20pm and finally got our stuff up to our room.
Again, since Julie and I had run out of change, I went downstairs to get change so we could tip the porter. The receptionist would only let me change 5 euros for coins while the rest of the cash he would only break the 20 into 2 10s. He even examined the 20 note carefully, which made me wonder whether counterfeiting was a major problem in Naples (as it appeared this city was closer to anarchy for a developed country than any that we could remember).
In fact, Julie and I really noticed especially here in Naples that practically nobody took credit cards. So that was a bit concerning as we had to pay our Amalfi Coast tour, which started tomorrow, in cash. Whether we'd have enough would be a different story, especially since tomorrow was Sunday and I doubted that banks would be open on this day.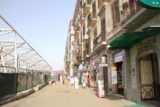 So we counted our money and realized that we had already spent nearly 200 euros in cash so far. That worried us because we barely had enough to pay for our tour in cash (probably not enough for tips). So I guess we'd either have to figure out how to exchange more cash in Positano on Monday or ask our tour driver to take us to a foreign exchange or bank in Naples on the way to the rental car center by the airport on Tuesday.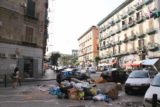 At 5pm, we were finally ready to return to town. This time, we were walking towards Naple's Centro Storico (Historical Center). After bypassing some parts of the city where trash was left out (recalling the city had a bit of a trash problem), we would eventually find some interesting things to see, ironically near the Porta di Capuano (which we saw earlier when we visited Pizzeria da Gaetano).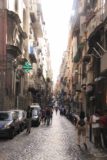 We ended up walking towards Via dei Tribunali, which was a very atmospheric narrow street of one-lane traffic and lots of pedestrian traffic.
Flanking the cobblestone street were tall high-rise apartments almost up against each other across the street. On the ground floors were numerous shops.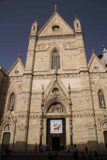 In a way, this atmospheric street reminded me of an Italian version of the Chadni Chowk Bazaar in Delhi, India, except this place wasn't quite as chaotic as the one in Delhi.
We made one quick detour on the Via Duomo towards an impressive Duomo (Domed Cathedral). Even though the signs stated in Italian that we weren't supposed to do any photographing or filming, I noticed some folks do it so I did the same. It seemed like the folks on staff here didn't seem to mind (or at least they were probably paying attention to whether the flash photography was being used, which it was not in any of the cases).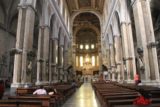 After having our fill of this impressive cathedral, I'd have to say Julie and I were somewhat Duomo'ed out. So we headed back towards the atmospheric Via dei Tribunali and kept heading west in search of the acclaimed Pizzeria Gino Sorbillo. Julie said that if this place wasn't like the Grimaldi's pizza in Brooklyn or Tony's Pizzeria Teatro in Boise, then the Italian-style pizza in the home of pizza must not be to Julie's liking in general.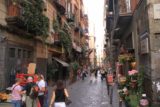 At 5:50pm, we were well within the Via dei Tribunali. That was when we finally found Gino Sorbillo's Pizzeria. However, it was closed, and a sign in Italian said that it wouldn't be open until 7pm. We didn't want to eat so late but then again, we were committed to having one last go at pizza before leaving Naples tomorrow morning.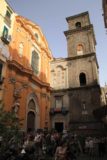 So Julie and I killed some time walking almost to the end of Via dei Tribunali near Piazza Dante. Then we backtracked towards the pizzeria where there was a Cafe Moreno, which was a dessert place with free Wi-Fi. We ended up having sfogliatella, which was a Napolean dessert as well as some cannoli and other sweets while killing time (me with some Italian magazines and Julie with her iPhone using the Wi-Fi).
By the time 6:50pm rolled around, I went ahead and lined up with the crowd (there really wasn't a line as it was more like a bunch of people crowded around the door). I was a little worried that I wasn't waiting at the right spot or at the end of the queue, but that was when I was conversing with a couple from Dallas, Texas who happened to chance upon this place after a friend's recommendation.
Normally Julie and I keep to ourselves on trips, but in this instance, it was kind of a welcome sight to see fellow adventurous people that we could have a conversation with and trade travel stories as well as backgrounds and interests.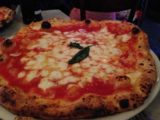 We ended up sitting together to talk some more over some delicious pizza.
Julie was a little disappointed that this place's pizza also wasn't like Grimaldi's. It was more like Pizzeria Gaetano, and so we concluded that even at Michele's (which was recommended by the receptionist and apparently made a cameo in Eat, Pray, Love [or whatever that Julia Roberts movie was]), this doughy-style pizza that Julie thought was soggy was standard Italian fare and just not quite like Grimaldi's or Tony's Pizzeria Teatro.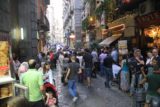 By 8pm, we were done with our pizza and our bill. Actually, the restaurant wasn't bashful about strongly hinting to us that we were done with dinner and shouldn't be dilly-dallying over the dinner table while there were people waiting outside the restaurant.
And when we settled the bill and went outside, we could see why the restauranteurs were trying to move us along…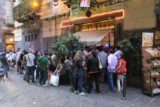 There was a huge crowd gathered in front of Pizzeria Gino Sorbillo, and it was a good thing that we were one of the first to get our pizza and be out of there!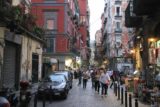 As the night was descending upon the city of Naples, we parted ways with the Dallas couple, and then we made our way along via Duomo, then via Corso Umberto I back towards our hotel at Piazza Garibaldi next to the Central Station.
It was 8:45pm when we finally made it back to our room, and that was when we finally got to shower (to get off all that sticky mix of sunscreen, sweat, pollution, cigarette smoke, and dust, etc.).
And so ended our half-day in Napoli. We were glad we decided to spend some time here, but we agreed that the half-day tour (short and somewhat hectic as it was) was enough before it was time to move on to Pompeii and then the Amalfi Coast!
Day 4: GIVING INTO LA DOLCE VITA
At 6am, we awoke to Julie's alarm after snoozing to my 2 alarms. I guess that's what happens when you sleep late the previous night. In our case, it was after 1am.
One look out the window and we could see that some low clouds were obscuring the lower slopes of Mt Vesuvius. A few minutes later, those clouds would eventually overtake us and look pretty much like overcast skies. I somehow got the sense that this was probably the Italian version of May Gray (formerly June Gloom) or something. But we were hoping that this would clear up by the time we get to the Amalfi Coast.
We took some time to get packed and ready to go. Breakfast was at 7am, and we got down there a few minutes past. There was quite a group of people already down there. They seemed like they were part of a tour or something.
We tried to keep our brekkie light and as full of fiber as possible so we had some cereal with prunes, some fruits, and we limited ourselves on the usual breakfast fare of eggs, bacon, and sausage.
There was, however, sfogliatella, which was a Napolean dessert that we figured we ought to have one more time before we would pretty much be done with Napoli (as we did try one of these desserts last night while waiting for Gino Sorbillo's to open).
When brekkie was done, we got our stuff down, checked out, and met up with Roberto, who was the driver that we hired to take us around to Pompeii and some sights around the Amalfi Coast.
We were out of the hotel at 8am, and Roberto did a bit of talking about Naples before getting into some interesting tid bits about Pompeii. When we arrived at Pompeii, it was 8:25am and the place wasn't open until 8:30am. So the timing was pretty good on our part as we would have a few moments before the tour bus and cruise crowds would show up.
We agreed to meet back with Roberto at about 10:30am or 10:40am. So that would give us just under a couple of hours to tour Pompeii. We had no idea whether it would be too much time or not enough time. But I guess we were about to find out.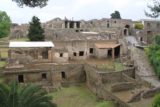 By about 8:45am, we were at the ticket office, got our tickets, and proceeded to walk into the city of Pompeii. Once we passed under an archway, we found ourselves within quite a maze of ancient city blocks. We really had no idea where we ought to be going.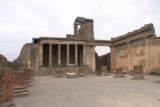 At first, we took a quick look at the basilica right next to the entrance. There were some pillars left, but from our untrained eye, we couldn't find much that was worth lingering here about.
Next, we started walking across the forum area, which was a flat plot of land flanked by what's left of some pillars. So far the first few minutes of touring Pompeii seemed like a standard archaeological visit with ruins galore all around us.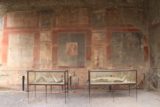 But then, as we walked further to along the Via del Foro, we started to notice some interesting chambers or little squares where some preserved decorations on doorways could be seen. We also noticed some frescoes that were still intact and on the walls in many spots.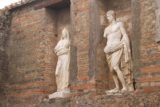 In addition, we saw some statues that looked like they were well preserved in that white marble that we had seen so prevalently in Greece.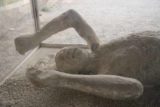 Perhaps the highlight of this section of the visit was one particular area where there were frescoes in a corner next to two well-preserved bodies. This was quite spooky and tragic as we could literally see on the faces of the corpses the pained expressions they were in as well as even the belt or other clothing that they were wearing at the time.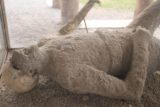 One corpse in particular still showed teeth in his frozen state of agony. Indeed, it was hard to imagine the rolling thunder of superheated gas preceding the landslide of pumice and ash in the pyroclastic flow that buried the ancient town of Pompeii in AD 79.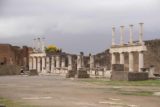 Next, we continued walking along Via del Foro where we saw there was a little tunnel entrance. Little did we know that this led into the Forum Baths where we saw some intricate tile flooring still preserved as well as more frescoes.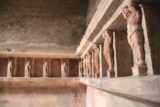 Inside, some of the chambers, we could see rounded and rectangular marble baths still intact.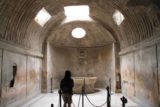 There was even one room where there were muscular statuettes lining a particular room. It definitely made us wonder what it was like to be chilling out in the baths here. I wonder what the conversation topics were like back then.
Next, we chased a couple of attractions that we saw in our DK book. One was the House of the Vettii, which ended up being closed for renovations. In another instance, we looked for the House of the Faunn, but apparently that one required pre-booking and we couldn't see that one either.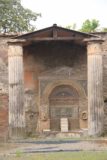 Meanwhile, we did a little more exploring of the immediate area around the House of the Faun where we started to follow a Korean group briefly towards some more well-preserved areas on the Via della Fortuna not far from the Forum Baths.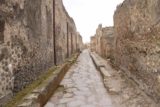 At this point, it was already past 10am and we didn't have very much time to start looking for the next area, which we were hoping to see il Teatro Grande (the Grand Theater). By the time we made it back to the Forum area on the Via del Foro, we could see that the tour group invasion had already commenced in full force.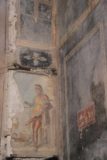 From this point forward, we would be navigating between crowds of people and in many cases joining them as we tried to check out a few more areas before we had to get back to the train station where we said we'd meet Roberto.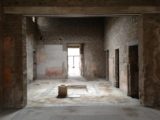 At this point, we walked along the Via dell Abondanza, which was a long path flanked by lots of residences or inns it seemed complete with intact placards containing numbers and names etched in marble. Of course as we navigated this thoroughfare, we definitely had to weave through more human oceans.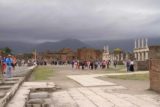 At least in one instance, there were more frescoes, baths, and another pair of corpses encased in some sturdy container. Indeed, there were many nooks and crannies and it was clear that the two hours we gave ourselves to visit this place would be no way to do this place justice. I guess in hindsight, we could've bought one of the local maps and self-guided tours (as well as visit in the afternoon) to hit the major highlights. Because it was real easy to get lost amidst the city and even miss out on some of the highlights.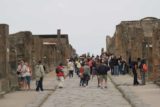 Since we were trying to check out the Teatro Grande, we'd eventually get to some streets that were full of tour groups. Unfortunately, it seemed like all the passages that would've taken us to the Teatro Grande were closed. So we came all the way out this way to see the oldest theater and pretty much came away empty.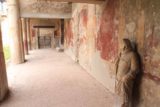 Nonetheless, with a few more minutes to spare, we did check out the Atrium House, which again had more preserved frescoes, intricate flooring, and even a garden in the middle of a courtyard area. Some of the frescoes looked like they had some kind of holy theme to them suggesting to us that indeed Catholicism was practiced back in the day.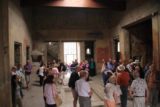 After going to the toilet this far into the city, we started to navigate through the human ocean back towards the entrance. It was too bad that the morning overcast was pretty thick because I'm sure there could've been some surreal scenes of ruins fronting Mt Vesuvius as well as panoramic views towards Sorrento.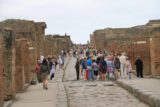 By about 10:45am, we were back at the Circumvesuviana train station, where we met up with Roberto and were on our way towards the Amalfi Coast.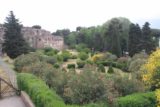 Roberto was concerned about the weather as he said it might have been raining on the Amalfi Coast. So clearly, that would not be characteristic of the May Gray that I thought was taking place. In fact, Roberto said that the weather in Italy this month had been very unusual.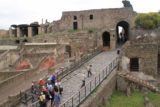 We knew about the tornado in the north of Italy a few weeks ago, but there were also some pretty hefty rains and thunderstorms that resulted in some deaths a few days ago. Plus, when we arrived in Rome as we were expecting heavy rains (that fortunately didn't quite deliver what was predicted), we thought May was supposed to be a pretty good month for decent weather.
Roberto said this was all unusual, and it made me wonder if Global Warming (or Global Weirding) was at play again.
Roberto took us on a windy mountainous route that went through some cliffhugging towns that were prone to landslides and fires. At some point high up on the route between a pair of vertical bluffs, we got overcast views back at Mt Vesuvius towering above a sea of development, including the ancient Pompeii that we visited.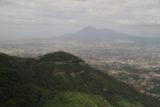 Even though the lighting was subdued due to the May Gray, the view was certainly grand. It was a bit chilly and windy up here, so we took our photos and then continued on.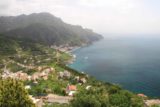 Roberto continued driving us down some winding routes as we crested the mountains facing Mt Vesuvius and now were on the mountains facing the Mediterranean Sea. Eventually at 12pm, we arrived at the charming town of Ravelo.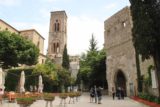 Roberto eventually parked next to a tunnel where we were given another 30-40 minutes to self-tour Ravelo before continuing on.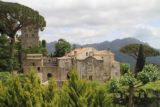 Immediately as we left the car, we checked out the view looking east towards some less touristy towns along the Amalfi Coast down below. The sun was just starting to come out and it appeared the May Gray was burning off. So there was at least some color in the azure blue waters down below.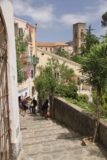 Next, we walked through the tunnel and then started to check out some miscellaneous stairs and walkways flanked by churches and shops that reminded us of our brief visit to Eze in France. We probably burned a good 20 minutes or so doing this, but I knew that Julie was looking for her DK photo of the Amalfi Coast with some signature trees fronting it.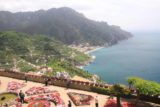 And as we scouted the area, we came to realize that the Villa Rufolo would be the place to do it even though it costed us 5 euros per person. Well, at least they took credit cards so we wouldn't burn through all our cash, but we were becoming concerned that after Naples (since no one took credit cards there), we might not have enough cash to pay our driver. So we had to be very careful.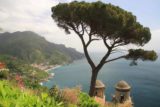 Anyways, we were already running late, but we had to at least get the vistas from within the Villa Rufolo. And sure enough as we got to the terraces, we saw that DK view. Unfortunately, the colors we saw from that photo suggested that it would be a mid- to late-afternoon view. Since we were here at midday, we just got our shots and continued checking out other nearby vistas from this terrace.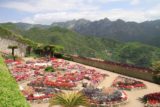 We tried using the flowers (as there was a fair-sized garden here) to add more color to the panoramas here. But eventually, we exhausted our imagination given our time budget of this panorama and proceeded to leave the complex.
It was a shame that we couldn't explore this Villa a bit further (especially since we already paid for it), but we had to go.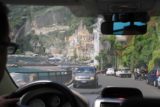 So at around 12:45pm, we met up with Roberto again and next he drove us a few minutes further down the hill towards the scenic town of Amalfi.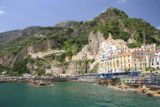 We'd arrive at Amalfi at 1pm. By this time, the skies were definitely cleared up and the sun was kissing the scene to add lovely colors and liveliness to our photos.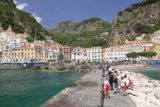 He said this was his home (he lived only five minutes away from where we were at near the beach and waterfront), but indeed, this was one photogenic place where it was hard to convey in photos just how charming and memorable this place was.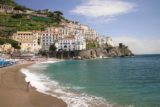 After taking photos on a jetty trying to convey the cliffhugging structures juxtaposing with the azure blue waters, we then headed into the main market area where plenty of tours and other folks crowded the main street that led further up the hill and inland flanked by shops and cafes.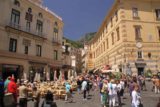 It was another one of those atmospheric walks amidst a large crowd of people. And we hurriedly tried to take our photos to convey this atmosphere before we got to a part that was a bit dead. Then, we headed back down the hill and towards the awaiting Roberto at around 1:40pm.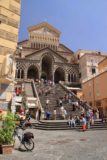 Now that it was getting pretty late for lunch, we were looking forward to some local food that Roberto arranged to take us to. At 2:10pm, we'd ultimately get to a restaurant in this tucked away town up the hill in a separate gorge called Furore.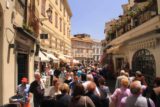 There was some kind of First Communion going on for a young girl here. A fairly sizable family gathering was here and there were plenty of professional photographers doing glamor shots of her in poses in much the same way that wedding photos take place. In fact, the little girl was dressed in an elegant and puffy white dress as if she was getting married. But really, the First Communion was about her first baptism to become an official Catholic.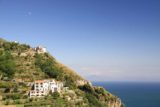 Anyways, we savored the lunch with a view. However, the lunch consisted of a full fare of four courses. I had read about this in my Italian language lessons, but when we were doing it for real, we could definitely feel the quantity of food that was being shoveled into our mouths and settling well into our stomachs.
Even though we thought we were getting pretty good exercise up to this point on our trip (except for today, which was dominated by driving), the richness of the lunch was probably going to more than offset what we burned off so far (especially with the big mozarella cheese pieces that were on our insalata accompanied by bruschetta).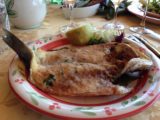 After the initial antipasti of the salad and bruschetta, the primi (first course) was a pasta dish. The pasta itself was thick and swirly (something we hadn't had before). The sauce was tomato based and there were actually cherry tomato pieces in it as well as some eggplant or other ingredients.
That pasta dish was probably enough to fill us up for the lunch meal, but then Adella the employee serving food to us as well as explaining the dishes to us told us that we still had the secondi (second course). In this case, I knew from my language lessons that this dish was going to be either meat or fish.
When the plate arrived, we had lightly breaded and flaky fish that was caught locally in the waters below. It was a good thing it was light and flaky because I wasn't sure we could eat more in this sitting. But even as we lamented the guilty feeling we had in totally stuffing ourselves, the First Communion party were having a massive plate of risotto after having their antipasti. It was totally insant the amount of food they were having!
By the way, all the food we were having was accompanied by water, white wine, and sparkling wine (which we had with our antipasti).
Julie and I shared a tiramisu that was presented in a way we hadn't seen before. It almost looked like it was a cookie topped with layers of the familiar soft pudding-like texture that we knew characterized tiramisu, but one bite of the dessert, and we knew that that "cookie" was merely the cake part.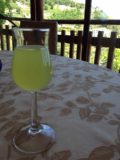 As stuffed as we were, we finished that tiramisu. But we also accompanied that dessert with a heavily alcoholic lemon drink that might have been mixed with something like everclear or moonshine or something (it was called limoncello, I believe). I think the drink looked like it could've been a cocktail, but when Julie took her first sip, she gagged a little as she was totally thrown off by how strong the drink was.
Adella said, "Odio!" as she wanted to make sure we were having a very good meal. I had a feeling it was something that Roberto told us about on the drive here, and now I saw what he meant about that strong lemon drink. I was only able to finish half of my little glass (maybe slightly larger than a shot), but I knew Julie couldn't drink much more than another sip.
Anyways, when all was said and done, we were worried about the price of this full course dinner being close to the equivalent of $100USD when we factor in all the food and alcohol. But it turned out that this meal was only 54 euros with credit card (50 euros cash). Indeed, it was reasonably priced!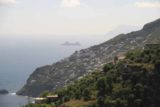 When we returned to the car at 3:40pm, Roberto explained to us that all the food was locally grown or caught here, and we could definitely taste the freshness.
Next, Roberto slowly drove us towards the destination of Positano. On a bridge as we were leaving Furore, he pointed out a particular small waterfall down in the gorge. It was too bad there was no place to stop to take a photo of it for that would've been my waterfalling excuse to talk about the Amalfi Coast.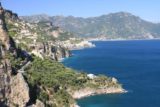 Anyways, as he drove us along the narrow roads of the Amalfi Coast, we stopped a couple of times at some overlooks.
One overlook was against the sun in the direction of Positano and Capri. We were able to see a few sea stacks in the distance by Capri as well as some more cliffhugging buildings and towns.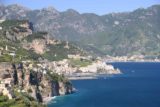 However, it was the second overlook where we looked back towards Amalfi and the colors of the afternoon sun that we probably got some of our grandest photos from the road. We could also see that Salerno was becoming clearer to see even though it was some 40 miles away to the east of us.
As we were continuing west, we could see more and more cars parked alongside the narrow cliffhugging roads of the Amalfi Road. I was definitely glad that I wasn't driving this part as I could just imagine how hard parking would be let alone how hard it would be to squeeze in between large buses. I wasn't even so sure I could figure out where I could pull over to take panoramic photos.
As we got closer to Positano, I spotted where there was a pretty famous photo for DK and LP of Positano. Unfortunately, it didn't look like there was a good place to stop the car so we could make our attempt at that Positano photo.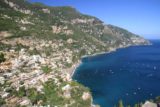 Roberto continued on into the town of Positano but then he took us to a very busy overlook looking down towards Positano from the west so we had the benefit of the afternoon sun. It wasn't quite the signature view of Positano from the east, but the view was sublime nonetheless.
Finally after getting our fill of this viewpoint, Roberto dropped us off at the Hotel Reginella on the narrow streets of Positano. We got to the reception at around 4:55pm. Both Julie and I were quite tired from all the touring plus all that food coma and alcohol (which tends to make us sleepy) so we were quite ready for a siesta (even though it was pretty late).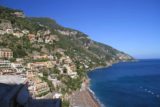 We paid and tipped Roberto and gave him a warm farewell. Even though we knew personal driving tours weren't cheap, I thought it was a good call to do this anyways and not have to stress too much about driving and parking, and really getting to enjoy the Amalfi Coast the way we thought it ought to be enjoyed.
Not only that, but we also coupled that with a visit to Pompeii. So I thought we did about as much as we could do without feeling rushed for the half-day in Naples and the next two nights we were about to spend in Positano.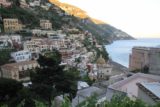 When we got up to our room, we pretty much crashed and took a longer-than-expected nap.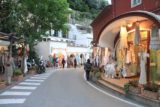 Before we knew it, it was about 7:40pm when we finally got up and walked down the hill towards the touristy part of Positano's main town area. We had to walk a bit along the narrow streets that were shared with both bus and car traffic, but I was already enjoying the late afternoon views down towards the main town.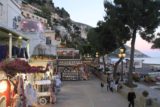 I knew that as the evening progressed, the photos should yield that warm and welcoming twilight colors in our photos.
So pretty soon after descending far enough on the main road flanked by some shops, we would get right to where it was pretty much pedestrian traffic only as we were right at the top of the main town area.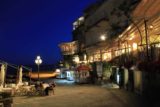 At this point, we were back into that familiar charming town feel where I felt that the Europeans really got this concept of pedestrian-only tourist towns down to a science. We saw plenty of examples of this at Oia, Fira, Split, Dubrovnik, Mont-Saint-Michel, Eze, Yvoire, and now Positano.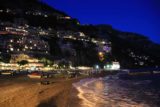 So we weaved our way between shops and cafes as expected. Some of the walkways had hanging olives or ivy or some kind of canopy while other parts of the walkway were conducive to artsy photos showing stairs juxtaposed with old-style walls plus some soft light from neighboring stores.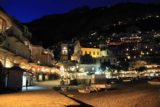 Eventually, Julie and I would settle on eating a light dinner at this place called Capricci at 8:15pm, where we were seated within sight of the waterfront. Given how stuffed we were from lunch, we each had seafood pasta (though mine was the special of the day, which included a local fish here).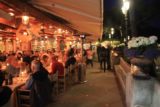 Throughout the dinner, the thought going through my mind was that "la dolce vita" (the sweet life) was slowly but surely sinking in. Indeed, we were giving in to the Italian rhythms of life on the Amalfi Coast, and that we still had over two more weeks of this to go made me wonder how much of that dolce vita would sink into us by the end of this trip.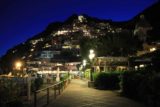 Anyways, the food itself was around 33 euros, but then you have to add the water, the bread (which we never ask for), and the cover and/or service charge, and it became 40 euros. By now we figured out that this was standard fare, and there really wasn't much we could do about that if we were going to any sit-down place to eat.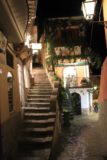 Meanwhile, we figured out that if this was all there was to Positano, we'd mind as well use our full day in town to check out Capri. I'm sure it would be pretty boring to be couped up in Positano all day long tomorrow, and so we were starting to mentally plot how we might make our half-day visit to Capri happen tomorrow.
When dinner was over, the twilight was pretty much gone and now darkness pretty much took over broken by the lights of the town. At this point, taking photos wouldn't be optimal. But we were still briefly exploring what else there was to this town before heading back.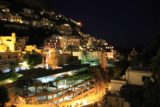 Julie noticed on the waterfront that this place called Chez Black was very busy, and perhaps that might be a place to eat at tomorrow night.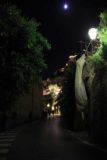 But now that it was getting late, we made our way back up the steps and hills towards our accommodation. And eventually at 9:40pm, we were back at the Hotel Reginella.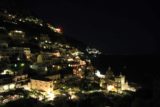 Utilizing the free Wi-Fi, we gave Tahia another Skype call so we could see her once again (since we didn't get a chance to do it last night). We were glad to see her, and she seemed happy to see us (at least at first). But we could see that she was starting to get tired as it was near her own afternoon siesta. So with that, we hung up, and ended off the day with some more much-needed rest.
Day 5: CAPRI SUN, SORTA
At 7am, we awoke. Even though we had a hard time sleeping before 2:30am, we somehow found a way to get up for the day.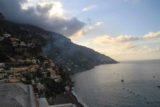 With today being a full day of Positano, we had decided last night to go for doing a day trip to the island of Capri. There were plenty of tour operators that seemed very willing to crowd tourists onto their boats and make the 30- or 40-minute boat ride to the island's Big Marina.
There wasn't much of a sense of urgency because the first boat wouldn't take off from Positano until 10:25am. So, we had a basic (and sweet) breakfast affair at the Hotel Reginella a little after 8am before leaving the room at about 9:25am.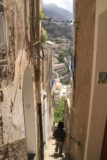 At first, we noticed some people walking some very narrow alleyways with steep steps. We weren't sure where this went, but we couldn't take the chance of pursuing this path with that uncertainty and a boat booking looming in about an hour. So we turned back and went down into the town the tried and true way (i.e. the main street we walked last night).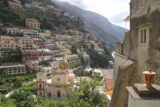 The day started off quite sunny and warm so we tried to brace ourselves by slapping on a lot of sunscreen. However, as we waited for the boat to arrive and start loading up, it looked like there were quite a few patchy clouds (some of them a little dark) sporadically blowing eastwards from the west.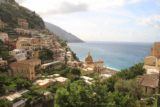 When I saw that, it started to make me wonder whether we would be able to do the Via Krupp walkway as we had intended to do after seeing it ranked at the top for things to do in Capri. The thing was that I had read the walk frequently gets closed whenever there was any threat or hint of inclement weather. It seemed like it would only be open if it was a totally calm and clear day (so the chances of landslides would be minimal).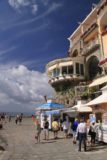 Anyways at 10:20am, the boat showed up and was about to load people onto it. Even though Julie and I were one of the first to pay for our tickets and wait for the boat, we ended up being one of the last to board as hoardes of people crowded onto the narrow walkway where the boat's plank mated with the jetty. It was kind of reminiscent of how people didn't believe in orderly queues in China, except over there, people of all ages weren't bashful about elbowing and shoving their way towards the entrance.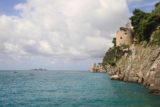 The price paid for not being one of the first to board was a seat in the lower level. I knew from experience that not only would taking pictures not be possible from down there, but also that I would be more prone to seasickness.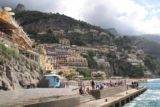 The crew packed us in real tight on this morning's boat ride. So I spent most of that time closing my eyes and trying not to let the bobbing motion get to me. It seemed like Julie did likewise.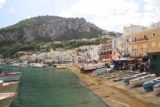 Even though the ride was said to be 25 to 30 minutes, it wasn't until about 11:05am (40 minutes) when we finally docked at the Marina Grande on the north side of the island of Capri.
The first order of business was to get to the information center to get a map as well as a quick explanation from the clerk working there how to get to Via Krupp as well as the Arco Naturale (Natural Arch), which seemed like a very worthwhile thing to do on our own.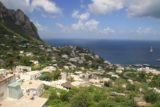 We had read about the Blue Grotto being a rip off, and we weren't really in the mood to do the boat ride to the Foroglioni, which were sea stacks just off the island with one of them having a big sea arch. That reminded us too much of the arch at Cabo San Lucas in Baja California, Mexico and the Hole-in-the-Rock in the Bay of Islands in New Zealand so we opted to save our money there.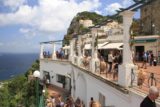 So, with the detailed map in hand (at a cost of 1 euro), we then had to figure out how to go up the funicular (funiculare). It turned out that we had to cross the street, pay some more cash to secure two one-way tickets, and then go back across the street to line up and await our turn to go up the slow-moving funicular.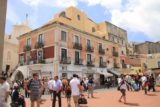 Once we got off the funicular along with the rest of the crowd at 11:35am, we were enchanted by the views from the terrace immediately above the funicular uscita (exit). So we quickly took some pictures beneath the partially cloudy skies back down towards the big marina before we continued on into the busy and crowded streets of the main town of Capri.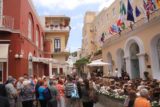 As were trying to get oriented, we instinctively walked to where the walkways seemed to be the largest. Somewhere along the way, we just got ourselves a very quick sandwich to go, which was a Caprese-style sandwich containing large slabs of mozarella cheese, basic, and tomatoes.
It turned out that we were going in a southerly direction on Via Vittorio Emanuele and then Via F. Serena. Once we realized this, we immediately decided to go for the Gardens of Augustine (Giardini di Augustino) first.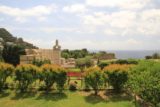 As we were descending the walkway, we noticed quite a few expensive name brand shops like Salvatore Ferragamo, Benetton, and some other shops that vaguely sounded familiar from shopping malls back at home (when Julie used to drag me to them in our early days of dating). Indeed, it felt as if we were walking in an outdoor shopping mall disguised as a cute Italian town as part of the Amalfi Coast.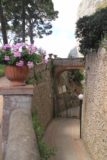 And then it dawned on me! This was exactly what the Europeans had down pat. It was the idea of disguising outdoor shopping malls by blurring the lines between historical attraction and commercial shopping centers in a way that would put people in such good moods that they couldn't help but go shopping. Pretty slick if you ask me!
Anyways, once we got to Via G. Matteotti, we then followed the arrows that pointed the way to Via Krupp and Giardini di Augustino. Julie and I chanced upon a food stand where they were serving granitas (basically lemonade slush that was made from the local lemons as well as sweetened up significantly with lots of sugar to take the bitterness out of the sour lemons.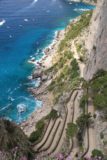 We got one small cup of granita, which costed us an outrageous 3.50 euros (nearly $5 USD). And after tasting it, we swore it was nothing more than the same lemonade slush drink they serve at Magic Mountain to the thirsty patrons waiting hours in line to ride one of their many roller coasters. In fact, the markup in price was eerily familiar.
So seeing how having the granita really wasn't anything special, we were determined to not waste more money on the stuff.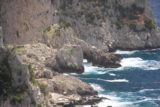 Anyways, Julie and I forked over the 1 euro per person to enter the Gardens of Augustine. And we saw that the Via Krupp walkway was gated off so it was closed as the information clerk had said it might be.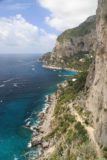 Nonetheless, as we entered the gardens at 11:35am, we could see right away that there were overlooks providing views towards the Small Marina (Marina Piccola) as well as the Faraglione (those trio of sea stacks just off the southeast coast of Island of Capri).
We were even able to look down at the twisty walkway of Via Krupp, which was mostly abandoned except for a handful of people who managed to get onto it somehow. I had assumed they might have hopped the real tall gates or something to get on there, because it wasn't obvious to us how they got there in the first place.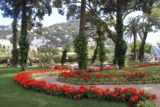 Still, the views of both the Small Marina and the Faraglione were spectacular, and it was made more so by the bright blue-green colors of the Mediterranean Sea hugging the rugged, nearly vertical coastline.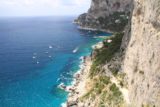 Similar to the rest of the Amalfi Coast, there were houses and buildings clinging onto the vertical cliffs where once again it seemed like no bit of land was left unused or at least wasn't sitting there not having some kind of utilization where there was development. Except in the case of Capri, there were far fewer buildings than say Positano.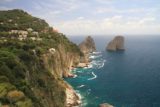 This verticality principle seemed to be the theme of these last two days of the trip in the Amalfi Coast, and it kept reminding us of our experience in Oia on the island of Santorini in Greece.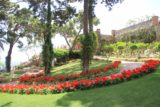 Looking towards the Faraglione, it was clear that the sea arch I was hoping to see was hidden from our vantage point. However, we could see there were boats that came in from one side of one of the sea stacks and appeared on the other side, which suggested to us that the arch was facing east-west and not in our line of sight.
It was too bad that he sun was only partially coming out as there would be moments of color and them more moments of shadows and muted colors. That was kind of a bummer, but then again, Nature does what she does and it was up to us to respond and adjust.
At 12:35pm, we were done visiting the compact garden. We were glad that we did this garden in lieu of Via Krupp because it appeared to us that we were able to get the same kinds of views of the Marina Piccola (perhaps even better) than what we would have gotten from the lower switchbacks of Via Krupp.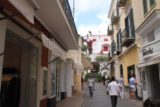 By the way, I had noticed more people including one group of four walking up the Via Krupp, and they seemed to be guided by someone. So perhaps this was a case of someone paying for tour and the guide just so happened to have the keys or something.
It was either that or someone staying at the Hotel Via Krupp might have somehow gained access to the walkway (sanctioned or not) in a way that wasn't immediately doable for those trying to visit from the garden entrance.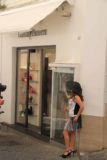 With time running out as we had desired to catch the 3:10pm boat back to Positano, we decided to make a beeline for the Arco Naturale, which was a genuine natural arch on the island of Capri's eastern end.
On our way back up to the busy quad area at Piazza Umberto I, we spotted an attractive woman being filmed for what appeared to be a commercial. With all the people taking notice, I'm sure that lady must have either felt self-conscious (if she's new to this gig) or oblivious to all the attention she was getting from passer-bys (from doing this a bunch of times). We happened to notice that the camera started with a zoom out on her before zooming in to her face as she was saying something in Italian.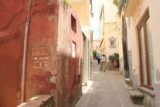 Anyways aside from that, it looked like it was going to be quite a bit of a walk, but it turned out to be a mostly quiet and atmospheric walkway between tightly-spaced residences and businesses interspersed with ivy-and-flower-lined walls as well as the odd terrace with expansive views back towards the souhern end of the island.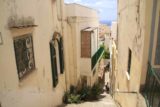 The relative quiet of the long walk along Via Sopramante (which began under some archways and stairs up a rather obscure walkway north of the Piazza Umberto I quad area) was broken by an invasion of school kids doing what they always do – make lots of noise.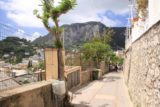 Fortunately for us, the noise died down once we got past the junction with Via Tiberio so perhaps those group of kids were headed to the even longer walk to Villa Jovis on the far topright of Capri Island. It turned out that Villa Jovis were old ruins, but seeing how much of a time commitment it was as well as how much Julie and I were "ruin'ed out" after Pompeii, we skipped Villa Jovis and continued onwards to Arco Naturale.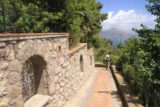 There was also another decision point when we got to a cafe or restaurant in which part of it seemed to be beneath a cave-like alcove perched against a cliff. There were stairs labeled for Grotta di Matermania, but since we thought we were short on time, Julie insisted that I skip that one as well.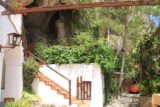 Finally at 1:10pm, we arrived at the Arco Naturale. It turned out to be well worth the walk because what this arch had going for it was the blue-green waters deep beneath the span of the impressive arch.
There were also a pair of other peep-holes or smaller arches flanking the main one, which really made this particular attraction one of the better arches we've seen in quite some time.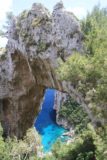 The hard part was trying to photograph it as there would be either foliage getting in the way, or the size of the arch itself as well as how close to it we were made it hard to capture and communicate in our photos.
Actually, Julie's iPhone 5's panorama stitch feature served her really well on this arch. Even with my wide angle lens, it wasn't easy to capture and communicate the scene in the way I would have liked.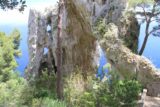 Anyways, it looked like the arch had one spot on its span that appeared to be very close to causing a collapse. There were significant cracks on its topright part of the span, and if that part cracked chunk fell, there would only be a very thin part of its span left. That would most certainly be the cause for a collapse so who knows when this attractive natural attraction would go.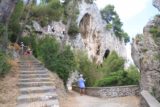 As Julie and I had our fill of the upper vantage point, we then walked down the stairs towards the lower viewpoint where we were directly in front of the arch. Julie helped one guy take a photo, but he was complaining that walking all the way over to the arch was too much work. In fact, he said it was 2013 so they should have found a way to make access to it easier.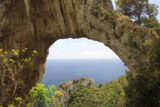 Julie smiled politely and let him have his say (perhaps he was jaded because he thought Villa Jovis wasn't worth the effort and that was a 2-hour hike according to him), but we both thought this guy probably lost touch with reality. After all, Nature tended to do just fine without intervention by people, and this arch was proof of that.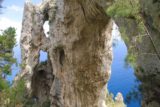 Up until this point, most of Capri (and the Amalfi Coast) experience was dominated by charming corridors disguised as outdoor shopping malls. So it was very refreshing to have a noticeable lack of these things on the 20-minute or so (each way) walk to the Natural Arch.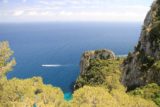 At 1:40pm, we finally managed to pry ourselves away from the attraction and head back to the main part of town. Given how long we took just to get off the boat and up the funicular earlier this morning, we figured we mind as well give ourselves as much time as possible to ensure we'd be off the island on the 3:10pm boat ride back. We had no interest in waiting until 6pm to get back, especially given how expensive things were on this island.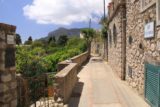 At 2:20pm, we were back in the funicular area where we caught a few more looks on the terrace at the Marina Grande from the top. This time, it seemed like the sun was even more prominent than it was earlier this morning.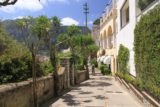 By 2:45pm, we managed to board our boat back to Positano. We were one of the first to get on so this time we sat on the top deck.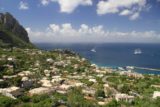 Eventually by 3:20pm, the boat finally took off (I should've figured it was 3:10pm Italian time). By this time, it appeared that there were more clouds cutting above us and making things a little chillier than when we boarded.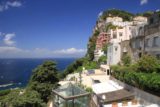 At 4:05pm, we were finally back in Positano. We were in that in-between time when I was hoping we could have an early dinner and then take twilight photos of Positano, but we were still quite early for even those plans.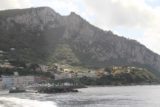 So we went ahead and ate at Chez Black's since they didn't observe siesta, and given that we were one of the few folks at the restaurant at the time, we had pretty attentive service, and there was a noticeable lack of cigarette smoke (for the most part) during our meal.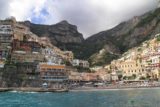 Speaking of which, Julie got the expensive 48 euro seafood soup, which was really more like a seafood bucket for two. Meanwhile, I got a 32 euro sea urchin spaghetti, but this one was unlike the Japanese ones in that this spaghetti was cooked in olive oil and there was some red in it so there might have been some tomato or something in there as well.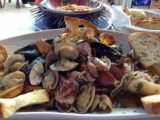 Whatever the case, this ended up being a splurge, and why not? It was our last night in the Amalfi Coast so we just went with La Dolce Vita once again, and by the time it was around 5:45pm, we were finished eating and did some brief grocery shopping before we headed back up to the Hotel Reginella.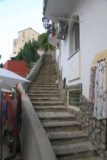 Except in this instance, we decided to take some unmarked stairs that ascended very steeply right up to the road that connected with our hotel (or at least that was the assumption when we started the ascent).
With each flight of steps that we ascended, I would take breathers to look back in the other direction. That was when I was quite often surprised by the charm and beauty of this path less taken. In fact, this was the part that really reminded Julie and I of exploring some of the less trodden paths within Oia.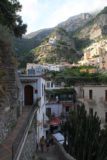 Anyways, after going up perhaps another 3 or flight long but atmospheric flights of steps amidst tight pedestrian alleyways between residences, we started to encounter some narrow steps going up to our right that didn't belong to private residences.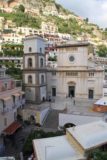 We weren't quite sure which one we ought to be taking so we decided to just keep going straight. We had a feeling that this path would ultimately hook up with the main one-way road so even if we overshot it, we were quite certain that we would eventually meet up with the Hotel Reginella.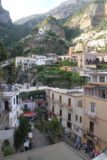 Julie's suspiscion was confirmed when she asked some passer-by if this led up to the street, and we received a firm yes.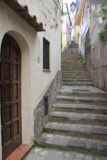 And so we ultimately ended up back on the main street though as suspected, the place we were at wasn't immediately recognizable. There was a church-like thing immediately to our right, and we never remembered passing by this structure both the times we walked down to Positano town the long way.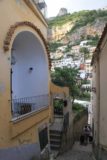 After a few more minutes of walking passing by a charming restaurant with tables on both sides of the narrow road as well as some inns on the steep expanse to our right overlooking the Mediterranean, we finally arrived at the Hotel Reginella at 6:20pm.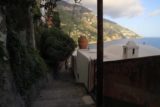 It took some time for the receptionist to return the room keys to us because he was helping out another guest, but ultimately we were back in the room at around 6:40pm. And now it was time to wind down knowing that tomorrow would be the first day I'd start driving in Italy, and it was going to be a very long drive at that. For it looked to be roughly 6 hours minimum of driving amidst Italy's less trodden countryside in the Abruzzo area.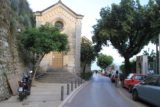 Even the accommodation we would be staying at was in Arpino, which was in neither of our guidebooks (LP an DK), and neither was Isola del Liri, which was yet another place we'd be exploring somewhere near Arpino.
I was nervous about this day last night, and my anxieties weren't quieted any more on this night.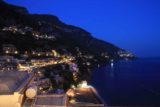 Before we were totally done for the day, I managed to take a few photos with the tripod (finally putting it to use on this trip) after around 8pm or so. That was when I tried to take some long exposure twilight shots of the view from our balcony, except there was a hideous building right below us that kept our view from being what it could've been. Oh well, it was what it was…
Visitor Comments:
Got something you'd like to share or say to keep the conversation going? Feel free to leave a comment below...
No users have replied to the content on this page