Day 1: CARPE DIEM
It was about 12:15pm when we arrived in Rome. The entire flight was pretty smooth going as we were able to sleep lightly for some 3 or 4 hours, but when it was about 2am (11am Rome time), the lights were on and the captain woke everyone up. I guess we were to have our brekkie before landing, but it certainly felt like we were in the middle of sleep before that happened. And so the jetlag begins…
Before the sleep, Julie was reading her Kindle (now a pretty customary practice for her on these past few trips) while I was watching Argo (great movie) and Skyfall.
After the brekkie, a young girl that was sitting next to Julie by the window (who looked like she was traveling on her own) conversed with us briefly. It turned out that she was going on a foreign exchange student program for five-and-a-half weeks. She said she would be staying somewhere two hours north of Rome in a tiny village so I guess her Italian (a language she was learning at University of Arizona) should quickly improve and get pretty close to fluent.
Meanwhile, I was already practicing some Italian with the stewardesses (mostly to get one of the ladies' attention to get the last tray of trash that I was holding onto when their trash bin ran out of space). There was a lady across the isle from me that said, "Bravo!" to me. I guess she didn't expect us to bust out some Italian. The girl that sat next to Julie also noted that as our conversation moved over to learning the language.
Anyways, the flight landed on time, we then shuttled from the airstrip onto the terminal area, and then we went through passport control and baggage claim without too much drama. The foreign exchange we saw was pretty outrageous at some 1.47 USD to 1 euro. But we knew we needed some cash on hand just in case so we exchanged a little bit knowing that we expected to exchange more in the city of Rome itself.
We noticed that we didn't have to fill out any immigration cards so that was a little unusual. At least it would save some trees.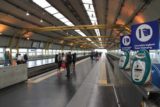 By about 1:15pm, we were waiting for a train to arrive so we could head from Fiumicino Airport all the way to the Termini Station in Rome. I guess that station was like Grand Central Station in New York where it seemed to be THE transport hub of Rome.
At 1:40pm, the train started to take off. The half-hour train ride went without a hitch, and when we arrived at Termini, we navigated our way out of the train station. Then, Julie and I figured out how to walk to our accommodation at Flowerome. That was where we met up with the proprietor of the property we were staying at, which turned out to be pretty roomy for Rome.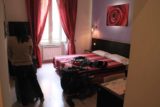 Anyways by about 2:40pm, we were checked into our room, got settled, and then proceeded to try to seize the day at 3pm. It turned out that the weather had cooperated so far when we were expecting some pretty crummy weather both today and tomorrow. After all, the forecast called for 90% chance of showers with thunderstorm possibilities on both today and tomorrow! So we knew that any extensive walking and outdoor activities would have to be taken care of today based on the forecast.
Ultimately, based on the Flowerome innkeeper's recommendation, we planned on a walking route that began from the metro stop at Spagna and the Spanish Steps. Then we would walk over to the Trevi Fountain (Fontana di Trevi), then walk over to the Pantheon, then the Piazza Navona, and finally the Campo dei Fiori.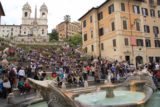 It took us a while to figure out the Metro machines mostly because we didn't realize that we really couldn't feed the machine anything that would make it produce a change of 6 euros or more. In other words, we couldn't feed it very much except the smallest of denominations, which we didn't have. So like in France, we had to purchase some chips on the cheap in order to break some of our bills, and only then were we able to purchase the one-way metro tickets.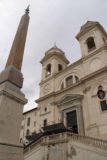 By about 3:45pm, we finally made it to the Spanish Steps. It sat overlooking a long and narrow square that was also quite crowded with people. The steps themselves were almost completely covered with people, but that only added to the atmosphere.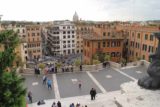 Julie and I took a bit of time soaking in this happening atmosphere at the Spanish Steps. And when we climbed up these steps, we were reminded of our last day in Paris last year when we joined a large crowd of people simply checking out the scene at the Sacre Coeur.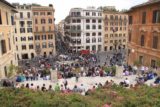 We probably spent nearly an hour here before we continued our walking tour.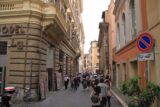 After going through a few narrow alleyways crowded with people plus one crossing of a major street, we were then at the crazy crowded square containing the Trevi Fountain (or La Fontana di Trevi). We thought the Spanish Steps had some atmosphere, but this place packed in even more people around its impressively large fountain. I'm sure it was also a haven for pickpockets so I reminded Julie for her to wear her backpack backwards. I had left my wallet in the hotel room so I wasn't as concerned about getting pickpocketed.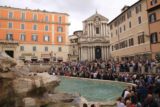 I noticed quite a few people trying to toss a coin over their heads and into the fountain, but the funny thing was that it was so crowded that some of these coin tossers were pretty far away from the fountain when they made their attempt at a wish. I wondered if anyone got an unpleasant surprise by being bonked on the head by one of these coins.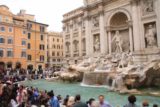 It was quite easy losing Julie in this crowd so we made sure to stick together after we initially got separated while getting lost in the moment taking photos. In fact, Julie discovered a pretty nifty panorama mode on her new iPhone 5 and so she was giving that little feature a whirl.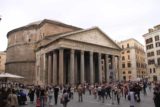 Continuing on the walk through more crowded and narrow alleys and cobblestone streets, we would eventually make it to the Pantheon at around 5:30pm. Unfortunately, they were observing holy mass until 6:30pm today so we could only check out the Pantheon from the outside.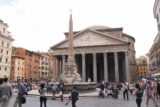 Julie was telling me how this was the building that had the hole at the very top of its dome. I wondered with the rain and/or expected rain coming whether that would render the Pantheon interior somewhat hazardous to walk given the water coming in from that hole.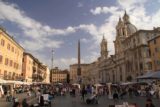 Anyways, after having our fill of the Pantheon, we then continued to walk and arrived at the Piazza Navona at 5:45pm. This square was an impressively large rectangular piazza that was very wide but not very thick. So the best photos that we took of the atmosphere here were from the sides of the piazza.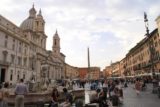 There was a fountain here with a pillar as well as some large facade of perhaps a church or cathedral. There were the usual peddlers that were cleverly dressed (seen plenty of these at famous sites throughout Europe now, including Paris) as well as many art displays from the space art on the street (nothing new there since we even saw this at Venice Beach, CA) as well as caricatures of famous figures and some abstract art of famous sights.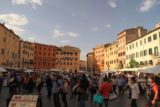 On the perimeter of this square were plenty of restaurants with folks vocally trying to lure any passer-bys into their dining area.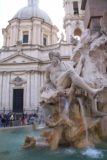 In perhaps a bit of a surprise to us, the sun came out at this time of the day with some pockets of blue skies. With the 90% chance of T-storms predictions of today and tomorrow, this surprise was very welcome. We could only hope that we would run into similar fortune tomorrow when we planned on seeing the Colosseum, St Peter's Basilica, and the Piazza del Popolo.
Since Julie wanted to be off her feet a little bit while having a dinner, we decided on going to one of the restaurants here in the Piazza Navona at 6:20pm. Clearly, it was a choice based on atmosphere as opposed to the expected quality of the food. So we didn't have much expectations on eating here, but it turned out that the spaghetti della pescatora (seafood pasta) and Julie's veal dish were pretty good (at least better than what we could expect back at home in LA).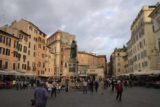 After our dinner, we then walked a little bit towards Campo dei Fiori (field of flowers?). This was a bit of a humbler square compared to the other ones we were at earlier on this walking tour. It seemed to feature a hooded figured statue perched atop a pedestal near the center of the square. That hooded figure reminded us an awful lot of the young Darth Vader in Star Wars Episode 3. But anyways, I digress.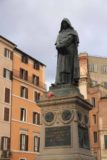 We finally had our fill for touring today as we then headed back towards the main busy street on Corso Vittorio Emanuele II. At first, we caught the 64 bus going the wrong way, but then after some locals helped us out, we got off the bus after a couple of stops and took the 40 bus going the other way at around 7:40pm.
The bus ride seemed to take quite a while as it made numerous stops and it didn't seem to make a beeline for the Termini Station. Nonetheless, we caught a glimpse of the Colosseum as well as some National Museum facade that looked like Caesar's Palace come to life (it was actually the Palazzo di Vittorio Emmanuele). So we noted to ourselves to go ahead and do the walk to take in these archaeological features as well as the grand structures en route to the Colosseum tomorrow.
By 8:15pm, we returned to our room. Unfortunately, there weren't any toiletries so we had to use the hand soap to shower. But that meant we couldn't wash our hair for the second day, and I could already feel how oily it was.
Nonetheless, we got settled, did what we had to do with photos and stuff, and finally connected with Tahia on Skype at 10:45pm (1:45pm PST). We knew it was late for her afternoon siesta so the call was short. But at least we were getting settled in on Italy, and now we had to cross our fingers and hope the weather wouldn't be too deplorable tomorrow, when we had even more things to see and do!