Day 2: THE HUMAN OCEAN
It was 7am when we awoke to the alarm. It was hard to wake up though because it was still 10pm back at home. Nonetheless, it was quite light outside though the skies were threatening with dark clouds. I still remembered when we didn't even wake up until well after 9:30am when we were in Paris due to jetlag but back then, we had 2 full days to enjoy the city. In this case, we knew that this was the only full day we would have in Roma so we had to make the most of it.
It wasn't until 8:05am when we finally left the accommodation to go sightseeing. And by then, it was already raining. We were afraid that the nearly 90% T-storm predictions we saw on the weather report prior to arriving in Rome would come to fruition at that point.
Yet the surprising thing was that the city was already wide awake as the Termini Station was very crowded. In fact, the Metro A line that we were about to take was already packed like sardines! It almost felt as if we were already behind on the day.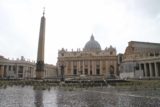 Anyways with the crummy weather, we decided to hit the Vatican first today. We originally thought that we could skip the museums and stuff since we weren't into the whole artsy scene, but since it was predominantly an indoor activity, perhaps we mind as well do it. So that was the plan.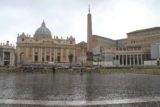 It was about 8:45am when we arrived at St Peter's Square. And even though it seemed like the rain was somewhat at bay from the time we walked from the Ottavio Station to the city walls of the Vatican, the rain came in force when we got to the columns surrounding the Piazza di San Pietro (St Peter's Square).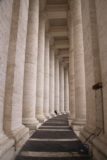 So we sought momentary shelter in between the columns surrounding the perimeter of the square (which was more like a giant circle), and then we tried to take some awkward photos, which was hard to do given the grandeur and size of the entire place. There were weather-worn chairs populating most of the square around an obelisk right in the middle of the square with a large church (which I'd imagine was the St Peter's Basilica) facing us in the far opposite end of the square.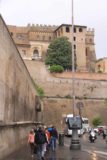 But with the bad weather and it still being somewhat early, we noticed that there weren't too many people out here. Did we make a mistake in coming to the square first instead of the Vatican Museums, which the signs were pointing to our right before we walked towards the square (ignoring many folks standing outside trying to lure people into their guided tours)?
So we walked back out towards the Metro Station for a block before turning left to continue along the Vatican walls. It wasn't until about 9:15am when we ended up standing in a very long line right outside the Vatican Walls that seemed like it went on forever. We were still backed off from a street corner near a three-way traffic light where on one corner was the Vatican Walls, and there was a lot of honking going on from the difficult driving conditions of pedestrians trying to cross the street with a lot of drivers trying to get past this rather difficult intersection near the start of the line. Indeed, seeing this made me glad we decided NOT to drive anywhere near Rome!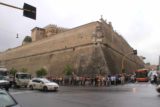 So while we were discouraged by the size of this queue, we started to estimate how long this line would take, and we reckoned it was probably at least 90 minutes. It reminded us of the queues at popular rides at Disneyland or Magic Mountain. Moreover, with our lone full day in Rome, we wondered if it was worth it to wait that long for independent touring of the Vatican Museum and the Sistine Chapel.
Anyways, that put us in the mindset to listen to this Indian lady who was one of many touts trying to sell guided tours. She picked up on the fact that we weren't in any mood to wait 90 minutes or so and that got Julie to start talking to her. When she said that a particular tour was about to leave at 9:30am, we decided to go for it (for 41 euros per person), and so we crossed that chaotic street and went to a tour office that was facing the intersection at the corner of the Vatican Walls.
After paying our fee, we met our English-speaking guide, which was really Italian-English as we really had to listen quite closely to understand what she was saying, but it was still coherent English nonetheless. If anything, it was training me to listen for some Italian filler words such as "Allora", "Dunque", and "Andiamo!" (since I knew at some point I would really have to use what elementary Italian I picked up from the Learn-to-Speak language lessons from the last four months).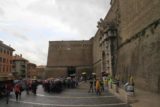 So the tour began at around 9:30am, and after listening to the guide for some 20 minutes or so as she explained the origins of both Rome and the Vatican to a cardboard map right outside the tour office, we then walked up towards the entrance to the Vatican where we jumped the long queue (though it did look like it was moving at a rate that people were adding to the queue), got our headphones, and then went through a shortened queue into a very crowded security and ticketing area.
As we went through security, we were a little worried that the black bag I was carrying that had water, books, and some extra jackets and stuff was going to be too big to take through on our tour (and we would have to leave it behind at some locker), but it ended up being a non-issue since they let us through.
Next, we had to wait at the ticketing area because there were quite a few women on our tour who needed to use the restroom, and there was a very long line. So it wouldn't be until well after 10:15am when we would finally start on our tour!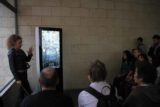 We started off by talking around this interactive map of the Sistine Chapel (La Capella Sistina) where the guide Serena spoke for nearly an entire half-hour going over all the details of each section of the chapel. It might have been a bit of information overload, especially since we were all chomping at the bit to get going on the tour, but she had to do this because the chapel was considered holy so no more talking/guiding inside (and of course no photo taking) inside the capella.
Anyways, one thing that Serena mentioned that definitely stuck with me and that she admitted was hard to say since she was a Catholic, was that Michelangelo was homosexual. And she even showed us some parts of the frescoes within the Sistine Chapel where there were two men kissing as well as another section where Michelangelo's boyfriend was sitting and looking towards the center.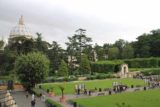 Apparently most of the tour didn't quite get the irony (given the respectful silence or indifferent silence by the tour participants – I couldn't tell which), but the thought of a homosexual working in some subtle hints of who he was in the most holy of holy places in the Catholic world was a supreme irony to me. When I explained it to this somewhat middle-aged or senior English-speaking tour participant next to me, we both busted out laughing.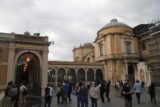 Julie couldn't conceal her smirk and chuckle either. She was actually quite surprised that the powers that be in the Catholic world let him get away with this. Nonetheless, that bit of insight from the tour guide definitely help carried me through the long lecture, and it probably helped us stomach the 25 euro per person premium to jump the queue and go with the guide (it was 16 euro per person unguided).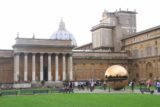 So once that was done (which was around 10:45am or so), we then navigated through a maze of people (as the guide called a "human ocean") as we crowded our way through cramped corridors filled with artistic works of art flanking us and even above us on the tall ceilings. I could totally imagine how much more enjoyable walking through these decorated halls might have been under more peaceful times, but when we were inundated with other people crowding through, we had to make an effort to stop to take photos where possible while we had to give in and accept the fact that there would be no way to take any photos without other people in it.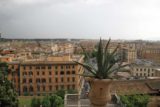 Actually, that was the time to take context photos! And I sure exercised the movie mode of the camera to take photos since I could use the LCD display to somewhat see what I was shooting while I raised my arms above the crowd to take photos.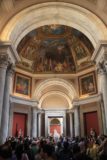 Serena said that this was actually not that many people compared to say Saturday and Monday since Sunday would be closed. It was hard to imagine how this place could be even more crowded than it already was.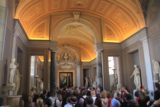 So after going through some long corridors of tapestries and even an attractive section of some golden-lit part with a scaffolding on one side (unfortunately), we then made it to the Stanze di Rafaello, which I'd imagine was a bunch of rooms that Rafael must have worked on or something.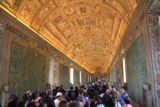 After going through room after room (despite how big each room was), they started to look the same after a while. I guess our guide Serena was right when she said early on that it's really easy to lose the sense of perspective once you go through the public parts of the Vatican on such a museum tour like this.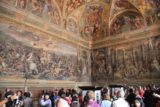 Speaking of which, the Vatican City itself was not allowed to be toured by the public since it was only occupied by some 300 residents who were mostly workers maintaining the Vatican Museum while also housing the papacy. So we were only able to look through a very small section of the Vatican through the museum tour.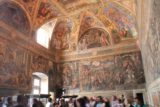 Well, after the Stanze di Rafaello, we went downstairs (many flights of steps), gave back the microphones, and then went for one last go at a toilet (which Julie gladly used) before we went up a flight of stairs and into a corridor that led right into the Sistine Chapel. This was at around 12:30pm, which we kind of knew that this tour would take the better part of the entire morning given the pace of our tour at the outset.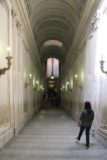 Inside the Sistine Chapel, it was mostly dark (I guess they tried real hard to protect the frescoes in here), and it was clear no one dared to take a photo in here despite there being almost entirely crowded with people just staring up at the impressive display of Michelangelo's work.
Julie asked me to point to the homosexual scene, and that was when I recognized what Serena showed us, which was to the topright as we faced back towards the entrance as well as the center right. Julie saw it and then gave another stifled laugh. It proved that Serena wasn't BS'ing us on the tour.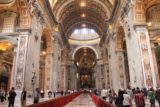 After the Sistine Chapel, we then walked out and towards the St Peter's Church, which was a massively roomy church where there was absolutely no way a singular picture could capture the size and grandeur of this place. Julie and I wondered how such a holy institution could contain such opulence, but considering this institution was on the order of a couple of thousands of years old (where newer works and structures were measured in terms of centuries as opposed to millenia), it really hit home the extent of the church's power over human history.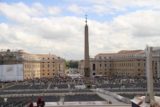 Anyways at 12:55pm, we were finally back out at St Peter's Square. However, this time, the sun was out! In fact, it seemed like the skies were clearing! Julie and I had worried going into this trip that both yesterday and today would be wet and miserable, but the weather was kind to us. Now we felt that we wouldn't feel compelled to return to Rome at the end of the trip after all!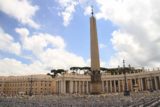 Next, Julie and I stopped by the Old Bridge Gelateria before heading back to the Metro Station at Ottavio. This gelato was way better and cheaper than the random place we had gelato yesterday somewhere near the Trevi Fountain. We made one quick stop at the Piazza del Popolo at 1:45pm, which was another one of Rome's main squares, before finally having lunch.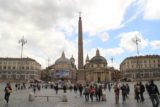 But when we got to the large and open square, I think we were a little "squared out". We took some obligatory photos from within the square, but we didn't feel they were all that photogenic. However, I did spot a lookout area above us to the far left side of the oval-shaped square, and that was where I was headed.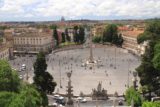 Meanwhile, Julie decided to do some reading for some lunch spots under the shade of the tall obelisk in the center of the oval square.
When I got up to the top of the panoramic view, I could see most of the oval-shaped square (except for some large trees blocking parts of the sides of the oval open area), and I could also see plenty of dome-shaped structures out in the distance.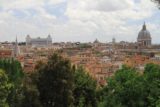 It was a view similar to what Julie and I saw at the Sacre Coeur in Paris, and I'm sure Julie would've liked this view, but I knew she wouldn't come up here and so I got my panoramic shots, and then bolted back down to the obelisk where she was reading.
Anyways, we were back on the Metro and got off at Termini again. Next, we walked a ways past our accommodation and towards a lunch spot somewhere between the Termini Station and the Colosseum. We finally lunched at this rather tucked away spot called il Nipotino del Solitario, but it turned out that the combination of cigarette smoke and the food itself wasn't all that great.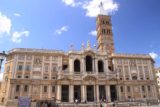 In fact, they had some delicious looking pizza, but the proprietor said pizza was only for dinner. Plus, the pasta dish with black pepper and truffles was missing the truffles. So the two dishes that drew us to this place weren't available. And we ended up finishing our lunch and finally feeling relieved to continue on our way out of there to get some fresh air (away from the cigarette smoke).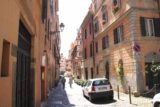 So we continued along some pretty quiet and narrow streets as we ambled along towards il Colosseo. In fact, we were actually trying to walk in shadier spots as the sun was definitely out between the patchy clouds and the weather had warmed up significantly. Funny how we were worried about seizing the moment given the predicted bad weather, but it ended up turning out pretty nicely for us.
I guess carpe diem was still a good mindset to have anyways because we definitely took nothing for granted up to this point.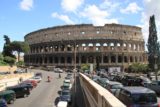 At 3:35pm, we made it to the backside of the Colosseum. It was definitely a quieter side of the impressively grand ancient structure, and we snapped a few photos here. But as we went through the metro stop B for Colosseo, we then ended up on the ground floor to join the scores of tourists passing before the front of the ancient monument.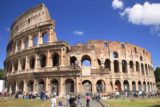 It turned out that we were between the Palatino and il Colosseo, which also featured some arch-like structure in front of it. And we took what photos that we could (again accepting the fact that there would always be people in the photo given how busy it was) but at least we could see the building glow with the afternoon sun.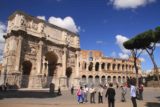 We would end up walking some 200m away from the Colosseum to get into the Palatine Hill and the Roman Forum. The ticket was 12 euros per person (a bargain compared to the Sistine Chapel), and we expected to breeze through this place thinking that a bunch of archaeological stuff on the ground wouldn't be all that appealing and that we were only after more elevated views of the Colosseum.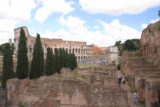 With both our legs sore and my shoulder very sore from carrying the black bag full of stuff, we were ready to call it a day. But as we explored il Palatino, the place was growing on us as we were navigating our way through the impressively extensive complex of the Roman Empire's past glory.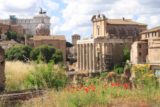 When we got to the Temple of Venus and Roma, that was when we got our views of the Colosseum. Julie and I had to get a little creative taking our couple shots using the stairs and a combination of our guidebook and the camera straps to steady the camera. And it was a good thing we got our shots when we did because at around 4:50pm, some lady was going around kicking everyone out as there was going to be some work done to this area.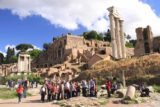 Had we showed up any later, we wouldn't have gotten our Colosseum shots and that would've really pissed off Julie who said our only reason for coming into Palatino was those shots of il Colosseo.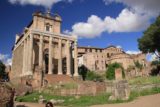 Next, we descended towards the Roman Forum, and when we got into the main area, we were surrounded by impressive structures that were either still left standing or were partially restored. It was almost like when we were touring remnants of ancient Greece at the Acropolis in Athens, but here in Rome, the archaeological remains were every bit as photogenic and impressive.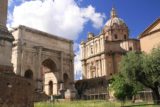 Julie and I were definitely glad we got to do this part of the city!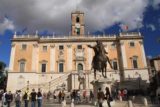 As we left the Roman Forum and Trajan Markets, we then ascended some steps towards another plaza by some Central Historical Museum. After taking some photos up there, which seemed to be right behind what I called "Caesar's Palace" which was really il Palazzo di Vittorio Emanuelle (that was somewhat modern at around 200 years old or so) because it resembled Caesar's Palace in Las Vegas (actually I'm sure the LV-version bit off of the real deal here), somehow I had lost Julie in the crowd.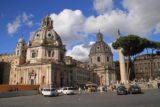 Thinking that she went looking for me at the front of "Caesar's Palace" I went down there looking for her, but she was nowhere to be found.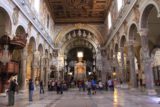 I started to going back up to the square in search of her and I still couldn't find her. So I started to look into some fancy cathedral in back of Caesar's Palace that led out to a balcony with grand panoramic views of Rome. But still no Julie.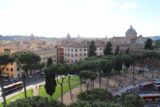 I then went through some steps and corridors that appeared to be part of some large museum, but I knew that Julie wouldn't be in the museum so I ended up back on the ground floor in front of Caesar's Palace again. But still no Julie.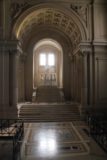 I then went across the street towards some Capitol-looking buildings trying to survey the ocean of humanity in search for her, but still no Julie.
Finally, I decided to go up to a couple of cops to see what my options were. They laughed but all they could say was that someone had to stay still, and he recommended that I go back to the last place we had lost each other then sit still. So I ended up going back to the square behind the museum up the stairs towards the top of the backside of Caesar's Palace.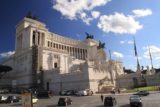 I would finally start to descend some long steps at the top of the square (the first time I would go down this way) and that was when I finally saw Julie's half-angry half-concerned look as she went up the steps towards me and I met here on the way down!
It was 6:10pm when that happened. But at least after we traded stories about what happened (along with accusations), we were finally able to tour the area together. Indeed, touring alone when lost definitely took away from the experience.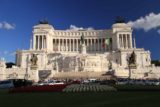 So Julie and I crossed a very busy street towards a lawn area where we tried to take photos of the front of Caesar's Palace. But the shadows of the late afternoon at this time that covered the lawn and flowers in front of us made the photos suboptimal.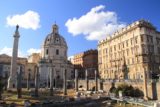 So we then took a pretty atmospheric stroll along the main street that connected the Palazzo di Vittorio Emanuelle (aka "Caesar's Palace") with il Colosseo.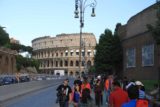 As we got closer to the Colosseum, we noticed there were four maps of Europe etched onto some of the Palatine Walls. There, we saw the extent of the Roman Empire over the centuries and were quite impressed by how far it expanded as it even went into Great Britain, the Middle East, and large swaths of Northern Africa as well as the Iberian Peninsula.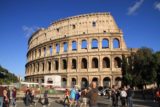 And with that, we took our last shots of the Colosseum before catching the Metro line B towards Cavour where would search for dinner as it was now getting late in the day.
We would initially search for this place called Trattoria Monti, but we were told that the first available opening wouldn't be until 9:30pm. So we passed on this place and ended up at this other place called Vecchia Roma (Old Rome).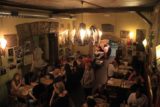 We got there at 7:40pm and we managed to get a seat without reservations since we would be occupying someone's seat who wouldn't be there until 8:30pm. In any case, we enjoyed this "amitriciana" dish that consisted of pork cheek bacon in thick spaghetti with tomato sauce while Julie got some veal (scallopine) with wine sauce. We also got some insalata mista (mixed salad), which was needed since we didn't eat any greens up to this point.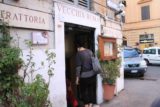 And as promised, by 8:30pm, we paid il conto (the bill) and left the restaurant. By now, we came to accept a few hidden charges no matter which restaurant we went to (from cuperto or cover, to servizio or service charge, and in Vecchia Roma, we had to take a 2 euro bread charge and 2 euro tap water charge).
We then did some last-minute grocery shopping in preparation for tomorrow's journey to Naples via train. And after getting one large water bottle along with some much-needed fruits, we then took the A line back to Termini where we were finally back at our accommodation at 9:10pm.
To say this was a long day was a total understatement. Our legs were very sore, both my shoulders were tender, and our lower backs definitely wore the stress of both carrying stuff and absorbing the shock of walking extensively on uneven and hard cobblestone streets. In fact, Julie couldn't envision how so many Italian women would wear high heels throughout the city while walking on these surfaces for prolonged stretches of time, but we knew about la bella figura (which was a mindset to always make a good first impression) and we figured that that was how Italians retained their fashion edge and good looks.
Anyways, we had that smoggy feel in our lungs as we couldn't breathe in totally, and we figured that was a combo of cigarette smoke and pollution.
So we got our much-needed showers, and used our spotty Wi-Fi connection to Skype back at home again. It wasn't a fulfilling call back home given the spotty connection with dropped videoconference calls and frozen pictures, etc. But at least we got to see our daughter and the rest of the family (or at least my Mom and my brother's son as it was a school day for both Tahia and Joshua) before signing off.
And so ended a very event-filled day. I recalled falling asleep despite the lights being still on and Julie doing something on the computer…