Day 3: WEDDING DAY
It was 7am when we awoke. Both of us were still groggy from the remnant effects of jetlag, but we still forced ourselves up knowing that today was a transit day to Naples. That said, we still slept sufficiently considering that I had vivid dreams (e.g. like I was at the right place to see the firefall in Yosemite but still somehow I missed it) so I figured that had to be a good thing in terms of getting caught up on sleep.
Anyways, after getting packed and ready for the day, it wasn't until around 9:10am when we finally left the hotel. At about 9:25am, we were within the Termini Station seeing that we had to queue up for the train ride to Napoli's Central Station. However, our ticket that we picked up from one of the machines in front of the crowd of people awaiting their turn said A196 and they were still calling on A170. I figured with a minute per customer, that would mean 26 minutes at least before our turn.
There were some self-help machines so we went ahead and gave that a try hoping that our credit card might work. However, we worried that we didn't have that smart chip in our card and that the machine might reject our card because of it (or worse, swallow it). In any case, as we navigated the menu on the machine, we saw that there was a train that was taking off at 9:39am, 9:45am, then 10:10am and 10:55am.
Clearly, we wanted to have the 9:45am train, but it was barely 20 minutes away. So when it got time to insert our payment, we put in our credit card, then it prompted us for a PIN.
Well, we thought that this was the firewall that prevented us from doing this ourselves. So we went back in line and hoped against hope with the big crowd of people waiting for their ticket number to be called.
In the mean time, we talked with a trio of Canadian ladies who were also in the same predicament we were in. However, they had already pre-booked seats and so they eventually realized that they were good to go. And so that left Julie and I alone together crossing our fingers hoping we wouldn't have to wait another half-hour or so for the next train.
It wasn't until around 9:35am when it dawned on me that perhaps we should try entering a PIN number that I thought we had established with this credit card. I figured it might be worth a try.
So I went back to the machine, went through its menu options, picked my seats, and then inserted my card for payment. And when it came time to enter the PIN, I did just that.
At first, the machine displayed something in Italian that made me concerned about the transaction being cancelled. But then the next screen said printing 1 of 2 passes, and I knew that we were in business.
So once I had the train tickets in hand (though the machine didn't give me a receipt), Julie and I quickly ran towards Binario 8 (Platform 8) where our train to Naples was stationed. And we frantically got into car #11 even though one of our tickets said car #8.
In any case, if the train was about to move, we'd at least be able to navigate from car to car within the train.
When we finally found a pair of seats where one ticket we were holding said we should be seated (seat 3B), we got settled, put our bags up in the overhead compartment above us, sat across an middle-aged Italian signora with a child, and started to get settled in just as the 9:45am train took off. It was only then that we realized that the other ticket we were holding said it was for car #11 and it was for seat 5A.
Julie questioned why I didn't reserve seats next to each other, but I told her that I did put us next to each other, but the machine probably assigned us the two available seats that were not reserved. We were also nervous about not putting our ticket through some validation machine, but in the fine print on the back, it did say that our tickets should be fine since our seats were reserved (i.e. the validation on applied to unassigned seats).
Anyways, it was all water under the bridge when the conductor came by and verified our tickets without incident.
For much of the 70-minute train ride, we were seeing a glimpse of some of the countryside that was absent the whole time we were in Rome. We were also flanked by a couple of foothill-like mountain ranges where the more inland mountains seemed to still have a trace amount of snow near their peaks. I guess that might bode well for us in terms of waterfalling in the Abruzzo area, which we expected to do the day we leave Positano (on the Amalfi Coast).
The train was zooming along very fast as if it was one of those French or Japanese bullet trains. I believe in this instance we were going on the order of some 149km/h (though most likely faster than this because the train was slowing down when I paid attention to what the screen above the aisle was saying).
Right around 10:55am, we were disembarking the train as advertised. And so Julie and I immediately navigated through the Stazione Centrale (Central Station) in Napoli, which had that familiar cigarette-smoke-filled air like in Roma. I guess Julie and I were just going to have to get used to the impact the second-hand smoke would have on our lungs no matter where we went throughout the country on this trip.
At around 11:05am, we were outside the Central Station. Next, we had to find our hotel called the Starhotel Terminus, which we knew was close to this station. A taxi driver eventually pointed us towards the hotel after asking where we were headed.
And so a couple of minutes later, we were in the lobby of the hotel. As expected, our room wasn't ready yet so we left behind our bagali (baggage) and traveled a little lighter as we sought out a place to have lunch. Naturally, since we were in Naples, we had to try the Naples-style pizza, which was supposedly where pizza got started.
The first place Julie went for was this place called Pizzeria Gaetano, which Julie found out about from TripAdvisor. Little did we realize that we would have to walk around 10 minutes through what turned out to be some pretty rough streets (as Naples definitely showed its gruffy self) on our way over there.
In between the chaotic streets full of honking motorists (which was a chorus of buses, personal autos, and Vespas all contributing to the cacophony) were a lot of seemingly North African or African immigrants who were aggressively trying to sell wares on the street (probably attesting to the degree of poverty they might have come from).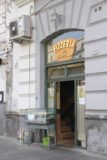 At about 11:40am, we'd finally find the Pizzeria Gaetano, which was a pretty humble-looking mom-and-pop shop.
Julie and I ordered a pair of pizza wheels – one was a margherita while the other was MOC-style pizza was basically buffalo mozzarella cheese with basils and actual tomatoes.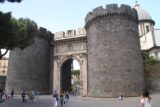 While we were waiting for the food, I went outside the restaurant to shoot photos of the Gate of Capuano (Porta di Capuano) and the Castelo di Capuano (Capuano Castle). The proprietor at the pizza place said those places were important artifacts of Naples. So with my interest piqued, I proceeded to head closer to the impressive structures.
There really wasn't a whole lot to the two attractions though the port certainly did look like it had a bit of a medieval flare to it. The castle, however, looked like it was some kind of correction center according to some inscription or sign outside its exterior that said something in Italian about a house of justice.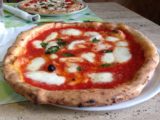 Anyways, by the time I got back to the pizzeria, the pizza showed up and it was time to finally have Naples-style pizza.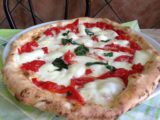 The pizza pretty much hit the spot, but Julie was hoping the pizza would be something more like Grimaldi's pizza in Brooklyn (by the Brooklyn Bridge). It turned out that the pizza crust a was bit too doughy for her liking as she complained it gave it a bit of a soggy texture. Meanwhile, Grimaldi's as well as Tony's Pizzeria Teatro in Boise, Idaho exhibited a crispier, thinner, and lighter-crusted pizza with the same authentic ingredients that made Italian pizza what it was.
When the lunch was done, the restauranteurs were kind enough to offer us some advice on the best ways to transport our way over to the attractions we were after (i.e. Castel di Nuovo and Castel dell'Ovo).
They actually recommended that we take the tram line 1 to the Stazione Maritima (the Maritime Station), but Julie recalled the receptionist and info center telling us to take the R2 bus from Stazione Centrale. So we ended up walking all the way back to Central Station, and then taking the R2 bus all the way to the Castel di Nuovo.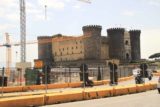 By about 1:05pm, we were finally at the Castel di Nuovo. We actually got off one bus stop too early so we noticed that there was quite a bit of construction activity going on around the castle.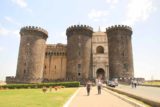 After a few minutes of walking towards the front of the castle (passing by the bus stop we should've disembarked at), we were then in front of the exterior of the castle itself, which was quite impressive.
Just then, we saw a sign indicating that all this construction activity was for a metro line that was supposed to come here. Come to think of it, there was also a lot of construction activity going on right in front of our hotel at the Central Station, which was probably also for the metro.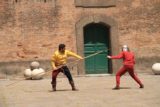 Unfortunately, the metro wasn't ready for our trip and so we had to use the bus plus quite a bit of walking. At least the cost was only 1.3 euros per person, which we thought was pretty reasonable.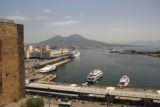 After paying our 6 euros a person to get into the castle, we showed up just in time to see some folks in Medieval costume sparring or preparing to put on some kind of show that would involve a fair bit of hand-to-hand combat with weapons.
That was a bit entertaining as plenty of employees and tourists alike were on the perimeter watching all these rehearsals take place.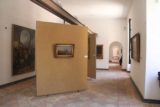 We also noticed that there was a wedding party that was going on at the lower ramparts of the castle, which it appeared that we couldn't access.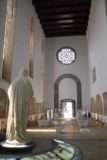 Anyways, we explored some of the museums as well as an open-air balcony or terrace where we were able to get some partial views of Mt Vesuvius with some towns hanging onto the base of the volcano with the notorious past.
We also noticed a very tall hallway with some art displays on the side as well as some marbled statue artifacts towards the back of the room.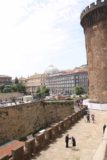 Meanwhile, there was a smaller room containing some paintings (probably oil or something) that reminded us of a small-scale version of some of the Stanze di Rafaello in the Vatican Museum.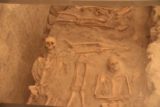 Towards the end of our time inside the castle, we were in an area that was showing glimpses of the excavation sites as well as revealed burial sites as there were still skeletons laying beneath the glass floors that we could peer into.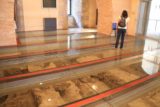 It was a bit creepy and unusual to be seeing skeletons down there, but this was probably the most interesting part of our self-guided tour of Castel Nuovo.
At 2pm, we were done touring the castle and proceeded to walk towards the area by Teatro San Carlo. When we were right in front of the theater, we looked across the narrow street and noticed a rather grand-looking mall, which was called the Galleria Umberto I.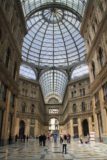 On top of the impressive facade of the entrance to the mall, the inside was very tall with a glass dome about its middle. I don't think I had ever stepped into a mall like this before, and it was worth the detour.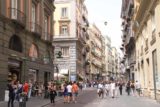 When we went out another exit, we found ourselves in a very busy and narrow street full of pedestrian traffic with the odd vehicle or Vespa weaving through the street. We merely passed through here, but we could start to feel the city's hidden charms come to life once we got past its gruffy first impressions.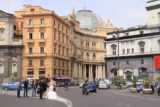 As we crossed a busy street towards what looked to be an opening, we noticed there was another couple in wedding garb standing in the middle of a busy street getting their photos taken. Clearly, Julie and I were seeing a theme on this day.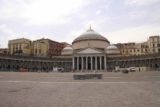 Eventually, we walked towards the the Piazza del Plebiscito, which was another grand square though this was shaped more like a semi-circle. One one side was a big capitol-looking dome (actually the Chiesa di San Francesco di Paola) fronted by a pair of statues on horses, while looking the other way was the Museu del Palazzo Reale, which was a very wide building.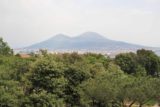 Clearly, there was no way a photograph would do this place justice, but Julie could at least try with her iPhone 5 and that panoramic stitch feature, which made me wish my DSLR camera had that kind of capability on the fly (instead of trying to kludge it together using Photoshop or something).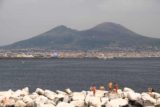 We then crossed through the square and walked downhill along the Via C Console towards Via Nazario Sauro, which was a street on the waterfront. Throughout this section of the walk, we could look across the Bay of Naples towards Mt Vesuvius.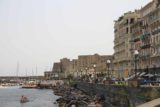 Julie and I were getting a kick out of some locals using the shoals and jettys here as beaches for sunbathing. So who needs beaches when you've got some rocks to lie on?
Still, with the warm and sunny weather (probably in the high 80s), we thought the scene was quite surreal as these sunbathers were laying out with the infamous Mt Vesuvius (il Vesuvio) in the background.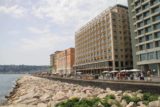 As we turned a corner and headed on Via Partenope, we were now on a promenade that very much reminded us of a quieter version of Nice, France. Of course in this instance, the walk was less hectic even though this street was lined with some pretty expensive hotels (probably in the 4 or 5 star category).
There was one unusual fountain called the Fontana dell'Immacolatella, which seemed to be associated with a Lion's Club as there was a rotary sign here. I used this fountain as sort of a foreground subject to juxtapose with Mt Vesuvius, but we also noticed some young folks using the fountain as drinking water (which was another thing we noticed in Rome as well). We weren't sure how safe the water was to drink here, but I guess some people swear by it.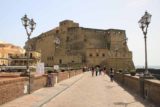 Eventually at around 2:45pm, we made it to the entrance of the Castel dell'Ovo (Castle of the Egg). This castle got its name because it was supposed to be atop some buried egg where it was said that if the egg broke, then misfortune and ruin would befall the city.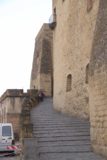 The approach to the castle was scenic, and just as we were making our way across the bridge towards the castle entrance, we noticed yet another parade of people from yet another wedding make their way out.
Julie noticed how some of the women were practically staggering and stumbling as they would walk with very tall stiletto heels on the uneven and unforgiving cobblestone surface. If we were having a hard enough time on flats walking on this surface, we couldn't imagine how much more difficult it would be to walk in those dress shoes on this surface.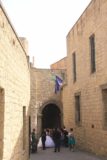 In any case, we were slowly ascending a walkway that seemed to climb gradually but relentlessly. At least it was mostly shaded on the eastern side of the castle, which was noticeably cool. We kept going up until we were stopped before yet another wedding party was busy taking photos.
So after getting by them without showing up in their wedding photos, we then got a few more looks across the Bay of Naples towards il Vesuvio. Then, we ascended into the sunny top of the west-facing side of the castle where we could look towards the hilly apartments and buildings comprising what appeared to be the Santa Lucia and Pizzofalcone Districts.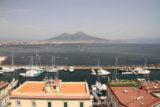 Behind the immediate waterfront and foothilll areas, we noticed a castle-like structure perched on top of the highest hill here, which was called the Certosa di San Martino with the castle being Castel Sant'Elmo.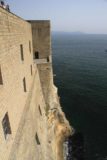 We even noticed some daredevils dudes at the base of the castle against the waves looking for a bit of a rough swim. I guess the Napolean youths here really can get creative in finding ways to seek relief from the hot Mediterranean sun.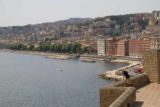 As we were walking back out of the Castel dell'Ovo at 3:15pm, it dawned on us that we didn't have to pay anything for the visit.
So now we were headed back the way we came as we walked along the promenade on the waterfront, then headed uphill back across the Piazza del Plebiscito, and then across the street between Teatro San Carlo and the front facade of Galleria Umberto I.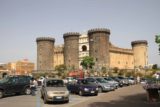 Finally at around 3:40pm, we waited at a bus stop right in front of Castel Nuovo. There was a machine there where we were supposed to buy a pair of tickets to get onto the bus, but apparently we had run out of change so it seemed like we were in a bit of a bind.
Just then, a young guy who was also waiting for the bus told us that we didn't have to worry about paying for the bus. He said he never did, and said practically nobody pays for the bus though he can appreciate the fact that people paying into the bus system keeps it running (or at least if they collected more, the buses might go around more frequently).
He then said that he felt no qualms about not paying for the bus when no one else was paying, so it was like why take the burden of paying if no one else was doing it. In a twisted way, I kind of saw where he was coming from because the whole environmentalist thing was kind of like that as well.
If no one was paying for their own mess, then why pay more for your own mess plus someone else's mess? To me, that was the very heart of why the environmentalist and sustainability movements would ultimately fail since the system itself didn't properly set the right rules or economic signals to make it a natural thing to do the right thing (especially if it wasn't going to be a fair system in the first place).
It was as if you'd be penalizing yourself for doing the right thing. So it made no sense to do it if it would ultimately make life harder on yourself.
So while we were waiting for the bus, we learned that he was French and he actually studied here in Naples. He had only been here for less than a year, though it seemed like he picked up the Italian rather quickly.
We only conversed briefly as Julie asked him if he had been to Nice (he hadn't been there) since the waterfront here in Naples reminded us of it, but that was when the R2 bus showed up in a rather crowded state.
So we took the French student's advice and boarded towards the back of the bus, joined the crowd, and kept a low profile.
During the bus ride, there was some kind of an altercation near the front door between an black guy and an heavy-set Italian guy. At one point, the Italian guy got out the bus and expected the black guy to follow him so they could settle whatever score they were keeping and duke it out in the rough Napolean streets.
The black guy didn't oblige when the bus took off and that really pissed off the Italian guy as he gave some unflattering hand gesture.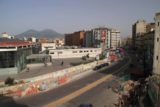 So with that bit of drama out of the way, we finally got off at the Napoli Stazione Centrale, then walked to our Starhotel Terminus, where we promptly checked in at 4:20pm and finally got our stuff up to our room.
Again, since Julie and I had run out of change, I went downstairs to get change so we could tip the porter. The receptionist would only let me change 5 euros for coins while the rest of the cash he would only break the 20 into 2 10s. He even examined the 20 note carefully, which made me wonder whether counterfeiting was a major problem in Naples (as it appeared this city was closer to anarchy for a developed country than any that we could remember).
In fact, Julie and I really noticed especially here in Naples that practically nobody took credit cards. So that was a bit concerning as we had to pay our Amalfi Coast tour, which started tomorrow, in cash. Whether we'd have enough would be a different story, especially since tomorrow was Sunday and I doubted that banks would be open on this day.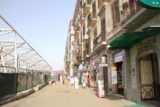 So we counted our money and realized that we had already spent nearly 200 euros in cash so far. That worried us because we barely had enough to pay for our tour in cash (probably not enough for tips). So I guess we'd either have to figure out how to exchange more cash in Positano on Monday or ask our tour driver to take us to a foreign exchange or bank in Naples on the way to the rental car center by the airport on Tuesday.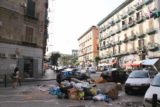 At 5pm, we were finally ready to return to town. This time, we were walking towards Naple's Centro Storico (Historical Center). After bypassing some parts of the city where trash was left out (recalling the city had a bit of a trash problem), we would eventually find some interesting things to see, ironically near the Porta di Capuano (which we saw earlier when we visited Pizzeria da Gaetano).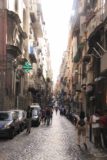 We ended up walking towards Via dei Tribunali, which was a very atmospheric narrow street of one-lane traffic and lots of pedestrian traffic.
Flanking the cobblestone street were tall high-rise apartments almost up against each other across the street. On the ground floors were numerous shops.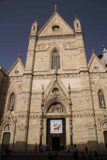 In a way, this atmospheric street reminded me of an Italian version of the Chadni Chowk Bazaar in Delhi, India, except this place wasn't quite as chaotic as the one in Delhi.
We made one quick detour on the Via Duomo towards an impressive Duomo (Domed Cathedral). Even though the signs stated in Italian that we weren't supposed to do any photographing or filming, I noticed some folks do it so I did the same. It seemed like the folks on staff here didn't seem to mind (or at least they were probably paying attention to whether the flash photography was being used, which it was not in any of the cases).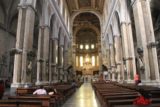 After having our fill of this impressive cathedral, I'd have to say Julie and I were somewhat Duomo'ed out. So we headed back towards the atmospheric Via dei Tribunali and kept heading west in search of the acclaimed Pizzeria Gino Sorbillo. Julie said that if this place wasn't like the Grimaldi's pizza in Brooklyn or Tony's Pizzeria Teatro in Boise, then the Italian-style pizza in the home of pizza must not be to Julie's liking in general.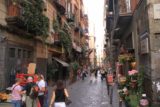 At 5:50pm, we were well within the Via dei Tribunali. That was when we finally found Gino Sorbillo's Pizzeria. However, it was closed, and a sign in Italian said that it wouldn't be open until 7pm. We didn't want to eat so late but then again, we were committed to having one last go at pizza before leaving Naples tomorrow morning.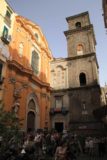 So Julie and I killed some time walking almost to the end of Via dei Tribunali near Piazza Dante. Then we backtracked towards the pizzeria where there was a Cafe Moreno, which was a dessert place with free Wi-Fi. We ended up having sfogliatella, which was a Napolean dessert as well as some cannoli and other sweets while killing time (me with some Italian magazines and Julie with her iPhone using the Wi-Fi).
By the time 6:50pm rolled around, I went ahead and lined up with the crowd (there really wasn't a line as it was more like a bunch of people crowded around the door). I was a little worried that I wasn't waiting at the right spot or at the end of the queue, but that was when I was conversing with a couple from Dallas, Texas who happened to chance upon this place after a friend's recommendation.
Normally Julie and I keep to ourselves on trips, but in this instance, it was kind of a welcome sight to see fellow adventurous people that we could have a conversation with and trade travel stories as well as backgrounds and interests.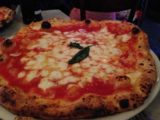 We ended up sitting together to talk some more over some delicious pizza.
Julie was a little disappointed that this place's pizza also wasn't like Grimaldi's. It was more like Pizzeria Gaetano, and so we concluded that even at Michele's (which was recommended by the receptionist and apparently made a cameo in Eat, Pray, Love [or whatever that Julia Roberts movie was]), this doughy-style pizza that Julie thought was soggy was standard Italian fare and just not quite like Grimaldi's or Tony's Pizzeria Teatro.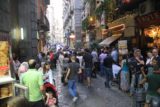 By 8pm, we were done with our pizza and our bill. Actually, the restaurant wasn't bashful about strongly hinting to us that we were done with dinner and shouldn't be dilly-dallying over the dinner table while there were people waiting outside the restaurant.
And when we settled the bill and went outside, we could see why the restauranteurs were trying to move us along…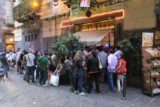 There was a huge crowd gathered in front of Pizzeria Gino Sorbillo, and it was a good thing that we were one of the first to get our pizza and be out of there!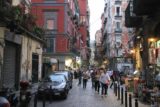 As the night was descending upon the city of Naples, we parted ways with the Dallas couple, and then we made our way along via Duomo, then via Corso Umberto I back towards our hotel at Piazza Garibaldi next to the Central Station.
It was 8:45pm when we finally made it back to our room, and that was when we finally got to shower (to get off all that sticky mix of sunscreen, sweat, pollution, cigarette smoke, and dust, etc.).
And so ended our half-day in Napoli. We were glad we decided to spend some time here, but we agreed that the half-day tour (short and somewhat hectic as it was) was enough before it was time to move on to Pompeii and then the Amalfi Coast!