Day 4: GIVING INTO LA DOLCE VITA
At 6am, we awoke to Julie's alarm after snoozing to my 2 alarms. I guess that's what happens when you sleep late the previous night. In our case, it was after 1am.
One look out the window and we could see that some low clouds were obscuring the lower slopes of Mt Vesuvius. A few minutes later, those clouds would eventually overtake us and look pretty much like overcast skies. I somehow got the sense that this was probably the Italian version of May Gray (formerly June Gloom) or something. But we were hoping that this would clear up by the time we get to the Amalfi Coast.
We took some time to get packed and ready to go. Breakfast was at 7am, and we got down there a few minutes past. There was quite a group of people already down there. They seemed like they were part of a tour or something.
We tried to keep our brekkie light and as full of fiber as possible so we had some cereal with prunes, some fruits, and we limited ourselves on the usual breakfast fare of eggs, bacon, and sausage.
There was, however, sfogliatella, which was a Napolean dessert that we figured we ought to have one more time before we would pretty much be done with Napoli (as we did try one of these desserts last night while waiting for Gino Sorbillo's to open).
When brekkie was done, we got our stuff down, checked out, and met up with Roberto, who was the driver that we hired to take us around to Pompeii and some sights around the Amalfi Coast.
We were out of the hotel at 8am, and Roberto did a bit of talking about Naples before getting into some interesting tid bits about Pompeii. When we arrived at Pompeii, it was 8:25am and the place wasn't open until 8:30am. So the timing was pretty good on our part as we would have a few moments before the tour bus and cruise crowds would show up.
We agreed to meet back with Roberto at about 10:30am or 10:40am. So that would give us just under a couple of hours to tour Pompeii. We had no idea whether it would be too much time or not enough time. But I guess we were about to find out.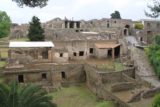 By about 8:45am, we were at the ticket office, got our tickets, and proceeded to walk into the city of Pompeii. Once we passed under an archway, we found ourselves within quite a maze of ancient city blocks. We really had no idea where we ought to be going.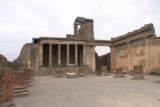 At first, we took a quick look at the basilica right next to the entrance. There were some pillars left, but from our untrained eye, we couldn't find much that was worth lingering here about.
Next, we started walking across the forum area, which was a flat plot of land flanked by what's left of some pillars. So far the first few minutes of touring Pompeii seemed like a standard archaeological visit with ruins galore all around us.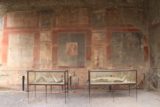 But then, as we walked further to along the Via del Foro, we started to notice some interesting chambers or little squares where some preserved decorations on doorways could be seen. We also noticed some frescoes that were still intact and on the walls in many spots.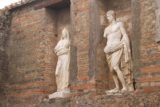 In addition, we saw some statues that looked like they were well preserved in that white marble that we had seen so prevalently in Greece.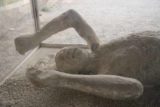 Perhaps the highlight of this section of the visit was one particular area where there were frescoes in a corner next to two well-preserved bodies. This was quite spooky and tragic as we could literally see on the faces of the corpses the pained expressions they were in as well as even the belt or other clothing that they were wearing at the time.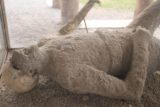 One corpse in particular still showed teeth in his frozen state of agony. Indeed, it was hard to imagine the rolling thunder of superheated gas preceding the landslide of pumice and ash in the pyroclastic flow that buried the ancient town of Pompeii in AD 79.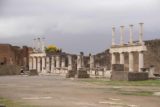 Next, we continued walking along Via del Foro where we saw there was a little tunnel entrance. Little did we know that this led into the Forum Baths where we saw some intricate tile flooring still preserved as well as more frescoes.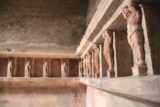 Inside, some of the chambers, we could see rounded and rectangular marble baths still intact.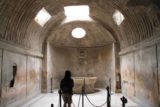 There was even one room where there were muscular statuettes lining a particular room. It definitely made us wonder what it was like to be chilling out in the baths here. I wonder what the conversation topics were like back then.
Next, we chased a couple of attractions that we saw in our DK book. One was the House of the Vettii, which ended up being closed for renovations. In another instance, we looked for the House of the Faunn, but apparently that one required pre-booking and we couldn't see that one either.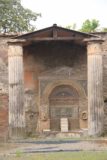 Meanwhile, we did a little more exploring of the immediate area around the House of the Faun where we started to follow a Korean group briefly towards some more well-preserved areas on the Via della Fortuna not far from the Forum Baths.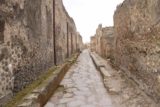 At this point, it was already past 10am and we didn't have very much time to start looking for the next area, which we were hoping to see il Teatro Grande (the Grand Theater). By the time we made it back to the Forum area on the Via del Foro, we could see that the tour group invasion had already commenced in full force.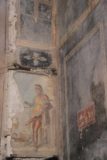 From this point forward, we would be navigating between crowds of people and in many cases joining them as we tried to check out a few more areas before we had to get back to the train station where we said we'd meet Roberto.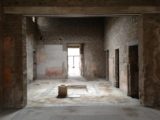 At this point, we walked along the Via dell Abondanza, which was a long path flanked by lots of residences or inns it seemed complete with intact placards containing numbers and names etched in marble. Of course as we navigated this thoroughfare, we definitely had to weave through more human oceans.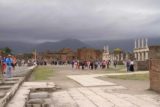 At least in one instance, there were more frescoes, baths, and another pair of corpses encased in some sturdy container. Indeed, there were many nooks and crannies and it was clear that the two hours we gave ourselves to visit this place would be no way to do this place justice. I guess in hindsight, we could've bought one of the local maps and self-guided tours (as well as visit in the afternoon) to hit the major highlights. Because it was real easy to get lost amidst the city and even miss out on some of the highlights.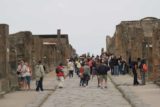 Since we were trying to check out the Teatro Grande, we'd eventually get to some streets that were full of tour groups. Unfortunately, it seemed like all the passages that would've taken us to the Teatro Grande were closed. So we came all the way out this way to see the oldest theater and pretty much came away empty.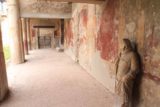 Nonetheless, with a few more minutes to spare, we did check out the Atrium House, which again had more preserved frescoes, intricate flooring, and even a garden in the middle of a courtyard area. Some of the frescoes looked like they had some kind of holy theme to them suggesting to us that indeed Catholicism was practiced back in the day.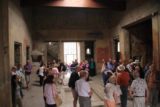 After going to the toilet this far into the city, we started to navigate through the human ocean back towards the entrance. It was too bad that the morning overcast was pretty thick because I'm sure there could've been some surreal scenes of ruins fronting Mt Vesuvius as well as panoramic views towards Sorrento.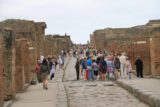 By about 10:45am, we were back at the Circumvesuviana train station, where we met up with Roberto and were on our way towards the Amalfi Coast.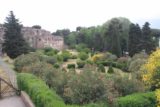 Roberto was concerned about the weather as he said it might have been raining on the Amalfi Coast. So clearly, that would not be characteristic of the May Gray that I thought was taking place. In fact, Roberto said that the weather in Italy this month had been very unusual.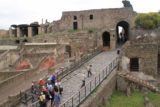 We knew about the tornado in the north of Italy a few weeks ago, but there were also some pretty hefty rains and thunderstorms that resulted in some deaths a few days ago. Plus, when we arrived in Rome as we were expecting heavy rains (that fortunately didn't quite deliver what was predicted), we thought May was supposed to be a pretty good month for decent weather.
Roberto said this was all unusual, and it made me wonder if Global Warming (or Global Weirding) was at play again.
Roberto took us on a windy mountainous route that went through some cliffhugging towns that were prone to landslides and fires. At some point high up on the route between a pair of vertical bluffs, we got overcast views back at Mt Vesuvius towering above a sea of development, including the ancient Pompeii that we visited.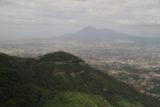 Even though the lighting was subdued due to the May Gray, the view was certainly grand. It was a bit chilly and windy up here, so we took our photos and then continued on.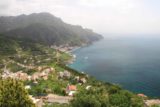 Roberto continued driving us down some winding routes as we crested the mountains facing Mt Vesuvius and now were on the mountains facing the Mediterranean Sea. Eventually at 12pm, we arrived at the charming town of Ravelo.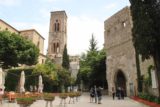 Roberto eventually parked next to a tunnel where we were given another 30-40 minutes to self-tour Ravelo before continuing on.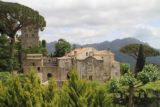 Immediately as we left the car, we checked out the view looking east towards some less touristy towns along the Amalfi Coast down below. The sun was just starting to come out and it appeared the May Gray was burning off. So there was at least some color in the azure blue waters down below.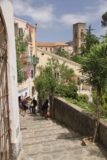 Next, we walked through the tunnel and then started to check out some miscellaneous stairs and walkways flanked by churches and shops that reminded us of our brief visit to Eze in France. We probably burned a good 20 minutes or so doing this, but I knew that Julie was looking for her DK photo of the Amalfi Coast with some signature trees fronting it.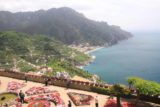 And as we scouted the area, we came to realize that the Villa Rufolo would be the place to do it even though it costed us 5 euros per person. Well, at least they took credit cards so we wouldn't burn through all our cash, but we were becoming concerned that after Naples (since no one took credit cards there), we might not have enough cash to pay our driver. So we had to be very careful.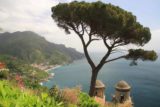 Anyways, we were already running late, but we had to at least get the vistas from within the Villa Rufolo. And sure enough as we got to the terraces, we saw that DK view. Unfortunately, the colors we saw from that photo suggested that it would be a mid- to late-afternoon view. Since we were here at midday, we just got our shots and continued checking out other nearby vistas from this terrace.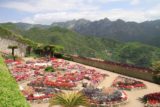 We tried using the flowers (as there was a fair-sized garden here) to add more color to the panoramas here. But eventually, we exhausted our imagination given our time budget of this panorama and proceeded to leave the complex.
It was a shame that we couldn't explore this Villa a bit further (especially since we already paid for it), but we had to go.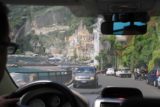 So at around 12:45pm, we met up with Roberto again and next he drove us a few minutes further down the hill towards the scenic town of Amalfi.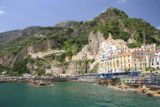 We'd arrive at Amalfi at 1pm. By this time, the skies were definitely cleared up and the sun was kissing the scene to add lovely colors and liveliness to our photos.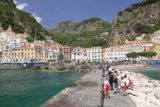 He said this was his home (he lived only five minutes away from where we were at near the beach and waterfront), but indeed, this was one photogenic place where it was hard to convey in photos just how charming and memorable this place was.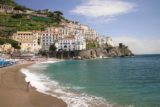 After taking photos on a jetty trying to convey the cliffhugging structures juxtaposing with the azure blue waters, we then headed into the main market area where plenty of tours and other folks crowded the main street that led further up the hill and inland flanked by shops and cafes.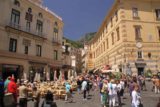 It was another one of those atmospheric walks amidst a large crowd of people. And we hurriedly tried to take our photos to convey this atmosphere before we got to a part that was a bit dead. Then, we headed back down the hill and towards the awaiting Roberto at around 1:40pm.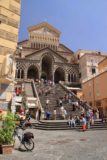 Now that it was getting pretty late for lunch, we were looking forward to some local food that Roberto arranged to take us to. At 2:10pm, we'd ultimately get to a restaurant in this tucked away town up the hill in a separate gorge called Furore.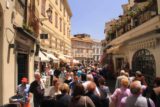 There was some kind of First Communion going on for a young girl here. A fairly sizable family gathering was here and there were plenty of professional photographers doing glamor shots of her in poses in much the same way that wedding photos take place. In fact, the little girl was dressed in an elegant and puffy white dress as if she was getting married. But really, the First Communion was about her first baptism to become an official Catholic.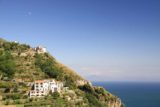 Anyways, we savored the lunch with a view. However, the lunch consisted of a full fare of four courses. I had read about this in my Italian language lessons, but when we were doing it for real, we could definitely feel the quantity of food that was being shoveled into our mouths and settling well into our stomachs.
Even though we thought we were getting pretty good exercise up to this point on our trip (except for today, which was dominated by driving), the richness of the lunch was probably going to more than offset what we burned off so far (especially with the big mozarella cheese pieces that were on our insalata accompanied by bruschetta).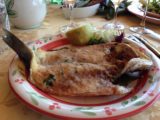 After the initial antipasti of the salad and bruschetta, the primi (first course) was a pasta dish. The pasta itself was thick and swirly (something we hadn't had before). The sauce was tomato based and there were actually cherry tomato pieces in it as well as some eggplant or other ingredients.
That pasta dish was probably enough to fill us up for the lunch meal, but then Adella the employee serving food to us as well as explaining the dishes to us told us that we still had the secondi (second course). In this case, I knew from my language lessons that this dish was going to be either meat or fish.
When the plate arrived, we had lightly breaded and flaky fish that was caught locally in the waters below. It was a good thing it was light and flaky because I wasn't sure we could eat more in this sitting. But even as we lamented the guilty feeling we had in totally stuffing ourselves, the First Communion party were having a massive plate of risotto after having their antipasti. It was totally insant the amount of food they were having!
By the way, all the food we were having was accompanied by water, white wine, and sparkling wine (which we had with our antipasti).
Julie and I shared a tiramisu that was presented in a way we hadn't seen before. It almost looked like it was a cookie topped with layers of the familiar soft pudding-like texture that we knew characterized tiramisu, but one bite of the dessert, and we knew that that "cookie" was merely the cake part.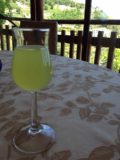 As stuffed as we were, we finished that tiramisu. But we also accompanied that dessert with a heavily alcoholic lemon drink that might have been mixed with something like everclear or moonshine or something (it was called limoncello, I believe). I think the drink looked like it could've been a cocktail, but when Julie took her first sip, she gagged a little as she was totally thrown off by how strong the drink was.
Adella said, "Odio!" as she wanted to make sure we were having a very good meal. I had a feeling it was something that Roberto told us about on the drive here, and now I saw what he meant about that strong lemon drink. I was only able to finish half of my little glass (maybe slightly larger than a shot), but I knew Julie couldn't drink much more than another sip.
Anyways, when all was said and done, we were worried about the price of this full course dinner being close to the equivalent of $100USD when we factor in all the food and alcohol. But it turned out that this meal was only 54 euros with credit card (50 euros cash). Indeed, it was reasonably priced!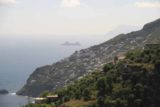 When we returned to the car at 3:40pm, Roberto explained to us that all the food was locally grown or caught here, and we could definitely taste the freshness.
Next, Roberto slowly drove us towards the destination of Positano. On a bridge as we were leaving Furore, he pointed out a particular small waterfall down in the gorge. It was too bad there was no place to stop to take a photo of it for that would've been my waterfalling excuse to talk about the Amalfi Coast.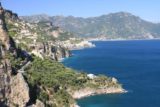 Anyways, as he drove us along the narrow roads of the Amalfi Coast, we stopped a couple of times at some overlooks.
One overlook was against the sun in the direction of Positano and Capri. We were able to see a few sea stacks in the distance by Capri as well as some more cliffhugging buildings and towns.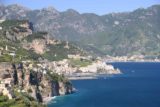 However, it was the second overlook where we looked back towards Amalfi and the colors of the afternoon sun that we probably got some of our grandest photos from the road. We could also see that Salerno was becoming clearer to see even though it was some 40 miles away to the east of us.
As we were continuing west, we could see more and more cars parked alongside the narrow cliffhugging roads of the Amalfi Road. I was definitely glad that I wasn't driving this part as I could just imagine how hard parking would be let alone how hard it would be to squeeze in between large buses. I wasn't even so sure I could figure out where I could pull over to take panoramic photos.
As we got closer to Positano, I spotted where there was a pretty famous photo for DK and LP of Positano. Unfortunately, it didn't look like there was a good place to stop the car so we could make our attempt at that Positano photo.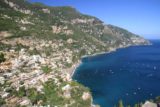 Roberto continued on into the town of Positano but then he took us to a very busy overlook looking down towards Positano from the west so we had the benefit of the afternoon sun. It wasn't quite the signature view of Positano from the east, but the view was sublime nonetheless.
Finally after getting our fill of this viewpoint, Roberto dropped us off at the Hotel Reginella on the narrow streets of Positano. We got to the reception at around 4:55pm. Both Julie and I were quite tired from all the touring plus all that food coma and alcohol (which tends to make us sleepy) so we were quite ready for a siesta (even though it was pretty late).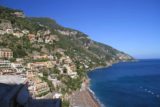 We paid and tipped Roberto and gave him a warm farewell. Even though we knew personal driving tours weren't cheap, I thought it was a good call to do this anyways and not have to stress too much about driving and parking, and really getting to enjoy the Amalfi Coast the way we thought it ought to be enjoyed.
Not only that, but we also coupled that with a visit to Pompeii. So I thought we did about as much as we could do without feeling rushed for the half-day in Naples and the next two nights we were about to spend in Positano.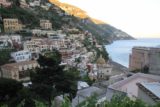 When we got up to our room, we pretty much crashed and took a longer-than-expected nap.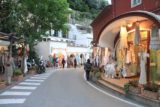 Before we knew it, it was about 7:40pm when we finally got up and walked down the hill towards the touristy part of Positano's main town area. We had to walk a bit along the narrow streets that were shared with both bus and car traffic, but I was already enjoying the late afternoon views down towards the main town.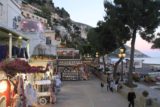 I knew that as the evening progressed, the photos should yield that warm and welcoming twilight colors in our photos.
So pretty soon after descending far enough on the main road flanked by some shops, we would get right to where it was pretty much pedestrian traffic only as we were right at the top of the main town area.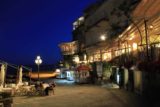 At this point, we were back into that familiar charming town feel where I felt that the Europeans really got this concept of pedestrian-only tourist towns down to a science. We saw plenty of examples of this at Oia, Fira, Split, Dubrovnik, Mont-Saint-Michel, Eze, Yvoire, and now Positano.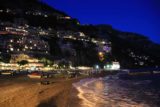 So we weaved our way between shops and cafes as expected. Some of the walkways had hanging olives or ivy or some kind of canopy while other parts of the walkway were conducive to artsy photos showing stairs juxtaposed with old-style walls plus some soft light from neighboring stores.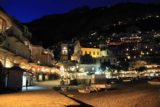 Eventually, Julie and I would settle on eating a light dinner at this place called Capricci at 8:15pm, where we were seated within sight of the waterfront. Given how stuffed we were from lunch, we each had seafood pasta (though mine was the special of the day, which included a local fish here).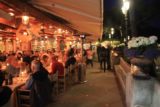 Throughout the dinner, the thought going through my mind was that "la dolce vita" (the sweet life) was slowly but surely sinking in. Indeed, we were giving in to the Italian rhythms of life on the Amalfi Coast, and that we still had over two more weeks of this to go made me wonder how much of that dolce vita would sink into us by the end of this trip.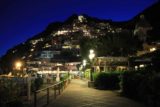 Anyways, the food itself was around 33 euros, but then you have to add the water, the bread (which we never ask for), and the cover and/or service charge, and it became 40 euros. By now we figured out that this was standard fare, and there really wasn't much we could do about that if we were going to any sit-down place to eat.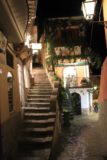 Meanwhile, we figured out that if this was all there was to Positano, we'd mind as well use our full day in town to check out Capri. I'm sure it would be pretty boring to be couped up in Positano all day long tomorrow, and so we were starting to mentally plot how we might make our half-day visit to Capri happen tomorrow.
When dinner was over, the twilight was pretty much gone and now darkness pretty much took over broken by the lights of the town. At this point, taking photos wouldn't be optimal. But we were still briefly exploring what else there was to this town before heading back.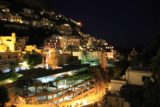 Julie noticed on the waterfront that this place called Chez Black was very busy, and perhaps that might be a place to eat at tomorrow night.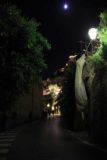 But now that it was getting late, we made our way back up the steps and hills towards our accommodation. And eventually at 9:40pm, we were back at the Hotel Reginella.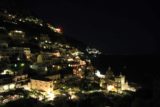 Utilizing the free Wi-Fi, we gave Tahia another Skype call so we could see her once again (since we didn't get a chance to do it last night). We were glad to see her, and she seemed happy to see us (at least at first). But we could see that she was starting to get tired as it was near her own afternoon siesta. So with that, we hung up, and ended off the day with some more much-needed rest.