Day 5: CAPRI SUN, SORTA
At 7am, we awoke. Even though we had a hard time sleeping before 2:30am, we somehow found a way to get up for the day.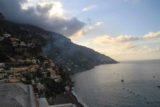 With today being a full day of Positano, we had decided last night to go for doing a day trip to the island of Capri. There were plenty of tour operators that seemed very willing to crowd tourists onto their boats and make the 30- or 40-minute boat ride to the island's Big Marina.
There wasn't much of a sense of urgency because the first boat wouldn't take off from Positano until 10:25am. So, we had a basic (and sweet) breakfast affair at the Hotel Reginella a little after 8am before leaving the room at about 9:25am.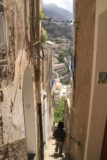 At first, we noticed some people walking some very narrow alleyways with steep steps. We weren't sure where this went, but we couldn't take the chance of pursuing this path with that uncertainty and a boat booking looming in about an hour. So we turned back and went down into the town the tried and true way (i.e. the main street we walked last night).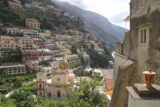 The day started off quite sunny and warm so we tried to brace ourselves by slapping on a lot of sunscreen. However, as we waited for the boat to arrive and start loading up, it looked like there were quite a few patchy clouds (some of them a little dark) sporadically blowing eastwards from the west.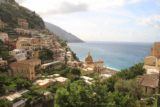 When I saw that, it started to make me wonder whether we would be able to do the Via Krupp walkway as we had intended to do after seeing it ranked at the top for things to do in Capri. The thing was that I had read the walk frequently gets closed whenever there was any threat or hint of inclement weather. It seemed like it would only be open if it was a totally calm and clear day (so the chances of landslides would be minimal).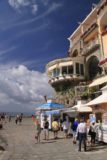 Anyways at 10:20am, the boat showed up and was about to load people onto it. Even though Julie and I were one of the first to pay for our tickets and wait for the boat, we ended up being one of the last to board as hoardes of people crowded onto the narrow walkway where the boat's plank mated with the jetty. It was kind of reminiscent of how people didn't believe in orderly queues in China, except over there, people of all ages weren't bashful about elbowing and shoving their way towards the entrance.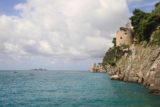 The price paid for not being one of the first to board was a seat in the lower level. I knew from experience that not only would taking pictures not be possible from down there, but also that I would be more prone to seasickness.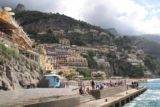 The crew packed us in real tight on this morning's boat ride. So I spent most of that time closing my eyes and trying not to let the bobbing motion get to me. It seemed like Julie did likewise.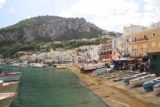 Even though the ride was said to be 25 to 30 minutes, it wasn't until about 11:05am (40 minutes) when we finally docked at the Marina Grande on the north side of the island of Capri.
The first order of business was to get to the information center to get a map as well as a quick explanation from the clerk working there how to get to Via Krupp as well as the Arco Naturale (Natural Arch), which seemed like a very worthwhile thing to do on our own.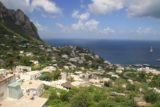 We had read about the Blue Grotto being a rip off, and we weren't really in the mood to do the boat ride to the Foroglioni, which were sea stacks just off the island with one of them having a big sea arch. That reminded us too much of the arch at Cabo San Lucas in Baja California, Mexico and the Hole-in-the-Rock in the Bay of Islands in New Zealand so we opted to save our money there.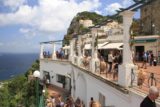 So, with the detailed map in hand (at a cost of 1 euro), we then had to figure out how to go up the funicular (funiculare). It turned out that we had to cross the street, pay some more cash to secure two one-way tickets, and then go back across the street to line up and await our turn to go up the slow-moving funicular.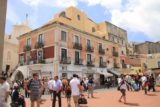 Once we got off the funicular along with the rest of the crowd at 11:35am, we were enchanted by the views from the terrace immediately above the funicular uscita (exit). So we quickly took some pictures beneath the partially cloudy skies back down towards the big marina before we continued on into the busy and crowded streets of the main town of Capri.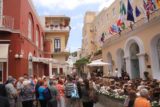 As were trying to get oriented, we instinctively walked to where the walkways seemed to be the largest. Somewhere along the way, we just got ourselves a very quick sandwich to go, which was a Caprese-style sandwich containing large slabs of mozarella cheese, basic, and tomatoes.
It turned out that we were going in a southerly direction on Via Vittorio Emanuele and then Via F. Serena. Once we realized this, we immediately decided to go for the Gardens of Augustine (Giardini di Augustino) first.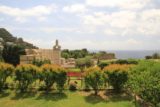 As we were descending the walkway, we noticed quite a few expensive name brand shops like Salvatore Ferragamo, Benetton, and some other shops that vaguely sounded familiar from shopping malls back at home (when Julie used to drag me to them in our early days of dating). Indeed, it felt as if we were walking in an outdoor shopping mall disguised as a cute Italian town as part of the Amalfi Coast.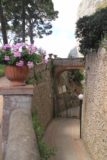 And then it dawned on me! This was exactly what the Europeans had down pat. It was the idea of disguising outdoor shopping malls by blurring the lines between historical attraction and commercial shopping centers in a way that would put people in such good moods that they couldn't help but go shopping. Pretty slick if you ask me!
Anyways, once we got to Via G. Matteotti, we then followed the arrows that pointed the way to Via Krupp and Giardini di Augustino. Julie and I chanced upon a food stand where they were serving granitas (basically lemonade slush that was made from the local lemons as well as sweetened up significantly with lots of sugar to take the bitterness out of the sour lemons.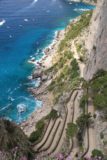 We got one small cup of granita, which costed us an outrageous 3.50 euros (nearly $5 USD). And after tasting it, we swore it was nothing more than the same lemonade slush drink they serve at Magic Mountain to the thirsty patrons waiting hours in line to ride one of their many roller coasters. In fact, the markup in price was eerily familiar.
So seeing how having the granita really wasn't anything special, we were determined to not waste more money on the stuff.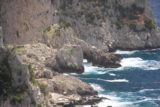 Anyways, Julie and I forked over the 1 euro per person to enter the Gardens of Augustine. And we saw that the Via Krupp walkway was gated off so it was closed as the information clerk had said it might be.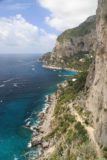 Nonetheless, as we entered the gardens at 11:35am, we could see right away that there were overlooks providing views towards the Small Marina (Marina Piccola) as well as the Faraglione (those trio of sea stacks just off the southeast coast of Island of Capri).
We were even able to look down at the twisty walkway of Via Krupp, which was mostly abandoned except for a handful of people who managed to get onto it somehow. I had assumed they might have hopped the real tall gates or something to get on there, because it wasn't obvious to us how they got there in the first place.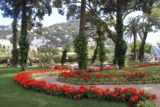 Still, the views of both the Small Marina and the Faraglione were spectacular, and it was made more so by the bright blue-green colors of the Mediterranean Sea hugging the rugged, nearly vertical coastline.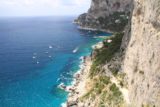 Similar to the rest of the Amalfi Coast, there were houses and buildings clinging onto the vertical cliffs where once again it seemed like no bit of land was left unused or at least wasn't sitting there not having some kind of utilization where there was development. Except in the case of Capri, there were far fewer buildings than say Positano.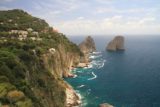 This verticality principle seemed to be the theme of these last two days of the trip in the Amalfi Coast, and it kept reminding us of our experience in Oia on the island of Santorini in Greece.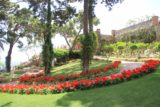 Looking towards the Faraglione, it was clear that the sea arch I was hoping to see was hidden from our vantage point. However, we could see there were boats that came in from one side of one of the sea stacks and appeared on the other side, which suggested to us that the arch was facing east-west and not in our line of sight.
It was too bad that he sun was only partially coming out as there would be moments of color and them more moments of shadows and muted colors. That was kind of a bummer, but then again, Nature does what she does and it was up to us to respond and adjust.
At 12:35pm, we were done visiting the compact garden. We were glad that we did this garden in lieu of Via Krupp because it appeared to us that we were able to get the same kinds of views of the Marina Piccola (perhaps even better) than what we would have gotten from the lower switchbacks of Via Krupp.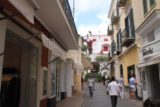 By the way, I had noticed more people including one group of four walking up the Via Krupp, and they seemed to be guided by someone. So perhaps this was a case of someone paying for tour and the guide just so happened to have the keys or something.
It was either that or someone staying at the Hotel Via Krupp might have somehow gained access to the walkway (sanctioned or not) in a way that wasn't immediately doable for those trying to visit from the garden entrance.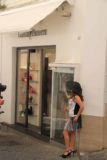 With time running out as we had desired to catch the 3:10pm boat back to Positano, we decided to make a beeline for the Arco Naturale, which was a genuine natural arch on the island of Capri's eastern end.
On our way back up to the busy quad area at Piazza Umberto I, we spotted an attractive woman being filmed for what appeared to be a commercial. With all the people taking notice, I'm sure that lady must have either felt self-conscious (if she's new to this gig) or oblivious to all the attention she was getting from passer-bys (from doing this a bunch of times). We happened to notice that the camera started with a zoom out on her before zooming in to her face as she was saying something in Italian.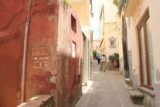 Anyways aside from that, it looked like it was going to be quite a bit of a walk, but it turned out to be a mostly quiet and atmospheric walkway between tightly-spaced residences and businesses interspersed with ivy-and-flower-lined walls as well as the odd terrace with expansive views back towards the souhern end of the island.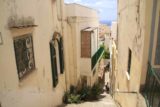 The relative quiet of the long walk along Via Sopramante (which began under some archways and stairs up a rather obscure walkway north of the Piazza Umberto I quad area) was broken by an invasion of school kids doing what they always do – make lots of noise.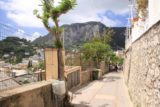 Fortunately for us, the noise died down once we got past the junction with Via Tiberio so perhaps those group of kids were headed to the even longer walk to Villa Jovis on the far topright of Capri Island. It turned out that Villa Jovis were old ruins, but seeing how much of a time commitment it was as well as how much Julie and I were "ruin'ed out" after Pompeii, we skipped Villa Jovis and continued onwards to Arco Naturale.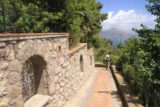 There was also another decision point when we got to a cafe or restaurant in which part of it seemed to be beneath a cave-like alcove perched against a cliff. There were stairs labeled for Grotta di Matermania, but since we thought we were short on time, Julie insisted that I skip that one as well.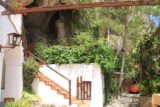 Finally at 1:10pm, we arrived at the Arco Naturale. It turned out to be well worth the walk because what this arch had going for it was the blue-green waters deep beneath the span of the impressive arch.
There were also a pair of other peep-holes or smaller arches flanking the main one, which really made this particular attraction one of the better arches we've seen in quite some time.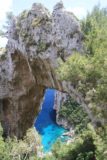 The hard part was trying to photograph it as there would be either foliage getting in the way, or the size of the arch itself as well as how close to it we were made it hard to capture and communicate in our photos.
Actually, Julie's iPhone 5's panorama stitch feature served her really well on this arch. Even with my wide angle lens, it wasn't easy to capture and communicate the scene in the way I would have liked.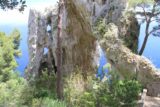 Anyways, it looked like the arch had one spot on its span that appeared to be very close to causing a collapse. There were significant cracks on its topright part of the span, and if that part cracked chunk fell, there would only be a very thin part of its span left. That would most certainly be the cause for a collapse so who knows when this attractive natural attraction would go.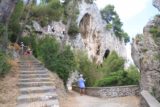 As Julie and I had our fill of the upper vantage point, we then walked down the stairs towards the lower viewpoint where we were directly in front of the arch. Julie helped one guy take a photo, but he was complaining that walking all the way over to the arch was too much work. In fact, he said it was 2013 so they should have found a way to make access to it easier.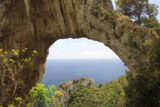 Julie smiled politely and let him have his say (perhaps he was jaded because he thought Villa Jovis wasn't worth the effort and that was a 2-hour hike according to him), but we both thought this guy probably lost touch with reality. After all, Nature tended to do just fine without intervention by people, and this arch was proof of that.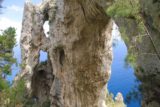 Up until this point, most of Capri (and the Amalfi Coast) experience was dominated by charming corridors disguised as outdoor shopping malls. So it was very refreshing to have a noticeable lack of these things on the 20-minute or so (each way) walk to the Natural Arch.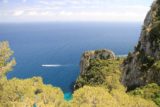 At 1:40pm, we finally managed to pry ourselves away from the attraction and head back to the main part of town. Given how long we took just to get off the boat and up the funicular earlier this morning, we figured we mind as well give ourselves as much time as possible to ensure we'd be off the island on the 3:10pm boat ride back. We had no interest in waiting until 6pm to get back, especially given how expensive things were on this island.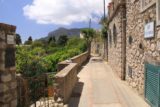 At 2:20pm, we were back in the funicular area where we caught a few more looks on the terrace at the Marina Grande from the top. This time, it seemed like the sun was even more prominent than it was earlier this morning.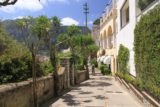 By 2:45pm, we managed to board our boat back to Positano. We were one of the first to get on so this time we sat on the top deck.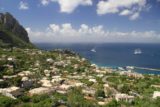 Eventually by 3:20pm, the boat finally took off (I should've figured it was 3:10pm Italian time). By this time, it appeared that there were more clouds cutting above us and making things a little chillier than when we boarded.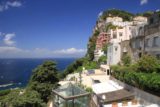 At 4:05pm, we were finally back in Positano. We were in that in-between time when I was hoping we could have an early dinner and then take twilight photos of Positano, but we were still quite early for even those plans.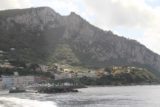 So we went ahead and ate at Chez Black's since they didn't observe siesta, and given that we were one of the few folks at the restaurant at the time, we had pretty attentive service, and there was a noticeable lack of cigarette smoke (for the most part) during our meal.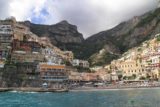 Speaking of which, Julie got the expensive 48 euro seafood soup, which was really more like a seafood bucket for two. Meanwhile, I got a 32 euro sea urchin spaghetti, but this one was unlike the Japanese ones in that this spaghetti was cooked in olive oil and there was some red in it so there might have been some tomato or something in there as well.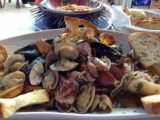 Whatever the case, this ended up being a splurge, and why not? It was our last night in the Amalfi Coast so we just went with La Dolce Vita once again, and by the time it was around 5:45pm, we were finished eating and did some brief grocery shopping before we headed back up to the Hotel Reginella.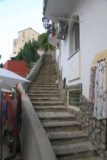 Except in this instance, we decided to take some unmarked stairs that ascended very steeply right up to the road that connected with our hotel (or at least that was the assumption when we started the ascent).
With each flight of steps that we ascended, I would take breathers to look back in the other direction. That was when I was quite often surprised by the charm and beauty of this path less taken. In fact, this was the part that really reminded Julie and I of exploring some of the less trodden paths within Oia.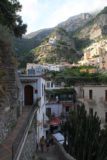 Anyways, after going up perhaps another 3 or flight long but atmospheric flights of steps amidst tight pedestrian alleyways between residences, we started to encounter some narrow steps going up to our right that didn't belong to private residences.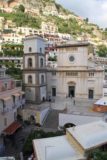 We weren't quite sure which one we ought to be taking so we decided to just keep going straight. We had a feeling that this path would ultimately hook up with the main one-way road so even if we overshot it, we were quite certain that we would eventually meet up with the Hotel Reginella.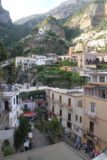 Julie's suspiscion was confirmed when she asked some passer-by if this led up to the street, and we received a firm yes.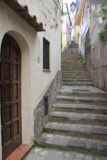 And so we ultimately ended up back on the main street though as suspected, the place we were at wasn't immediately recognizable. There was a church-like thing immediately to our right, and we never remembered passing by this structure both the times we walked down to Positano town the long way.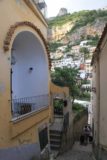 After a few more minutes of walking passing by a charming restaurant with tables on both sides of the narrow road as well as some inns on the steep expanse to our right overlooking the Mediterranean, we finally arrived at the Hotel Reginella at 6:20pm.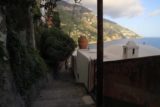 It took some time for the receptionist to return the room keys to us because he was helping out another guest, but ultimately we were back in the room at around 6:40pm. And now it was time to wind down knowing that tomorrow would be the first day I'd start driving in Italy, and it was going to be a very long drive at that. For it looked to be roughly 6 hours minimum of driving amidst Italy's less trodden countryside in the Abruzzo area.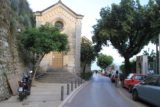 Even the accommodation we would be staying at was in Arpino, which was in neither of our guidebooks (LP an DK), and neither was Isola del Liri, which was yet another place we'd be exploring somewhere near Arpino.
I was nervous about this day last night, and my anxieties weren't quieted any more on this night.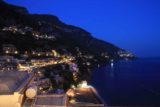 Before we were totally done for the day, I managed to take a few photos with the tripod (finally putting it to use on this trip) after around 8pm or so. That was when I tried to take some long exposure twilight shots of the view from our balcony, except there was a hideous building right below us that kept our view from being what it could've been. Oh well, it was what it was…