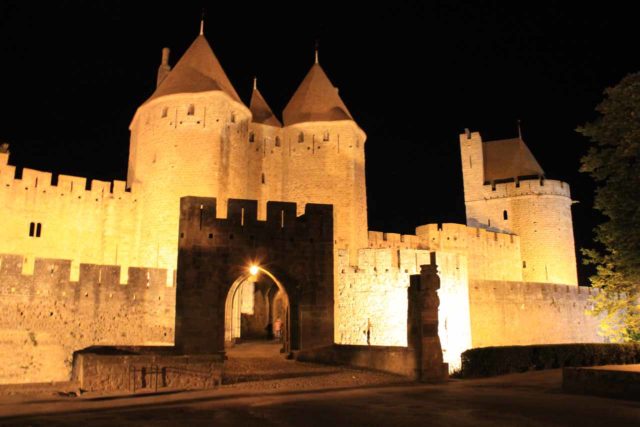 10-May 2012 to 24-May 2012:
It was about 6:30am when my alarm went off, but to my horror, outside was raining and there were clasps of lightning and thunder!
In my half-conscious state, I figured I mind as well sleep in since the conditions weren't optimal to do the hike at Gavarnie.
After a little more dreaming (hoping the weather might miraculously improve in time for our hike), I got up for good at 7am. That was when the rain seemed to have stopped, but the clouds were hanging low.
If there was a discouraging start to the day (especially after the weather forecast looked so rosy), this would be it!…
Day 8: RULE BREAKING
Once again we awoke (grudgingly) to our 5am alarms. This was like the 4th or 5th consecutive morning (one of those I had gotten up at 4:30am) so it was taking its toll on us.
Nonetheless, we had a pretty busy day of driving and touring. The plan was to drive to the furthest southern regions of the Rhone Alps-Ardeche Department towards the south of France. Originally, I meant for these excursions to be done later on in the trip, but since Julie really wanted us to spend more time in Provence, I punted it up to here and sacrificed a full day in Lyon.
In any case, we took advantage of the Hertz lot where we left the rental car in the same spot it was in at the time of hire. We figured this ought to save the hassle of trying to find parking as well as the expenses that come along with it. Though I'm not sure if we were breaking the rules taking advantage of this.
Sure enough at 6:10am, the voiture (car) was still there. And within moments, we loaded up with the GPS and were ready to go.
It was a good thing we started early because Lyon seemed dead in the morning (though it seems most of France is dead in the morning given how late they even begin their evenings). Still, we were able to navigate the city streets with the help of the GPS and it wasn't too much hassle to get onto the A7 Autoroute southwards towards the Ardeche department (Lyon was the capital of the Rhone-Alpes department though Ardeche seems to be associated with Rhone-Alpes as one).
The drive was mostly uneventful. The way they do their peages (road tolls) was also a little different. Here, you pick up a ticket then feed a peage booth upon exiting the autoroute where your total would then be determined at that point. For some reason, I wasn't getting a receipt whenever I passed through these things so I have no idea how much they costed me (it was only later that I figured out you had to push a separate button to get the receipt). I guess I'll find out after the fact on my credit card statements.
Once we left the smooth and fast driving on the A7 Autoroute, we then took an exit towards Privas. That was when the roads started to narrow and wind as we entered into the mountains of the Central Massif.
There was a bit of a traffic jam as lines of cars were following lorries and tour buses. There were practically no opportunities to pass on the winding two-lane mountain roads (which were narrower than we're used to at home) so this was an exercise in patience.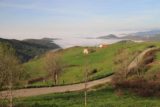 Once we got past Privas, we were able to leave the traffic train and take an even narrower country road with practically no shoulders but very beautiful country scenery. It was as if we were getting our first taste of Provence before that part of the trip.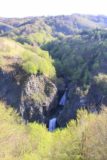 Eventually at 8:50am, we arrived at a signposted lookout called the Belvedere du Ray-Pic. From up here, we could see some of the pair of cascades beneath some contorted basalt columns. But there was a lot of foliage so the view from up here wasn't all that impressive.
As we continued driving further down the mountain, we saw the signpost and turnoff for Cascade du Ray-Pic. Unfortunately, it looked like there was some construction work going on and the car park was closed. However, I did pull over and talk to one of the workers about whether there was alternate access to the falls (considering we had driven all the way out this way already).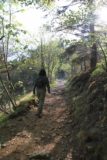 The conversation (in French) was basically about me asking, "Il n'y a pas du passage pour la cascade?" (There's no access to the falls?)
And he basically said that as long as we were careful, he'd let us through but he takes no responsibility for our actions. In other words, he didn't see anything. Plus, he had us get out of the lot and find a pullout further down the hill so no one here gets in trouble. Perhaps he trusted us after seeing we were wearing our hiking attire.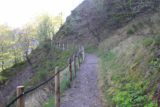 So we obliged and at 9am, we were on the trail. Once again, it felt like we were breaking the rules.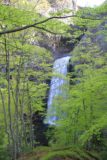 In any case, the trail was pretty well laid out and the wooden steps and platforms looked like they were brand new. It wasn't long before Julie and I arrived at a wooden platform overlooking the main falls, but the view was overgrown.
Given the subpar view, we both saw where the trail to the base was supposed to be and we ended up hopping over the rail to take it. It was a bit worn and steep at the beginning, but it wasn't something undoable if careful (though we could see why public access should be forbidden there).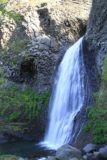 Once we were at the bottom, it was still shady and cool, but the sun was getting higher and thus the lighting was threatening to get worse. So we took whatever movies and photos we could though it was difficult to take it all in. Plus, the overhanging basalt columns which always threatened to rockfall was foremost on our minds (after all, that's why they rebuilt the trail so no one would be tempted to get to the base and risk the rockfall danger).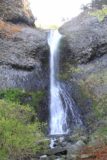 When we had our fill of the pair of falls (though the second one looks like it's only there during high flow), we had the intention of walking all the way back and continuing or tour of the Ardeche department's main natural features (at least as far as our research was concerned).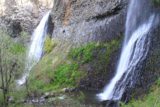 But that was when we noticed that there was a well-built trail that led to a different viewing platform. I wondered how we managed to miss this on the way in, but nonetheless, we went to its platform and saw that its view of the columns and cascades were way better than at the base. Unfortunately, the sun was right against us at this time of day so our photos looked overbright and hazy.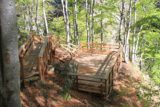 After seeing the shape that the improved trail was in, we figured that the work was just about all done. It looked like all that was left to do was to put a few signs and finish the car park. We were guessing that it's only a matter of a few days before this waterfall would be fully open to the public.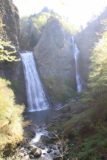 By 10:15am, we were back at the car. On the way out, we thanked the workers for being nice to us. One even asked in French if we enjoyed it. In any case, it was noticeably hotter than at any other time on our trip so far so we were sweating and feeling sticky.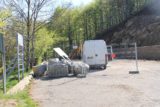 We saw some cars above us try to access the falls, but it seemed like they saw what was going on and didn't decide to continue (or were turned back – lucky us!). That must've sucked for them considering it was a non-trivial drive just to get here. However, I was glad that my French lessons paid dividends in this case!
Next, we drove south from Cascade du Ray-Pic and were headed to Pont d'Arc.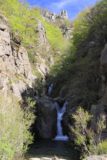 On the way out, we saw another small cascade with what appeared to be an alternate trail for Cascade du Ray-Pic. This was near an arched bridge spanning the Ardeche(sp?) River.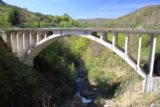 Next, the drive continued along more mountainous driving where narrow roads weaved their way through picturesque cliff-hugging towns sprinkled throughout the route from the Ray-Pic area to Pont d'Arc.
The driving reminded me of what it was like going through Greece's little towns situated within mountainous drives. It also reminded me of why I thoroughly enjoyed driving in the countrysides of Europe.
We even found a radio station called Le Mouv', which was basically a French version of alternative rock (kind of a like a Triple J if you will). Now this is what scenic driving is all about! Though the station was short lived as we got towards the Vallon Pont d'Arc area…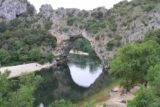 Eventually at 11:55am, we were at a viewpoint for the impressive natural brige of Pont d'Arc. The weather all of the sudden turned overcast which greyed out the scene and muted what otherwise promised to be very colorful photo ops.
After we had our fill taking photos at the overlook, we decided to go down to the shores of the river responsible for the arch. We figured that from the lower vantage point, we could see some sky through the span of the arch which would also be the tell-tale sign that indeed we stumbled upon a natural span.
There were kayakers or canoers paddling in the river and even going through the natural bridge itself. We thought it looked like a lot of fun, but we decided not to try it in the interest of time.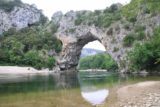 At 12:15pm, we were at the plage (beach) on the shores of the river responsible for the arch itself. We went ahead and quickly snapped quite a few photos before heading back up 15 minutes later.
There were plenty of other people doing the same as us so the scramble to one of the beaches here wasn't exactly peaceful though Mother Nature certainly tried her best to do what she does without human interference.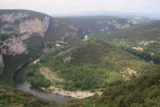 Continuing along the drive, we also made a brief stop at a belvedere with a sweeping view of a horseshoe bend. It seemed like such bends are a requisite of natural bridges as I had recalled in previous arch hunting visits roughly a decade or so ago.
We were getting a kick out of goats being here though it seemed clear that they were quite used to people as they seemed to be pretty insistent on grabbing whatever handouts they could find (whether voluntarily or not).
At 12:45pm, we left again and were driving in earnest back to the A7. Once we were on the autoroute an hour later, we were dying of hunger so we actually made a stop at a Mickie D's.
We didn't have much choie in terms of alternatives so we tried the McBaguette, which was basically using the French baguette instead of hamburger buns as well as some dijon mustard on their typical burger.
I couldn't help but notice the quarter-pounders were called "royals." I guess John Travolta's Pulp Fiction
character was spot on about this since the French are on the metric system so there would be no such thing as a quarter pounder.
In any case, we were done with this quickie lunch and diesel stop, and we knew that we would be paying for this meal with heartburn thanks to the greasiness of Mickie D's.
So we were back on the road soon thereafter and eventually made it back into the Part-Dieu area of Lyon at 3:40pm. We once again bent the rules and took advantage of the Hertz lot so we wouldn't have to stress about parking nor pay exhorbitant prices for city parking. However, it was 32C outside and it felt as if we were having California weather again. This was what we wanted when we were in the north of France, but we ended up with UK weather up there instead. But now that we're close to the south of France, it looked like warmer days were ahead of us.
After a bit of a break (including an impromptu siesta by me), we were back in town at 6:15pm. The goal for the rest of the city touring was to go to the heart of the traboules (passages) that we had a taste of yesterday. This time though, we were in the Croix-Paquet area just south of Croix-Rousse, which we arrived at and toured an hour later.
Unfortunately, the traboules seemed like nothing more than beat up corridors in bad areas, and so there really wasn't much to see other than imagining yourself in history. There were lots of graffiti and hidden nooks and crannies that were poorly lit and could've easily been spots where muggers could hide out. So this part of the visit didn't take long before we were back at the St-Jean block of Vieux Lyon.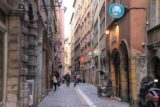 While there, we looked for something cheap to eat like a kebab, but we eventually settled on some Italian place that had pretty decent spaghetti but unimpressive pizza. No Lyonnais bouchon this time after last night's experience at Cafe des Federations. If that was the best of bouchon dining, we didn't have much expectations for other restaurants.
We managed to head straight to a Carrefour in the massive mall by the Part Dieu station. There, we stocked up on some water and apples before the place closed at 9:30pm. Carrefour totally reminded us of a Wal-mart superstore except the colors were different, but the style overall seemed to be exactly the same as back at home.
At 9:45pm, we were back in our room. And so ended a very long day that prompted Julie to ask, "So when is the real vacation going to start?" (a reference to how busy things have been on each day on this trip so far).
Day 9: OFF SEASON
Once again, we awoke at 5am. Julie slept in a little bit longer as she pretty much ignored her alarm. But by 5:30am, she was up also.
We took quite a bit of time to get ourselves ready knowing that there was going to be a lot of driving today. So it wasn't until about 6:30am that we finally left Lyon and headed for Mt-Dore via Clermont-Ferrand.
The drive was for the most part uneventful though we were quite flying like we were on the A7 heading south of Lyon towards the gorges and forests of the Ardeche department. But instead of going in the direction of the South of France, we were headed right into the heart of the Central Massif of France.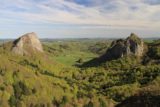 Eventually, we arrived at Hotel Les Charmettes in Mt-Dore at 10am, but that was not before we made a handful of stops along the way where we enjoyed some pretty alpine scenery.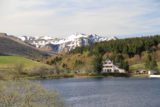 There was even one stretch where the authorities stopped traffic so some kind of filming could take place at one of the man-made lakes backed by the picturesque Mt Sancy, which still had some snow on it.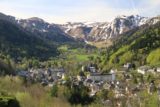 Even when we descended into town from the north, there was a pretty panorama of Le Mont-Dore backed by the peaks of Sancy.
When we passed through the narrow (mostly one-way) streets of town, it really reminded us of a Swiss town. At the time of day we showed up, there was certainly quite a bit of activity in terms of vehicular and foot traffic. This gave us ideas or aspirations of walking around town when we were done waterfalling for the day.
The lady at the hotel was kind enough to let us check in despite our early arrival. In fact, she even gave me advice on where to find the Grand Cascade nearby as well as the location of a petrol station where we were running low on diesel. Now mind you, this conversation completely took place in French though she did provide English where I was struggling.
We then headed out for our waterfall hunt today at 10:30am. Once we left town, it became quickly apparent that the driving towards the Cascade de Salins (the first one we'd see today) was going to involve quite a bit of twisty driving on narrow mountain roads.
The roads got more and more rural as we were following a man-made lake towards a dam and then a cliff-hugging road along the gorge downstream of it. The roads narrowed even more into 1.5 lanes in some places just like I recalled in Norway or even limited parts of New Zealand.
It was a good thing we managed to hire the smaller car instead of sticking with the upgrade without the AC because it was over 30C plus the narrow roads would've been made even more difficult to drive with the larger vehicle.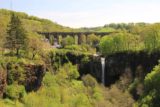 It wasn't until about 12:20pm when we finally made it to Cascade de Salins. There was some signage at the unassuming car park area which was just an unpaved patch of dirt on the top of some hill before the road descended towards the top of the falls. However, there was some signage typical of trailheads, which gave us the confidence that we went to the right place.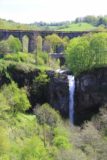 So we quickly put on our boots, grabbed our cameras along with some bottled water and quickly went to where we could get a decent view of the Cascade de Salins fronting a pair of arched bridges.
I wasn't sure what the upper bridge was, but I could see that the lower bridge was merely a road as we noticed cars passing over it. We also saw a trail that went towards the backside of the falls near its bottom.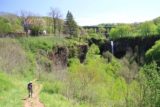 When we walked a little further downhill, we saw a gate that we could open and continue the descent towards the backside of the falls. It didn't take long before we escaped the 32C heat and welcomed the spray from the falls crashing onto the rocks below as well as the shelter of the alcove behind the falls.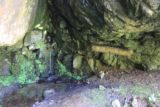 As we continued observing and photographing the scene, we noticed there was some kind of signage in French next to what appeared to be a spring or some kind of man-made water diversion into a hole that spilled out water. My French kept me from understanding what was really being said.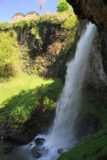 After we had our fill of the falls, we had to face the heat again and ascend the path back up to the car park. I was sure glad that we didn't have to do a long hike to take in this falls, which was what I feared from my pre-trip research. Plus, it wouldn't hijack the day as we still had to visit another waterfall before going back to Mt-Dore to see if we can at least see the Grand Cascade there.
We left the Cascade de Salins at about 1:15pm and headed for Gimel Les Cascades. However, it turned out that going here to there involved even more local rural roads, which meant it took a lot longer than anticipated.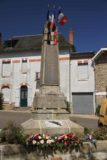 Eventually, we made it to the town of Gimel Les Cascades at around 2:40pm. We managed to park next to some kind of memorial with an obelisk flanked by French flags. It turned out that this memorial was for some war veterans who gave their lives and they happened to be from the Gimel town.
The car park seemed to be well above the cascades, which we could hear from up here. Right across from the car park was a visitor center, which we paid a brief visit. They told us that to access the waterfalls, we had to walk through town and then pay at a bar next to the trailhead some 400m downhill from us.
So we gladly did as we were told to get to the falls.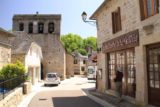 What was cool about this walk before even getting to THE walk was that we had to pass through Gimel Les Cascade village, which seemed like a very sleepy yet charming little town.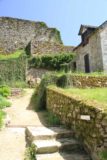 There were some remnants of some chateau that was once here as well as a church where its interior was very cool and contrasted mightily with the 30+ degree heat (think low 90s in Fahrenheit).
In any case, we'd eventually pay our 5 euros per person at the bar to start the walk to take in les cascades de Gimel. We started this walk at around 2:55pm.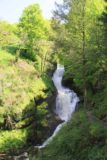 After going down some switchbacks, we then passed some unused house and onto a trail that led to the first waterfall, which they called Le Grand Saut. A sign en route to the falls said it was 45m tall.
It consisted of three tiers and was quite impressive.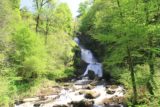 There was also another path that led to a view of the top of La Redoule. It turned out that La Redoule was the name of the second waterfall.
We saw further downstream that there was a bridge and another lookout for this waterfall down below. Perhaps the view would be better from there.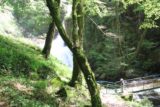 Continuing on, we'd eventually get to the second lookout for La Redoule at about 3:35pm. That was when we could appreciate that this particular waterfall was twisting and one couldn't see its entirely until this vantage point.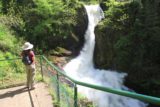 A sign said that this was 38m tall.
Continuing on, we then backtracked to the junction and proceeded to walk down more steps, but these were exposed to the hot sun.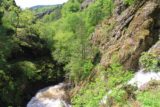 The whole time we were walking down these steps, we could see more of the third waterfall from different angles.
Eventually, we'd get to a spot at a junction where we could see that this waterfall was called La Queue de Cheval (horse's tail), which was said to be 60m tall. We made it down here at about 3:45pm.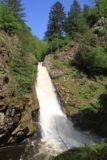 Another sign indicated something about Le Gouffre de L'inferno. I wasn't sure if this referrd to a fourth waterfall or just the spray coming from Queue de Cheval, because the trail didn't proceed any further.
And so concluded our longer than expected trip to Gimel Les Cascades. Now, we had to walk up several flight of steps to return to the chalet where we bought our tickets (to complete the loop walk).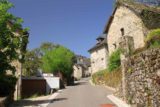 The ice creams and drinks at the chalet looked inviting, but we decided to pass on it and go back up the road towards our car, which must be baking in the sun now.
At 4:20pm, we were back at the car and concluded this rather huge upside down hike.
There was a little bit of confusion when we left Gimel Les Cascades and tried to get back onto an autoroute heading back towards Mt-Dore.
It turned out that we had to make a rather large loop to finally get onto an on-ramp to the nearest autoroute. Now, we were able to fly at great speeds instead of driving on pins and needles through more narrow and winding roads.
We made it back to our hotel at about 6pm after filling up some diesel in town again.
It was getting late in the day so I encouraged Julie to chill out in the room and go ahead with the web browsing (as well as videoconferencing with Tahia).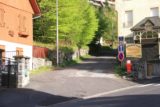 I started the walk about 15 minutes later, but I promptly returned to the hotel some half-hour later when I apparently got confused and took the wrong way.
In any case, I thought I could shorten the hike since I didn't want to keep Julie waiting and have a dinner too late in the day. So I now took off in the car with map in hand. I even got some advice from the hotel proprietress saying that it's a shorter hike from the camping up at the top of the cliffs leading towards the skiing area at Sancy.
I figured I mind as well be as efficient with time as I possibly could. And so I was back out the door in the vehicle at 6:40pm.
When I made it up the camping a few minutes later, I saw that you have to pay to be allowed into the premise. Unfortunately, I didn't have euros on me so I had to drive back down the road looking for maybe a pullout near the chemin de grand cascade. Perhaps that would cut the 3km one-way uphill hike (6km return?) into something a little more manageable.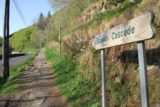 I was told that the camping would even cut the hiking more into a 2km each way walk. But since that wasn't an option, I had to settle for something in between.
It wasn't until about 6:50pm that I finally found such a pullout. So in no time, I put on the backpack plus the two bottled waters, and quickly made my way up the trail as fast as I could.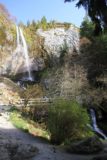 Apparently, I was a little too hasty as after the first switchback, I tripped and fell forward. Fortunately, I broke the fall with my hands though the left hand got nicked a bit with a little skin piercing. It wasn't a big deal though so the quick hiking continued.
Eventually, I made it to the bridge fronting the Grand Cascade for full frontal views of the falls. Somehow this hiking experience reminded me of the last waterfall seen in our 2005 Norway trip. I don't know why, but somehow the circumstances seemed eerily similar.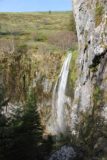 Anyways, I continued beyond the footbridge and went up some more steps towards a grassy area where I was able to get a grand panorama of Mt-Dore and the Dordogne Valley on one side and the partially snowy mountains of Sancy on the other.
Speaking of which, the Dordogne is actually a combination of the Dore stream and the Dogne stream. Add them together, and you have Dordogne. It makes total sense since these streams confluence just above town. It's amazing that this very river cuts through a large chunk of the Central Massif before emptying towards the Atlantic near Bordeaux.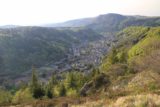 It was about 7:25pm when I had my fill of the falls and view, and made my way back to the car. The trail running was certainly made easier in that it was mostly downhill now. And sure enough, it was about 15 minutes later when I recovered the car.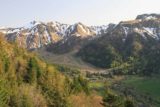 At 7:45pm, I was back at the lodge. However, I was a sweaty and smelly mess so I showered before we finally went into town looking for dinner while also seeing if we could absorb some of the town's charm.
Well, as we were walking around town looking for a place to eat, we quickly noticed how dead the town was. So that meant no restaurant was fully booked nor totally busy. I guess Mt-Dore was a bit of a ghost town this time of year.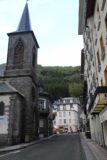 This was made even more apparent when we realized that there was a thermal spa in town, the restaurants were serving cheese fondue (again, reinforcing the notion that there was some Swiss influence; or was it the other way around?) or some other hearty and heavy dishes.
Clearly, this town is more of a Winter town. Obviously, we were here in the off season, and that might explain a lot about our low hotel rates here.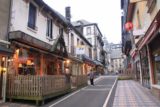 We settled on this place to dine called Le Vielle Etable at 8:10pm, and we got some local dishes, which were heavy on cheese and potatos along with some salad and charcuterie-style ham.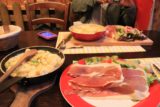 It was definitely something different that we've had throughout the France trip so far. But there was no way we could come close to finishing all that food.
As we left the restaurant, we didn't bother seeing more of the town at this time. It was too dead, and we had a long day of driving ahead of us tomorrow.
At 9:55pm, we were back at the hotel. It was time to unwind, get the photos organized and named, and get all cleaned up. An early start tomorrow beckons…
Day 10: GHOST TOWNS
Today was yet another day where we woke up at 5am. This time, we had to make a quick getaway because there was a very long drive ahead of us. We wanted to make sure that we could be able to check in as soon as possible before doing some touring in the Pyrenees.
At about 6am, we were about ready to go. However, when I tried to load up the car, the front door to the hotel was locked. Pushing the button where it said to "appuyez" didn't work.
Eventually, we had to call reception, and that was when we ended up waking up the proprietress, who promptly came down to unlock the front door for us. So it wasn't until about 6:20am when we finally left the accommodation and Mt-Dore.
Apparently, it had been raining last night because the ground was wet. It was a total contrast to yesterday's warm weather.
As we drove out of Mt-Dore, there was on-and-off rain. In some spots, it looked like we hit some squalls where it was pouring heavily. There were even a few sporadic flashes of lightning!
We weren't sure if this was the typical mountain thunderstorms we're used to seeing in the mountains and deserts of California following some very hot weather. But there was something about this storm that seemed a bit off. I guess we didn't have the history in this area to gauge whether such weather changes and their intensity were normal for this time of year in the Central Massif area.
At 7:25am, we made a quick rest stop so we could pick up some croissants. Unfortunately, there was a tour bus that took forever, and when Julie finally returned to the car, it was 15 minutes later.
The drive as expected was quite long and tiring. It was somewhat equivalent to going from LA to San Francisco as the drive took over 6 hours.
At least most of the drive was on the autoroutes though so that helped speed things up. I'd hate to imagine how much longer this would take if not for the autoroutes. Of course, we paid through the nose in terms of peages (tolls).
It wasn't until about 12:10pm when we made it to Hotel Les Rochers in the charming tiny town of St-Savin. We probably could've made it another half-hour or so earlier, but the city of Lourdes was crowded with Saturday markets as well as lots of tourist activity considering there were some grand religious structures that we caught glimpses of while passing through town.
We quickly went towards the reception of the hotel, but after pushing the call button a bunch of times, nobody was home. We figured that perhaps a quickie lunch somewhere in town might give us enough of a delay to come back to the hotel to check in.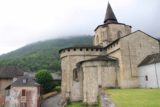 After having a quick pate sandwich for lunch, we walked around town for a few minute and realized that there really wasn't a whole lot going on in town.
In fact, it was a ghost town. There was hardly any activity going on except for maybe the bar and sandwich place we ate at, which had all but a half-dozen people including the proprietors. We pretty much stuck to the charming-looking church in the town center, but it seemed like there really wasn't much more to this place.
We returned to the hotel at 1:10pm and there was still nobody home. So it was at that time that Julie and I decided to just go to Le Pont d'Espagne (Bridge of Spain) and do some sightseeing with our luggage in the car.
So we drove our of St-Savin and headed towards Cauteret. We fancied the idea of perhaps changing accommodations and checking into a hotel in Cauterets given its closer location to Pont d'Espagne, but when we got there at 1:35pm, nobody was at the lobby to open the door there, either.
I guess in these parts, people take their siestas seriously.
Fortunately for us, we saw a laundromat across the street from Hotel Lyon d'Or. Even better, this laundromat wrote that they were open 7 sur 7 (7 days a week) from seven in the morning to eight in the afternoon.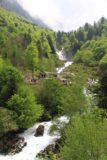 We proceeded to move on and drive towards to Pont d'Espagne (Bridge of Spain). Barely ten minutes into the narrow and winding drive up the mountain road, we saw there was a pretty waterfall tumbling past some restaurant.
Actually, there was a large area for stopping the car with restaurants and cafes across the street further down the hill. This was where we stopped the car.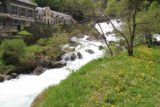 When we got out of the car and took photos and movies, but when we walked around some more, we saw that there was another cascade tumbling between some facility and the end of the row of shops. The falls confluenced just below us!
Clearly, this spot was popular as there were several tour buses that made stops here. It seemed like a good deal of them were Spanish tours because I could hear Spanish being spoken.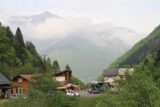 We probably enjoyed this spot for a good half-hour until about 2:10pm when we got back in the car and kept going up the mountainous road. We saw there was a trail leading for 90 minutes up towards the Bridge of Spain, but we opted for the driving instead.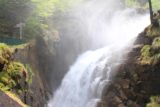 The drive continued to wind its way up the mountain. It seemed that on every other switchback, the road teased us with glimpses of the same cascade that was tumbling down between the small row of shops and some facility we had stopped at earlier.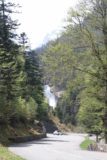 When we couldn't see pullouts to check out the sections of the waterfall, we found pullouts at the next switchback then walked back to the falls.
Eventually at 2:50pm, we reached the car park for Pont d'Espagne. There were a handful of cars here plus a few tour buses. But somehow I got the feeling that this car park has seen busier times.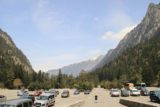 In any case, we were hoping to take the cable car up to the Lac de Gaube, but once we talked to the cashier, it was apparent that the cable car wasn't running at all. In fact, a sign there said that it wouldn't open until May 17. Looked like we were too early by 5 days!
It was about an hour walk each way to get up to the Lac de Gaube, but Julie didn't really want to do it, especially considering we hadn't checked into our accommodation yet.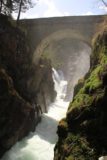 So instead, we spent our time checking out the cascades, which was merely a five-minute walk. Actually, it was a scenic walk that passed a part of a smaller cascade before providing views of a much-photographed arch bridge that concealed another massive confluence of waterfalls behind it.
As we got up towards the bridge itself, we saw a very busy cafe where lots of people were chilling out. But it was also up here that we saw the confluence of cascades with the one tumbling down from our left (looking uphill) being the most impressive.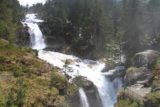 It was a gorgeous sight, and it was too bad the cable car wasn't going because I could totally see that you add in the lake scenery and you have a truly memorable experience!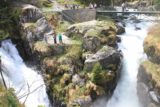 In any case, we took photos and movies of the falls in the hordes of people that were here. There was even an attractive rainbow (sometimes going double) when we looked back down towards the arched bridge.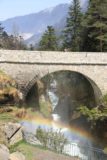 When we were done, we walked back down towards the car park and got back to our car at 4pm. After paying the 5.5 euros for the parking (that's why we saw a bunch of cars parked in pullouts before the barricade; so they can avoid paying), we headed back down the switchbacks and made a brief stop at the row of shops again.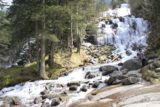 We actually picked up some kind of Basque-style dessert, which sounded like something Spanish. Even the cafe owners there spoke Spanish so we could see there was some definite mixing of cultures here. Actually, come to think of it, there was also quite a bit of English spoken here as well.
I guess that's what happens when you have world class tourist destinations. It's almost like you have a United Nations of holidaymakers.
We were back in Cauteret at 4:30pm. While down there, we made a quick grocery run. Then, at 5pm, we returned to the hotel.
Now, the innkeepers were at the reception so that was when we finally checked in.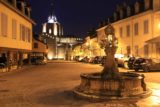 Julie wasn't too thrilled with the room we had gotten, but then the proprietor let us look around and pick any of the open rooms. And that was when Julie found a room at a corner that had two views plus some wooden beams over us.
Other than having to watch our heads, this room had the charm that she was looking for.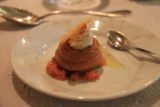 After taking a shower and having another videoconference back home, we walked back into town at Le Viscos for our 7:30pm dinner reservation.
This place had quite a bit of a reputation as it served the likes of Sarkozy, Michael Douglas, and quite a few other celebs we didn't recognize. The photos were in the lobby.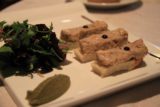 Anyways, we opted to splurge on the 89 euro degustation menu combined with Julie's much more reasonably-priced 29 euro fixed price menu.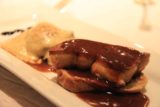 This experience was definitely like fine dining as we were given well presented dishes with interesting mixes of flavors. Most of my stuff were foie gras, but they were smooth and flavorful. There was no hint of the liver aftertaste.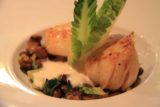 The scallops (Coqui St Jacques) was excellent, and there were even tasty pre-desserts before the desserts themselves.
The restaurant was full by the time we were well into our dining experience. I guess even in a town that was as dead as St-Savin, this place seemed to have more than its fair share of customers.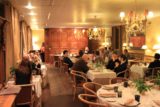 When we were done eating, the chef spoke with us in the lobby while we were checking out the celebrity photos. He said that he was the son of the chef posing in those photos. He spoke very good English so we talked about all sorts of stuff from his brother being in Carlsbad near San Diego (upon learning we were from LA) to the weather, which was predicted to be mostly sunny.
When we left the restaurant, we took a handful of night photos as the lights kind of made St-Savin take on a different charm.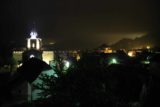 We got back to our room at about 10:10pm. I took a few more night shots of St-Savin from our room before we called it a day. Both of us were dead tired considering we had a very long day of driving followed up by another half-day of touring.
Tomorrow, we were hoping for good weather as we planned on doing the hike to Le Cirque du Gavarnie…
Day 11: FAIL
It was about 6:30am when my alarm went off, but to my horror, outside was raining and there were clasps of lightning and thunder!
In my half-conscious state, I figured I mind as well sleep in since the conditions weren't optimal to do the hike at Gavarnie.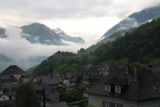 After a little more dreaming (hoping the weather might miraculously improve in time for our hike), I got up for good at 7am. That was when the rain seemed to have stopped, but the clouds were hanging low.
If there was a discouraging start to the day (especially after the weather forecast looked so rosy), this would be it!
Given that today was our lone full day in the Haut-Pyrenees, we were in a little bit of a crisis as there was a very real possibility that Gavernie (the attraction for today) would be a fail. We were headed to Carcassonne tomorrow via Cascade d'Ars so we were also real concerned about the Cirque du Gavarnie being a lost cause on this entire trip!
Even though the forecast for today was supposed to be partly cloudy with sun, the reality was a far different story. I guess it just shows you that even with the most sophisticated computer models, their predictions can still be way off from the reality. On top of that, mountain weather tends to be fickle, and we were getting a hard lesson in that today.
I actually fancied the idea of driving out to Cascade d'Ars (2.5 hours away) as a day trip given the crummy weather, but when I floated the idea to Julie, she didn't like it. So the plan was to go into Cauterets to do some much-needed laundry in the morning. Then, in the afternoon, give Gavarnie a shot hoping that the weather forecast might be partially right in that it might be clearing at the end of the day.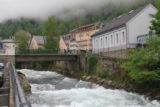 So we headed out at 8:50am. About 25 minutes later, we were back in Cauterets and the laundromat. Next, we had a little drama trying to feed the machines there because each machine was very picky about the coins it would accept.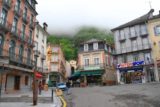 That meant that in between loading the clothes and finding out a particular machine only took 1 euro coins or another machine only took 2 euro coins (and the soap dispenser only took 10 cent euro coins), we went looking for places to buy breakfast food (mostly pastries from boulangeries or patisseries).
So we did just that (even troubling the cashiers to give us change in petite monaie).
We did all that while shuttling back and forth between the laundromat and just walking around the pretty dead town.
At 10:35am, we got around to drying the clothes. We were doing it in increments of 8 minutes at a time since the machine started up when a euro coin was put in. We only learned later (when we were almost done) that you could put multiple euro coins for a longer continuous dry, as some locals were doing when they got to drying their stuff.
It wasn't until 11:20am when we were back in the car. Unfortunately, the weather remained foggy and drizzly. So much for the day that we were supposed to see the Cirque du Gavarnie.
After some last minute folding clothes and visiting the WC, we finally left Cauterets at 11:30am. The low clouds were stubborn and didn't budge. In fact, it seemed like more clouds were rolling up from the valley.
The discouraging drive from Cauterets back down the mountain and then up towards Gavarnie basically all but assured that we'd probably be wasting our time trying to hike to the Cirque du Gavarnie. I was holding out hope that perhaps there might be a window of opportunity to see the cirque despite these circumstances.
It wouldn't be unprecedented as we had similar bad starts at the Shomyo Waterfall in Japan as well as visiting Franz Josef Glacier in New Zealand.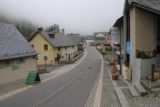 Anyways, we eventually got to the town of Gavarnie at 12:30pm. Not surprisingly, it was still foggy and we couldn't see jack. It was at this point that I probably made up my mind to come back here tomorrow despite the long drive to both Cascade d'Ars and Carcassonne. But we didn't come all the way to Gavarnie (and spend good money) not to see its famous cirque. I could only imagine how disappointed tour bus patrons would be if this was their one and only shot to experience Gavarnie.
Of course, all bets are off if the weather is still crummy tomorrow. But unlike the tour bus patrons, we at least had the option of trying again since we were on our own. Even though self touring costs a lot more, it's that freedom and flexibility that you have to have when you have weather dependence on the things you're trying to see and do on your holiday.
As we realized that we had hit the end of the road, we saw there were parking signs charging 5 euros near the trailhead. We didn't feel like paying that kind of money knowing that we were likely to be disappointed with this hike so we drove back towards the tourist info center perhaps to get a glimpse of the forecast.
Well, when we finally found parking near the visitor center, we realized that the parking was indeed free. We just had to walk a little further through town to get to the trailhead. Unfortunately, the visitor center was closed since it was Sunday so the forecast that was posted on the door was outdated. And to add salt to the wound, it predicted partly cloudy skies today with afternoon clearing!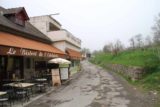 Anyways, we started hiking at 1pm. Aside from the activity in town, the skies were pretty much grey. Even fairly significant cascades tumbling into the valley were mostly shrouded in clouds.
It wasn't until we got towards the end of all the cafes and bars along the walking path that we finally saw signs indicating that the Cirque du Gavarnie was about an hour away. At least that gave us an idea of how much time it would take to do it tomorrow since now time would be of the essence.
The walk was actually fairly easy to moderate. There were plenty of other people doing the hike despite the sorry weather. But I could tell from the looks on peoples' faces that they were faced with the same disappointment as well. Clearly, we were hoping against hope by doing this hike at this time.
Anyways, the hike was mostly flat with some uphill sections. Despite the cold and drizzly weather, I actually had to remove my jacket because I was starting to sweat.
Eventually after going through a pretty naturesque trail, there was one last ascending part of the trail before it ended up at a hotel near the end of the trail. That hotel didn't look like it was open though (another indication that we were in the off season despite it being May).
At 2:20pm, we were stopped by an unbridged stream crossing. It actually looked doable, but with all the fog and drizzle around us, we couldn't tell how far we were from the cirque at this point. Was it worth it to go across?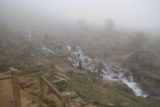 After a few minutes of discussion, Julie and I couldn't help but notice people up ahead on the other side of the stream stopped. No one proceeded further. Was it because it was the end of the trail?
There was one French family that made it back to the hotel and I asked the father if it was le fin de passage.
He said that further passage meant having to go through neige (snow), and that going further meant avalanche risk. I was a little surprised by the response considering we hadn't seen snow at our feet this entire trip or even imagined we'd be this close to it deep into May.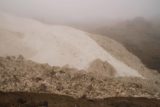 Ten minutes later, Julie and I ultimately decided to just cross the stream and see for ourselves what was there. And sure enough, snow was in front of us. There was dirty snow right before us then they were succeeded by whiter snow as far as the fog would allow us to see. So the French guy was right (actually I was glad I was able to understand that much from him).
And so we turned around and confirmed that there was absolutely no way we'd see the Cascade du Gavarnie nor the Cirque du Gavarnie on this day. Indeed, it was the ultimate fail, but sometimes these things happen on trips like this.
So that pretty much ensured that I was looking forward to fitting in a repeat visit to Gavarnie tomorrow morning.
The walk back was under constant drizzle as the weather seemed to continue to degenerate some more.
Eventually, we made it back to this creperie and bar called L'Edelweiss. What got our attention was a fireplace inside as well as someone making crepe fresh in plain sight from the walkway.
So that sold us in coming in and indulging ourselves for a bit.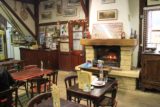 The crepe they had was delicious. I had the standard hot fudge with French Vanilla ice cream and chantilly cream over crepe. Julie had a scoope of sorbet of myrtilles (local blueberry I think) as well as a vanilla ice cream scoop as well as some raspberries and chantilly cream all over crepe.
We were done with the crepe and headed back into the drizzle about a half-hour later. We were back at the car at 4:35pm. The weather was still showing no signs of relenting.
So we drove off and looked forward to getting back to the Hotel Les Rochers in St-Savin so we could Skype back home and see Tahia again.
Unfortunately, the drive went slower than we hoped because we were stuck behind a tour bus that refused to use the pullouts. So instead of being back at around 5:15pm, it wasn't until about 5:30pm that we were back.
We managed to talk to Tahia as well as both our moms as well as my dad, which filled up most of the time between then and our 7:30pm dinner.
When we had a pretty light and relatively healthy home cooked dinner of quiche, halibut, and apple tart courtesy of innkeeper John who also doubled as the chef, we noticed that the skies were starting to clear from the direction of Lourdes. Clouds were still shrouding the Pyrenees side, but it did give me hope that perhaps come tomorrow morning, our window of opportunity for a do-over is likely to occur.
When dinner was done at about 9pm, we chatted with John over food and then somehow it went into politics. Funny how travel does that. But at least it was interesting to hear another perspective about the topic with a bit of British tongue-in-cheek humor. He gave us quite a few things to look up like the famine of 1959-61 in China, some Vanity Fair writer and some other cultured mind named Christopher Hutchens.
So with that we were back in our room and winding down the day. Julie wasn't too pleased about going back to Gavarnie and possibly rushing the Carcassonne part of the trip. But sometimes Mother Nature gets to decide when you get to do what. And this seems like one of those times…
Day 12: LE CIRQUE DU SOLEIL
Given the disappointment of yesterday, we were committed to returning to Gavarnie first thing in the morning if the weather was clear. The problem was that now we had a very full day where we probably wouldn't make it to Carcassonne until late in the afternoon, which hardly left us any time to see and do anything on this day while in the walls of the medieval village, and would probably mean that any parts with opening and closing hours there meant we'd probably be out of luck upon our arrival.
So to maximize our chances of fitting in Carcassonne sightseeing before closure, we got up at 5am, which was nothing new at this point. We were pretty motivated to get packed as soon as possible. The whole time we were packing, we could see that the weather was clear, which pretty much meant that we were doing Gavarnie. I guess Mother Nature decided that today was the day and yesterday was not.
We were in the car by 6am. The sun was still not up yet so that meant that we were driving in pre-dawn lighting. Thus, I took my time to drive the winding mountain road to Gavarnie.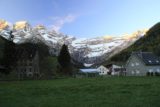 We'd ultimately arrive in Gavarnie at about 6:50am, but given how gorgeously clear it was this morning, we could see straight away that the Cirque du Gavarnie was visible from town! Indeed, we could see the towering Cascade du Gavarnie, which was an imposing presence in the cirque while the cirque itself was crusted with snow. There was even hints of alpenglow as the sun still had not penetrated the surrounding mountains to cast its glow.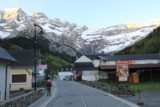 We started hiking at 7am, but it was about 4C so our hands were freezing cold. But despite our early and frigid start, as we were hiking through the quiet town onto the pedestrian-only path, there were already some locals tending to horses at this bonne heure (early hour).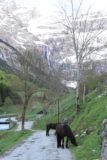 Even though we were in quite the rush to get this excursion out of the way as soon as possible, we couldn't help but to keep getting delayed with taking photos and movies the whole way we were hiking. The picturesque cirque was simply too captivating to ignore taking pictures, and given the contrast to yesterday, we cherished the scene that much more!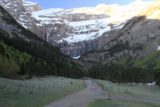 As the hike and the morning progressed, the morning sun was still hiding behind the mountains to our left, but it left noticeable morning glows on the mountains to our right. Small slivers of the right side of the cirque started to become harshly lit against the shadowy scene where the sun didn't make it.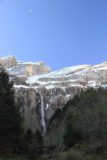 So for the whole time, we were able to take photos without too much influence of washouts from the bright sun. There was even a crescent moon showing itself in the direction of the cirque.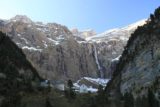 At 8:20am, we finally reached the Hotel du Cirque. We could see that it this was probably more of an afternoon waterfall, but for this morning, we just cherished that we could see the thing in its entirety at all! In fact, yesterday, we made it all the way to the snow. Today, we could see that the snow would have put us fairly close to the base of the Cascade du Gavarnie.
But on this day, there would be no need to go that far, especially given our time crunch.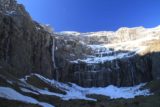 We started heading back at 8:50am. Knowing that the lighting started to get harsher part of the cirque itself as the sun now penetrated the valley, the walk back was brisk.
Eventually, we made it back to the car by 9:35am. As we approached the Gavarnie town again, we could see more people were up and about, including some early hikers. That made us realize that we both had the entire trail to ourselves until this point, which was perhaps another big reason why we enjoyed this hike and it pushed us against the constraints of our busy itinerary that much more.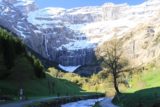 I even talked to a local in French about how beautiful it was today and how hier, je n'ai vu rien (yesterday, I saw nothing) and even the local said "rien" before I did as if he knew what I was going to say.
By now, the temperature was now 6C, which was slightly warmer than the 4C start.
At 9:40am, we left and even as we hastily drove out, we could see quite a few cars heading back the other way towards Gavarnie. Good thing we beat the rush because I'm sure following slow people on mountain roads who refuse to pull over would've been even more frustrating.
At 10:05am, we made a quick stop for a boulangerie takeaway brekkie in one of the towns between St Savin and Gavarnie. And about ten minutes later, we were on the road again.
The drive was for the most part uneventful except for one scary moment when a self-help gas station almost swallowed my credit card because it didn't have the smart chip in it (apparently, carte bancaire or CB were common in Europe and not in the States). Good thing I was able to pull it out and not even entertain the notion of self-help only gas stations anymore (as cheaper as they may be).
Eventually, we'd get back onto the autoroute, which felt so much smoother as we jammed towards the next excursion of the day, which was the Cascade d'Ars.
As we approached Aulus Les Baines, we could see an impressive waterfall tumbling in the distance. I didn't get a chance to pull over and get a satisfactory photo, but we could see that it looked fairly distant from where we were at.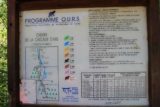 It wasn't until about 1:05pm when we'd make it to the trailhead for Cascade d'Ars, which was just above the town of Aulus Les Baines. We had to follow quite a caravan of RVs, which slowed us down a bit. And the signs at the trailhead made us realize that we had a longer hike than we had hoped (a minimum of 90 minutes), which made our ambitions of getting to Carcassonne before they closed the castle and ramparts section look doubtful.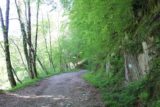 It was 27C when we started the hike, which was a major swing from the 4C at the time we started hiking. And the hike started off uphill.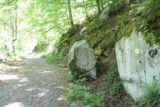 It turned out that that was just the beginning as the hike continued to climb somewhat moderately uphill with views of the cascade mostly obstructed by tall trees so it wasn't like we could take any photos along the way.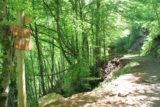 I was also getting a little pre-occupied looking for colored bear signs keyed to the trailhead map. This indicated how far along we were in the hike at various intervals. I managed to notice a green bear and yellow bear at this point, which meant that I was barely a third of the way there.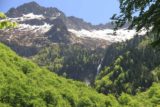 It wasn't until about 1:55pm that I finally started to see the cascade partially above the trees. However, unlike the view from the road before Aulus Les Baines, you couldn't really see the snowy drainage context feeding the falls itself.
At least the hike was mostly shady which provided some relief from the heat.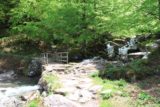 At 2:05pm, we crossed a bridge which them started a series of even steeper switchbacks with maybe one small flat section before it continued to climb steeply. Indeed, the trail continued to be relentlessly uphill!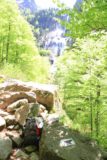 It wasn't until about 2:20pm that we finally made it to the official viewpoint of Cascade d'Ars as indicated by a black bear sign. Somehow, I missed a couple of other bear signs along the way.
We took whatever photos and movies we could of the falls before Julie got a head start going back to the car. At least it would be all downhill on the way back.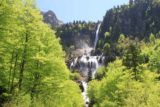 Meanwhile, I continued for a few more minutes to get a closer look at the falls. I'd eventually get to a part where I could feel the mist of the falls where it fanned out after the initial plunge (the falls had a bit of a pitchfork kind of shape).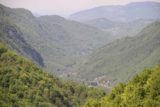 From up here, I was able to look downhill and see Aulus Les Baines way in the distance. It was hard to believe that we walked that far away from town on this trail!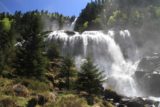 Anyways, I headed back at 2:45pm seeing that the views of the falls itself got progressively worse the further I went. I'm sure had I kept going, I might be able to look back at get partial views of the falls as it would go up to some shelter and towards some pass, but alas, that wasn't the point of this excursion.
So I hastily trail ran back down the trail until I'd eventually catch up to Julie somewhere near the yellow bear (which was the half-hour from the start point). As we were finally walking side by side at this point (it was 3:15pm at this point), we happened to be hiking behind a couple where one lady was smoking on the trail and blowing her smoke back up in our direction. That was something you don't often see when out in Nature! Needless to say, we tried to pass them as soon as we could to limit our exposure to the second-hand smoke.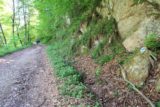 At 3:25pm, we also noticed the blue bear sign, which marked the 20-minute point from the start. We were almost back at the car (hopefully no one broke in while we were away).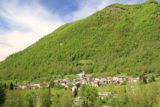 Something that we didn't quite appreciate on the way up was that we could see the entirety of the town of Aulus-les-Baines. It was quite a picturesque town that we could've easily enjoyed and stayed for a bit, but looming was our late arrival to Carcassone this evening. As the French might say, C'est dommage! (What a pity!)
At 3:40pm, we were back in the car, which was now no longer in shade. It dawned on me at this point that with all the bear references, could the word "ars" mean bear? As in this is the bear cascade?
It also dawned on me that the entire drive towards Aulus Les Baines and later when we had to go over two passes to get back to the A61, there were lots of markings on the road itself that seemed to be a visible sign of protest.
We knew that the Pyrenees had a major controversy when the now extinct Pyreneean bear were hunted to extinction, but a similar species of bear were reintroduced from Slovenia. I suppose this was with major protest from ranchers and herders who now have to contend with wildlife killing off their means of living, and the governmental program O.U.R.S. (Ordonnance Uniformisee de Randonnees de Sante), which apparently managed this hike, might've also been responsible for instituting the program to bring back bears to this region. That might be why we kept seeing "NON OURS" scrawled all over the mountain roads in the area.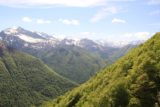 The drive over the col was quite stressful as we were trying to make it to Carcassonne before their castle and ramparts closed at 6:30pm. But the GPS indicated that we wouldn't even make it until well after 6pm, which didn't leave us much time to find parking, check in, and then get onto the limited admission area.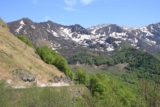 The narrow and winding roads didn't help, but I had to keep fighting the urge to pull over and take in the dramatic views of this part of the Pyrenees. I couldn't help myself on a couple of occasions.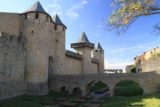 Ultimately, we finally arrived in La Cite at 6:20pm. We had to fight through quite a bit of traffic to get here, plus the signs kind of put us on an unnecessary detour, which limited our time even more.
Once we parked the car, we ran straight for the castle and ramparts and got to its gate at 6:25pm.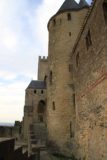 Unfortunately, it was closed. The signs indicated that the last admission was at 5:45pm so even if we were efficient with our time, it was unlikely that we would've made it here in time. So that meant that we would have to push back tomorrow's itinerary to fit in this visit, which wouldn't be until 10am! This late start was definitely going against what we tried to accomplish here before we got into Julie's desired Provence part of the trip.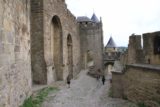 So we checked into the Hotel Donjon, where we were informed that there was unsecured hotel parking just outside the city walls. When we went ahead and did that to avoid paying any extra money (like 12 euros for supervised hotel parking or whatever ticket rate for regular parking), we saw lots of broken glass no matter which spot we were at.
That prompted us to take everything out of the car and not create the temptation that there was something worth stealing.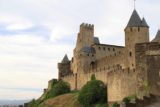 At 7:15pm, we finally settled in our room. There was still lots to see this evening so even though we should be winding the day down, we both had the feeling that it was still just beginning.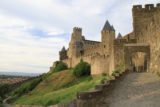 We spent a few minutes taking photos of selected parts of the city walls and some of the interior. That was when I saw some menacing-looking thunderclouds wanting to roll into the area. These clouds also muted the soft afternoon light that LP recommended we do at Carcassonne at dusk.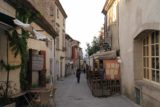 At 8:05pm, we ate at this place called La Marquiere. They offered cassoulet, which was a local dish of meats and beans, as well as this interesting dish of beef with some other stuff like foie gras I think.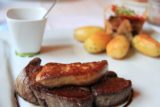 It was a pretty good dinner and the portions weren't huge though the dinner was like dining at Houston's (typically around $70 USD without drinks).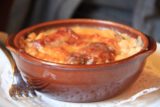 It was definitely getting expenive doing this every evening, but we figure you don't always get a chance to have local French food, and we're not going to go home and say, "Gee, I'm glad I saved this much money while missing out on this French experience." So when in doubt, just spend.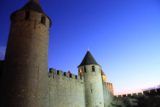 When we were done with the dinner, Julie had already headed back to the room. After I paid for the meal, I tried to find my way back, but somehow I got a little lost.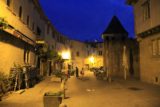 Oh well, at least I was able to take some photos of town as I was aimlessly meandering about La Cite. I had to say that the city was charming, but one thing that kind of took away from its charm was the presence of motor vehicles (namely voitures [cars]), which was one thing that Mont-Saint-Michel didn't have.
At 10:05pm, I finally found my way back to our room. I came back just in time to join Julie on a videoconference back at home to see our little daughter as well as the rest of the family.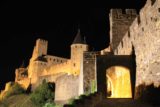 After the videoconference, Julie and I went back into La Cite for some more night time visiting. There were quite a few dark sections of the town and I also didn't get to take the shot from outside the city walls. Julie didn't feel safe strolling around where there wasn't light and she suspected there were some bad areas given how easily cars were broken into around the city walls.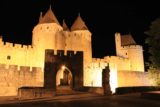 When it came to night photography, the lights against the city walls were kind of intense and blinding. That kind of made my night shots a bit harsher than I would've liked. I guess it reinforced my notion that twilight photos were more attractive than full-on night photos. Unfortunately, twilight also happened to be right around 9pm, which is normally when it's time to eat dinner so it's always a question of food or twilight photos?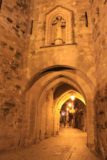 By 11:35pm, we were finally back in our room again. Both of us were dead tired at this point. Even still, I didn't sleep until after 2am to take care of errands given that we took practically 400 and movies photos on this busy day. But I knew full well that tomorrow would also be busy since we wouldn't be leaving Carcassonne until midday, which would push back our start to the sights of Provence…
Day 13: PROVENCAL CHECKLIST
Given the late arrival and sightseeing last night, we slept in a little bit this morning. We knew that we had yet another packed day, but we allowed ourselves to sleep in so we can go see the chateau and ramparts within Carcassonne, which was something we just missed yesterday afternoon (and really wished that we could've done it then to save time today).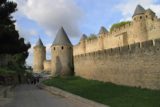 So we were awake at 7am and took a good chunk of the morning packing our stuff, then lugging them to the car park just outside the walls of la cite.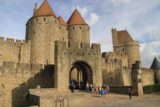 We got there to load up our stuff around 9am and we breathed a sigh of relief when we saw that no one's car (especially our rental car) was broken into here.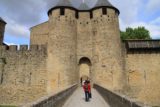 At 10:05am, we promptly entered the castle and immediately started our whirlwind tour of the various structures constituting the battlements and ramparts.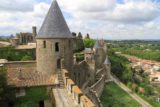 The tour itself went pretty rapidly as we didn't bother with audio tours plus we even cut down the time spent exploring the northern ramparts to give ourselves more time to do whatever it was that Julie wanted to do.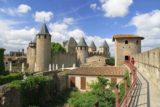 By about 10:45am, we finished the tour and was right back at the car ready to leave Carcassonne. We left with the feeling that there was still quite a bit of La Cite that we didn't explore, but since we were on a checklist errand, there were still more fish to fry for the day.
Speaking of Julie's Provencal Checklist, today's went something like this:
Carcassonne
Pont du Gard
The Pope's Palace (Palais des Papes) in Avignon
View of the half-bridge in Avignon
Abbaye Notre Dame de Senanque near Gordes
View of Gordes
Village of Bories
Gordes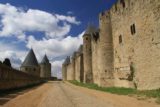 We were still not done with Carcassonne yet.
We decided that on the way out of town, we had to drive to the bridge over some river or stream for a view of La Cite of Carcassonne from the outside.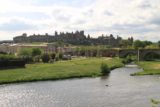 After a bit of navigating some chaotic local streets, we'd eventually get there at 10:55am. Unfortunately, the lighting was very suboptimal since we were looking against the morning sun. Clearly, we should've done this yesterday afternoon or at least a night.
In any case, Carcassonne… check.
Next, we had to make the long drive over to Pont du Gard, which was an ancient Roman aqueduct that was said to be well preserved.
We knew that parking there was 18 euros, which was a bit steep for parking, but we kind of treated it like an admission fee. The ticket also included admission to the museum there, but I think given our time constraint, we never considered it.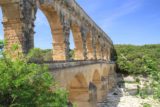 At 1:30pm, we finally arrived at the Pont du Gard Rive Gauche (left bank). I thought that I had followed the signs for Pont du Gard Rive Droite (right bank). However, we kind of went in a round about manner to get to the Rive Gauche (left bank) side.
We hastily got out and walked towards the multi-level aqueduct while trying to navigate our way between the hordes of children groups.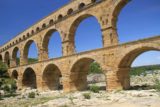 We probably walked some 500m or so each way cutting across the bridge (clearly it was now more of a walkway than an aqueduct). Eventually, we'd get to the backside of the bridge where the mid-day sun was more favorable.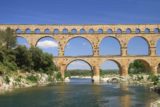 That was where we took the last of our photos for the excursion before heading back to the car. Upon looking at the bridge, it looked like it was quite restored. I don't know how authentic it was, but it really seemed more like a bridge that was "improved" upon. In fact, I even saw a truck (an employee no doubt) drive across the bridge.
And by 2:30pm, we left Pont du Gard.
So, Pont du Gard… check.
Next, we were to drive to Avignon. I know Julie did some research on this place and wanted to see the Pope's Palace (I guess it was the former residence of the pope before the Vatican).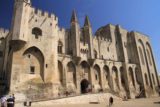 We'd eventually find parking for the palace at around 3:15pm. It was structured parking so we'd at least not have to contend with a roasting interior of the car when we return.
We paid for admission and did the tour of the palace, which was just outside the exit of this car park.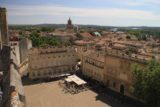 While the palace was grand, it really wasn't my cup of tea. In general, religious stuff didn't do it for me anyways, but I had to admit that the structure was grand and the views from the top were also pretty.
Still, we were done doing this tour at around 4:10pm.
Palais des Papes… check.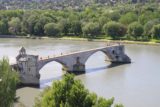 Next, we walked up a hill towards a park with a view of some bridge that didn't go across the river. It was also in some Russell Crowe movie that Julie said she saw. It also dawned on me that all those Provencal things Julie put on her checklist just so happened to be shown in that movie.
Anyways, we got the snaps we wanted of the partial bridge from above when some guy was explaining to everyone there that they were filming. I guess that kind of explained why we saw some attractive lady looking out towards the view. I wasn't sure if they were filming for a commercial piece or some show. Whatever it was, that was pretty much our cue to get our shots and go.
At 4:35pm, we were back in the car. Admittedly, that partial bridge wasn't all that interesting other than to say that you've been here.
View of partial bridge… check.
Next, we drove towards Gordes. But Julie was concerned that the Abbaye Senanque was going to close at 6pm so we hastily made our way over there.
Julie's favorite flower and scent was lavendar, and that abbaye was known for being fronted by lots of lavendar. Unfortunately, we knew going into this trip that it wouldn't be blooming until at least mid-June and into July.
Still, Julie was determined to get to that abbaye.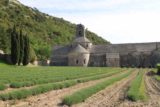 At 5:40pm, we finally made it to the abbaye. We skipped checking into our accommodation at Les Mas des Etoiles in Les Imberts. We even skipped a grand view of the impressive cliff-hugging village of Gordes.
And as feared, there were no lavendar to be found when we got there. So our visit here didn't last very long.
Ten minutes later, we left.
Abbaye Notre Dame de Senanque… check.
At this point, I was getting a bit tired of all the driving around to fulfill a checklist. I got the sense that we were missing the point of traveling by going from place to place to check off things on a list.
While admittedly we do this to catalog waterfalls or other "obligatory must do" excursions, today felt a bit rushed and outside the spirit of experiencing the essence of what it means to see something out of the ordinary through travel.
Next up, we went back for the viewpoint of Gordes. When we got there at 6:15pm, it was still glowing under the late afternoon sun. There were always someone enjoying this view including some large family from Texas who shared the view with us.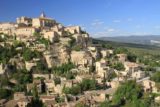 It was funny how the mother of that family asked if she could take a photo of us and was relieved to know that we spoke english. I guess I forgot about how much more difficult a trip to France can be without knowing the language, though the flip side in America could be the case for those who didn't know english (or in many cases Spanish) too well.
We got our fill of this spot at 6:25am and left.
Gordes Viewpoint… check.
I thought we were done with the checklist and could finally enjoy Gordes, but instead, we drove out to this village of beehive-like structures called the Village of Bories.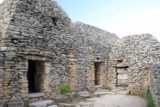 It involved driving quite a bit of a single-lane narrow road which weaved between walls of the same rock-like stuff that the beehive structures were made of. And so at about 6:35pm, we made it to the Village of Bories.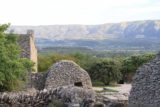 Our visit here didn't take long, but it was nice to see the afternoon glow of the sun make the village come to life photographically. Unfortunately, there were clouds that showed up just in time to block the sun and really mute the colors during our brief visit.
At about 7:05pm, we were back in the car. Finally, we were going to check into our accommodation back down the hill at Les Imberts. Then, we were planning to return to Gordes to check out the inside of that town.
Village of Bories… check.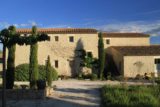 At 7:35pm, we finally made it to Les Mas des Etoiles, which was a real charming place to stay. I think Julie envisioned a charming locale in Provence, and apparently this homey accommodation fit the bill so we splurged a bit here.
We received a very warm welcome from Annette and Francois, who showed us around the premises and even made a couple of suggestions for places to eat in the town of Gordes.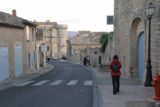 We were finally done researching and headed back to Gordes at 8:30pm. It wouldn't be until 9pm when we finally decided on this place called Casa Rosario, which wasn't as busy as Estaminet (very busy and only one overworked lady tending to all the tables there). Plus, Julie's choice spot in town wasn't open on Tuesdays and Wednesdays. Today was a Tuesday.
So we ended up having a pretty well-valued meal consisting of a scallop pasta for her dish and a duck breast dish for me. The duck breast caught me by surprise as it was huge like an entrecote of steak.
In any case, we finished our meal and were happy that we ate here per Francois' suggestion.
After eating the meal, I think we decided to pass on checking out the town of Gordes in the evening. Somehow, the town felt dead to us as we were looking around for a place to eat. We didn't go far in there, but it didn't quite feel as atmospheric as we had expected like say Mont-St-Michel or Carcassonne.
So this place seemed to have more of its charm from the outside than from the inside.
Eventually, we made it back to our accommodation at 10:05pm where we could finally call it a day. We did another videoconference with our daughter and mother-in-law then did some cleaning up before we crashed into bed.
Tomorrow was going to be a very busy day going all the way to Nice and back with some waterfalls en route as well as the desire to see the Grand Corniche as well as Old Nice. Indeed it was going to be another checklist-type day…
Day 14: NOT SO NICE
We awoke at 5am knowing full well that we had a very full day today because we were about to embark on an out-and-back day trip to Nice with waterfall stops along the way.
This kind of put Julie and I at odds about what the priorities of the day should be. Should we be spending more time in Nice and its Corniches? Or should we at least hit the waterfalls along the way and then take whatever time is left to do the waterfalls?
It wasn't an easy choice, and perhaps we should've devoted another night in the area (perhaps one in Nice) just to alleviate the load on this day trip. The fear was that we'd have to vagabond it in an area where we should be relaxing (and I was also afraid of car break-ins while exploring with a car full of stuff).
In any case, we quickly got ourselves ready and left into the cold and windy (read: wind chill) morning at 5:50am.
Unconsciously, I followed the GPS, which took us on some obscure country roads. Before I knew it, we were over an hour invested in this route and I realized that we really messed up when it came to being efficient about getting to Sillans-la-Cascade as well as the other waterfalls before getting to Nice.
I guess shortcuts are fine, but the GPS presumed that we'd still be going 90km/h most of the way to get there. Unfortunately, it didn't factor in the curvaceous roads and sitting behind slow-moving trucks with limited to no opportunities to pass that prevent you from realizing the full expected speed.
It wasn't until we were somewhere north of Aix-en-Provence did we finally find the autoroute. But we ended up stuck in traffic in the outskirts of the town nearest the autoroute before going the wrong way on the autoroute, and it wasn't until some 20km later that we finally found a way to turn around and head south on the autoroute to Aix-en-Provence.
What sucked about the autoroutes in these parts were that apparently the machines wouldn't take my credit card as it wasn't the carte bancaire with the smart chips that were prevalent in Europe but hardly anywhere in the States. So that meant that we had to actually insert cash into the toll kiosks and we quickly found ourselves short on small change and small notes.
As we were cruising along south along the autoroute towards Aix-en-Provence, the GPS was at it again taking us on a detour into town instead of staying in the autoroute. There was awful traffic along this "shortcut" and before we knew it, we blew another half-hour before we were back on the autoroute again.
Once we were cruising east along the autoroute (A8 this time), we finally gained momentum. It was at this point that with Julie increasingly frustrated that we were going to be in Nice later than we had hoped, that I decided to skip Sillans-la-Cascade and punt it towards the end of the day if we had time. It was a decision I hoped I wouldn't regret.
It wasn't until 9:55am when we finally made it to Nice. Once we were in town, it was pretty much all traffic all the time. Lots of things here reminded me of LA traffic though the Promenade des Anglais had probably a bit more of an embouteillage ou circulation (i.e. traffic jam) than what we were used to back at home in LA.
In any case, if the plan was to go straight to Nice before hitting all this traffic, we could've made it there at least 90 minutes earlier. So all those costly GPS detours and our own mistake of going the wrong way on the A51 really set us back.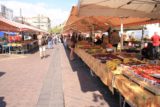 In addition, it had already put myself in a rushed frame of mind once we finally found parking and started walking around Old Nice.
The plan when we were in town was to tour the Old Nice section that Julie seemed very keen on seeing. Then, we'd walk to some place to have authentic Italian pizza which she was really craving. It wasn't since Italy or even the New York estalishments like Grimaldi's that we had last had authentically Italian thin-crust margherita pizzas with the thin crust, basil, mozarella, and rich tomato sauce.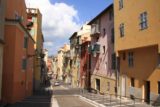 After discovering some kind of food market near between the Palace of Justice building and the Old Nice neighborhood, we then briefly strolled through the narrow streets and colorful aged buildings that characterized Old Nice.
Julie found it charming, and I really wished we didn't have so much to do on this day to better enjoy this part of town. In fact, staying here for a night probably would've let us soak in the sights of Nice while allowing us time a profiter (i.e. to enjoy or literally to profit from) the waterfalls.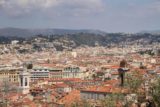 We then climbed up a bunch of stairs towards a road high up on the hill. This afforded us some views of Nice as well as the pretty coastline.
The more we walked southwards (not sure whether we could cut across this park on the hilltop in the direction of the port area), the more the coastal views opened up.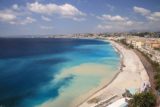 It wasn't until about 10:45am that we were at the Tour Bellanda. We skipped the fake cascade further up the hill in this area.
The view was pretty nice from up here as it was wide open with the azure blue waters dominating the Mediterranean Sea scenery off shore with light cyan waters sandwiched between the azure deep waters and the pebbly beach that already had a bunch of sun bathers. Meanwhile, a birds-eye view of Nice with mountains backing this city could also be seen.
It seemed like morning was a great time to be at this viewpoint as the sun was behind us and made the colors of the water really come out.
Still, we couldn't enjoy this at the leisurely pace we were hoping as we still had a ways to walk to find Julie's authentic Naples-influenced pizza place.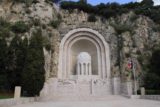 After descending the stairs of the Tour Bellanda, we then followed the road curving along the coastline and heading to the Old Port. Along the way, we saw some war memorial built into the cliffs.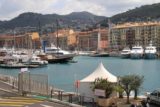 It wasn't until about 11:05am when we reached the location of the pizza place (Les Amoreaux, I believe) that Julie really wanted to eat at. Unfortunately, it looked closed. But then, we saw there was a sign saying that they're moving and it pointed out their new location.
So we continued on looking for this place at this new location.
But alas, at 11:20am, we showed up at the correct address only to see that this new location was still under construction. Apparently, our visit was mis-timed and we wouldn't have this pizza that Julie was really craving for.
The whole time we did this long walk (probably at least a mile each way) that I kept telling Julie going through this much trouble over food generally is not worth it; that we were missing some invaluable sightseeing time over this pursuit of food.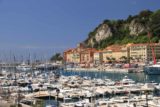 But being a hardcore foodie, Julie would have none of it until something like this really put her in a very disappointed mood.
We ended up getting some pizza a emporter (i.e. takeaway) that was far inferior and maybe even worse than the place we had in Lyon. It further fueled Julie's disappointment.
At 12:10pm, we were back in the car and made an attempt to check out the corniches between Nice and Monaco. Surely, there must be some pretty good sightseeing along this route, right?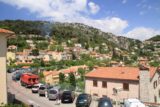 After fighting traffic to get onto the correct road into the Grand Corniche, we drove along some hilly roads, which seemed like nothing different from the hilly roads we've been driving throughout the country.
Somehow I envisioned narrow streets surrounded by cliff-hugging buildings or even cliff-hugging roads with some pullovers or something to enjoy dramatic views of buildings fronting the Mediterranean Sea. I kind of expected something like Oia in Santorini, Greece meets Lombard Street in San Francisco.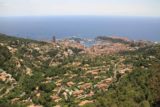 But as we'd eventually pull up into La Turbie at 12:45pm, we stopped at some place called Trophee d'Auguste (we didn't even make it to Trophee des Alpes) and got views looking down into Monaco. However, we didn't get the views we were hoping to get nor the experience we were expecting along this route.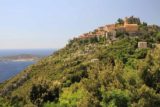 So instead of declaring a loss at this point and heading back to the A8, we decided to drive back towards the Eze area. It wasn't until about 1:20pm when we finally found parking (kind of on a sidewalk on a shoulder of a junction road) a short walk from the hilltop medieval town of Eze.
We spent some time walking in that village (albeit rushed) looking for at least a place to view charming medieval buildings juxtaposed with the azure blue waters of the Mediterranean Sea.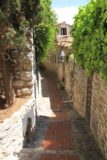 Well, it turned out that Eze was pretty commercial (not surprise there) with shops and cafes everywhere along the charmingly narrow pedestrian walkways and steps. It was kind of like Mont-St-Michel and Carcassonne all over again, except here, it seemed like they tried really hard for you not to have any views unless you paid money at a restaurant, hotel, or even the garden which would've let you go up to an old chateau at the very top of the hill.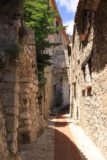 In our rush and frustrated frame of mind, we opted not to spend any more money here nor do that garden thinking it would take us a while longer when we still had more things to do. I guess we really could've enjoyed this place had we hit all the obligatory waterfall stops first and then made Nice the icing on the cake. But to do it the other way around, really bothered me (a decision I later regretted) and put Julie and I at odds about how we were managing this part of the trip.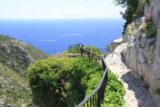 It was about 2pm when we finally got back to the car, but not before realizing that the best views of Eze was along the road to get back to our car (The D6007 I believe). It was here that at least we could see the context of Eze with the Mediterranean Sea behind it, but I'm sure the views would've been better if we had a more top-down perspective, which weren't available to us.
Now, we were trying to leave Nice via the Moyenne (Middle) Corniche route. We were still trying to capture that Oia meets Lombard Street fantasy thinking this may be the route we should've taken all along. But as we drove downhill back into downtown Nice, it was nowhere to be found. Julie was perplexed as to which route the tour bus took her on back in 2007 when her Mom and her were on a tour that she recalled such a scary and dramatic drive.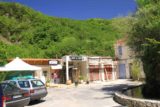 Anyways, it probably took another half-hour or 45 minutes before we finally regained the autoroute A8. Then, it wasn't until about 3:30pm (after following some rental car full of tourists who were going slow and refused to use pullouts) that we finally arrived at the car park for Saut du Loup. This was after briefly glimpsing Cascade de Courmes, which was just down the road. We'd have to come back for that one later.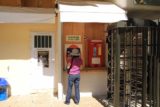 After parking at the Saut du Loup, we paid our 1 euro per person, which allowed us to turn the turnstile. It was a pretty interesting automated way of admission and exit for this attraction.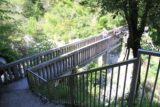 Then, we were on a small bridge behind the building which let us look at a bunch of weeping cascades on one side of the bridge and a rushing torrent on the other.
You can't take an all encompassing photo to take in the whole scene, but you could certainly take movies, and that's what we did.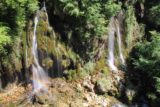 There was also a rainbow that showed up on the base of one of the smaller cascades.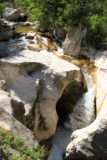 It wasn't until about 3:50pm that we were done doing the Saut du Loup and then five-minutes later, stop the car at a pullout next to a tunnel back down the road.
We'd then have to walk right onto the road to reach the end of the other tunnel up the hill to see the Cascade de Courmes. We weren't the only ones doing this as the lemmings effect was in full swing.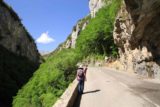 However, I had to believe walking on a roadway like this with no shoulder was one of the more dangerous things we had to do to visit a pretty waterfall.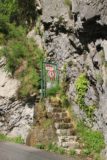 It turned out that when we got to the falls, there was some stairs that were barred for safety reasons. I'd argue that perhaps walking on the road to get here might be more dangerous than that path, which would've gone up and behind the falls before getting to a viewpoint where you could juxtapose the falls with the highway.
In any case, the drivers of the cars on the road were courteous enough not to hit anyone, and we all profited from looking at the falls in perfect afternoon light.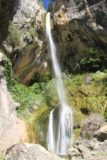 I certainly wished we could've done more around this falls had that path been open, but all things considered, we pretty much got what we wanted out of this falls and got back to the car at 4:10pm.
Now, we had to fight the GPS and head back to the autoroute A8, which once again involved quite a bit of traffic to even get onto the autoroute. I guess since the onramp we were going on wasn't far from Cannes that it might explain the traffic. In fact, I'd argue that the French Riviera part of the south of France was a bit more busy, tense (we think it might have to do with a bit of an Italian anarchy mentality on the roads given their close proximity to Italy) and was totally opposite the laid back, friendlier feed of Provence that we were expecting in the South of France.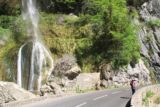 I guess it shows you how different the images that are sold to you abroad can be against the reality.
Anyways, once we finally got onto the autoroute, we had a decision to make. Once again, I knew Julie wanted to return to Les Imberts/Gordes area to have a dinner. However, the GPS indicated that if we were to make a detour to Sillans-la-Cascade, we'd only make it there by around 6pm and probably wouldn't even make it to back into town by 8pm or whenever dinner time was supposed to be.
So when we were approaching Aix-en-Provence not far from the exit we were supposed to take, we decided to skip Sillans-la-Cascade (something that was real painful to me) and eventually made it back to Les Imberts and our accommodation at 7:15pm.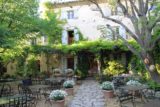 Francois saw us come back and we chatted about the day as well as what was on tap for tomorrow. He even suggested that since we were looking for a real provencal experience for food that we try for Mas de Tourteron (even though we didn't have reservations) and tell them that he sent us.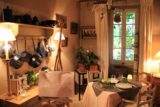 Well, at 7:45pm, we left the room and went right around the corner for the restaurant. It turned out that they had a nice spot in a very charming and rustic room for a couple of tables, and we happened to be the only ones in that room.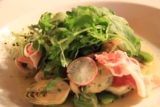 We knew it would be a fine dining experience given how beautiful the garden was, the interior decor, and just the overall feel of the place. But I guess this was one of those times where we felt the need to splurge to get that quintessential provencal dining experience (which I still have yet to put a finger on what makes something provencal other than you feel it or you know it when you experience it).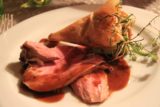 So our dinner was a two-hour experience consisting of zuchinni soup (the surprise from the kitchen), a salad with carpaccio of local country ham, some kind of crab cake starter, quail prepared two ways as well as local lamb (said to be famous in this restaurant) prepared two ways, and then a massive dessert buffet.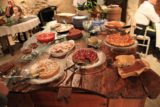 We were back in our accommodation at 10:15pm. I think given the laid back atmosphere that was absent from most of our touring today, we decided against going to Marseilles tomorrow. I guess in the bitter aftertaste of the big pizza miss in Nice, going way out of the way for bouillabaise in Marseille at the expense of seeing quintessential provence became that much clearer.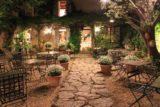 So the end result was that we got to go to sleep knowing that we were about to sleep in for the night with no alarm to wake us up.
Day 15: PLUS DE PROVENCE
It was about 7:45am when I awoke. Julie awoke a few minutes after me. But for once, there was no alarm to wake up to.
Given that we started off in a pretty relaxed state, Julie and I joined Francois, Annette, and a host of other guests (mostly Americans from the Boston area) over breakfast.
The brekkie consisted of croissants, fresh cherries, freshly squeezed orange juice, and even oatmeal that doesn't require cooking.
But the main joy of this morning's petit dejeuner was just mingling with the hosts and the other guests. I even tried practicing more French with another couple who drove all the way down from Normandy (they said it was about an eight-hour drive).
It seemed like most of the guests were concentrating their time on the Provence area especially within the Vaucluse Plateau where you have all those charming towns like Gordes, Rousillon, Oppede, Bonnieux, Fontaine de Vaucluse, etc.
In a way, it gave us ideas on what we ought to be spending our time on for this day.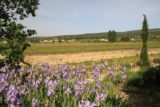 In any case, we left the accommodation at about 10:10am. The first on the agenda was Rousillon because it was the top town to experience according to the host Francois and it was one of Julie's must-do attractions on this day.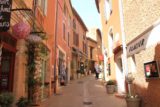 So by 10:30am, we parked at one of the lots below the town of Rousillon. We didn't quite know where we were supposed to park but this one didn't seem too far from town and it was 2 euros for the day (which I'm sure we wouldn't be spending our whole day here).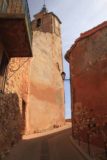 As we walked up the hill and into the heart of the town, we were pretty charmed by the red colors of the buildings which were no doubt derived from the ochre material prevalent in the area.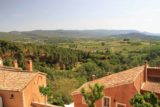 But in addition to the colors, there was also that provencal charm manifested in quaint churches, narrow streets, and even a bit of an artisan flavor to the way the windows were decorated or how plants with flowers grew and clung to the walls of these buildings.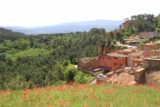 The only thing that might have taken away from the charm of the town somewhat was their allowance of cars driving through the town. Had it been totally pedestrian, it'd be much quieter and you wouldn't constantly feel like you have to get out of the way of vehicles trying to get through.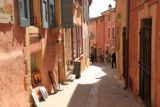 We then walked a little bit of the sentier des ocres (Ochre trail). We didn't do the full 50 minute-walk nor the full 35-minute walk, but we did absorb quite a bit of the red rock scenery. In a way, it was almost like Provence meets Bryce Canyon except we didn't catch any major natural arches, which really would've put even more icing on the cake so to speak.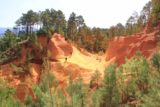 Eventually, we left Rousillon at 12pm. There were still more places to check out within the Vaucluse Plateau.
Julie had this desire to check out Bonnieux, or at least some vineyard before it. She wanted to see it because it was featured in this Russell Crowe movie called the Good Summer. I guess she fancied something like a movie tour more or less as part of her Provencal checklist.
However, I recalled Francois was kind of lukewarm to the idea of going there when he seemed pretty high on Oppede and other places that have similar attractions. Julie wasn't quite sold on Oppede based on her TripAdvisor research.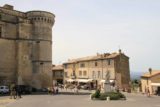 In any case, after a little bit of debating over where to go next, we eventually got a little bit lost losing the sign for Bonnieux. So when that happened, it was decided to drive up to Gordes since we never really got to see the interior of the town despite this being our third day in this part of Provence. Of course, we've been hearing that it was prettier on the outside than within.
Yet despite this, we had to see for ourselves.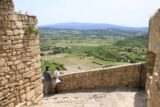 When we were at Gordes at 12:30pm, we walked around part of the town trying to check out some of the narrow passageways and any photo ops we might stumble upon.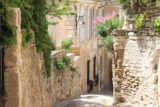 Unfortunately, the town was pretty dead once you left the area near the car parks and entrance. So there really wasn't a whole lot to see outside those areas, and it might've explained why most people who have been here seem to suggest that Gordes is pretty to look at from the outside, but doesn't have much to offer once you're within.
So after a quick panini lunch, we left Gordes at 1:35pm. It was at this point that my desire to go to Sillans-la-cascade was very strong; especially given that we missed the falls the day before given the misfortunes in Nice as well as during the drive to get to the area (no thanks to the GPS giving us bad directions). Plus, it seemed like we had enough time this afternoon to do the long out-and-back waterfall-bagging excursion given that we got the flavor of the towns from the Vaucluse Plateau.
We figured that if we do well on time getting to the falls, we might even be able to fit in something like the Fontaine de Vaucluse right before dinner.
So we eventually were back at the accommodation to get some last-minute supplies before leaving some time before 2pm.
It took us quite a bit of time to drive towards Sillans-la-cascade as we were struggling with following the A7 signs as opposed to listening to the GPS. But given how often we were burned by the GPS, it was pretty frustrating to have to figure out when to ignore the GPS and when to listen to it. In this case, we should've listened to it!
Well, we would eventually get to the A7 but not before taking a somewhat inefficient path that had us going far west before backtracking towards the southeast.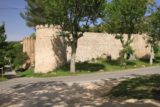 It wouldn't be until about 4:40pm that we found parking for exploring the falls. It was said to be about 800m from the car park to the falls, but we also saw other signs indicating that it was a 1km walk each way.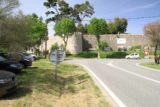 The hike started off with a view of some kind of castle walls as the car park was right across the street from it. Then, the walking path went into a lightly forested area.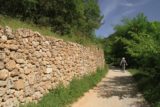 We were a bit surprised at how busy this waterfall was as I had thought this was one of the more obscure attractions in the land. But here we were following quite a few people looking to get close to the falls.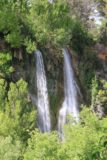 At about 4:55pm, we made it to one of the panoramic views of the falls. The view of the falls from up here wasn't all that impressive as its base was covered in trees. It was busy with people trying to take photos through an opening in the foliage for the falls. But there were steps leading down that I saw people take. Was the base truly interdit (forbidden) as the signs have been saying?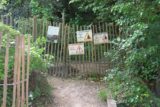 I decided to go down the steps until I was met with a barricade. However, I couldn't help but notice that there was a trail that went around this barricade. Then a few paces further, I was met by another barricade, and this time it looked like someone smashed open the gate to allow further acess. There was still yet a third barricade further below that was also smashed open.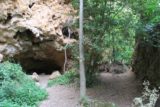 I guess the reason why they closed this trail was the fragile and crumbling nature of the overhanging cliffs above the trail. But it seemed like someone found a will and a way to continue and others followed.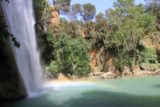 Eventually, I made it to the edges of the plunge pool near the base of Sillans-la-cascade. There were lots of other people including kids that have made it down to these parts.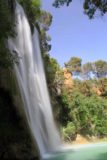 I guess this was one of those moments where I debated whether or not I should do as the locals did and refuse the denial of access to a pleasurable experience at the falls. But when you easily have lots of people going ahead and finishing the hike, I guess I felt there was no reason to not access what they were able to access.
This wasn't the first time we saw locals treating the rules like they were made to be broken. After all, we saw some folks hop turnstiles at the subway stations in Paris. I bet you wouldn't see this in Japan where it seems everyone respects the rules.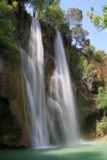 I spent quite a bit of time down at the base watching people enjoy the water while at the same time enjoying the nice perspective of this 42m waterfall. There was even a late afternoon rainbow at the base of the falls.
After having my fill of the base of Sillans-la-cascade, it was time to head back to our accommodation. I guess it was decided that we wouldn't drive towards other Vaucluse Plateau areas like Bonnieux or Fontaine de Vaucluse given how late it was getting and how we had dinner reservations for 8:30pm. The GPS said we wouldn't return until after 7pm.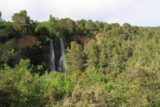 So we left Sillans-la-cascade at 5:10pm and drove all the way back to our accommodation on the way to Gordes in Les Imberts.
I had to follow quite a few slow drivers who refuse to use the pullouts to let faster traffic pass. But in any case, it wasn't until about 7:05pm when we finally made it back to Le Mas des Etoiles.
So we got to this place called Le Clos de Gustave at 8:30pm and sure enough the staff was pretty overworked and understaffed as we had feared. In any case, the food was ok with the disappointments being of some of the desserts and my beef filet.
I also wasn't pleased about them charging us for a bottle of Evian water when we clearly said we wanted un carafe d'eau (a carafe of water). This was a case where maybe the waitress or the manager conveniently misunderstood us to force us to pay for water when we didn't have to. I don't think it's ethical, but I have to believe it's a fairly common practice when unsuspecting tourists are easy targets.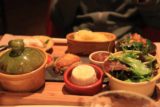 Anyways, after finishing our dinner at this place, we concluded that it was like night and day compared to our dining experience yesterday. This was especially the case given that the service was real slow, the creme brulee tasted like it had just some out of the refrigerator, and it lacked that provencal feel that Julie was looking for which was why she chose this restaurant over others on this night. On the flip side, they did have a nice assortment of mains and starters, which came mostly from Julie's degustation menu choice.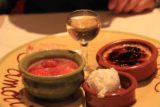 We'd eventually leave the restaurant at about 10:05pm. And when we returned to Le Mas des Etoiles, we were greeted by Francois who was still up.
Anyways, we wrapped up the evening chatting about mountains, some politics, and restaurants. When discussing restaurants, I guess the Clos de Gustave was one of those restaurants that was up against the 8-ball coming after Le Mas de Tourteron.
We also used this time to pay for our three nights stay here.
Francois and I had an enjoyable talk about Nature and some places in the French Alps to see, but it was time to leave and spend our last night at the Birds Room, talk to family back home, and get some much needed rest.
So long Provence. Here we come Alps…
Day 16: THE ANNECY WALK OF SHAME
Originally, we had planned for a 5am wakeup and 6am departure, but Francois convinced us to sleep in another hour to enjoy the room that we paid for a bit more. It didn't take much to convince us since we anticipated poor weather on this day so there wasn't as much waterfalling nor Alps scenery as expected given the likelihood of fog or low-lying clouds whenever there's rain or snow.
So we got up at 6am though Julie's alarm did go off at 5am. Once we were up, we did what we had to in order to get packed and ready to leave the accommodation.
The next stop was Annecy, but there was some hesitation on whether to go the direct route on the A7 then veer inland through Grenoble towards Ecrins National Park or do the more scenic route (also favored by Francois) along the A51, which then junctions with other autoroutes passing through Briancon and around the Ecrins National Park before passing through Grenoble, Chambery, etc.
Looking up at the skies, it had dark clouds and it was sprinkling somewhat. If Provence had this kind of weather, we knew further north where the mountains were would be worse.
So that kind of sealed the deal in my mind about what we should be doing today.
When I loaded up the car, I saw some paper pinned to the windshield wiper. When I picked it up, it was Francois who had left me a note about yesterday's conversation about mountains, waterfalls, Yosemite, and other things. The paper stack contained a message saying we should check out Cascade de la Pisse somewhere past Briancon heading north. Apparently, he actually checked out our waterfalls website once I told him about it during last night's conversation.
I did have a waypoint for Cascade de la Pisse a Lanchantra, but I don't think that was the same one that Francois was advocating. In any case, I decided that since we'd have quite a bit of driving today, the waterfall goals for today were Saut de la Pucelle (Virgin) and Cascade de Glandieu. The original plan called for more waterfalls, including a couple within Vanoise National Park and another deep within Ecrins National Park.
However, knowing what we know now about driving conditions coupled with expected bad weather, I was being real selective today. I was also looking forward to checking out the Old Town of Annecy, which was right at the heart of the city of Annecy and at the mouth of Lake Annecy.
So we left at 7:20am, but not before Francois caught up with us and had a brief chat before we left. He said to us, "I didn't know you were famous! If I had known your passion for waterfalls, I have so many stories and suggestions for you."
Well, we thanked him for his warm hospitality and his helpfulness in giving us referrals for restaurants as well as loaning us maps.
If we had more time, it would've been cool to hang out with him on one of the backcountry hikes (weather permitting of course). Of course, coordinating schedules and circumstances like that would be difficult, but I guess the thought crossed my mind given all the storytelling and imagining we were doing last night.
And with that, we were on the road.
The drive was basically a little deja vu (already seen) on going north on the A7 in the direction of Lyon, which was something we did back when we visited Pont d'Arc then returned to Lyon nearly two weeks ago. We even saw the Montelimar rest stop, which had that Mickie D's as well as shops with a bunch of the nugat the area was known for.
We also passed by Valence again, which was a town whose name made me wonder if it had to do with Valence bands in atomic physics (like the number of available bonds that could be made for particular atoms to achieve stability). After all, France was pretty reliant on nuclear energy so perhaps there was a tie in there. I wasn't sure though.
The weather alternated between fair weather and heavy rains. The skies were dark most of the time. When the weather was wet, I was glad we didn't go the inland mountain route (which also would've been much slower), but I wondered what might have been had Mother Nature been kinder to us.
Yet, I knew that sweeping panoramas of snow-crusted mountains of the French Alps would be a pipe dream given all this bad weather (or the threat of it at times).
In any case, the A7 bought us a lot of time though it hurt in turns of autorute tolls. The original plan of going the inland mountain route (as Francois advocated) would've costed us at least a few hours more on the road.
Eventually, we'd leave the A7 and take different autoroutes going inland. It passed through Grenoble, which was said to be a nuclear town. We noticed it was a pretty big city with lots of industry.
We would then backtrack and head back into the mountains past Grenoble towards the southeast in the direction of Des Ecrins National Park. That was where we'd at least see Saut de la Pucelle, which was a roadside waterfall we had to at least bag given its ease to visit (i.e. little or no hike involved), but the driving involved lots of twisting cliff-hugging and narrow roads, it was still not a slam dunk.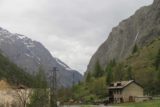 The drive on mountain roads hardly ever would be smooth because it was inevitable we'd have to follow diesel-belching camper vans or trucks, or even some tourist cars who refuse to use shoulders to let faster traffic pass. I can totally see why locals employ tailgating to put pressure on the slow driver to pull over and let people pass (though in the slow drivers' defense, convenient pullouts were few and far between in these parts).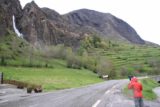 It wasn't until about 11:10am when we finally arrived at the Cascade de la Pucelle. The weather wasn't terrible when we arrived, but it was still alternating between light rain and overcast skies.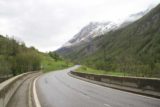 It wasn't optimal, but at least the clouds were high enough for us to see the snow-crusted mountains in the immediate area (for the most part).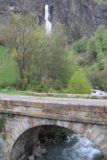 There was a large pullout area for parking though I suspected it was more for the inns or cafes nearby. But since it was quiet, we used it. Across the road, there was a small parking area on a smaller bridge right in front of the falls.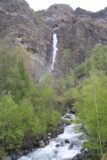 Even though we could see the gushing falls from the road, trees kind of obscured the lower parts of its twisting plume. So I went ahead and quickly hiked up a steep and muddy (i.e. slippery) path up a hill to get past the trees and closer to the falls.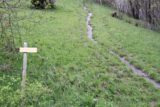 It turned out that once I got past the trees, the view was very wet and misty. It didn't stop me from taking photos and movies from here, but I'd imagine quite a few of them were ruined by waterspots.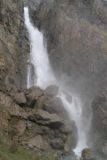 At 11:35am, we left the falls and headed back towards Grenoble. This was pretty much our experience of the Ecrins on this trip. I even decided we weren't going into the remote Vanois National Park to see a couple more falls there.
As we descended down the mountain, the skies seemed like they were starting to lighten up. This was something we weren't expecting given the forecast.
When I was being followed by locals who were screaming down the mountain, I found places to pull over for them. On two occassions, the passer blinked their emergency lights twice in appreciation. I don't think I've seen that before, but Julie thought it was cute that they let us know our gesture in this way.
I guess doing the courteous thing (not to mention reducing the stress on your own driving experience) is so simple yet so overlooked but appreciated no matter which country you go to. I'm sure mountain driving could be a bit safer if everyone followed this simple idea.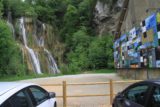 As we were motoring along the A8 (I believe), we'd eventually exit somewhere near Belley. This time, we made a short detour towards this sleepy town of Glandieu. Eventually at 2:10pm, we'd get right in front of the Cascade de Glandieu which was a multi-stranded algae-walled waterfall that Julie really enjoyed. She said this was the type of waterfall that had character.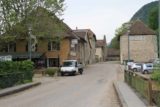 Opposite the falls was a large billboard with a bunch of photos of Nature put onto a large wall of a pretty old building. We weren't sure what the building was for nor the sign, which has something like "Land of…" a bunch of things.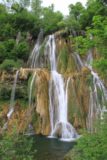 There were quite a handful of cars already parked here though we thought we were alone, but when we got closer to the falls, we saw there was a group of younger folks taking photos.
As we were about to say we were done with Cascade de Glandieu, the sun started to come out and amplify the color of the algae on the falls' underlying rock wall. So that kept us around a little bit longer before we were back in the car at 2:30pm.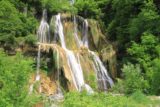 Next, the drive continuing along the A8 alternated between sprinkling weather and times of sun. We couldn't wait to check into our hotel in Annecy and check out the town, which was said to be like the Venice of France.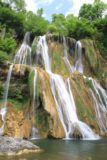 Well, we'd eventually make it to Annecy which was more like a large city. The city was loaded with cars in a traffic jam, and we'd eventually learn that all these cars were looking for parking! We'd join them in this frustrating search as apparently the town didn't have enough parking spaces let alone car park structures.
So we started this search at around 3:20pm, but it wasn't until we got towards the far north side of the lake near Parking St Bernadette that we finally got lucky and found a spot in the free public area at 4pm.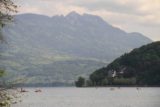 We could forget about Hotel de Ville Parking, which was the most strategic spot for the Old Annecy. But I knew that we'd have to hike to get back to the charming Old Annecy part of town where the canals were.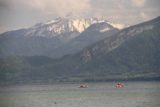 Since we knew we'd be far from our car, we brought our luggage. And so we embarked on a long walk (possibly 2 or 3km) carrying our stuff along a large promenade hugging the north side of the scenic Lake Annecy.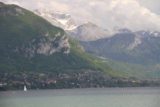 The walkway was very busy. There was also quite a bit of activity going on in the lake. The weather was kind to us in that we could see quite a bit of the snowy mountains backing the lake with charming homes and buildings sandwiched between the mountains and the blue-green lake whose colors came out when the sun managed to break through the clouds.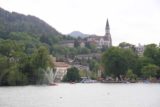 I could see stares and some laughter when our loud luggage wheels let the world know that we were tourists making this long walk of shame towards Old Annecy. But hey, we had to do what we had to do. Besides, the labor of the long walk was made easier by the scenery of the walk. Plus, the parking that we found happened to be gratuit (free).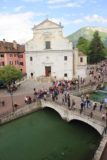 It wasn't until about 4:45pm that we finally checked into our room. That was when we finally unpacked our stuff and took a break from the stress of driving and parking.
Then, at 5:35pm, we returned into town to finally experience for ourselves the charm of Old Annecy. It wasn't long before we got to some dead parts of town though, and that was when it dawned on us that perhaps this town was composed of just a couple of blocks of pedestrian-only zones with the most picturesque parts being around the narrowest of the canals.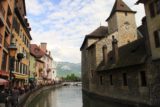 When we were outside the main Old Town part, we looked for some restaurants, but after seeing their menus (and hiking longer than expected), we decided to just eat in the Old Town.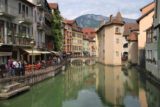 We'd eventually eat at this place called Estaminet mostly because there was terrace dining next to the canal. That pretty much put us in a romantic mood as this place had all the makings of that charming place that made us appreciate we were in France.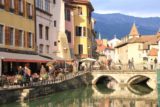 Speaking of romantic moods, this was something we were expecting to feel with a riverside stroll along the Seine in Paris, but it turned out that strolling alongside the canals in Annecy was where it was at!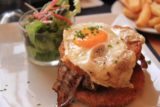 Anyways, we learned that Estaminet and other places here specialized in Savoyarde style fondue. Since Julie wasn't a fan of cheeses and she didn't want me to get terribly fat eating all that cheese and bread, we picked some alternate dishes that ended up making this restaurant experience pretty ordinary. She had mussels and I had some kind of horse meat burger. Oh well, you can't win them all especially if you're not going for the fondue here.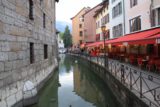 We were back in the room at about 8:45pm to do a little bit of more videoconferencing with family back home. It was also a bit too bright to take twilight photos amidst the charm of Annecy in lights.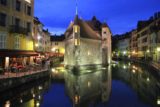 But about a half-hour later, we did just that. And as expected, we spent quite a bit of time taking night photos as well as checking out other restaurants in town just to get an idea of where we'd be eating next. I think it was at that time that Julie started to open up to the idea of fondue except it was have to be accompanied with charcuterie meats.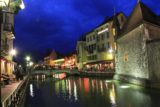 By 10:15pm, we were finally back in the room. It started to sprinkle and I started to worry about tomorrow's weather. But in any case, the now said that we mind as well enjoy the town and each other as the stress of going through the checklist of Provence melted away into a night where we could sleep without the alarm tomorrow morning as well as look forward to a light day of activities around the lake (though the parking remained on my mind)…
Day 17: PROFITER DU JOUR
The nice thing about not having to wake up to an alarm clock is that you really feel refreshed as the day begins. But foremost on our minds was the weather.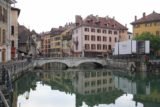 So when we awoke at 7:30am, we looked out the windows to see if there was any indication of what we were to expect on today's excursion day in and around Lac d'Annecy.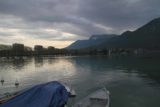 The forecast called for rain and possibly thundershowers, and sure enough when we were headed to the car (our hike before the hike, if you will, given how far we parked from the Vieil Ville), we felt a little bit of sprinkles with some dark clouds hanging over us.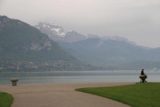 However, when we looked towards the south side of the lake (where we were headed to do our day's excursions), we could see it was full of menacing low clouds and lots of precipitation.
We ultimately regained our car at the free parking area on the far northeast side of the lake at 8:15am. By that time, it was already starting to rain as we were pulling out of the lot and headed further south along the eastern shores of Lac d'Annecy.
We already saw quite a number of people claiming parking spots this time of day so we could only imagine how much more painful the experience would be once we return from the day's excursions.
After making a quick stop at a boulangerie, we had our usual fare of croissants plus a quiche with pizza-like toppings in addition to a cold pizza as well.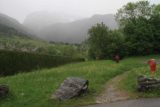 Just as we left the boulangerie and continued on the road to the trailhead of Cascade d'Angon, the rain was really comin down hard. When we arrived at the car park near some basketball court (at first we wasted another ten minutes trying to see if the dead-end road by some residences was where we were supposed to be hiking), it was 9:25am and we needed to put on our waterproof pants as well as rain ponchos.
It wasn't the ideal weather for spending an entire day in the Annecy area, but that's how Mother Nature is sometimes. In this case, I was hoping that the falls wasn't one of those tall ones that depend on how low the clouds would be hanging to determine whether we'd see anything or not.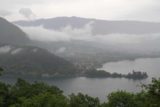 So we went ahead and pushed forward with the hike. Underneath the rainy clouds, we could see hints of some impressively shapely and tall mountains backing some of the smaller villages in the surrounding area.
Even though a good deal of the hike as under tree cover, we still felt some of the droplets hitting us so a rain poncho was definitely necessary.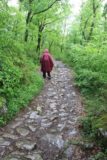 However, the surface was a combination of smoothly rounded rocks and some muddy parts with pools in them. We especially had to be careful while on the rounded rocks as it was easy to take a nasty spill.
The rain was pretty relentless for most of the hike so taking photos was difficult given how easy it was to get waterspots on the lens. But hwen we got to a part where the trail followed a ledge beneath overhanging cliffs (really had to mind the head here), it seemed like the weather started to let up.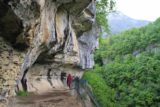 It was during this stretch of the hike that we started to get additional glimpses of the southern end of Lac d'Annecy and more of the atractive snowy peaks backing the charming towns sprinkled about the hills fronting these peaks.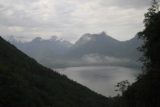 This part of the trail was especially slippery as it would undulate a bit by going down then up then back down until we finally started to see and hear the cascades making up Cascade d'Angon.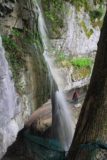 The falls was actually a pair of waterfalls that ultimately converged below us. The first falls was one that the trail went behind. It also seemed a bit lighter flowing.
The second one was at the very end of the trail. This one had a more powerful flow and it seemed to plunge right into what appeared to be a hole (though it was really more of an alcove).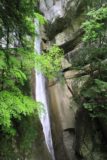 Both waterfalls were difficult to photo in their entirety given all the trees and cliffs blocking their view in the immediate foreground.
So at 10:15am, we proceeded further along the trail up until we got right to its end almost touching the bigger of the two waterfalls. It was during the stretch between the two waterfalls that I took a pretty nasty spill given how slippery the terrain was in addition to an additional stretch of going steeply dwn, then up, then back down, then even more steeply back up.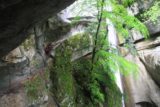 I ended up getting mud all over my rain poncho, my waterproof pants, and even my backpack which broke my fall. Despite the shock of falling flat on my back, I managed to escape bodily harm except for momentarily extending the range of my frozen shoulder when I fell while holding onto the rail.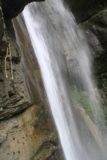 Even though the signs through the hike indicated that the hike itself was only 20 minutes each way, it took us much longer to enjoy these waterfalls as it probably took us at least a half-hour more to go between the falls and ultimately towards the trail's end.
It looked like there were ropes or chains that daring visitors could hold onto while clinging to a narrow ledge with a death-defying drop alongside the main waterfall. I swore I saw internet photos of people doing just this so they could touch the falls itself, but given how slippery the footing was and how utterly unnecessary this exercise seemed, it never really crossed our minds though we'd think people who do decide to jump the barricade and do this are crazy!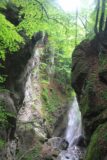 Despite the difficulty in trying to capture the dramatic and vertigo inducing scenery in our photos and movies, we still spent plenty of time figuring out ways to communicate it in such photos and movies. Though it didn't necessarily mean we succeeded in doing so.
By about 10:50am, we were already slowly making our way back to the falls spur just outside the cliffy part of the hike. It was at this time that the sun started showing itself along with blue skies.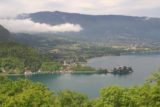 All of the sudden, we were starting to see color in the lake as a result of the sun. The skies were also starting to reveal snow-crusted mountains backing the surrounding scenery on the south side of the lake.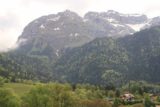 By about 11:10am, we were back at the car. We were the only ones on the trail, but that was when we saw a pretty large group of people start on the same trail that we were on.
Next, the GPS had us take a pretty narrow and winding road up towards a col (pass) where the town up at this higher elevation reminded us of some of those Swiss villages hugging mountain plateaus and cliffs backed by impressive snowy mountains. Unfortunately, obvious pullout spots to take photos were practically non-existent so we didn't have any photos to show for it.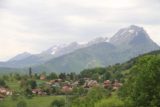 Ultimately, we'd arrive at the car park for the cave and waterfall of Seythenex at 11:50am. The admission price was about 7 euros per person.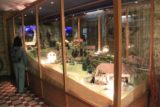 Now, the weather was really clearing up and getting warm. It was an amazing contrast to the weather we had just experienced at the beginning of the day.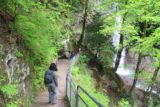 We happened to pay for admission at about noon, which was 15 minutes before a cave tour. So we killed some time checking out a pretty interesting model of the area complete with running water emulating the falls as well as the stream system running a small-scale hydro as well as waterwheel and mill.
It was actually a pretty nifty and elaborate model.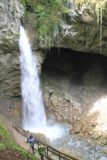 Once we had our fill of this, it was time to check out the real thing before doing the cave tour. This was when we saw the impressively gushing waterfall, which we knew we would spend more time seeing once the cave tour was over.
At 12:15pm, we started the cave tour in which there were about eight of us (we were the only English-speaking folks) so the tour guide gave his spiel about the cave mostly in French before giving the same or condensed spiel in English.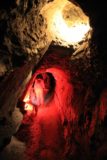 It was a pretty informative tour explaining how the formations came about in this cave, which seemed younger than most of the caves that we've visited over the years.
However, this one had an interesting history and legend claiming that some of the passageways actually led beneath the church of the neighboring village. It's said that given the legend of one of the clergymen actually went down into these caves centuries ago so there might even be evidence of historical artifacts or other tid bits that could be used to further reveal the history of the place.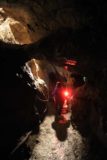 At about 1:05pm, we reached the turnaround point of the tour. The guide said next year they were going to build a bridge across the gap below us and reveal more chambers. Of course that wasn't of interest to us since we weren't going to be here next year or possibly many years thereafter.
At 1:15pm, our tour was done, but we could see there was an even larger crowd of people waiting to go in. We even noticed a little arch on the way out that somehow we didn't notice on the way in.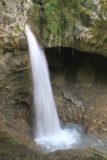 So with the cave tour over, we were able to fully enjoy the waterfall here. It took me another 15 minutes to climb the stairs and see what was up there. It turned out that there was a smaller tier of the gushing falls before it made its dramatic plunge below. However, I think the real reason for this path was the start of the zipline.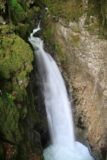 By about 1:45pm, both Julie and I were done with exploring the lower sections of the trail, which didn't seem as attractive given some man-made structures fronting the powerful waterfall.
Now, we had to face the prospect of finding parking near the Old Annecy town. Yesterday, it was a stressful 40-minute plus affair before we lucked out finding free parking far away from town.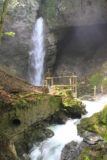 This time however, we got back to town and the Hotel de Ville parking at 2:20pm. This time since the parking was already "complet" (full), the ticket dispenser wouldn't release any tickets. So we flipped off the engine and waiting for people to leave before we could finally get inside.
Actually, this was a pretty efficient system. Instead of having more people find limited parking and create traffic inside the structure, they only let as many people in as there were available spots. I wonder when we'll ever adopt this kind of system back at home?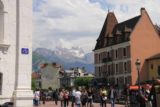 At 2:30pm, we finally were able to get our ticket and even get parking! In hindsight, we probably should've waited to park in this lot all along, but in any case, we saved ourselves one full day of parking plus we were now able to enjoy the rest of the day, or profiter du jour.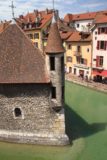 By about 2:45pm, we were back in our room changing out of our muddy clothes and looking more presentable within the bustling old town again, which we got back to a half-hour later. By this time, the weather was almost picture perfect as blue skies were abundant and the sun gave the canal waters a bit of a greenish color while also bringing out the colors of the buildings flanking it as well.
Julie and I spoiled ourselves with some galettes (buckwheat crepes) from this place in town that served Breton-style cider and crepes, which we knew we were going to miss once we got home.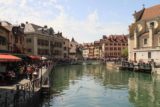 We pretty much meandered about and soaked in the charming atmosphere of Old Annecy. This was one of those days I envisioned heading into this trip where we'd go waterfalling first then give ourselves the ability to enjoy the rest of the day. And in this case, we felt like we truly enjoyed being in the moment knowing that it seemed like all of France was enjoying the picturesque lake as well as the charming old town. It was basically romantic France at its best and indeed today was a good day.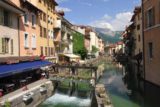 It was about 4pm when we tried to see if we could explore the chateau above the old town, but we learned that they were opening up the doors for free after 6pm. So we decided to punt this visit for later. That gave us time to go back to the room at 5:30pm and take a quick nap after talking to family via Skype.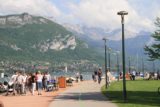 At 6:30pm, we were back in town. We were looking for a dinner place to have an early dinner knowing that we could maximize our likelihood of being quick about it if we were early. It seemed like most French preferred eating later (like 8pm or so), which would leave little time do anything else for the evening given how dinners typically take at least 90 minutes or more.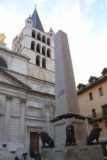 We had ourselves a fondue (something that seemed to be well-known in these parts) as well as some local perch from the lake. When we were done eating, we then waited in line to go into the chateau, and when we did visit, it was basically a bit of a museum walk.
We were glad we didn't pay the 5 euros per person to go into this as I was hoping for dramatic lake views under the fading afternoon sun (which was starting to hide behind menacing storm clouds) which never panned out. Based on this, we didn't even bother visiting the Palace of the Isle in the middle of the main canal.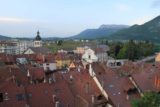 After doing this visit, we came back to that Breton-style crepe place again. This time, we got ourselves a bottle of the sweet alcoholic apple cider as well as a couple more dessert crepes.
By 9pm, we were all creped out as well as cidered out. We did a little bit more walking around before we were finally back in our room at 10:10pm. That was when we were able to sleep and essentially filter out the music and chatter from the outside of our hotel given how tired and satisfied we were with today.
Day 18: LA ROUTE BLANCHE
I awoke at 6am and Julie awoke about 45 minutes later. I was worried that the weather predicts might finally catch up to our luck on this day, but when I looked out the window, there was hardly a cloud in sight.
Annecy (as with most of France) seemed to be the quietest in the morning. The only activity going on outside were street cleaners and the odd youngsters perhaps recovering from a late night of partying.
In any case, it wasn't until about 7:50am that we finally packed up and left our hotel in Annecy. With the validation from the hotel, our parking cost went from something like 12.6 euros to 4.6 euros.
Today, we didn't have a whole lot of expectations in terms of waterfalling. We were basically aiming for Cascade d'Arpenaz and Cascade de Berard before finishing the day in the charming lakeside medieval town of Yvoire (a town that Julie once visited before with her mum a few years ago on a packaged tour).
The original plan called for driving back towards Vanoise National Park, but that was overly ambitious given the remoteness of that park and knowing what I know now about how slow rural driving truly is in France.
In any case, we went through the quiet streets of Annecy (though it was picking up) and were on the autoroute. Most of the drive involved going through the autoroutes and before we knew it, it was about 8:55am when the GPS noted that we were approaching Cascade d'Arpenaz.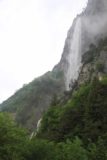 Actually, we saw another attractive cascade from the autoroute just a few moments prior, but we couldn't find a proper place to pull over and enjoy that falls. It could be argued that the other falls might've been more attractive and maybe even taller or at least longer than that of Arpenaz.
Nonetheless, we followed the GPS directions and ended up at a car park for the falls just past the small village of Luzier.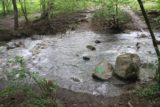 From up this close, the falls looked a lot less substantial than when seen from a distance (like the autoroute for example), but I used this time to quickly hike the short distance towards a less obstructed view of the falls from its misty base.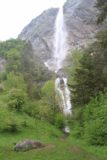 To get here however, I had to cross the stream so I managed to do it in my Chacos after taking off my socks. The water was icy cold so my feet were painfully numb, but thankfully the crossing was short.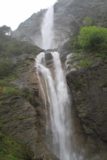 When I regained the car where (as Julie was waiting for me), we gradually drove away from the car park and caught additional views of the falls from a distance. Once from the far side of a picnic area fronted by pretty flowers while another stop was well before the town of Luzier.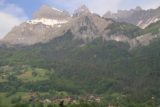 The whole time we were in and around the falls, there were scenic panoramas looking across the valley towards more shapely peaks with a dusting of snow on them as well as other smaller and perhaps unknown cascades draining their snowmelt.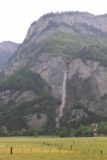 We left the Cascade d'Arpenaz and rejoined the autoroute at 9:25am. However, at about ten minutes later, we made another stop at a rest area where signage indicated that there was a panorama of Mt Blanc, which was France's highest point.
The massif's glacial ice was glistening against the morning sun, and we could easily see why it was called the "white mountain" as it seemed to be perpetually covered in snow or glacial ice.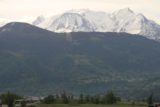 The summit was broad and not sharp. We basically needed the aid of the signs to point out the otherwise unassuming massif, which was also joined by other snowy peaks and massifs. It's kind of like picking out Mt Whitney from the other neighboring 14,000ft peaks in the Eastern Sierras near Lone Pine.
While at the rest stop, I also had to use the facilities there, which was basically a latrine. It was a bit tough on the thighs squatting for a long period of time to go #2, but I suppose this was the more natural position anyways. Sometimes I wonder if I had grown up in Asia or something, would I have preferred using latrines to toilets?
At 9:55am, we left the Mt Blanc rest area and proceeded along the autoroute, which promptly ended and became a rather dramatic and costly looking viaduct or highway propped up by pillars called La Route Blanche (the white route).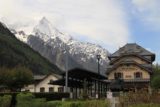 It was after crossing this combination of viaduct and tunnels that we arrived at the alpine village (more like a resort town in much the same spirit as Mammoth Lakes) called Chamonix.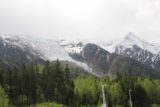 We made a quick brekkie stop here while entertaining the idea of seeing the Sea of Ice (Mer de Glace) after the person who prepared the sandwich for us explained where the neighboring train was going.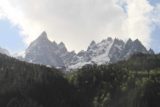 But since we had seen ice caves and glaciers many times before, we stuck with our plan and passed on it. Besides, there were quite a few tour buses and tourists so even though it was shoulder (moyenne) season right now, there was still quite a bit of activity, and plus there were clouds already starting to obscure the upper reaches of the glacier.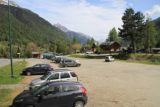 At 10:30am, we left Chamonix and continued heading towards the Italian border. We passed over some mountain pass (or col) before the GPS informed us that we were approaching the waypoint I marked for the Cascade de Berard Trailhead, which happened to be next to a train station at the town of Le Buet.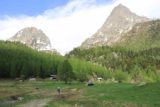 We started hiking at a little after 10:50am where the trail crossed the highway then immediately started to ascend. At first, there was an open area near a non-operating cable car (for a skiing school?) where we could see pretty peaks towering over the trees surrounding us.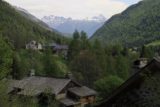 As we climbed further along the trail, we passed by some mountain chalets or residences where views looking towards Italy provided more impressive snowy peaks backing a V-shaped valley, while looking against the sun towards Chamonix showed some jagged peaks with some clouds starting to obscure other peaks adjacent to them.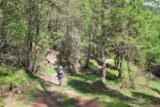 The trail continued to climb as it entered the forest. After about another 25 minutes (the sign did say it was a 20-minute walk though), we reached a bridge and some structure that was above the falls.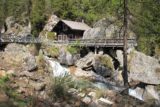 The view from here wasn't satisfying. So after crossing the bridge, we went looking for ways to get a better view of the falls as we could clearly see there was a walkway and overlook further down below.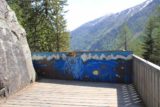 Unfortunately, there was a barricade that ensured that we could progress no further. Some sign written in French said something to the effect that further progress was forbidden to the public though there was a project in place since 2008 that was suppose to improve the rive droit part of the stream (right bank – the part with the overlook).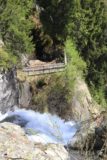 I guess you can't win them all and this detour to Cascade de Berard was a bit of a disappointment. I guess the silver lining to this fail was that it gave us an excuse to experience briefly the French Alps and namely its famous Mt Blanc and Chamonix.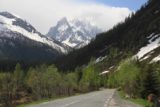 We returned to the car at 11:40am and spent the next nearly two hours navigating autoroutes (and paying tolls of course) as well as driving locally towards the medieval town of Yvoire.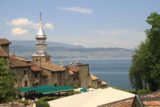 At 1:30pm, we arrived in the town of Yvoire where we initially parked at lot 3. We thought we had to walk quite a ways to get into town so we went lean with our belongings. But when we checked in a little after 1:45pm, the receptionist told us that there was free hotel parking on the backside of the property.
So after dropping off our carried on belongings in the room, I raced to go back to the caisse (cashier), which was machine operated, then inserted my ticket, and learned that I was five minutes too late. I owed euros since only the first half-hour was free. So after summoning Julie to bring the euros, we paid the fee, moved the car, and finally got our desired parking.
With parking so close to our room, there was now no need to go lean (like in Mont-St-Michel) so I brought the rest of our luggage into our room.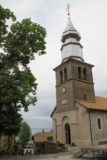 So far the weather had been kind to us as there were still some blue skies above us. We could see Lake Geneva (or Lac Leman in French) and even see across the lake towards the Swiss side.
But as we were going into town at around 2:20pm, the clouds overtook us and kind of made the scene a bit gray for the moment. We could tell that perhaps our luck in terms of the forecast being mostly wrong for the better might finally catch up with us.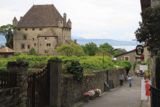 Anyways, after having pizza (narrowly making it before they were about to close for lunch), we walked around town and enjoyed the charm of the town.
I guess what made this town charming was all the flowers fronting windows and doors of old-school medieval buildings as well as ivy growing on the walls of many of these buildings. I couldn't really say there were signature photos of this place that might communicate the history and charm of the town though. It was more like something that had to be experienced.
Apparently, this cute town also had a bit of a crowd, which were mostly day visitors perhaps from Geneva. I know Julie came here with her mum once before, and that was probably why she chose to spend a night here so she wouldn't have to see it while being so rushed (which was the case with the tour).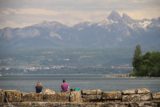 Just as suddenly as the clouds overtook us, the skies cleared once again. So we took a few more photos from as many spots as we could reasonably see – from the harbor, beneath the church, along the narrow pedestrian walkways, and from the jetties, etc.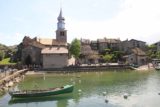 Pretty much declaring our sightseeing of the town momentarily done, we were back at the hotel at 4:45pm. We used this time to Skype the family and see Tahia once again. I also used this time to nap as my body was clearly telling me I had to doze off. I'm sure Julie did whatever internetting she felt she needed to do during this time.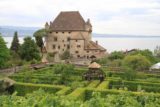 It wasn't until 7pm when Julie woke me up and we had to go back into town to get dinner. We had booked this place called Les Jardins du Leman, which featured terrace dining with a view over Les Jardin des Cinq Sens (Garden of 5 Senses) and towards some chateau or other medieval building fronting Lake Geneva.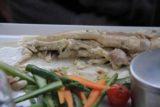 While the dinner of local perch and a differently prepared veal was tasty and satisfying, we didn't appreciate the two hours of inhaling second-hand smoke from other smokers; including one who happened to be sitting next to us.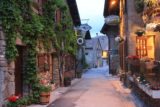 After the dinner was done at 9pm, we did a quick tour of the town at twilight hoping to catch some moody photos of the town at night. However, it seemed like the town was pretty much dead (definitely not happening like Carcassonne or Annecy at night), and so we were back at our hotel room about a half-hour later.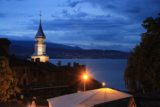 We caught one last glimpse of the church and part of town from the balcony of our room. It was there that I saw a few flashes of lightning in the distance across the lake on the Swiss side. Apparently, it looked like our luck with the good weather (despite the gloomy forecasts we kept seeing) will end…
Day 19: SWISS SQUEEZE
When both Julie and I awoke at 6:30am, it was raining pretty hard outside. This was not unexpected as we had been expecting continued bad weather for days since we had seen the foul forecasts following our departure from Provence.
We left Yvoire at 7:10am and followed the GPS's directions once again as we weren't quite sure what was the best route to take to get us all the way to Saut du Doubs – the first waterfall of the day.
The significance of this waterfall was that it was a transnational waterfall between France and Switzerlan. You don't get those too often.
Moreover, we were also hoping to bag another pair of Swiss waterfalls within the Nozon Gorge between Romainmotier and La Sarraz.
Anyways, as we were following the GPS's direction, it intended to lead us right through the heart of Geneva as it was trying to swing us around Lake Geneva before heading north and rejoining the A1 to go further north towards Lausanne.
Unfortunately, we started to hit traffic at around 7:45am and we didn't even get towards Geneva!
After several minutes of hardly moving an inch, we were looking for ways to avoid going deeper into the traffic jam which was obviously Geneva's rush hour. But that led us on a bit of a goose chase through local roads looking for a way to backtrack and go towards the autoroute.
It wasn't until another 20 or 30 minutes later did we finally regain the autoroute A40 heading towards Lyon, Annecy, and Paris. We then connected with the A41 heading north at which point we ran into more traffic!
The traffic continued to get worse as we inched past the customs kiosks, which seemed to be an open border, and it wasn't until 9:15am when traffic finally started to move again. By then, we were slowly moving faster until we finally got onto the A1 well north of Geneva.
This morning's delay was on the order of 90 minutes. It was a costly 90 minutes as we knew we still had another couple hours of driving to even get all the way up to Les Brenets, which was where the GPS had us go to access Saut du Doubs.
So far, the whole driving experience in Switzerland was a bit nightmarish. The traffic was unexpected, the speed limits were unusually different than what we were used to in France, and even the autoroutes (although they weren't collecting tolls) exhibited the type of congestion and lack of order similar to LA's traffic. Maybe having tolls on the autoroutes like in France meant fewer cars as well as the respect of the fast lane. There was none of that in Switzerland's western side.
It wasn't until 11:05am that we finally made it to the car park at Les Brenets on the Swiss side. It involved quite a bit of mountain driving between the autoroute and this remote town on the outskirts of the French Franche-Comte district and Switzerland's Neuchatel Canton.
When we arrived at the car park, it was still raining pretty hard. Complicating the matter was that we weren't quite sure where we were supposed to go. We did see that the hike to the falls was an hour each way, but it didn't seem terribly appealing to walk an hour each way just to even get to the falls and not counting the additional time needed to explore and experience the falls.
Plus, we saw that there was a boat leaving at 11:30am.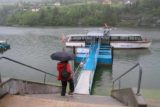 By the time we finally figured out where we were supposed to go, we barely had less than 5 minutes to spare when we ran to the ticket window, paid for the boat ride (about 28 Sfr per person for return trip), and got on just as the boat was about to leave.
It's interesting to see how the Swiss work like clockwork as the boat left at exactly 11:30am as scheduled. It was also a good thing that I knew enough French to get by since no one here spoke English and I didn't know German.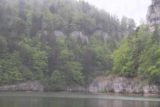 We were the only ones on the boat, which kind of reinforced the notion that we were the only crazy ones going all the way out this way under bad weather just for a waterfall.
In any case, we enjoyed the quiet boat ride, which lasted about 20 minutes.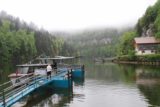 As the boat docked, the boat driver explained to me in French that the next boat departs from this side of the lake at 1:20pm. That left us about 90 minutes to enjoy the falls.
So Julie and I got moving.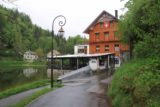 We first went past what appeared to be a dead settlement with seemingly no activity going on in the restaurants, cafes, or even souvenir shops. It was almost like we were in the Twilight Zone.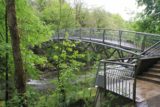 We'd eventually reach the newly built "friendship bridge" which crossed the river and went onto the French side. And from there, we followed the walking path past another couple of closed cafes en route to the upper panorama of Saut du Doubs.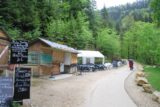 The paved walkway was sloped and slippery in the rain so we had to be careful of our steps. But once we got up to the overlook, all the stress and worries momentarily went away as we enjoyed our top down view of the falls.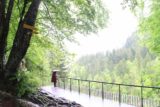 The rain also seemed to be letting up a bit as we were up here. I don't know if it was coincidence or not, but like our Cascade d'Angon experience, the foul weather seemed to subside when we were at waterfalls.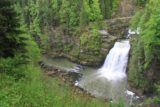 We spent quite a bit of time up here before we eventually exhausted all the possible ways of capturing the falls in pictures and movies from the same overlook. So we descended a separate path that led to the brink of the falls on the France side, getting there at 12:25pm.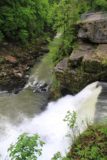 Once we seeing this perspective of the falls, it was very apparent that there was no way anyone could get to the base of the falls given the steep terrain surrounding the gorge. We also saw another person on this trail, which was the first time we saw someone other than ourselves on the trails here.
After having our fill of this perspective of the falls, we then walked back towards the Friendship Bridge and proceeded to walk towards the brink of the falls from the Swiss side.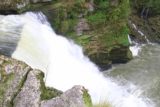 This was the only view of the falls from the Swiss side, and I could easily see why previous visitors have said on their blogs that the French side was way better than the Swiss side. We'd have to concur. However, I could only imagine how disappointing this excursion would've been had that Friendship Bridge not been there!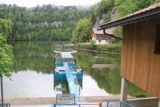 Anyways, we made it back to the boat dock at about 1:05pm. We saw a trio of Germans or German-speaking Swiss reassuring us that there were indeed other people visiting this area.
We weren't sure where we could wait for the boat so we actually decided to chill out in an open cafe area that seemed desserted. However, about five minutes later, a guy from the kitchen noticed us and came over to take our order.
We didn't know what to get so we just each asked for a scoop of ice cream. But just as the guy went to the kitchen to make our ice cream, we saw the boat just arrive at the dock.
So that caused us to ask him (in French) to takeaway the ice cream and pay in Euros immediately. Fortunately, he obliged, but he didn't give us ice cream in a cone as we had hoped. Instead, he gave each of us a scoop of ice cream in a plastic drinking cup. The cost was just under 5 euros, but we knew we weren't going to get Euros back as change so the lady who took our petite monaie just kept the change.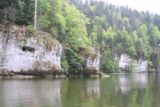 Sure enough at 1:20pm, the boat took off as we boarded; just like clockwork. The boat driver gave us a printed guide in English so we could better appreciate what we were seeing on the short boat ride.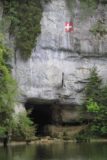 Among the things of interest along this lake was a cave of the King of Prussia, a rock with the French and European Union flag, and some geological rock formations and patterns attesting to the history of this gorge and lake.
We were back at the car at 1:45pm. We saw another pair of women heading to the ticket booth so perhaps we weren't in the Twilight Zone after all – there really were visitors to these parts!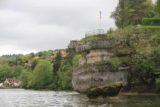 Next, we drove under the suddenly improved weather as we backtracked over the narrow and winding mountain roads back towards the A1. Then, we headed south on the autoroute before following the GPS waypoints towards the sleepy town of Romainmotier.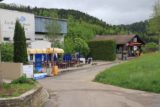 The weather got worse as we got to the town, but it wasn't clear to us where we were supposed to go as there was no signage that we could see indicating where the Nozon Gorge was.
We found ourselves driving on narrow local roads aimlessly in both Romainmotier and Croy. After several minutes of aimless meandering, I decided to call the Nozon Gorge a loss and so we wouldn't be bagging neither Cascade du Dard nor La Tine de Conflens.
I had fancied doing both falls from opposite ends of the gorge, but perhaps that was just wishful thinking. We would've needed more time and somehow arrange for a shuttle unless there was a train that connected the two towns.
Whatever the case, we didn't have the time to do them. So we proceeded to drive south past La Serraz and eventually regain the autoroute A1.
Today felt like a waste as we had hoped this Swiss day would've allowed us to augment our Swiss waterfall collection. While Saut du Doubs was nice, the Nozon Gorge waterfalls would've also been good to experience as well. But poor signage, a less than stellar driving experience (especially the Geneva traffic and the relative lack of autoroute etiquette compared to France's tolled autoroutes), and seemingly less charm in this part of Switzerland than what we had been used to in France made this part of the trip not very memorable.
In fact, I immediately started to feel better the moment we crossed back over to the French side of the border where I was used to the traffic lights (I still find it funky to see the lights go yellow before going green), the signage, and even the driving etiquette. It was strange, but I guess being in France for almost three weeks made me appreciate the ways they do things in this country. Perhaps I needed a similar adjustment period for Switzerland that I was afforded in France (as trivial as that might sound).
It wasn't until 4:20pm when we finally arrived at our appartment-like motel/hotel in the French town of Prevessin-Moens. We knew the next two nights would be more like a motel stay in which we picked this spot for its strategic location by the waterfalls of the Jura Mountains (as well as avoiding both the traffic and the exhorbitant prices of Geneva accommodations).
Even though the weather still looked threatening, we still had more falls to bag tomorrow – especially the Herrisson Waterfalls. Rain or shine or anything in between.
At 7pm, we drove around looking for something quick to eat. We ended up finding this obscure Vietnamese place, which provided quite a change of pace from the heavy French fare we had been used to the past three weeks. Of course given the strength of the Euro compared to US Dollars, the meal costed more than any of the best Little Saigon joints we're used to having, but at least the portions were right and we didn't feel overstuffed nor ripped off for the most part after the meal.
We were back at our room before 8:30pm where we spent the rest of the evening Skyping family while also watching some French TV (something we hadn't done all trip until now)…
Day 20: SATURATION
We both awoke at 6:15am even though our alarms had sounded at least 15 minutes earlier than that. Apparently, it had rained throughout the night, but the rains continued even into our waking hours.
When we left the apparthotel at 7:10am, it was raining lightly, but the fog was hanging low so the drizzle was constant.
Today, we were headed deep into the Jura Mountains of the Franche-Comte Department. It was pretty much going to be all waterfalling for today, which I knew Julie wasn't too keen on as she was pretty waterfalled out. Plus, the rainy weather didn't help our collective moods either.
The road we took steeply wound its way up into the Jura Mountains through the town of Gex (I only remembered it because of its unusual name) and somewhere well into the twisty and foggy confines of these mountains.
The conditions of the drive were a slippery mix of constant rain and/or drizzle as well as pretty thick fog. Even with such treacherous road conditions, locals were still driving these roads as if there were neither slick roads nor fog. The best I could do was to pull over and let them pass (with the now-familiar two hazard light blinks acknowledging thanks to me).
Even though the GPS suggested that our drive would take about an hour or so, the reality was that it was really a two-hour drive. The last half-hour or so of driving involved us following signs that put us on a 21km route that circled the Herisson Valley before descending into it and driving up to the bottom of the network of waterfalls we were expecting to see.
Adding to the confusion (since we didn't know what to expect other than trying to find the Maison de Herisson or House of Herisson) were a bunch of other signs saying Cascades de Herisson except it didn't look like the type of place to get started with very limited parking and the Herisson House nowhere to be found.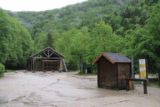 But eventually, we reached the car park near the Maison du Herisson at 9:10am. The road passed by a couple of small lakes, but given the foul weather and the low-hanging clouds, we didn't stop for them, nor did we stop at the other car parks (for Girard and Eventail – a couple of the Herisson Waterfalls).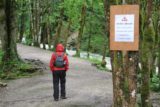 There were a few mozzies hovering around us at the car park so we were hasty to put on our waterproof pants and rain ponchos and get moving so the mozzies don't get free shots at us.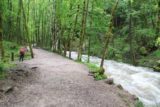 As we walked past the camping area and then the closed Maison de Herisson (they don't open until 11am?!?), we were on the wide path leading to the waterfalls.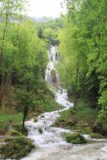 Right off the bat at 9:35am, we saw an attractive waterfall across the rushing Herisson Stream. There was a signpost that said "Tuffiere"). It was tall and the kind of waterfall that would be attractive in long exposure.
So we took some photos and movies of this, but we knew there were bigger fish to fry so to speak.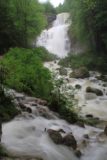 Next, it wasn't but a few more minutes before we were face-to-face with the gushing Cascade de l'Eventail. This one appeared to have multiple tiers, but given the volume of water, all the tiers almost blended together.
There was so much volume that the mist at its base was intense and spraying the trail. There was also a little bit of a waterwheel off one of its drops.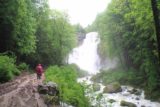 It was a good thing we came prepared for the wet weather, including the waterfall sprays. So with our waterproof pants and rain ponchos, we confidently went through the intense spray only to be blasted in the face, which was our only exposed part to the elements.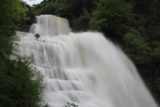 At 9:50am, we got past the misty part of Eventail and proceeded to take more photos and movies of the impressive falls. Little did we realize that we would be making many more photo stops, which would ultimately make this fairly long hike seem much shorter.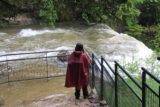 The trail eventually got to the top of Eventail where we tried to get as close to the brink of the falls as possible (railings were provided to keep us from getting too close), but there was flooding penetrating even the "safe" zones so we could only get so close. Apparently, the Herisson stream was in a pretty swollen state given the saturation rains from today and yesterday.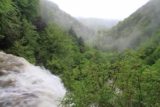 We then continued along the trail crossing a footbridge over the Herisson and then to a point where we saw a closure sign and blockade preventing us from taking the path towards the base of the Grand Saut. Apparently, the risk of rock fall was too great to allow the public to access.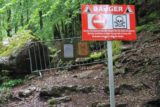 So we climbed up the switchbacks per the sanctioned path and then were faced with another barricade at a junction. This time, we could see a hint of the Grand Saut tantalizingly within reach and we had a dilemma on our hands.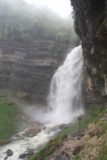 Should we be rebellious and go past the barricades knowing that there probably wouldn't be a good view of the Grand Saut otherwise? Or should we play it safe and deny ourselves a satisfying view of the falls?
Well, we ultimately decided to just take the risk and be rebellious. So the path descended along a narrow trail that was hugging cliffs.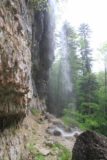 There was enough water that little waterfalls were coming down from the cliffs and falling right onto the narrow trail. Once again, it was a good thing we had waterproof gear so we could take the deluge while protecting our camera equipment.
However, I could totally see why the authorities here feared potentially fatal rockfalls.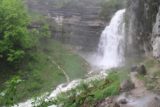 On the other hand, we had seen worse than this. This goes back to how much trust the authorities have in visitors' judgment on knowing what they're getting themselves into. Some are more paranoid about this and are more liberal about closures, while others won't force you not to do it but they won't be responsible if anything happens.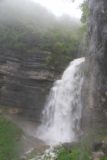 Well, we knew what we were getting ourselves into.
In any case, we got as far as the views from this side of Grand Saut were satisfactory. As tempting as it might've been to go behind the falls along that trail, the mist at the base looked very intense. It looked even more intense at the other side of the stream as well.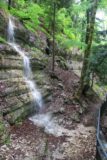 So we just took our photos and movies here and then headed back to the main trail before we might either get busted or let Mother Nature take it out on us for tempting fate.
So we were back on the main trail and eventually made it to the top of the Grand Saut at about 11am. As we looked down the valley from this panorama, we could see clouds have drifted down well into the valley. Whatever grand views that typically one might've seen here all of the sudden felt more claustrophic with so much clouds and fog reducing visibility.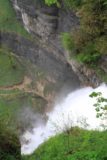 After getting our top down views of Grand Saut, we continued along the trail some more seeing another small cascade en route. However, it didn't take long before we reached a part of the trail that was flooded at 11:25am.
Given the strength of the currents of the apparently swollen Herisson stream, we decided that this was our turnaround point. We knew there were other trailheads and access points further up the valley so it made no sense to try to continue on the flooded trail knowing that one slip and we could easily be swept away.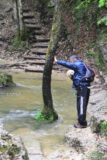 So we headed back and noticed that on the way down, there were quite a few more people on the trail. At first, we thought we'd be the only ones on this trail on this miserably soaked day, but I guess the French don't really start their activities until well into the day.
We were back at the car at 12pm. Just before we got to the car, we saw a giant group of middle-aged to senior hikers heading towards the falls.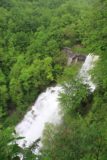 So we drove out of the valley and towards the upper access points of the Herisson via the road we took to get in. It wasn't until about 12:30pm that we found the nearest car park for Saut Girard, which was just a few minutes from La Fromagerie (one of the access points for Saut Girard in 800m).
The hike down from the car park was actually quite short. It took me perhaps less than 10 minutes to get to the bridge right in front of the Saut Girard, which was also very powerful and tall at 35m. However, there was quite a bit more infrastructure around this falls than the other ones we saw this morning.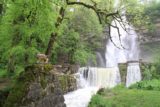 In this case, there was a statue of some wild cat as well as a bridge and mill just downstream of the falls. There was also a little dam fronting the falls, which I'm not sure what it was for.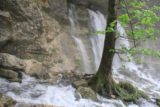 What was interesting about Saut Girard was that it was accompanied by a handful of other smaller falls, including a pair that seemed to emerge from the cliffs as springs. But getting the most satisfying photos from both sides of the stream involved getting blasted with mist which made it difficult.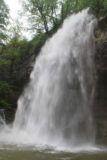 So I did what I could, and just before I was about to leave, I saw a group of horseback-riders posing in front of the falls by the bridge. I helped them take a group photo before I made it back to the car and rejoined the awaiting Julie at 1pm.
At this point, we were in a bit of a hurry because we knew that lunches in France were very short term – typically from 12:00-14:00. And when you're close enough to closing time for lunch, they won't take you.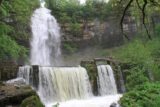 But the GPS indicated that the three possible Burgundy-style escargot places (farmed from Courbozon according to Escargot-Comtois, an escargot farm who no longer does their own dining or accommodations) were roughly 40 minutes away. And Julie was determined to give fresh Burgundy-style escargots a go despite the odds that were stacked against us.
So given that, we were supposed to be at the restaurants before 2pm. Whether it would be sufficiently early enough would be a tough call. But with Julie being the foodie that she is, she was determined to try (just like she was determined to go for authentic Italian pizza in Nice though that turned up blank).
The drive was fairly straightforward though we did have to follow a particularly slow driver in an old-fashioned model-T like voiture (car) that was spewing out pretty toxic exhaust. He left a huge line of cars in which we were caught and it didn't help our cause in terms of getting to lunch before closing time.
Anyways, we eventually made it to this place called Le Clos Fleuri at 1:50pm. It looked both open and busy. Were we finally going to try Burgogne-style escargots (something we'd been seeking but have been unsuccessful in having for the three weeks we'd been in France)?
Well, after requesting for a table for two, we were turned away. It wasn't clear why, but perhaps we were too close to closing time. One thing we didn't think of asking to do at the time but should've done was to ask for the escargots a emporter (to takeaway).
But alas, we thought we could find the other two places as fallback. So we went ahead and tried for the next place called Le Brasserie Strasbourg.
It wasn't until about 2:30pm that we finally found parking in the busy city (something we weren't expecting considering we were used to seeing small villages and rural farms the whole day). But when we walked into the restaurant, we looked at their menu and didn't see escargot in it.
When we finally asked a waitress (wearing a rather impatient-looking expression) in French a whether they offered escargot, she said no. So that was it for this attempt and we were 0 for 2.
Next, we tried to drive back in the direction of Courbozon (to Macornay) towards this place called Savignard. Unfortunately, its address took us to a place that was no longer a restaurant.
That made us 0 for 3 and SOL. It was like that pizza ghost-chase in Nice that costed us a couple of hours. This also costed us a couple of hours or more plus quite a bit of petrol.
Whatever the case, we went without lunch. Now it was 2:40pm and we had to go back in the direction of our accommodation. But given the detour that we took to get all the way to the western side of the Jura Mountains, we now had to take some rural roads to get back on track in the direction of Geneva.
The weather remained foggy and misty, which didn't help our speed. But I decided that we mind as well do at least one more waterfall before closing the book on waterfalling in France for this trip (we weren't about to do another one tomorrow).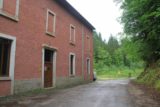 So we headed towards the Cascade de Flumen, which seemed like a pretty big and spectacular one to do. And after all that mountain driving, we eventually found signs for the Flumen Gorge in this mountain-hugging town called Le Martinet (I think).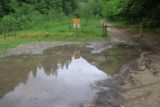 The signs eventually led us down this real narrow single-lane road where I wasn't sure if it was really a trail or not. In any case, there were sections of unpaved road plus potholes that further undermined my confidence on proceeding with our compact rental car. Nonetheless, the narrow road followed alongside the Flumen Stream and ended at a small hydro facility. There, we parked our car at about 3:55pm.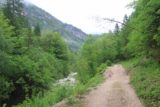 The skies still looked dark and threatening, but the signs indicated it was only a 20 minute walk. So we took for granted that it was a short walk and left our waterproof gear except for one rain poncho.
Anyways, we went on the trail just as there was a fisherman who came back to the trailhead. But after he left, it was just Julie and I.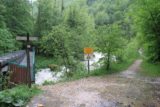 The trail was pretty wide and straightforward. It seemed like a trail that wouldn't have been here if not for the hydroelectric developments down here as the trail seemed to follow along some power lines.
As we eventually got to a bridge near some more hydro-related infrastructure, we then continued along a trail hugging the Flumen as the path was now much narrower than before.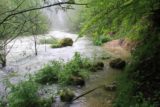 We'd ultimately take the river-hugging trail to a point where it was flooded. After seeing how much of the trail leading to the base was inundated plus the high speed of the current, we weren't about to tempt fate and turned back.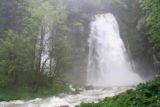 Fortunately for us, there was another trail leading higher up the hill. The trail eventually degenerated into a scramble back down towards the base of what was apparently a trio of waterfalls across the raging stream but past the flooded sections we had encountered earlier.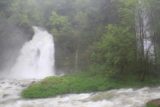 Unfortunately, trying to take photos and movies down here was an exercise in putting our electronics in jeopardy given how misty and windy it was down here.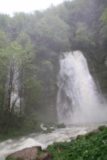 I don't think our photos turned out given how easy it was to get waterspots all over our lenses, plus our clothes ended up getting wet thanks to us neglecting to bring our waterproof pants as well as the other rain poncho. I still had my rain poncho, but it was not that effective against the self-generated wind from the falls.
Well, it wasn't only hard to take photos from a mist standpoint, but it was also hard to capture the action in a photo given how far apart the three waterfalls were in this head of the gorge. Clearly, the river was swollen as we could see there might've been better views along the trail except now those parts of the trail were part of the rushing current.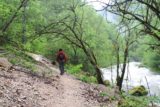 Anyways, we did what we could, but we left knowing that it was getting darker and the skies were once again threatening to pour. The thought did cross my mind that the swollen stream might actually rise some more if further upstream was still pouring. If that happened, there was a chance we could be stranded here.
So we hastily went back towards the car and got there at 5:30pm.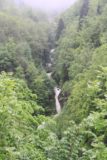 Next, we followed our GPS and headed back towards Geneva. But along the way as we were on the D436, we saw a pullout upstream from where Cascade de Flumen was supposed to be. Actually, there was a roadside view of it, but there was no pullouts for it. That could've possibly been the most satisfying view of the falls. Too bad they didn't have a pullout for it.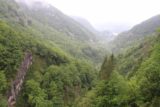 Anyways, we were well up the canyon from that point when we stopped at 5:30pm for the Saut du Chien, which had a pullout. A few paces further down the road, there was even a 5-minute steep trail for Cascade du Moulin d'Aval. I wasn't sure if that was the same falls as the Saut du Chien, but I wasn't going to take the time to visit both when we were pretty waterfall-saturated and didn't want to linger too much longer.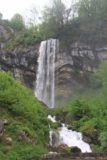 As we continued along the D436, there was yet another waterfall up the head of the gorge. This time, it was in front of a switchback in the road.
The falls was tall and vertical, and there was a large pullout in front of it. So we stopped by, took photos of it, and saw that it was called Chapeau de Gendarme from the sign in the pullout.
Anyways, we were finally done with this falls and continued the mountain descent back towards Prevessin-Moens. We'd eventually make it back by 6:40pm where all of the sudden, the weather down in the valley was much more benign than the saturation rains we had been exposed to all day long in the Jura Mountains.
I don't know what it was, but le pays qui respire (the country that breathes or something like that), which was the expression for the remote Franche-Comte Department, was definitely like breathing mist more than air. However, down below the mountains, in a bit of a shocker, there were some blue skies!
So after getting all settled, we went for dinner at around 7:15pm where once again we had Vietnamese food at that same place we were at last night. And once again, we had a pretty light dinner although nearly $40USD Vietnamese food is still pricier than some of the best Little Saigon places we've been to back at home.
By about 8:15pm, we were back at the apparthotel where we had trouble Skyping Tahia and family given the poor internet connection. But we did utilize the internet to make bookings for an escargot place as well as a soufflee place back in Paris for tomorrow. I guess the bitter pill of today's escargot fail was enough of a motivator to make us determined to have one last go at authentic and quality French food before going home the day after tomorrow.
One thing was for sure though. We both missed being with our daughter (Skyping her for the last two or thee weeks just didn't feel sufficient for parental love) and we really looked forward to being back home. I guess the expensiveness of this trip, the relative lack of variety in foods here in France, plus the foul weather for most of the trip made us really appreciate the variety and fine weather we're spoiled with back in LA.
In any case, we couldn't wait a retourner chez nous (to return home)…
Days 21-22: FIN DU VOYAGE
Today we were supposed to wake up at 5am, but we overslept and woke up at 6am. The weather looked like it was much calmer than yesterday, but it was too bad we wouldn't get to enjoy it when it mattered. Why does this always happen to us?
In any case, we were done packing and headed out of Prevessin-Moens at 6:50am. We weren't messing around and we were headed straight back to Lyon.
The GPS had said we would be back at the Hertz Part Dieu at the Gare de Lyon Part Dieu at around 8:30am, but the reality was that we finally made it through the city's labyrinth of traffic, tunnels, and one-way streets to get to the proper lot at 9:10am. Indeed, we probably spent the last half-hour in the city alone!
We were a bit concerned about not making the 10am TGV train back to Paris because we had a lunch reservation at this place called Le Souffle, which Julie made bookings for yesterday at 13:45. We knew there were still logistical things to do like returning the car, getting the TGV tickets, taking the train to our accommodation, checking in and dropping off our luggage, and taking the metro to enable us to get to the right restaurant.
Fortunately, the care hire return went without a hitch as well as the TGV train ticket purchase.
The train ride was pretty much spent getting caught up on sleep thanks to the comfortably smooth ride. It was definitely nice not to have to worry about driving again.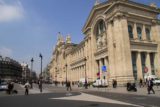 We made it to the Gare de Lyon five minutes earlier than scheduled at 12:05pm, then we took the RER line to get to Gare du Nord. From there, our hotel was right across the street and we finally checked in our room and dropped off our bags at 12:50pm.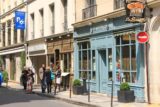 Ten minutes later, we went back down into the familiar metro and took it towards the Tuileries stop where we walked a few blocks towards Le Souffle. We arrived at around 1:30pm, which was 15 minutes early, but they seated us five minutes later.
It was a good thing we made reservations because without them, we probably would've been turned away like we were during our pursuit of Burgogne escargots near Courbozon yesterday.
The meal pretty much consisted of a variety of savory and sweet souffles. The savory souffles was something new and unique (like my "Henry IV" which had chicken, broth, butter, and cheese). Even my entree was a savory souffle of spinach and goat cheese as well. And who can forget my chocolate souffle with Julie's Grand Marnier souffle.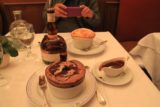 Basically, this meal ruined all of our past and future souffle experiences at home. Like many of the other things we experienced in France (e.g. Breton apple cider, galettes, and crepes; croissants from all over; etc.), we knew we'd never have souffle quite like this again (or at least until we return to France).
When we left the restaurant fully sated at around 2:45pm, we went shopping at the La Fayette mall, which was one crazy big mall. It was so big that an entire floor (which was easily several city blocks squared) was devoted to women's shoes! Other floors were about other things like fashions, loisir (leisure), etc.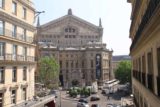 Well, shopping generally takes a lot out of me (even if we don't buy anything or very few things) so when we were finally done looking to bring souvenirs home at 4:25pm, we made one more stop at Laduree to bring some macarons back home. Apparently, the photo incident three weeks ago (when someone in the shop made Julie delete her photos taken of macarons inside the shop) didn't stop Julie from coming back.
Anyways, we went straight back to our room to drop off more stuff at 5:30pm. That was when we Skyped home again and had another chat with our lovely daughter and Julie's mom.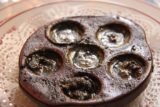 At 6:30pm, we were back in town looking for our dinner place to fulfill our 7pm reservation. This time, Julie was aiming to get that escargot experience she was denied yesterday.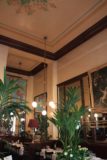 And since we were one of the first to be seated and eat (since Parisians seem to have their dinners after 8pm), we had our meals (including the Burgundy-style escargots) and finished around 8:45pm or 9pm-ish.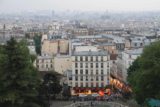 We spent some time checking out the Sacre Coeur, which was surprisingly busy with people in both the lawn area and the steps right in front of the basilica.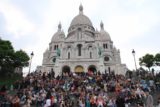 The photos we took here didn't totally pan out though the views of Paris were quite nice (though it could've been better with lights). But our visit here was pretty much ended for us when park officials booted everyone out of the park area as the area had closed for the day as it was past 9:30pm.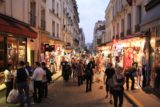 It was at that time that we returned back to our room at about 10:15pm and called it a night. We were pretty much done with spending lots of money on this trip and we couldn't wait to go home to see our family and especially our dearly missed daughter.
In the past, I'd be humming in my head that "back to life… back to reality…" song, but this time, I was actually looking forward to returning home.
Tomorrow, we'd have to get up and get to the train taking us to the airport at CDG. It was le fin du voyage, and time to restore some normalcy back into our lives…
During the trip home, we glady took advantage of our strategic location at the Gare du Nord, where we could catch the RER line B directly to the CDG Airport terminal 2. From there, we went through the usual checking in, security, exchange money, and last minute shopping of Laduree macarons.
The flight home was complet (full), but one of the stewardesses was very kind in indulging me on my French lessons (it was almost as if she was testing me whenever she'd ask me a question) while getting into some chit-chat about our trip and other random things French-related.
Of course when we landed, we had to sit through an excruciatingly long customs and passport-control line before finally collecting our bags, catching the shuttle back to my parked vehicle, drive home, lament how backwards our public transport and airport systems are, and finally see our baby once again.
We had a long Memorial Day weekend to get caught up on what we missed for the last three weeks as well as try to get caught up on processing all our experieces, photos, movies, etc. and get them onto the website.
I probably won't be done before I go back to work, but then again, when life happens, some things can wait…
Visitor Comments:
Got something you'd like to share or say to keep the conversation going? Feel free to leave a comment below...
No users have replied to the content on this page