Day 16: THE ANNECY WALK OF SHAME
Originally, we had planned for a 5am wakeup and 6am departure, but Francois convinced us to sleep in another hour to enjoy the room that we paid for a bit more. It didn't take much to convince us since we anticipated poor weather on this day so there wasn't as much waterfalling nor Alps scenery as expected given the likelihood of fog or low-lying clouds whenever there's rain or snow.
So we got up at 6am though Julie's alarm did go off at 5am. Once we were up, we did what we had to in order to get packed and ready to leave the accommodation.
The next stop was Annecy, but there was some hesitation on whether to go the direct route on the A7 then veer inland through Grenoble towards Ecrins National Park or do the more scenic route (also favored by Francois) along the A51, which then junctions with other autoroutes passing through Briancon and around the Ecrins National Park before passing through Grenoble, Chambery, etc.
Looking up at the skies, it had dark clouds and it was sprinkling somewhat. If Provence had this kind of weather, we knew further north where the mountains were would be worse.
So that kind of sealed the deal in my mind about what we should be doing today.
When I loaded up the car, I saw some paper pinned to the windshield wiper. When I picked it up, it was Francois who had left me a note about yesterday's conversation about mountains, waterfalls, Yosemite, and other things. The paper stack contained a message saying we should check out Cascade de la Pisse somewhere past Briancon heading north. Apparently, he actually checked out our waterfalls website once I told him about it during last night's conversation.
I did have a waypoint for Cascade de la Pisse a Lanchantra, but I don't think that was the same one that Francois was advocating. In any case, I decided that since we'd have quite a bit of driving today, the waterfall goals for today were Saut de la Pucelle (Virgin) and Cascade de Glandieu. The original plan called for more waterfalls, including a couple within Vanoise National Park and another deep within Ecrins National Park.
However, knowing what we know now about driving conditions coupled with expected bad weather, I was being real selective today. I was also looking forward to checking out the Old Town of Annecy, which was right at the heart of the city of Annecy and at the mouth of Lake Annecy.
So we left at 7:20am, but not before Francois caught up with us and had a brief chat before we left. He said to us, "I didn't know you were famous! If I had known your passion for waterfalls, I have so many stories and suggestions for you."
Well, we thanked him for his warm hospitality and his helpfulness in giving us referrals for restaurants as well as loaning us maps.
If we had more time, it would've been cool to hang out with him on one of the backcountry hikes (weather permitting of course). Of course, coordinating schedules and circumstances like that would be difficult, but I guess the thought crossed my mind given all the storytelling and imagining we were doing last night.
And with that, we were on the road.
The drive was basically a little deja vu (already seen) on going north on the A7 in the direction of Lyon, which was something we did back when we visited Pont d'Arc then returned to Lyon nearly two weeks ago. We even saw the Montelimar rest stop, which had that Mickie D's as well as shops with a bunch of the nugat the area was known for.
We also passed by Valence again, which was a town whose name made me wonder if it had to do with Valence bands in atomic physics (like the number of available bonds that could be made for particular atoms to achieve stability). After all, France was pretty reliant on nuclear energy so perhaps there was a tie in there. I wasn't sure though.
The weather alternated between fair weather and heavy rains. The skies were dark most of the time. When the weather was wet, I was glad we didn't go the inland mountain route (which also would've been much slower), but I wondered what might have been had Mother Nature been kinder to us.
Yet, I knew that sweeping panoramas of snow-crusted mountains of the French Alps would be a pipe dream given all this bad weather (or the threat of it at times).
In any case, the A7 bought us a lot of time though it hurt in turns of autorute tolls. The original plan of going the inland mountain route (as Francois advocated) would've costed us at least a few hours more on the road.
Eventually, we'd leave the A7 and take different autoroutes going inland. It passed through Grenoble, which was said to be a nuclear town. We noticed it was a pretty big city with lots of industry.
We would then backtrack and head back into the mountains past Grenoble towards the southeast in the direction of Des Ecrins National Park. That was where we'd at least see Saut de la Pucelle, which was a roadside waterfall we had to at least bag given its ease to visit (i.e. little or no hike involved), but the driving involved lots of twisting cliff-hugging and narrow roads, it was still not a slam dunk.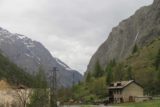 The drive on mountain roads hardly ever would be smooth because it was inevitable we'd have to follow diesel-belching camper vans or trucks, or even some tourist cars who refuse to use shoulders to let faster traffic pass. I can totally see why locals employ tailgating to put pressure on the slow driver to pull over and let people pass (though in the slow drivers' defense, convenient pullouts were few and far between in these parts).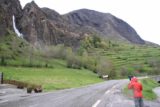 It wasn't until about 11:10am when we finally arrived at the Cascade de la Pucelle. The weather wasn't terrible when we arrived, but it was still alternating between light rain and overcast skies.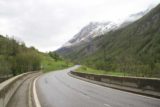 It wasn't optimal, but at least the clouds were high enough for us to see the snow-crusted mountains in the immediate area (for the most part).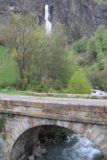 There was a large pullout area for parking though I suspected it was more for the inns or cafes nearby. But since it was quiet, we used it. Across the road, there was a small parking area on a smaller bridge right in front of the falls.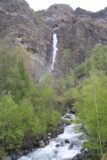 Even though we could see the gushing falls from the road, trees kind of obscured the lower parts of its twisting plume. So I went ahead and quickly hiked up a steep and muddy (i.e. slippery) path up a hill to get past the trees and closer to the falls.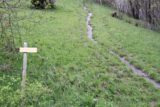 It turned out that once I got past the trees, the view was very wet and misty. It didn't stop me from taking photos and movies from here, but I'd imagine quite a few of them were ruined by waterspots.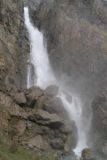 At 11:35am, we left the falls and headed back towards Grenoble. This was pretty much our experience of the Ecrins on this trip. I even decided we weren't going into the remote Vanois National Park to see a couple more falls there.
As we descended down the mountain, the skies seemed like they were starting to lighten up. This was something we weren't expecting given the forecast.
When I was being followed by locals who were screaming down the mountain, I found places to pull over for them. On two occassions, the passer blinked their emergency lights twice in appreciation. I don't think I've seen that before, but Julie thought it was cute that they let us know our gesture in this way.
I guess doing the courteous thing (not to mention reducing the stress on your own driving experience) is so simple yet so overlooked but appreciated no matter which country you go to. I'm sure mountain driving could be a bit safer if everyone followed this simple idea.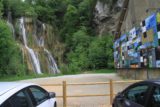 As we were motoring along the A8 (I believe), we'd eventually exit somewhere near Belley. This time, we made a short detour towards this sleepy town of Glandieu. Eventually at 2:10pm, we'd get right in front of the Cascade de Glandieu which was a multi-stranded algae-walled waterfall that Julie really enjoyed. She said this was the type of waterfall that had character.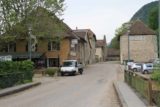 Opposite the falls was a large billboard with a bunch of photos of Nature put onto a large wall of a pretty old building. We weren't sure what the building was for nor the sign, which has something like "Land of…" a bunch of things.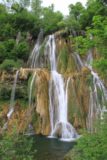 There were quite a handful of cars already parked here though we thought we were alone, but when we got closer to the falls, we saw there was a group of younger folks taking photos.
As we were about to say we were done with Cascade de Glandieu, the sun started to come out and amplify the color of the algae on the falls' underlying rock wall. So that kept us around a little bit longer before we were back in the car at 2:30pm.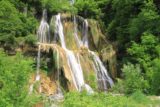 Next, the drive continuing along the A8 alternated between sprinkling weather and times of sun. We couldn't wait to check into our hotel in Annecy and check out the town, which was said to be like the Venice of France.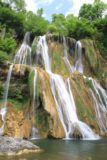 Well, we'd eventually make it to Annecy which was more like a large city. The city was loaded with cars in a traffic jam, and we'd eventually learn that all these cars were looking for parking! We'd join them in this frustrating search as apparently the town didn't have enough parking spaces let alone car park structures.
So we started this search at around 3:20pm, but it wasn't until we got towards the far north side of the lake near Parking St Bernadette that we finally got lucky and found a spot in the free public area at 4pm.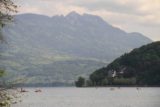 We could forget about Hotel de Ville Parking, which was the most strategic spot for the Old Annecy. But I knew that we'd have to hike to get back to the charming Old Annecy part of town where the canals were.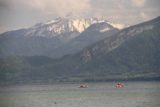 Since we knew we'd be far from our car, we brought our luggage. And so we embarked on a long walk (possibly 2 or 3km) carrying our stuff along a large promenade hugging the north side of the scenic Lake Annecy.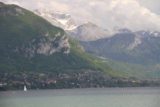 The walkway was very busy. There was also quite a bit of activity going on in the lake. The weather was kind to us in that we could see quite a bit of the snowy mountains backing the lake with charming homes and buildings sandwiched between the mountains and the blue-green lake whose colors came out when the sun managed to break through the clouds.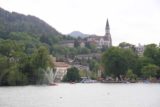 I could see stares and some laughter when our loud luggage wheels let the world know that we were tourists making this long walk of shame towards Old Annecy. But hey, we had to do what we had to do. Besides, the labor of the long walk was made easier by the scenery of the walk. Plus, the parking that we found happened to be gratuit (free).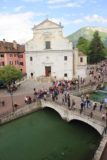 It wasn't until about 4:45pm that we finally checked into our room. That was when we finally unpacked our stuff and took a break from the stress of driving and parking.
Then, at 5:35pm, we returned into town to finally experience for ourselves the charm of Old Annecy. It wasn't long before we got to some dead parts of town though, and that was when it dawned on us that perhaps this town was composed of just a couple of blocks of pedestrian-only zones with the most picturesque parts being around the narrowest of the canals.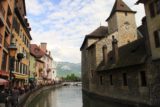 When we were outside the main Old Town part, we looked for some restaurants, but after seeing their menus (and hiking longer than expected), we decided to just eat in the Old Town.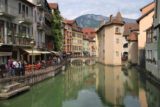 We'd eventually eat at this place called Estaminet mostly because there was terrace dining next to the canal. That pretty much put us in a romantic mood as this place had all the makings of that charming place that made us appreciate we were in France.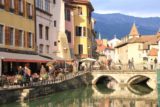 Speaking of romantic moods, this was something we were expecting to feel with a riverside stroll along the Seine in Paris, but it turned out that strolling alongside the canals in Annecy was where it was at!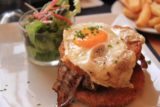 Anyways, we learned that Estaminet and other places here specialized in Savoyarde style fondue. Since Julie wasn't a fan of cheeses and she didn't want me to get terribly fat eating all that cheese and bread, we picked some alternate dishes that ended up making this restaurant experience pretty ordinary. She had mussels and I had some kind of horse meat burger. Oh well, you can't win them all especially if you're not going for the fondue here.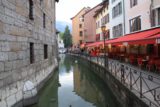 We were back in the room at about 8:45pm to do a little bit of more videoconferencing with family back home. It was also a bit too bright to take twilight photos amidst the charm of Annecy in lights.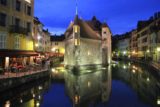 But about a half-hour later, we did just that. And as expected, we spent quite a bit of time taking night photos as well as checking out other restaurants in town just to get an idea of where we'd be eating next. I think it was at that time that Julie started to open up to the idea of fondue except it was have to be accompanied with charcuterie meats.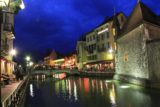 By 10:15pm, we were finally back in the room. It started to sprinkle and I started to worry about tomorrow's weather. But in any case, the now said that we mind as well enjoy the town and each other as the stress of going through the checklist of Provence melted away into a night where we could sleep without the alarm tomorrow morning as well as look forward to a light day of activities around the lake (though the parking remained on my mind)…
Visitor Comments:
No users have replied to the content on this page