Day 17: PROFITER DU JOUR
The nice thing about not having to wake up to an alarm clock is that you really feel refreshed as the day begins. But foremost on our minds was the weather.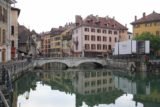 So when we awoke at 7:30am, we looked out the windows to see if there was any indication of what we were to expect on today's excursion day in and around Lac d'Annecy.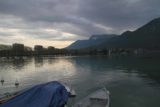 The forecast called for rain and possibly thundershowers, and sure enough when we were headed to the car (our hike before the hike, if you will, given how far we parked from the Vieil Ville), we felt a little bit of sprinkles with some dark clouds hanging over us.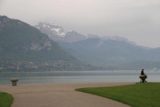 However, when we looked towards the south side of the lake (where we were headed to do our day's excursions), we could see it was full of menacing low clouds and lots of precipitation.
We ultimately regained our car at the free parking area on the far northeast side of the lake at 8:15am. By that time, it was already starting to rain as we were pulling out of the lot and headed further south along the eastern shores of Lac d'Annecy.
We already saw quite a number of people claiming parking spots this time of day so we could only imagine how much more painful the experience would be once we return from the day's excursions.
After making a quick stop at a boulangerie, we had our usual fare of croissants plus a quiche with pizza-like toppings in addition to a cold pizza as well.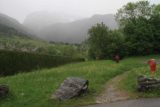 Just as we left the boulangerie and continued on the road to the trailhead of Cascade d'Angon, the rain was really comin down hard. When we arrived at the car park near some basketball court (at first we wasted another ten minutes trying to see if the dead-end road by some residences was where we were supposed to be hiking), it was 9:25am and we needed to put on our waterproof pants as well as rain ponchos.
It wasn't the ideal weather for spending an entire day in the Annecy area, but that's how Mother Nature is sometimes. In this case, I was hoping that the falls wasn't one of those tall ones that depend on how low the clouds would be hanging to determine whether we'd see anything or not.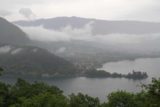 So we went ahead and pushed forward with the hike. Underneath the rainy clouds, we could see hints of some impressively shapely and tall mountains backing some of the smaller villages in the surrounding area.
Even though a good deal of the hike as under tree cover, we still felt some of the droplets hitting us so a rain poncho was definitely necessary.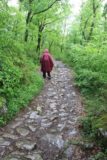 However, the surface was a combination of smoothly rounded rocks and some muddy parts with pools in them. We especially had to be careful while on the rounded rocks as it was easy to take a nasty spill.
The rain was pretty relentless for most of the hike so taking photos was difficult given how easy it was to get waterspots on the lens. But hwen we got to a part where the trail followed a ledge beneath overhanging cliffs (really had to mind the head here), it seemed like the weather started to let up.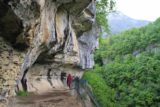 It was during this stretch of the hike that we started to get additional glimpses of the southern end of Lac d'Annecy and more of the atractive snowy peaks backing the charming towns sprinkled about the hills fronting these peaks.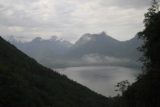 This part of the trail was especially slippery as it would undulate a bit by going down then up then back down until we finally started to see and hear the cascades making up Cascade d'Angon.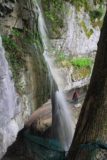 The falls was actually a pair of waterfalls that ultimately converged below us. The first falls was one that the trail went behind. It also seemed a bit lighter flowing.
The second one was at the very end of the trail. This one had a more powerful flow and it seemed to plunge right into what appeared to be a hole (though it was really more of an alcove).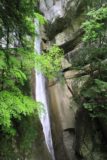 Both waterfalls were difficult to photo in their entirety given all the trees and cliffs blocking their view in the immediate foreground.
So at 10:15am, we proceeded further along the trail up until we got right to its end almost touching the bigger of the two waterfalls. It was during the stretch between the two waterfalls that I took a pretty nasty spill given how slippery the terrain was in addition to an additional stretch of going steeply dwn, then up, then back down, then even more steeply back up.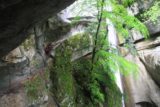 I ended up getting mud all over my rain poncho, my waterproof pants, and even my backpack which broke my fall. Despite the shock of falling flat on my back, I managed to escape bodily harm except for momentarily extending the range of my frozen shoulder when I fell while holding onto the rail.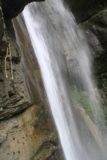 Even though the signs through the hike indicated that the hike itself was only 20 minutes each way, it took us much longer to enjoy these waterfalls as it probably took us at least a half-hour more to go between the falls and ultimately towards the trail's end.
It looked like there were ropes or chains that daring visitors could hold onto while clinging to a narrow ledge with a death-defying drop alongside the main waterfall. I swore I saw internet photos of people doing just this so they could touch the falls itself, but given how slippery the footing was and how utterly unnecessary this exercise seemed, it never really crossed our minds though we'd think people who do decide to jump the barricade and do this are crazy!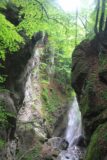 Despite the difficulty in trying to capture the dramatic and vertigo inducing scenery in our photos and movies, we still spent plenty of time figuring out ways to communicate it in such photos and movies. Though it didn't necessarily mean we succeeded in doing so.
By about 10:50am, we were already slowly making our way back to the falls spur just outside the cliffy part of the hike. It was at this time that the sun started showing itself along with blue skies.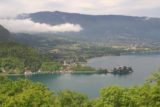 All of the sudden, we were starting to see color in the lake as a result of the sun. The skies were also starting to reveal snow-crusted mountains backing the surrounding scenery on the south side of the lake.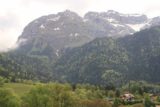 By about 11:10am, we were back at the car. We were the only ones on the trail, but that was when we saw a pretty large group of people start on the same trail that we were on.
Next, the GPS had us take a pretty narrow and winding road up towards a col (pass) where the town up at this higher elevation reminded us of some of those Swiss villages hugging mountain plateaus and cliffs backed by impressive snowy mountains. Unfortunately, obvious pullout spots to take photos were practically non-existent so we didn't have any photos to show for it.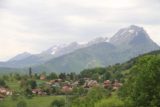 Ultimately, we'd arrive at the car park for the cave and waterfall of Seythenex at 11:50am. The admission price was about 7 euros per person.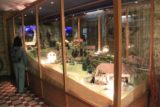 Now, the weather was really clearing up and getting warm. It was an amazing contrast to the weather we had just experienced at the beginning of the day.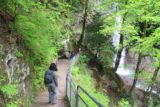 We happened to pay for admission at about noon, which was 15 minutes before a cave tour. So we killed some time checking out a pretty interesting model of the area complete with running water emulating the falls as well as the stream system running a small-scale hydro as well as waterwheel and mill.
It was actually a pretty nifty and elaborate model.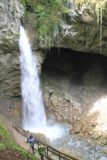 Once we had our fill of this, it was time to check out the real thing before doing the cave tour. This was when we saw the impressively gushing waterfall, which we knew we would spend more time seeing once the cave tour was over.
At 12:15pm, we started the cave tour in which there were about eight of us (we were the only English-speaking folks) so the tour guide gave his spiel about the cave mostly in French before giving the same or condensed spiel in English.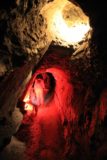 It was a pretty informative tour explaining how the formations came about in this cave, which seemed younger than most of the caves that we've visited over the years.
However, this one had an interesting history and legend claiming that some of the passageways actually led beneath the church of the neighboring village. It's said that given the legend of one of the clergymen actually went down into these caves centuries ago so there might even be evidence of historical artifacts or other tid bits that could be used to further reveal the history of the place.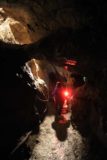 At about 1:05pm, we reached the turnaround point of the tour. The guide said next year they were going to build a bridge across the gap below us and reveal more chambers. Of course that wasn't of interest to us since we weren't going to be here next year or possibly many years thereafter.
At 1:15pm, our tour was done, but we could see there was an even larger crowd of people waiting to go in. We even noticed a little arch on the way out that somehow we didn't notice on the way in.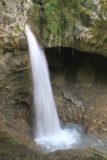 So with the cave tour over, we were able to fully enjoy the waterfall here. It took me another 15 minutes to climb the stairs and see what was up there. It turned out that there was a smaller tier of the gushing falls before it made its dramatic plunge below. However, I think the real reason for this path was the start of the zipline.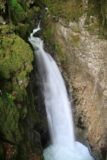 By about 1:45pm, both Julie and I were done with exploring the lower sections of the trail, which didn't seem as attractive given some man-made structures fronting the powerful waterfall.
Now, we had to face the prospect of finding parking near the Old Annecy town. Yesterday, it was a stressful 40-minute plus affair before we lucked out finding free parking far away from town.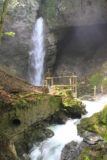 This time however, we got back to town and the Hotel de Ville parking at 2:20pm. This time since the parking was already "complet" (full), the ticket dispenser wouldn't release any tickets. So we flipped off the engine and waiting for people to leave before we could finally get inside.
Actually, this was a pretty efficient system. Instead of having more people find limited parking and create traffic inside the structure, they only let as many people in as there were available spots. I wonder when we'll ever adopt this kind of system back at home?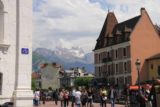 At 2:30pm, we finally were able to get our ticket and even get parking! In hindsight, we probably should've waited to park in this lot all along, but in any case, we saved ourselves one full day of parking plus we were now able to enjoy the rest of the day, or profiter du jour.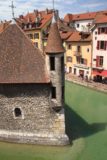 By about 2:45pm, we were back in our room changing out of our muddy clothes and looking more presentable within the bustling old town again, which we got back to a half-hour later. By this time, the weather was almost picture perfect as blue skies were abundant and the sun gave the canal waters a bit of a greenish color while also bringing out the colors of the buildings flanking it as well.
Julie and I spoiled ourselves with some galettes (buckwheat crepes) from this place in town that served Breton-style cider and crepes, which we knew we were going to miss once we got home.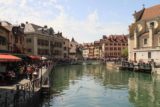 We pretty much meandered about and soaked in the charming atmosphere of Old Annecy. This was one of those days I envisioned heading into this trip where we'd go waterfalling first then give ourselves the ability to enjoy the rest of the day. And in this case, we felt like we truly enjoyed being in the moment knowing that it seemed like all of France was enjoying the picturesque lake as well as the charming old town. It was basically romantic France at its best and indeed today was a good day.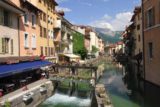 It was about 4pm when we tried to see if we could explore the chateau above the old town, but we learned that they were opening up the doors for free after 6pm. So we decided to punt this visit for later. That gave us time to go back to the room at 5:30pm and take a quick nap after talking to family via Skype.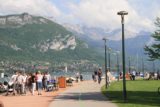 At 6:30pm, we were back in town. We were looking for a dinner place to have an early dinner knowing that we could maximize our likelihood of being quick about it if we were early. It seemed like most French preferred eating later (like 8pm or so), which would leave little time do anything else for the evening given how dinners typically take at least 90 minutes or more.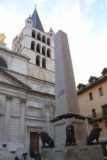 We had ourselves a fondue (something that seemed to be well-known in these parts) as well as some local perch from the lake. When we were done eating, we then waited in line to go into the chateau, and when we did visit, it was basically a bit of a museum walk.
We were glad we didn't pay the 5 euros per person to go into this as I was hoping for dramatic lake views under the fading afternoon sun (which was starting to hide behind menacing storm clouds) which never panned out. Based on this, we didn't even bother visiting the Palace of the Isle in the middle of the main canal.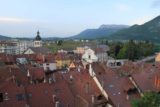 After doing this visit, we came back to that Breton-style crepe place again. This time, we got ourselves a bottle of the sweet alcoholic apple cider as well as a couple more dessert crepes.
By 9pm, we were all creped out as well as cidered out. We did a little bit more walking around before we were finally back in our room at 10:10pm. That was when we were able to sleep and essentially filter out the music and chatter from the outside of our hotel given how tired and satisfied we were with today.