Day 18: LA ROUTE BLANCHE
I awoke at 6am and Julie awoke about 45 minutes later. I was worried that the weather predicts might finally catch up to our luck on this day, but when I looked out the window, there was hardly a cloud in sight.
Annecy (as with most of France) seemed to be the quietest in the morning. The only activity going on outside were street cleaners and the odd youngsters perhaps recovering from a late night of partying.
In any case, it wasn't until about 7:50am that we finally packed up and left our hotel in Annecy. With the validation from the hotel, our parking cost went from something like 12.6 euros to 4.6 euros.
Today, we didn't have a whole lot of expectations in terms of waterfalling. We were basically aiming for Cascade d'Arpenaz and Cascade de Berard before finishing the day in the charming lakeside medieval town of Yvoire (a town that Julie once visited before with her mum a few years ago on a packaged tour).
The original plan called for driving back towards Vanoise National Park, but that was overly ambitious given the remoteness of that park and knowing what I know now about how slow rural driving truly is in France.
In any case, we went through the quiet streets of Annecy (though it was picking up) and were on the autoroute. Most of the drive involved going through the autoroutes and before we knew it, it was about 8:55am when the GPS noted that we were approaching Cascade d'Arpenaz.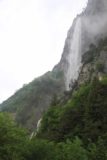 Actually, we saw another attractive cascade from the autoroute just a few moments prior, but we couldn't find a proper place to pull over and enjoy that falls. It could be argued that the other falls might've been more attractive and maybe even taller or at least longer than that of Arpenaz.
Nonetheless, we followed the GPS directions and ended up at a car park for the falls just past the small village of Luzier.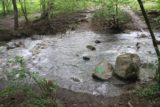 From up this close, the falls looked a lot less substantial than when seen from a distance (like the autoroute for example), but I used this time to quickly hike the short distance towards a less obstructed view of the falls from its misty base.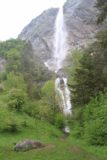 To get here however, I had to cross the stream so I managed to do it in my Chacos after taking off my socks. The water was icy cold so my feet were painfully numb, but thankfully the crossing was short.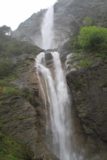 When I regained the car where (as Julie was waiting for me), we gradually drove away from the car park and caught additional views of the falls from a distance. Once from the far side of a picnic area fronted by pretty flowers while another stop was well before the town of Luzier.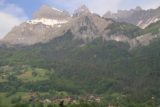 The whole time we were in and around the falls, there were scenic panoramas looking across the valley towards more shapely peaks with a dusting of snow on them as well as other smaller and perhaps unknown cascades draining their snowmelt.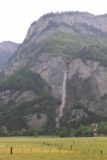 We left the Cascade d'Arpenaz and rejoined the autoroute at 9:25am. However, at about ten minutes later, we made another stop at a rest area where signage indicated that there was a panorama of Mt Blanc, which was France's highest point.
The massif's glacial ice was glistening against the morning sun, and we could easily see why it was called the "white mountain" as it seemed to be perpetually covered in snow or glacial ice.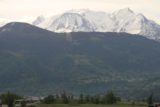 The summit was broad and not sharp. We basically needed the aid of the signs to point out the otherwise unassuming massif, which was also joined by other snowy peaks and massifs. It's kind of like picking out Mt Whitney from the other neighboring 14,000ft peaks in the Eastern Sierras near Lone Pine.
While at the rest stop, I also had to use the facilities there, which was basically a latrine. It was a bit tough on the thighs squatting for a long period of time to go #2, but I suppose this was the more natural position anyways. Sometimes I wonder if I had grown up in Asia or something, would I have preferred using latrines to toilets?
At 9:55am, we left the Mt Blanc rest area and proceeded along the autoroute, which promptly ended and became a rather dramatic and costly looking viaduct or highway propped up by pillars called La Route Blanche (the white route).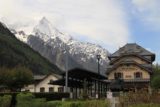 It was after crossing this combination of viaduct and tunnels that we arrived at the alpine village (more like a resort town in much the same spirit as Mammoth Lakes) called Chamonix.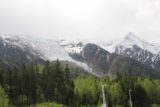 We made a quick brekkie stop here while entertaining the idea of seeing the Sea of Ice (Mer de Glace) after the person who prepared the sandwich for us explained where the neighboring train was going.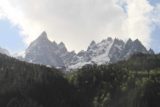 But since we had seen ice caves and glaciers many times before, we stuck with our plan and passed on it. Besides, there were quite a few tour buses and tourists so even though it was shoulder (moyenne) season right now, there was still quite a bit of activity, and plus there were clouds already starting to obscure the upper reaches of the glacier.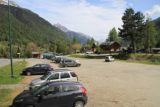 At 10:30am, we left Chamonix and continued heading towards the Italian border. We passed over some mountain pass (or col) before the GPS informed us that we were approaching the waypoint I marked for the Cascade de Berard Trailhead, which happened to be next to a train station at the town of Le Buet.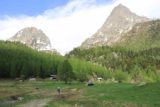 We started hiking at a little after 10:50am where the trail crossed the highway then immediately started to ascend. At first, there was an open area near a non-operating cable car (for a skiing school?) where we could see pretty peaks towering over the trees surrounding us.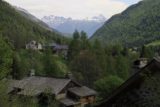 As we climbed further along the trail, we passed by some mountain chalets or residences where views looking towards Italy provided more impressive snowy peaks backing a V-shaped valley, while looking against the sun towards Chamonix showed some jagged peaks with some clouds starting to obscure other peaks adjacent to them.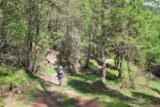 The trail continued to climb as it entered the forest. After about another 25 minutes (the sign did say it was a 20-minute walk though), we reached a bridge and some structure that was above the falls.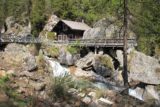 The view from here wasn't satisfying. So after crossing the bridge, we went looking for ways to get a better view of the falls as we could clearly see there was a walkway and overlook further down below.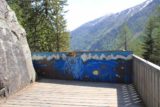 Unfortunately, there was a barricade that ensured that we could progress no further. Some sign written in French said something to the effect that further progress was forbidden to the public though there was a project in place since 2008 that was suppose to improve the rive droit part of the stream (right bank – the part with the overlook).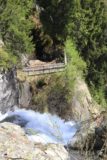 I guess you can't win them all and this detour to Cascade de Berard was a bit of a disappointment. I guess the silver lining to this fail was that it gave us an excuse to experience briefly the French Alps and namely its famous Mt Blanc and Chamonix.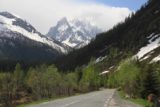 We returned to the car at 11:40am and spent the next nearly two hours navigating autoroutes (and paying tolls of course) as well as driving locally towards the medieval town of Yvoire.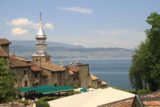 At 1:30pm, we arrived in the town of Yvoire where we initially parked at lot 3. We thought we had to walk quite a ways to get into town so we went lean with our belongings. But when we checked in a little after 1:45pm, the receptionist told us that there was free hotel parking on the backside of the property.
So after dropping off our carried on belongings in the room, I raced to go back to the caisse (cashier), which was machine operated, then inserted my ticket, and learned that I was five minutes too late. I owed euros since only the first half-hour was free. So after summoning Julie to bring the euros, we paid the fee, moved the car, and finally got our desired parking.
With parking so close to our room, there was now no need to go lean (like in Mont-St-Michel) so I brought the rest of our luggage into our room.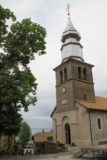 So far the weather had been kind to us as there were still some blue skies above us. We could see Lake Geneva (or Lac Leman in French) and even see across the lake towards the Swiss side.
But as we were going into town at around 2:20pm, the clouds overtook us and kind of made the scene a bit gray for the moment. We could tell that perhaps our luck in terms of the forecast being mostly wrong for the better might finally catch up with us.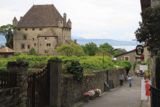 Anyways, after having pizza (narrowly making it before they were about to close for lunch), we walked around town and enjoyed the charm of the town.
I guess what made this town charming was all the flowers fronting windows and doors of old-school medieval buildings as well as ivy growing on the walls of many of these buildings. I couldn't really say there were signature photos of this place that might communicate the history and charm of the town though. It was more like something that had to be experienced.
Apparently, this cute town also had a bit of a crowd, which were mostly day visitors perhaps from Geneva. I know Julie came here with her mum once before, and that was probably why she chose to spend a night here so she wouldn't have to see it while being so rushed (which was the case with the tour).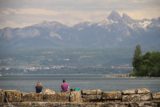 Just as suddenly as the clouds overtook us, the skies cleared once again. So we took a few more photos from as many spots as we could reasonably see – from the harbor, beneath the church, along the narrow pedestrian walkways, and from the jetties, etc.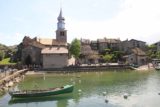 Pretty much declaring our sightseeing of the town momentarily done, we were back at the hotel at 4:45pm. We used this time to Skype the family and see Tahia once again. I also used this time to nap as my body was clearly telling me I had to doze off. I'm sure Julie did whatever internetting she felt she needed to do during this time.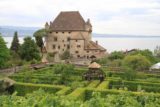 It wasn't until 7pm when Julie woke me up and we had to go back into town to get dinner. We had booked this place called Les Jardins du Leman, which featured terrace dining with a view over Les Jardin des Cinq Sens (Garden of 5 Senses) and towards some chateau or other medieval building fronting Lake Geneva.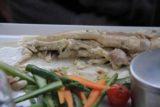 While the dinner of local perch and a differently prepared veal was tasty and satisfying, we didn't appreciate the two hours of inhaling second-hand smoke from other smokers; including one who happened to be sitting next to us.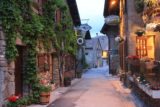 After the dinner was done at 9pm, we did a quick tour of the town at twilight hoping to catch some moody photos of the town at night. However, it seemed like the town was pretty much dead (definitely not happening like Carcassonne or Annecy at night), and so we were back at our hotel room about a half-hour later.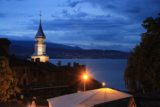 We caught one last glimpse of the church and part of town from the balcony of our room. It was there that I saw a few flashes of lightning in the distance across the lake on the Swiss side. Apparently, it looked like our luck with the good weather (despite the gloomy forecasts we kept seeing) will end…
Visitor Comments:
No users have replied to the content on this page