Day 20: SATURATION
We both awoke at 6:15am even though our alarms had sounded at least 15 minutes earlier than that. Apparently, it had rained throughout the night, but the rains continued even into our waking hours.
When we left the apparthotel at 7:10am, it was raining lightly, but the fog was hanging low so the drizzle was constant.
Today, we were headed deep into the Jura Mountains of the Franche-Comte Department. It was pretty much going to be all waterfalling for today, which I knew Julie wasn't too keen on as she was pretty waterfalled out. Plus, the rainy weather didn't help our collective moods either.
The road we took steeply wound its way up into the Jura Mountains through the town of Gex (I only remembered it because of its unusual name) and somewhere well into the twisty and foggy confines of these mountains.
The conditions of the drive were a slippery mix of constant rain and/or drizzle as well as pretty thick fog. Even with such treacherous road conditions, locals were still driving these roads as if there were neither slick roads nor fog. The best I could do was to pull over and let them pass (with the now-familiar two hazard light blinks acknowledging thanks to me).
Even though the GPS suggested that our drive would take about an hour or so, the reality was that it was really a two-hour drive. The last half-hour or so of driving involved us following signs that put us on a 21km route that circled the Herisson Valley before descending into it and driving up to the bottom of the network of waterfalls we were expecting to see.
Adding to the confusion (since we didn't know what to expect other than trying to find the Maison de Herisson or House of Herisson) were a bunch of other signs saying Cascades de Herisson except it didn't look like the type of place to get started with very limited parking and the Herisson House nowhere to be found.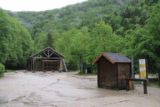 But eventually, we reached the car park near the Maison du Herisson at 9:10am. The road passed by a couple of small lakes, but given the foul weather and the low-hanging clouds, we didn't stop for them, nor did we stop at the other car parks (for Girard and Eventail – a couple of the Herisson Waterfalls).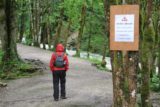 There were a few mozzies hovering around us at the car park so we were hasty to put on our waterproof pants and rain ponchos and get moving so the mozzies don't get free shots at us.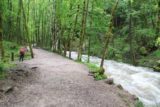 As we walked past the camping area and then the closed Maison de Herisson (they don't open until 11am?!?), we were on the wide path leading to the waterfalls.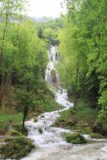 Right off the bat at 9:35am, we saw an attractive waterfall across the rushing Herisson Stream. There was a signpost that said "Tuffiere"). It was tall and the kind of waterfall that would be attractive in long exposure.
So we took some photos and movies of this, but we knew there were bigger fish to fry so to speak.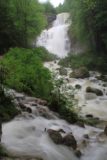 Next, it wasn't but a few more minutes before we were face-to-face with the gushing Cascade de l'Eventail. This one appeared to have multiple tiers, but given the volume of water, all the tiers almost blended together.
There was so much volume that the mist at its base was intense and spraying the trail. There was also a little bit of a waterwheel off one of its drops.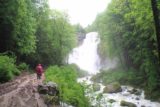 It was a good thing we came prepared for the wet weather, including the waterfall sprays. So with our waterproof pants and rain ponchos, we confidently went through the intense spray only to be blasted in the face, which was our only exposed part to the elements.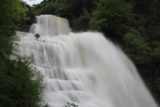 At 9:50am, we got past the misty part of Eventail and proceeded to take more photos and movies of the impressive falls. Little did we realize that we would be making many more photo stops, which would ultimately make this fairly long hike seem much shorter.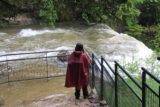 The trail eventually got to the top of Eventail where we tried to get as close to the brink of the falls as possible (railings were provided to keep us from getting too close), but there was flooding penetrating even the "safe" zones so we could only get so close. Apparently, the Herisson stream was in a pretty swollen state given the saturation rains from today and yesterday.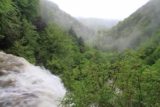 We then continued along the trail crossing a footbridge over the Herisson and then to a point where we saw a closure sign and blockade preventing us from taking the path towards the base of the Grand Saut. Apparently, the risk of rock fall was too great to allow the public to access.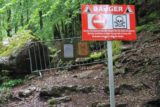 So we climbed up the switchbacks per the sanctioned path and then were faced with another barricade at a junction. This time, we could see a hint of the Grand Saut tantalizingly within reach and we had a dilemma on our hands.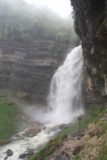 Should we be rebellious and go past the barricades knowing that there probably wouldn't be a good view of the Grand Saut otherwise? Or should we play it safe and deny ourselves a satisfying view of the falls?
Well, we ultimately decided to just take the risk and be rebellious. So the path descended along a narrow trail that was hugging cliffs.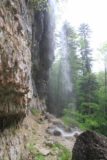 There was enough water that little waterfalls were coming down from the cliffs and falling right onto the narrow trail. Once again, it was a good thing we had waterproof gear so we could take the deluge while protecting our camera equipment.
However, I could totally see why the authorities here feared potentially fatal rockfalls.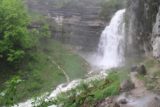 On the other hand, we had seen worse than this. This goes back to how much trust the authorities have in visitors' judgment on knowing what they're getting themselves into. Some are more paranoid about this and are more liberal about closures, while others won't force you not to do it but they won't be responsible if anything happens.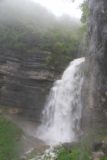 Well, we knew what we were getting ourselves into.
In any case, we got as far as the views from this side of Grand Saut were satisfactory. As tempting as it might've been to go behind the falls along that trail, the mist at the base looked very intense. It looked even more intense at the other side of the stream as well.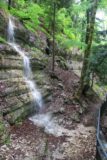 So we just took our photos and movies here and then headed back to the main trail before we might either get busted or let Mother Nature take it out on us for tempting fate.
So we were back on the main trail and eventually made it to the top of the Grand Saut at about 11am. As we looked down the valley from this panorama, we could see clouds have drifted down well into the valley. Whatever grand views that typically one might've seen here all of the sudden felt more claustrophic with so much clouds and fog reducing visibility.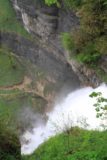 After getting our top down views of Grand Saut, we continued along the trail some more seeing another small cascade en route. However, it didn't take long before we reached a part of the trail that was flooded at 11:25am.
Given the strength of the currents of the apparently swollen Herisson stream, we decided that this was our turnaround point. We knew there were other trailheads and access points further up the valley so it made no sense to try to continue on the flooded trail knowing that one slip and we could easily be swept away.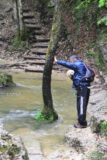 So we headed back and noticed that on the way down, there were quite a few more people on the trail. At first, we thought we'd be the only ones on this trail on this miserably soaked day, but I guess the French don't really start their activities until well into the day.
We were back at the car at 12pm. Just before we got to the car, we saw a giant group of middle-aged to senior hikers heading towards the falls.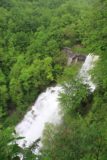 So we drove out of the valley and towards the upper access points of the Herisson via the road we took to get in. It wasn't until about 12:30pm that we found the nearest car park for Saut Girard, which was just a few minutes from La Fromagerie (one of the access points for Saut Girard in 800m).
The hike down from the car park was actually quite short. It took me perhaps less than 10 minutes to get to the bridge right in front of the Saut Girard, which was also very powerful and tall at 35m. However, there was quite a bit more infrastructure around this falls than the other ones we saw this morning.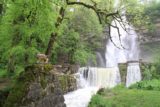 In this case, there was a statue of some wild cat as well as a bridge and mill just downstream of the falls. There was also a little dam fronting the falls, which I'm not sure what it was for.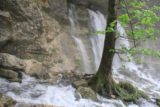 What was interesting about Saut Girard was that it was accompanied by a handful of other smaller falls, including a pair that seemed to emerge from the cliffs as springs. But getting the most satisfying photos from both sides of the stream involved getting blasted with mist which made it difficult.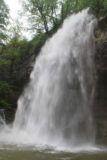 So I did what I could, and just before I was about to leave, I saw a group of horseback-riders posing in front of the falls by the bridge. I helped them take a group photo before I made it back to the car and rejoined the awaiting Julie at 1pm.
At this point, we were in a bit of a hurry because we knew that lunches in France were very short term – typically from 12:00-14:00. And when you're close enough to closing time for lunch, they won't take you.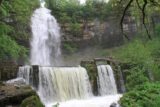 But the GPS indicated that the three possible Burgundy-style escargot places (farmed from Courbozon according to Escargot-Comtois, an escargot farm who no longer does their own dining or accommodations) were roughly 40 minutes away. And Julie was determined to give fresh Burgundy-style escargots a go despite the odds that were stacked against us.
So given that, we were supposed to be at the restaurants before 2pm. Whether it would be sufficiently early enough would be a tough call. But with Julie being the foodie that she is, she was determined to try (just like she was determined to go for authentic Italian pizza in Nice though that turned up blank).
The drive was fairly straightforward though we did have to follow a particularly slow driver in an old-fashioned model-T like voiture (car) that was spewing out pretty toxic exhaust. He left a huge line of cars in which we were caught and it didn't help our cause in terms of getting to lunch before closing time.
Anyways, we eventually made it to this place called Le Clos Fleuri at 1:50pm. It looked both open and busy. Were we finally going to try Burgogne-style escargots (something we'd been seeking but have been unsuccessful in having for the three weeks we'd been in France)?
Well, after requesting for a table for two, we were turned away. It wasn't clear why, but perhaps we were too close to closing time. One thing we didn't think of asking to do at the time but should've done was to ask for the escargots a emporter (to takeaway).
But alas, we thought we could find the other two places as fallback. So we went ahead and tried for the next place called Le Brasserie Strasbourg.
It wasn't until about 2:30pm that we finally found parking in the busy city (something we weren't expecting considering we were used to seeing small villages and rural farms the whole day). But when we walked into the restaurant, we looked at their menu and didn't see escargot in it.
When we finally asked a waitress (wearing a rather impatient-looking expression) in French a whether they offered escargot, she said no. So that was it for this attempt and we were 0 for 2.
Next, we tried to drive back in the direction of Courbozon (to Macornay) towards this place called Savignard. Unfortunately, its address took us to a place that was no longer a restaurant.
That made us 0 for 3 and SOL. It was like that pizza ghost-chase in Nice that costed us a couple of hours. This also costed us a couple of hours or more plus quite a bit of petrol.
Whatever the case, we went without lunch. Now it was 2:40pm and we had to go back in the direction of our accommodation. But given the detour that we took to get all the way to the western side of the Jura Mountains, we now had to take some rural roads to get back on track in the direction of Geneva.
The weather remained foggy and misty, which didn't help our speed. But I decided that we mind as well do at least one more waterfall before closing the book on waterfalling in France for this trip (we weren't about to do another one tomorrow).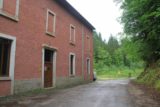 So we headed towards the Cascade de Flumen, which seemed like a pretty big and spectacular one to do. And after all that mountain driving, we eventually found signs for the Flumen Gorge in this mountain-hugging town called Le Martinet (I think).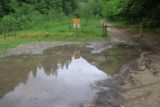 The signs eventually led us down this real narrow single-lane road where I wasn't sure if it was really a trail or not. In any case, there were sections of unpaved road plus potholes that further undermined my confidence on proceeding with our compact rental car. Nonetheless, the narrow road followed alongside the Flumen Stream and ended at a small hydro facility. There, we parked our car at about 3:55pm.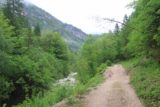 The skies still looked dark and threatening, but the signs indicated it was only a 20 minute walk. So we took for granted that it was a short walk and left our waterproof gear except for one rain poncho.
Anyways, we went on the trail just as there was a fisherman who came back to the trailhead. But after he left, it was just Julie and I.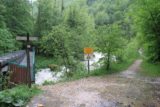 The trail was pretty wide and straightforward. It seemed like a trail that wouldn't have been here if not for the hydroelectric developments down here as the trail seemed to follow along some power lines.
As we eventually got to a bridge near some more hydro-related infrastructure, we then continued along a trail hugging the Flumen as the path was now much narrower than before.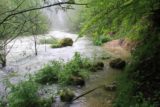 We'd ultimately take the river-hugging trail to a point where it was flooded. After seeing how much of the trail leading to the base was inundated plus the high speed of the current, we weren't about to tempt fate and turned back.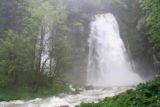 Fortunately for us, there was another trail leading higher up the hill. The trail eventually degenerated into a scramble back down towards the base of what was apparently a trio of waterfalls across the raging stream but past the flooded sections we had encountered earlier.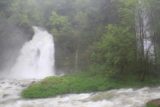 Unfortunately, trying to take photos and movies down here was an exercise in putting our electronics in jeopardy given how misty and windy it was down here.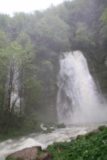 I don't think our photos turned out given how easy it was to get waterspots all over our lenses, plus our clothes ended up getting wet thanks to us neglecting to bring our waterproof pants as well as the other rain poncho. I still had my rain poncho, but it was not that effective against the self-generated wind from the falls.
Well, it wasn't only hard to take photos from a mist standpoint, but it was also hard to capture the action in a photo given how far apart the three waterfalls were in this head of the gorge. Clearly, the river was swollen as we could see there might've been better views along the trail except now those parts of the trail were part of the rushing current.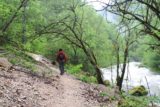 Anyways, we did what we could, but we left knowing that it was getting darker and the skies were once again threatening to pour. The thought did cross my mind that the swollen stream might actually rise some more if further upstream was still pouring. If that happened, there was a chance we could be stranded here.
So we hastily went back towards the car and got there at 5:30pm.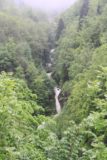 Next, we followed our GPS and headed back towards Geneva. But along the way as we were on the D436, we saw a pullout upstream from where Cascade de Flumen was supposed to be. Actually, there was a roadside view of it, but there was no pullouts for it. That could've possibly been the most satisfying view of the falls. Too bad they didn't have a pullout for it.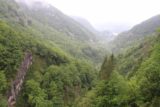 Anyways, we were well up the canyon from that point when we stopped at 5:30pm for the Saut du Chien, which had a pullout. A few paces further down the road, there was even a 5-minute steep trail for Cascade du Moulin d'Aval. I wasn't sure if that was the same falls as the Saut du Chien, but I wasn't going to take the time to visit both when we were pretty waterfall-saturated and didn't want to linger too much longer.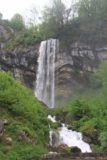 As we continued along the D436, there was yet another waterfall up the head of the gorge. This time, it was in front of a switchback in the road.
The falls was tall and vertical, and there was a large pullout in front of it. So we stopped by, took photos of it, and saw that it was called Chapeau de Gendarme from the sign in the pullout.
Anyways, we were finally done with this falls and continued the mountain descent back towards Prevessin-Moens. We'd eventually make it back by 6:40pm where all of the sudden, the weather down in the valley was much more benign than the saturation rains we had been exposed to all day long in the Jura Mountains.
I don't know what it was, but le pays qui respire (the country that breathes or something like that), which was the expression for the remote Franche-Comte Department, was definitely like breathing mist more than air. However, down below the mountains, in a bit of a shocker, there were some blue skies!
So after getting all settled, we went for dinner at around 7:15pm where once again we had Vietnamese food at that same place we were at last night. And once again, we had a pretty light dinner although nearly $40USD Vietnamese food is still pricier than some of the best Little Saigon places we've been to back at home.
By about 8:15pm, we were back at the apparthotel where we had trouble Skyping Tahia and family given the poor internet connection. But we did utilize the internet to make bookings for an escargot place as well as a soufflee place back in Paris for tomorrow. I guess the bitter pill of today's escargot fail was enough of a motivator to make us determined to have one last go at authentic and quality French food before going home the day after tomorrow.
One thing was for sure though. We both missed being with our daughter (Skyping her for the last two or thee weeks just didn't feel sufficient for parental love) and we really looked forward to being back home. I guess the expensiveness of this trip, the relative lack of variety in foods here in France, plus the foul weather for most of the trip made us really appreciate the variety and fine weather we're spoiled with back in LA.
In any case, we couldn't wait a retourner chez nous (to return home)…