Days 21-22: FIN DU VOYAGE
Today we were supposed to wake up at 5am, but we overslept and woke up at 6am. The weather looked like it was much calmer than yesterday, but it was too bad we wouldn't get to enjoy it when it mattered. Why does this always happen to us?
In any case, we were done packing and headed out of Prevessin-Moens at 6:50am. We weren't messing around and we were headed straight back to Lyon.
The GPS had said we would be back at the Hertz Part Dieu at the Gare de Lyon Part Dieu at around 8:30am, but the reality was that we finally made it through the city's labyrinth of traffic, tunnels, and one-way streets to get to the proper lot at 9:10am. Indeed, we probably spent the last half-hour in the city alone!
We were a bit concerned about not making the 10am TGV train back to Paris because we had a lunch reservation at this place called Le Souffle, which Julie made bookings for yesterday at 13:45. We knew there were still logistical things to do like returning the car, getting the TGV tickets, taking the train to our accommodation, checking in and dropping off our luggage, and taking the metro to enable us to get to the right restaurant.
Fortunately, the care hire return went without a hitch as well as the TGV train ticket purchase.
The train ride was pretty much spent getting caught up on sleep thanks to the comfortably smooth ride. It was definitely nice not to have to worry about driving again.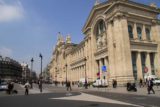 We made it to the Gare de Lyon five minutes earlier than scheduled at 12:05pm, then we took the RER line to get to Gare du Nord. From there, our hotel was right across the street and we finally checked in our room and dropped off our bags at 12:50pm.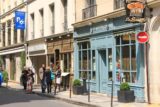 Ten minutes later, we went back down into the familiar metro and took it towards the Tuileries stop where we walked a few blocks towards Le Souffle. We arrived at around 1:30pm, which was 15 minutes early, but they seated us five minutes later.
It was a good thing we made reservations because without them, we probably would've been turned away like we were during our pursuit of Burgogne escargots near Courbozon yesterday.
The meal pretty much consisted of a variety of savory and sweet souffles. The savory souffles was something new and unique (like my "Henry IV" which had chicken, broth, butter, and cheese). Even my entree was a savory souffle of spinach and goat cheese as well. And who can forget my chocolate souffle with Julie's Grand Marnier souffle.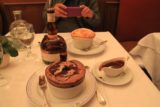 Basically, this meal ruined all of our past and future souffle experiences at home. Like many of the other things we experienced in France (e.g. Breton apple cider, galettes, and crepes; croissants from all over; etc.), we knew we'd never have souffle quite like this again (or at least until we return to France).
When we left the restaurant fully sated at around 2:45pm, we went shopping at the La Fayette mall, which was one crazy big mall. It was so big that an entire floor (which was easily several city blocks squared) was devoted to women's shoes! Other floors were about other things like fashions, loisir (leisure), etc.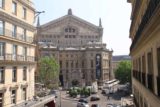 Well, shopping generally takes a lot out of me (even if we don't buy anything or very few things) so when we were finally done looking to bring souvenirs home at 4:25pm, we made one more stop at Laduree to bring some macarons back home. Apparently, the photo incident three weeks ago (when someone in the shop made Julie delete her photos taken of macarons inside the shop) didn't stop Julie from coming back.
Anyways, we went straight back to our room to drop off more stuff at 5:30pm. That was when we Skyped home again and had another chat with our lovely daughter and Julie's mom.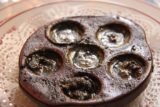 At 6:30pm, we were back in town looking for our dinner place to fulfill our 7pm reservation. This time, Julie was aiming to get that escargot experience she was denied yesterday.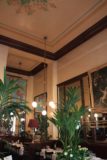 And since we were one of the first to be seated and eat (since Parisians seem to have their dinners after 8pm), we had our meals (including the Burgundy-style escargots) and finished around 8:45pm or 9pm-ish.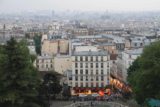 We spent some time checking out the Sacre Coeur, which was surprisingly busy with people in both the lawn area and the steps right in front of the basilica.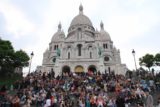 The photos we took here didn't totally pan out though the views of Paris were quite nice (though it could've been better with lights). But our visit here was pretty much ended for us when park officials booted everyone out of the park area as the area had closed for the day as it was past 9:30pm.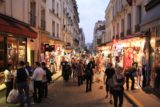 It was at that time that we returned back to our room at about 10:15pm and called it a night. We were pretty much done with spending lots of money on this trip and we couldn't wait to go home to see our family and especially our dearly missed daughter.
In the past, I'd be humming in my head that "back to life… back to reality…" song, but this time, I was actually looking forward to returning home.
Tomorrow, we'd have to get up and get to the train taking us to the airport at CDG. It was le fin du voyage, and time to restore some normalcy back into our lives…
During the trip home, we glady took advantage of our strategic location at the Gare du Nord, where we could catch the RER line B directly to the CDG Airport terminal 2. From there, we went through the usual checking in, security, exchange money, and last minute shopping of Laduree macarons.
The flight home was complet (full), but one of the stewardesses was very kind in indulging me on my French lessons (it was almost as if she was testing me whenever she'd ask me a question) while getting into some chit-chat about our trip and other random things French-related.
Of course when we landed, we had to sit through an excruciatingly long customs and passport-control line before finally collecting our bags, catching the shuttle back to my parked vehicle, drive home, lament how backwards our public transport and airport systems are, and finally see our baby once again.
We had a long Memorial Day weekend to get caught up on what we missed for the last three weeks as well as try to get caught up on processing all our experieces, photos, movies, etc. and get them onto the website.
I probably won't be done before I go back to work, but then again, when life happens, some things can wait…