Day 8: RULE BREAKING
Once again we awoke (grudgingly) to our 5am alarms. This was like the 4th or 5th consecutive morning (one of those I had gotten up at 4:30am) so it was taking its toll on us.
Nonetheless, we had a pretty busy day of driving and touring. The plan was to drive to the furthest southern regions of the Rhone Alps-Ardeche Department towards the south of France. Originally, I meant for these excursions to be done later on in the trip, but since Julie really wanted us to spend more time in Provence, I punted it up to here and sacrificed a full day in Lyon.
In any case, we took advantage of the Hertz lot where we left the rental car in the same spot it was in at the time of hire. We figured this ought to save the hassle of trying to find parking as well as the expenses that come along with it. Though I'm not sure if we were breaking the rules taking advantage of this.
Sure enough at 6:10am, the voiture (car) was still there. And within moments, we loaded up with the GPS and were ready to go.
It was a good thing we started early because Lyon seemed dead in the morning (though it seems most of France is dead in the morning given how late they even begin their evenings). Still, we were able to navigate the city streets with the help of the GPS and it wasn't too much hassle to get onto the A7 Autoroute southwards towards the Ardeche department (Lyon was the capital of the Rhone-Alpes department though Ardeche seems to be associated with Rhone-Alpes as one).
The drive was mostly uneventful. The way they do their peages (road tolls) was also a little different. Here, you pick up a ticket then feed a peage booth upon exiting the autoroute where your total would then be determined at that point. For some reason, I wasn't getting a receipt whenever I passed through these things so I have no idea how much they costed me (it was only later that I figured out you had to push a separate button to get the receipt). I guess I'll find out after the fact on my credit card statements.
Once we left the smooth and fast driving on the A7 Autoroute, we then took an exit towards Privas. That was when the roads started to narrow and wind as we entered into the mountains of the Central Massif.
There was a bit of a traffic jam as lines of cars were following lorries and tour buses. There were practically no opportunities to pass on the winding two-lane mountain roads (which were narrower than we're used to at home) so this was an exercise in patience.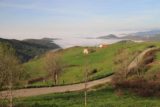 Once we got past Privas, we were able to leave the traffic train and take an even narrower country road with practically no shoulders but very beautiful country scenery. It was as if we were getting our first taste of Provence before that part of the trip.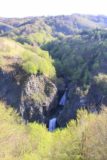 Eventually at 8:50am, we arrived at a signposted lookout called the Belvedere du Ray-Pic. From up here, we could see some of the pair of cascades beneath some contorted basalt columns. But there was a lot of foliage so the view from up here wasn't all that impressive.
As we continued driving further down the mountain, we saw the signpost and turnoff for Cascade du Ray-Pic. Unfortunately, it looked like there was some construction work going on and the car park was closed. However, I did pull over and talk to one of the workers about whether there was alternate access to the falls (considering we had driven all the way out this way already).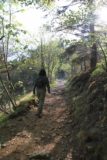 The conversation (in French) was basically about me asking, "Il n'y a pas du passage pour la cascade?" (There's no access to the falls?)
And he basically said that as long as we were careful, he'd let us through but he takes no responsibility for our actions. In other words, he didn't see anything. Plus, he had us get out of the lot and find a pullout further down the hill so no one here gets in trouble. Perhaps he trusted us after seeing we were wearing our hiking attire.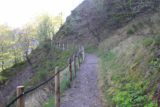 So we obliged and at 9am, we were on the trail. Once again, it felt like we were breaking the rules.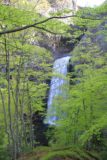 In any case, the trail was pretty well laid out and the wooden steps and platforms looked like they were brand new. It wasn't long before Julie and I arrived at a wooden platform overlooking the main falls, but the view was overgrown.
Given the subpar view, we both saw where the trail to the base was supposed to be and we ended up hopping over the rail to take it. It was a bit worn and steep at the beginning, but it wasn't something undoable if careful (though we could see why public access should be forbidden there).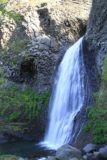 Once we were at the bottom, it was still shady and cool, but the sun was getting higher and thus the lighting was threatening to get worse. So we took whatever movies and photos we could though it was difficult to take it all in. Plus, the overhanging basalt columns which always threatened to rockfall was foremost on our minds (after all, that's why they rebuilt the trail so no one would be tempted to get to the base and risk the rockfall danger).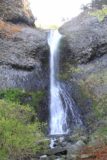 When we had our fill of the pair of falls (though the second one looks like it's only there during high flow), we had the intention of walking all the way back and continuing or tour of the Ardeche department's main natural features (at least as far as our research was concerned).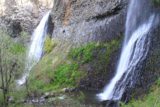 But that was when we noticed that there was a well-built trail that led to a different viewing platform. I wondered how we managed to miss this on the way in, but nonetheless, we went to its platform and saw that its view of the columns and cascades were way better than at the base. Unfortunately, the sun was right against us at this time of day so our photos looked overbright and hazy.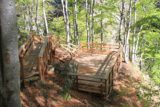 After seeing the shape that the improved trail was in, we figured that the work was just about all done. It looked like all that was left to do was to put a few signs and finish the car park. We were guessing that it's only a matter of a few days before this waterfall would be fully open to the public.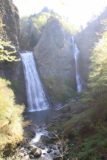 By 10:15am, we were back at the car. On the way out, we thanked the workers for being nice to us. One even asked in French if we enjoyed it. In any case, it was noticeably hotter than at any other time on our trip so far so we were sweating and feeling sticky.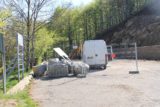 We saw some cars above us try to access the falls, but it seemed like they saw what was going on and didn't decide to continue (or were turned back – lucky us!). That must've sucked for them considering it was a non-trivial drive just to get here. However, I was glad that my French lessons paid dividends in this case!
Next, we drove south from Cascade du Ray-Pic and were headed to Pont d'Arc.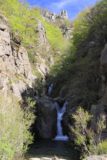 On the way out, we saw another small cascade with what appeared to be an alternate trail for Cascade du Ray-Pic. This was near an arched bridge spanning the Ardeche(sp?) River.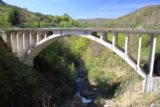 Next, the drive continued along more mountainous driving where narrow roads weaved their way through picturesque cliff-hugging towns sprinkled throughout the route from the Ray-Pic area to Pont d'Arc.
The driving reminded me of what it was like going through Greece's little towns situated within mountainous drives. It also reminded me of why I thoroughly enjoyed driving in the countrysides of Europe.
We even found a radio station called Le Mouv', which was basically a French version of alternative rock (kind of a like a Triple J if you will). Now this is what scenic driving is all about! Though the station was short lived as we got towards the Vallon Pont d'Arc area…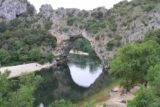 Eventually at 11:55am, we were at a viewpoint for the impressive natural brige of Pont d'Arc. The weather all of the sudden turned overcast which greyed out the scene and muted what otherwise promised to be very colorful photo ops.
After we had our fill taking photos at the overlook, we decided to go down to the shores of the river responsible for the arch. We figured that from the lower vantage point, we could see some sky through the span of the arch which would also be the tell-tale sign that indeed we stumbled upon a natural span.
There were kayakers or canoers paddling in the river and even going through the natural bridge itself. We thought it looked like a lot of fun, but we decided not to try it in the interest of time.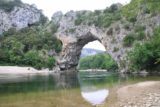 At 12:15pm, we were at the plage (beach) on the shores of the river responsible for the arch itself. We went ahead and quickly snapped quite a few photos before heading back up 15 minutes later.
There were plenty of other people doing the same as us so the scramble to one of the beaches here wasn't exactly peaceful though Mother Nature certainly tried her best to do what she does without human interference.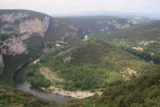 Continuing along the drive, we also made a brief stop at a belvedere with a sweeping view of a horseshoe bend. It seemed like such bends are a requisite of natural bridges as I had recalled in previous arch hunting visits roughly a decade or so ago.
We were getting a kick out of goats being here though it seemed clear that they were quite used to people as they seemed to be pretty insistent on grabbing whatever handouts they could find (whether voluntarily or not).
At 12:45pm, we left again and were driving in earnest back to the A7. Once we were on the autoroute an hour later, we were dying of hunger so we actually made a stop at a Mickie D's.
We didn't have much choie in terms of alternatives so we tried the McBaguette, which was basically using the French baguette instead of hamburger buns as well as some dijon mustard on their typical burger.
I couldn't help but notice the quarter-pounders were called "royals." I guess John Travolta's Pulp Fiction
character was spot on about this since the French are on the metric system so there would be no such thing as a quarter pounder.
In any case, we were done with this quickie lunch and diesel stop, and we knew that we would be paying for this meal with heartburn thanks to the greasiness of Mickie D's.
So we were back on the road soon thereafter and eventually made it back into the Part-Dieu area of Lyon at 3:40pm. We once again bent the rules and took advantage of the Hertz lot so we wouldn't have to stress about parking nor pay exhorbitant prices for city parking. However, it was 32C outside and it felt as if we were having California weather again. This was what we wanted when we were in the north of France, but we ended up with UK weather up there instead. But now that we're close to the south of France, it looked like warmer days were ahead of us.
After a bit of a break (including an impromptu siesta by me), we were back in town at 6:15pm. The goal for the rest of the city touring was to go to the heart of the traboules (passages) that we had a taste of yesterday. This time though, we were in the Croix-Paquet area just south of Croix-Rousse, which we arrived at and toured an hour later.
Unfortunately, the traboules seemed like nothing more than beat up corridors in bad areas, and so there really wasn't much to see other than imagining yourself in history. There were lots of graffiti and hidden nooks and crannies that were poorly lit and could've easily been spots where muggers could hide out. So this part of the visit didn't take long before we were back at the St-Jean block of Vieux Lyon.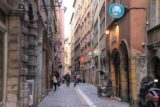 While there, we looked for something cheap to eat like a kebab, but we eventually settled on some Italian place that had pretty decent spaghetti but unimpressive pizza. No Lyonnais bouchon this time after last night's experience at Cafe des Federations. If that was the best of bouchon dining, we didn't have much expectations for other restaurants.
We managed to head straight to a Carrefour in the massive mall by the Part Dieu station. There, we stocked up on some water and apples before the place closed at 9:30pm. Carrefour totally reminded us of a Wal-mart superstore except the colors were different, but the style overall seemed to be exactly the same as back at home.
At 9:45pm, we were back in our room. And so ended a very long day that prompted Julie to ask, "So when is the real vacation going to start?" (a reference to how busy things have been on each day on this trip so far).