Day 9: OFF SEASON
Once again, we awoke at 5am. Julie slept in a little bit longer as she pretty much ignored her alarm. But by 5:30am, she was up also.
We took quite a bit of time to get ourselves ready knowing that there was going to be a lot of driving today. So it wasn't until about 6:30am that we finally left Lyon and headed for Mt-Dore via Clermont-Ferrand.
The drive was for the most part uneventful though we were quite flying like we were on the A7 heading south of Lyon towards the gorges and forests of the Ardeche department. But instead of going in the direction of the South of France, we were headed right into the heart of the Central Massif of France.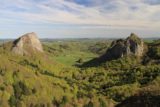 Eventually, we arrived at Hotel Les Charmettes in Mt-Dore at 10am, but that was not before we made a handful of stops along the way where we enjoyed some pretty alpine scenery.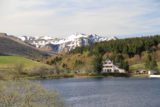 There was even one stretch where the authorities stopped traffic so some kind of filming could take place at one of the man-made lakes backed by the picturesque Mt Sancy, which still had some snow on it.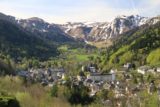 Even when we descended into town from the north, there was a pretty panorama of Le Mont-Dore backed by the peaks of Sancy.
When we passed through the narrow (mostly one-way) streets of town, it really reminded us of a Swiss town. At the time of day we showed up, there was certainly quite a bit of activity in terms of vehicular and foot traffic. This gave us ideas or aspirations of walking around town when we were done waterfalling for the day.
The lady at the hotel was kind enough to let us check in despite our early arrival. In fact, she even gave me advice on where to find the Grand Cascade nearby as well as the location of a petrol station where we were running low on diesel. Now mind you, this conversation completely took place in French though she did provide English where I was struggling.
We then headed out for our waterfall hunt today at 10:30am. Once we left town, it became quickly apparent that the driving towards the Cascade de Salins (the first one we'd see today) was going to involve quite a bit of twisty driving on narrow mountain roads.
The roads got more and more rural as we were following a man-made lake towards a dam and then a cliff-hugging road along the gorge downstream of it. The roads narrowed even more into 1.5 lanes in some places just like I recalled in Norway or even limited parts of New Zealand.
It was a good thing we managed to hire the smaller car instead of sticking with the upgrade without the AC because it was over 30C plus the narrow roads would've been made even more difficult to drive with the larger vehicle.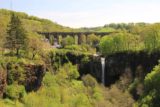 It wasn't until about 12:20pm when we finally made it to Cascade de Salins. There was some signage at the unassuming car park area which was just an unpaved patch of dirt on the top of some hill before the road descended towards the top of the falls. However, there was some signage typical of trailheads, which gave us the confidence that we went to the right place.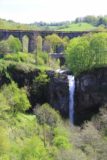 So we quickly put on our boots, grabbed our cameras along with some bottled water and quickly went to where we could get a decent view of the Cascade de Salins fronting a pair of arched bridges.
I wasn't sure what the upper bridge was, but I could see that the lower bridge was merely a road as we noticed cars passing over it. We also saw a trail that went towards the backside of the falls near its bottom.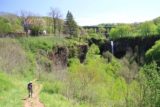 When we walked a little further downhill, we saw a gate that we could open and continue the descent towards the backside of the falls. It didn't take long before we escaped the 32C heat and welcomed the spray from the falls crashing onto the rocks below as well as the shelter of the alcove behind the falls.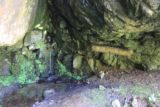 As we continued observing and photographing the scene, we noticed there was some kind of signage in French next to what appeared to be a spring or some kind of man-made water diversion into a hole that spilled out water. My French kept me from understanding what was really being said.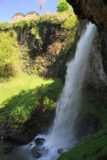 After we had our fill of the falls, we had to face the heat again and ascend the path back up to the car park. I was sure glad that we didn't have to do a long hike to take in this falls, which was what I feared from my pre-trip research. Plus, it wouldn't hijack the day as we still had to visit another waterfall before going back to Mt-Dore to see if we can at least see the Grand Cascade there.
We left the Cascade de Salins at about 1:15pm and headed for Gimel Les Cascades. However, it turned out that going here to there involved even more local rural roads, which meant it took a lot longer than anticipated.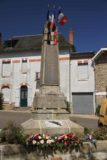 Eventually, we made it to the town of Gimel Les Cascades at around 2:40pm. We managed to park next to some kind of memorial with an obelisk flanked by French flags. It turned out that this memorial was for some war veterans who gave their lives and they happened to be from the Gimel town.
The car park seemed to be well above the cascades, which we could hear from up here. Right across from the car park was a visitor center, which we paid a brief visit. They told us that to access the waterfalls, we had to walk through town and then pay at a bar next to the trailhead some 400m downhill from us.
So we gladly did as we were told to get to the falls.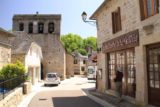 What was cool about this walk before even getting to THE walk was that we had to pass through Gimel Les Cascade village, which seemed like a very sleepy yet charming little town.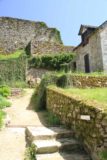 There were some remnants of some chateau that was once here as well as a church where its interior was very cool and contrasted mightily with the 30+ degree heat (think low 90s in Fahrenheit).
In any case, we'd eventually pay our 5 euros per person at the bar to start the walk to take in les cascades de Gimel. We started this walk at around 2:55pm.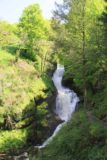 After going down some switchbacks, we then passed some unused house and onto a trail that led to the first waterfall, which they called Le Grand Saut. A sign en route to the falls said it was 45m tall.
It consisted of three tiers and was quite impressive.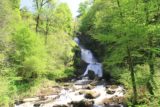 There was also another path that led to a view of the top of La Redoule. It turned out that La Redoule was the name of the second waterfall.
We saw further downstream that there was a bridge and another lookout for this waterfall down below. Perhaps the view would be better from there.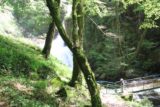 Continuing on, we'd eventually get to the second lookout for La Redoule at about 3:35pm. That was when we could appreciate that this particular waterfall was twisting and one couldn't see its entirely until this vantage point.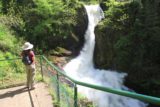 A sign said that this was 38m tall.
Continuing on, we then backtracked to the junction and proceeded to walk down more steps, but these were exposed to the hot sun.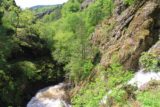 The whole time we were walking down these steps, we could see more of the third waterfall from different angles.
Eventually, we'd get to a spot at a junction where we could see that this waterfall was called La Queue de Cheval (horse's tail), which was said to be 60m tall. We made it down here at about 3:45pm.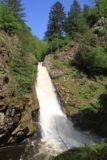 Another sign indicated something about Le Gouffre de L'inferno. I wasn't sure if this referrd to a fourth waterfall or just the spray coming from Queue de Cheval, because the trail didn't proceed any further.
And so concluded our longer than expected trip to Gimel Les Cascades. Now, we had to walk up several flight of steps to return to the chalet where we bought our tickets (to complete the loop walk).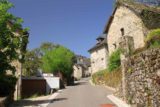 The ice creams and drinks at the chalet looked inviting, but we decided to pass on it and go back up the road towards our car, which must be baking in the sun now.
At 4:20pm, we were back at the car and concluded this rather huge upside down hike.
There was a little bit of confusion when we left Gimel Les Cascades and tried to get back onto an autoroute heading back towards Mt-Dore.
It turned out that we had to make a rather large loop to finally get onto an on-ramp to the nearest autoroute. Now, we were able to fly at great speeds instead of driving on pins and needles through more narrow and winding roads.
We made it back to our hotel at about 6pm after filling up some diesel in town again.
It was getting late in the day so I encouraged Julie to chill out in the room and go ahead with the web browsing (as well as videoconferencing with Tahia).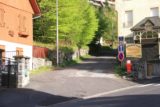 I started the walk about 15 minutes later, but I promptly returned to the hotel some half-hour later when I apparently got confused and took the wrong way.
In any case, I thought I could shorten the hike since I didn't want to keep Julie waiting and have a dinner too late in the day. So I now took off in the car with map in hand. I even got some advice from the hotel proprietress saying that it's a shorter hike from the camping up at the top of the cliffs leading towards the skiing area at Sancy.
I figured I mind as well be as efficient with time as I possibly could. And so I was back out the door in the vehicle at 6:40pm.
When I made it up the camping a few minutes later, I saw that you have to pay to be allowed into the premise. Unfortunately, I didn't have euros on me so I had to drive back down the road looking for maybe a pullout near the chemin de grand cascade. Perhaps that would cut the 3km one-way uphill hike (6km return?) into something a little more manageable.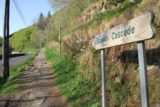 I was told that the camping would even cut the hiking more into a 2km each way walk. But since that wasn't an option, I had to settle for something in between.
It wasn't until about 6:50pm that I finally found such a pullout. So in no time, I put on the backpack plus the two bottled waters, and quickly made my way up the trail as fast as I could.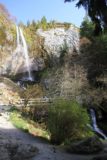 Apparently, I was a little too hasty as after the first switchback, I tripped and fell forward. Fortunately, I broke the fall with my hands though the left hand got nicked a bit with a little skin piercing. It wasn't a big deal though so the quick hiking continued.
Eventually, I made it to the bridge fronting the Grand Cascade for full frontal views of the falls. Somehow this hiking experience reminded me of the last waterfall seen in our 2005 Norway trip. I don't know why, but somehow the circumstances seemed eerily similar.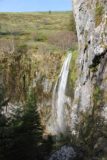 Anyways, I continued beyond the footbridge and went up some more steps towards a grassy area where I was able to get a grand panorama of Mt-Dore and the Dordogne Valley on one side and the partially snowy mountains of Sancy on the other.
Speaking of which, the Dordogne is actually a combination of the Dore stream and the Dogne stream. Add them together, and you have Dordogne. It makes total sense since these streams confluence just above town. It's amazing that this very river cuts through a large chunk of the Central Massif before emptying towards the Atlantic near Bordeaux.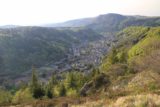 It was about 7:25pm when I had my fill of the falls and view, and made my way back to the car. The trail running was certainly made easier in that it was mostly downhill now. And sure enough, it was about 15 minutes later when I recovered the car.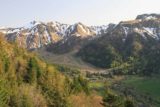 At 7:45pm, I was back at the lodge. However, I was a sweaty and smelly mess so I showered before we finally went into town looking for dinner while also seeing if we could absorb some of the town's charm.
Well, as we were walking around town looking for a place to eat, we quickly noticed how dead the town was. So that meant no restaurant was fully booked nor totally busy. I guess Mt-Dore was a bit of a ghost town this time of year.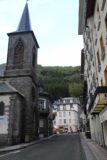 This was made even more apparent when we realized that there was a thermal spa in town, the restaurants were serving cheese fondue (again, reinforcing the notion that there was some Swiss influence; or was it the other way around?) or some other hearty and heavy dishes.
Clearly, this town is more of a Winter town. Obviously, we were here in the off season, and that might explain a lot about our low hotel rates here.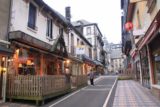 We settled on this place to dine called Le Vielle Etable at 8:10pm, and we got some local dishes, which were heavy on cheese and potatos along with some salad and charcuterie-style ham.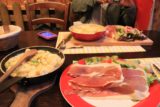 It was definitely something different that we've had throughout the France trip so far. But there was no way we could come close to finishing all that food.
As we left the restaurant, we didn't bother seeing more of the town at this time. It was too dead, and we had a long day of driving ahead of us tomorrow.
At 9:55pm, we were back at the hotel. It was time to unwind, get the photos organized and named, and get all cleaned up. An early start tomorrow beckons…