Day 10: GHOST TOWNS
Today was yet another day where we woke up at 5am. This time, we had to make a quick getaway because there was a very long drive ahead of us. We wanted to make sure that we could be able to check in as soon as possible before doing some touring in the Pyrenees.
At about 6am, we were about ready to go. However, when I tried to load up the car, the front door to the hotel was locked. Pushing the button where it said to "appuyez" didn't work.
Eventually, we had to call reception, and that was when we ended up waking up the proprietress, who promptly came down to unlock the front door for us. So it wasn't until about 6:20am when we finally left the accommodation and Mt-Dore.
Apparently, it had been raining last night because the ground was wet. It was a total contrast to yesterday's warm weather.
As we drove out of Mt-Dore, there was on-and-off rain. In some spots, it looked like we hit some squalls where it was pouring heavily. There were even a few sporadic flashes of lightning!
We weren't sure if this was the typical mountain thunderstorms we're used to seeing in the mountains and deserts of California following some very hot weather. But there was something about this storm that seemed a bit off. I guess we didn't have the history in this area to gauge whether such weather changes and their intensity were normal for this time of year in the Central Massif area.
At 7:25am, we made a quick rest stop so we could pick up some croissants. Unfortunately, there was a tour bus that took forever, and when Julie finally returned to the car, it was 15 minutes later.
The drive as expected was quite long and tiring. It was somewhat equivalent to going from LA to San Francisco as the drive took over 6 hours.
At least most of the drive was on the autoroutes though so that helped speed things up. I'd hate to imagine how much longer this would take if not for the autoroutes. Of course, we paid through the nose in terms of peages (tolls).
It wasn't until about 12:10pm when we made it to Hotel Les Rochers in the charming tiny town of St-Savin. We probably could've made it another half-hour or so earlier, but the city of Lourdes was crowded with Saturday markets as well as lots of tourist activity considering there were some grand religious structures that we caught glimpses of while passing through town.
We quickly went towards the reception of the hotel, but after pushing the call button a bunch of times, nobody was home. We figured that perhaps a quickie lunch somewhere in town might give us enough of a delay to come back to the hotel to check in.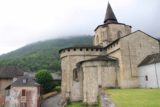 After having a quick pate sandwich for lunch, we walked around town for a few minute and realized that there really wasn't a whole lot going on in town.
In fact, it was a ghost town. There was hardly any activity going on except for maybe the bar and sandwich place we ate at, which had all but a half-dozen people including the proprietors. We pretty much stuck to the charming-looking church in the town center, but it seemed like there really wasn't much more to this place.
We returned to the hotel at 1:10pm and there was still nobody home. So it was at that time that Julie and I decided to just go to Le Pont d'Espagne (Bridge of Spain) and do some sightseeing with our luggage in the car.
So we drove our of St-Savin and headed towards Cauteret. We fancied the idea of perhaps changing accommodations and checking into a hotel in Cauterets given its closer location to Pont d'Espagne, but when we got there at 1:35pm, nobody was at the lobby to open the door there, either.
I guess in these parts, people take their siestas seriously.
Fortunately for us, we saw a laundromat across the street from Hotel Lyon d'Or. Even better, this laundromat wrote that they were open 7 sur 7 (7 days a week) from seven in the morning to eight in the afternoon.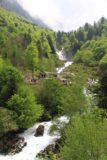 We proceeded to move on and drive towards to Pont d'Espagne (Bridge of Spain). Barely ten minutes into the narrow and winding drive up the mountain road, we saw there was a pretty waterfall tumbling past some restaurant.
Actually, there was a large area for stopping the car with restaurants and cafes across the street further down the hill. This was where we stopped the car.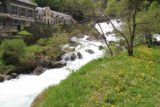 When we got out of the car and took photos and movies, but when we walked around some more, we saw that there was another cascade tumbling between some facility and the end of the row of shops. The falls confluenced just below us!
Clearly, this spot was popular as there were several tour buses that made stops here. It seemed like a good deal of them were Spanish tours because I could hear Spanish being spoken.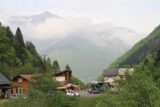 We probably enjoyed this spot for a good half-hour until about 2:10pm when we got back in the car and kept going up the mountainous road. We saw there was a trail leading for 90 minutes up towards the Bridge of Spain, but we opted for the driving instead.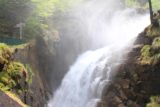 The drive continued to wind its way up the mountain. It seemed that on every other switchback, the road teased us with glimpses of the same cascade that was tumbling down between the small row of shops and some facility we had stopped at earlier.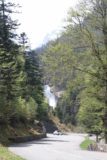 When we couldn't see pullouts to check out the sections of the waterfall, we found pullouts at the next switchback then walked back to the falls.
Eventually at 2:50pm, we reached the car park for Pont d'Espagne. There were a handful of cars here plus a few tour buses. But somehow I got the feeling that this car park has seen busier times.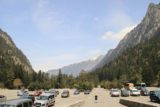 In any case, we were hoping to take the cable car up to the Lac de Gaube, but once we talked to the cashier, it was apparent that the cable car wasn't running at all. In fact, a sign there said that it wouldn't open until May 17. Looked like we were too early by 5 days!
It was about an hour walk each way to get up to the Lac de Gaube, but Julie didn't really want to do it, especially considering we hadn't checked into our accommodation yet.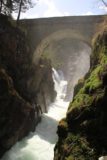 So instead, we spent our time checking out the cascades, which was merely a five-minute walk. Actually, it was a scenic walk that passed a part of a smaller cascade before providing views of a much-photographed arch bridge that concealed another massive confluence of waterfalls behind it.
As we got up towards the bridge itself, we saw a very busy cafe where lots of people were chilling out. But it was also up here that we saw the confluence of cascades with the one tumbling down from our left (looking uphill) being the most impressive.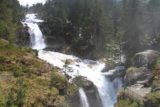 It was a gorgeous sight, and it was too bad the cable car wasn't going because I could totally see that you add in the lake scenery and you have a truly memorable experience!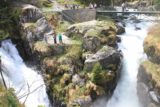 In any case, we took photos and movies of the falls in the hordes of people that were here. There was even an attractive rainbow (sometimes going double) when we looked back down towards the arched bridge.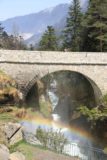 When we were done, we walked back down towards the car park and got back to our car at 4pm. After paying the 5.5 euros for the parking (that's why we saw a bunch of cars parked in pullouts before the barricade; so they can avoid paying), we headed back down the switchbacks and made a brief stop at the row of shops again.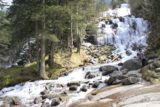 We actually picked up some kind of Basque-style dessert, which sounded like something Spanish. Even the cafe owners there spoke Spanish so we could see there was some definite mixing of cultures here. Actually, come to think of it, there was also quite a bit of English spoken here as well.
I guess that's what happens when you have world class tourist destinations. It's almost like you have a United Nations of holidaymakers.
We were back in Cauteret at 4:30pm. While down there, we made a quick grocery run. Then, at 5pm, we returned to the hotel.
Now, the innkeepers were at the reception so that was when we finally checked in.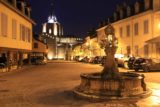 Julie wasn't too thrilled with the room we had gotten, but then the proprietor let us look around and pick any of the open rooms. And that was when Julie found a room at a corner that had two views plus some wooden beams over us.
Other than having to watch our heads, this room had the charm that she was looking for.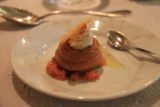 After taking a shower and having another videoconference back home, we walked back into town at Le Viscos for our 7:30pm dinner reservation.
This place had quite a bit of a reputation as it served the likes of Sarkozy, Michael Douglas, and quite a few other celebs we didn't recognize. The photos were in the lobby.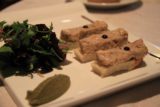 Anyways, we opted to splurge on the 89 euro degustation menu combined with Julie's much more reasonably-priced 29 euro fixed price menu.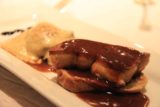 This experience was definitely like fine dining as we were given well presented dishes with interesting mixes of flavors. Most of my stuff were foie gras, but they were smooth and flavorful. There was no hint of the liver aftertaste.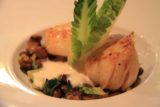 The scallops (Coqui St Jacques) was excellent, and there were even tasty pre-desserts before the desserts themselves.
The restaurant was full by the time we were well into our dining experience. I guess even in a town that was as dead as St-Savin, this place seemed to have more than its fair share of customers.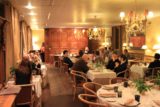 When we were done eating, the chef spoke with us in the lobby while we were checking out the celebrity photos. He said that he was the son of the chef posing in those photos. He spoke very good English so we talked about all sorts of stuff from his brother being in Carlsbad near San Diego (upon learning we were from LA) to the weather, which was predicted to be mostly sunny.
When we left the restaurant, we took a handful of night photos as the lights kind of made St-Savin take on a different charm.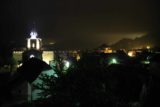 We got back to our room at about 10:10pm. I took a few more night shots of St-Savin from our room before we called it a day. Both of us were dead tired considering we had a very long day of driving followed up by another half-day of touring.
Tomorrow, we were hoping for good weather as we planned on doing the hike to Le Cirque du Gavarnie…