Day 11: FAIL
It was about 6:30am when my alarm went off, but to my horror, outside was raining and there were clasps of lightning and thunder!
In my half-conscious state, I figured I mind as well sleep in since the conditions weren't optimal to do the hike at Gavarnie.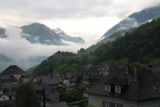 After a little more dreaming (hoping the weather might miraculously improve in time for our hike), I got up for good at 7am. That was when the rain seemed to have stopped, but the clouds were hanging low.
If there was a discouraging start to the day (especially after the weather forecast looked so rosy), this would be it!
Given that today was our lone full day in the Haut-Pyrenees, we were in a little bit of a crisis as there was a very real possibility that Gavernie (the attraction for today) would be a fail. We were headed to Carcassonne tomorrow via Cascade d'Ars so we were also real concerned about the Cirque du Gavarnie being a lost cause on this entire trip!
Even though the forecast for today was supposed to be partly cloudy with sun, the reality was a far different story. I guess it just shows you that even with the most sophisticated computer models, their predictions can still be way off from the reality. On top of that, mountain weather tends to be fickle, and we were getting a hard lesson in that today.
I actually fancied the idea of driving out to Cascade d'Ars (2.5 hours away) as a day trip given the crummy weather, but when I floated the idea to Julie, she didn't like it. So the plan was to go into Cauterets to do some much-needed laundry in the morning. Then, in the afternoon, give Gavarnie a shot hoping that the weather forecast might be partially right in that it might be clearing at the end of the day.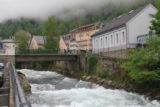 So we headed out at 8:50am. About 25 minutes later, we were back in Cauterets and the laundromat. Next, we had a little drama trying to feed the machines there because each machine was very picky about the coins it would accept.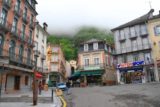 That meant that in between loading the clothes and finding out a particular machine only took 1 euro coins or another machine only took 2 euro coins (and the soap dispenser only took 10 cent euro coins), we went looking for places to buy breakfast food (mostly pastries from boulangeries or patisseries).
So we did just that (even troubling the cashiers to give us change in petite monaie).
We did all that while shuttling back and forth between the laundromat and just walking around the pretty dead town.
At 10:35am, we got around to drying the clothes. We were doing it in increments of 8 minutes at a time since the machine started up when a euro coin was put in. We only learned later (when we were almost done) that you could put multiple euro coins for a longer continuous dry, as some locals were doing when they got to drying their stuff.
It wasn't until 11:20am when we were back in the car. Unfortunately, the weather remained foggy and drizzly. So much for the day that we were supposed to see the Cirque du Gavarnie.
After some last minute folding clothes and visiting the WC, we finally left Cauterets at 11:30am. The low clouds were stubborn and didn't budge. In fact, it seemed like more clouds were rolling up from the valley.
The discouraging drive from Cauterets back down the mountain and then up towards Gavarnie basically all but assured that we'd probably be wasting our time trying to hike to the Cirque du Gavarnie. I was holding out hope that perhaps there might be a window of opportunity to see the cirque despite these circumstances.
It wouldn't be unprecedented as we had similar bad starts at the Shomyo Waterfall in Japan as well as visiting Franz Josef Glacier in New Zealand.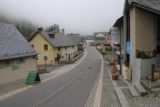 Anyways, we eventually got to the town of Gavarnie at 12:30pm. Not surprisingly, it was still foggy and we couldn't see jack. It was at this point that I probably made up my mind to come back here tomorrow despite the long drive to both Cascade d'Ars and Carcassonne. But we didn't come all the way to Gavarnie (and spend good money) not to see its famous cirque. I could only imagine how disappointed tour bus patrons would be if this was their one and only shot to experience Gavarnie.
Of course, all bets are off if the weather is still crummy tomorrow. But unlike the tour bus patrons, we at least had the option of trying again since we were on our own. Even though self touring costs a lot more, it's that freedom and flexibility that you have to have when you have weather dependence on the things you're trying to see and do on your holiday.
As we realized that we had hit the end of the road, we saw there were parking signs charging 5 euros near the trailhead. We didn't feel like paying that kind of money knowing that we were likely to be disappointed with this hike so we drove back towards the tourist info center perhaps to get a glimpse of the forecast.
Well, when we finally found parking near the visitor center, we realized that the parking was indeed free. We just had to walk a little further through town to get to the trailhead. Unfortunately, the visitor center was closed since it was Sunday so the forecast that was posted on the door was outdated. And to add salt to the wound, it predicted partly cloudy skies today with afternoon clearing!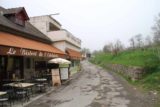 Anyways, we started hiking at 1pm. Aside from the activity in town, the skies were pretty much grey. Even fairly significant cascades tumbling into the valley were mostly shrouded in clouds.
It wasn't until we got towards the end of all the cafes and bars along the walking path that we finally saw signs indicating that the Cirque du Gavarnie was about an hour away. At least that gave us an idea of how much time it would take to do it tomorrow since now time would be of the essence.
The walk was actually fairly easy to moderate. There were plenty of other people doing the hike despite the sorry weather. But I could tell from the looks on peoples' faces that they were faced with the same disappointment as well. Clearly, we were hoping against hope by doing this hike at this time.
Anyways, the hike was mostly flat with some uphill sections. Despite the cold and drizzly weather, I actually had to remove my jacket because I was starting to sweat.
Eventually after going through a pretty naturesque trail, there was one last ascending part of the trail before it ended up at a hotel near the end of the trail. That hotel didn't look like it was open though (another indication that we were in the off season despite it being May).
At 2:20pm, we were stopped by an unbridged stream crossing. It actually looked doable, but with all the fog and drizzle around us, we couldn't tell how far we were from the cirque at this point. Was it worth it to go across?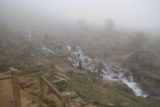 After a few minutes of discussion, Julie and I couldn't help but notice people up ahead on the other side of the stream stopped. No one proceeded further. Was it because it was the end of the trail?
There was one French family that made it back to the hotel and I asked the father if it was le fin de passage.
He said that further passage meant having to go through neige (snow), and that going further meant avalanche risk. I was a little surprised by the response considering we hadn't seen snow at our feet this entire trip or even imagined we'd be this close to it deep into May.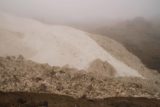 Ten minutes later, Julie and I ultimately decided to just cross the stream and see for ourselves what was there. And sure enough, snow was in front of us. There was dirty snow right before us then they were succeeded by whiter snow as far as the fog would allow us to see. So the French guy was right (actually I was glad I was able to understand that much from him).
And so we turned around and confirmed that there was absolutely no way we'd see the Cascade du Gavarnie nor the Cirque du Gavarnie on this day. Indeed, it was the ultimate fail, but sometimes these things happen on trips like this.
So that pretty much ensured that I was looking forward to fitting in a repeat visit to Gavarnie tomorrow morning.
The walk back was under constant drizzle as the weather seemed to continue to degenerate some more.
Eventually, we made it back to this creperie and bar called L'Edelweiss. What got our attention was a fireplace inside as well as someone making crepe fresh in plain sight from the walkway.
So that sold us in coming in and indulging ourselves for a bit.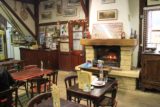 The crepe they had was delicious. I had the standard hot fudge with French Vanilla ice cream and chantilly cream over crepe. Julie had a scoope of sorbet of myrtilles (local blueberry I think) as well as a vanilla ice cream scoop as well as some raspberries and chantilly cream all over crepe.
We were done with the crepe and headed back into the drizzle about a half-hour later. We were back at the car at 4:35pm. The weather was still showing no signs of relenting.
So we drove off and looked forward to getting back to the Hotel Les Rochers in St-Savin so we could Skype back home and see Tahia again.
Unfortunately, the drive went slower than we hoped because we were stuck behind a tour bus that refused to use the pullouts. So instead of being back at around 5:15pm, it wasn't until about 5:30pm that we were back.
We managed to talk to Tahia as well as both our moms as well as my dad, which filled up most of the time between then and our 7:30pm dinner.
When we had a pretty light and relatively healthy home cooked dinner of quiche, halibut, and apple tart courtesy of innkeeper John who also doubled as the chef, we noticed that the skies were starting to clear from the direction of Lourdes. Clouds were still shrouding the Pyrenees side, but it did give me hope that perhaps come tomorrow morning, our window of opportunity for a do-over is likely to occur.
When dinner was done at about 9pm, we chatted with John over food and then somehow it went into politics. Funny how travel does that. But at least it was interesting to hear another perspective about the topic with a bit of British tongue-in-cheek humor. He gave us quite a few things to look up like the famine of 1959-61 in China, some Vanity Fair writer and some other cultured mind named Christopher Hutchens.
So with that we were back in our room and winding down the day. Julie wasn't too pleased about going back to Gavarnie and possibly rushing the Carcassonne part of the trip. But sometimes Mother Nature gets to decide when you get to do what. And this seems like one of those times…
Visitor Comments:
No users have replied to the content on this page