Day 12: LE CIRQUE DU SOLEIL
Given the disappointment of yesterday, we were committed to returning to Gavarnie first thing in the morning if the weather was clear. The problem was that now we had a very full day where we probably wouldn't make it to Carcassonne until late in the afternoon, which hardly left us any time to see and do anything on this day while in the walls of the medieval village, and would probably mean that any parts with opening and closing hours there meant we'd probably be out of luck upon our arrival.
So to maximize our chances of fitting in Carcassonne sightseeing before closure, we got up at 5am, which was nothing new at this point. We were pretty motivated to get packed as soon as possible. The whole time we were packing, we could see that the weather was clear, which pretty much meant that we were doing Gavarnie. I guess Mother Nature decided that today was the day and yesterday was not.
We were in the car by 6am. The sun was still not up yet so that meant that we were driving in pre-dawn lighting. Thus, I took my time to drive the winding mountain road to Gavarnie.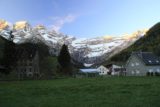 We'd ultimately arrive in Gavarnie at about 6:50am, but given how gorgeously clear it was this morning, we could see straight away that the Cirque du Gavarnie was visible from town! Indeed, we could see the towering Cascade du Gavarnie, which was an imposing presence in the cirque while the cirque itself was crusted with snow. There was even hints of alpenglow as the sun still had not penetrated the surrounding mountains to cast its glow.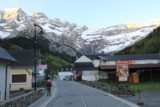 We started hiking at 7am, but it was about 4C so our hands were freezing cold. But despite our early and frigid start, as we were hiking through the quiet town onto the pedestrian-only path, there were already some locals tending to horses at this bonne heure (early hour).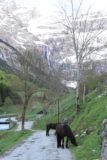 Even though we were in quite the rush to get this excursion out of the way as soon as possible, we couldn't help but to keep getting delayed with taking photos and movies the whole way we were hiking. The picturesque cirque was simply too captivating to ignore taking pictures, and given the contrast to yesterday, we cherished the scene that much more!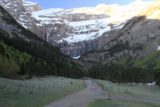 As the hike and the morning progressed, the morning sun was still hiding behind the mountains to our left, but it left noticeable morning glows on the mountains to our right. Small slivers of the right side of the cirque started to become harshly lit against the shadowy scene where the sun didn't make it.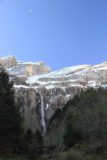 So for the whole time, we were able to take photos without too much influence of washouts from the bright sun. There was even a crescent moon showing itself in the direction of the cirque.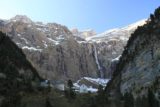 At 8:20am, we finally reached the Hotel du Cirque. We could see that it this was probably more of an afternoon waterfall, but for this morning, we just cherished that we could see the thing in its entirety at all! In fact, yesterday, we made it all the way to the snow. Today, we could see that the snow would have put us fairly close to the base of the Cascade du Gavarnie.
But on this day, there would be no need to go that far, especially given our time crunch.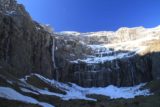 We started heading back at 8:50am. Knowing that the lighting started to get harsher part of the cirque itself as the sun now penetrated the valley, the walk back was brisk.
Eventually, we made it back to the car by 9:35am. As we approached the Gavarnie town again, we could see more people were up and about, including some early hikers. That made us realize that we both had the entire trail to ourselves until this point, which was perhaps another big reason why we enjoyed this hike and it pushed us against the constraints of our busy itinerary that much more.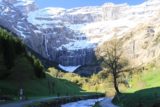 I even talked to a local in French about how beautiful it was today and how hier, je n'ai vu rien (yesterday, I saw nothing) and even the local said "rien" before I did as if he knew what I was going to say.
By now, the temperature was now 6C, which was slightly warmer than the 4C start.
At 9:40am, we left and even as we hastily drove out, we could see quite a few cars heading back the other way towards Gavarnie. Good thing we beat the rush because I'm sure following slow people on mountain roads who refuse to pull over would've been even more frustrating.
At 10:05am, we made a quick stop for a boulangerie takeaway brekkie in one of the towns between St Savin and Gavarnie. And about ten minutes later, we were on the road again.
The drive was for the most part uneventful except for one scary moment when a self-help gas station almost swallowed my credit card because it didn't have the smart chip in it (apparently, carte bancaire or CB were common in Europe and not in the States). Good thing I was able to pull it out and not even entertain the notion of self-help only gas stations anymore (as cheaper as they may be).
Eventually, we'd get back onto the autoroute, which felt so much smoother as we jammed towards the next excursion of the day, which was the Cascade d'Ars.
As we approached Aulus Les Baines, we could see an impressive waterfall tumbling in the distance. I didn't get a chance to pull over and get a satisfactory photo, but we could see that it looked fairly distant from where we were at.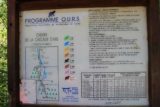 It wasn't until about 1:05pm when we'd make it to the trailhead for Cascade d'Ars, which was just above the town of Aulus Les Baines. We had to follow quite a caravan of RVs, which slowed us down a bit. And the signs at the trailhead made us realize that we had a longer hike than we had hoped (a minimum of 90 minutes), which made our ambitions of getting to Carcassonne before they closed the castle and ramparts section look doubtful.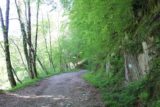 It was 27C when we started the hike, which was a major swing from the 4C at the time we started hiking. And the hike started off uphill.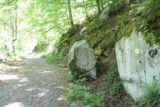 It turned out that that was just the beginning as the hike continued to climb somewhat moderately uphill with views of the cascade mostly obstructed by tall trees so it wasn't like we could take any photos along the way.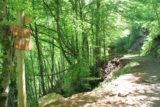 I was also getting a little pre-occupied looking for colored bear signs keyed to the trailhead map. This indicated how far along we were in the hike at various intervals. I managed to notice a green bear and yellow bear at this point, which meant that I was barely a third of the way there.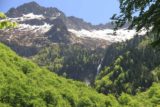 It wasn't until about 1:55pm that I finally started to see the cascade partially above the trees. However, unlike the view from the road before Aulus Les Baines, you couldn't really see the snowy drainage context feeding the falls itself.
At least the hike was mostly shady which provided some relief from the heat.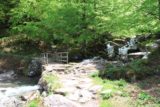 At 2:05pm, we crossed a bridge which them started a series of even steeper switchbacks with maybe one small flat section before it continued to climb steeply. Indeed, the trail continued to be relentlessly uphill!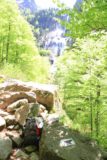 It wasn't until about 2:20pm that we finally made it to the official viewpoint of Cascade d'Ars as indicated by a black bear sign. Somehow, I missed a couple of other bear signs along the way.
We took whatever photos and movies we could of the falls before Julie got a head start going back to the car. At least it would be all downhill on the way back.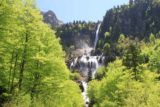 Meanwhile, I continued for a few more minutes to get a closer look at the falls. I'd eventually get to a part where I could feel the mist of the falls where it fanned out after the initial plunge (the falls had a bit of a pitchfork kind of shape).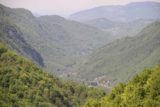 From up here, I was able to look downhill and see Aulus Les Baines way in the distance. It was hard to believe that we walked that far away from town on this trail!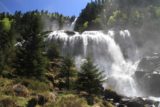 Anyways, I headed back at 2:45pm seeing that the views of the falls itself got progressively worse the further I went. I'm sure had I kept going, I might be able to look back at get partial views of the falls as it would go up to some shelter and towards some pass, but alas, that wasn't the point of this excursion.
So I hastily trail ran back down the trail until I'd eventually catch up to Julie somewhere near the yellow bear (which was the half-hour from the start point). As we were finally walking side by side at this point (it was 3:15pm at this point), we happened to be hiking behind a couple where one lady was smoking on the trail and blowing her smoke back up in our direction. That was something you don't often see when out in Nature! Needless to say, we tried to pass them as soon as we could to limit our exposure to the second-hand smoke.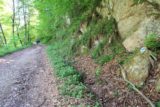 At 3:25pm, we also noticed the blue bear sign, which marked the 20-minute point from the start. We were almost back at the car (hopefully no one broke in while we were away).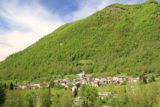 Something that we didn't quite appreciate on the way up was that we could see the entirety of the town of Aulus-les-Baines. It was quite a picturesque town that we could've easily enjoyed and stayed for a bit, but looming was our late arrival to Carcassone this evening. As the French might say, C'est dommage! (What a pity!)
At 3:40pm, we were back in the car, which was now no longer in shade. It dawned on me at this point that with all the bear references, could the word "ars" mean bear? As in this is the bear cascade?
It also dawned on me that the entire drive towards Aulus Les Baines and later when we had to go over two passes to get back to the A61, there were lots of markings on the road itself that seemed to be a visible sign of protest.
We knew that the Pyrenees had a major controversy when the now extinct Pyreneean bear were hunted to extinction, but a similar species of bear were reintroduced from Slovenia. I suppose this was with major protest from ranchers and herders who now have to contend with wildlife killing off their means of living, and the governmental program O.U.R.S. (Ordonnance Uniformisee de Randonnees de Sante), which apparently managed this hike, might've also been responsible for instituting the program to bring back bears to this region. That might be why we kept seeing "NON OURS" scrawled all over the mountain roads in the area.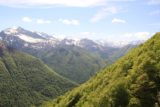 The drive over the col was quite stressful as we were trying to make it to Carcassonne before their castle and ramparts closed at 6:30pm. But the GPS indicated that we wouldn't even make it until well after 6pm, which didn't leave us much time to find parking, check in, and then get onto the limited admission area.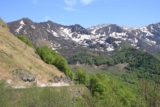 The narrow and winding roads didn't help, but I had to keep fighting the urge to pull over and take in the dramatic views of this part of the Pyrenees. I couldn't help myself on a couple of occasions.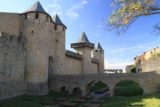 Ultimately, we finally arrived in La Cite at 6:20pm. We had to fight through quite a bit of traffic to get here, plus the signs kind of put us on an unnecessary detour, which limited our time even more.
Once we parked the car, we ran straight for the castle and ramparts and got to its gate at 6:25pm.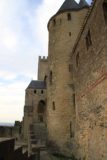 Unfortunately, it was closed. The signs indicated that the last admission was at 5:45pm so even if we were efficient with our time, it was unlikely that we would've made it here in time. So that meant that we would have to push back tomorrow's itinerary to fit in this visit, which wouldn't be until 10am! This late start was definitely going against what we tried to accomplish here before we got into Julie's desired Provence part of the trip.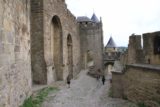 So we checked into the Hotel Donjon, where we were informed that there was unsecured hotel parking just outside the city walls. When we went ahead and did that to avoid paying any extra money (like 12 euros for supervised hotel parking or whatever ticket rate for regular parking), we saw lots of broken glass no matter which spot we were at.
That prompted us to take everything out of the car and not create the temptation that there was something worth stealing.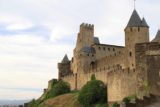 At 7:15pm, we finally settled in our room. There was still lots to see this evening so even though we should be winding the day down, we both had the feeling that it was still just beginning.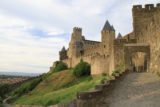 We spent a few minutes taking photos of selected parts of the city walls and some of the interior. That was when I saw some menacing-looking thunderclouds wanting to roll into the area. These clouds also muted the soft afternoon light that LP recommended we do at Carcassonne at dusk.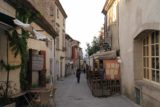 At 8:05pm, we ate at this place called La Marquiere. They offered cassoulet, which was a local dish of meats and beans, as well as this interesting dish of beef with some other stuff like foie gras I think.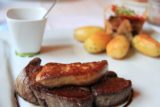 It was a pretty good dinner and the portions weren't huge though the dinner was like dining at Houston's (typically around $70 USD without drinks).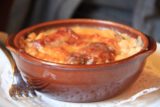 It was definitely getting expenive doing this every evening, but we figure you don't always get a chance to have local French food, and we're not going to go home and say, "Gee, I'm glad I saved this much money while missing out on this French experience." So when in doubt, just spend.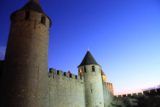 When we were done with the dinner, Julie had already headed back to the room. After I paid for the meal, I tried to find my way back, but somehow I got a little lost.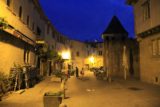 Oh well, at least I was able to take some photos of town as I was aimlessly meandering about La Cite. I had to say that the city was charming, but one thing that kind of took away from its charm was the presence of motor vehicles (namely voitures [cars]), which was one thing that Mont-Saint-Michel didn't have.
At 10:05pm, I finally found my way back to our room. I came back just in time to join Julie on a videoconference back at home to see our little daughter as well as the rest of the family.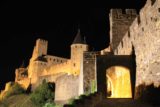 After the videoconference, Julie and I went back into La Cite for some more night time visiting. There were quite a few dark sections of the town and I also didn't get to take the shot from outside the city walls. Julie didn't feel safe strolling around where there wasn't light and she suspected there were some bad areas given how easily cars were broken into around the city walls.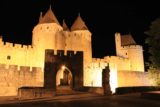 When it came to night photography, the lights against the city walls were kind of intense and blinding. That kind of made my night shots a bit harsher than I would've liked. I guess it reinforced my notion that twilight photos were more attractive than full-on night photos. Unfortunately, twilight also happened to be right around 9pm, which is normally when it's time to eat dinner so it's always a question of food or twilight photos?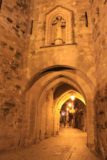 By 11:35pm, we were finally back in our room again. Both of us were dead tired at this point. Even still, I didn't sleep until after 2am to take care of errands given that we took practically 400 and movies photos on this busy day. But I knew full well that tomorrow would also be busy since we wouldn't be leaving Carcassonne until midday, which would push back our start to the sights of Provence…
Visitor Comments:
No users have replied to the content on this page