Day 13: PROVENCAL CHECKLIST
Given the late arrival and sightseeing last night, we slept in a little bit this morning. We knew that we had yet another packed day, but we allowed ourselves to sleep in so we can go see the chateau and ramparts within Carcassonne, which was something we just missed yesterday afternoon (and really wished that we could've done it then to save time today).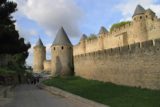 So we were awake at 7am and took a good chunk of the morning packing our stuff, then lugging them to the car park just outside the walls of la cite.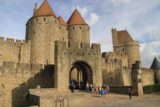 We got there to load up our stuff around 9am and we breathed a sigh of relief when we saw that no one's car (especially our rental car) was broken into here.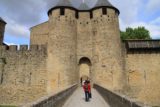 At 10:05am, we promptly entered the castle and immediately started our whirlwind tour of the various structures constituting the battlements and ramparts.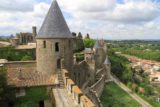 The tour itself went pretty rapidly as we didn't bother with audio tours plus we even cut down the time spent exploring the northern ramparts to give ourselves more time to do whatever it was that Julie wanted to do.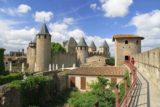 By about 10:45am, we finished the tour and was right back at the car ready to leave Carcassonne. We left with the feeling that there was still quite a bit of La Cite that we didn't explore, but since we were on a checklist errand, there were still more fish to fry for the day.
Speaking of Julie's Provencal Checklist, today's went something like this:
Carcassonne
Pont du Gard
The Pope's Palace (Palais des Papes) in Avignon
View of the half-bridge in Avignon
Abbaye Notre Dame de Senanque near Gordes
View of Gordes
Village of Bories
Gordes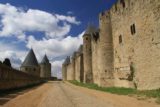 We were still not done with Carcassonne yet.
We decided that on the way out of town, we had to drive to the bridge over some river or stream for a view of La Cite of Carcassonne from the outside.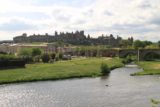 After a bit of navigating some chaotic local streets, we'd eventually get there at 10:55am. Unfortunately, the lighting was very suboptimal since we were looking against the morning sun. Clearly, we should've done this yesterday afternoon or at least a night.
In any case, Carcassonne… check.
Next, we had to make the long drive over to Pont du Gard, which was an ancient Roman aqueduct that was said to be well preserved.
We knew that parking there was 18 euros, which was a bit steep for parking, but we kind of treated it like an admission fee. The ticket also included admission to the museum there, but I think given our time constraint, we never considered it.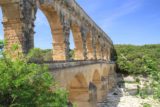 At 1:30pm, we finally arrived at the Pont du Gard Rive Gauche (left bank). I thought that I had followed the signs for Pont du Gard Rive Droite (right bank). However, we kind of went in a round about manner to get to the Rive Gauche (left bank) side.
We hastily got out and walked towards the multi-level aqueduct while trying to navigate our way between the hordes of children groups.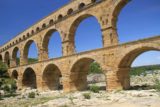 We probably walked some 500m or so each way cutting across the bridge (clearly it was now more of a walkway than an aqueduct). Eventually, we'd get to the backside of the bridge where the mid-day sun was more favorable.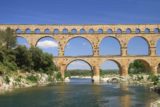 That was where we took the last of our photos for the excursion before heading back to the car. Upon looking at the bridge, it looked like it was quite restored. I don't know how authentic it was, but it really seemed more like a bridge that was "improved" upon. In fact, I even saw a truck (an employee no doubt) drive across the bridge.
And by 2:30pm, we left Pont du Gard.
So, Pont du Gard… check.
Next, we were to drive to Avignon. I know Julie did some research on this place and wanted to see the Pope's Palace (I guess it was the former residence of the pope before the Vatican).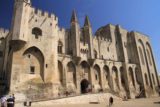 We'd eventually find parking for the palace at around 3:15pm. It was structured parking so we'd at least not have to contend with a roasting interior of the car when we return.
We paid for admission and did the tour of the palace, which was just outside the exit of this car park.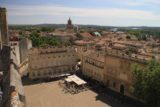 While the palace was grand, it really wasn't my cup of tea. In general, religious stuff didn't do it for me anyways, but I had to admit that the structure was grand and the views from the top were also pretty.
Still, we were done doing this tour at around 4:10pm.
Palais des Papes… check.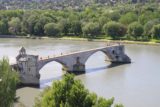 Next, we walked up a hill towards a park with a view of some bridge that didn't go across the river. It was also in some Russell Crowe movie that Julie said she saw. It also dawned on me that all those Provencal things Julie put on her checklist just so happened to be shown in that movie.
Anyways, we got the snaps we wanted of the partial bridge from above when some guy was explaining to everyone there that they were filming. I guess that kind of explained why we saw some attractive lady looking out towards the view. I wasn't sure if they were filming for a commercial piece or some show. Whatever it was, that was pretty much our cue to get our shots and go.
At 4:35pm, we were back in the car. Admittedly, that partial bridge wasn't all that interesting other than to say that you've been here.
View of partial bridge… check.
Next, we drove towards Gordes. But Julie was concerned that the Abbaye Senanque was going to close at 6pm so we hastily made our way over there.
Julie's favorite flower and scent was lavendar, and that abbaye was known for being fronted by lots of lavendar. Unfortunately, we knew going into this trip that it wouldn't be blooming until at least mid-June and into July.
Still, Julie was determined to get to that abbaye.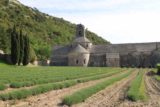 At 5:40pm, we finally made it to the abbaye. We skipped checking into our accommodation at Les Mas des Etoiles in Les Imberts. We even skipped a grand view of the impressive cliff-hugging village of Gordes.
And as feared, there were no lavendar to be found when we got there. So our visit here didn't last very long.
Ten minutes later, we left.
Abbaye Notre Dame de Senanque… check.
At this point, I was getting a bit tired of all the driving around to fulfill a checklist. I got the sense that we were missing the point of traveling by going from place to place to check off things on a list.
While admittedly we do this to catalog waterfalls or other "obligatory must do" excursions, today felt a bit rushed and outside the spirit of experiencing the essence of what it means to see something out of the ordinary through travel.
Next up, we went back for the viewpoint of Gordes. When we got there at 6:15pm, it was still glowing under the late afternoon sun. There were always someone enjoying this view including some large family from Texas who shared the view with us.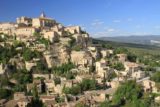 It was funny how the mother of that family asked if she could take a photo of us and was relieved to know that we spoke english. I guess I forgot about how much more difficult a trip to France can be without knowing the language, though the flip side in America could be the case for those who didn't know english (or in many cases Spanish) too well.
We got our fill of this spot at 6:25am and left.
Gordes Viewpoint… check.
I thought we were done with the checklist and could finally enjoy Gordes, but instead, we drove out to this village of beehive-like structures called the Village of Bories.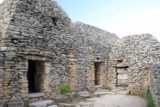 It involved driving quite a bit of a single-lane narrow road which weaved between walls of the same rock-like stuff that the beehive structures were made of. And so at about 6:35pm, we made it to the Village of Bories.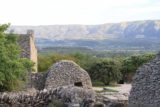 Our visit here didn't take long, but it was nice to see the afternoon glow of the sun make the village come to life photographically. Unfortunately, there were clouds that showed up just in time to block the sun and really mute the colors during our brief visit.
At about 7:05pm, we were back in the car. Finally, we were going to check into our accommodation back down the hill at Les Imberts. Then, we were planning to return to Gordes to check out the inside of that town.
Village of Bories… check.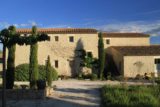 At 7:35pm, we finally made it to Les Mas des Etoiles, which was a real charming place to stay. I think Julie envisioned a charming locale in Provence, and apparently this homey accommodation fit the bill so we splurged a bit here.
We received a very warm welcome from Annette and Francois, who showed us around the premises and even made a couple of suggestions for places to eat in the town of Gordes.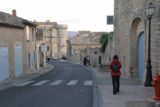 We were finally done researching and headed back to Gordes at 8:30pm. It wouldn't be until 9pm when we finally decided on this place called Casa Rosario, which wasn't as busy as Estaminet (very busy and only one overworked lady tending to all the tables there). Plus, Julie's choice spot in town wasn't open on Tuesdays and Wednesdays. Today was a Tuesday.
So we ended up having a pretty well-valued meal consisting of a scallop pasta for her dish and a duck breast dish for me. The duck breast caught me by surprise as it was huge like an entrecote of steak.
In any case, we finished our meal and were happy that we ate here per Francois' suggestion.
After eating the meal, I think we decided to pass on checking out the town of Gordes in the evening. Somehow, the town felt dead to us as we were looking around for a place to eat. We didn't go far in there, but it didn't quite feel as atmospheric as we had expected like say Mont-St-Michel or Carcassonne.
So this place seemed to have more of its charm from the outside than from the inside.
Eventually, we made it back to our accommodation at 10:05pm where we could finally call it a day. We did another videoconference with our daughter and mother-in-law then did some cleaning up before we crashed into bed.
Tomorrow was going to be a very busy day going all the way to Nice and back with some waterfalls en route as well as the desire to see the Grand Corniche as well as Old Nice. Indeed it was going to be another checklist-type day…