Day 14: NOT SO NICE
We awoke at 5am knowing full well that we had a very full day today because we were about to embark on an out-and-back day trip to Nice with waterfall stops along the way.
This kind of put Julie and I at odds about what the priorities of the day should be. Should we be spending more time in Nice and its Corniches? Or should we at least hit the waterfalls along the way and then take whatever time is left to do the waterfalls?
It wasn't an easy choice, and perhaps we should've devoted another night in the area (perhaps one in Nice) just to alleviate the load on this day trip. The fear was that we'd have to vagabond it in an area where we should be relaxing (and I was also afraid of car break-ins while exploring with a car full of stuff).
In any case, we quickly got ourselves ready and left into the cold and windy (read: wind chill) morning at 5:50am.
Unconsciously, I followed the GPS, which took us on some obscure country roads. Before I knew it, we were over an hour invested in this route and I realized that we really messed up when it came to being efficient about getting to Sillans-la-Cascade as well as the other waterfalls before getting to Nice.
I guess shortcuts are fine, but the GPS presumed that we'd still be going 90km/h most of the way to get there. Unfortunately, it didn't factor in the curvaceous roads and sitting behind slow-moving trucks with limited to no opportunities to pass that prevent you from realizing the full expected speed.
It wasn't until we were somewhere north of Aix-en-Provence did we finally find the autoroute. But we ended up stuck in traffic in the outskirts of the town nearest the autoroute before going the wrong way on the autoroute, and it wasn't until some 20km later that we finally found a way to turn around and head south on the autoroute to Aix-en-Provence.
What sucked about the autoroutes in these parts were that apparently the machines wouldn't take my credit card as it wasn't the carte bancaire with the smart chips that were prevalent in Europe but hardly anywhere in the States. So that meant that we had to actually insert cash into the toll kiosks and we quickly found ourselves short on small change and small notes.
As we were cruising along south along the autoroute towards Aix-en-Provence, the GPS was at it again taking us on a detour into town instead of staying in the autoroute. There was awful traffic along this "shortcut" and before we knew it, we blew another half-hour before we were back on the autoroute again.
Once we were cruising east along the autoroute (A8 this time), we finally gained momentum. It was at this point that with Julie increasingly frustrated that we were going to be in Nice later than we had hoped, that I decided to skip Sillans-la-Cascade and punt it towards the end of the day if we had time. It was a decision I hoped I wouldn't regret.
It wasn't until 9:55am when we finally made it to Nice. Once we were in town, it was pretty much all traffic all the time. Lots of things here reminded me of LA traffic though the Promenade des Anglais had probably a bit more of an embouteillage ou circulation (i.e. traffic jam) than what we were used to back at home in LA.
In any case, if the plan was to go straight to Nice before hitting all this traffic, we could've made it there at least 90 minutes earlier. So all those costly GPS detours and our own mistake of going the wrong way on the A51 really set us back.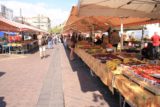 In addition, it had already put myself in a rushed frame of mind once we finally found parking and started walking around Old Nice.
The plan when we were in town was to tour the Old Nice section that Julie seemed very keen on seeing. Then, we'd walk to some place to have authentic Italian pizza which she was really craving. It wasn't since Italy or even the New York estalishments like Grimaldi's that we had last had authentically Italian thin-crust margherita pizzas with the thin crust, basil, mozarella, and rich tomato sauce.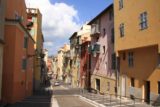 After discovering some kind of food market near between the Palace of Justice building and the Old Nice neighborhood, we then briefly strolled through the narrow streets and colorful aged buildings that characterized Old Nice.
Julie found it charming, and I really wished we didn't have so much to do on this day to better enjoy this part of town. In fact, staying here for a night probably would've let us soak in the sights of Nice while allowing us time a profiter (i.e. to enjoy or literally to profit from) the waterfalls.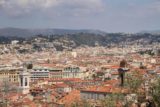 We then climbed up a bunch of stairs towards a road high up on the hill. This afforded us some views of Nice as well as the pretty coastline.
The more we walked southwards (not sure whether we could cut across this park on the hilltop in the direction of the port area), the more the coastal views opened up.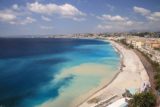 It wasn't until about 10:45am that we were at the Tour Bellanda. We skipped the fake cascade further up the hill in this area.
The view was pretty nice from up here as it was wide open with the azure blue waters dominating the Mediterranean Sea scenery off shore with light cyan waters sandwiched between the azure deep waters and the pebbly beach that already had a bunch of sun bathers. Meanwhile, a birds-eye view of Nice with mountains backing this city could also be seen.
It seemed like morning was a great time to be at this viewpoint as the sun was behind us and made the colors of the water really come out.
Still, we couldn't enjoy this at the leisurely pace we were hoping as we still had a ways to walk to find Julie's authentic Naples-influenced pizza place.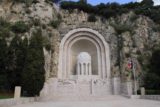 After descending the stairs of the Tour Bellanda, we then followed the road curving along the coastline and heading to the Old Port. Along the way, we saw some war memorial built into the cliffs.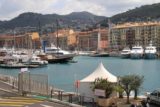 It wasn't until about 11:05am when we reached the location of the pizza place (Les Amoreaux, I believe) that Julie really wanted to eat at. Unfortunately, it looked closed. But then, we saw there was a sign saying that they're moving and it pointed out their new location.
So we continued on looking for this place at this new location.
But alas, at 11:20am, we showed up at the correct address only to see that this new location was still under construction. Apparently, our visit was mis-timed and we wouldn't have this pizza that Julie was really craving for.
The whole time we did this long walk (probably at least a mile each way) that I kept telling Julie going through this much trouble over food generally is not worth it; that we were missing some invaluable sightseeing time over this pursuit of food.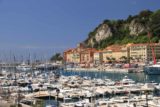 But being a hardcore foodie, Julie would have none of it until something like this really put her in a very disappointed mood.
We ended up getting some pizza a emporter (i.e. takeaway) that was far inferior and maybe even worse than the place we had in Lyon. It further fueled Julie's disappointment.
At 12:10pm, we were back in the car and made an attempt to check out the corniches between Nice and Monaco. Surely, there must be some pretty good sightseeing along this route, right?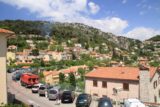 After fighting traffic to get onto the correct road into the Grand Corniche, we drove along some hilly roads, which seemed like nothing different from the hilly roads we've been driving throughout the country.
Somehow I envisioned narrow streets surrounded by cliff-hugging buildings or even cliff-hugging roads with some pullovers or something to enjoy dramatic views of buildings fronting the Mediterranean Sea. I kind of expected something like Oia in Santorini, Greece meets Lombard Street in San Francisco.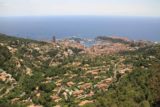 But as we'd eventually pull up into La Turbie at 12:45pm, we stopped at some place called Trophee d'Auguste (we didn't even make it to Trophee des Alpes) and got views looking down into Monaco. However, we didn't get the views we were hoping to get nor the experience we were expecting along this route.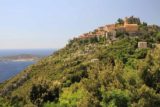 So instead of declaring a loss at this point and heading back to the A8, we decided to drive back towards the Eze area. It wasn't until about 1:20pm when we finally found parking (kind of on a sidewalk on a shoulder of a junction road) a short walk from the hilltop medieval town of Eze.
We spent some time walking in that village (albeit rushed) looking for at least a place to view charming medieval buildings juxtaposed with the azure blue waters of the Mediterranean Sea.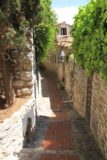 Well, it turned out that Eze was pretty commercial (not surprise there) with shops and cafes everywhere along the charmingly narrow pedestrian walkways and steps. It was kind of like Mont-St-Michel and Carcassonne all over again, except here, it seemed like they tried really hard for you not to have any views unless you paid money at a restaurant, hotel, or even the garden which would've let you go up to an old chateau at the very top of the hill.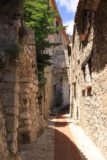 In our rush and frustrated frame of mind, we opted not to spend any more money here nor do that garden thinking it would take us a while longer when we still had more things to do. I guess we really could've enjoyed this place had we hit all the obligatory waterfall stops first and then made Nice the icing on the cake. But to do it the other way around, really bothered me (a decision I later regretted) and put Julie and I at odds about how we were managing this part of the trip.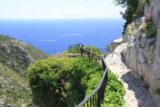 It was about 2pm when we finally got back to the car, but not before realizing that the best views of Eze was along the road to get back to our car (The D6007 I believe). It was here that at least we could see the context of Eze with the Mediterranean Sea behind it, but I'm sure the views would've been better if we had a more top-down perspective, which weren't available to us.
Now, we were trying to leave Nice via the Moyenne (Middle) Corniche route. We were still trying to capture that Oia meets Lombard Street fantasy thinking this may be the route we should've taken all along. But as we drove downhill back into downtown Nice, it was nowhere to be found. Julie was perplexed as to which route the tour bus took her on back in 2007 when her Mom and her were on a tour that she recalled such a scary and dramatic drive.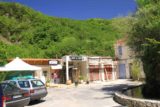 Anyways, it probably took another half-hour or 45 minutes before we finally regained the autoroute A8. Then, it wasn't until about 3:30pm (after following some rental car full of tourists who were going slow and refused to use pullouts) that we finally arrived at the car park for Saut du Loup. This was after briefly glimpsing Cascade de Courmes, which was just down the road. We'd have to come back for that one later.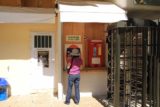 After parking at the Saut du Loup, we paid our 1 euro per person, which allowed us to turn the turnstile. It was a pretty interesting automated way of admission and exit for this attraction.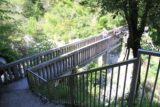 Then, we were on a small bridge behind the building which let us look at a bunch of weeping cascades on one side of the bridge and a rushing torrent on the other.
You can't take an all encompassing photo to take in the whole scene, but you could certainly take movies, and that's what we did.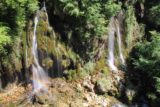 There was also a rainbow that showed up on the base of one of the smaller cascades.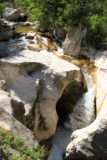 It wasn't until about 3:50pm that we were done doing the Saut du Loup and then five-minutes later, stop the car at a pullout next to a tunnel back down the road.
We'd then have to walk right onto the road to reach the end of the other tunnel up the hill to see the Cascade de Courmes. We weren't the only ones doing this as the lemmings effect was in full swing.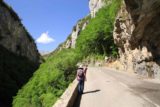 However, I had to believe walking on a roadway like this with no shoulder was one of the more dangerous things we had to do to visit a pretty waterfall.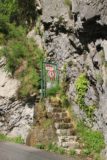 It turned out that when we got to the falls, there was some stairs that were barred for safety reasons. I'd argue that perhaps walking on the road to get here might be more dangerous than that path, which would've gone up and behind the falls before getting to a viewpoint where you could juxtapose the falls with the highway.
In any case, the drivers of the cars on the road were courteous enough not to hit anyone, and we all profited from looking at the falls in perfect afternoon light.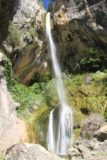 I certainly wished we could've done more around this falls had that path been open, but all things considered, we pretty much got what we wanted out of this falls and got back to the car at 4:10pm.
Now, we had to fight the GPS and head back to the autoroute A8, which once again involved quite a bit of traffic to even get onto the autoroute. I guess since the onramp we were going on wasn't far from Cannes that it might explain the traffic. In fact, I'd argue that the French Riviera part of the south of France was a bit more busy, tense (we think it might have to do with a bit of an Italian anarchy mentality on the roads given their close proximity to Italy) and was totally opposite the laid back, friendlier feed of Provence that we were expecting in the South of France.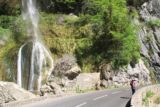 I guess it shows you how different the images that are sold to you abroad can be against the reality.
Anyways, once we finally got onto the autoroute, we had a decision to make. Once again, I knew Julie wanted to return to Les Imberts/Gordes area to have a dinner. However, the GPS indicated that if we were to make a detour to Sillans-la-Cascade, we'd only make it there by around 6pm and probably wouldn't even make it to back into town by 8pm or whenever dinner time was supposed to be.
So when we were approaching Aix-en-Provence not far from the exit we were supposed to take, we decided to skip Sillans-la-Cascade (something that was real painful to me) and eventually made it back to Les Imberts and our accommodation at 7:15pm.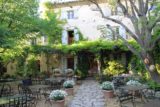 Francois saw us come back and we chatted about the day as well as what was on tap for tomorrow. He even suggested that since we were looking for a real provencal experience for food that we try for Mas de Tourteron (even though we didn't have reservations) and tell them that he sent us.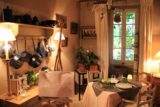 Well, at 7:45pm, we left the room and went right around the corner for the restaurant. It turned out that they had a nice spot in a very charming and rustic room for a couple of tables, and we happened to be the only ones in that room.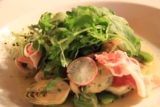 We knew it would be a fine dining experience given how beautiful the garden was, the interior decor, and just the overall feel of the place. But I guess this was one of those times where we felt the need to splurge to get that quintessential provencal dining experience (which I still have yet to put a finger on what makes something provencal other than you feel it or you know it when you experience it).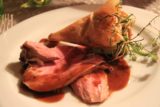 So our dinner was a two-hour experience consisting of zuchinni soup (the surprise from the kitchen), a salad with carpaccio of local country ham, some kind of crab cake starter, quail prepared two ways as well as local lamb (said to be famous in this restaurant) prepared two ways, and then a massive dessert buffet.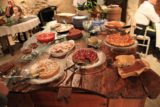 We were back in our accommodation at 10:15pm. I think given the laid back atmosphere that was absent from most of our touring today, we decided against going to Marseilles tomorrow. I guess in the bitter aftertaste of the big pizza miss in Nice, going way out of the way for bouillabaise in Marseille at the expense of seeing quintessential provence became that much clearer.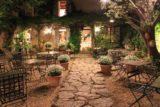 So the end result was that we got to go to sleep knowing that we were about to sleep in for the night with no alarm to wake us up.
Visitor Comments:
No users have replied to the content on this page