Day 15: PLUS DE PROVENCE
It was about 7:45am when I awoke. Julie awoke a few minutes after me. But for once, there was no alarm to wake up to.
Given that we started off in a pretty relaxed state, Julie and I joined Francois, Annette, and a host of other guests (mostly Americans from the Boston area) over breakfast.
The brekkie consisted of croissants, fresh cherries, freshly squeezed orange juice, and even oatmeal that doesn't require cooking.
But the main joy of this morning's petit dejeuner was just mingling with the hosts and the other guests. I even tried practicing more French with another couple who drove all the way down from Normandy (they said it was about an eight-hour drive).
It seemed like most of the guests were concentrating their time on the Provence area especially within the Vaucluse Plateau where you have all those charming towns like Gordes, Rousillon, Oppede, Bonnieux, Fontaine de Vaucluse, etc.
In a way, it gave us ideas on what we ought to be spending our time on for this day.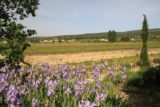 In any case, we left the accommodation at about 10:10am. The first on the agenda was Rousillon because it was the top town to experience according to the host Francois and it was one of Julie's must-do attractions on this day.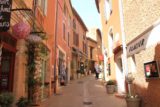 So by 10:30am, we parked at one of the lots below the town of Rousillon. We didn't quite know where we were supposed to park but this one didn't seem too far from town and it was 2 euros for the day (which I'm sure we wouldn't be spending our whole day here).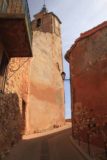 As we walked up the hill and into the heart of the town, we were pretty charmed by the red colors of the buildings which were no doubt derived from the ochre material prevalent in the area.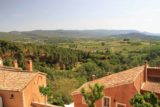 But in addition to the colors, there was also that provencal charm manifested in quaint churches, narrow streets, and even a bit of an artisan flavor to the way the windows were decorated or how plants with flowers grew and clung to the walls of these buildings.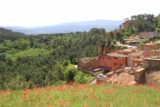 The only thing that might have taken away from the charm of the town somewhat was their allowance of cars driving through the town. Had it been totally pedestrian, it'd be much quieter and you wouldn't constantly feel like you have to get out of the way of vehicles trying to get through.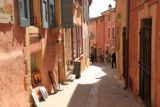 We then walked a little bit of the sentier des ocres (Ochre trail). We didn't do the full 50 minute-walk nor the full 35-minute walk, but we did absorb quite a bit of the red rock scenery. In a way, it was almost like Provence meets Bryce Canyon except we didn't catch any major natural arches, which really would've put even more icing on the cake so to speak.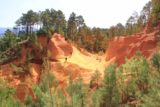 Eventually, we left Rousillon at 12pm. There were still more places to check out within the Vaucluse Plateau.
Julie had this desire to check out Bonnieux, or at least some vineyard before it. She wanted to see it because it was featured in this Russell Crowe movie called the Good Summer. I guess she fancied something like a movie tour more or less as part of her Provencal checklist.
However, I recalled Francois was kind of lukewarm to the idea of going there when he seemed pretty high on Oppede and other places that have similar attractions. Julie wasn't quite sold on Oppede based on her TripAdvisor research.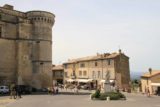 In any case, after a little bit of debating over where to go next, we eventually got a little bit lost losing the sign for Bonnieux. So when that happened, it was decided to drive up to Gordes since we never really got to see the interior of the town despite this being our third day in this part of Provence. Of course, we've been hearing that it was prettier on the outside than within.
Yet despite this, we had to see for ourselves.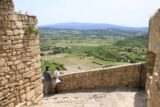 When we were at Gordes at 12:30pm, we walked around part of the town trying to check out some of the narrow passageways and any photo ops we might stumble upon.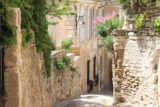 Unfortunately, the town was pretty dead once you left the area near the car parks and entrance. So there really wasn't a whole lot to see outside those areas, and it might've explained why most people who have been here seem to suggest that Gordes is pretty to look at from the outside, but doesn't have much to offer once you're within.
So after a quick panini lunch, we left Gordes at 1:35pm. It was at this point that my desire to go to Sillans-la-cascade was very strong; especially given that we missed the falls the day before given the misfortunes in Nice as well as during the drive to get to the area (no thanks to the GPS giving us bad directions). Plus, it seemed like we had enough time this afternoon to do the long out-and-back waterfall-bagging excursion given that we got the flavor of the towns from the Vaucluse Plateau.
We figured that if we do well on time getting to the falls, we might even be able to fit in something like the Fontaine de Vaucluse right before dinner.
So we eventually were back at the accommodation to get some last-minute supplies before leaving some time before 2pm.
It took us quite a bit of time to drive towards Sillans-la-cascade as we were struggling with following the A7 signs as opposed to listening to the GPS. But given how often we were burned by the GPS, it was pretty frustrating to have to figure out when to ignore the GPS and when to listen to it. In this case, we should've listened to it!
Well, we would eventually get to the A7 but not before taking a somewhat inefficient path that had us going far west before backtracking towards the southeast.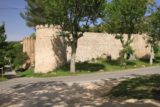 It wouldn't be until about 4:40pm that we found parking for exploring the falls. It was said to be about 800m from the car park to the falls, but we also saw other signs indicating that it was a 1km walk each way.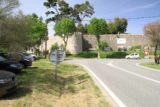 The hike started off with a view of some kind of castle walls as the car park was right across the street from it. Then, the walking path went into a lightly forested area.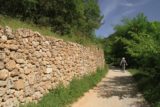 We were a bit surprised at how busy this waterfall was as I had thought this was one of the more obscure attractions in the land. But here we were following quite a few people looking to get close to the falls.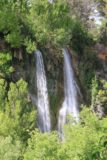 At about 4:55pm, we made it to one of the panoramic views of the falls. The view of the falls from up here wasn't all that impressive as its base was covered in trees. It was busy with people trying to take photos through an opening in the foliage for the falls. But there were steps leading down that I saw people take. Was the base truly interdit (forbidden) as the signs have been saying?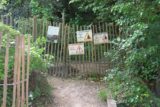 I decided to go down the steps until I was met with a barricade. However, I couldn't help but notice that there was a trail that went around this barricade. Then a few paces further, I was met by another barricade, and this time it looked like someone smashed open the gate to allow further acess. There was still yet a third barricade further below that was also smashed open.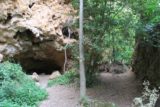 I guess the reason why they closed this trail was the fragile and crumbling nature of the overhanging cliffs above the trail. But it seemed like someone found a will and a way to continue and others followed.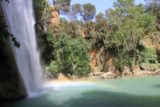 Eventually, I made it to the edges of the plunge pool near the base of Sillans-la-cascade. There were lots of other people including kids that have made it down to these parts.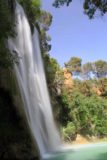 I guess this was one of those moments where I debated whether or not I should do as the locals did and refuse the denial of access to a pleasurable experience at the falls. But when you easily have lots of people going ahead and finishing the hike, I guess I felt there was no reason to not access what they were able to access.
This wasn't the first time we saw locals treating the rules like they were made to be broken. After all, we saw some folks hop turnstiles at the subway stations in Paris. I bet you wouldn't see this in Japan where it seems everyone respects the rules.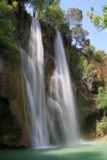 I spent quite a bit of time down at the base watching people enjoy the water while at the same time enjoying the nice perspective of this 42m waterfall. There was even a late afternoon rainbow at the base of the falls.
After having my fill of the base of Sillans-la-cascade, it was time to head back to our accommodation. I guess it was decided that we wouldn't drive towards other Vaucluse Plateau areas like Bonnieux or Fontaine de Vaucluse given how late it was getting and how we had dinner reservations for 8:30pm. The GPS said we wouldn't return until after 7pm.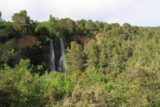 So we left Sillans-la-cascade at 5:10pm and drove all the way back to our accommodation on the way to Gordes in Les Imberts.
I had to follow quite a few slow drivers who refuse to use the pullouts to let faster traffic pass. But in any case, it wasn't until about 7:05pm when we finally made it back to Le Mas des Etoiles.
So we got to this place called Le Clos de Gustave at 8:30pm and sure enough the staff was pretty overworked and understaffed as we had feared. In any case, the food was ok with the disappointments being of some of the desserts and my beef filet.
I also wasn't pleased about them charging us for a bottle of Evian water when we clearly said we wanted un carafe d'eau (a carafe of water). This was a case where maybe the waitress or the manager conveniently misunderstood us to force us to pay for water when we didn't have to. I don't think it's ethical, but I have to believe it's a fairly common practice when unsuspecting tourists are easy targets.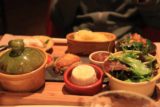 Anyways, after finishing our dinner at this place, we concluded that it was like night and day compared to our dining experience yesterday. This was especially the case given that the service was real slow, the creme brulee tasted like it had just some out of the refrigerator, and it lacked that provencal feel that Julie was looking for which was why she chose this restaurant over others on this night. On the flip side, they did have a nice assortment of mains and starters, which came mostly from Julie's degustation menu choice.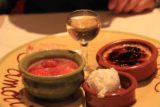 We'd eventually leave the restaurant at about 10:05pm. And when we returned to Le Mas des Etoiles, we were greeted by Francois who was still up.
Anyways, we wrapped up the evening chatting about mountains, some politics, and restaurants. When discussing restaurants, I guess the Clos de Gustave was one of those restaurants that was up against the 8-ball coming after Le Mas de Tourteron.
We also used this time to pay for our three nights stay here.
Francois and I had an enjoyable talk about Nature and some places in the French Alps to see, but it was time to leave and spend our last night at the Birds Room, talk to family back home, and get some much needed rest.
So long Provence. Here we come Alps…
Visitor Comments:
No users have replied to the content on this page