Day 9: SUBDUED DAY
It was 7:45am when we awoke. There was this mosquito (or several of them) that seemed to buzz by my ear all night last night interrupting my sleep as I was busy slapping at them against my face. And when both Julie and I were conscious, we noticed a handful of bites on our faces as well as on our limbs. There were even a handful of them on my belly, which I'm not sure how they got access.
At 9:05am, we were ready to leave. Though we had to wait another 10 minutes before the proprietor returned to the property as he had left for town (probably for some produce) before returning.
So at 9:15am, we finally left Kalampaka. But we had to avoid the main road towards the roundabout that we usually took into town because there was some farmers market that blocked off a few blocks including the thoroughfare we were used to taking.
But once we got by that obstacle, we proceeded to drive towards the town of Larisa. Actually, when we arrived at a little before 11am, we discovered that Larisa was more of a big city and so the driving was a little more stressful and crazier than any bit of driving that I had to endure on this trip so far (remember, we took the bus from the airport to Athens and back so we didn't need a car for those days).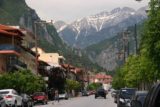 By about 11:40am, we finally made it to the town of Litochoro. The highway we were on was flanked by the Aegean Sea on the right. We even passed by some interesting-looking castle en route, but we didn't stop for it.
The town itself didn't quite meet my fantasy expectations of the town providing some kind of atmospheric view of Mt Olympus while descending into a valley. I had this mental image from what I read in LP
, but it turned out to be far less dramatic than that.
Instead, the town sloped uphill and the road to Mt Olympus deviated from the town center eventually going up steeply on several switchbacks. After about 15 minutes or so, we were stopped at a kiosk patrolled by the Forest Service. We thought we had to pay some kind of entrance fee, but the employee came out to us and merely asked where we were from so he could note it down. And once he did that, he told us that it was another 14km to the end of the road, and that was that.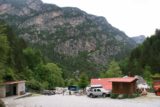 By 12:25pm, we finally made it to the end of the road. We were still nowhere near the summit of Mt Olympus nor could we even see the peak of Greece's tallest mountain from this car park. So we spent a few minutes exploring a little bit of the nature walk (one going downstream and one going up the mountain). But we didn't go very far before we realized that there wasn't much here to see or do unless we were ready for a long hike. And with our upcoming drive to Thessaloniki along with the threat of rain, we just decided to head back to the car and drive back to Litochoro.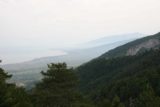 Hey, at least we tried to see what there was up here.
The drive back down was uneventful though we did sneak in a nice view of the Aegean Sea against the haze of clouds.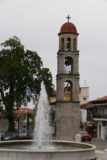 By 1:25pm, we finally found the charming town center of Litochoro with its large roundabout surrounding a fountain while bordered by a church and bell tower. A few paces north of the square, there was a quiet area with a pretty view of Mt Olympus and some homes fronting it. For a mountain as religiously significant as the birthplace of Zeus, I got the sense that this place didn't quite get the same fanfare as say Yosemite National Park would get.
We ended up eating at this place at the square called Gastrodnomio's, which served some dishes that were a bit different and more imaginative than some of the other sit down establishments we had been having up to this point. Of course, we were getting a little bit fatigued of Greek Food so we were definitely looking forward to something different.
Our food consisted of some kind of Mediterranean pasta while another was some kind of meatball in gravy.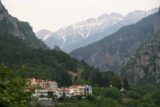 From our seat, we had a pretty nice view of Mt Olympus. After getting up to the end of the road, this turned out to be the best view of Mt Olympus that we were able to get.
We left Litochoro at 2:20pm. Now, it was time to finally finish off the drive continuing north to Thessaloniki.
After about an hour, the smooth driving on the motorway led us right into Greece's second largest city. I was a little anxious about driving in a metropolitan area in the country where the Greek way (i.e. the aggressive way) was the norm. But then again, I guess it could be a little comparable (albeit a tad crazier) to San Francisco but not quite as crazy as say Delhi (where there's no way I'd be caught dead driving there).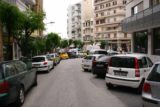 Good thing the GPS
was pretty clear about the directions while in the city because I did have to weave in and out of a couple of traffic jams. But finally at 3:40pm, we managed to secure parking right in front of the hotel. And that was because the hotel put out no parking fences that we were able to move. If not for that, I'm not sure how we would've been able to find parking.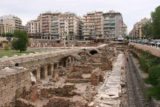 So we got unpacked and settled at the Hotel Olympia. Even in our tired states, we did want to do a little walking around the city just to see what it was like here. Besides, we were ready for a little dinner that we hoped would be Turkish (since this part of Greece was occupied by Turks for 450 years only to relinquish it as late as 1912). Or if it wasn't Turkish, at least something different than the Greek fare we'd been having up to this point.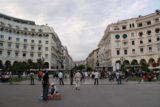 At 4:40pm, we were back out of the hotel walking around. After passing by the Roman Agora, we caught sight of the waterfront across the park and headed right to it. Along the way, Julie and I indulged in our sweet tooth a bit by visiting some bakeries or sweets shops. The varieties of baklava-like desserts (some filled with cream) and gelatos was all in an effort to find that cheese pastry we had in Olympia but couldn't find since.
Unfortunately, Julie and I had one of those WTF moments when Julie was waiting in line, and then was promptly ignored rather openly when it was her turn to place an order. It wasn't until the lady behind her graciously said to the worker that Julie was in front of her. It wasn't exactly a very pleasant to have experienced this apparent racism, but come to think of it, Julie and I noticed this even at a bakery in Meteora.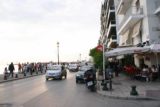 Anyways, after a couple of blocks of walking along this wide pedestrian promenade that was pretty happening with lots of people walking as well as plenty of others chit-chatting and people watching, we reached the waterfront itself where there were cafes lined up on the inland side with a busy street and waterfront walkway on the opposite side.
But these cafes were more of the hip people-watching variety with plenty of local Macedonian Greeks filling the seats that were facing the waterfront. It was totally conducive to people watching while socializing (which included the usual barrage of cigarette smoke). And in the background, several varieties of music were being played which encompassed some hip clubbing type tracks to something I was familiar with from Triple J Radio to even some American classics.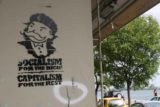 On some of the walls of the buildings along this stretch, I couldn't help but notice some of the graffiti and stencils of some political statements. I wasn't sure how new they were, but one in particular caught my attention. It was one of the monopoly man with the saying, "Socialism for the rich, capitalism for the rest of us." I thought it was a rather accurate statement, and I wondered if this was in response to the austerity measures that resulted in the lastest Greek riots that killed 3 bankers.
But I thought about how the American taxpayers bailed out Wall Street and how the basic problems still persist and remain unresolved, and I thought to myself how this statement pretty much sums up our situation, too!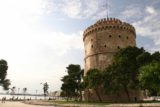 I'm sure it would've been cool to hang out at one of these cafes and joining in the atmosphere, but the heavy cigarette smoke didn't make it very appealing (the cigs really bothered Julie). So we continued walking before the noisy (and smokey) cafes while approaching the White Tower, which we could see further up ahead.
When we got to the White Tower, its location somehow reminded me of the way the Gate of India was positioned on the waterfront in Mumbai. At least up in Thessaloniki, there were no peddlers or touts who won't leave you alone.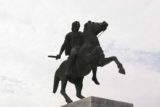 So we chilled for a bit in front of the White Tower before continuing along a concrete plaza where bikers, pedestrians, and even some interesting array of tents housing some kind of book fair or something lined this charming little area by the waterfront. Eventually, we found ourselves looking at a fairly large statue of Alexander the Great on horseback.
Then, we went to this fairly hidden restaurant called Myrsini. The menu at this place was completely in Greek. But the dishes were more Cretan, which we were a little curious as to how different Cretan food was compared to Greek.
In any case, we ended up with some kind of rabbit dish while another was some kind of snail (almost escargeau like). This place even served a shot of some kind of hard liquor prior to our meal, which was both on the house and something I don't think I'd ever experienced before in a dining experience (i.e. taking a shot of liquor prior to a meal). Julie was not one to down one of these shots so she gave up her shot and gave it to me. So I ended up with a double dose of whatever this stuff was.
The waiter helped us translate the menu while taking our order. He then engaged us in some conversation upon learning that we were from Los Angeles. That was because he spent time living in Carpinteria as well as studying in Caltech. Both of us wondered why he wasn't leveraging his Caltech degree for something lucrative (he said he was a Chemical Engineer), but then again, maybe he was back here helping out the family. In any case, we didn't pursue the issue further.
After the dinner, we indulged our sweet tooth with some pastries (some kind of baklava with cream in it at Trigona Elenidis as recommended by LP) as well as some gelatos. I think we might have overindulged with the sweets as we were walking back to our room.
Once we were through retracing our steps along the waterfront, we then headed inland through the wide promenade at 8:20am. Just then, there was a large contingent of bike riders occupying a lot of space on the square. It was an interesting scene to say the least. We weren't sure if this was a bike tour or something. But some of the people were riding bikes in very high heels, which I thought would've been unusual for a tourist group.
And when we were about to cross into the park just north of the promenade, suddenly a fair-sized group appeared to be demonstrating and heading towards us. Julie and I made sure we went further into the park to avoid any potential trouble as these folks were blocking traffic heading west.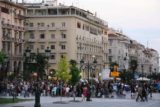 We could only speculate what they were marching about as the sign was pretty much in Greek (though the word "Banquet" was in the banner, which we weren't sure what that was all about). In any case, we left it at that as the marching group went south towards the promenade. At least we'd be out of the commotion should this blow up into something big.
We suspected it might have to do with the austerity measures imposed on the country as a result of the Eurozone countries (namely Germany) bailing them out. But in any case, it was all speculation.
At 8:30pm, we made it back to our room. Now, we could call it a day. I guess compared to the sights we had seen on the trip up to this point, perhaps by comparison it was a rather subdued day. The only other day I could think of where the sightseeing was as low key as today was the very first day in Greece when we arrived, when we drove out to Olympia from Athens.
Anyways, tomorrow is planned to be our first legitimate waterfall of the trip. Personally, I think it's about time…