Day 10: THE LONE WATERFALL
We awoke at 7am. It took us a little bit of time to freshen up and get ready for the day. But Julie and I thoroughly enjoyed the breakfast at the hotel here as this was certainly one of the better ones we've had on this trip.
Now I wouldn't say it was a good and healthy breakfast though. But it was sinfully good as they had crepes and some kind of baklava crusted cake along with the usual yogurt with honey as well as cereal, eggs, fruits, and mini hot dog sausages. I couldn't help but pour on the thick chocolate onto the crepes.
In a comical moment, I was busy serving myself seconds of the crepe and local dessert when some guy patted me on the shoulder and said something to me in Greek. He then got a second look at me and realized that he thought I was someone else.
I shook the guy's hand anyways and said no worries to him. But this was funny in many respects because apparently I must look local enough to be considered a local. Anyways, we all got a good chuckle out of it.
So at 8:30am, we were finally ready to leave and get started on the day.
The drive was fairly straightforward. The city hadn't quite woken up yet so getting out of the city wasn't bad. But once we got on the highway, it wasn't as fast as I thought even though it was roughly 80km between Thessaloniki and Edessa.
The day started off pretty cloudless and blue. I wasn't sure if this was good for the waterfall photos we would be taking today or not. I guess we'll find out when we get there.
There was one stretch where there was a caravan of three cargo trucks making it difficult to pass them. This persisted for at least 20km. But eventually, we made it to Edessa at 10:05am. It was a good thing that the falls were pretty well signposted. Otherwise, I'd get pretty lost in their maze of narrow streets.
We didn't have any trouble finding parking as it seemed pretty quiet at the park by the waterfalls. However, we weren't quite sure where the official car park was as all we did was find an open spot along a sidewalk opposite some shops and cafes where other cars were parked.
And once we got out of the car, we made our way over to the shady tree-lined park area where there was a tourist info center as well as a cafe with a trio of concrete-lined streams rushing through the complex.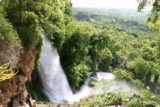 It didn't take long before we found the waterfalls. The main one we saw was the so-called Great Waterfall. This is the one we saw in photos on the web as well as in our DK book.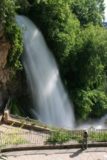 It wasn't easy to photograph from the well-developed walkway and platforms where you can stay dry. So we took what photos that we could from here while it was still quiet.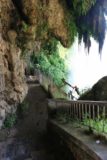 We then walked on a short path that went behind the waterfall. We thought that already made this waterfall stand out, especially considering it was the lone waterfall of our trip in Greece. It certainly provided us a bit of shade as the sun was already starting to make things pretty hot.
It didn't take long to get as much of a waterfalling experience as we could without getting wet. But then the moment of truth came as we looked at the poison ivy-lined wet walkway that weaved alongside the Great Waterfall before reaching bridges at the bottom crossing both this waterfall and appearing to provide views of the other two waterfalls (which we were made aware of after seeing a video shot by helicopter at the Budget Rent-a-Car kiosk at the Athens Airport).
So what we did was that Julie was going to stay behind, while I put everything (camera, wallet, keys, Julie's camera, etc.) in the brown bag which I would make a run through the barrage of water while trying to protect the bag from a drenching in much the way a running back would protect the ball running through traffic. And before I did this, I also took off my shirt and put it in the bag.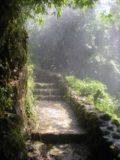 So then I made my move. Unfortunately, I made one slip and fell (cutting my toe in the process), but still got back up and persisted as I made my way down through the chaos and to the man-made bridges looking like they're part of a larger hydro scheme.
Anyways, down to the bottom I was. And even still, it was still difficult to take a photo without waterspots on them thanks to the sheer quantity of mist swirling and raining down on the walkway.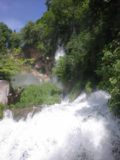 So I made more use of Julie's smaller camera which had a smaller target for the lens for water to get on it and ruining the photo. I was more conservative with my own camera.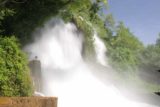 And after taking what shots I could of both the Great Waterfall as well as the Twin Waterfall, I once again protected the bag like a running back and hastily made my way up through the rain before getting back to the dry platform area.
That was when I put my shirt back. And when I walked up the stairs to rejoin Julie, I could see some local Greeks as well as a group of younger Greeks looked at me as if I was nuts. They could see that my pants were drenched and my hair was shiny and spiky thanks to the shower.
Even one of the vendors here was asking me in English why I was wet. So I told him I want down and saw the other 2 waterfalls, and I guess that answer satisfied his curiosity.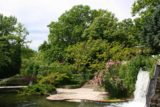 Next, Julie and I went back up to the top of the waterfall where we were chilling out amongst a pleasant little garden where part of the waterfall's stream was diverted to go through some meandering streams and smaller waterfalls amongst some sections where flowers were in bloom.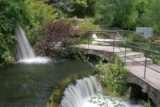 I tried to follow the walkway towards the other side of the stream where there was a sign indicating the Twin Falls. Unfortunately, all the pathways gaining access to views from that side of the incline were closed. So I guess it was good that I was able to get the views that I was able to get from the misty bottom. And in that sense, it was certainly worth the trouble, as far as I was concerned.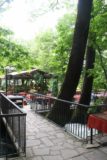 Finally at around 12pm, Julie and I had a short meal of a couple of mezedhes (appetizers) at that cafe at the top of the waterfall. Julie wasn't impressed with the food, but at least it held us over. We also used this time to look through some of the brochures and pamphlets that the tourist info center gave us, which showed some attractive hot springs as well as some historical facts about Edessa as well as highlighting some archaeological sites in the town proper.
Indeed, the sense I got from reading the literature made me realize that in Greece, you're never far from history. Even for a waterfalling excursion (like the lone one we're doing today), there's some archaeological site or some bit of historical information at the town itself. Perhaps this shouldn't be surprising since it seemed lots of Greece is ostensibly linked with history. After all, we witnessed and appreciated this from most of our excursions during the 10 days we have been here already.
But in the end, we decided to just head back to Thessaloniki and perhaps wrap up the sightseeing we only partially accomplished yesterday.
So at 12:35pm, we were back in the car and headed right back to Thessaloniki. At 2:15pm, we made it back to the Hotel Olympia in Thessaloniki. Fortunately, there were a couple of hotel parking spots, so that was one less stress that was out of the way. Yay!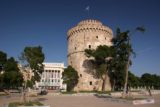 After a little bit of a rest, we finally headed back out of the hotel at 4:50pm. Just before we headed out, we asked the receptionist a few questions regarding internet access and if there were any Turkish restaurants in town (after all, the Ottoman Turks ruled this part of Greece for over 450 years). Well, we learned from the receptionist that she had never heard of one in town. So I guess we weren't going to have any hummus or anything relating to the Turkish past in terms of culinary tastes.
During our walk, we could feel it was a lot hotter this afternoon than it was yesterday afternoon. We first made a quick stop over at the Church of Agia Sofia, which wasn't open but the doors were open because it looked like they were preparing for some kind of wedding.
We didn't stay at the church for long. Next, we headed right back to the waterfront, then made a quick detour inland looking for this dessert shop called Trigona Elendis which specialized in this triangular baklava-like cone with tasty cream filling. At first we got just one small piece just to try out. But then after eating one, we bought another one.
The people in the shop were smirking as I came back in to order another one. Even one guy told me that he knew I was coming back in to order another one. He then went on to say he usually buys a big box, but both Julie and I knew we had to refrain. In any case, the sticky dessert was damn good.
At 6pm, we made it past the White Tower again (this time with a bit of a pleasantly soft glow from the afternoon sun) and then arrived at the Macedonia Archaeological Museum. The museum didn't look like much from the outside, but at 6 euros per person admission, there had better be an extensive collection inside.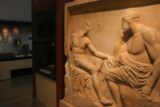 Well, it turned out that we were asked to walk a particular route that pretty much snaked its way through the museum. It started with a gemology lesson about amber before moving on to early humans (including their remains like skulls and skeletons) as well as their tools and other aspects like primitive writing. Next, there were some displays about glassworks before moving on to gold. Then, it continued on to city building before going through a bunch of statues, columns, and even mosaics.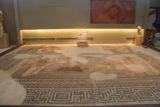 Towards the end of the indoor part of the exhibit, Julie and I noticed some interesting mosaics on the ground as well as some frescoes on the wall. They seemed like one of those things where they didn't look like much from up close, but when you look at them from far away, they were quite impressive.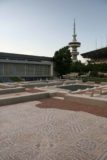 Finally, we walked outside around the building where there were old tombs as well as additional mosaics. By this time, it looked like the thunderclouds that were nowhere to be found all of the sudden popped up and hovered over the city. I thought they might make for a dazzling sunset, but that was only if the clouds didn't continue growing and obscuring the sunset to come.
While walking through the exhibit, I learned that Philadelpheia (actually, Nea Philadelpheia) is Greek. That was something Julie and I didn't know, and I guess it was fitting that our international flight from LAX to Athens connected in Philadelphia.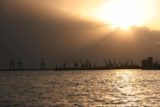 A little after 7pm, we left the museum and headed back towards the White Tower. It looked like sunset promised to be pretty good. And I couldn't wait for the sun to set and perhaps paint the thunderclouds popping up over us a shade of pink and purple.
So we ate at a Pizza Hut nearby the White Tower. That would at least buy us some time, and it would satisfy Julie's curiosity about the quality of the Pizza Hut pizzas in Greece.
Well, the small personal-sized pizza was pretty good by Julie's standards. And we managed to finish our meal at around 8pm. So after paying for the meal, we walked across the street and were suddenly immersed in a happening waterfront as it was full of pedestrian traffic while the White Tower softly glowing.
But just then, the thunderclouds that were once overhead expanded well into the line of sight of the setting sun. And eventually it became apparent that the sunset I was looking for wasn't about to come. Bummer!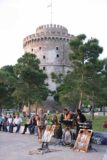 In any case, the scene at the waterfront was certainly fun to be a part of. It somehow reminded us of Santa Monica except the waterfront here is all concrete whereas the one back at home is mostly beached. But there were street vendors and street performers as well as tents, and all the while there were heaps of pedestrians strolling amidst all the action.
We even checked out this performance by some folks dressed in Incan attire playing traditional Peruvian music. We weren't sure if they were authentically Peruvian or not, but it was an interesting sight nonetheless.
At 8:45pm, we went to the Noodle Bar, which Julie insisted upon since she was tired of Greek food and wanted something different. But we both knew it wasn't going to be good Asian food, yet I knew she was forcing this.
And sure enough, her ramen was more like instant noodles and my mango chicken was nothing like the Malaysian dish we expected as it was more like typical stir fry smeared over by some kind of gravy-like sauce. And at over $20USD equivalent, it was a total rip off for the pair of dishes we got.
During our subpar meal, at 9pm we heard someone on the loud speaker leading a small group of folks walking right in front of the restaurant. It turned out to be a fairly small gathering of people, which was fine for us as we wouldn't want to be caught in another protest.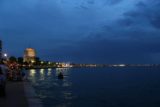 Shortly thereafter, we left the restaurant and headed back to our hotel. Our route followed the waterfront where we were entranced by the lightning strikes off shore. It seemed like the pop-up thunderstorms were building up over the city this evening. But all my attempts at trying to capture the lightning in my long exposure photographs failed.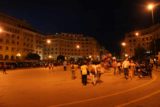 Finally at around 9:30pm, we were back at the hotel room. And so ended this very long day. It was our last night in Greece, and we were quite ready for a change of scenery, which we expect to have in Croatia tomorrow.