Day 11: AIMLESS WANDERINGS
The day began with us waking up at 8am. After getting all packed and ready to go, we went downstairs for another sugary and sinfully indulgent breakfast (of the same tasty crepes smothered in thick chocolate plus a type of cake with baklava-like crust were our favorites). And after checking out, it was 10:30am when we finally got into our rental car and headed out.
As symptomatic of a poorly planned trip aside from the waterfalls, we realized that Halkidiki Beach was too far away to be done reasonably before we would have to return the car and wait at the airport for our one-stop flight to Zagreb, Croatia.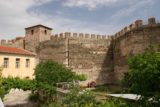 So instead, we went around to the northern side of Thessaloniki, which we hadn't really seen up to this point, and went looking for a Kastra (Castle) as well as some Byzantine Walls.
But we weren't really sure where we were going so we were slowly trying to navigate through the maze of narrow city streets before we finally stumbled upon a fortress and former prison called Eptapyrgio.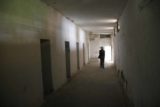 The complex looked imposing and interesting from the outside. But inside, it looked kind of confined and a bit scary as we could totally see how it was a prison in its past life.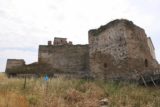 In any case, it was an interesting little sight to explore a bit, but it didn't blow our socks off. Still, this was a UNESCO World Heritage site so I guess that meant it must've had some sort of value in terms of human heritage.
At 11:15am, we then wandered around by car some more while trying to follow along the Byzantine Walls, which looked like an interesting backdrop to the narrow streets of this part of town. Somehow it reminded me of a poor-man's version of the way the city walls of Xi'an in China surrounded the city center.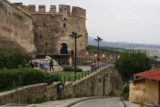 And after parking our car on the sidewalk like the locals did, we then aimlessly wandered along the Byzantine Walls until some locals told us that we were going the wrong way to the Ana Poli (Old Town?).
So once we went the correct way, we eventually followed the Byzantine Wall over to the signposted Trigonas Tower. There were tour buses there so I guess it must've been the right place.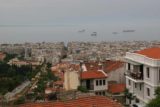 In any case, this attraction was nothing more than a tower attached to the Byzantine Wall with views of Thessaloniki towards the harbor. We could even see the White Tower in the distance as well as where the airport was as well as a long peninsula blending in amongst the grey clouds in the distance, which we suspected was Halkidiki (or at least one of its peninsulas).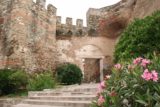 After this brief visit, we then found some gyro fast food stop that got our attention because their signs indicated that they sold some Turkish kebabs (No way!).
So we got ourselves some bereket doner, which was more like gyros with beef and topped with fries inside the pita. It appeared to be the closest thing to Turkish food that we could find in town (despite the Ottoman Empire's occupation for 450 years leading up to the 20th century).
However, I don't think it was anything near the Turkish fare we were looking for, and I guess it just goes to show us that we must be real spoiled at home for we can have such a wide variety of authentic cuisines from around the world. But you come to a place like Greece or any other more homogenized country like China and you end up with real crappy non-native food that tries to pretend to be some other ethnicity.
Such was the case with the Noodle Bar yesterday, and now this wannabe Turkish place.
In any case, it was 12:35pm when we returned to the car. And from there, we drove back through the city (good thing it was a Sunday where it wasn't as chaotic as the traffic we saw two days ago) and finally arriving at the Macedonia Airport at 1:10pm.
So the rest of the afternoon was spent waiting for our flight as we leave the history and beauty that is Greece and head into the next leg of our trip – Croatia.