Days 0-1: THE BIG FAT GREEK STRIKE
It was 3am when Julie and I grudgingly awoke to our alarms. We had only slept for a couple of hours, and both of us were in cranky moods when you add the anxiety of getting to the airport, changing your routine, and fighting sleep.
We eventually got to the airport at a little after 4am, but no one was manning the counters for US Airways. Julie warned me about her bad experience with US Airways (especially compared to international carriers), and the queue that was building up as a result of the lack of employees working seemed fitting. But still, neither of us had doubts about catching our 6:25am flight to Philadelphia.
We originally booked our international flight through British Airways, but they cancelled our flight last Thursday as a result of a strike. So instead of discount $1100pp seats, we ended up paying over $1700pp on an inferior carrier thanks to the flight cancellation (and this didn't include some additional costs for accommodations to rearrange our schedule for additional nights of accommodations and cancellations). But I guess we can't complain since the ash cloud from the Eyjafjallajokull volcano in Iceland kept disrupting air traffic in Northern Europe, which was precisely where London Heathrow was located. So instead of connecting in closure-prone London Heathrow, we connected in Phillie, instead. Maybe it was a blessing in disguise.
We eventually got to board the plane shortly before 6am. Apparently this leg of the trip won't be delayed. But as we got onto the plane, I managed to jam my left hand as I instinctively tried to catch someone's luggage falling from an overhead locker only to strike my left hand against the hard part of a seat. Not a good way to start off the trip.
The flight went on uneventfully, and both Julie and I even managed to catch a few hours of sleep. I guess it was made easier considering that they seated us in an exit row and there was a lot of leg room.
We landed at around 2:30pm Phillie time, and took our sweet 'ol time getting to the gate we were supposed to be on for our flight to Athens, Greece. We even had ourselves some airport-quality Phillie Cheesesteak, which I thought was a bit overrated, especially after the way Julie talked up how good the Phillie Cheesesteak was supposed to be from her last experience when she flew with her Mom to Europe.
Our flight was supposed to be at 4:10pm, but it turned out that the airplane was late in arriving. It didn't show up until after 4pm, and the new departure time was supposed to be 5pm. But after the plane landed, we learned that we were in for more delays thanks to a landing gear that needed a tire change. That seemed to have taken forever. Eventually, the plane wouldn't take off until about 6pm. We weren't sure how that would mess us up in Greece on the day we get there, but at least the flight wasn't cancelled.
The 10-hour flight was as Julie expected – crummy.
Perhaps we were spoiled by our experiences with Qantas, Singapore, Japan Airlines, or even British Airways. Heck, even Air New Zealand and American Airlines somehow didn't seem as subpar as US Airways was. Basically, there was no individual entertainment, the interior was severely dated, the meals were bad, you have to pay to check in your bags (though you do get 1 free one per passenger on International flights, which we took advantage of), and there weren't even headphones (I think you have to purchase them).
Thus, Julie thought the flight took forever. I was lucky that I was able to get at least some hours of sleep, knowing that we'd be doing a long drive to get all the way to Olympia, which was some 330km from the airport at Athens.
We landed at the Athens Airport at around 10:30am. After getting through passport control, we got our luggage, but then we did a foreign exchange for about 1.36 USD to 1 Euro. I was worried that we might have gotten ripped off since we had been hearing on the news that the official rate was around 1.25 USD per Euro.
After doing the exchange, we proceeded to go into the main area.
As Julie was walking ahead of me and I was lugging all of our luggage, a lady dressed in street clothes got off her cell phone and asked me, "Where from?"
"US," said I. And at that moment, the lady got in front of me and said, "Stop!"
"Stop!" she repeated again. "Stop!" she said once more, this time pushing me back.
I wasn't sure what this was all about, but I thought we were getting scammed.
When Julie rejoined us, that was when the lady finally showed her badge. She was a customs officer. So upon her request, we put our luggage on a flat table and opened everything for her to see. And as we did this, she asked me, "In the US do you keep walking when customs officers tell you to stop?"
That was when Julie interjected, "Well, we didn't know. You're not in uniform."
Anyways, the customs lady saw we weren't smuggling anything and she let us go. Once we got into the busy public area, Julie wondered why I was singled out when she let everyone else pass. Was it because I was the only Asian-looking person at the time? Racial profiling? In any case, it didn't matter. Perhaps what annoyed me more at the time was that we noticed other bureau de changes with exchange rates of 1.25 USD per Euro. I felt like we got ripped off on that, especially since we exchange nearly half of our cash supply already.
Next, we went to the Budget rental car kiosk. There, we picked up the rental car contract and learned that our rental was only good for 400km free. I knew we'd be over since it was already that distance going one way. But the guy at the kiosk said that if we had gone over, we could say the rental was unlimited for 3 days if it worked out cheaper.
We then asked him about driving distances. I knew it was 330km to get to Olympia, which was where we were to spend the night. However, I wasn't sure how long that would take. So when we posed the question to the rental car guy, he said it's only 3 hours.
Julie and I looked at each other wondering if he was smoking crack or something. That was when we said to the guy, "Really?"
He then qualified himself saying, "Well, it's 3 hours if you drive the Greek Way. Maybe 4.5 hours the Tourist Way." I guess that kind of explained things on a multitude of levels…
Julie then asked the guy about how far Mycenae (we pronounced it "my-sin-EE-uh") is. Except the guy didn't know what we were talking about because I guess the pronunciation "my-sin-EE-uh" was off. When we pointed it out in our DK
book, the guy said, "Oh, you mean Mikinas.
"Mikinas?," said Julie quizzically.
"You see?" replied the clerk as he was pointing to the Greek text (as if we were supposed to understand what that was supposed to mean).
Anyways, we got our contract and off we went to look for the tourist information office to see if any of the things we wanted to see today were closed due to a work stoppage strike that was going on today. And when we finally found the kiosk, a guy at the counter said, "Everything's closed."
"What about Mycenae? Or Epidavros?" said Julie.
"Everything's closed today," repeated the guy. So with that, we just took our time thinking there was nothing to be in a hurry for.
The recent labor strike and demonstrations were due to unhappy Greeks protesting over austerity measures (e.g. wage cuts, layoffs, increased retirement age, reduced pensions, etc.) that largely affected the general population even though I'm sure most of the corruption and stealing occurred with politicians and banks. Sound familiar?
Eventually, we finally checked into the Budget car rental and got into our car at 12:30pm. We were glad to be out of the airport because it did smell of cigarette smoke reminding us of the choking second-hand smoky air we had to breathe while in China. En route to the car rental lot, we also scoped out the Bus Express stop 94 because we'd be coming back here in a few more days to take into downtown Athens.
After a few minutes of getting comfortable in the tiny compact Hyundai (it took a little adjusting since we were used to driving larger cars back at home, but little did I know how handy the compact size would come), our GPS finally locked, and we were good to go on our 330km drive to Ancient Olympia. At first I was a little nervous about driving in Greece, but it seemed like the traffic was light today. Not sure if it was due to the strike…
It turned out that the driving was pretty easy as it seemed the Greeks on the highways respected the fast lane. Even if there was someone going slower than a guy behind him, the slower guy would move over a lane to the right. Such road courtesy is definitely lacking back at home, but I suppose it could be worse like in Asia where it was survival of the insistent or utter chaos.
Julie and I did worry that we might be running out of Euros though because there were at least four toll stations (ala our Norway experience).
After about 90 minutes of driving, I was getting sleepy on the road, and perhaps I should've stopped and taken photos at some of the cliff-hugging red-roofed dwellings in charming Greek towns along the Hwy 74 like Lagkadia. Maybe we'll take some time to stop and take photos tomorrow.
At 4:25pm, we finally made it to the Hotel Europa in Ancient Olympia. On the way up, we filled up gas at a Shell in town instead of the BP, which was actually a little cheaper. But we weren't too happy about the oil spill, and we opted to boycott them, nonetheless.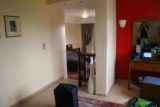 The receptionist greeted us and also contradicted what the tourist guy at the kiosk said to us when asked if Ancient Olympia was open today. He told us that it was open until 8pm today, and he then proceeded to take us to our room.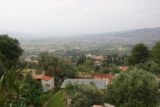 He then said we were "very lucky." For when we went into our room, it turned out to be a pretty big suite with a view towards a valley. This got Julie and I smiling as we're not used to such big spaces, but we knew we only had one night here before going on to fly to Santorini tomorrow night.
At 5:15pm, we returned to the car and headed a few minutes down to the Ancient Olympian archaeological site and museum. The weather looked like it was threatening rain, which seemed strange because we didn't expect rain in Greece. We had always thought of it like having a similar climate to what we usually get in Los Angeles. And we're practically in dry season by now.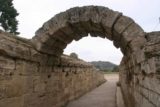 But as we were walking amongst the ruins of Ancient Olympia, rain started to fall. It was mostly light and also a little on-and-off. The rain stayed more-or-less at bay which afforded Julie and I some time to take photos of the ruins here. There wasn't anything jawdroppingly outstanding, but the complex was pretty big, and we could picture what it must've been like here (what with all the activity that must've been going on considering the quantity of ruins and the large acreage).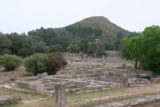 Plus, it was fairly quiet here as there wasn't a whole lot of people. We weren't sure why, but perhaps it had to do with the strike and the lack of transport to even get here.
Julie and I also noticed that the workers here checking for tickets were also not in uniform. Apparently Greeks aren't into wearing uniforms for work.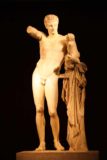 A little after 6pm, we were done checking out the archaeological site just as the rain started falling even harder. It was enough to be a nuissance, but it wasn't drenching. Now, it was time to check out the museum, which seemed to contain several trinkets and statues excavated here. Employees there didn't want anyone taking people shots in front of the monuments due to the fear of having camera flash going off. So we couldn't get any people shots that we wanted.
The museum featured some of the Greek mythological characters we've come across as we grew up such as Hercules, Zeus, and Athena. But after a while, the artifacts started blending in. I'm sure they'd be more interesting to people more passionate about archaeology than we were, but it was still interesting to us nonetheless because of the sense of history that was on display here.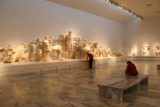 Eventually at 7pm, we were back in the car seeking shelter from another moment of quick heavy rain before subsiding. And when it did subside, we spent some time walking around the charming vehicle-free part of Olympia town. We'd ultimately pick a taverna place that served some delicious homemade Moussaka as well as other traditional Greek dishes. And once we finally bit into our food, Julie and I celebrated for we finally got to taste real Greek food!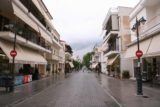 At 8:20pm, we were back at the hotel. Now, it was time to rest our jetlagged bodies at last. For we anticipate tomorrow to be a busy day that would include a long drive back to Athens Airport while sightseeing many things like Mycenae, Nafplio, Epidavros, and others…