Day 2: EUROPE VIRGIN
Julie and I awoke to a 6:30am alarm. The bed we slept on was a bit hard, but we were so jetlagged and tired yesterday that I don't think it deterred us from a decent night's rest. After getting our stuff together and freshening up for the day, we went for a complimentary breakfast where a massive tour group had already occupied most of the banquet hall.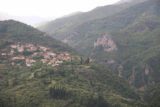 The brekkie was mostly Westernized and fattening. But we did try out some yogurt with honey as well as this delicious (but fattening) sweet Greek pastry with what appears to be melted cheese and loads of sugar inside. It was something we hadn't had since overeating at Papa Cristo's in Los Angeles.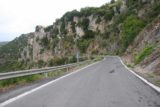 By 7:50am, we left the Best Western before getting completely sandwiched in by the big tour buses. And we were off to Mycenae.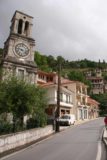 The drive was pretty quiet and mostly uneventful. This time I was negotiating the curvaceous narrow roads pretty wide awake (unlike yesterday arvo). And eventually we returned to Lagkadia at 9:15am where we made a brief stop to take some photos within the charming steep cliffside town. I wanted to take more photos in here, but we were a little bit rushed to do the higher priority sightseeing of today so we didn't linger for long.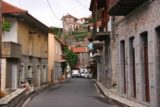 After continuing along the road outside of town, we pulled over at a rest stop with on overview of the charming Lagkadia. An elderly Greek guy who spoke no English came out and invited me over to a better view. He then invited me into his shed where he showed me some photos he took of him posing with other tourists. But Julie was in the car waving me back, and I had to politely decline the elderly guy's generous offer.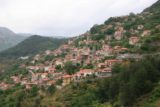 The drive proceeded onwards pretty smoothly as the weather fluctuated between partly cloudy skies and a few spots of rain. Julie and I wondered if this would be the weather in Santorini tomorrow, which would not be good. I think the rain caught us off guard because we expected it to be similar weather to ours (and I don't think it's raining anymore where we're at).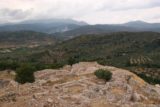 At 10:55am, we arrived at Mikines (Mycenae). Despite the threatening skies and the sprinkles here and there, the place was pretty busy with tourists. Julie and I were going for the highlights of this place, which Julie deemed were the Lion's Gate and the Beehive Tomb according to what she saw in her DK
book. I'm sure there were other things we could've checked out here, but we were competing with both time (we had to catch a flight tonight) as well as the hordes of kids and big tour groups ready to swamp us with their numbers.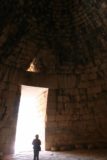 Walking amongst these ancient ruins kind of reminded me walking amidst the ruins in Peru. Except in this case, the ruins here were much older so I guess it shouldn't be too surprising that many of them weren't intact.
The museum here was interesting in that we could see some ancient coins as well as some early bronze age weapons. We could envision why Mycenaean civilization had the advantage militarily if they were amongst the first to utilize metallurgy to gain a militaristic advantage against their neighbors.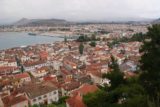 We left Mycenae at 11:50am and headed south to Nafplio. This wasn't on our itinerary at the start of the trip, but this caught Julie's eye while thumbing through the DK
book and it was next on our agenda. It looked like the rain was coming down pretty hard at times, but it seemed to have calmed down when we finally arrived in town at about 12:15pm.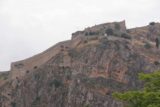 There was quite a bit of traffic in town so driving wasn't easy. It was a far cry from the light traffic of yesterday. So I guess the strike was over and now we got to experience the full rhythm of Greece.
After getting through a long traffic jam through town (not knowing where we wanted to go or park the car and walk around), we drove up through some charming cobblestone street up to a fortress wall overlooking the Nafplio town and the plethora of red-tiled rooftops. From up at this vantage point, we could also see where the car park was so we knew to make a beeline for that part and go for a walk in town.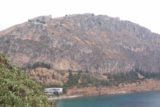 As we turned around and looked up to the top of the hill to our right, we could see an imposing fortress. It looked like some people were walking up and down some stairs and tunnels to get up to it. So we entertained the notion of going up there ourselves, but since it was essentially lunch time, we decided to go back into town instead.
At 12:30pm, we made it to the car park. Apparently parking down here was free though we weren't totally sure. We just did as the rest of the vehicles already parked here did.
We then walked around some square. We were a little confused as to where we should have lunch, and we eventually picked a pretty humble (and empty) little place. The food, which consisted of souvlaki, sardines, and Greek salad, was ok. But somehow it felt as if we could've done better. Oh well, we're full now, and it was time to go for a walk to walk off all the calories gained from the meal.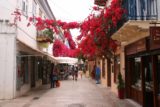 After the lunch, we aimlessly strolled around into some attractive-looking modernized wannabe-cobblestone street with a narrow Italian-looking alleyway. Actually, the alleyway went pretty deep for several blocks as roses grew around suspended lines hanging above the street. There were also a handful of cafes and shops protruding right out into the street, which was mostly free of vehicles (and this made the area all the more charming).
Eventually, the alleyway opened up into a wider quad area where we saw several cafes or tavernas with patio seating. Julie and I looked at each other with regret wishing we had had our lunch here. I guess we were just too hasty with our lunch time decision (kind of like our haste in exchanging money at 10% poorer rates than competing banks at the airport).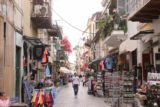 Our walk and photo-taking sessions continued as we found this gelato place that Julie had read in LP and was determined to find. And when we found it, we treated ourselves to some delicious-tasting gelatos as the proprietor greeted us with, "Bongiorno!"
The gelato was tasty (albeit a bit sweet), but somehow we weren't surprised to find good gelato here what with all the apparent Italian influence this area has.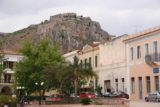 Julie could sense that I was pretty entranced by the charm of Nafplio with its narrow streets and alleyways. But having been to Italy and France, Julie told me, "You're such a Europe Virgin.
"If you think this is charming, wait until you go to Italy," she continued. That's something both of us would definitely look forward to doing together.
Anyways, it was getting late as we still had Epidavros to check out later this afternoon. So we chose to walk through some more charming parts of town (passing by yet more charming Greek tavernas) before getting out to the harborfront where we finally found this other Greek restaurant that Julie had read about in LP
.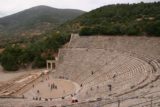 By 2:50pm, we were back in the car and headed out to the ancient Epidavros Theater. Once again, the weather during the drive fluctuated between rain and dark threatening skies. We wondered if we were ever going to see any sun while we were in Greece.
At 3:25pm, we finally made it to the Epidavros car park. Overall, this archaeological site wasn't quite as busy as Mycenae, but it did certainly have its share of tourists.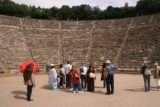 After going past the ticket gate and then up several flights of stairs, we were right in front of the imposing ancient theater which looked to be remarkably well preserved. I couldn't believe this place didn't undergo extensive restoration work (or maybe it did) because this place looked like it was still in use and that it was very intact!
A large Indian tour group hijacked the circle at the center of the performing section at the base of the theater. So we walked up the stands just as another bout of rain started coming down on us. Without bringing rain gear, we just took it as we sought shelter beneath some trees at the very top of the stadium.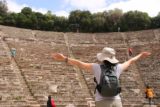 Other large groups were also sitting down and having fun with the acoustics of the stadium. A large French group was busy yelling downwards at some friends near the base. A handful of Chinese people were busy making their way up the steps while those already on top were taking photos of them. And once the large Indian group relinquished the circle, a group of young folks took over the center circle and started yelling in unison, "Whoooaaa Ohmmpaa!"
Now that we had seen this place in person, it certainly felt bigger than what we had originally thought despite having seen this on Rick Steves DVD
. Indeed, there's certainly something to be said about seeing something in real life, despite what xenophobic homebodies and armchair travellers would have you believe.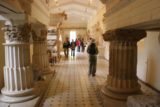 As Julie and I had our fill of the theater, we then went to the tiny museum where we saw a few more statues, trinkets, and columns from the archaeological site here. And when we were done, it was about 4:15pm. That was when we saw even more large groups and tour buses show up and prepare to mob the theater. Good thing we beat the rush.
Now it was time to continue heading back to the Athens Airport. Julie wanted me to make a stop at the Corinth Canal, but when we got there at around 5pm, it wasn't obvious where we should head to for it. And with our time constraint to get back to the airport in time for our flight to Santorini, we opted to skip this. But admittedly, this didn't do me any favors for my road fatigue as I started to get a little bit of that late afternoon siesta wanting to kick in.
After enduring a few more toll stations, there was a pretty nasty downpour near Athens (hope Santorini won't be like this when we're there). The sudden downpour ending up creating some standing puddles on the freeway and slowed down traffic a bit.
But eventually we found the airport and managed to find a gas station after circling around once. And once we were done filling up at that gas station (it was on the way out instead of on the way to the airport, which was why we had a hard time getting to it on the first go; doesn't make any sense why they did that), we finally returned the car unharmed and checked into the airport at 6:30pm.
The rest of the evening was spent having airport food and trying to avoid (unsuccessfully) all the cigarette smoke at the airport. I'd still say the smoking situation here wasn't quite as bad as it was in China, but it came pretty darn close.
Our 9:10pm flight boarded right on time, and the flight itself took off on time (even considering the rain). We arrived in Santorini less than an hour later. The landing was a little rough (rough enough to re-awaken both Julie and I from our momentary slumbers), but all was well.
We met up with our hotel pick-up and off we went to Fira, where we were staying for the next couple of nights. Even though it was dark, I could already get a sense of the charm and beauty of the island with the white buildings juxtaposed with the darkness of what's supposed to be the Aegean Sea. There were lots of cobblestone streets, narrow alleyways, and steps. And we couldn't wait to see the island during the day (hopefully with the cooperation of the weather)!