Day 3: SURREAL LIFE
Julie and I got up grudgingly despite the relatively late 7:30am alarm. It wasn't until 8am before we got ourselves out of bed. But we were still groggy because we were somehow entranced into watching the movie "The Black Dalia" to its end even though we weren't impressed with it.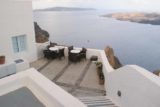 As we were getting ready for the day, I looked out the window and even started taking pictures from the terrace right in front of our room. It was rather cloudy and I could tell the scenery wasn't all it could be, but it was still beautiful nonetheless. So I was taking photos with mouthwash still in my mouth when a fellow tourist went out his door to join me in checking out the scene.
He said "Good morning" to me, but I could do nothing except nod back at him as my mouth was still full of mouthwash.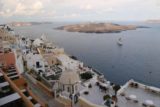 After aimlessly walking around the town of Fira just to scope out the area for future reference, we had a very subpar breakfast after 9am and got back to our accommodation at around 9:45am.
Last night, we had arranged (with the help of the friendly proprietor) yesterday to meet up with our rental car representative at 9:30am this morning. So given our 9:45am return, I doubted the guy appreciated having to wait an extra 15 minutes for our tardiness. Then again, we had read the Greeks were not all that punctual themselves so maybe it wasn't all that bad.
Anyways, we paid for one day's rental, got the keys, and were eventually out and about by 10am. At first it was a little awkward driving the narrow streets with some bustling traffic squeezing past each other amongst these narrow streets, but I eventually got the hang of it especially considering that the tiny car we were driving were made for these tight quarters. I couldn't imagine driving any of the tanks we see all the time back at home within these streets, and I wondered if this was typical of driving conditions throughout Europe.
As for the car itself, this hatchback sure lacked power (especially for a stick shift) as I noticed it seemed to struggle even in 2nd gear on the hills.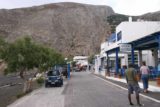 Just as we were about to leave Fira town, we filled less than a half-tank (about 20 Euro). But the more I thought about it, the more I realized that maybe I filled in a little too much gas. I started to understand why the car was practically empty when we first got it, because the island itself wasn't very big and the probably never needed a full tank or anything close to it.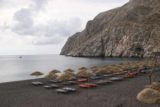 So first up, Julie and I headed south towards this town on the eastern coast of the caldera called Kamari. I was a little lost not knowing the narrow streets and ended up parking right on the waterfront with all its shops and cafes. It was a little dead this morning so we briefly checked out the black sand beach here and we didn't linger for much longer.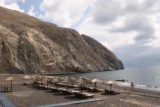 Next up, we headed around the rocky mountain separating Kamari and Perissa, and we eventually got to the equally dead Perissa and its black sand beach. Again, not a whole lot to see here, but we did notice some Ancient Thira signs and followed it to a rough road and trailhead. After realizing we weren't going to do the hot hike up to the top of the rock, we decided to drive to Akrotiri which had a read sand beach. It was too bad the frescoes here were closed and had been for several years.
Julie was looking forward to seeing it, but apparently we didn't do our homework on this and only learned of its closure when we arrived in Santorini last night.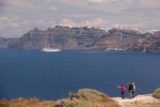 So at 12pm, we were at the rather busy car park for the red sand beach. After a real short walk, we saw the red cove with big volcanic rocks as well as some pockets of coarse beach below. And just as we got here, the sun started shining brightly and we could see there was some color in the water.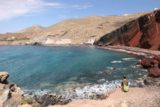 Anyways, all the touring we had done up to this point was pretty much filler as far as I was concerned. For we came to Santorini for the famous white buildings juxtaposed against steep hillsides leading to deep blue azure seas flooding the caldera of this volcano that has been said to wipe out ancient civilizations (possibly even the legendary Atlantis).
So we headed up to the northern end of Santorini hastily passing signs leading to Ancient Settlements as well as the town of Pyrgos. And eventually we made it to Oia at 1pm. We ended up following one of the parking signs to a spot that required 3 Euros, but since we weren't comfortable exploring Oia for a parking spot not knowing the town (let alone Santorini for that matter) all that well, we didn't mind paying the price and having that piece of mind.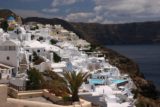 As we drove up to Oia, we could already see the architecture that made Santorini so famous. So after parking the car, we couldn't wait to get towards the views of the white buildings hugging the steep walls of the caldera sloping towards the Aegean Sea.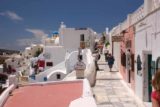 I'm sure it didn't hurt that the sun was out and gave the scene a bit more life (in contrast to this morning). However, I did make the mistake of not bringing my sunglasses, and I'm sure my eyes were going to pay dearly for all the brightness from the white buildings to the bright sun (if not now then later in life with cataracts).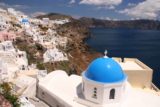 The walk continued into a charming area that was vehicle-free and lined with villas, shops, and tavernas. As we walked within this promenade, constantly mesmerized by the beauty of the scene and going nuts taking photos, I think it started to sink in on us that this place got it right. It had the charm, it lacked vehicles, it was perfect for visitors on foot, and it had that sense that nowhere else in the world was like this except here.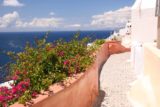 Indeed, it felt surreal. It was as if the postcards came to life, and the postcards weren't Photoshop exaggerations or marketing gimmicks sending unrealistic messages.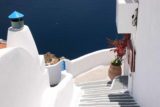 So Julie and I walked further along the charming promenade wondering exactly how far we needed to go. For it seemed like the walk kept going on and on. We were both getting hungry for lunch, but we couldn't help but to keep walking to see what else was beyond the next corner or fork in the walkway.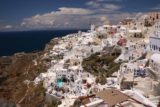 Eventually, we got to some outcrop near the very tip of the island where we could look back at some kind of windmill structure. Julie and I knew that this was where we'd have to be for sunset, which was highly recommended by the receptionist at the Nonis Apartments we were staying at.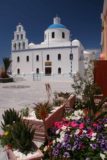 It was only after this that we finally considered this to be the end of the walk and we headed back to the restaurants to try to find some suitable place to eat. Eventually, we managed to find such a place at around 2pm. It was a bit late for lunch, but we were simply having too good a time checking out Oia.
Even though the lunch was outdoors, Julie and I had trouble trying to avoid the cigarette smoke coming from other tables. Indeed, it felt like China all over again.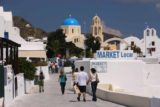 After we were done with lunch at around 3pm, we were about to head back to the car and drive to Ancient Thira before coming back here for sunset. But then, Julie had this idea of going for a gelato for she thought she had seen such a shop in town. So we ended up going back the other way and went looking for this gelato place. But an hour later, we came up empty, and now we began to question whether we'd even make it to Ancient Thira and back in time for sunset.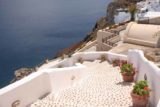 Maybe it was a good thing we reconsidered because in hindsight, it would've been really rushed and perhaps unrealistic to pull it off.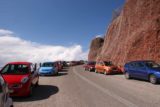 So instead we headed down to the Bay of Ammoudi, where parking wasn't easy (it was pretty much on the road but no one seemed to mind). We then walked down to the bottom of the road and saw a charming little bay with more charming waterfront cafes with some stairs leading up to the area we had visited earlier in Oia high up on the cliffs.
We figured this would be a good place to kill some time and have an early dinner before heading back up to Oia for the sunset finale.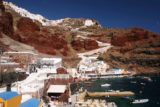 And so we eventually splurged and went for a rock lobster and a scorpion fish (at 85 Euros and 50 Euros per kilo, respectively). We were appreciative of the Canadian proprietor at Dimitri's who gave us some tips at getting to the best parts of the lobster as well as some of the best parts of the scorpion fish (after seeing us make the same mistakes as previous customers I'm sure, who ran the risk of throwing those parts away).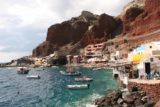 The food was definitely fresh (they better be at these prices), and we engaged in some dialog with the proprietor since there was no communication issues as it was obvious she had total command of English.
During our dinner, we noticed that the skies went from bright and sunny to threatening and grey as dark clouds with squalls threatened to engulf us with downpours. Fortunately, none of them hit us directly, but we did wonder if the sunset was going to be on or not.
The Canadian proprietor said this weather was more typical of early May at the latest but not now. All this made us wonder whether Global Weirding had to do with what we were experiencing on this trip since it seemed like everywhere we went weather patterns seemed to be abnormal.
Julie was having a little fun feeding bread to the little fish in the bay. But a boat that had passed a little too close created a wake that managed to be tall enough to wet the nearest tables against the edge as well as Julie's feet. That seemed to be our cue to leave.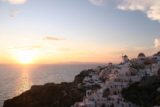 Eventually at 6:30pm, we were back to our car. Even though it was still probably at least another hour before sunset, we decided to look for parking before walking back to the edge of Oia to view the sunset. We'd finally find a spot right by a garbage bin, which didn't seem to be a valid spot (very limited front to back space), but we were driving a real tiny European car so it didn't seem nearly as bad as I thought for we certainly weren't protruding much further than other cars surrounding us.
By about 7pm, we were back at the overlook as well as with dozens of other tourists who had come for the same thing.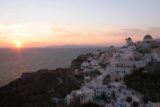 And so we waited…
and waited…
and waited…
And this waiting wasn't made easier by the blustering cold winds that blew right at us for there wasn't much of a shelter blocking these breezes. At least Julie and I had windbreakers on, but I can only imagine how uncomfortable it must've been for those who were still in short sleeves or even shorts.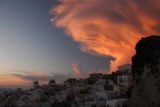 After about 7:45pm, we had finally seen the sunset we were after. But so were a hundred others or more! You know it's pretty serious when you have at least a half-dozen folks with full-on tripods and SLR cameras. Though I wondered how they were able to manage with the crowds making it difficult to maneuver for a decent photo.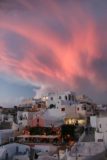 So we spent lots of time taking the same photos in different lighting and different positions (at least for what we could manage given the crowd here). But even as the sun set, I knew the show wasn't over yet. For the clouds that were over us were now a fiery orange before becoming pink.
And after trying to capture the clouds with the town, I finally figured out that we should go back up to the upper platform to see the pink clouds against the uppermost buildings of Oia. Apparently, the tripodded photographers figured this out already, but I was glad I captured what I could before the magic hour left and it was time to call it a day.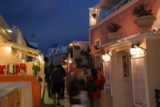 When the sunset excursion was over, we decided to spoil ourselves with a bit of a dessert. Julie saw souffle on a menu and we were hooked in. But after having ordered it, we realized that it wasn't the real deal (more like a lava cake or a cake with fudge inside). Anyways, it was delicious, but it wasn't souffle.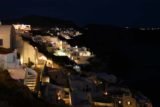 At 9:15pm, we were back at the car. Oia took on a different vibe in the evening as the restaurants and tavernas along with some shops were open (some of which were closed during the day). Clearly there was a bit of a nightlife here, but we were ready to call it a day so we didn't linger around much longer.
And finally at 9:45pm, we were back at the Nonis Apartments. We couldn't return the keys to the car at the front desk, but we decided we wanted to hire the car for another day tomorrow anyways. After all, I felt like I had to make use of the excess fuel I had filled up this morning, plus we still wanted to see Ancient Thira among other things.
In any case, all those arrangements will have to be made in person with the car rental guy tomorrow morning. We'll just play it by ear on what happens tomorrow…