Day 4: HISTORICAL SANTORINI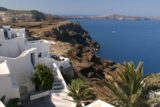 Once again the day began with a 7:30am wake-up to our alarm, but we didn't really get out of bed until 8am. Unlike yesterday, when we first looked out the window, we saw immediately that there wasn't a cloud in the sky. Indeed, this was the weather we were looking for when we came to Santorini, and now we have it.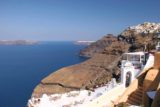 The day got off to a slow start though because we had to pack our belongings, then check out of our accommodation. While there, we managed to extend our car hire by another day since there were still parts of Santorini that we wanted to check out. I guess we had an arrangement to drop off the car at the airport or meet the car hire representative there at 10:20pm. I'm not sure how that was going to work out especially considering we've got to board our flight at around 10:40pm or possibly earlier. I guess we'll just deal with it when the time comes.
So we started off the day doing a little internet in front of the Aroma Suites. The passcode didn't work so we ended up using the proprietor's laptop, which was low on batteries. And that was good for checking a little email before the screen went black.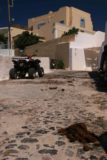 Just as we were done with the computer, a couple from Las Vegas had just showed up to check-in, and they seemed pretty blown away by what they saw. They were on their honeymoon, and given the luck with the weather we had had, it seemed like this Vegas couple showed up just at the right time for some very clear skies showcasing the scenic Santorini.
Afterwards, we then made a brief walk (dodging some mule scat) into Fira town to grab a gyro for takeaway. At 6 Euros for 2 gyros and a 1.5L bottle of water, this was by far the best deal we ever had so far while we've been in Greece. Oh yeah, the gyros were tasty; certainly better than any gyro we had back at home.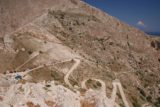 Finally at about 11:15am, we took our luggage and squeezed everything into the tiny Chevy Matiz (by the way, an American make of a car as tiny as this just shows that American car makers could certainly make fuel efficient models if they wanted to). Then, we headed straight for Ancient Thira.
The drive was mostly uneventful except the winding narrow road that started off as bumpy cobblestone before becoming more conventional paved roads. The sinuous nature of this road totally reminded me of driving the Trollstigen or Stallheimskleiva in Norway, except now I began to wonder whether my perception of what narrow was some 5 years ago was a little exaggerated (as I wasn't used to driving such roads back then).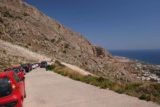 Anyways, at 11:40am, we finally made it up to the car park at Ancient Thira. There weren't many parking spaces so we were relegated to parking along the ride like the rest of the folks who weren't lucky enough to grab one of the easier parking spots. Although as I say this, there was a guy right in front of us who double parked and nabbed two spots.
So we got out of the car and proceeded to walk up a ramp towards a ticket booth. And after paying our fee, we proceeded to walk further up what seemed to be a rather long series of steps. Given the dramatic difference in weather from yesterday to today, I think the sudden heat from the intense sun caught us a little off guard, but fortunately our bottled water was still a little chilled.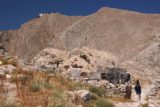 About half-way up the stairs, we saw some church that dated back to the 1800s I believe. There wasn't anything extraordinary about this otherwise tiny structure. So we didn't spent much time here before we continued onwards up the steps.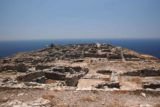 Eventually, we got up to where we could start to see ruins. There wasn't a whole lot that could be made out in terms of obvious buildings that were intact. However, the orderly arrangement of the rocks strewn throughout the complex definitely caught our attention and our camera clicks. And LP
was certainly right about this place being atmospheric, but we'll add the adjective haunting to that mix as well.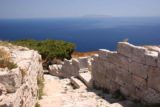 It was very reminiscent of our tours through other ruins like Macchu Picchu or Kuelap in Peru.
Anyways, we spent a good deal of time trying to compose photos amongst the ruins all the while getting gorgeous views of the Aegean Sea, Kamari, and Perissa, all juxtaposed with the ruins in the foreground perched atop the mountain we were on.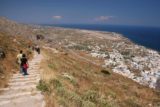 In any case, the sun was draining and we finally headed back down the steps and to our rental car, which was baking in the sun (and probably baking our belongings in there too). And by 1pm, we were headed back down the mountain and went towards Pyrgos.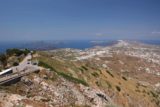 Actually, we ended up going right through Pyrgos through we couldn't exactly tell whether we even touched the town or not. We weren't even sure what were the sights to see here. So we ended up continue up some road that ended up switchbacking its way up to the top of a hill called Profitis Ilias, which was where you could get some comprehensive panoramas looking both towards the volcanic island as well as away from it. There were also radar and military installations up here as well as a little church.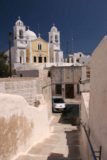 By around 2pm, we were back in the car and headed back down to where the rest of Santorini was. This time, we made a quick stop at this place called Megalohori at around 2:15pm. This "traditional settling" (as the sign so eloquently put it) was at first a little hard to spot. But at Julie's insistence, we went down this road past the car park that weaved its way between narrow streets surrounded by either white walls or those with a kind of yellowish hue.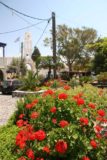 The road passed under a couple of attractive archways with bells on top of them. Plus we even passed through this charming quad area with a vegetarian restaurant as well as some accommodation or shop nearby. Eventually, we'd find some signposted parking spot past the Hotel Verema (I think) where we promptly left the car and walked through this charming settlement (some of which looked like they were still inhabited while others looked a bit dilapidated).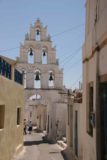 It was nice and quiet here, and I think the silence made this strangely alluring place also seem both eerie and haunting as well.
At 2:45pm, we were back in the car and then went back to Fira some 15 minutes later. Fortunately, there was some parking space back where we had left from this morning so at least that bit of stress was over with.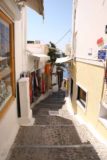 Next, we made a quick stroll through part of the touristy part of Fira while spoiling ourselves with some gelatos on this hot afternoon.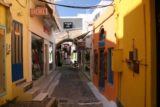 It definitely seemed like Fira wasn't as dead as we had thought (especially considering how we had spent most of our time in Oia yesterday). But somehow Fira felt a little more modern though its line of colorful buildings and shops within the pedestrian walkways still was a pleasure to stroll (though the confined quarters still had our minds kept on avoiding cigarette smoke).
After finishing our dessert, we then went to the Prehistoric Museum of Thira where the small museum housed some of those frescoes that Julie wanted to see in Akrotiri but had to settle for these due to Akrotiri's closure. There was also several artifacts excavated from Akrotiri including a golden little dog-looking thing near the end of the exhibit.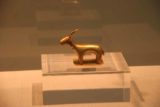 The quick museum visit was nice in that it provided a little bit of relief from the heat of the day. I'm sure we could've easily spent the whole afternoon here reading all the signs and trying to truly appreciate all the archaeological efforts and finds that comprised this museum, but we weren't archaeology buffs and we left after strolling through all of its exhibits.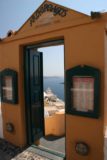 Next, Julie and I went to have a late lunch (it was well after 3pm at this point) at Archipelagos where we spoiled ourselves with more grilled octopus as well as some stuffed tomatoes. I think this restaurant got it right when they put an attractive doorway at its entrance, and it was no wonder so many people went here to eat (us included).
Both of these appetizers costed me over 33 Euros (which is like $44USD), which was quite overpriced. But hey, I guess it had one of the million dollar views so that put people in a good (i.e. spending) mood, which I'm sure is a principle the Greeks are well aware of.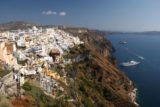 After the late lunch, Julie and I started walking even further north in Fira to parts we hadn't explored all trip long until now. We basically followed the cable car signs thinking this must also be a tourist thoroughfare that we had merely neglected up to this point.
In fact, it seemed like most of the tourists were on this part of the island as the shops and walkways were quite busy. Plus, I guess it didn't hurt that the cable car leading down to the base of the caldera was also in here as well. Moreover, there were a couple of restaurants as well as walkways with views looking back at the buildings that made up Fira.
But it was really the charming pedestrian walkways flanked by colorful petit shops that we spent most of our time in, where it also tended to be quieter (perhaps because it was siesta time?).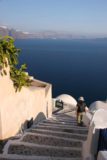 At 5:20pm, we were back in the car with still plenty of time to kill before our flight back to Athens (which wouldn't take off until 11:10pm according to our schedule). So that was when we shifted the focus of our day's worth of touring from history to the atmosphere of Oia, once again.
At 5:50pm, we were back at Oia where this time we wisened up and found free parking along some side road. Forget paying the 3 Euros at that one lot where we had been yesterday.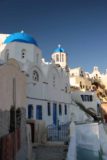 We checked out Oia town where I was looking forward to taking more camera clicks and adding more photos to over 200+ photos taken on this day. But having seen the sunset yesterday, which was more impressive with clouds around, we didn't bother sticking around for that event.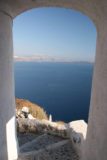 Julie and I actually managed to find some stairs descending into what appeared to be quiet villas or residences. Many of them looked closed or dilapidated. But all-in-all, we discovered a part of Santorini that didn't seem to see many parents. It was too bad that the lighting was a little too little too late as long shadows were cast upon the seen.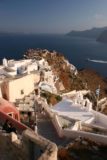 We ended our time in Oia having dinner and dessert at the same restaurant that we had dessert in yesterday (I forgot its name). Here, we could see the buildings and sail ships all changing clors to orange and even pink depending on the sun's position.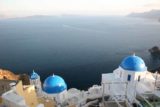 As for the food, it was very pricey yet fairly decent for what we got. It was our last indulgence on Santorini except three women (one with a little girl) were too busy chain smoking and bringing that second hand smoke to us. This annoyed both Julie and I, but it was well-accepted in China, and I guess Greeks don't care as much for regulations nor health of themselves nor others.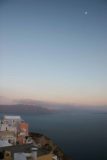 At 9:05pm we finally made it back to the airport, but not before the GPS
had me going to some rather barely-travelled roads of Santorini. Before I realized that I had been driving extensively on backroads as darkness fell, I was already committed to exploring the rest of Santorini where I'm tourists never go. Anyways, this was definitely one instance where I should've just ignored the GPS
and went with my instincts.
At 9:05pm, we arrived at the airport well ahead of schedule. We were hoping to meet up with the car rental representative, but he never showed up, and it was time to board our flight after getting through security. We basically waited until the last minute, but by about 10:30pm, we just left the keys inside the glove compartment of the car and left it parked at the airport (per instructions by the car hire guy when we first took this car out for a spin.
It turned out that the plane took off about 15 minutes early, which was quite a change for once. The flight went pretty smoothly (including a nice landing, which seemed to be a rare occurrence these days). And by about 11:40pm, we were back at the Atens Airport to collect our checked baggages.
After collecting what we needed, we made a mad dash for for the Express Bus X95 to get to the Athens CBD in the Plaka District. Our day wasn't over because we still had to take this bus for about 40 minutes or so into town, then figure out which way is north, before finally finding our accommodation a few blocks away.
It was about 1am when we finally arrived and were able to check in. Unfortunately, we were going to be moved to a different room tomorrow so it wasn't like we could get settled tonight.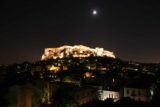 Once we were in our rooms, Julie coerced me to go to the rooftop to check out the lit up Acropolis. And once we got up there laid our eyes upon the scene, it was a bit surreal as the Acropolis was lit up under a bright moon. We were mesmerized and tried taking a handful of photos in the dark without a tripod.
It wasn't until about 3am that we finally went to sleep. It was a long day indeed, but certainly rewarding. And we couldn't wait to see what Athens had to offer as soon as we can wake up and get our stuff ready for a move…