Day 5: IT'S ALL GREEK TO ME
Given the late sleep time last night, it was a struggle just to even wake up at 9am. We spent a good deal of time this morning having ourselves a quick (and underwhelming) complimentary breakfast before spending the rest of the morning getting packed since we had to move to a standard room due to the fact that it was full yesterday so we paid extra just to stay in a superior room.
It was about 11am when we finally left the room and went for the Acropolis. From the hotel, the attraction didn't seem all that well signposted. So Julie and I struggled a little bit finding a way to get up to the attraction despite the fact that it's so conspicuously perched atop a hill right in the center of Athens.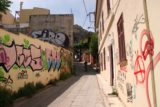 We ended up passing through some gritty parts of Athens as walls and even some traditional looking buildings underwent a spraypaint assault as graffiti was about as ubiquitous as cigarette smoke.
Eventually, we finally asked around and managed to find a back entrance that led to the main thoroughfare where lots of tourists were going in both directions up to the Acropolis. Apparently, admission was free today though Julie and I couldn't quite figure out why that was the case.
And when we finally got right in front of the main entrance at the Temple of Athena Nike at 11:55am, we were amongst a sea of people trying to go up some more steps flanked by tall columns. It was quite clear that there were multiple tour groups as it definitely seemed like the UN of tourists and tour groups here. But I guess world class attractions attract people from all over the world in such quantities.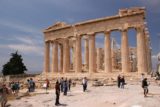 Once we got through the entrance, we could see the imposing Parthenon with its numerous columns. It was too bad we showed up at a time when the sun was very high on the horizon and hazy. I would've preferred to come here in early morning or late afternoon.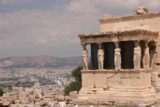 In any case, we got in for free so I guess it was what it was and we had to make do with the conditions presented to us. And as for the conditions themselves, it was bright, blue, and sunny, but a few clusters of thunderclouds were forming and muted the colors of the sun when they got in front of it.
But what really took the luster off the photos we wanted to take of the structures at the Acropolis was the construction vehicles and scaffoldings everywhere. It was difficult to take any photos of the ruins without a crane here or a scaffolding there. All this was due to reconstruction or restoration of the various attractions up here. I had recalled similar things going on in other historical sites we had been to like Angkor Wat as well as Kuelap and Macchu Picchu.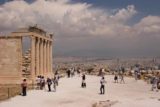 And the more I thought about it, I once again started wondering whether there was a bit of creative license being exercised in this restoration to keep the tourist dollars coming in. After all, there always seemed to be a judgement call made by archaeologists whether the recreations or reconstructions were genuine and authentic or merely guesses or fantasies (or worse – manipulations to extract more tourist money).
And while this thought exercise was going on, I wondered what would happen if all these resources poured into these structures were later to be found to be incorrect or false? Would they rewrite the history books or try to cover it up? Would they admit their faults?
And that even got me thinking even more about whether we're being fed romanticized versions of history as told by the victors of war. For one rarely hears what happened from the perspective of the losing side.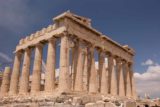 In any case, all these thought exercises could probably end up being for naught as what we were seeing could very well be the real deal. But I always wondered about these things just because I think it's healthy to have a bit of skepticism and be willing to test established beliefs or "facts" that are fed to us. For if the established views hold, they would stand up to these tests.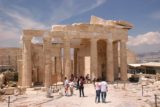 But on a deeper level, I think this was the essence of why I think natural attractions ought to be more revered than human-made attractions even if archaeological relics are purported to be an important part of our heritage. After all, natural attractions mostly can't be faked, and they don't require reconstruction.
For what they need most is responsible management by leaving them alone or minimizing the impact that people have on them. Perhaps that's why we like waterfalls so much as well as the other attractions seen along the way that are natural. For under those circumstances, we learn about the rhythms of Nature and how the world really works regardless of human perceptions of how things ought to be (which is different for various people). The bottom line is that Nature dictates the terms and we either adapt or suffer the consequences.
So with that thought exercise passing through my conscience, it was time to resume the sightseeing. But with all the tour groups that crowded the large plateau, it was certainly difficult to take photos in peace as well as taking photos of ourselves proving we were here.
We also definitely had to watch our step as the ground had plenty of spots that were worn smooth and made things quite slippery. But perhaps even more annoying was that people noticed that I was lugging a digital SLR around and I constantly got asked to take photos for them. I really should charge Euros for this service, but I know there's an expectation that it's done as a courtesy. Unfortunately, when the favor is returned, it seems most people aren't very good with composition and we ended up photos that got discarded.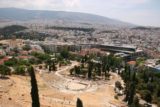 From up at the Acropolis, we could get practically birdseye views of Athens no matter which direction we looked. We could also look down at ground level and get an idea of where surrounding attractions were in relation to us. So we knew where we had to walk in order to find the New Acropolis Museum, the Theater of Dionysos, the modern theater, the Agora, and more.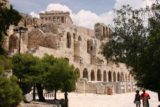 Finally at around 1:15pm, we left the main entrance and descended towards a walking street next to the outer limits of the Acropolis complex. About 20 minutes later, we finally made it to the New Acropolis Museum, but we learned that it was closed. Julie asked a nearby police officer why it was closed, and we thought we heard that this place typically closes Mondays.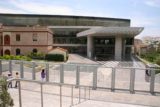 So we strolled around for a few minutes more exploring the ruins of the Theater of Dionysos while taking a quick break from walking in the heat by just chilling on some benches under the shade.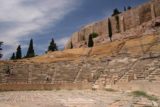 But as it was getting a little late for lunch, Julie and I went to one of the tavernas alongside the blocks of walking streets in this part of town. The one we picked in particular was this place called the God's Restaurant. I don't know if the food was as divine as the name suggested (though it was pretty good), but the cigarette smoke was certainly hellish.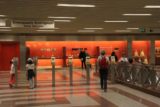 We were done eating our lunch and headed to the Athens Metro at the Acropolis station at 3:15pm. At first, we couldn't quite tell which way we were supposed to go and the maps here didn't help much as everything was in Greek. That was when Julie quipped, "It's all Greek to me," which drew a chuckle out of me.
What stood out about this station was that there were displays of pottery and architecture against some of the walls within the station. It was like this quirky mix of a museum within a subway station, and I honestly can't ever recall having seen this combination before.
Taking the Metro was actually quite straightforward, but we did think it was hokey that they didn't have turnstiles. Instead, they had auditors checking to see if your ticket had been properly validated. That kind of made us wonder if this system was even collecting enough fare to even maintain operations.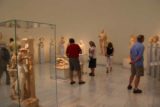 After about 3 stops, we arrived at the Omonia Station. Then, we headed up to the surface level and walked through a rather gritty part of town as we must've seen at least a dozen or so prostitutes. In fact, they seemed pretty open about engaging in this profession in broad daylight.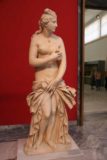 At 3:50pm, we finally arrived at the National Archaeological Museum. It turned out that our visit to this museum was free. Again, we weren't sure if this had to do with maybe Monday being a rest day or something. In any case whatever it was, we spent quite a bit of time in this impressive museum as it seemed that the number of displays and rooms were practically endless.
Just when we thought we were about done with the sightseeing here, another room would show up. Needless to say, this was a little draining as after a while it seemed that the statues started to blend in with each other as well as the other trinkets and potteries.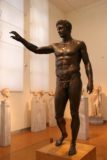 Some of the statues we had seen in the past in history books were on display here.
For example, we saw an Athena statue showing various feminine qualities and was quite obvious that the sculptors back then must've had some beautiful woman in mind when coming up with the most celebrated female goddess in the land.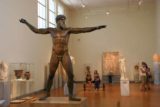 We also saw the famous Zeus statue in the motion of throwing a lightning bolt. Of course, I knew it was supposed to be a lightning bolt he was throwing since that was what I had learned back in my European History classes growing up, but there was no lightning attached to the statue.
Then there was that statue that was famous because it demonstrated that the Greek sculptors finally figured out how to manage human balance. It was basically a dark statue with a guy with one leg in front of another with an outstretched arm. I'm sure this statue would seem ordinary until you realized this little obstacle that had to be overcome to even make this pose possible.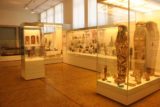 Anyways, this museum not only featured Greek artifacts from various eras, but they also had Egyptian, Byzantine, and Roman artifacts. The Egyptian relics totally reminded us of our museum visits in Egypt a couple of years ago.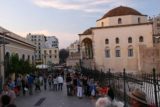 After 5pm, we finally had our fill of the museum and headed back to the Omonia Station. And after one stop, we got off the bustling Monastiraki Station. And once we got up to the surface level, there were crowds of people walking to and fro amongst what seemed to be a happening scene of flea markets and cafes.
Aside from the cigarette smoke and the worries about pickpockets, this seemed like the place to be when the sun goes down.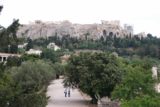 So we passed through this happening scene before reaching the entrance to the Ancient Agora area at 5:45pm. Once again, the lady at this entrance told us that admission was free. And Julie finally asked the question (once again) why admission was free today.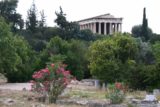 The lady replied that today was a Natioal Greek Holiday. And once we learned that, it became obvious why places were either closed or free. And with all the Euros we had spent up to this point on this trip (which was certainly more than I wanted because we were running out of cash), I guess this helped to alleviate the amount of money spent though museum admissions were typically cheap compared to things like food, petrol, car hires, and other expenses.
So Julie and I walked amidst the Agora Complex which had another museum fronted by lots of columns. Of course the main attraction of this park was this structure called the Temple of Hephaistos, which was held up by lots of pillars.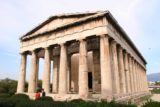 What was striking about this monument was that it was like the original inspiration for some of the buildings we associated with American government. As a matter of fact, I'm pretty sure they were derived from Greece especially since they were accredited with being the first advanced society to foster and advocate Democracy so I'm sure the similarities were no accident. And that tie-in with American Democracy certainly seemed fitting, at least in theory as you could argue we don't have a true democracy.
Nonetheless, I could now envision the Lincoln Memorial (even though we hadn't even been there yet) with the columns surrounding some statues of the forefathers of American History nestled within.
At 6:30pm we were done checking out the Agora and headed back into the bustling part of town looking for a place to have dinner.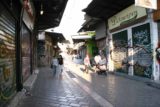 We ended up going into a real rough and gritty part of town that was full of graffiti and had all the makings of a place you don't want to be for safety's sake (what with the lack of traffic, the touts, and the blind corners). But it was in this area that we were looking for a restaurant having Greek food that was worth the trouble.
Unfortunately when we finally found the place, it was closed on Mondays. So we went one block over and had dinner at this other place with oversized menus. The food was decent, but the portions were huge and they happened to skip our order of seafood rice pilaf. At least the dessert was on the house, which was a chocolate crepe and was delicious.
And finally at 8:35pm, we were back at our room, which now was on the first floor. Sure there was less real estate, but at least it was clean and our belongings were waiting for us there. And that was the end of this very busy day of touring. With all the touring we had done today, we wondered what more there was to see tomorrow. I guess we'll worry about those things when they come, but we do look forward to having a more laid back day…