Day 6: HELLAS – GREECE IN GREEK
It was 8am when we awoke and we took our time getting up for the day. It wasn't until 10:15am when we finally left the hotel.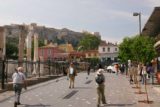 The reason why we took our time was because the only goals for sightseeing today were the New Acropolis Museum (closed yesterday) and the Temple of Olympia Zeus. So it was going to be a very light sightseeing day especially compared to yesterday or even the last several days for that matter.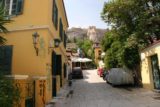 So we once again walked towards the other side of the Acropolis, but not before going the wrong way in order to achieve where we wanted to go. For the way we went originally yesterday involved ascending up to the Acropolis, but we knew that would be an unnecessary path to take especially if we had to pay for admission in order to get to the other side.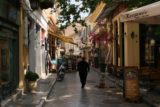 Thus, we ended up walking along some quiet but charming residential streets until we finally re-intersected with some happening streets on the Plaka District. It turned out that we made a pretty wide U-turn and we weren't that far from our hotel. Nonetheless, we took mental notes that we would return here after our sightseeing. We even passed by a famous Greek restaurant called Daphne's. It looked rather expensive from the decor of its outside though so I'm not sure if we'd return here to spend more money than I wanted for food.
It wasn't until 11:05am when we got back to the New Acropolis Museum after walking through some familiar streets from yesterday. Now, we understood the context from which we walked yesterday, and we were getting more comfortable with the streets of Athens – a familiarity that we definitely didn't have yesterday and probably resulted in some wasted time and energy.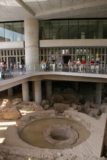 Right off the bat, we could see lots of kids at the museum. But perhaps what was quite a unique aspect as far as museums that we've been to go was that this one seemed to have excavations and ruins below the museum itself! They even put glass flooring so you could see the ruins beneath you. And what's more, there were even officials in uniform! What a concept!
So Julie and I strolled through the comfortably air-conditioned and spacious museum after going through the metal detector and baggage X-rays. If we ever wondered why the ruins on the outside looked so beat up or that the statues were missing something, this museum seemed to have resolved that question… for they were pretty much all here!
In here, we saw the exquisite detail of many of the statues and figurines as well as heads, ancient gold coins, and various other things that were on display here. It was almost as if this was a showcase of the various archaeological artifacts and treasures, and that they were showing off their collection the way some rich person would show off whatever collection they wanted to share.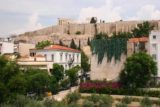 But unlike the National Archaeological Museum in the gritty part of Athens, this museum was smaller (though much more modern) and at least it wasn't as overwhelming in that sense. We even spent some time looking at a video about the history of the Parthenon, and what really got my attention was how the Parthenon was in its current state.
I guess given that context, I could see why there's such a push to do some major reconstruction to try to put back together the Parthenon for posterity (though again, I wonder if this borders on faking history or preserving it).
At 1pm, Julie and I were done visiting the museum and walked back into the happening part of the Plaka area. We were constantly addressed by local shopkeepers and taverna hosts in an effort to actively lure us into their shops. We'd been hearing lots of "Ni hao!" though there was one or two guys who displayed some surprising knowledge of some Mandarin expressions (even if the tone was off).
Well at least this wasn't quite as intrusive as Egypt, but it can get annoying after a while.
We finally settled on this place where we could get gyros and souvlaki pitas for takeaway. It only costed us 2 Euro each and I was amazed at the price disparity between takeaways versus sit down places charging the same thing for 7 or 8 Euros. And for those 8 Euros, we also got a cold bottle of water plus a traditional Greek salad without the feta cheese.
We probably wouldn't have gone to a sit down place anyways for the ubiquitous cigarette smoke would probably get to us.
So we got our stuff, paid the Euros, then walked closer to the New Acropolis Museum to have a picnic lunch. It wasn't comfortable and the food wasn't nearly as good as the takeaway we got in Fira, but it held us over.
When we were just about done eating, we suddenly saw a group of people running by us. They turned out to be those same people selling trinkets on the street, and we suspected they were probably either here illegally or they were operating without proper business licensing. That was because they were running from police in motorbikes.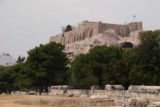 As we were headed over to the Temple of Olympian Zeus, we even noticed more of the folks on the run as the police were chasing after them.
At 1:40pm we eventually got to the entrance of the outdoor temple where we paid a couple of Euros per person and took our time going around the impressively tall columns that were remnants of what was once grand temples I'm sure. I was also busy trying to compose these columns with the Acropolis in the background.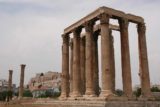 There were plenty of park benches under trees on the perimeter of the complex so we took advantage of them by having a seat and taking it easy (at least until cigarette smoke from employees forced our retreat).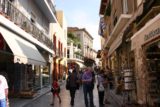 At 2:05pm, we were back in the happening streets of the Plaka District. Now we were just browsing around the shopping streets enjoying a few tasty gelatos (the Greeks sure seem to do Italian pretty well) while Julie was indulging herself shopping for a Greek dress and sandals (much to my dismay; even the cigarette smoke and exhaust from motorized vehicles as I waited for Julie wasn't pleasant).
But on the way back to our accommodation, we did find a T-shirt with phonetic translations of various Greek expressions. It was during this time that I noticed on other T-shirts that "Ellas" or "Hellas" (spelled in Greek letters) is Greek for Greece. I wondered how we got Greece from Hellas or Ellas?
It wasn't until 4:05pm when we finally returned to our accommodation. There, Julie took a nap while I was spending lots of time trying to get caught up on photo organizing and composing this blog entry.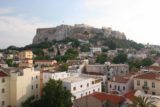 At 7pm, Julie and I were at it again heading out on the town for a place to eat one last meal in Athens before road tripping up north to Macedonia via Meteora. However, before doing that, we made one quick stop at the roof of our hotel to look at the Acropolis in late afternoon. But with the position of the sun being somewhat in the line of sight, it wasn't as good as I had hoped. Perhaps I'll give another go tomorrow early morning to see the Acropolis glow with soft early morning light.
So Julie and I walked into the Psyrri and Monastiraki area looking for a place to eat. And it turned out that Julie wasn't in any mood to try any of the LP
recommendations (especially since one of them was in a pretty seedy part of town while another one was in a place that wasn't atmospheric enough for her).
Eventually after over a half-hour of looking around, we just picked some place called Attalos, which was right on the main thoroughfare next to some rail and the Ancient Agora.
It turned out the food was pretty reasonably priced, and we also learned that three appetizers (mezedhes) were enough food for the both of us. For future reference, we'd either do 3 mezedhes in one sitting or 1 mezedhes and 1 main while declining bread. I was already feeling bad about my gut bulging barely a week into this trip and Julie was letting me know about it.
However, the food was fairly average except for the aubergine (stuffed eggplant) that we had. Julie did let the staff know about being careful since we found a wire inside a bite of our aubergine. The perch and the spaghetti were real average or below average.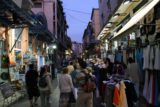 After the dinner, we walked around looking for another T-shirt that said "It's All Greek To Me" with the Greek alphabet below. We weren't successful for we didn't feel like spending 15 Euros for one especially after spending 7.5 Euros for a different one earlier in the day. Unfortunately, it turned out that that one vendor charging so much was the only one that had that pattern in the Greek Royal Blue color. Oh well, maybe during our road trip we'll find it.
We eventually got back to our room at 9:30pm. Now it was time to get packed and ready for tomorrow.