Day 8: MONEY SHOTS
We awoke at 8:45am to a bright sunny morning. As soon as the sun went over the west-facing cliffs in our line of sight right out our window, the sun went directly at us. Almost immediately, we could feel that this was going to be a real hot day. And after a quick simple breakfast, we proceeded to get started with the day at 10am.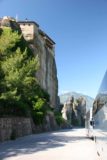 It didn't take long before we visited the first cliffhanging monastery of Santa Barbara Rossanou where we followed a tour group that was just about to leave the tight confines of the monastery. We were already entranced by the mindblowing scenery of the protruding rocks with monasteries perched on them, and so we feverishly took one photo after another.
Before we knew it, we had already taken over 50 shots from just the one visit. And for good reason.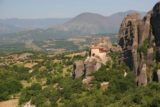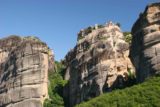 For from this monastery, we could see other monasteries perched atop cliffs in at least three directions. It almost felt surreal being ourselves perched precariously atop a monastery on a cliff and looking down at the verticality of it all.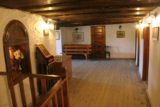 The monastery itself was quite small. There were quite a few doors where we wondered where they led to, but the official path merely curved its way over to a quiet but holy looking sanctum where photos weren't allowed and there was a sister sitting right in front of the door to ensure that was the case.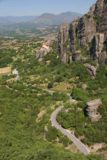 It really started making sense to us how monks managed to escape persecution back in the Middle Ages by having these monasteries on cliffs and having rope ladders provide access to these places on an as-needed basis. Of course, if the rope ladders failed, that would be the end. But it's been also said that "God meant it to be" if you happened to be on such a failed ladder. Good thing we didn't have to find out.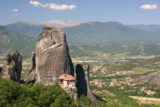 By 11:20am, we had explored various ways to take photos of Meteora from the western end of the rock formations. There were a few unsigned vantage spots without pullouts that required a little walking from the car. Some younger people did the cheaper way by taking a bus to the top and then walking their way down.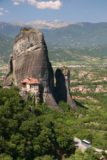 Indeed, Julie was busy making me trying to replicate some of the DK
or LP
shots.
We did ultimately find most of the money shot locations. The Monastery of the Santa Barbara Roussanou (I've also seen it spelled Rousanou) provided one of the better subjects when we sought out that money shot.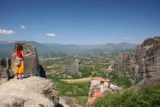 I had recalled one in particular where there wasn't a formal pullout near where there was a real cliff-hanging view of the Monastery Santa Barbara Roussanou. So for that one, we parked closer to an unfinished pullout and then walked for a few minutes along the narrow road to the sought-after money shot.
In another instance, we scrambled along some rock outcroppings until we were essentially right at the end of the outcrop looking towards monasteries perched on the cliffs with a hint of Kastraki in the backdrop far below and beyond the monasteries.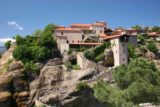 Ultimately at 11:40am, we made our way to the Great Meteoro (Megalo Meteoro), which was full of people, tour buses, and cars. We managed to find a parking spot that required a bit of a walk. And with the midday heat, it was a rather draining walk.
Well at least once we stepped foot into the Great Meteoro Monastery, we could immediately feel the relief from the heat. Definitely AC was not necessary here.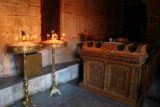 The Great Meteoro was quite extensive as there were several chambers, hallways, and exhibits. Most of the chambers had religious themes and artifacts, but photos and videos were strictly forbidden in specific chambers that housed some of the more sensitive artifacts or religiously sacred sanctums. But upon looking at some of the signage and works of art, I was somehow reminded of the Crusades or Medieval Times or something like that.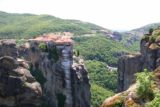 I'm not sure how old these monasteries were, but I got the sense that they were more modern than say the ancient wonders at the Acropolis or even the Ancient Thira in Santorini. I did read that some were 11th century and others were 15th century so that might give credence to the notion that they were medieval or even Crusades related.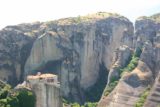 At 12:45pm, we were back at the car. We spent a little more time looking for money shots of monasteries against the rounded cliffs surrounding them. For the temptation to take more photos was so ever persistent.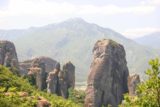 It was becoming quite apparent that the best monastery to photograph was that Rossanou Monastery. For even from here, it looked like it was perched precarious above a pinnacle with others surrounding it to provide context.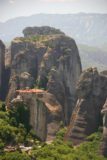 And the more I thought about it, I'm sure over 50% of the photos taken on this day were of that monastery.
Nonetheless, against the harsh light of the midday sun (not to mention the unrelenting heat), we didn't persist for long. Even though we had sunscreen on, the light felt intense, and I was still worried about getting a sunburn.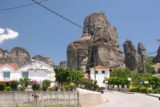 So by 1:15pm, we had a cool lunch at Taverna Paradisos. There, we had ourselves a couple of cold dishes of Greek Salad as well as stuffed vine leaves. The main was another go at moussaka. This place made their moussaka a bit cheezier, but we still thought it was fresh and tasty. Still, I believed the one we had on our first dining experience back at Olympia remained the gold standard of moussakas.
After the fulfilling lunch, we proceeded to head into town and start walking around at 2:10pm. We went looking for some more of that sweet cheese pastry we had back in Olympia but haven't seen since. We were also crossing over siesta time as all the fruit markets were closing their doors. So the next hour pretty much consisted of just walking around, but nothing really to show for it.
By 3:10pm, we were back at the House of Alsos. We figured if the locals were on siesta, we mind as well do the same too. Besides, it was still real hot plus the lighting wasn't exactly the best for taking photos.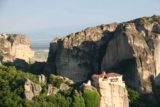 At 6:30pm, we headed back out. In 20 minutes, we made it back up to an overlook on the way to the Great Meteoro Monastery. This time the afternoon light was favorable towards looking down at the Monastery Santa Barbara Roussanou.
After spending some time taking shots of this monastery, we returned to the Great Meteoro itself. Unfortunately, the door leading to the tunnel and up the stairs were closed by this time. So I couldn't get the nice shot of the neighboring Varlaam Monastery that I wanted with the favorable afternoon light facing east.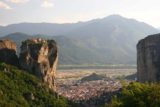 Next, Julie and I drove towards the eastern side of Meteora, which we didn't do earlier this morning. It turned out that there was an attractive nunnery (Agia Trias) perched atop another pinnacle. The afternoon lighting wasn't the most optimal, but we made the best of the situation. We reckoned that early morning should be better, and we wished that we had been here earlier in the day.
Oh well. We can't turn back the clock on that one.
We then continued driving back towards Kalampaka. At the same time, I looked out to the right side for a road leading to some brook or spring. We noticed it (called Koratsitsa Brook) on the Meteora map that we were given upon check-in, and we were itching to see a waterfall, if it existed here.
Unfortunately, we weren't successful. Then again, we weren't exactly trying real hard either since it was getting late, we wanted dinner, and we still had to clean up and pack for tomorrow.
At 7:25pm, we were back at the House of Alsos. Then, we walked into town to buy some fruits from a local grocery, buy some more sweets from a bakery at the roundabout in town, and have a meal on the opposite end of the roundabout.
After dinner, we walked back to our accommodation and had our own little private moment eating the sweets on the table right in front of our room while reflecting on our trip as well as some past moments where we have met strangers and traded travel stories. I guess we were in the mood to reflect on those moments because there was group of five American girls doing the same thing sitting on the larger table.
That also made me realize that this trip seemed to have an unusually high quantity of American visitors. I don't think I had seen so many Americans outside of the States except for the Caribbean where it was practically like we had never left the country.