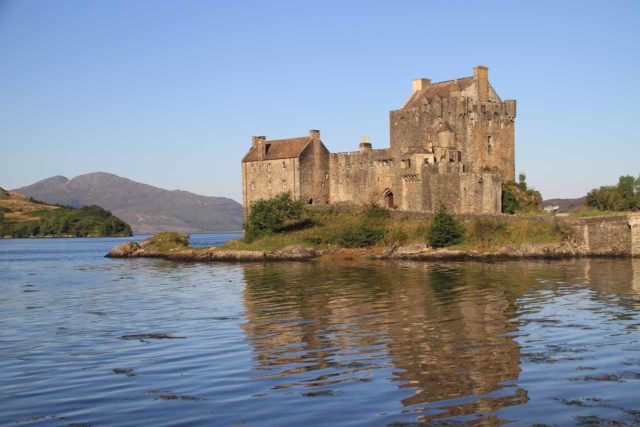 20-August 2014 to 30-August 2014:
But to salvage something as I had forsaken Clashnessie Waterfall earlier in the day, I decided to make the detour there on the way back to Inverness. The GPS made it seem like it wouldn't take long to get there. However, when we ultimately got to the B869 road, we saw that the single-track road persisted and was more dangerous than we thought.
The road was narrow and steep, while it was full of blind turns and even blind summits where we'd go up and not even see the ground until we made it to the summit and face downwards. With such sharp and surprising turns, we had to take it even slower there. There was even one incident where a van nearly hit us head on around a turn. Plus another incident where I had to back up to a passing place to let someone else get through…
Day 8: FROM THE BORDERLANDS TO SCOTLAND
It was 6:35am when I awoke. After having seen the TripAdvisor info regarding the Housesteads Fort of Hadrians Wall (which we were targeting for today), we were under the impression that the place wouldn't be open until 10am. So we took our time getting ready though part of me wanted to be there early to ensure that we would be in the complex as soon as possible. We weren't sure how popular this place was nor how much time we would be spending here knowing that we had at least two waterfall excursions to do before checking into Edinburgh for the night.
In any case, Julie didn't feel the sense of urgency so it wouldn't be until 8:10am when we would finally leave the Romney Apartments for good and be on the road heading right into the Borderlands where we expected to visit Hadrian's Wall at the Housesteads Fort.
The drive was dominated by going north on the M6, which was very smooth (something I came to expect of European motorways). Yet none of these roads required toll from what we experienced, and that was something unusual since I had always thought most of the motorways were in good shape typically they required tolls. At least that was my impression on the mainland of Europe.
Eventually, we followed the GPS towards the Housesteads Fort, and we would end up arriving at the car park at about 9:30am. The car park was mostly empty because we were one of the first ones here. While I was busy reading the signs at the Visitor Center, a worker wielding a leaf blower told me that we didn't have to wait until 10am to go up to the ruins.
So with that, I followed his advice, but not until after I relayed the news to Julie and Tahia. And after getting past the visitor center, sure enough, there was a path that went uphill along a well-developed walking path cutting through some pastures before getting past a gate and making the final climb up to the Housesteads Fort.
The place was mostly ruins, and I guess this was pretty much a part of Hadrian's Wall as its genuine self. No re-creations – just ruins and signs interpreting the ruins. Looking out the backside of the Housesteads Fort, we did see Hadrian's Wall, which could be distinguished from the typical walls to hold in livestock (namely sheep) by the width of the wall itself.
I was hoping to find a way to get a pretty classical look at Hadrian's Wall from the Housesteads Crag, but from what I could tell, that would require a bit of a walk that we weren't prepared to take. And we just didn't feel compelled to spend too much time here. I guess we had gotten too used to the Roman ruins throughout Italy last year, and this was pretty ho hum compared to those experiences.
Indeed, Hadrian's Wall was no Great Wall. But its existence in such a seemingly out-of-the-way place underscored the turbulent struggles between the Scots and the English in these borderlands. And perhaps such a legacy of war and turmoil might explain (at least according to the book "American Nations") how our folks from Appalachia descended from Scots-Irish fleeing war-torn lands if they had the means, and would ultimately become the stereotypical hillbillies.
So after having our fill of the Housesteads Fort, we returned back to the car and got there at 10:35am. Next up was the first waterfall of today, which was the Gray Mare's Tail.
After going back to the M6, then flying north on the highway, we would eventually have to go back onto more narrow rural roads until we'd ultimately arrive at the car park for Gray Mare's Tail at 12:15pm.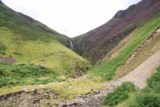 We could see right from the car park that there were steep and narrow trails on both sides of the stream responsible for the Gray Mare's Tail Waterfall. The first path we went up was the one to the left, which was for the 10-minute (in each direction) hike up to a frontal view of the impressive 60m waterfall itself.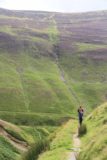 We were holding onto Tahia tightly because the trail here was quite narrow. Plus, any slip and fall towards the dropoffs would mean a certainly fatal tumble several hundred feet down towards the river. Indeed, concentration was in order.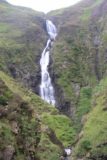 Once we got to a barricade discouraging further progress closer to the waterfall, we took the obligatory photos before heading back. Although it looked like some people managed to get around the barricade, we opted to be content with the views from this spot before turning back and getting back to the car park.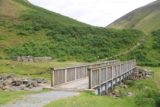 And once we returned back to the main footpath near the bridge, that was when we split up. Julie and Tahia would go back to the car while I was going to climb the opposite side of the valley via the trail leading up to Loch Skeen. I told Julie that I would be back at the car by about 2pm, though it was about 12:30pm when I headed up.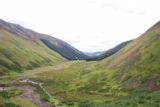 Little did I realize that the walk up to Loch Skeen was actually about 2.5 miles return (said to take 2-3 hours), and that I didn't really give myself enough time to be back at the car by 2pm due to this underestimation of the time commitment. In any case, I sweated and breathed heavily as I went up the slew of steps all the while taking photos of the increasingly beautiful view of the valley as well as alternative views of the Gray Mare's Tail.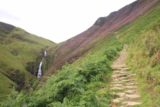 As I went higher up the track, it was narrow enough that people coming in opposite directions of traffic would have to arrange on the spot who would yield and who would keep going. After all, there simply wasn't enough room to consistently have people coming from the opposite direction trying to squeeze by each other with these dropoffs. Really, the most efficient way of passing by people was to have someone take the initiative and step off the main track so the others could get through without unnecessarily endangering their lives by tip-toeing to avoid the dropoffs and the people at the same time.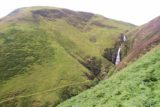 When I got to about the two-thirds point of the trail, I could see that there was a huge mat of purple wildflowers on the slopes of the fell that I was on. It was too bad that the weather was mostly cloudy because I could just imagine how colorful this scene would be had the sun provided direct light.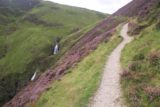 Up to this point, I was also getting alternate views of the Gray Mare's Tail since I was on the opposite end of the valley. The view of the falls was more angled from here, but it was no less dramatic. Eventually, I would get past the main drops of the falls, but as the trail flattened out a little more, I noticed there were still a couple more smaller tiers of waterfalls on the same linn.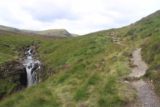 Some people were chilling out at the top of the falls, but was on a mission to keep going to Loch Skeen since I knew this lake was something most people do together with this waterfall. And beyond the falls, I could see the trail pretty much undulated amongst more purple flowers blooming where there were stones or stream.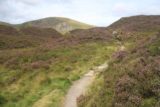 As my watch was getting past 1:20pm, I started to get concerned about whether I would be back at the car park later than I wanted to be. With my belief that we might miss out on Falls of Clyde later today (thinking they'd close at 4pm), I had to hasten my steps and start running. At least the trail running was made easier with the flatter terrain beyond the falls.
But as my watch continued to get later and later (now towards 1:30pm), I started to wonder whether I would have to quit and go back without having witnessed the Loch Skeen.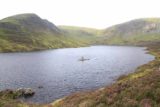 It wouldn't be until about 1:40pm when I would finally be at the shores of Loch Skeen. Given the overcast conditions, there was a lot of gray but the purple from the wildflowers wouldn't really reveal itself boldly without the sun. I tried to improve my position by scrambling up the immediate hillside to try to photograph the lake from a higher vantage point.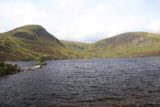 I was only able to get so high, but I felt that my photo compositions weren't that great. So eventually, I quickly had my fill of Loch Skeen at 1:45pm and proceeded to quickly head back the way I came. This time, I did more trail running knowing that I wasn't going to be back at the car park before 2pm as I had promised Julie earlier.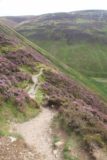 And while it seemed to take forever to get to Loch Skeen, my trail running got me back to the top of Gray Mare's Tail by 2pm, and by 2:25pm, I rejoined Julie and Tahia at the car. Since I was concentrating on my balance and the trail itself on the descent, I really wasn't paying much attention to the divine valley view down below. Nonetheless, with the rental car regained, it was time to proceed onwards to New Lanark and the Falls of Clyde.
With the worry of the falls being closed and inaccessible by 4pm, I was making haste as we had to drive back through Moffat then back onto the M6 north. Julie was complaining to me that we didn't stop to get a lunch since Gray Mare's Tail. After a short delay from some road work (funny how these things always happen when you're in a hurry), we then took some local roads towards the town of Lanark, then we followed the road signs towards New Lanark.
Once we got to New Lanark at 3:30pm, there were signs pointing me towards a car park. It turned out to be the place to leave the car then walk down the hill towards the UNESCO town of New Lanark itself. I wasn't sure why this place was UNESCO, but I'd guess it had more to do with the Industrial Revolution and the water works here.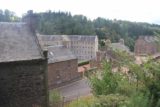 In any case, I made haste as I quickly walked into the town of New Lanark following purple signs with a badger or some mammal on it with the words "Falls of Clyde, Follow Me!"
The signs led me towards the Falls of Clyde visitor center, which was mostly unmanned. A lady who worked here told me that I could do the walk on my own and didn't require me to pay an entrance fee. So I guess I was worried about missing out on this hike for nothing after all. She was helpful in giving me the right map and telling me where the trail began, which was actually back up the steps then passing through a pair of stone archways.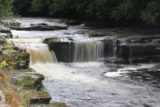 Next to the industrail buildings near the visitor center was the first waterfall called Dundaff Linn. The view from the trail wasn't great so I kept going on the well-established path. It didn't take long before I went past a sign at a fork indicating that the alternate path was to avoid high water if the Clyde River was flooded or the hydro schemes would release water.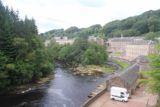 There was even a boardwalk alongside a calm stretch of the river thanks to the Mill Weir holding back the river.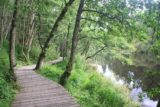 Then, when the boardwalk ended, I walked onto what appeared to be a road that led me past a house where the front was full of posters and stand-up signs talking about how CEMEX (a multi-national Mexican company) wanted to quarry the area around the Falls of Clyde and essentially destroy the Clyde River. Of course, it could be argued that having a hydro scheme on the river was also detrimental to the Clyde River as well, but I wasn't going to dwell on the irony of it.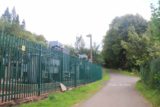 Once I went past the Bonnington Power Station (where I could really hear the hum of the electricity generation as I went past some of the generators), the trail then left the pavement and went back into the bush. This part of the trail pretty much followed a long line of diversion pipes (probably to feed a turbine so the work done by the flowing water would spin the turbines and thus spin the Faraday loop to make current.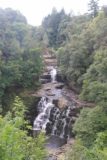 This part of the hike was gradually uphill, and at roughly 4:15pm I finally saw the second waterfall on the Clyde River called Cora Linn. This was a very attractive two-tiered falls that had quite a bit of character to it. However, the initial overlook had lots of foliage blocking parts of the falls.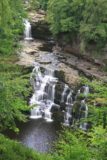 But when I continued going up some steps, it turned out that there were better views up there.
I guess this was the waterfall that the lady at the visitor center told me was typically her turnaround point of the hike. She thought it might have been a bit much to keep going, but a sign said the Bonnington Linn was only 3/4-mile away so I went for it.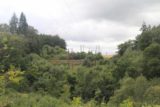 The trail flattened out as it passed by another view of the Cora Linn, then went into a short gorge above the falls. The trail was near the top of the gorge and there was a lot of overgrowth so there really wasn't much of a photo op here. There were a few more designated lookout areas (one on top of Cora Linn, one of the river in the gorge, etc.), but they weren't anything that noteworthy. However, there were some branches of the trail that went away from the gorge and I suspected that they might have been for the Peregrine Falcon viewing, but I wondered if they were closed since I saw signage suggesting that.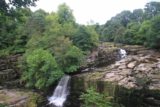 I'd eventually get to a lookout where I saw some waterfall with a thin-flowing creek having another waterfall adjacent to that. I wasn't sure what falls this was, but the view was at a severe angle so I kept going.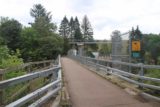 Eventually, I would reach signage saying that I was entering a reserve (going the other way), and shortly thereafter, I found myself at the Bonnington Weir, which was another dam with transformers (undoubtedly another hydro power station). I was able to cross the weir like a bridge over the Clyde River, and then I found myself at the end of the red trail and the start of the purple trail.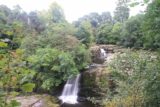 A sign here said that there was no access back to the other side of the Clyde River for the next 3.5 miles so there was no way I was going to finish off this hike as a loop. But it was only another 0.2 miles to get to the view of the Bonnington Linn.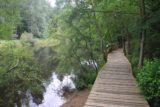 By about 4:45pm, I finally made it to the Bonnington Linn view, which turned out to be that same waerfall I had seen earlier. It consisted of two drops, but they were significantly smaller tha the Cora Linn. I guess I could see why the lady at the visitor center tended not to continue past Cora Linn. Still, this waterfall appeared to have seen better days as there was a lot of bare rock above and next to each tier. It was possible that it might have been a spectacular sight where the entire span of the Clyde River would drop, and thus make this waterfall more compelling than it currently is.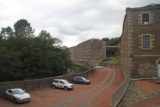 No doubt the Bonnington Weir had something to do with its compromised flow.
Knowing that Julie and Tahia was waiting for me, I hastily made my way back towards New Lanark. I'd eventually make it back to town at around 5:25pm, and as I was slowly making my way towards the hill where the car park was, I checked out a bit more of the town itself since I was curious as to why this place was UNESCO.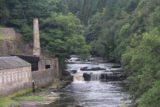 Well, as I was doing my exploring, I saw that there was a more direct view of Dundaff Linn, and I got to see a waterwheel close up. At the same time, I also get a sense that the town had some kind of an old-school charm about it, but it also had that stale feeling given all this industrialism here (which I'd imagine was the very thing that made this town UNESCO since it must've have figured in the Industrial Revolution).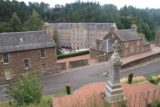 Finally at 5:45pm, I returned to the car thus completing the roughly 3-mile return hike. It turned out that Tahia and Julie had walked into New Lanark, but they didn't do the walk to Cora Linn. They did get a bite to eat at a cafe in town so they seemed to be in a much better mood than the time we had just arrived.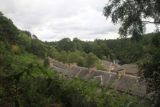 Now we could focus on getting to Edinburgh though I knew that the parking situation there might be a bit on the chaotic side until we find the hotel and get some advice about it. By about 7:15pm, we'd get to Hunter Square, which seemed to be real close to the Royal Mile, but the parking situation looked bad here. So I illegally stopped the car so Julie could find the Ibis Hotel and check in while getting some advice. I got lucky in that a car pulled out and so I promptly took that spot.
Tahia and I were keeping each other busy while waiting for Julie, and when she came back, she told me where the car park structure was and it looked like it was many blocks away. So given that, I decided that we should take our stuff up to the room before heading into the parking structure so we wouldn't have to carry all this stuff for several blocks.
It wouldn't be until about 8:10pm when we finally got to the St Johns Hill car park.
After a bit more of indecision about where to eat on this night, we had gotten a taste of the charm and bustle of the Royal Mile in Edinburgh at almost 9pm. As much as I wanted to explore this place and really get a feel for it, I had to content myself with the limited sightseeing so we could find an Italian place to eat since Julie was in the mood for it.
We'd ultimately find this place in a side street called La Locanda, and it turned out to be quite a find as the ravioli and salmon dishes that we got were very good. Even the tiramisu dessert was good (Tahia had no trouble digging into this), and even though we had to pay about 40 pounds for the whole meal (think nearly $80 USD), we were very satisfied at concluding our long day here.
We got back to the hotel at 10:15pm. It had been sprinkling outside, which I was sure would foreshadow a rainy day tomorrow. Still, we had two full days to enjoy in town, and we all looked forward to being charmed by the Scottish capital of Edinburgh…
Day 9: RAINY RECON OF EDINBURGH
It was 8:30am when we awoke. Everyone was in a good mood probably because we were all well rested and we really didn't have an agenda on this day other than to let the experiences from the city come to us. We knew we had to do the Edinburgh Castle at least, but with today being forecast for bad weather, we still had tomorrow to fall back on.
So no one was really in a hurry, but we didn't go down to town until 9:55am, which was quite late. And about 10 minutes later, we ended up going to a nearby place called Garfunkel's for Scottish breakfast.
The food wasn't anything extraordinary as it consisted of something like an American breakfast of eggs, bacon, ans sausage. It also included beans as well as a haggis (which was a mush of lamb innards mixed with other things though it doesn't taste like organs).
We got some toast to go along with this stuff and we also got an omelet so Tahia could at least have something substantial for brekkie. The haggis experience wasn't anything extraordinary, but I thought it was pretty decent brekkie food regardless, and I get the feeling that with another 10 more days in Scotland, we'll have plenty of opportunities for another such Scottish breakfast if I was in the mood for more of it (little would I realize in hindsight how quickly those 10 days would come to pass).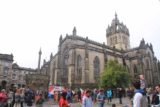 At 11am, we were done with breakfast and we finally started touring the Royal Mile. It was raining the moment we stepped outside, but the rain seemed like it was subsiding. And by the time we got past the St Giles Cathedral, the sun started coming out as we got closer to the Scottish Whisky Experience.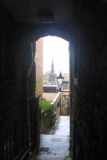 The Royal Mile was obviously atmospheric even with the bad weather. However, we did at times seek shelter from some of the buildings, which contained these tiny alleyways leading to some hidden nook and cranny. Most of these had archways or something to take shelter beneath. In any case, these alleyways had signs titling them "… Close". I guess these closes further added layers of richness to this already charming and historical place.
Nearby the church adjacent to the Scottish Whisky Experience, there was a busker playing the bagpipes. It was one of those moments that I thought was quintessential Scotland. And in a city like Edinburgh where we were seemingly brought back to the Middle Ages in the Old Town, having this ambience accompanied with bagpipes was just one of those times where I just had to sit back and soak in the experience.
At about 11:45am, we had already followed the masses of humanity through the Royal Military Tattoo stands and towards the main entrance of Edinburgh Castle. Even though the weather was momentarily calm, dark clouds were everywhere, and I questioned the wisdom of forcing a visit with all these tour groups under highly variable weather.
So instead, we headed down below the castle in search of the Royal Museum of Scotland. But somewhere along the way, Tahia said she needed to pee so we went back up towards some toilet on the steps near the castle. Then, since we had already climbed back up so far to reach the toilet, we then returned to the Royal Mile when Julie noticed the Camera Obscura.
I had reservations about spending so much time in a museum or kitschy attraction, but she thought Tahia might enjoy this experience. And since the weather called for rain today, perhaps this would be a good indoor activity.
So we went ahead with the paid attraction and proceeded up to the second floor first. While there, we spent some time getting tripped out by a mirror maze (the kind you see in movies all the time). It was trippy how to navigate through this maze, and the way to do it essentially was to feel your way around. That was why they made us wear plastic disposable gloves so the mirrors stay clear.
When we got out of the mirror maze, we walked all the way up to the sixth floor because there was supposed to be a 12:30pm show of the Camera Obscura. So we went up there with a few minutes to go, and whilst up there, we took in the awesome views over Edinburgh from this building. It was too bad we couldn't really see the Edinburgh Castle because of the stands of the Royal Military Tattoo in the way, but there were other mindblowing views in the other directions. By this time, the sun was definitely out.
When the show started, we were led into a circular room with some kind of circular table in the middle. The tour guide talked about the history of the camera obscura (apparently this one was 175 years old) as well as how it worked. It was pretty cool to see Edinburgh through this real-time Victorian CCTV, and when we were done with it, we then popped down each level one-by-one.
Clearly, this museum was all about optical illusions. Many of these illusions revealed how Hollywood got their movie magic as well as how some magicians pulled off their tricks. There was a forced perspective room, for example, many stereoscape 3-D images, holograms, body heat maps, a be-heading box, and more. There was even a trippy vortex tunnel, which was very similar to the tram ride in Universal Studios.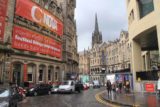 Ultimately by 1:30pm, we were done with the Camera Obscura. And it was a surprisingly good experience for the whole family when I expected it to be a waste of time and money. It also dawned on me that there was a Scottish band called Camera Obscura, and I wondered if they got their band name from this attraction. Anyways, when we left Camera Obscura, it was raining again.
So we sought shelter by trying to have a quick lunch somewhere on the way to the Royal Museum of Scotland. Tahia was in the mood for pizza, but the Pizza Express place was too busy and we ultimately decided to keep on walking until we found a hot dogs and panini place with a bit of a Middle-Eastern/Mediterranean flavor to it at 1:50pm. It ended up being a surprisingly good lunch at a decent price except it was cash only.
When we were done with the lunch, we then toured the Royal Museum of Scotland, finally. The attraction was actually free, and the rooms with all the exhibits seemed quite grand. The middle room was oval shaped and had three main tiers covering five stories. I'm sure this was the most photogenic part of the museum.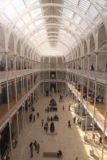 In between walking around the exhibits (we focused more on the natural history and the sciences), we also had ourselves an afternoon tea on the third floor balcony. We accompanied the jasmine tea with some thick chocolate fudge cake, which Tahia gladly ate despite the fact that we started to notice that Tahia seemed to be coming down with a cold.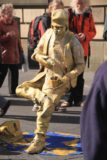 That was not good. And it made us head back to our hotel room so she could have an afternoon siesta to try to rest it off. Along the way back to the hotel, we deliberately made our way along the Royal Mile where now the pedestrian zone came alive with street performances and stages with lots of foot traffic all around.
It was certainly atmospheric, and it was pretty obvious to both Julie and I that Edinburgh simply had that charm that made us fall in love with this place.
At 3:55pm, we finally were back at the hotel. I split up with Julie and Tahia at this point so I could do a little bit of reconnaissance of the Royal Mile and other attractions for the rest of the afternoon while both of them were resting. I figured that might help us focus with tomorrow's touring. We know we were going to hit the Edinburgh Castle as well as Carlton Hill. We weren't sure what else we were going to do.
So as I was making my self-guided individual tour, I noticed some grand hotel nearby a ferris wheel and some spire-like gothic building. Behind the building, I could see ominous dark clouds looming that side of the city as well as Carlton Hill nearby. As I was taking photos of the scene with the fading sun (as the clouds were overtaking the clear skies), I could see lightning and thunder looming in the dark clouds.
By about 4:10pm when I returned to the Royal Mile heading downhill to the east, the dark clouds overlook the city and it was starting to rain heavily. In fact, it also looked like it was hailing while accompanied by thunder. I sought refuge in one of the closes, which were apparently Scottish alleyways. And for the next 40 minutes, I would essentially try to wait out the hard rain then seek refuge in the next convenient close further to the east where I would wait out the next squall or period of heavy rain.
It was still raining at 4:35pm, and the thought dawned me that I wondered how the street performers could function (and the audience pay attention) during such inclement weather.
At 4:45pm, I was then waiting at Reid's Close near the Whitefoord House. Again, the rain wasn't letting up, but at least I noticed some of these closes revealed some interesting residences with old school charm. Others seemed like it wasn't very tourist friendly and kind of seedy. And in narrow street, I noticed what looked to be Edinburgh's own volcano called Arthur's Seat.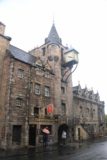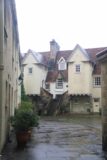 By about 4:50pm, I sought refuge with a lot of other people at the Scottish Parliament main entrance. I was looking towards the Queen's Gallery, where the Palace of the Holyrood House was hidden behind it from this vantage point. About 10 minutes later, I crossed the street near the roundabout and took a picture of the gate and Holyrood House. It didn't look like anything extraordinary, but perhaps its value would be from doing a tour of its interior.
By about 5:30pm, I was back at the hotel. On the way there, I briefly checked out a live performance inside the Tron Kirk. There was already a crowd here just soaking in the atmosphere like I was. I guess that was the essence of festival time at the International Festival of the Arts in Edinburgh. Lots of acts making themselves known to casual passer-bys or loyal followers (e.g. a Panic Attack performance in one of the pubs that was sold out).
Anyways, back at the hotel, I could see that Tahia was starting to have a fever, but at the same time, she didn't seem fazed as she was still playing around and jumping on the bed. Maybe she was oblivious to her ailment.
At 6:30pm, it was now Julie's turn to go solo in the Old Town of Edinburgh. However, instead of doing a rainy recon like I was, she was getting takeaway food from Laira's, which was right next door to La Locanda, which we saw last night. So I guess we would call it a night at this point, especially given a combination of Tahia's condition and the foul weather.
But rain or shine, sick or not, all the hopes of a successful sightseeing day were riding on tomorrow. Hopefully, the weather will cooperate (as the forecasts were suggesting)…
Day 10: CLASSIC EDINBURGH
It was about 6am when I awoke to my alarm. Knowing that Julie and Tahia needed to sleep (especially with Tahia seemingly having a cold), I was going to scout out the rest of the charming parts of Edinburgh then make my way up to the top of Calton Hill. So after quickly brushing my teeth and putting on my outdoor clothes, I was out the door by 6:10am.
Being centrally located at the Royal Ibis right next to the Royal Mile of Edinburgh had its benefits. In this instance, I was able to be smack in the west-center of the Royal Mile (closer to Edinburgh Castle than to the Palace of the Holyroodhouse), and it didn't take me long before I got on the familiar North Bridge where I got to witness the Balmoral Hotel again (that historic-looking building I saw before the lightning and thunder overtook the city yesterday afternoon).
When I looked out towards the east, I could see that apparently the sun had already risen above the horizon and was hiding in the clouds above. I was a little bummed that the forecast called for clear skies in the morning, but clearly this wasn't the case as of this moment.
Still, in the space beneath the clouds, I could see a distinct orange. But I knew the dark clouds above meant the nice morning light I was hoping to have to capture decent photos of Edinburgh Castle and Dugald Stewart Monument atop Calton Hill was probably not going to happen.
Nonetheless, I pressed on. By about 6:45am, I would finally make it to the top of Calton Hill. And sure enough the big patch of dark clouds remained stubbornly in the way muting the otherwise soft glow of the sun that would have been shining on the subjects of interest to the west. I could see clearing skies to the north, but the winds looked like they were coming from the west and the clearing wasn't imminently moving to the sun.
I was going to play the waiting game by hoping the sun might eventually show itself while I was up here. But that wasn't easy as the winds atop the hill had a biting chill to it. So I did what I could by moving around a little bit to photograph the National Monument (which was the Acropolis-looking thing), the Dugald Steward Monument, the Nelson Monument, and the City Observatory. I was even trying to photograph Arthur's Seat to the south.
Meanwhile as I was doing this, there were a few guys sitting on the Acropolis-like National Monument plus a handful of joggers and ladies walking their dogs. At 7:10am, the clouds remained stubbornly in place. At this point, I decided I'd wait for another 15 minutes before I head back to the hotel. The winds were persistent and I actually had to use the walls of the Observatory complex as shelter so my toes didn't suffer from frost bite induced by the wind chill.
I took my photos where I could, but with the sun muted, the subjects just didn't have that glow that I was looking for. And by 7:20am, I started to descent Calton Hill and return towards the city center.
But instead of going back the way I came, I decided to keep going on Princes St towards the Waverley Bridge. There, I was drawn by the Scott Monument as well as lower views of the Edinburgh Castle in the distance.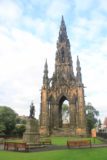 It was only when I started crossing Waverley Bridge did the sun finally start to break through, which was close to 8:15am.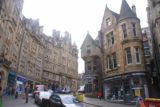 Well, I had to get back to the hotel to get Julie and Tahia out of the room and towards the Edinburgh Castle when they opened at 9:30am. But I was a bit dismayed to see that they were still sleeping when I had returned.
So it wasn't until about 9:15am when we were finally out of the room. The Victorian buildings along the Royal Mile had a nice glow to it, and as the city center was waking up and starting to bustle, we'd eventually be queueing up to enter Edinburgh Castle at 9:40am. By now, there were already tour groups but I sensed it would have been even more chaotic had we come later based on what we saw during our 11am arrival here yesterday.
Once we were inside, we quickly made our way up to the main part of the castle after we immediately saw that the first overlook was overcrowded and there happened to be a higher vantage point in the main castle area. So once we were in there, we quickly got up to the cannon and started getting our views to the east and north.
The sun was coming in and out of the clouds, but for the most part, it was sunny now. After having our fill of this initial overlook, we then made our way to the crown jewels area.
At this point, there were already a lot of tour groups crowding in here creating long queues and a sense of haste since the corridors in there were narrow and dimly lit. There really wasn't much room for people to pass.
Julie, Tahia, and I were caught amidst what appeared to be a Danish or Swedish tour group composed of girls at either high school or uni level. There really wasn't much time to take photos or even read the signs in there, and so we'd eventually make it out into a courtyard area where there were a lot of people, but not as much as the even longer queues lining up waiting to enter both entrances of the crown jewels area.
We then did a little more exploring of this castle area consisting of the war memorial and some living quarters. And when we were done with this part of the tour, we then started to hear bagpipes and drums being played so we quickly picked out one of the available arrow holes looking down at the band and the crowd of onlookers. The moment felt like a quintessential Scotland experience where we were simply enjoying the music while just soaking in the atmosphere and history of this place.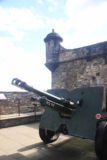 By about 11:05am, we were doing some final bit of exploring the unexplored parts of the castle complex. This consisted of another war museum area with vistas out to the north and west, then we checked out the one o'clock cannon though I never recalled it going off (but maybe we were too far away from it each time we had the opportunity to hear it?).
Finally at 11:30am, we spontaneously decided to have lunch at this place called Victor & Carina's Contini, which was just in front of the Edinburgh Castle and the stands of the Military Tattoo. We were drawn here because Julie noticed some gelato flavors in the basement floor through the window. But on the way towards the gelato floor, that was when Julie saw they were serving paninis with other interesting dishes on offer.
When we got the food, we were pleasantly surprised at the quality of the panini filled with prosciuto along with bruschetta topped with pork belly. After the lunch, we then had the gelato downstairs though because they charge more for sit down, we got it as takeaway. However, our table upstairs was still there so we basically reclaimed our table at the top and ate our takeaway gelato.
At 12:20pm, we were done. As we were back on the Royal Mile, we could see that clouds were once again blocking the sun. At this point, Tahia had a second wind and we walked all the way towards the familiar North Bridge. This would be the first time that Julie noticed what I saw yesterday and this morning. And it was on this bridge that Tahia finally was complaining and wishing me to carry her.
So now we finally put my carrier to use as Tahia napped in it, and I would carry her back up Calton Hill. We'd by up there by 1:20pm but by now the sun was sidelighting the castle in the distance. And it didn't take but a few minutes more before the sun would be hidden by clouds again.
By about 2pm, we had our fill of Calton Hill and we headed back down to the Royal Mile. This time, we were making our way to the Palace of the Holyroodhouse. The walk down to the east end of the Royal Mile was made a little longer because Julie was popping in and out of various cashmere stores looking to get some of the Scottish cashmere for herself, but the prices were way beyond our affordability range so she ultimately passed on it.
At 2:30pm, we finally made it to the Palace of the Holyroodhouse. After getting the tickets, Tahia had woken up and now she was able to walk again. So with my hips and my shoulders feeling much more relieved with her being back on the ground, we all proceeded to do the self-guided tour. This time, they included an audio guide, which we followed all the way through the facility. Since they didn't allow photographs anywhere indoors on the complex (only outdoors), we were pretty much captive audiences to the audio tour.
The rooms were clearly very elaborate. Most of them were dark, but each of the rooms were grand. By about 3:30pm, we made it to the ruined Abbey at the very end of the tour. And by now, the weather had turned and it was raining. So we took the abbey shots in the rain, then we had to scramble in the rain towards the exit before finally seeking shelter under some buildings back at the Royal Mile.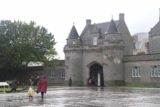 The rain eventually turned to sprinkles, and as we made our way back up the Royal Mile, Julie was in the mood for tea and she had her heart set on this place called Patisserie Valerie. We had to wait about 15 minutes before we'd be seated, then we had to wait another 10 minutes more before even having our order taken. But at least the indulgent dessert of two vanilla bean ice cream scoops atop warm Belgian waffles was a hit as Tahia, Julie, and I devoured the dessert quickly. Julie wasn't nuts about her fruit tart. Still, the tea was fragrant.
After the tea break was over, we were back at the hotel at 5:15pm. We did this to drop off our stuff and get some umbrellas, which we had forgotten to bring during our tour throughout today. And inside the hotel, we saw there was a massive tour group crowding the lobby. So that meant that we'd have to be up and out of here before the tour groups take over tomorrow morning. Once again, we had better be out early…
A few minutes thereafter, we finally decided on having pizza at Pizza Express. Normally, we're not fond of chain restaurants, but in this case, it turned out that the superfood salad and the Romana-style pesto pomodoro pizza was way better than expected. I think this might be the very first meal where all three of us were actually full after a meal, though the dessert and tea we had an hour earlier probably exacerbated this.
When the dinner was over, we were back at the room at 6:40pm. We had to get packing and to be quickly in order to ensure that we'd be up and outta here first thing tomorrow. For starting tomorrow, it was back to the business of waterfalling as we would head into the Highlands of Scotland…
Day 11: UNKNOWN TOURIST MAGNET
It was about 5:5am when I awoke. I knew that I had to get going with wrapping up the packing (which I mostly completed yesterday), and that was pretty much done after I brushed my teeth. So I dragged my stuff downstairs leaving Julie and Tahia to hopefully wake up and get moving, and by about 6:20am, I would finally return to the St Johns Hill Car Park where we left our car.
Using the validated token, I ended up paying 30 pounds for the three nights we were there, and then I headed back to the Hunter Square area on the narrow street right in front of the Ibis. And by 6:25am, I left the car on the street so I could quickly rejoin Julie and Tahia and facilitate their packing so we could leave Edinburgh before the city would wake up and driving out of here would be difficult.
It was raining when I got back into the hotel, and I was a little incredulous at the fact that the forecast called for either partly cloudy skies or clear skies on this day. I wasn't expecting weather that would be worse off than it was yesterday. So that didn't bode well for my plans when we would stay in Inverness tomorrow and use that as a base for Highland hiking activities (where weather conditions would play a big factor in what we were trying to accomplish).
It wouldn't be until 6:55am when Tahia and I were in the car waiting for Julie to check out, then try to get some croissant breakfast on the go. When Julie showed up at 7:10am, she came back with cheese toast and scones as they didn't have the crispy croissant that we enjoyed yesterday.
And so we were off driving out of the city in the rain. The rain would subside until we crossed over the bridge over the Firth of Forth and north towards Perth. We then passed through Perth and continued on towards Aberfeldy for the first hiking excursion of the day at the Birks of Aberfeldy.
We'd ultimately get to the car park at 8:45am, and we started hiking at 9am. The car park was mostly empty, and the other car that was already here was about to pull out as the hiker was apparently just finished.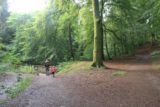 The weather was a bit cold, but the moment of morning sun at the time helped to assure us (somewhat falsely) that we were in for fine conditions. So we didn't even bother bringing an umbrella nor was I consciously bringing a rain poncho either.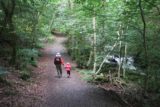 The hike we did was actually a loop hike where we did it in a clockwise manner. The left path that we started on was actually a bit rough and steep in places, but Tahia managed pretty well. There were lots of uphill and steps, and a few of those steps were quite high for Tahia.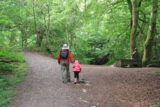 We passed by a couple of interesting landmarks en route. The first one was a bench with a statue of Robert Burns with a book in hand. We took some photos here of Tahia posing with the historically important Scottish poet.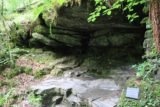 The second landmark was an alcove with a rocky ledge that seemed suitable for sitting. It was said that this was the spot where Robert Burns was inspired to write the Birks of Aberfeldy – the very hike we were on.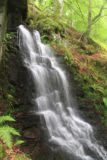 Surrounding this second landmark were a couple of thin waterfalls on temporary brooks as the trail continued to climb steeply on steps and switchback. Unfortunately, the sunny skies quickly gave way to rain, and I resigned myself to the fact that the weather forecast from Wunderground was rosier than the reality of what we were experiencing.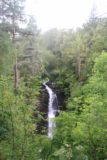 It wouldn't be until about 9:50am when we climbed high enough and went far enough to finally get a view of the so-called Upper Falls of the Falls of Moness. The name suggested there was a Lower Falls, but I wasn't sure if one existed based on what I could see from the maps in the area. Anyhow, the rain had let up by this time.
The view of the falls was downward but frontal of the impressive 200ft waterfall, but the bottom part was obstructed by some overgrowth. It was quite a bit of trouble for a mostly-visible waterfall, but then again, I started to get the sense that this hike was more of a Nature Walk than a waterfall destination.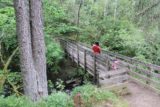 We continued past the top of the falls, where there was a bridge above the burn giving rise to the falls itself. Then, at about 10:15am, the trail descended to a place where we got a decent view of the valley below.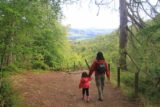 At about 10:35am, we were back at the car park. Both Julie and I noticed that the latter half of our hike on the Birks of Aberfeldy was much gentler than our initial part of the hike. So it was good for the return path as it was gentler on our joints. There really wasn't a falls view though along this latter half of the hike.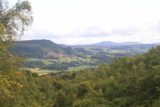 At about 10:45am, we were in the town center of Aberfeldy. Julie noticed a Co-op, and we made a quick stop here so Julie could go in and get some more water and food. While Tahia and I were waiting in the car, we saw that the rain came back. It wasn't until about 11:05am when we left the Co-op and headed towards Bruar.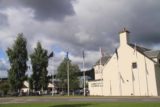 We'd eventually arrive at the car park for the House of Bruar at 11:45am. Along the way, there was a traffic jam on the A9 as a large number of vehicles were making right turns towards the Blair Castle. We wondered whether we should explore this castle or not, but we were kind of castled-out at this point and we needed some nature breaks before resuming the castle touring (Stirling Castle was targeted when we would head back to Glasgow after exploring the Highlands).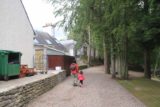 The House of Bruar was something I wasn't expecting as it looked like a market or store or something like that. There were lots of tourists here, and this even included tour groups. Thankfully, the Falls of Bruar trail was behind all this shopping, but I was caught off guard by the apparent tourism magnet the Highland Perthshire region was.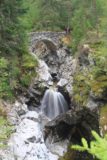 After a short toilet break, we went onto the trail where we withstood a short spell of rain before the rain subsided again. At about 12:30pm, we arrived at the Lower Bridge where we saw one of the Falls of Bruar right behind what appeared to be a small natural bridge. There were a few people here, but we took our shots, then kept going past the first overlook.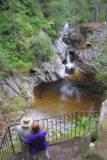 Just moments after that, we saw a small lookout through a small archway but I stood on top of that archway. The view was of an attractive cascading waterfall that I guess comprised the larger Lower Falls of Bruar series. But we didn't linger long here as we thought there was still more to see further up the trail.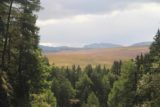 Like with the Birks of Aberfeldy, we opted to do this loop hike in a clockwise manner. And just like the previous hike, it was pretty much all uphill to the apex of the hike, which was just past what appeared to be the top of the Upper Falls of Bruar. It wouldn't be until around 1pm when we finally made it to the bridge upstream of the Upper Falls of Bruar.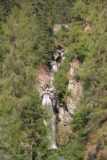 Eventually at about 1:10pm, we were at a bench that gave us a fairly decent view of the Upper Falls of Bruar from a distance. There were some false trails along the way that seemed to be dangerous unofficial paths to try to improve the view of the Upper Falls en route to this spot on the official trail.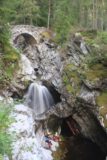 Anyways, after getting our shots, then continuing the descent past a switchback that had what seemed to be an old trail to another view of the Upper Falls of Bruar (possibly; though I didn't explore too far past the sign saying it was not a through trail), we ultimately got back to the Lower Bridge at 1:30pm.
By now, there was considerably more people around the overlooks here. There were also abseilers descending down the last of the lower waterfalls into the pool by the natural bridge. I tried to take a few shots at the small overlook beneath the small archway that I had missed earlier, but there was a German couple that beat me to the spot.
The male seemed to be annoyed with my presence though I knew he wasn't going to leave the spot anytime soon. I wasn't sure how I was disturbing him as I was trying to be respectful and quiet as I was taking photos away from him. But whatever his beef was, I got my shots, then I headed back down to rejoin Julie and Tahia.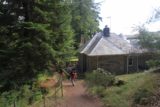 By about 1:40pm, we were back at the House of Bruar. Julie and Tahia made one more toilet break, but I think they were caught off guard by the huge queue for the women's toilets. When that waiting business was done, we saw what they had in the cafe and weren't that thrilled with the buffet-style selections. So we ultimately just bought some stuff that Julie wanted for our own afternoon tea, and we also picked up some sweet cherries and strawberries that were picked locally this morning.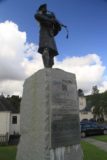 At 2:10pm, we were back at the car as we hastily made our way inside when the skies were once again starting to rain hard.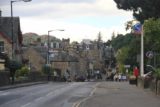 At 2:30pm, we finally arrived at the Acarsaid Bed and Breakfast. It was on the far side of town just east of the visitor center, so we actually passed through the center of Pitlochry, which was surprisingly charming but bustling with a lot of tourists. Again, this was something I wasn't expecting. What was it about this region that drew so many tourists?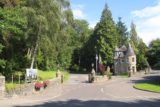 With Tahia napping, we put our stuff in our room. Then, I decided to go hiking to the Black Spout Waterfall solo. I started off by getting a more up-to-date map from the visitor center nearby at 3pm. Then, I proceeded to walk east towards the car park for the Black Spout Waterfall.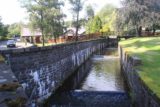 I passed by the Blair Atholl's Distillery at 3:20pm, but I realized that I had left my wallet and car keys with Julie and Tahia back at the room. So I was pretty much unable to do any whisky tours spontaneously.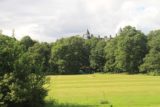 A few minutes later, I saw a sign pointing to the left saying the car park for Black Spout was 200 yards in that direction. And after getting to that car park, I then continued on what looked to be a 4×4 road for "Authorised Vehicles Only" that led me another 500 yards towards a junction where the final spur led me to a lookout platform with a direct view of the Black Spout Waterfall.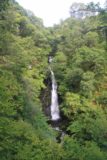 It was an attractively tall and thin waterfall though I knew it wasn't Julie's type of waterfall. So I took my photos and movies as I was here alone. But with my waterfall excursion surprisingly short, I thought why not walk the loop that the receptionist at our accommodation recommended?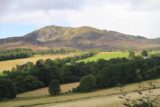 First up, I continued uphill towards the Edradour Distillery (I was on the Edradour Path). I knew their last whisky tour admission was 4pm (they closed at 5pm), and I probably wouldn't make it there in time, but the real issue was that I didn't have pounds on me to do a tour. So instead, I was content to enjoy the views across a large field towards some fells behind the lone farms and homes.
I also kept hearing some random and sporadic thuds in the distance, which I wondered whether they had to do with someone hunting or shooting something.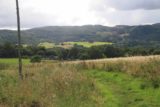 At 4:05pm, I reached a junction where I decided to continue towards the sign for "Moulin". I wasn't sure if that referred to the conspicuous castle-looking hotel I kept seeing in the distance. But I decided to pursue that place and get a closer look. Hopefully, I was going the right way.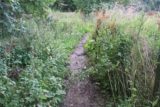 I then got to a spot where I started to have doubts about my decision. I was confronted with a very muddy path that skirted around a field. It looked like I could have crossed through the field but I didn't see an obvious path through there. So I followed the arrow and gingerly made my way through the muddy path (trying to avoid as much sloshing as possible) while trying to minimize my skin exposure to what I thought was overgrowth of poison oak or poison ivy flanking the path.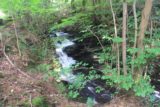 At about 4:15pm, I was across the field (the gunshots seemed to be louder here!), then I finally decided to head back to Pitlochry instead of continuing on Moulin. But at around 4:30pm, I noticed a path that led up towards what looked to be partial views of the castle-like hotel I kept seeing. Upon further inspection of the map I was given, I learned that it was the Atholl Palace Hotel.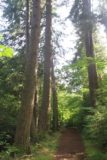 When I got to the top of the ascent, I apparently witnessed some reception that many folks in fancy attire (the dudes in kilts and the ladies in blue dresses and tall heels) were out back having a smoke. I stayed out of the way and continued to skirt the property trying to take close-up photos of the property before making my way down the driveway to continue my hike back into Pitlochry.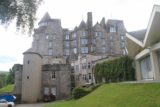 It happened to be raining at the time so I had to seek momentary shelter in the tree cover near the hotel before continuing on the narrow road back to town.
And by 4:40pm, I was back at the Acarsaid Hotel. Julie was debating where to have dinner on this night, and by about 5:10pm, we headed out and into town with a brief rain on us. Tahia was getting fussy because her nap got cut short, but we'd eventually get to this place called the Old Mill Inn, and we'd be seated by about 5:30pm.
It turned out that this dinner place was going to be a bit of a splurge as I would try the local Scottish angus sirloin steak with whisky and mustard sauce for it. Julie got some grilled salmon from Loch Duart. And we all followed up our dinners with sticky toffee pudding again with two scoops of vanilla ice cream.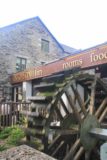 Everything was high quality, and it was certainly one of the best (if not THE best) dining experiences we've had in the UK so far. Sure the over-50 pound cost meant we paid nearly $100 USD for this dinner, but we had to have a Scottish dinner with locally procured stuff, and why not this place?
After all, we had food and wine places. It seemed like the Highland Pershire Region had whisky and food tours.
By about 6:30pm, we were done with the dinner. Then, we walked further into Pitlochry just to get a feel for this small tourist-friendly town. By about 7pm, we went into this outfitters called Hawkshead, and when all was said and done, I ended up getting a waterproof jacket that seemed versatile and essential for some of the Highland walking that I anticipated doing in the coming days.
It was certainly going to replace my thin red jacket that was falling apart on the inside.
After a little more exploring of Pitlochry, where we noticed some pretty gardens and the other TripAdvisor-recommended foodie places, we were finally back at the room at 7:45pm. Another thing we noticed along the way back to the accommodation was that there was a sign saying something to the effect of welcoming the Ryder Cup here.
Could that be why this area was so well touristed?
Well, whatever the case, we would be headed into Nessie territory tomorrow, where for the next four nights, we'd base ourselves in Inverness, and make long out-and-back day trips to various parts of the Highlands from the Isle of Skye to Durness to even the Falls of Glomach, which I was nervous about doing as I'd probably be doing the long hike solo. Again, with the weather as variable as it had been this entire trip (only one truly rain-free day), that was the thing I was paying most attention to as our waterfalling activities would be highly weather dependent…
Day 12: THE RHYTHMS OF GLOMACH
It was 5:55am when we awoke. We had to do the early wakeup because we had a lot of stuff going on today.
First off, we had to meet with the lady running the Bishop's Park Apartments in Inverness, which was where we were going to spend the next four nights. We agreed to meet with her at 9am, and that meant that we had to leave Pitlochry not much later than 7am. So with our stuff packed and the car loaded up, we left the Acarsaid Hotel at 7:10am.
The drive towards Inverness was delightfully light except for those two instances where large trucks were in the way. The highway was mostly two lanes (one in each direction) so passing was not an easy thing to do. Since it was very dangerous to pass given how many curves there were on the road, we pretty much had to wait for sections of the road that had dual carriageways (i.e. two lanes in the same direction), but those were very rare in these parts.
And as luck would have it, it always seemed like whenever the dual carriageways ended, that was just when there was a truck up ahead slowing people down.
Anyways, we made good time and got into Inverness at around 8:40am. Since we were making such good time, I decided to fill up on diesel first since I saw ok prices as we were entering town. There was a little rain in town, and we saw a large rainbow over the city.
And right at 9am, we arrived at the Bishop's Park Inverness Apartments. The lady was waiting for us, and we pretty much took the next hour getting oriented then getting settled. Since Julie was still fighting a flu or cold (as she was getting the chills), she decided to stay in the apartment with Tahia to rest. So I was off on my own to do the hike to the Falls of Glomach.
I knew the forecast called for decent weather in the Highlands (and by decent, I mean no extensive rainy periods) so this would be my opportunity to get the long hike out of the way.
By 10am I left the apartment and started the drive out west towards the Kyle of Lochalsh. Julie left me some unfinished sandwiches as well as a cookie and some chips. She also left me some fruits, an extra jug of water as well as a pair of smaller bottles. So I was pretty well equipped for an extended day's hike.
The drive west was along a winding A9 highway, which skirted the north (or west since it's diagonal) side of Loch Ness. Even though the GPS expected me to go 60mph the whole way, I knew that was not feasible. Furthermore, there was quite a bit of a traffic jam thanks to tour buses and slow drivers with limited opportunities to pass, especially with people ignoring the signs urging slow drivers to use the laybys (think pullouts) to clear up the queues they were causing.
Ultimately, it wouldn't be until about 11:40am when I eventually made it to the car park near Dorusduain. The drive on the A87 (which the A9 connected with in the middle of western Loch Ness) was quite scenic, especially around the Loch Cluanie, which was actually caused by a dam. The weather was pretty nice as I could see tall mountains flanking the glen I was driving through.
When I got to Loch Duich, there were some signs pointing the way to Falls of Glomach Car Park at Morvich. However, I learned from the National Trust website that there was also an alternate starting point at Dorusduain, and that was what I was targeting, especially since it seemed to shave off around 4 miles round trip of the overall hike (I knew the Morvich option was on the order of 12 miles round trip).
When I turned right onto a rurual road that because single track, I would eventually reach a fork where the sign pointed me to the right and back towards Morvich. But when the GPS protested, I opted to keep left. I swore I saw a sign saying something to the effect that the road I was taking was a private road. Maybe that was why the signs tried to steer visitors towards Morvich.
Still, I kept pushing forward. I knew there was no way I could pull off a minimum of 12 miles round trip of hiking for the falls in half a day and be back to Inverness by a reasonable hour. So starting at Dorusduain made a lot of sense to me.
When I drove on the "private" road, I passed by some properties, cattle guards, and even a couple of gates where one had a height barrier. It was those gates and barriers that concerned me because the thought did cross my mind that the landowner could easily close them while I was out hiking.
The road remained single track so if there was oncoming traffic, we'd have to coordinate between us the utilization of the passing area so we could get by each other.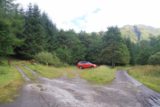 Finally, at 11:40am, I reached what looked like an small unpaved car park with a red sign indicating the Falls of Glomach was another 4 miles walk from this point. There was already a new-looking red SUV parked here, so I was a little assured that I probably wouldn't be the only one on this hike (or the only ones stranded if the barriers were closed).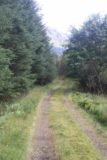 The road kept going beyond this car park, but upon scouting it a bit further, I noticed that the road degenerated into muddy tire tracks on grass, and thus it looked very impassable to a low clearance 2wd passenger car like the one I was using. So clearly this car park had to be the starting point.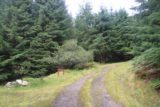 I took some time to get my stuff together while putting away the electronics. So it wasn't until 12pm when I finally set out on the hike.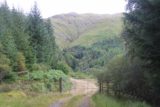 The hike started off going all uphill as it eventually curved around towards a gate with a swing fence to try to keep livestock or large animal intruders from getting through. I got through that fence about 15 minutes after I started.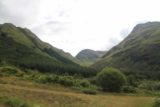 Beyond the fence, I looked to the right and was treated to gorgeous views of the head of the valley I had driven up. I saw another red sign pointing the way to the falls, which was always reassuring.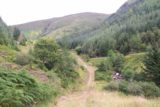 There were some clouds above me as the skies were predominantly overcast, but the sun managed to break through from time to time. I just hoped that the weather would hold up as I knew I was in for a long hike.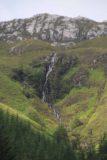 The trail then undulated a little before gently climbing a bit more on the road turned trail. At 12:30pm, I noticed an attractive waterfall to my left high up on a cliff in the distance. It looked tall but it was thin, and I'd imagine it might be temporary. Given that Northern UK got plenty of rain in the past few weeks (especially when we arrived some 12 days ago), that could be why tall but thin waterfalls like those looked as impressive as they did (they'd certainly be given a lot more attention if that was at home in LA).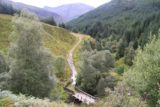 By about 12:40pm, the trail headed down towards a footbridge. It was muddy before the bridge, and little did I realize that there would be a lot more muddy spots further up the trail.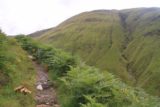 Beyond the bridge, the trail then significantly narrowed and climped steeply amidst what looked like wildflowers blooming amongst ferns and perhaps some poison oak. I tried to minimize my skin exposure to the overgrowth as the vegetation flanked me up to my waist in a lot of spots. It seemed like the trail itself sunk into the terrain or the vegetation just grew that tall around the part-stone, part-dirt trail.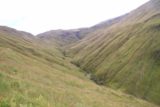 This climb felt relentless but it would ultimately start flattening out somewhat by about 12:55pm. At this point, the trail now hugged a wall of a valley where opposite me were wrinkled slopes of adjacent fells. The wrinkles were really rain gullies, and the quantity of these wrinkles attested to the amount of rain this area tended to get. But so far today, it had been rain-free, which I'd imagine didn't happen all that often in these parts.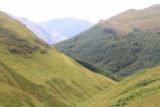 At about 1:20pm, I was now far enough in the valley to start noticing a Y-shaped cascade near the head of this valley. The trail had been resuming its climb though a bit more gradually than the intense climb after the bridge.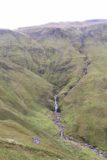 Fifteen minutes later when it seemed like I was about to approach the very head of the valley, I saw another hiker. I asked him how far the falls was and he indicated to me that it was another 1.5km or so. So I estimated another 30 minutes to get there. He showed me his topographic map, and he told me that I was near the apex of the trail before it would descend steeply towards the waterfall.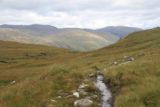 At 1:50pm, I was well into the moors. It was a little bit breezier up here, which was welcome because I had been sweating big time from all the exertion I made up to this point. This stretch of moorish hiking seemed to go on for quite a while, but perhaps that was due to the fact that I had stopped frequently to take pictures, especially of the surrounding fells and grasslands as well as the trail cutting through all these features.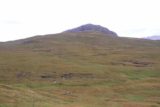 At 2:05pm, I was still on the moors, but I did hear voices in the distance behind me. It seemed like there was a family on quite a pace as it appeared they might catch up to me or even pass me.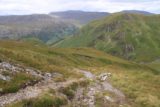 At about 2:10pm, I started descending from the moors. Down below, I could see what appeared to be the stream responsible for the Falls of Glomach, especially since I could see a very steep valley downstream of it. The descent was quite steep, but at least it was quick because of this steepness. So by about 2:25pm, I made it to the base of this descent from the moors.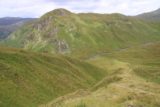 However, it was at this point that I was starting to lose the trail as it had degenerated into grass and bogs. I could kind of make out where the grass had been trampled (thereby suggesting that was where the path was) so I kept pursuing the flattened grass until I noticed a sign up ahead.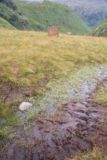 The sign seemed to be in a random spot because I scrambled on the grassy and muddy areas (I wondered if gaiters would have been a good idea here), which had a lot of boggy sections where I felt like I could sink. And just to get to that sign to see what it said, it seemed like I had to go "off trail" to get there. Anyways, the sign basically urged visitors to be careful.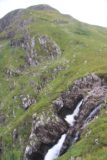 Behind the sign, I had to look carefully at the trails and footpaths along here. I was also starting to see the uppermost twisting tiers of the Falls of Glomach. Since I was near the top of the falls, I knew that I'd have to somehow find a way to get a better look at this falls. So after scanning a bit for telltale signs of a footpath, I'd ultimately find a trail that skirted the precarious dropoffs surrounding the Falls of Glomach.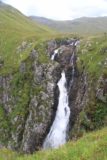 After a few more paces along this well-used part of narrow track, I went down one or two switchbacks until the family of four that was behind me had caught up to me. Man, were they fast!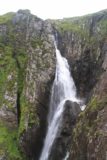 Anyways, I spotted the first few overlooks as the views of the twisting Falls of Glomach became more dramatic the lower I went. The family that caught up to me weren't the talkative types, and I wasn't quite sure what language they were speaking since it wasn't English, nor did it sound like any of the other European languages that I became familiar with.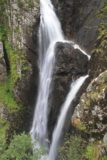 The family didn't go down further as they seemed content with just the initial views. But I could see there was clearly a trail that kept going a little further down. So I continued my descent on some switchbacks, and I'd ultimately reach the remaining overlooks.
What was different about the view of the falls from down here was that the overall Nature walk and viewing experience was second to none. Up to this point, I had seen mostly only the uppermost tier. However, from the lower vantage points, I could see the rest of the huge plunge of the lowermost tier of Falls of Glomach.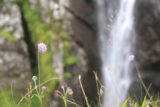 It would be eventually at 3:05pm when I had reached the end of the line. Clearly, further progress was either a death wish or for serious abseilers only. But that's ok because this view I had gotten was good enough.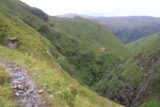 After taking the obligatory movies and photos, I used a flat rock out to sit on and have a quick picnic lunch. I really felt like I could have sat here for a very long time, but I could also see there were dark clouds seemingly headed my way. Still, I learned quite a bit just paying attention to the rhythms of nature at the Falls of Glomach as I sat there to watch a pair of bees pollinating one of the purple flowers, a black beetle foraging for something, even trees that were precariously clinging to the walls.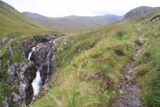 With the midges being bothersome in a place as precarious as the Falls of Glomach, that was when I had slapped on some 100% DEET to try to keep the midges away. And for the moment, it worked.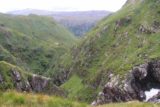 As I was sitting and staring, I could see the main tier of the falls starting to split. I also noticed that the dark clouds in the distance looked uninviting, but then again, the forecast called for decent weather in the afternoon here. And from what I could tell, the dark clouds stayed at bay for the time being.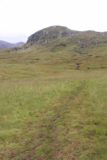 I couldn't resist having a lunch here even though I had intended to leave the park at this moment. So I ate for a few more minutes and it wasn't until 3:25pm that I finally started to head back up the steep descent that had led me down here earlier.
At 3:40pm, I made it past the boggy part of the grassy area above the falls.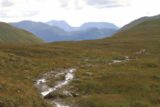 That part required some exertion, but I knew it was only the beginning. Twenty minutes later, I was back at the moor, but with the relentless climb, I was literally sweating bullets. The midges were back trying to land on me (or even in my nostils or ear) as they sought parts of my skin where the sweat was washing off the DEET.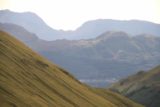 After another 20 minutes, I was out of the moors and headed back down the familiar trail into the valley I had hiked through earlier.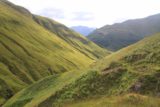 At 4:55pm, I descended back down towards the bridge. I noticed the same family that caught up to me at Falls of Glomach were now by this bridge. And by about 5:20pm, I was back at the car. The sun was out and it made for nice colors on the neighboring fells and hillsides.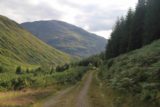 Thankfully, I made it past the private part of the road, and eventually I'd be on my way back to the apartment in Inverness, where Julie and Tahia were resting.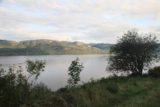 Eventually at 6:30pm, I made a quickie stop for some Loch Ness photos, though admittedly, this particular stop by some signage for John Cobb wasn't very exciting. I probably could have maintained my momentum without stopping here. However, about five minutes later, I made another stop, but this time it was for the Urquhart Castle, which was well closed by now, but I took notes about its opening and closing times.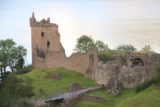 By about 7:05pm, I had finally made it back to the Bishop's Park Inverness Apartments. It was getting late in the day, but at least we were re-united once again. We had a late Indian dinner that didn't end until about 9:30pm. It was through this little escapade that we realized that it was quite a bit of a walk to get from our apartment to the city center (probably on the order of a half-mile in each direction).
And when we got back to the apartment, we all showered and tended to our dental hygiene as well as tended to the laundry machine. It wouldn't be until after midnight when all of us were finally in bed.
Yet with the late evening errands, I would still have to wake up early tomorrow as I wanted to use the Bank Holiday to go as far north up into the Highlands as I possibly could. I had gotten tired of driving around Loch Ness' northern shores, and perhaps going towards Kylesku Lodge, Clashnessie, and Durness were the ticket for such Highland activities for tomorrow (or today)…
Day 13: SCOTLAND SUN
It was 6:20am when we awoke. As Julie was still suffering from a cold that Tahia gave to her (while Tahia was pretty much over hers in a span of a day or two), it made her reluctant to get up early. But I knew that we had a long day of touring and we had to get out as early as we could to avoid traffic both in the city as well as in the countryside where passing opportunities are very limited.
So by 7:05am, we left the apartment. Upon looking at the morning skies, it was sunny and cloudless, which was something I don't think we could say on any of the days of this trip up to this point. But with the clear skies, it was also quite chilly.
Five minutes later, we made a quick bakery run so Julie could pick up some croissants or something for brekkie on the go in the car.
Not long after leaving Inverness, the clear skies gave way to some fog just north of the city. It made me a little weary about going fast and tackling some of the turns at the same speed I had been used to up to this point. And when we spotted a deer running across the road in the fog, I was further reminded of the two incidences where I had hit a deer one year and a kangaroo three years later.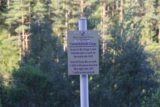 Eventually, the fog cleared the further north I went. It wasn't until about 8:10am when we saw a car park for what appeared to be an old access to the Corrieshalloch Gorge, which was where the Falls of Measach was located. There was a sign here that said where the new car park was about five minutes away from here and we passed it, we backtracked then took a side road towards the new starting point.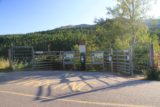 Julie and Tahia stayed in the car for this excursion, so I quickly made my way down the right side of the "kissing gates" towards the suspension bridge and view. After descending some curves, I then saw the suspension bridge before me, and I quickly got onto it.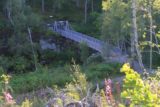 Once I was on there, I beheld the Falls of Measach which was right below me. It was certainly a tall waterfall, but the narrowness and depth of the Corrieshalloch Gorge was probably the real show here. The falls itself was really my waterfalling excuse for being here.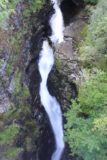 Beyond the bridge, I then followed the trail to the first lookout, which protruded over the dropoffs for that vertigo feeling when you're on it. Looking back against the waterfall and suspension bridge, the views were satisfying through the harse light and shadows wreaked havoc on my camera's dynamic range. For I either had to resolve the sky and lit up surroundings (at the expense of everything else being underexposed), or I had to resolve the shadowy gorge but then blow out everything else that wasn't in shadow.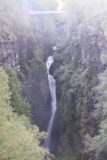 Even though the skies were practically cloudless, I thought from a photography standpoint, this waterfall and gorge was probably better off under cloudy conditions. My only saving grace was that the entire gorge remained in shadow during my visit.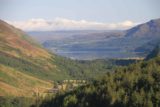 When I returned to the car park, I then took the other of the "kissing gates" and walked for about 10 mimutes to a distant top down view of Loch Broom. I'm not sure how the authorities here can claim this path was wheelchair accessible because the surface was pretty rocky and unpaved, but in any case, the view was very nice and the backlight of the sun really made the deep blue of the loch contrast the surrounding terrain.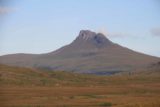 At 9am, we were done with this excursion and continued onwards Ullapool and Kylesku. With the sunny skies, we actually allowed ourselves to make a few spontaneous photo stops. We ended up stopping for a viewpoint of something called Deep Freeze Mountain.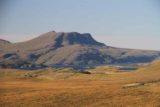 Somehow, the scenery here reminded me of Iceland (speaking of which, there were warnings about an imminent volcanic eruption that might conspire to strand us in London).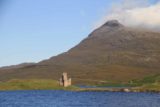 Anyways along the drive towards Ullapool, we noticed an attractive ruin called Ardvreck Castle at 10:05am. But aside from a ruin near the watery expanses of a loch, we also noticed there was a small but attractive waterfall a short distance down the road on the opposite side.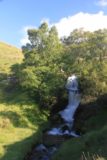 I wasn't sure which stream it belonged to, but it was sort of a waterfalling excuse to pause and take a closer look at the history in this one spot around Ardvreck Castle.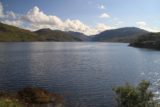 When we continued driving, we eventually left the "main" road (A837) for a smaller and narrower road (A894). There were still opposing lanes with plenty of spots where the road was unmarked in the middle. Eventually, we'd make it to the Kylesku Lodge at 10:35am, but we were way too early for the 12pm boat tour (apparently, we had just missed the 10am boat tour). We were also given some bad news that Tahia couldn't be on the tour because the minimum age was 7 years.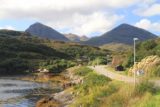 So that meant that I would have to solo this tour instead of doing it as a family. In any case, we still had over an hour to kill, so I thought since the GPS insisted that it would only take a few minutes to drive the 14 miles to Clashnessie, why not check out that waterfall before coming back to Kylesku and do the boat tour to get to Eas A Chual Aluinn Waterfall – said to be the UK's highest.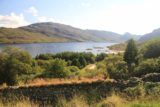 So at 10:45am, we departed again bound for Clashnessie. But after a few minutes of going onto the road to Clashnessie, I saw that we were dealing with a single lane road. And I knew that going 14 miles on a single-lane road like this was not realistic to go all the way to Clashnessie and back in time for our tour.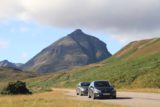 Thus, I canned this idea, and tried to do some miscellaneous exploring around Glencoul since there were a few roadside pullouts with vistas. I also noticed other waterfalls by the road though those didn't seem to be easy to access nor did they have neighboring pullouts.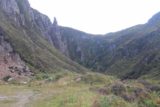 Eventually at 11:15am, we were back at the Kylesku Lodge. We all used the toilet and tried to kill time since no meal was served until 12pm (the exact time of the tour). Of course, when that time would arrive, Julie and Tahia would be enjoying their lunch while I would go on the 90- to 120-minute boat tour.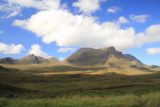 Sure enough, a few minutes before 12pm, a boat showed up. There were at least 6 people on this tour (myself would make 7) so there were no problems with this excursion meeting the minimum requirement of 4 people. After paying the boat driver my 25 pounds in cash, we were led onto the boat and whisked away on the tour.
The boat tour began pretty quickly with views back towards Kylesku backed by impressively shaped fells or mountains. Not long thereafter, we already started to spot common seals as well as the grey seal. I thought to myself that this certainly would have been something Tahia would have enjoyed. But I guess rules are rules and there'd be no exception in our case.
Next, the boat meandered about as it went deeper into Loch Glencoul presenting photo ops of the mountains backing buildings or passing by more colonies of seals. There were also other waterfalls that I noticed as we were cruising about Loch Glencoul before heading towards Loch Beag.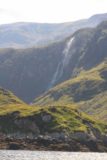 It was only when we started to approach Loch Beag when we started to see parts of the Eas a Chual Aluinn Waterfall which looked to have pretty impressive volume even though we were seeing it from fairly far away. I had entertained visiting this waterfall as part of a long 13-mile return hike. I even originally intended to spend a fifth night in Inverness to enable this option of spending all day to do this hike, but I thought the boat tour option was to be more efficient with time and more worthwhile.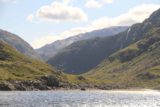 Even the guide said he did the walk and thought it was difficult and not worthwhile when I asked him. By the way, he told me that the Gaelic name of the waterfall was something like "Es A Koll Aloo un". He said it meant "the beautiful falls of Glencoul", and he doubted the alternate story about the name having something to do with a woman in an unhappy arranged marriage who threw herself over the falls and her hair would've been like that of the plunging characteristic of Eas a Chual Aluinn.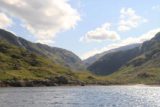 Once we entered Loch Beag, that was when the Eas a Chual Aluinn was about as close as we were going to see it, which was still from a distance. A good zoom lens was necessary, and that was what my 17-200mm lens was for – that flexibility!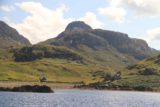 I took numerous photos of both this waterfall as well as the companion waterfall across the valley, which looked temporary. But in any case, this was what I came for, and the rest of the sightseeing was merely icing on the cake.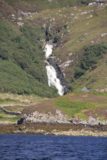 Next, the boat headed deeper into another head of the fjord on the Glencoul. But along the way, we saw heaps of mussels clinging to cliff walls as they were exposed from the low tide. There were also mackerels splashing about and some birds whom the guide said were quite aggressive except they weren't to us given that they had associated the boat with food (must've been fed in the past).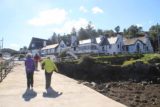 Finally at 1:40pm, the tour concluded and we were back at Kylesku. Julie ordered and left me a delicious scallop lunch. The thought did cross my mind about the possible poisoning caused by red algal blooms (which were happening now), but I was assured these were not poisoned by the algal bloom.
And after a very satisfying lunch, Tahia managed to get a scallop shell for free and she was totally preoccupied with it. At least that would help for those times when she would get fussy or on a whinging binge.
At 2:05pm, we were back on the road. This time, we were bound for Durness, and I was especially looking forward to visiting the Smoo Cave, which was a coastal cave containing a natural waterfall in its depths.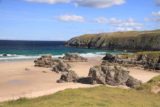 The road to get up to Durness (especially on the A838) was mostly single-track road. This meant there were frequent stoppings in order to let a car from the opposing direction pass through. It was one of those things where we had to be real alert and careful because it easily could result in an accident, especially around blind turns.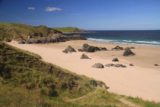 At 3:10pm, we accidentally arrived at the Durness Visitor Center (took one turn too early according to the GPS), but we managed to see there was an "award winning beach" where I made a mental note to let Tahia play here at the conclusion of our visit to Smoo Cave.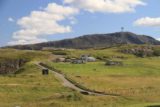 So we took some photos and scouted the beach. Then, we continued the drive further east of town when we saw more signs for the Smoo Cave. And sure enough, there was a car park here with toilets as well as some interpretive signs fronting steps going down to the base. As we left the car park at 3:25pm, we could see down below there was a brown stream making its way out to the ocean, and we knew that was where the cave entrance should be.
As we made our way down to the base, we crossed over a bridge over the brown stream, and there it was… the big cave entrance. So we anxiously made our way into the cave as did other people who were here as well. Inside the main chamber, we saw some artificial lighting on the upper walls as well as some open potholes. But then we saw a wooden walkway leading into another room, but we saw some red signs indicating that the walkway was closed. And we could see that the only way to see the waterfall inside this cave was from going onto this walkway.
There were a couple of guys past the barricade and signs of this walkway, but they were wearing hard hats and it was clear that they were trying to fix the wooden walkway that was apparently storm damaged from the recent storms. So it could very well be that we just missed our opportunity to see Smoo Cave literally by a few weeks (before the remnants of Hurricane Bertha changed the weather pattern for good this year).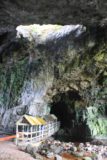 It was a royal bummer that we came all the way up here only to see the waterfall would not be accessible. Other people had the same reaction we did as they'd stare at the closure and see the workers do their thing. One asked one of the hard-hatted workers with headlamp if he could go see the falls, but got the predictable "no" due to public safety.
And so we were back at the car at 4pm. Clearly disappointed, we salvaged our visit up to Durness by going back to the visitor center to let Tahia play in the sand at the beach there. After all, for both Julie and Tahia, they didn't do any excursions to this point. They opted to stay in the car for the Corrieshalloch Gorge with the Falls of Measach, then they couldn't do the boat tour to Eas a Chual Aluinn Waterfall with lots of wildlife and geology and photo ops of the landscape of Glencoul. That was too bad.
And now that they were denied the waterfall in Smoo Cave, the beach was the first out-of-the-car activity they'd have besides eating at the Kylesku Lodge. So ten minutes later, we were at the beach, and Tahia enjoyed herself playing in the sand building her mound that she called a sand castle. Julie stayed in the car (still) to read her kindle as she was still affected by the cold that Tahia gave her.
At about 4:35pm, we were back at the car. And now it was time to head back in the direction of Inverness, for everything we would do from this point forward would be south of this point.
But to salvage something as I had forsaken Clashnessie Waterfall earlier in the day, I decided to make the detour there on the way back to Inverness. The GPS made it seem like it wouldn't take long to get there. However, when we ultimately got to the B869 road, we saw that the single-track road persisted and was more dangerous than we thought.
The road was narrow and steep, while it was full of blind turns and even blind summits where we'd go up and not even see the ground until we made it to the summit and face downwards. With such sharp and surprising turns, we had to take it even slower there. There was even one incident where a van nearly hit us head on around a turn. Plus another incident where I had to back up to a passing place to let someone else get through.
The bottom line was that even though it was 14 miles from the vicinity of Glencoul to Clashnessie, the drive easily took at least 45 minutes to an hour.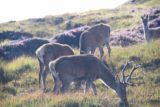 At least with the stressful driving, we did get a bit of a pleasant surprise when we saw a group of deer grazing by the road. Our view was against the sun and we didn't want to spook them so I didn't bother moving the car much. However, we took pleasure in taking photos from where we could from the car despite the non-optimal lighting.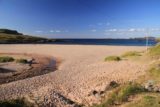 Finally at 6:10pm, we mercifully made it to the village of Clashnessie. At the car park here, we could see there was another beach, but this time, the water was calm. So that was an opportunity to let Tahia get close to the water without worrying about getting sucked into the ocean.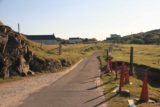 Julie finally got her out-of-the-car activity by accompanying Tahia to the calm beach of Clashnessie Bay, while I solo'ed the hike to the Clashnessie Waterfall, thinking it would be a pretty straightforward affair.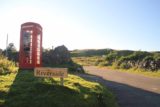 There was a sign by the car park showing that the waterfall route required me to walk along the road through the village towards the other end where a sign would lead me between some farms or private properties towards the waterfall path.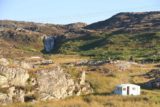 So I did what the sign said, then made my way through some sheep-shared grassy areas before going onto an unpaved driveway (some muddy patches), then I ultimately reached the entrance of some private residence with a decent frontal view of Clashnessie Falls except further progress to get closer meant I had to go across some stepping stones.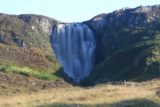 Unfortunately, the stream was in very high flow, and the stepping stones didn't look very doable without some parts where I might have to wade across the fast-moving stream. With hiking sticks, I might have entertained doing this traverse, but I wasn't willing to risk getting my camera drenched if I had a fall so I turned back to the car park.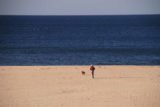 Julie and Tahia saw from the beach that I was headed back to the car park, and they made their way there too, but when I re-examined the sign at the car park for the waterfall path, I saw there was indeed the "alternate" route, which said there were "issues". I wasn't sure what the issues were, but since the sanctioned path was too dangerous given the high flow of the falls, I wasn't to be denied and I went on the alternate path.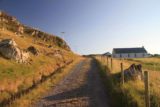 So I quickly made my way past the gate urging people to leave the gate closed, then I walked on the driveway before I went by (not through) another gate as the trail degenerated into grass following a sheep wall. The path was very uneven and muddy throughout going this way, and I was glad that I put on my hiking boots instead of going in Chacos here.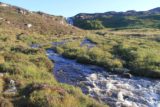 So I sloshed my way through some patches of midges, muddy bogs hidden in the thick grass and flowers, and then eventually got past the stepping stones part before I'd ultimately find myself in front of the impressive Clashnessie Waterfall.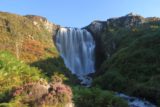 It was misty here, and the falls was in shadow as the sun was becoming more orange as the day was waning. Plus with a lot of driving remaining to get back to Inverness, I knew that it would be an eventuality that I would have to drive in the dark when I'm sure deer might be out.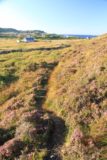 Finally at 7:25pm, I was back at the car park. Julie wondered where I went, but I explained to her the situation, and now we were all reunited once again with the final drive to end this day.
Julie didn't like the fact that we were about to skip dinner so I made it a point to quickly make our way to Ullapool, where I'm sure there ought to be a takeaway place to eat. By 8:40pm, we made it there. It was too bad that we were worried about making it back to Inverness because the sunset was surreal.
The sun and sky were so red against the backdrop of the Atlantic Ocean and some of the silhouettes of shapely mountains near Ullapool, that it reminded me of our Norwegian sunset in Narvik, Norway back in Summer of 2005. I regreted not taking the opportunity to stop the car and witness the sunset. After all, in a place as rainy as Scotland, how often does sunsets like this occur?
Anyways, we got some fast food takeaway of burger and chicken nuggets (Julie didn't want fish and chips), and then we were driving in the fading light as it eventually became dark.
Fortunately, we finally made it to the Bishop's Park Inverness Apartments at 10:25pm as we finally called it a day. There wouldn't be much sleep on this night because tomorrow, we had it in our minds to go to the Isle of Skye while the weather was still forecast to be good…
Day 14: SKYE IS THE LIMIT
We must have slept through our alarms given the late sleep last night because we awoke at 6:25am, which was well after the 6am alarm. And knowing that we had a bit of a drive ahead of us, we rushed to be out the door, which we accomplished at 7:25am.
Given that the plan for today was to drive all the way to the Isle of Skye to bag a couple of waterfalls, I was hoping that we had left by 7am instead of nearly a half-hour later, but it was what it was, and I hoped that we didn't have to pass that many slow-moving vehicles.
Fortunately for us, there weren't that many slow-moving vehicles, and the lorries thinned out along the north or western shores of Loch Ness.
Eventually we got all the way past where I had hiked a couple of days earlier near Morvich, and then we spotted an attractive castle that was right in a loch. This was something we never expected to do on this day so we decided to pull into a fairly large car park area for what turned out to be the Eilean Donan Castle (I think it's pronounced "EL-un-DOH-nun") at 8:45am.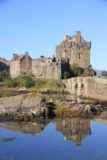 Given the beautifully clear morning we were having, this castle was the perfect photo subject. It was too bad that I was hoping to make it back to Urquhart Castle, which I knew would be closing somewhere around 5pm or 6pm (last admission was close to an hour before), and we still had a ways to go before reaching the waterfalls in the Isle of Skye that I had targeted all along, while also lunching at Portree.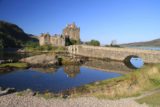 So we spent a few minutes here but perhaps not as long as we should have (i.e. going all the way up to the castle for other photo ops from the inside out). So it wasn't until about 9:15am that we left just when a tour bus started to show up and the car park was getting busier.
At this point, the road to the Isle of Skye was pretty much full of queues as just about everyone it seemed was on the road, including large lorries. So there was no way we could be going 50-60mph as the GPS expected and it was more like 40-50mph or slower on average for the rest of the way.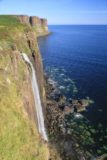 Finally at 10:40am, we arrived at the well-signed car park for Kilt Rock. As expected, the place was busy, but there were some parking spots that we managed to capitalize on. The short stroll to a large lookout area with fences to keep people back from the cliffs was already busy with people, and I could see that there was only a limited spot amongst all this open space where you can get the best views of both the Kilt Rocks and the Mealt Falls.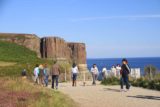 Indeed, this could very well have been the best waterfall we had seen on this trip (well, that was what Julie thought though I thought Gaping Gill was also pretty good) mostly because it plunged right into the ocean with the eccentric Kilt Rock formation in the backdrop. The Kilt Rocks looked like basalt formations, and apparently someone thought they looked like kilts.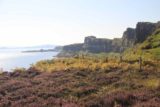 When we went to the other side of the lookout, we could see against the sun more attractive cliffs. However, the view was somewhat compromised by a very large mud puddle that kept anyone from getting right up to the fence to take photos without getting ankle deep in mud. I guess that just attested to how much rain had fallen in this area the past few weeks (and the bad taste of not being able to see the waterfall at Smoo Cave yesterday reinforced this).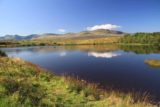 Anyways, we killed a little more time buying a box of squat lobsters (which were more like a Scottish version of crawfish except they seemed easier to eat) then eating them in the car park at 11:20am. And fifteen minutes later, we continued on our way.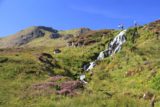 At about 12pm, we saw a roadside cascade called Bride's Veil Falls. This was just past the busy car park for the hike to the Old Man Storr formation, which was a pinnacle jutting up next to some cliffs high above us. Someone who worked here said something to the effect that it was an hour each way, which was something we couldn't do.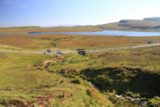 Anyways, the Bride's Veil Falls was easy to see as I could photo them right from the road, but we also scrambled a little bit for a closer look. Despite how muddy it was to get up, I didn't have problems getting to the top of the short cascade in my Chacos. But what made this falls nice was that the sun was behind us for perfect backlighting, and I was able to compose photos with the cascade fronting some attractive mountains in the background.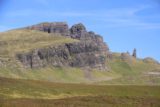 Off to one side of the falls, I was also able to see the Old Man Storr. And I wondered in hindsight whether I should have crossed the creek to take a photo from the other side to show the falls with the pinnacle in the background. Oh well, in any case, now we were all looking forward to having a lunch at Portree to recharge before heading back to Urquhart Castle on Loch Ness before they close.
At 12:20pm, we were back at the car, and 15 minutes later, we found parking at a main car park in Portree. It turned out that the town center itself wasn't much.
There was an attractive square to chill out, but other than that, Wentworth Place was just like an ordinary street lined with shops.
We ultimately stopped for a lunch of a panini and soup (for Julie's worsening cold), and then we intended to buy some groceries at a co-op here until we saw how long the queue was. At least Julie did stock by a chemist or pharmacy to pick up some cough medicine to alleviate some of the chest congestion she was getting at this point.
By 1:40pm, we were back in the car. We didn't have time to do the coastal walk that very well could have been the best excursion to do while in Portree, but I did catch a glimpse of the colorful houses against the harbor that made the 90-minute oastal walk as attractive and recommended as it was.
For the next couple of hours, both Tahia nad Julie were in the car napping. I myself was fighting a little road fatigue as I found myself following slow-moving tour buses and was getting tranced by them. And when it got to a point when one tour bus caught up with another for a queue of three back-to-back, I finally said enough was enough and made the difficult task of passing them.
Fortunately by this point, Julie woke up from her nap and helped be a second pair of eyes to aim real high to see if there was oncoming traffic where the road was open enough to see at a concave turn. And eventually one-by-one, we passed by them all before getting to the town of Invermoriston where we'd eventually get back onto the A82.
By about 3:45pm, we finally arrived at Urquhart Castle (pronounced "ERK-hart"). We were probably here an hour before the last admission, which meant that we could have a fairly relaxed tour of this castle ruins. In hindsight, we probably could have spent a little more time in Eilean Donan as well as doing the coastal walk in Portree, but then we'd have to worry about rushing to get to this castle before they closed.
Nonetheless, we paid for the admission, then watched the short 8-minute movie about the history of this castle and how it became what it became today, then we walked onto the ruins themselves. Naturally, it was a pretty popular spot with both tour groups and tourists of the Loch Ness area. Perhaps the idea of a castle ruin on the loch that the Loch Ness Monster made famous was really the association that was needed to have a big time busy attraction.
Still, at least we got some really neat views of the castle and the loch juxtaposed, while we also got some nice views looking in both directions of the narrow Loch Ness itself. We explored as many nooks and crannies of the Urquhart Castle as we could before we had our fill of this place.
By about 5:25pm, we were back in the car, just as the place was emptying out for the last admission to this place was around a half-hour or more ago. We'd then follow a large caravan of cars all the way to Inverness as a lot of people were probably headed back for dinner just like we were.
We headed straight for a Tesco Metro supermarket at 5:55pm before returning to the apartment. We were now pretty well stocked, and we even bought a tub on ice cream knowing that we still had a couple of more nights, and perhaps we should save on a little money buying desserts at around 5 pounds or more each time (almost $10 USD) each time.
At were eventually back at the apartment at 6:30pm, and then about 40 minutes later, we finally started walking along the Ness Walk towards the city center. It turned out that there was a fairly charming but modern pedestrian-only shopping arcade and street, and on both sides of the main bridge and River Ness were churches all around with spires pointing up into the sky. Meanwhile, we could see the Inverness Castle bathed in soft afternoon glow across the river as well as from right underneath it on the same side as the river.
The castle also looked modern, which we could tell because of how even the walls were, instead of ruffled with the texture of rocks stacked one on top of another to make the castles.
Eventually after being turned away at some TripAdvisor-recommended restaurant, we settled on this place called McGonagall's, which served some good venison as well as salmon. It was a pretty satisfying meal, but we refrained from doing the sticky toffee pudding dessert this time given our tub of ice cream back at the apartment as well as breathing in some cigarette smoke that seemed to go right into the restaurant from the outside as they had left the door open.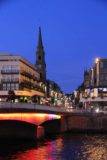 By 9:25pm, we had taken the Ness Walk back to the apartment from the other side of the river, where we could finally call it a day. We had one more day of touring the Loch Ness area before heading out towards Fort William and Ben Nevis, and from what I heard about the forecast, it would be one last day of fine weather before the weather would turn again…
Day 15: EAS A LOCH NESS
It was 7:30am when we awoke. We allowed ourselves to sleep in on this day given that we had to get up early for about three mornings in a row. Outside, we noticed that the skies were foggy and drizzly. I wondered if our run of sunny and warm days were over, or if it was just fog to be burned off later this morning.
We even allowed ourselves to have a morning breakfast by having toast and eggs in the apartment. After all, we had to use the kitchen facilities at some point in the four nights we were to sleep here, with this being the end of our third of four nights.
So it wasn't until 9:30am when we finally left the apartment. By that time, the fog started to burn off and the sun started showing itself.
Initially, the traffic followed a caravan of slow drivers and tour buses, but as we got closer to Dumnadrochit, the traffic started thinning out, but then we turned off the A82 and then headed towards Plodda Falls on the A831. The traffic on this road was much lighter, but the road was a little curvier and narrower. And in one instance, a sheep went on the road and crossed it. Fortunately, it gave me enough of a heads up to stop the car without hitting it.
Eventually, we hit a curve in the A831, where we then had to leave it and drive on some single-track roads towards the village of Tomich for about the first two miles. After another couple of miles, we saw signs for Plodda Falls past the village, then the road became unsealed, full of potholes, and single track. Since this wasn't my first time doing single-track roads like this (we've driven them in each of the last two days), I wasn't as jittery about driving them, but it didn't mean the likelihood of getting in some kind of an accident wasn't high either.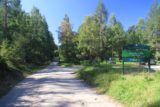 Finally at 10:35am, we arrived at the Plodda Falls car park, which was well-signed. There were about three other cars that were here. So despite the trouble it took to get here, this place still felt like it was well-known and popular.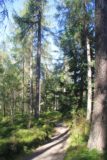 The trail to the falls was well-signed and pretty obvious. There were other trails that branched off in other directions as we could have very easily extended the excursion into a much longer one, but we were here for the waterfall so our hiking was pretty much kept to a minimum.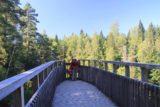 The path descended gently from the car park amongst tall pine trees. It didn't take long before we would go down a couple of switchbacks besides some uppermost tiers of cascades before the path ultimately descended to a lookout platform that was directly on top of Plodda Falls.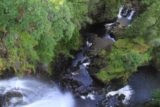 The view from up here was spooky as it was a very long way down. In any case, the morning sun was threatening to make our photos washed out as the sun was making its way above the trees. Still, the rest of the scene in the gorge below was in shadow so I was able to attempt some long exposure photos using the lookout platform for stability.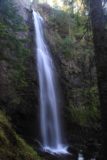 As for the morning sun continuing to go up quickly, we hastily made our way further down the trail as it descended towards the lower viewing area. And when we got there, we could see the impressive Plodda Falls with the upper viewing platform right above it. The sky was bright so whenever we resolved the waterfall and gorge, the sky would pretty much be washed out. And if the sky was blue, then everything else inside the gorge would be too dark.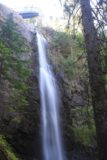 In any case, I took my long exposure photos using the fairly weak railing to steady the camera, and we also took some people shots while basking in the scene before us. So we pretty much had this place to ourselves until another family of three showed up waiting for us to finish. And that was our cue to go.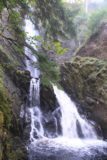 Julie and Tahia headed straight up to the car park, but I noticed some other trail that seemed to descend lower. It looked worn enough to be somewhat official (there was no signage around here though), but when I saw how eroded and somewhat steep the trail was, I knew it was really an unofficial trail of use. I'm sure the Forestry authorities wouldn't have authorized this route.
Still, I explored it down to the very bottom, where I could see a lower tier of Plodda Falls fronting its main drop. But the tree blocked a large part of the view so the effort to make it down here wasn't all that worth it.
By 11:30am, we made it back to the car. By this time, we noticed that the car park now had even more cars, and it was pretty much full. So indeed when we sensed this place was popular, our hunches were correct.
Next, we drove back towards the A82, then we continued west towards the headwaters of Loch Ness at Port Augustus. I noticed that the road actually passed over what looked to be a canal, and I wondered if the Loch Ness and the River Ness both were used as a shipping channel.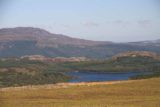 Once we were on our way out of Port Augustus, we took a side road leading to the B862. Not far outside of Port Augustus, the road became single-track. So we had to go through the usual drill of proceeding along slowly while diligently using the passing places to coordinate with the oncoming drivers to allow each other to pass.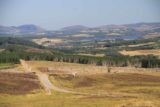 After a little bit of a delay due to road construction going on, we'd eventually turn off onto the B852 for Foyers, and about three miles from the turnoff, we arrived at the Waterfall Cafe (at 1:05pm), which turned out to be quite close to the Falls of Foyers. I was worried about lack of parking up here, but it turned out that there was one free spot not too far from the cafe and store itself.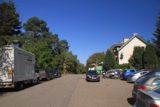 So with that bit of stress out of the way, we could now explore the Falls of Foyers on our own, while also having ourselves a lunch while we were here.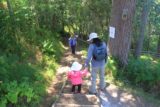 We began by descending past the gate across the cafe and right down the steps that took us to the Upper Viewpoint of the Falls of Foyers. Up here, we were looking down at the falls, which was just as well because the sun was pretty much right against us. The falls was mostly in shadow while all the foliage around us were blindingly bright by the sunlight. We also spotted some really colorful butterflies fluttering about around the area as well.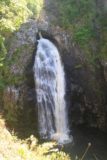 Julie and Tahia were content with this view as they headed back up to the cafe the moment we had our fill of this spot. However, I saw that the trail kept going down so I was keen to see what else this trail would reveal.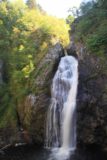 And barely a couple of minutes after leaving the Upper View of the waterfall, I found myself at the Lower View of the waterfall. And boy did Julie and Tahia miss out because the view from down here was way better than the view from up there. Moreover, the sun was blocked by the cliffs and foliage up above me so I was able to take the photographs without having to use my hand to shield the incoming sun's rays.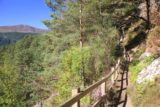 A little after 1:35pm, I proceeded to head up then continue onto a different branch of the trail that promised to lead me to the Lower Falls of Foyers as well as Loch Ness. Since I was intrigued by what the lower falls might look like, I kept descending the trail knowing that I would have to get back all this elevation loss.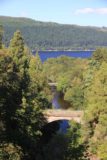 At about 2pm, I reached a point where I could hear the falls but not really see a whole lot due to the thick foliage. Could this be the Lower Falls of Foyers?
Well, whatever the case may be, I only saw a handful of rapids and a thin side waterfall spilling into the main stream. A few paces later, I would get to a vantage point where a couple of bridges spanned the stream from which Foyers was on, and it headed right towards Loch Ness, which had a bit of a sapphire color thanks to the clear skies.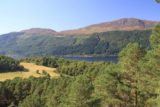 So, this was my turnaround point, and by 2:30pm, I made it back to the cafe where Tahia and Julie were wrapping up their lunch. Tahia was still eating, and I ended up having and finishing the half-panini and tomato soup even faster than Tahia was able to finish whatever food she had left.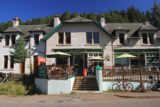 There were quite a few wasps stuck within the cafe, and Julie was worried about one of them stinging Tahia. So by 2:45pm, we left Foyers and continued on our way back to Inverness. Indeed, this excursion didn't take nearly as much time as I had thought, and I started to entertain thoughts that perhaps I should fit in one more waterfall excursion before calling it a day.
The single-lane roads continuing east of Foyers and towards Inverness weren't all that bad (at least compared to the scary road to Clashnessie). And by 3:25pm, we were back at the Bishop's Park Apartments in Inverness. Julie wanted to spend the rest of the afternoon resting and watching over Tahia as she would get to watch her DVD provided by the owner of the apartment (one of many thoughtful things she did to make our stay very comfortable).
I left at 3:55pm to go solo to Rogie Falls. I decided to do this since it wasn't far from Inverness and it was recommended by a pair of Scottish ladies who were on the boat tour by Kylesku a couple of days ago.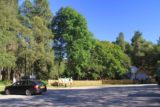 After getting a little bit stuck in the rush hour traffic of Inverness, I then was able to cruise a little more freely as I'd ultimately arrive at the well-signed car park for Rogie Falls at 4:30pm. There were still quite a few people here juding by the number of cars still parked here. In any case, I saw the maps and decided to follow the obvious trail to the left and head straight for Rogie Falls.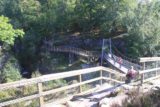 I'd eventually make it to the lookouts and suspension bridge, which all had nice views of Rogie Falls. The falls itself wasn't huge, but it was rushing and was attractive. I did what I could composing photos of the falls while reaping the benefits of an afternoon sun backlighting the falls. However, upon closer inspection of the falls as well as the adjacent salmon ladder, it turned out that I didn't see any salmon in the water.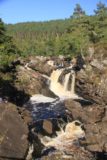 After having my fill of the falls, I continued the short "Salmon Trail", which looped back around towards the car park. It was said to only be 0.5-mile loop. Anyways, it wasn't obvious where the trail continued from the suspension bridge, and I merely followed the fences upstream until I saw the trail knowing from the maps that there had to be something there.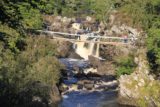 This trail was way more quieter than the main one for the falls. And it even led me to an alternate and distant view (called Raven's Crag) where I could see the suspension bridge was fronting the falls.
By 5:20pm, I was back at the car where a German Tour Bus just so happened to start leaving as I was about to leave. And when I was on the road, sure enough, I'd catch up to the bus. However, at least it was going a fair speed near the speed limit so I didn't mind being behind this bus on the way back.
And after a little bit more of afternoon rush hour, I'd finally be back at the apartment by 6:10pm, but not before making a quick jaunt to one of the bridges over the River Ness while I was still parked at the BP.
I had noticed this bridge earlier on the way to Rogie Falls as I was leaving Inverness, and so I was determined to at least take some photos from this bridge before leaving Inverness for good first thing tomorrow morning.
At 6:20pm, I was back at the car at the BP station, and I proceeded to arrive at the apartment at 6:25pm after going through the rush hour traffic one again.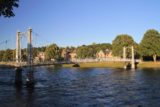 At around 7pm, we went for a dinner across the river at this place called Nico's. Julie was inspired by the French-style cooking (she was getting tired of Scottish food), and we actually had ourselves one of the best dinners on this trip so far. Julie's fish was tender and tasty with the pesto sauce. Meanwhile, my magret of duck was also tasty. Even Tahia managed to quickly eat her dinner without us helping her.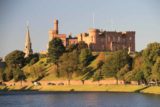 And by 8:30pm, we were back at the apartment. Having bypassed the dessert from the restaurant, we had ourselves the tub of ice cream bought from the Tesco yesterday afternoon. So that was pretty much our last day in Inverness. On the way back to the apartment, we saw that there were clouds coming in from the west. So I guess our run of three straight gorgeous sunny days in the Northern Highlands of Scotland was coming to an end…
That would be a shame since tomorrow we were targeting Ben Nevis, Steall Falls, and Glen Coe.
Day 16: THE YES MOVEMENT
It was 6:30am when we awoke. We slept past our 6am alarms, but Julie did have her 6:30am alarm that ultimately was what did the trick for her. One look outside and we could see that it had rained last night. So I guess our run of clear sunny days was pretty much over.
It took a while for Tahia to cooperate with having her brekkie, which Julie prepared using the kitchen facilities for one last time before we had to leave for good. So we all had toast and eggs while Tahia and I also had some milk to wrap up since we knew we would be without a refrigerator for a while.
While it took Tahia and Julie time to get ready, I was watching the morning news mostly to get a sense of the forecast for the next couple of days since we didn't have free Wi-Fi internet access the whole time we were in the Bishop's Park Apartments in Inverness. So I guess we were kind of in the dark when it came to net connectivity.
And during the morning news, I also paid attention to the stories concerning some referendum of Scottish independence to be voted on in September 18, 2014 (basically less than a week after we should be leaving the UK). I guess it would be a landmark vote because Scotland could very well be its own independent country like the Republic of Ireland.
In any case, this explained all those "YES" signs we were seeing just about everywhere we were going throughout Scotland's Highlands. Basically it was "YES" for Scottish independence or "No, Thanks" to keep Scotland part of the UK. With all those "YES" signs we were encountering just about everywhere we went, I was getting this picture in my head of WWE star Daniel Bryant leading "Yes! Yes! Yes!" chants with two index fingers up in the air with each "YES!". I guess this was the Scottish version of the "Yes Movement".
The early morning rains momentarily calmed down just when I started loading the car, and by 8:05am, we finally left Inverness and headed southwest along Loch Ness and the Great Glen towards Fort William, which was the next place we were going to stay.
With the gray weather, we were seeing Loch Ness in its moody and gloomy self that we probably should have seen it as originally given how rainy it tended to get up here. But with the last three days of clear weather, Loch Ness was unusually colorful in our photos.
For much of the drive, we were following lorries or slow drivers in sedans since it wasn't easy to pass slow moving vehicles along the A82. We noticed that the rain started letting up even as we passed by Fort Augustus and Spean Bridge (where there was a long delay due to road work).
We'd ultimately pass by our accommodation in Fort William called Buccleuch Guest House, but since it wasn't even 10am at the time, we weren't going to bother stopping since it was way too early to check in.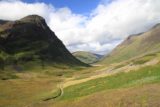 So we continued driving further along the A82 towards Glencoe seeing how the weather was still gradually improving. We'd eventually get there at 10:25am. I was expecting to see waterfalls in the valley, but there weren't any significant ones to be found except for really thin and temporary cascades coming down from the gullies of the high mountains surrounding us.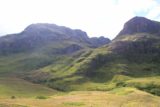 We happened to have stopped at one of the larger pullouts, which actually had some circular signage about the formation of the Three Sisters (which were three large mountains opposite the Glencoe Valley) as well as nice views to the west of the U-shaped valley. When we started hearing bagpipe music, we could see that there was also a busker looking to get tips from his bagpipe-playing as well as having his photo taken.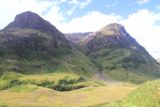 Tour buses were also stopping here so apparently we must have stopped at the right spot.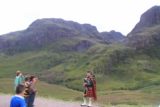 We were content with our photos and views from here so we didn't see a need to proceed further along the A82 to see if there were other parts of Glencoe worth checking out. I wasn't sure if that would be a decision we would regret later on.
Nonetheless, we then headed back towards Fort William again, but knowing that it was still too early in the day to check in even after this Glencoe diversion, we decided to head over to Steall Falls in the mean time.
The drive to Steall Falls (I've heard it pronounced both like "stowel" or "steal") was interesting as we passed through a scenic valley known as Glen Nevis. I knew there was supposed to be the highest mountain in Britain called Ben Nevis somewhere nearby here, but with some degree of cloud cover as well as not really knowing what it looked like, we really wouldn't have known if we spotted the mountain anyways.
Anyways, the drive was half bathed in sunlight and half grayed out with dark clouds. It wasn't raining the whole time we were passing through as we drove the narrow two-lane road, but I swore we could have spent the day stopping at any place throughout the glen to get photo ops of the valley (though we didn't as we felt pressed for time).
As we got way deeper into the valley, the road eventually became single-track. Now, we were sharing the really narrow road with oncoming traffic as well as hikers. It made me wonder if we were supposed to park closer to where signs said "Lower Falls", but we continued on knowing that we didn't want to extend our Steall Falls hike if we didn't need to.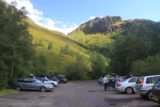 Eventually at 11:40am, we finally made it to the car park for the falls. There was plenty of space here, which surprised me. But perhaps the single-track road might have spooked some of visitors. Whatever the case, I wasn't whinging.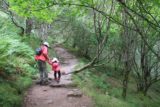 Initially, the hike started in overcast conditions with some dark clouds threatening to dump some rain on us. Even with the threat of rain, the temperature was quite a balmy 20C.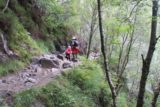 I had brought my child carrier just in case Tahia needed me to carry her. But for most of the hike, Tahia was able to do the hike with some handholding around the dropoffs and around the slippery rocky parts. Julie had forgotten to bring Tahia's wellies (rain boots) so she was walking in sneakers despite some parts of the trail being wet and muddy.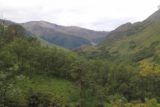 The trail was quite popular and prone to traffic as a group of elderly hikers had to be very careful around some of the trickier parts of the trail. We were also being careful with Tahia so we took our time. I'm sure some of the faster hikers were waiting to pass us and them in much the same way we would want to pass slow drivers on the two-lane or even single-track roads.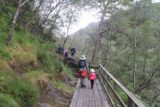 Still, given all the trickiness that the trail threw at us (especially with its rockiness and high steps with dropoff exposure), Tahia was managing the hike quite well. But we were also starting to get swarmed by handfuls of midges that seemed to be persistent about getting onto us.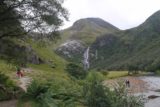 Fortunately, I didn't get any midge bites (I don't think), but the thought did cross my mind whether they might be carriers of something if they did. I noticed that as long as we kept moving on the trail, the midges didn't seem to be as bothersome. But with all the obstacles that Tahia had to get by and with Julie stopping to notice what she thought was marble on the trail as well as my photo taking, we stopped often. So we gave the midges plenty of opportunities to hone in on us and swarm us.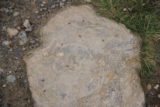 Finally after nearly a mile of uphill hiking, the trail suddenly opened up beyond the head of the gorge, thereby revealing a wide open valley with Steall Falls in view in the distance. Now, it seemed like the effort to get up here was well worth it as we could see the falls was very impressive against the knobby mountains surrounding it. However, we couldn't stop and enjoy it with the in-the-moment calm that we would have liked because the midgets were really bad in this valley.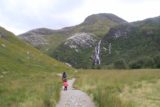 We'd ultimately get up to the vicinity of the three-wire bridge when Julie saw that that was the end of the line for her. She wanted no part of that wire crossing. And with Tahia with us, we thought it was too risky anyways to go on it with her. Fortunately, seeing Steall Falls was easy without having to do that bridge.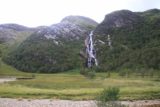 The hard part was staying still for people photos or for scenic shots while the midges swarmed all over us.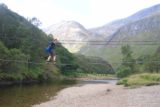 Eventually, Julie and Tahia had had enough. Julie insisted that I give her the car keys so she and Tahia could make their way back to the car park immediately. Meanwhile, I still wanted to get the full experience of the falls (including crossing that wire bridge) so I did as much photographing that I could while tolerating the midges (it seemed like when there was wind, they were less bothersome).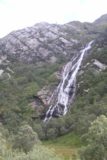 At about 1:10pm, I saw there were people on the wire bridge so I decided first to try crossing the stream the old-fashioned way. I saw an area where I could cross without getting my wool socks wet (especially since I was wearing Gore-tex hiking boots), and I went ahead and did it that way first. Five minutes later, I was on the other side where I then passed by some house here before traversing a lot of muddy grassy areas.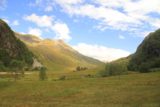 It was under these conditions where I could really appreciate finding rocks or rocky patches amidst the mud to avoid sinking into the bog. And once I got past the muddy areas, I then did one minor creek crossing near the base of the falls before I stopped right at the base of Steall Falls.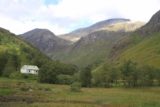 The photo ops from here weren't the best compared to the views from farther away across the valley, and I guess just being here was more about the thrill of doing that wire-bridge and getting close to the falls than it was about taking postcard photos of the falls (though the valley views were superb from this side).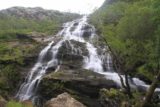 So it didn't take long before I had my fill of the falls, and by 1:40pm, I was now waiting my turn to cross via the wire bridge. Since I hadn't done this before, I knew that I might be taking a big chance at drenching my camera or other things if I fell. However, I saw numerous other people of all abilities doing this bridge so I figured it couldn't be that bad.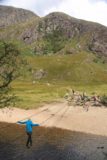 And when it was finally my turn to do the crossing, my hunches were confirmed when I didn't have much difficulty doing this. Too bad Julie and Tahia couldn't stick around to watch what I was doing.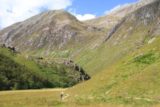 By 2:15pm, I made it back to the car park. Julie and Tahia seemed to be in a much better mood now that they didn't have to contend with the midges, which seemed to be absent at the car park.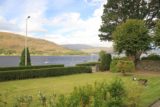 We'd eventually arrive at the Baccleuch Guest House at 2:35pm, which was pretty much about the time we were allowed to check in. And by 3pm, we finally got settled in the spacious room while looking out the window at the view of Loch Linnhe backed by some mountains.
We'd end up spending nearly the next couple of hours doing some internetting that we hadn't done in the past four days. It was also a chance to relax a little bit since we really didn't have anything else left on the agenda of activities on this day.
I wondered if we were squandering a golden opportunity to do things like see Ben Nevis or do the gondola ride over Glen Nevis given that the weather was improving by the minute.
But at 4:50pm, we would finally leave the guest house and walk for a few minutes to the town center of Fort William. The sun was totally out at the time, and it contrasted with the expected follow up rain that the forecast said would get to us by the afternoon. But the currently conditions were anything but.
We'd get to the pedestrian zone of Fort William, which looked like a charming but long shopping arcade. Julie was tired of Scottish food so she insisted on having Thai food instead, but they didn't open until 5:30pm so we spent the next half-hour or so just browsing around and soaking in the atmosphere of this little town.
By 5:45pm, we then had our Thai dinner. It was interesting that they didn't have Pad Thai here (which Tahia was asking for), but their sweet and sour chicken stir fry was pretty good. Plus their green curry was pretty authentic too. So we left that restaurant pretty satisfied. Then, we spoiled ourselves to some gelato further down the street near the square.
By 7:20pm, we were all back at the Baccleuch Guest House. With the fine weather, I took a detour to the public garden to take a few photos of Loch Linnhe backed by shadowy mountains against the late afternoon sun. It was too bad we couldn't see Ben Nevis from anywhere in town, and I didn't feel like getting back in the car to do some driving to hunt for such sights.
So we pretty much called it a day. I guess with all the touring that we had been doing for the past couple of weeks, we were due for a mostly do-nothing day. And today was it.
We know that tomorrow was forecast to rain all day. So we'll have to see how that would affect our touring plans. But even for the next couple of days as we would overnight in Glasgow, we really didn't have much planned besides the Falls of Foyers, Stirling Castle, and Culzean Castle. We figured that should be easily done with haste in the next two days to conclude our time in Scotland.
Besides, we could use the light activities to give us the second wind we needed to conclude the second half of our trip to the UK…
Day 17: NOOKS AND CRANNIES
It was about 6:50am when we awoke. Trying to get our stuff packed away and the car loaded up before breakfast at 7:45am, I went ahead and did my part. Outside, we could clearly see that it was raining (sometimes pretty hard). So now it appeared that on this day, our luck had run out regarding the good weather that we had been having for the past four days or so. Even the rain from yesterday gave way to a beautifully sunny afternoon…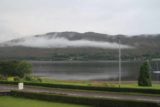 But now, we knew the forecast called for all day of rain, and as far as Scotland was concerned, some of that rain was going to be on the heavy side.
Eventually, we would finally start having breakfast at almost 8:30am, which was right at the end of the early-bird brekkie hours. I guess when you have a little toddler, things just tend to take longer.
The Baccleuch Guest House was served us a full Scottish breakfast where I tried some black pudding along with the standard eggs, toast, bacons, and even beans. It was a very filling breakfast to say the least, and given the amount we were eating on this morning, we were didn't feel the need to stop and have a full on lunch. This big brekkie was our brunch.
After having the breakfast, Julie was quite impressed with this guesthouse as the hosts Stewart and Lorna were very nice. Our room was spacious, and finally the breakfast was top notch. We couldn't have asked for a more comfortable stay even though we were only here for the night as we were on our way to Glasgow.
Finally at 9:35am, we left Fort William for good. By now, the weather continued degenerating into heavy rains as the clouds were very low and the surrounding mountains were too hard to see.
After following a caravan of cars, we'd finally get to Glencoe Valley at 10:05am. And now that it was raining hard, this valley seemed to have a bit of a different personality than yesterday when the weather was mostly cloudy but fine. Now, the mountains were coming alive with thin waterfalls in a way that kind of reminded me of the way waterfalls would come down like veins in the mountains near the Milford Sound Highway in New Zealand.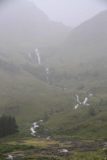 We noticed a fairly sizable waterfall near the base of the valley on the same side as the Three Sisters but further downstream. Funny that we didn't notice this waterfall yesterday. But now that we did see it (and it looked pretty significant), we doubled back and turned off where we were surprised to see a car park right across from a bridge leading to some house, which I think was an inn or some historical building.
So we stopped the car at around 10:05am, and just as I was busy taking both photos and movies of the cascade dwarfing the house with the surrounding mountains barely visible behind the low clouds and mist, the weather seemed to turn for the worst as me and my camera were getting pretty wet from the heavy rain.
Ten minutes later, we continued our drive further up the Glencoe Valley. We went past the stop we were at yesterday, and we continued further up the valley where we saw there would have been more opportunities for views (perhaps even photographing all three sisters along with the U-shaped valley together).
Near the top of the valley, we saw another waterfall. But this one was on the watercourse that was responsible for channeling through the middle of Glencoe Valley towards the west. So we stopped at a pullout here at 10:20am, and seeing how the rain was now quite bad, I put on a rain poncho and tried to protect it under the poncho until I got to the viewing platform.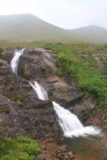 When I got to the view, I had to bite the bullet and risk water damage to the camera as I was taking long exposure photos as well as movies. But I could see that it was a losing proposition against the elements so I quit while I was ahead (so to speak) and returned to the car to resume our drive further south at 10:30am.
In hindsight, maybe we were too hasty yesterday to get the Steall Falls hike started because we easily could have been to these other viewpoints up and down the valley before returning to Fort William. This was especially the case when the weather was improving from raining in the morning to pretty sunny skies in the afternoon…
Anyways, the drive further south towards Crianlarich was under a lot of heavy rain. There were standing puddles of water on the sides of the road, and given the reduced visibility as well as how narrow and curvy the roads were, it could've been a recipe for a disastrous spinout or hydroplane. Indeed, the drive turned out to be a pretty dangerous one.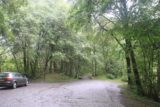 Eventually at 11:20am, we were at the car park for the Falls of Falloch. The turnoff was pretty easy to miss as there wasn't a sign to give us a heads up until we were practically right at the turnoff when we were heading southwest from Crianlarich. When we doubled back at a turnout and went the other way, we saw there was a heads-up sign and then the actual sign for the turnoff right across from the entrance.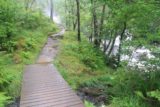 It turned out that the car park was hidden in the trees right next to the A82. At first, we were the only ones at the car park, but since it was raining hard when I first got out of the car, I took some time to put on the waterproof pants while donning the rain poncho. Julie didn't feel like going into the rain, and Julie didn't want Tahia to be hiking under this inclement weather.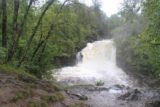 So I went out on my own again, and it was barely but a few minutes when took one of the spur paths nearly along the gushing river before I finally saw the angry Falls of Falloch before me. This 30ft waterfall was quite impressive as it was totally in full spate. Then, I noticed there was a metal cage-like walkway leading to an overlook with a poem. The view of the falls was fine from here, and I was even able to use part of the railing for long exposure photos.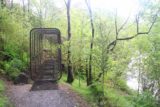 I was back at the car park barely 15 minutes later, and I encouraged Julie and Tahia to do the hike because it was so short. Unfortunately, the weather had calmed while I was doing the hike, but the rain picked up again when Julie and Tahia got started. Still, we all got to see the impressive falls (though I ended up doing it twice), and we were back at the car park again at 12:05pm. By then, we were surprised at how many other people showed up at the car park despite the rain.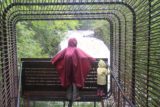 Since the Falls of Falloch was the lone waterfall excursion of the day, it was also going to be our last Scottish waterfall on this trip. The drive then continued for a bit more as we were headed around Loch Lomond and the Trossachs National Park, and then descended upon Stirling and the Stirling Castle. We'd eventually get to the castle (said to be the rival of Edinburgh Castle) at 1:35pm.
Most of the drive to get here was behind strings of caravans of cars typically caused by a slow driver to two or three. And when we got to the castle, the weather seemed to have calmed quite a bit contrasting mightily to the downpours we had been experiencing in Glencoe Valley and beyond.
After parking the car near the castle entrance, we first checked out the views over the surrounding countryside. We could see some impressive monument atop a hill in the distance, and I believe that was the William "Braveheart" Wallace monument.
Once we were inside the castle itself, we started seeing that there were many nooks and crannies that were waiting to be explored. At first we intended to join the 2pm guided tour, but when Julie wanted to get a sandwich, that kind of killed that idea. So we ended up exploring the castle on our own.
First up was the Palace area, where we saw the Stirling Head collection as well as a bunch of extravagant and grand rooms. There were even employees in costume acting the part. There was also a brief 3.5-minute short film about the Stirling Castle itself, especially about the artistic detail along the palace exterior.
We then explored the kitchen area, which was impressive, and we also checked out the tapestry studio, parts of the castle walls, and even some war museums and memorials. We concluded our tour with a bit of castle history before it finally started raining fairly hard again. By that time, it was 4:40pm and we retreated to our parked car.
But just before leaving the castle, Julie noticed that our admission ticket also included a visit to the Argyll Lodging, which was a short distance downhill from the Stirling Castle entrance. So we extended our visit by checking out the extravagant rooms in here as well. And finally at 5:05pm, we left Stirling Castle while forsaking the Old Town since we were itching to check into Glasgow.
As we drove the M80 out of Stirling and towards Glasgow, we were hit with some heavy traffic that was kind of reminiscent of the kinds of traffic jams we would routinely see back on the freeways of Los Angeles. So it wouldn't be until about 6:10pm when we finally managed to find the Premiere Inn in Glasgow city center, and Julie went to check-in while absorbing information about where we can park the car.
When Julie returned, it turned out that the car park happened to be right across the street from the hotel. So with that, we parked the car at 6:25pm, then we got settled in the room about 15 minutes later.
At 7:05pm, we went downstairs and started exploring the city center of Glasgow while looking for a bite to eat for dinner. Julie and Tahia had their hearts set on Italian food, and after a few minutes of walking, we encountered the impressively grand George Square. This place reminded me of the city center square at the Hotel de Ville in Lyon, France.
Immediately on a corner on the far end of the George Square away from the Hotel de Ville-like building, Julie found this Italian restaurant called La Vita. Once we were seated, we ended up with pizza and pasta; neither of which were particularly good. The service was also lacking because it seemed like the wait staff was too busy.
So after 8:30pm, we left La Vita then decided to meander about Glasgow. We really didn't have a set plan in mind at this time, but we did want to walk over to the Central Station to entertain the possibility of taking a train out to Edinburgh and back.
As we were making our way over there, we picked up a takeaway ice cream, then found some empty waiting benches in the Central Station to enjoy the ice cream. And both on the way to Central Station as well as on the way back to our hotel, we were being bombarded by surprises from charming and grand buildings (like the Central Station facade) as well as a pedestrian walking street that was lined with what appeared to be shop-till-you-drop mall shops. And the whole city seemed to come alive with fashionable young people looking to get lucky or just hang out as they would bar hop.
Indeed, it was a Friday night, and the city was buzzing.
Initially when we showed up to the modern city of Glasgow, we were entertaining the idea of going to Edinburgh just in case we thought Glasgow had nothing to really offer in the way of keeping our interest. But with our after-dinner self-tour of the city center, slowly but surely the modern city was growing on us even though it didn't feel as medieval as Edinburgh.
And we'd eventually can the idea taking the train to Edinburgh and back seeing that we should just give Glasgow a chance while minimizing the chances of having yet another hectic day on the road. So by 10pm we made it back to the room and pretty much called it a night.
Day 18: GIVING GLASGOW A CHANCE
It was 8:20am when we awoke. We decided to sleep in on this morning and pursue neither the Culzean Castle (which was 41 miles from Glasgow) nor a second go at Edinburgh (which involved about an hour-long train ride with departures seemingly every 30 minutes or so from Queen Street Station). Thus, we were going to just focus on Glasgow for this entire day, and there really wasn't much of a sense of hurry.
It wouldn't be until about 10am when we were finally done getting ready for the day before we would then explore Glasgow. First up, we would walk away from the city center towards the Cathedral District. And by 10:50am, we would finally make it to the Glasgow Cathedral, which was very atmospheric both from the outside as well as its inside.
In fact, Julie was quite impressed with this place and she even liked it better than York Minster. Behind the Glasgow Cathedral, we could see a very large cemetery, which was called the Glasgow Necropolis. So that kind of further added to the atmosphere of our cathedral visit. The cathedral itself was quite dark and gothic on the inside. It was charming in a very haunting sense.
And when we were done with our visit to the cathedral, we then went through the gated entrance for the necropolis, where we gradually made our way uphill towards the top of the immediate hill. There were quite a few extravagant monuments from an obelisk to a Dugald Stewart-like monument among others.
But given our high position at the top of the hill, we were also able to look back at the impressive Glasgow Cathedral. I know Mom said that taking photos of graveyards or cemeteries would bring bad luck, but there wouldn't be any way that we couldn't do that on this visit. It was just too atmospheric not to try to capture and document so we could remember what it was like here.
By about 11:20am, we were done with the hauntingly atmospheric necropolis, and then we walked back down towards the city center. Trying to make up for our subpar Italian dinner last night, this time for lunch, we went two doors over for the Pizza Express at noon. We knew from our experience in Edinburgh, that they were good, but the question now was whether the quality would be consistent within the same chain.
By about 12:55pm, we were done with our lunch, and sure enough, this place was as we had expected. The pizza was so good that we all devoured it together. Even the superfood salad was very tasty. We certainly hope that there would be more of these restaurants outside of Scotland because come September when we might be able to exercise the coupons given to us, we would be either in Wales or Cornwall.
After the lunch, we then quickly walked over to the Gallery of Modern Art (or GoMA). We weren't sure what to make of most of the art exhibits here so we didn't spend a whole lot of time here. I guess art wouldn't be art if it didn't draw a reaction from the onlooker, but in this case, there just didn't seem to be much that would captivate Tahia's attention except for this room full of TVs showing seemingly very random things.
At 1:35pm, we then found ourselves on Buchanan Street, where it was very atmospheric in the sense that it was just crowded and bustling with energy and activity. It had a similar vibe to what we experienced in the busiest parts of the Royal Mile in Edinburgh, but at least in Glasgow, we didn't have to contend with hawkers trying to get passer-bys to attend various festival performances.
I swore that there were many more people out on Buchanan Street than there were last night. And it seemed that there really wasn't much besides shop-till-you-drop mall stores flanking the pedestrian-only street. However, there were quite a few buskers and street performers seeking the odd tip, and they typically drew crowds to further add to the ambience.
Next, we went to the subway stop for Buchanan Street station, which was next to the Queen Street station. Up next on the agenda was a visit to the Kelvingrove Museum, which we hoped Tahia would enjoy since she kept asking for "Natural History" (mistaking that word for a museum).
We ended up buying an all-day pass at 4 pounds per person. And by about 2:30pm, we had finally made it to the museum. On the approach, we saw an attractive view of a University of Glasgow building fronted by arched bridges. And we also got a load of the impressive building facade of the museum.
Once inside, it had a grand roominess about it. Anyways, we visited several of the exhibits on our own pace, and the museum (while impressive) did seem to have some interesting contrast or mismatches of displays. For example, I had recalled seeing one gallery that contained a bunch of military armor from the Middle Ages to more modern times, all being juxtaposed with sharks.
At 3:55pm, we were finally done with our museum visit. By this time, I was carrying Tahia on the child carrier so she could nap. We'd eventually take the subway back to Buchanan Street, then we'd walk a short distance towards this place called the Willow Tea Room.
And as we approached the tea room, we noticed that Buchanan St seemed even more atmospheric with seemingly increased numbers of pedestrians here. We'd finally get seated for our afternoon tea at 5:25pm. Tahia pretty much spent the entire tea time in the child carrier so Julie and I enjoyed our afternoon tea together. However, the quality of this place just didn't seem to be as good as the place we had back in York.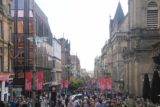 Julie noticed a bunch of buildings that were designed by someone named MacIntosh. We didn't know if it was the same guy whose name might have been used for the Apple Mac product. Whatever the case may be, it wasn't lost on us that apparently this tea room was also designed by MacIntosh as we had sat in chairs with very high backrests that almost seem very Alice-in-Wonderlandish.
At 5:25pm, we left the tea room. The pastries were ok. The teas were better.
Now, we were walking around Buchanan Street again. We were doing random meanderings at this point, but we thought we could walk all the way to some lighthouse or something. But when we consulted the map again, we would never see whatever it was Julie was looking for. And so we started walking uphill in the direction closest to some Concert Hall.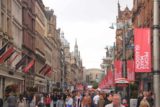 Along the way, we noiced this Thai place called Chaopharna, which seemed to be this very fancy Thai restaurant. Although they had early-bird dinners, I don't think our 6:10pm arrival constituted as such an early bird visit.
The food was a creative mix of Thai Beef Salad surrounded by long cucumber slices as well as some tasty chef recommendation of pork belly, and even a pad thai for Tahia, which was also something that she had missed in the past few days hit the spot for her.
At 7:25pm, we finally walked back to our room. With our early arrival back to the Premier Inn (even though we could have done more self-touring, we opted to call it a day knowing that we would have to do an early morning departure from Glasgow. Another thing worrying me about getting back in the car was the flattening tire. I might have to add some air on the ailing tire, but if it deflates quickly, then we might have exercise more time than we want to in the name of fixing up the wheels of the car.
I guess we'll see how things go because tomorrow's drive will be a long one as we were planning to gun it from Glasgow, Scotland to Conwy in Wales. And do this non-stop so we would have more time for afternoon activities like the Conwy Castle as well as Llandudno. Hopefully, our tire that's seems to be going flat can still function with a little more air pumped back into it at our next diesel stop.
And so concludes our time in Scotland (or Caledonia as we've learned that it could also be referred to thanks to the Romans)…
Day 19: LEAVING PIPER'S PIT
It was 5:40am when we awoke. We knew we had a very long day of driving ahead of us. But I was also anxious about the flattening tire on our rear right, which I actually started paying attention to since Fort William and even Inverness to a lesser degree. It was just now it was becoming pretty obvious that the one tyre was noticeably flatter than the rest.
I wasn't sure whether to find a petrol stop in town to at least fill up the tire pressure, or whether to take time to go to the Glasgow Airport to work with Europcar since we already had paid for chips and flat tires in our rental at 4 pounds per day for the entirety of the rental (that's no chump change).
Nonetheless, with all the stuff we had to pack and get ready, it wouldn't be until about 7:10am when we finally got to the car park. Then, we were headed out where the city of Glasgow was still relatively quiet considering it was Sunday morning.
As I was following the GPS towards the nearest gas stop, I apparently had missed a turn. And so in trying to backtrack, I tried to figure out a way to U-turn or at least do what the GPS was telling me. However, somehow, in our haste to make that U-turn, we ended up going the wrong way on a freeway offramp!
As soon as I realized my mistake (just before entering the M8 the wrong way), we pulled over to the emergency lane, then quickly did a three-point turn to go back the way we came. We got strange looks from other motorists who noticed our faux pas, and I guess it was fortunate that no one happened to be on the off ramp when we were going the wrong way. That would have been disastrous!
Eventually, we just decided to forsake the petrol stop in Glasgow itself, and decided to look for a different gas stop that would be more convenient to locate along the motorway headed south towards Conwy, which was our next destination.
At least we would be out of the city that Rowdy Roddy Piper (former WWE superstar in the 80s) supposedly hailed from. And while I had this image of bagpipe-playing Scots in kilts, the city was remarkably very modern yet had that hint of an interesting history sprinkled throughout. And so it was that we would say good-bye to the origin of Piper's Pit and be on our way out of Scotland.
At 7:40am, we found a rest stop where there was a BP station. However, I saw that they were charging something like 1.46 pound per litre, which was ridiculously expensive. So I opted not to fill up here (I still had a little less than 3/4 tank), but I did use the tire pressure stand. There, a previous customer had just vacated the spot so the machine was still going. So I took advantage of the remaining time and made sure the flattening tire went up to 31 psi, which was how much the other rear tire was inflated.
The front tires were still fine. And with this errand out of the way, I hoped that the rear right tire won't lose too much pressure for the rest of the trip.
Aside from this, we kept driving south on the M74 going the other way than earlier on passing by the turnoffs for New Lanark and even Moffat. At 8:55am, we stopped at a Welcome Break stop, but the fuel prices remained upwards of 1.41 pound per litre. This particular stop was our last one before we would leave Scotland and re-enter England on the way to North Wales…
Visitor Comments:
Got something you'd like to share or say to keep the conversation going? Feel free to leave a comment below...
No users have replied to the content on this page