Day 16: THE YES MOVEMENT
It was 6:30am when we awoke. We slept past our 6am alarms, but Julie did have her 6:30am alarm that ultimately was what did the trick for her. One look outside and we could see that it had rained last night. So I guess our run of clear sunny days was pretty much over.
It took a while for Tahia to cooperate with having her brekkie, which Julie prepared using the kitchen facilities for one last time before we had to leave for good. So we all had toast and eggs while Tahia and I also had some milk to wrap up since we knew we would be without a refrigerator for a while.
While it took Tahia and Julie time to get ready, I was watching the morning news mostly to get a sense of the forecast for the next couple of days since we didn't have free Wi-Fi internet access the whole time we were in the Bishop's Park Apartments in Inverness. So I guess we were kind of in the dark when it came to net connectivity.
And during the morning news, I also paid attention to the stories concerning some referendum of Scottish independence to be voted on in September 18, 2014 (basically less than a week after we should be leaving the UK). I guess it would be a landmark vote because Scotland could very well be its own independent country like the Republic of Ireland.
In any case, this explained all those "YES" signs we were seeing just about everywhere we were going throughout Scotland's Highlands. Basically it was "YES" for Scottish independence or "No, Thanks" to keep Scotland part of the UK. With all those "YES" signs we were encountering just about everywhere we went, I was getting this picture in my head of WWE star Daniel Bryant leading "Yes! Yes! Yes!" chants with two index fingers up in the air with each "YES!". I guess this was the Scottish version of the "Yes Movement".
The early morning rains momentarily calmed down just when I started loading the car, and by 8:05am, we finally left Inverness and headed southwest along Loch Ness and the Great Glen towards Fort William, which was the next place we were going to stay.
With the gray weather, we were seeing Loch Ness in its moody and gloomy self that we probably should have seen it as originally given how rainy it tended to get up here. But with the last three days of clear weather, Loch Ness was unusually colorful in our photos.
For much of the drive, we were following lorries or slow drivers in sedans since it wasn't easy to pass slow moving vehicles along the A82. We noticed that the rain started letting up even as we passed by Fort Augustus and Spean Bridge (where there was a long delay due to road work).
We'd ultimately pass by our accommodation in Fort William called Buccleuch Guest House, but since it wasn't even 10am at the time, we weren't going to bother stopping since it was way too early to check in.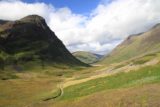 So we continued driving further along the A82 towards Glencoe seeing how the weather was still gradually improving. We'd eventually get there at 10:25am. I was expecting to see waterfalls in the valley, but there weren't any significant ones to be found except for really thin and temporary cascades coming down from the gullies of the high mountains surrounding us.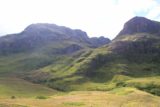 We happened to have stopped at one of the larger pullouts, which actually had some circular signage about the formation of the Three Sisters (which were three large mountains opposite the Glencoe Valley) as well as nice views to the west of the U-shaped valley. When we started hearing bagpipe music, we could see that there was also a busker looking to get tips from his bagpipe-playing as well as having his photo taken.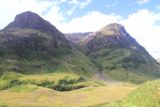 Tour buses were also stopping here so apparently we must have stopped at the right spot.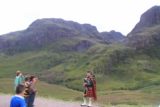 We were content with our photos and views from here so we didn't see a need to proceed further along the A82 to see if there were other parts of Glencoe worth checking out. I wasn't sure if that would be a decision we would regret later on.
Nonetheless, we then headed back towards Fort William again, but knowing that it was still too early in the day to check in even after this Glencoe diversion, we decided to head over to Steall Falls in the mean time.
The drive to Steall Falls (I've heard it pronounced both like "stowel" or "steal") was interesting as we passed through a scenic valley known as Glen Nevis. I knew there was supposed to be the highest mountain in Britain called Ben Nevis somewhere nearby here, but with some degree of cloud cover as well as not really knowing what it looked like, we really wouldn't have known if we spotted the mountain anyways.
Anyways, the drive was half bathed in sunlight and half grayed out with dark clouds. It wasn't raining the whole time we were passing through as we drove the narrow two-lane road, but I swore we could have spent the day stopping at any place throughout the glen to get photo ops of the valley (though we didn't as we felt pressed for time).
As we got way deeper into the valley, the road eventually became single-track. Now, we were sharing the really narrow road with oncoming traffic as well as hikers. It made me wonder if we were supposed to park closer to where signs said "Lower Falls", but we continued on knowing that we didn't want to extend our Steall Falls hike if we didn't need to.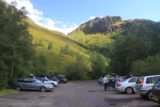 Eventually at 11:40am, we finally made it to the car park for the falls. There was plenty of space here, which surprised me. But perhaps the single-track road might have spooked some of visitors. Whatever the case, I wasn't whinging.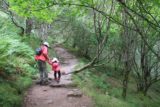 Initially, the hike started in overcast conditions with some dark clouds threatening to dump some rain on us. Even with the threat of rain, the temperature was quite a balmy 20C.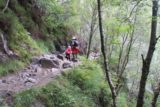 I had brought my child carrier just in case Tahia needed me to carry her. But for most of the hike, Tahia was able to do the hike with some handholding around the dropoffs and around the slippery rocky parts. Julie had forgotten to bring Tahia's wellies (rain boots) so she was walking in sneakers despite some parts of the trail being wet and muddy.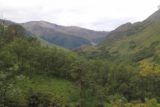 The trail was quite popular and prone to traffic as a group of elderly hikers had to be very careful around some of the trickier parts of the trail. We were also being careful with Tahia so we took our time. I'm sure some of the faster hikers were waiting to pass us and them in much the same way we would want to pass slow drivers on the two-lane or even single-track roads.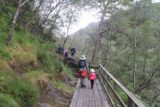 Still, given all the trickiness that the trail threw at us (especially with its rockiness and high steps with dropoff exposure), Tahia was managing the hike quite well. But we were also starting to get swarmed by handfuls of midges that seemed to be persistent about getting onto us.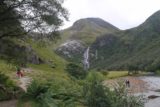 Fortunately, I didn't get any midge bites (I don't think), but the thought did cross my mind whether they might be carriers of something if they did. I noticed that as long as we kept moving on the trail, the midges didn't seem to be as bothersome. But with all the obstacles that Tahia had to get by and with Julie stopping to notice what she thought was marble on the trail as well as my photo taking, we stopped often. So we gave the midges plenty of opportunities to hone in on us and swarm us.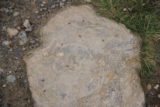 Finally after nearly a mile of uphill hiking, the trail suddenly opened up beyond the head of the gorge, thereby revealing a wide open valley with Steall Falls in view in the distance. Now, it seemed like the effort to get up here was well worth it as we could see the falls was very impressive against the knobby mountains surrounding it. However, we couldn't stop and enjoy it with the in-the-moment calm that we would have liked because the midgets were really bad in this valley.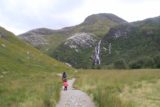 We'd ultimately get up to the vicinity of the three-wire bridge when Julie saw that that was the end of the line for her. She wanted no part of that wire crossing. And with Tahia with us, we thought it was too risky anyways to go on it with her. Fortunately, seeing Steall Falls was easy without having to do that bridge.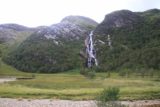 The hard part was staying still for people photos or for scenic shots while the midges swarmed all over us.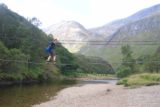 Eventually, Julie and Tahia had had enough. Julie insisted that I give her the car keys so she and Tahia could make their way back to the car park immediately. Meanwhile, I still wanted to get the full experience of the falls (including crossing that wire bridge) so I did as much photographing that I could while tolerating the midges (it seemed like when there was wind, they were less bothersome).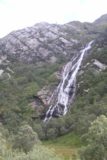 At about 1:10pm, I saw there were people on the wire bridge so I decided first to try crossing the stream the old-fashioned way. I saw an area where I could cross without getting my wool socks wet (especially since I was wearing Gore-tex hiking boots), and I went ahead and did it that way first. Five minutes later, I was on the other side where I then passed by some house here before traversing a lot of muddy grassy areas.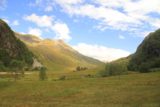 It was under these conditions where I could really appreciate finding rocks or rocky patches amidst the mud to avoid sinking into the bog. And once I got past the muddy areas, I then did one minor creek crossing near the base of the falls before I stopped right at the base of Steall Falls.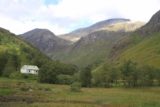 The photo ops from here weren't the best compared to the views from farther away across the valley, and I guess just being here was more about the thrill of doing that wire-bridge and getting close to the falls than it was about taking postcard photos of the falls (though the valley views were superb from this side).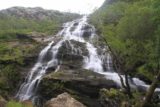 So it didn't take long before I had my fill of the falls, and by 1:40pm, I was now waiting my turn to cross via the wire bridge. Since I hadn't done this before, I knew that I might be taking a big chance at drenching my camera or other things if I fell. However, I saw numerous other people of all abilities doing this bridge so I figured it couldn't be that bad.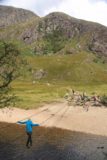 And when it was finally my turn to do the crossing, my hunches were confirmed when I didn't have much difficulty doing this. Too bad Julie and Tahia couldn't stick around to watch what I was doing.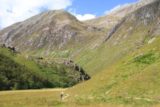 By 2:15pm, I made it back to the car park. Julie and Tahia seemed to be in a much better mood now that they didn't have to contend with the midges, which seemed to be absent at the car park.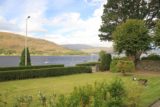 We'd eventually arrive at the Baccleuch Guest House at 2:35pm, which was pretty much about the time we were allowed to check in. And by 3pm, we finally got settled in the spacious room while looking out the window at the view of Loch Linnhe backed by some mountains.
We'd end up spending nearly the next couple of hours doing some internetting that we hadn't done in the past four days. It was also a chance to relax a little bit since we really didn't have anything else left on the agenda of activities on this day.
I wondered if we were squandering a golden opportunity to do things like see Ben Nevis or do the gondola ride over Glen Nevis given that the weather was improving by the minute.
But at 4:50pm, we would finally leave the guest house and walk for a few minutes to the town center of Fort William. The sun was totally out at the time, and it contrasted with the expected follow up rain that the forecast said would get to us by the afternoon. But the currently conditions were anything but.
We'd get to the pedestrian zone of Fort William, which looked like a charming but long shopping arcade. Julie was tired of Scottish food so she insisted on having Thai food instead, but they didn't open until 5:30pm so we spent the next half-hour or so just browsing around and soaking in the atmosphere of this little town.
By 5:45pm, we then had our Thai dinner. It was interesting that they didn't have Pad Thai here (which Tahia was asking for), but their sweet and sour chicken stir fry was pretty good. Plus their green curry was pretty authentic too. So we left that restaurant pretty satisfied. Then, we spoiled ourselves to some gelato further down the street near the square.
By 7:20pm, we were all back at the Baccleuch Guest House. With the fine weather, I took a detour to the public garden to take a few photos of Loch Linnhe backed by shadowy mountains against the late afternoon sun. It was too bad we couldn't see Ben Nevis from anywhere in town, and I didn't feel like getting back in the car to do some driving to hunt for such sights.
So we pretty much called it a day. I guess with all the touring that we had been doing for the past couple of weeks, we were due for a mostly do-nothing day. And today was it.
We know that tomorrow was forecast to rain all day. So we'll have to see how that would affect our touring plans. But even for the next couple of days as we would overnight in Glasgow, we really didn't have much planned besides the Falls of Foyers, Stirling Castle, and Culzean Castle. We figured that should be easily done with haste in the next two days to conclude our time in Scotland.
Besides, we could use the light activities to give us the second wind we needed to conclude the second half of our trip to the UK…