Day 18: GIVING GLASGOW A CHANCE
It was 8:20am when we awoke. We decided to sleep in on this morning and pursue neither the Culzean Castle (which was 41 miles from Glasgow) nor a second go at Edinburgh (which involved about an hour-long train ride with departures seemingly every 30 minutes or so from Queen Street Station). Thus, we were going to just focus on Glasgow for this entire day, and there really wasn't much of a sense of hurry.
It wouldn't be until about 10am when we were finally done getting ready for the day before we would then explore Glasgow. First up, we would walk away from the city center towards the Cathedral District. And by 10:50am, we would finally make it to the Glasgow Cathedral, which was very atmospheric both from the outside as well as its inside.
In fact, Julie was quite impressed with this place and she even liked it better than York Minster. Behind the Glasgow Cathedral, we could see a very large cemetery, which was called the Glasgow Necropolis. So that kind of further added to the atmosphere of our cathedral visit. The cathedral itself was quite dark and gothic on the inside. It was charming in a very haunting sense.
And when we were done with our visit to the cathedral, we then went through the gated entrance for the necropolis, where we gradually made our way uphill towards the top of the immediate hill. There were quite a few extravagant monuments from an obelisk to a Dugald Stewart-like monument among others.
But given our high position at the top of the hill, we were also able to look back at the impressive Glasgow Cathedral. I know Mom said that taking photos of graveyards or cemeteries would bring bad luck, but there wouldn't be any way that we couldn't do that on this visit. It was just too atmospheric not to try to capture and document so we could remember what it was like here.
By about 11:20am, we were done with the hauntingly atmospheric necropolis, and then we walked back down towards the city center. Trying to make up for our subpar Italian dinner last night, this time for lunch, we went two doors over for the Pizza Express at noon. We knew from our experience in Edinburgh, that they were good, but the question now was whether the quality would be consistent within the same chain.
By about 12:55pm, we were done with our lunch, and sure enough, this place was as we had expected. The pizza was so good that we all devoured it together. Even the superfood salad was very tasty. We certainly hope that there would be more of these restaurants outside of Scotland because come September when we might be able to exercise the coupons given to us, we would be either in Wales or Cornwall.
After the lunch, we then quickly walked over to the Gallery of Modern Art (or GoMA). We weren't sure what to make of most of the art exhibits here so we didn't spend a whole lot of time here. I guess art wouldn't be art if it didn't draw a reaction from the onlooker, but in this case, there just didn't seem to be much that would captivate Tahia's attention except for this room full of TVs showing seemingly very random things.
At 1:35pm, we then found ourselves on Buchanan Street, where it was very atmospheric in the sense that it was just crowded and bustling with energy and activity. It had a similar vibe to what we experienced in the busiest parts of the Royal Mile in Edinburgh, but at least in Glasgow, we didn't have to contend with hawkers trying to get passer-bys to attend various festival performances.
I swore that there were many more people out on Buchanan Street than there were last night. And it seemed that there really wasn't much besides shop-till-you-drop mall stores flanking the pedestrian-only street. However, there were quite a few buskers and street performers seeking the odd tip, and they typically drew crowds to further add to the ambience.
Next, we went to the subway stop for Buchanan Street station, which was next to the Queen Street station. Up next on the agenda was a visit to the Kelvingrove Museum, which we hoped Tahia would enjoy since she kept asking for "Natural History" (mistaking that word for a museum).
We ended up buying an all-day pass at 4 pounds per person. And by about 2:30pm, we had finally made it to the museum. On the approach, we saw an attractive view of a University of Glasgow building fronted by arched bridges. And we also got a load of the impressive building facade of the museum.
Once inside, it had a grand roominess about it. Anyways, we visited several of the exhibits on our own pace, and the museum (while impressive) did seem to have some interesting contrast or mismatches of displays. For example, I had recalled seeing one gallery that contained a bunch of military armor from the Middle Ages to more modern times, all being juxtaposed with sharks.
At 3:55pm, we were finally done with our museum visit. By this time, I was carrying Tahia on the child carrier so she could nap. We'd eventually take the subway back to Buchanan Street, then we'd walk a short distance towards this place called the Willow Tea Room.
And as we approached the tea room, we noticed that Buchanan St seemed even more atmospheric with seemingly increased numbers of pedestrians here. We'd finally get seated for our afternoon tea at 5:25pm. Tahia pretty much spent the entire tea time in the child carrier so Julie and I enjoyed our afternoon tea together. However, the quality of this place just didn't seem to be as good as the place we had back in York.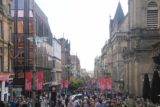 Julie noticed a bunch of buildings that were designed by someone named MacIntosh. We didn't know if it was the same guy whose name might have been used for the Apple Mac product. Whatever the case may be, it wasn't lost on us that apparently this tea room was also designed by MacIntosh as we had sat in chairs with very high backrests that almost seem very Alice-in-Wonderlandish.
At 5:25pm, we left the tea room. The pastries were ok. The teas were better.
Now, we were walking around Buchanan Street again. We were doing random meanderings at this point, but we thought we could walk all the way to some lighthouse or something. But when we consulted the map again, we would never see whatever it was Julie was looking for. And so we started walking uphill in the direction closest to some Concert Hall.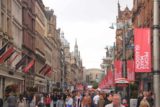 Along the way, we noiced this Thai place called Chaopharna, which seemed to be this very fancy Thai restaurant. Although they had early-bird dinners, I don't think our 6:10pm arrival constituted as such an early bird visit.
The food was a creative mix of Thai Beef Salad surrounded by long cucumber slices as well as some tasty chef recommendation of pork belly, and even a pad thai for Tahia, which was also something that she had missed in the past few days hit the spot for her.
At 7:25pm, we finally walked back to our room. With our early arrival back to the Premier Inn (even though we could have done more self-touring, we opted to call it a day knowing that we would have to do an early morning departure from Glasgow. Another thing worrying me about getting back in the car was the flattening tire. I might have to add some air on the ailing tire, but if it deflates quickly, then we might have exercise more time than we want to in the name of fixing up the wheels of the car.
I guess we'll see how things go because tomorrow's drive will be a long one as we were planning to gun it from Glasgow, Scotland to Conwy in Wales. And do this non-stop so we would have more time for afternoon activities like the Conwy Castle as well as Llandudno. Hopefully, our tire that's seems to be going flat can still function with a little more air pumped back into it at our next diesel stop.
And so concludes our time in Scotland (or Caledonia as we've learned that it could also be referred to thanks to the Romans)…