Day 9: RAINY RECON OF EDINBURGH
It was 8:30am when we awoke. Everyone was in a good mood probably because we were all well rested and we really didn't have an agenda on this day other than to let the experiences from the city come to us. We knew we had to do the Edinburgh Castle at least, but with today being forecast for bad weather, we still had tomorrow to fall back on.
So no one was really in a hurry, but we didn't go down to town until 9:55am, which was quite late. And about 10 minutes later, we ended up going to a nearby place called Garfunkel's for Scottish breakfast.
The food wasn't anything extraordinary as it consisted of something like an American breakfast of eggs, bacon, ans sausage. It also included beans as well as a haggis (which was a mush of lamb innards mixed with other things though it doesn't taste like organs).
We got some toast to go along with this stuff and we also got an omelet so Tahia could at least have something substantial for brekkie. The haggis experience wasn't anything extraordinary, but I thought it was pretty decent brekkie food regardless, and I get the feeling that with another 10 more days in Scotland, we'll have plenty of opportunities for another such Scottish breakfast if I was in the mood for more of it (little would I realize in hindsight how quickly those 10 days would come to pass).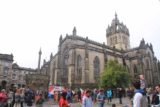 At 11am, we were done with breakfast and we finally started touring the Royal Mile. It was raining the moment we stepped outside, but the rain seemed like it was subsiding. And by the time we got past the St Giles Cathedral, the sun started coming out as we got closer to the Scottish Whisky Experience.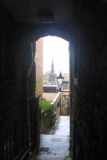 The Royal Mile was obviously atmospheric even with the bad weather. However, we did at times seek shelter from some of the buildings, which contained these tiny alleyways leading to some hidden nook and cranny. Most of these had archways or something to take shelter beneath. In any case, these alleyways had signs titling them "… Close". I guess these closes further added layers of richness to this already charming and historical place.
Nearby the church adjacent to the Scottish Whisky Experience, there was a busker playing the bagpipes. It was one of those moments that I thought was quintessential Scotland. And in a city like Edinburgh where we were seemingly brought back to the Middle Ages in the Old Town, having this ambience accompanied with bagpipes was just one of those times where I just had to sit back and soak in the experience.
At about 11:45am, we had already followed the masses of humanity through the Royal Military Tattoo stands and towards the main entrance of Edinburgh Castle. Even though the weather was momentarily calm, dark clouds were everywhere, and I questioned the wisdom of forcing a visit with all these tour groups under highly variable weather.
So instead, we headed down below the castle in search of the Royal Museum of Scotland. But somewhere along the way, Tahia said she needed to pee so we went back up towards some toilet on the steps near the castle. Then, since we had already climbed back up so far to reach the toilet, we then returned to the Royal Mile when Julie noticed the Camera Obscura.
I had reservations about spending so much time in a museum or kitschy attraction, but she thought Tahia might enjoy this experience. And since the weather called for rain today, perhaps this would be a good indoor activity.
So we went ahead with the paid attraction and proceeded up to the second floor first. While there, we spent some time getting tripped out by a mirror maze (the kind you see in movies all the time). It was trippy how to navigate through this maze, and the way to do it essentially was to feel your way around. That was why they made us wear plastic disposable gloves so the mirrors stay clear.
When we got out of the mirror maze, we walked all the way up to the sixth floor because there was supposed to be a 12:30pm show of the Camera Obscura. So we went up there with a few minutes to go, and whilst up there, we took in the awesome views over Edinburgh from this building. It was too bad we couldn't really see the Edinburgh Castle because of the stands of the Royal Military Tattoo in the way, but there were other mindblowing views in the other directions. By this time, the sun was definitely out.
When the show started, we were led into a circular room with some kind of circular table in the middle. The tour guide talked about the history of the camera obscura (apparently this one was 175 years old) as well as how it worked. It was pretty cool to see Edinburgh through this real-time Victorian CCTV, and when we were done with it, we then popped down each level one-by-one.
Clearly, this museum was all about optical illusions. Many of these illusions revealed how Hollywood got their movie magic as well as how some magicians pulled off their tricks. There was a forced perspective room, for example, many stereoscape 3-D images, holograms, body heat maps, a be-heading box, and more. There was even a trippy vortex tunnel, which was very similar to the tram ride in Universal Studios.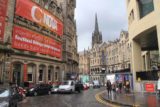 Ultimately by 1:30pm, we were done with the Camera Obscura. And it was a surprisingly good experience for the whole family when I expected it to be a waste of time and money. It also dawned on me that there was a Scottish band called Camera Obscura, and I wondered if they got their band name from this attraction. Anyways, when we left Camera Obscura, it was raining again.
So we sought shelter by trying to have a quick lunch somewhere on the way to the Royal Museum of Scotland. Tahia was in the mood for pizza, but the Pizza Express place was too busy and we ultimately decided to keep on walking until we found a hot dogs and panini place with a bit of a Middle-Eastern/Mediterranean flavor to it at 1:50pm. It ended up being a surprisingly good lunch at a decent price except it was cash only.
When we were done with the lunch, we then toured the Royal Museum of Scotland, finally. The attraction was actually free, and the rooms with all the exhibits seemed quite grand. The middle room was oval shaped and had three main tiers covering five stories. I'm sure this was the most photogenic part of the museum.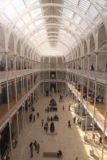 In between walking around the exhibits (we focused more on the natural history and the sciences), we also had ourselves an afternoon tea on the third floor balcony. We accompanied the jasmine tea with some thick chocolate fudge cake, which Tahia gladly ate despite the fact that we started to notice that Tahia seemed to be coming down with a cold.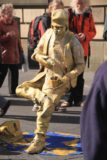 That was not good. And it made us head back to our hotel room so she could have an afternoon siesta to try to rest it off. Along the way back to the hotel, we deliberately made our way along the Royal Mile where now the pedestrian zone came alive with street performances and stages with lots of foot traffic all around.
It was certainly atmospheric, and it was pretty obvious to both Julie and I that Edinburgh simply had that charm that made us fall in love with this place.
At 3:55pm, we finally were back at the hotel. I split up with Julie and Tahia at this point so I could do a little bit of reconnaissance of the Royal Mile and other attractions for the rest of the afternoon while both of them were resting. I figured that might help us focus with tomorrow's touring. We know we were going to hit the Edinburgh Castle as well as Carlton Hill. We weren't sure what else we were going to do.
So as I was making my self-guided individual tour, I noticed some grand hotel nearby a ferris wheel and some spire-like gothic building. Behind the building, I could see ominous dark clouds looming that side of the city as well as Carlton Hill nearby. As I was taking photos of the scene with the fading sun (as the clouds were overtaking the clear skies), I could see lightning and thunder looming in the dark clouds.
By about 4:10pm when I returned to the Royal Mile heading downhill to the east, the dark clouds overlook the city and it was starting to rain heavily. In fact, it also looked like it was hailing while accompanied by thunder. I sought refuge in one of the closes, which were apparently Scottish alleyways. And for the next 40 minutes, I would essentially try to wait out the hard rain then seek refuge in the next convenient close further to the east where I would wait out the next squall or period of heavy rain.
It was still raining at 4:35pm, and the thought dawned me that I wondered how the street performers could function (and the audience pay attention) during such inclement weather.
At 4:45pm, I was then waiting at Reid's Close near the Whitefoord House. Again, the rain wasn't letting up, but at least I noticed some of these closes revealed some interesting residences with old school charm. Others seemed like it wasn't very tourist friendly and kind of seedy. And in narrow street, I noticed what looked to be Edinburgh's own volcano called Arthur's Seat.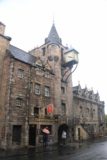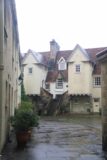 By about 4:50pm, I sought refuge with a lot of other people at the Scottish Parliament main entrance. I was looking towards the Queen's Gallery, where the Palace of the Holyrood House was hidden behind it from this vantage point. About 10 minutes later, I crossed the street near the roundabout and took a picture of the gate and Holyrood House. It didn't look like anything extraordinary, but perhaps its value would be from doing a tour of its interior.
By about 5:30pm, I was back at the hotel. On the way there, I briefly checked out a live performance inside the Tron Kirk. There was already a crowd here just soaking in the atmosphere like I was. I guess that was the essence of festival time at the International Festival of the Arts in Edinburgh. Lots of acts making themselves known to casual passer-bys or loyal followers (e.g. a Panic Attack performance in one of the pubs that was sold out).
Anyways, back at the hotel, I could see that Tahia was starting to have a fever, but at the same time, she didn't seem fazed as she was still playing around and jumping on the bed. Maybe she was oblivious to her ailment.
At 6:30pm, it was now Julie's turn to go solo in the Old Town of Edinburgh. However, instead of doing a rainy recon like I was, she was getting takeaway food from Laira's, which was right next door to La Locanda, which we saw last night. So I guess we would call it a night at this point, especially given a combination of Tahia's condition and the foul weather.
But rain or shine, sick or not, all the hopes of a successful sightseeing day were riding on tomorrow. Hopefully, the weather will cooperate (as the forecasts were suggesting)…