Day 11: UNKNOWN TOURIST MAGNET
It was about 5:5am when I awoke. I knew that I had to get going with wrapping up the packing (which I mostly completed yesterday), and that was pretty much done after I brushed my teeth. So I dragged my stuff downstairs leaving Julie and Tahia to hopefully wake up and get moving, and by about 6:20am, I would finally return to the St Johns Hill Car Park where we left our car.
Using the validated token, I ended up paying 30 pounds for the three nights we were there, and then I headed back to the Hunter Square area on the narrow street right in front of the Ibis. And by 6:25am, I left the car on the street so I could quickly rejoin Julie and Tahia and facilitate their packing so we could leave Edinburgh before the city would wake up and driving out of here would be difficult.
It was raining when I got back into the hotel, and I was a little incredulous at the fact that the forecast called for either partly cloudy skies or clear skies on this day. I wasn't expecting weather that would be worse off than it was yesterday. So that didn't bode well for my plans when we would stay in Inverness tomorrow and use that as a base for Highland hiking activities (where weather conditions would play a big factor in what we were trying to accomplish).
It wouldn't be until 6:55am when Tahia and I were in the car waiting for Julie to check out, then try to get some croissant breakfast on the go. When Julie showed up at 7:10am, she came back with cheese toast and scones as they didn't have the crispy croissant that we enjoyed yesterday.
And so we were off driving out of the city in the rain. The rain would subside until we crossed over the bridge over the Firth of Forth and north towards Perth. We then passed through Perth and continued on towards Aberfeldy for the first hiking excursion of the day at the Birks of Aberfeldy.
We'd ultimately get to the car park at 8:45am, and we started hiking at 9am. The car park was mostly empty, and the other car that was already here was about to pull out as the hiker was apparently just finished.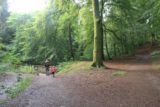 The weather was a bit cold, but the moment of morning sun at the time helped to assure us (somewhat falsely) that we were in for fine conditions. So we didn't even bother bringing an umbrella nor was I consciously bringing a rain poncho either.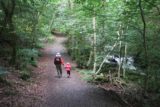 The hike we did was actually a loop hike where we did it in a clockwise manner. The left path that we started on was actually a bit rough and steep in places, but Tahia managed pretty well. There were lots of uphill and steps, and a few of those steps were quite high for Tahia.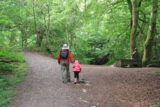 We passed by a couple of interesting landmarks en route. The first one was a bench with a statue of Robert Burns with a book in hand. We took some photos here of Tahia posing with the historically important Scottish poet.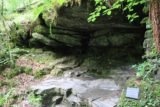 The second landmark was an alcove with a rocky ledge that seemed suitable for sitting. It was said that this was the spot where Robert Burns was inspired to write the Birks of Aberfeldy – the very hike we were on.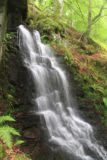 Surrounding this second landmark were a couple of thin waterfalls on temporary brooks as the trail continued to climb steeply on steps and switchback. Unfortunately, the sunny skies quickly gave way to rain, and I resigned myself to the fact that the weather forecast from Wunderground was rosier than the reality of what we were experiencing.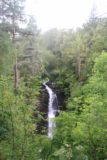 It wouldn't be until about 9:50am when we climbed high enough and went far enough to finally get a view of the so-called Upper Falls of the Falls of Moness. The name suggested there was a Lower Falls, but I wasn't sure if one existed based on what I could see from the maps in the area. Anyhow, the rain had let up by this time.
The view of the falls was downward but frontal of the impressive 200ft waterfall, but the bottom part was obstructed by some overgrowth. It was quite a bit of trouble for a mostly-visible waterfall, but then again, I started to get the sense that this hike was more of a Nature Walk than a waterfall destination.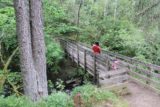 We continued past the top of the falls, where there was a bridge above the burn giving rise to the falls itself. Then, at about 10:15am, the trail descended to a place where we got a decent view of the valley below.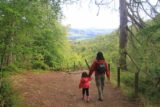 At about 10:35am, we were back at the car park. Both Julie and I noticed that the latter half of our hike on the Birks of Aberfeldy was much gentler than our initial part of the hike. So it was good for the return path as it was gentler on our joints. There really wasn't a falls view though along this latter half of the hike.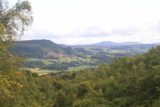 At about 10:45am, we were in the town center of Aberfeldy. Julie noticed a Co-op, and we made a quick stop here so Julie could go in and get some more water and food. While Tahia and I were waiting in the car, we saw that the rain came back. It wasn't until about 11:05am when we left the Co-op and headed towards Bruar.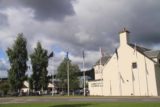 We'd eventually arrive at the car park for the House of Bruar at 11:45am. Along the way, there was a traffic jam on the A9 as a large number of vehicles were making right turns towards the Blair Castle. We wondered whether we should explore this castle or not, but we were kind of castled-out at this point and we needed some nature breaks before resuming the castle touring (Stirling Castle was targeted when we would head back to Glasgow after exploring the Highlands).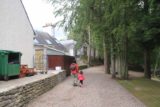 The House of Bruar was something I wasn't expecting as it looked like a market or store or something like that. There were lots of tourists here, and this even included tour groups. Thankfully, the Falls of Bruar trail was behind all this shopping, but I was caught off guard by the apparent tourism magnet the Highland Perthshire region was.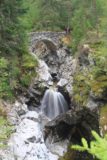 After a short toilet break, we went onto the trail where we withstood a short spell of rain before the rain subsided again. At about 12:30pm, we arrived at the Lower Bridge where we saw one of the Falls of Bruar right behind what appeared to be a small natural bridge. There were a few people here, but we took our shots, then kept going past the first overlook.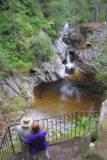 Just moments after that, we saw a small lookout through a small archway but I stood on top of that archway. The view was of an attractive cascading waterfall that I guess comprised the larger Lower Falls of Bruar series. But we didn't linger long here as we thought there was still more to see further up the trail.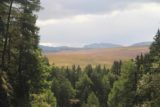 Like with the Birks of Aberfeldy, we opted to do this loop hike in a clockwise manner. And just like the previous hike, it was pretty much all uphill to the apex of the hike, which was just past what appeared to be the top of the Upper Falls of Bruar. It wouldn't be until around 1pm when we finally made it to the bridge upstream of the Upper Falls of Bruar.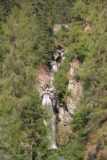 Eventually at about 1:10pm, we were at a bench that gave us a fairly decent view of the Upper Falls of Bruar from a distance. There were some false trails along the way that seemed to be dangerous unofficial paths to try to improve the view of the Upper Falls en route to this spot on the official trail.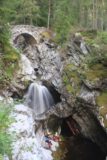 Anyways, after getting our shots, then continuing the descent past a switchback that had what seemed to be an old trail to another view of the Upper Falls of Bruar (possibly; though I didn't explore too far past the sign saying it was not a through trail), we ultimately got back to the Lower Bridge at 1:30pm.
By now, there was considerably more people around the overlooks here. There were also abseilers descending down the last of the lower waterfalls into the pool by the natural bridge. I tried to take a few shots at the small overlook beneath the small archway that I had missed earlier, but there was a German couple that beat me to the spot.
The male seemed to be annoyed with my presence though I knew he wasn't going to leave the spot anytime soon. I wasn't sure how I was disturbing him as I was trying to be respectful and quiet as I was taking photos away from him. But whatever his beef was, I got my shots, then I headed back down to rejoin Julie and Tahia.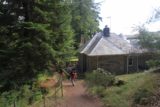 By about 1:40pm, we were back at the House of Bruar. Julie and Tahia made one more toilet break, but I think they were caught off guard by the huge queue for the women's toilets. When that waiting business was done, we saw what they had in the cafe and weren't that thrilled with the buffet-style selections. So we ultimately just bought some stuff that Julie wanted for our own afternoon tea, and we also picked up some sweet cherries and strawberries that were picked locally this morning.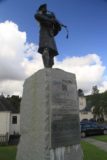 At 2:10pm, we were back at the car as we hastily made our way inside when the skies were once again starting to rain hard.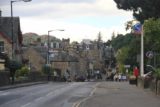 At 2:30pm, we finally arrived at the Acarsaid Bed and Breakfast. It was on the far side of town just east of the visitor center, so we actually passed through the center of Pitlochry, which was surprisingly charming but bustling with a lot of tourists. Again, this was something I wasn't expecting. What was it about this region that drew so many tourists?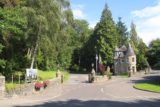 With Tahia napping, we put our stuff in our room. Then, I decided to go hiking to the Black Spout Waterfall solo. I started off by getting a more up-to-date map from the visitor center nearby at 3pm. Then, I proceeded to walk east towards the car park for the Black Spout Waterfall.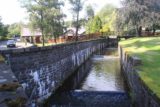 I passed by the Blair Atholl's Distillery at 3:20pm, but I realized that I had left my wallet and car keys with Julie and Tahia back at the room. So I was pretty much unable to do any whisky tours spontaneously.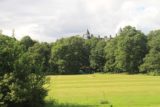 A few minutes later, I saw a sign pointing to the left saying the car park for Black Spout was 200 yards in that direction. And after getting to that car park, I then continued on what looked to be a 4×4 road for "Authorised Vehicles Only" that led me another 500 yards towards a junction where the final spur led me to a lookout platform with a direct view of the Black Spout Waterfall.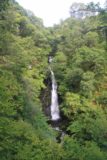 It was an attractively tall and thin waterfall though I knew it wasn't Julie's type of waterfall. So I took my photos and movies as I was here alone. But with my waterfall excursion surprisingly short, I thought why not walk the loop that the receptionist at our accommodation recommended?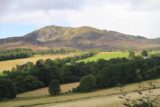 First up, I continued uphill towards the Edradour Distillery (I was on the Edradour Path). I knew their last whisky tour admission was 4pm (they closed at 5pm), and I probably wouldn't make it there in time, but the real issue was that I didn't have pounds on me to do a tour. So instead, I was content to enjoy the views across a large field towards some fells behind the lone farms and homes.
I also kept hearing some random and sporadic thuds in the distance, which I wondered whether they had to do with someone hunting or shooting something.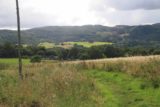 At 4:05pm, I reached a junction where I decided to continue towards the sign for "Moulin". I wasn't sure if that referred to the conspicuous castle-looking hotel I kept seeing in the distance. But I decided to pursue that place and get a closer look. Hopefully, I was going the right way.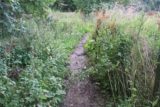 I then got to a spot where I started to have doubts about my decision. I was confronted with a very muddy path that skirted around a field. It looked like I could have crossed through the field but I didn't see an obvious path through there. So I followed the arrow and gingerly made my way through the muddy path (trying to avoid as much sloshing as possible) while trying to minimize my skin exposure to what I thought was overgrowth of poison oak or poison ivy flanking the path.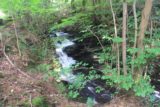 At about 4:15pm, I was across the field (the gunshots seemed to be louder here!), then I finally decided to head back to Pitlochry instead of continuing on Moulin. But at around 4:30pm, I noticed a path that led up towards what looked to be partial views of the castle-like hotel I kept seeing. Upon further inspection of the map I was given, I learned that it was the Atholl Palace Hotel.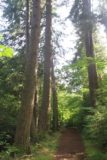 When I got to the top of the ascent, I apparently witnessed some reception that many folks in fancy attire (the dudes in kilts and the ladies in blue dresses and tall heels) were out back having a smoke. I stayed out of the way and continued to skirt the property trying to take close-up photos of the property before making my way down the driveway to continue my hike back into Pitlochry.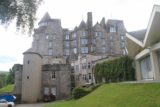 It happened to be raining at the time so I had to seek momentary shelter in the tree cover near the hotel before continuing on the narrow road back to town.
And by 4:40pm, I was back at the Acarsaid Hotel. Julie was debating where to have dinner on this night, and by about 5:10pm, we headed out and into town with a brief rain on us. Tahia was getting fussy because her nap got cut short, but we'd eventually get to this place called the Old Mill Inn, and we'd be seated by about 5:30pm.
It turned out that this dinner place was going to be a bit of a splurge as I would try the local Scottish angus sirloin steak with whisky and mustard sauce for it. Julie got some grilled salmon from Loch Duart. And we all followed up our dinners with sticky toffee pudding again with two scoops of vanilla ice cream.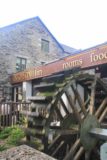 Everything was high quality, and it was certainly one of the best (if not THE best) dining experiences we've had in the UK so far. Sure the over-50 pound cost meant we paid nearly $100 USD for this dinner, but we had to have a Scottish dinner with locally procured stuff, and why not this place?
After all, we had food and wine places. It seemed like the Highland Pershire Region had whisky and food tours.
By about 6:30pm, we were done with the dinner. Then, we walked further into Pitlochry just to get a feel for this small tourist-friendly town. By about 7pm, we went into this outfitters called Hawkshead, and when all was said and done, I ended up getting a waterproof jacket that seemed versatile and essential for some of the Highland walking that I anticipated doing in the coming days.
It was certainly going to replace my thin red jacket that was falling apart on the inside.
After a little more exploring of Pitlochry, where we noticed some pretty gardens and the other TripAdvisor-recommended foodie places, we were finally back at the room at 7:45pm. Another thing we noticed along the way back to the accommodation was that there was a sign saying something to the effect of welcoming the Ryder Cup here.
Could that be why this area was so well touristed?
Well, whatever the case, we would be headed into Nessie territory tomorrow, where for the next four nights, we'd base ourselves in Inverness, and make long out-and-back day trips to various parts of the Highlands from the Isle of Skye to Durness to even the Falls of Glomach, which I was nervous about doing as I'd probably be doing the long hike solo. Again, with the weather as variable as it had been this entire trip (only one truly rain-free day), that was the thing I was paying most attention to as our waterfalling activities would be highly weather dependent…