Day 12: THE RHYTHMS OF GLOMACH
It was 5:55am when we awoke. We had to do the early wakeup because we had a lot of stuff going on today.
First off, we had to meet with the lady running the Bishop's Park Apartments in Inverness, which was where we were going to spend the next four nights. We agreed to meet with her at 9am, and that meant that we had to leave Pitlochry not much later than 7am. So with our stuff packed and the car loaded up, we left the Acarsaid Hotel at 7:10am.
The drive towards Inverness was delightfully light except for those two instances where large trucks were in the way. The highway was mostly two lanes (one in each direction) so passing was not an easy thing to do. Since it was very dangerous to pass given how many curves there were on the road, we pretty much had to wait for sections of the road that had dual carriageways (i.e. two lanes in the same direction), but those were very rare in these parts.
And as luck would have it, it always seemed like whenever the dual carriageways ended, that was just when there was a truck up ahead slowing people down.
Anyways, we made good time and got into Inverness at around 8:40am. Since we were making such good time, I decided to fill up on diesel first since I saw ok prices as we were entering town. There was a little rain in town, and we saw a large rainbow over the city.
And right at 9am, we arrived at the Bishop's Park Inverness Apartments. The lady was waiting for us, and we pretty much took the next hour getting oriented then getting settled. Since Julie was still fighting a flu or cold (as she was getting the chills), she decided to stay in the apartment with Tahia to rest. So I was off on my own to do the hike to the Falls of Glomach.
I knew the forecast called for decent weather in the Highlands (and by decent, I mean no extensive rainy periods) so this would be my opportunity to get the long hike out of the way.
By 10am I left the apartment and started the drive out west towards the Kyle of Lochalsh. Julie left me some unfinished sandwiches as well as a cookie and some chips. She also left me some fruits, an extra jug of water as well as a pair of smaller bottles. So I was pretty well equipped for an extended day's hike.
The drive west was along a winding A9 highway, which skirted the north (or west since it's diagonal) side of Loch Ness. Even though the GPS expected me to go 60mph the whole way, I knew that was not feasible. Furthermore, there was quite a bit of a traffic jam thanks to tour buses and slow drivers with limited opportunities to pass, especially with people ignoring the signs urging slow drivers to use the laybys (think pullouts) to clear up the queues they were causing.
Ultimately, it wouldn't be until about 11:40am when I eventually made it to the car park near Dorusduain. The drive on the A87 (which the A9 connected with in the middle of western Loch Ness) was quite scenic, especially around the Loch Cluanie, which was actually caused by a dam. The weather was pretty nice as I could see tall mountains flanking the glen I was driving through.
When I got to Loch Duich, there were some signs pointing the way to Falls of Glomach Car Park at Morvich. However, I learned from the National Trust website that there was also an alternate starting point at Dorusduain, and that was what I was targeting, especially since it seemed to shave off around 4 miles round trip of the overall hike (I knew the Morvich option was on the order of 12 miles round trip).
When I turned right onto a rurual road that because single track, I would eventually reach a fork where the sign pointed me to the right and back towards Morvich. But when the GPS protested, I opted to keep left. I swore I saw a sign saying something to the effect that the road I was taking was a private road. Maybe that was why the signs tried to steer visitors towards Morvich.
Still, I kept pushing forward. I knew there was no way I could pull off a minimum of 12 miles round trip of hiking for the falls in half a day and be back to Inverness by a reasonable hour. So starting at Dorusduain made a lot of sense to me.
When I drove on the "private" road, I passed by some properties, cattle guards, and even a couple of gates where one had a height barrier. It was those gates and barriers that concerned me because the thought did cross my mind that the landowner could easily close them while I was out hiking.
The road remained single track so if there was oncoming traffic, we'd have to coordinate between us the utilization of the passing area so we could get by each other.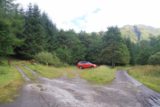 Finally, at 11:40am, I reached what looked like an small unpaved car park with a red sign indicating the Falls of Glomach was another 4 miles walk from this point. There was already a new-looking red SUV parked here, so I was a little assured that I probably wouldn't be the only one on this hike (or the only ones stranded if the barriers were closed).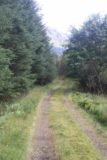 The road kept going beyond this car park, but upon scouting it a bit further, I noticed that the road degenerated into muddy tire tracks on grass, and thus it looked very impassable to a low clearance 2wd passenger car like the one I was using. So clearly this car park had to be the starting point.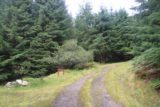 I took some time to get my stuff together while putting away the electronics. So it wasn't until 12pm when I finally set out on the hike.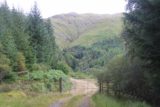 The hike started off going all uphill as it eventually curved around towards a gate with a swing fence to try to keep livestock or large animal intruders from getting through. I got through that fence about 15 minutes after I started.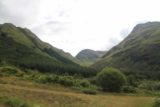 Beyond the fence, I looked to the right and was treated to gorgeous views of the head of the valley I had driven up. I saw another red sign pointing the way to the falls, which was always reassuring.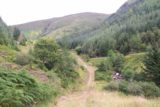 There were some clouds above me as the skies were predominantly overcast, but the sun managed to break through from time to time. I just hoped that the weather would hold up as I knew I was in for a long hike.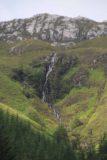 The trail then undulated a little before gently climbing a bit more on the road turned trail. At 12:30pm, I noticed an attractive waterfall to my left high up on a cliff in the distance. It looked tall but it was thin, and I'd imagine it might be temporary. Given that Northern UK got plenty of rain in the past few weeks (especially when we arrived some 12 days ago), that could be why tall but thin waterfalls like those looked as impressive as they did (they'd certainly be given a lot more attention if that was at home in LA).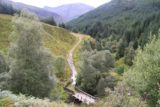 By about 12:40pm, the trail headed down towards a footbridge. It was muddy before the bridge, and little did I realize that there would be a lot more muddy spots further up the trail.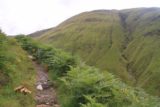 Beyond the bridge, the trail then significantly narrowed and climped steeply amidst what looked like wildflowers blooming amongst ferns and perhaps some poison oak. I tried to minimize my skin exposure to the overgrowth as the vegetation flanked me up to my waist in a lot of spots. It seemed like the trail itself sunk into the terrain or the vegetation just grew that tall around the part-stone, part-dirt trail.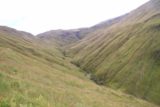 This climb felt relentless but it would ultimately start flattening out somewhat by about 12:55pm. At this point, the trail now hugged a wall of a valley where opposite me were wrinkled slopes of adjacent fells. The wrinkles were really rain gullies, and the quantity of these wrinkles attested to the amount of rain this area tended to get. But so far today, it had been rain-free, which I'd imagine didn't happen all that often in these parts.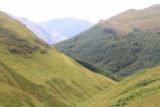 At about 1:20pm, I was now far enough in the valley to start noticing a Y-shaped cascade near the head of this valley. The trail had been resuming its climb though a bit more gradually than the intense climb after the bridge.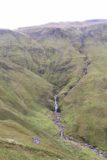 Fifteen minutes later when it seemed like I was about to approach the very head of the valley, I saw another hiker. I asked him how far the falls was and he indicated to me that it was another 1.5km or so. So I estimated another 30 minutes to get there. He showed me his topographic map, and he told me that I was near the apex of the trail before it would descend steeply towards the waterfall.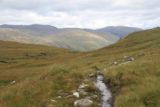 At 1:50pm, I was well into the moors. It was a little bit breezier up here, which was welcome because I had been sweating big time from all the exertion I made up to this point. This stretch of moorish hiking seemed to go on for quite a while, but perhaps that was due to the fact that I had stopped frequently to take pictures, especially of the surrounding fells and grasslands as well as the trail cutting through all these features.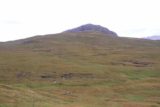 At 2:05pm, I was still on the moors, but I did hear voices in the distance behind me. It seemed like there was a family on quite a pace as it appeared they might catch up to me or even pass me.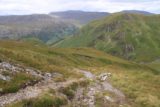 At about 2:10pm, I started descending from the moors. Down below, I could see what appeared to be the stream responsible for the Falls of Glomach, especially since I could see a very steep valley downstream of it. The descent was quite steep, but at least it was quick because of this steepness. So by about 2:25pm, I made it to the base of this descent from the moors.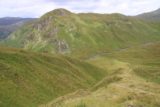 However, it was at this point that I was starting to lose the trail as it had degenerated into grass and bogs. I could kind of make out where the grass had been trampled (thereby suggesting that was where the path was) so I kept pursuing the flattened grass until I noticed a sign up ahead.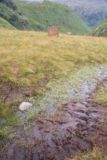 The sign seemed to be in a random spot because I scrambled on the grassy and muddy areas (I wondered if gaiters would have been a good idea here), which had a lot of boggy sections where I felt like I could sink. And just to get to that sign to see what it said, it seemed like I had to go "off trail" to get there. Anyways, the sign basically urged visitors to be careful.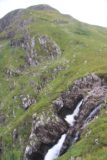 Behind the sign, I had to look carefully at the trails and footpaths along here. I was also starting to see the uppermost twisting tiers of the Falls of Glomach. Since I was near the top of the falls, I knew that I'd have to somehow find a way to get a better look at this falls. So after scanning a bit for telltale signs of a footpath, I'd ultimately find a trail that skirted the precarious dropoffs surrounding the Falls of Glomach.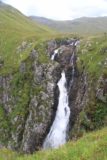 After a few more paces along this well-used part of narrow track, I went down one or two switchbacks until the family of four that was behind me had caught up to me. Man, were they fast!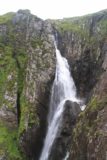 Anyways, I spotted the first few overlooks as the views of the twisting Falls of Glomach became more dramatic the lower I went. The family that caught up to me weren't the talkative types, and I wasn't quite sure what language they were speaking since it wasn't English, nor did it sound like any of the other European languages that I became familiar with.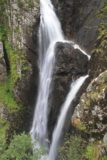 The family didn't go down further as they seemed content with just the initial views. But I could see there was clearly a trail that kept going a little further down. So I continued my descent on some switchbacks, and I'd ultimately reach the remaining overlooks.
What was different about the view of the falls from down here was that the overall Nature walk and viewing experience was second to none. Up to this point, I had seen mostly only the uppermost tier. However, from the lower vantage points, I could see the rest of the huge plunge of the lowermost tier of Falls of Glomach.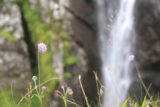 It would be eventually at 3:05pm when I had reached the end of the line. Clearly, further progress was either a death wish or for serious abseilers only. But that's ok because this view I had gotten was good enough.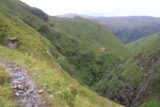 After taking the obligatory movies and photos, I used a flat rock out to sit on and have a quick picnic lunch. I really felt like I could have sat here for a very long time, but I could also see there were dark clouds seemingly headed my way. Still, I learned quite a bit just paying attention to the rhythms of nature at the Falls of Glomach as I sat there to watch a pair of bees pollinating one of the purple flowers, a black beetle foraging for something, even trees that were precariously clinging to the walls.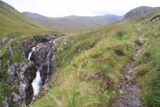 With the midges being bothersome in a place as precarious as the Falls of Glomach, that was when I had slapped on some 100% DEET to try to keep the midges away. And for the moment, it worked.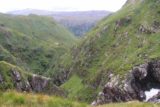 As I was sitting and staring, I could see the main tier of the falls starting to split. I also noticed that the dark clouds in the distance looked uninviting, but then again, the forecast called for decent weather in the afternoon here. And from what I could tell, the dark clouds stayed at bay for the time being.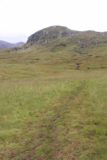 I couldn't resist having a lunch here even though I had intended to leave the park at this moment. So I ate for a few more minutes and it wasn't until 3:25pm that I finally started to head back up the steep descent that had led me down here earlier.
At 3:40pm, I made it past the boggy part of the grassy area above the falls.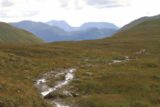 That part required some exertion, but I knew it was only the beginning. Twenty minutes later, I was back at the moor, but with the relentless climb, I was literally sweating bullets. The midges were back trying to land on me (or even in my nostils or ear) as they sought parts of my skin where the sweat was washing off the DEET.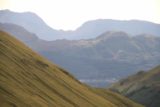 After another 20 minutes, I was out of the moors and headed back down the familiar trail into the valley I had hiked through earlier.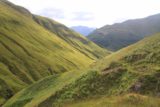 At 4:55pm, I descended back down towards the bridge. I noticed the same family that caught up to me at Falls of Glomach were now by this bridge. And by about 5:20pm, I was back at the car. The sun was out and it made for nice colors on the neighboring fells and hillsides.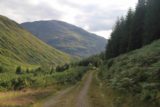 Thankfully, I made it past the private part of the road, and eventually I'd be on my way back to the apartment in Inverness, where Julie and Tahia were resting.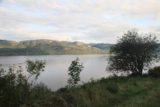 Eventually at 6:30pm, I made a quickie stop for some Loch Ness photos, though admittedly, this particular stop by some signage for John Cobb wasn't very exciting. I probably could have maintained my momentum without stopping here. However, about five minutes later, I made another stop, but this time it was for the Urquhart Castle, which was well closed by now, but I took notes about its opening and closing times.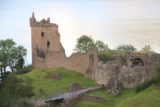 By about 7:05pm, I had finally made it back to the Bishop's Park Inverness Apartments. It was getting late in the day, but at least we were re-united once again. We had a late Indian dinner that didn't end until about 9:30pm. It was through this little escapade that we realized that it was quite a bit of a walk to get from our apartment to the city center (probably on the order of a half-mile in each direction).
And when we got back to the apartment, we all showered and tended to our dental hygiene as well as tended to the laundry machine. It wouldn't be until after midnight when all of us were finally in bed.
Yet with the late evening errands, I would still have to wake up early tomorrow as I wanted to use the Bank Holiday to go as far north up into the Highlands as I possibly could. I had gotten tired of driving around Loch Ness' northern shores, and perhaps going towards Kylesku Lodge, Clashnessie, and Durness were the ticket for such Highland activities for tomorrow (or today)…