Day 13: SCOTLAND SUN
It was 6:20am when we awoke. As Julie was still suffering from a cold that Tahia gave to her (while Tahia was pretty much over hers in a span of a day or two), it made her reluctant to get up early. But I knew that we had a long day of touring and we had to get out as early as we could to avoid traffic both in the city as well as in the countryside where passing opportunities are very limited.
So by 7:05am, we left the apartment. Upon looking at the morning skies, it was sunny and cloudless, which was something I don't think we could say on any of the days of this trip up to this point. But with the clear skies, it was also quite chilly.
Five minutes later, we made a quick bakery run so Julie could pick up some croissants or something for brekkie on the go in the car.
Not long after leaving Inverness, the clear skies gave way to some fog just north of the city. It made me a little weary about going fast and tackling some of the turns at the same speed I had been used to up to this point. And when we spotted a deer running across the road in the fog, I was further reminded of the two incidences where I had hit a deer one year and a kangaroo three years later.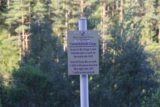 Eventually, the fog cleared the further north I went. It wasn't until about 8:10am when we saw a car park for what appeared to be an old access to the Corrieshalloch Gorge, which was where the Falls of Measach was located. There was a sign here that said where the new car park was about five minutes away from here and we passed it, we backtracked then took a side road towards the new starting point.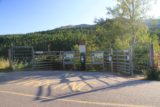 Julie and Tahia stayed in the car for this excursion, so I quickly made my way down the right side of the "kissing gates" towards the suspension bridge and view. After descending some curves, I then saw the suspension bridge before me, and I quickly got onto it.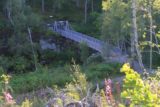 Once I was on there, I beheld the Falls of Measach which was right below me. It was certainly a tall waterfall, but the narrowness and depth of the Corrieshalloch Gorge was probably the real show here. The falls itself was really my waterfalling excuse for being here.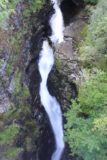 Beyond the bridge, I then followed the trail to the first lookout, which protruded over the dropoffs for that vertigo feeling when you're on it. Looking back against the waterfall and suspension bridge, the views were satisfying through the harse light and shadows wreaked havoc on my camera's dynamic range. For I either had to resolve the sky and lit up surroundings (at the expense of everything else being underexposed), or I had to resolve the shadowy gorge but then blow out everything else that wasn't in shadow.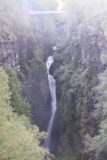 Even though the skies were practically cloudless, I thought from a photography standpoint, this waterfall and gorge was probably better off under cloudy conditions. My only saving grace was that the entire gorge remained in shadow during my visit.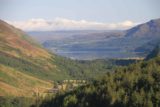 When I returned to the car park, I then took the other of the "kissing gates" and walked for about 10 mimutes to a distant top down view of Loch Broom. I'm not sure how the authorities here can claim this path was wheelchair accessible because the surface was pretty rocky and unpaved, but in any case, the view was very nice and the backlight of the sun really made the deep blue of the loch contrast the surrounding terrain.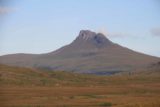 At 9am, we were done with this excursion and continued onwards Ullapool and Kylesku. With the sunny skies, we actually allowed ourselves to make a few spontaneous photo stops. We ended up stopping for a viewpoint of something called Deep Freeze Mountain.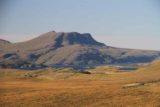 Somehow, the scenery here reminded me of Iceland (speaking of which, there were warnings about an imminent volcanic eruption that might conspire to strand us in London).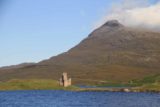 Anyways along the drive towards Ullapool, we noticed an attractive ruin called Ardvreck Castle at 10:05am. But aside from a ruin near the watery expanses of a loch, we also noticed there was a small but attractive waterfall a short distance down the road on the opposite side.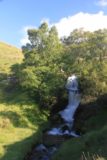 I wasn't sure which stream it belonged to, but it was sort of a waterfalling excuse to pause and take a closer look at the history in this one spot around Ardvreck Castle.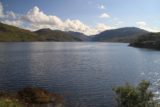 When we continued driving, we eventually left the "main" road (A837) for a smaller and narrower road (A894). There were still opposing lanes with plenty of spots where the road was unmarked in the middle. Eventually, we'd make it to the Kylesku Lodge at 10:35am, but we were way too early for the 12pm boat tour (apparently, we had just missed the 10am boat tour). We were also given some bad news that Tahia couldn't be on the tour because the minimum age was 7 years.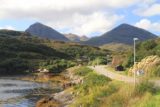 So that meant that I would have to solo this tour instead of doing it as a family. In any case, we still had over an hour to kill, so I thought since the GPS insisted that it would only take a few minutes to drive the 14 miles to Clashnessie, why not check out that waterfall before coming back to Kylesku and do the boat tour to get to Eas A Chual Aluinn Waterfall – said to be the UK's highest.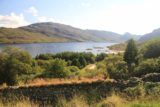 So at 10:45am, we departed again bound for Clashnessie. But after a few minutes of going onto the road to Clashnessie, I saw that we were dealing with a single lane road. And I knew that going 14 miles on a single-lane road like this was not realistic to go all the way to Clashnessie and back in time for our tour.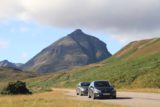 Thus, I canned this idea, and tried to do some miscellaneous exploring around Glencoul since there were a few roadside pullouts with vistas. I also noticed other waterfalls by the road though those didn't seem to be easy to access nor did they have neighboring pullouts.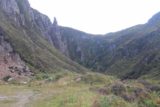 Eventually at 11:15am, we were back at the Kylesku Lodge. We all used the toilet and tried to kill time since no meal was served until 12pm (the exact time of the tour). Of course, when that time would arrive, Julie and Tahia would be enjoying their lunch while I would go on the 90- to 120-minute boat tour.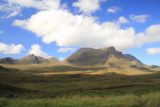 Sure enough, a few minutes before 12pm, a boat showed up. There were at least 6 people on this tour (myself would make 7) so there were no problems with this excursion meeting the minimum requirement of 4 people. After paying the boat driver my 25 pounds in cash, we were led onto the boat and whisked away on the tour.
The boat tour began pretty quickly with views back towards Kylesku backed by impressively shaped fells or mountains. Not long thereafter, we already started to spot common seals as well as the grey seal. I thought to myself that this certainly would have been something Tahia would have enjoyed. But I guess rules are rules and there'd be no exception in our case.
Next, the boat meandered about as it went deeper into Loch Glencoul presenting photo ops of the mountains backing buildings or passing by more colonies of seals. There were also other waterfalls that I noticed as we were cruising about Loch Glencoul before heading towards Loch Beag.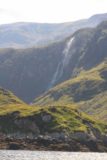 It was only when we started to approach Loch Beag when we started to see parts of the Eas a Chual Aluinn Waterfall which looked to have pretty impressive volume even though we were seeing it from fairly far away. I had entertained visiting this waterfall as part of a long 13-mile return hike. I even originally intended to spend a fifth night in Inverness to enable this option of spending all day to do this hike, but I thought the boat tour option was to be more efficient with time and more worthwhile.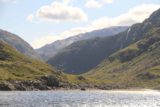 Even the guide said he did the walk and thought it was difficult and not worthwhile when I asked him. By the way, he told me that the Gaelic name of the waterfall was something like "Es A Koll Aloo un". He said it meant "the beautiful falls of Glencoul", and he doubted the alternate story about the name having something to do with a woman in an unhappy arranged marriage who threw herself over the falls and her hair would've been like that of the plunging characteristic of Eas a Chual Aluinn.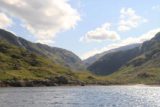 Once we entered Loch Beag, that was when the Eas a Chual Aluinn was about as close as we were going to see it, which was still from a distance. A good zoom lens was necessary, and that was what my 17-200mm lens was for – that flexibility!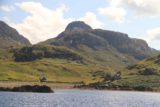 I took numerous photos of both this waterfall as well as the companion waterfall across the valley, which looked temporary. But in any case, this was what I came for, and the rest of the sightseeing was merely icing on the cake.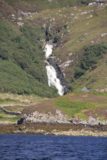 Next, the boat headed deeper into another head of the fjord on the Glencoul. But along the way, we saw heaps of mussels clinging to cliff walls as they were exposed from the low tide. There were also mackerels splashing about and some birds whom the guide said were quite aggressive except they weren't to us given that they had associated the boat with food (must've been fed in the past).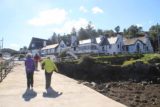 Finally at 1:40pm, the tour concluded and we were back at Kylesku. Julie ordered and left me a delicious scallop lunch. The thought did cross my mind about the possible poisoning caused by red algal blooms (which were happening now), but I was assured these were not poisoned by the algal bloom.
And after a very satisfying lunch, Tahia managed to get a scallop shell for free and she was totally preoccupied with it. At least that would help for those times when she would get fussy or on a whinging binge.
At 2:05pm, we were back on the road. This time, we were bound for Durness, and I was especially looking forward to visiting the Smoo Cave, which was a coastal cave containing a natural waterfall in its depths.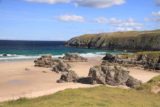 The road to get up to Durness (especially on the A838) was mostly single-track road. This meant there were frequent stoppings in order to let a car from the opposing direction pass through. It was one of those things where we had to be real alert and careful because it easily could result in an accident, especially around blind turns.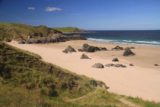 At 3:10pm, we accidentally arrived at the Durness Visitor Center (took one turn too early according to the GPS), but we managed to see there was an "award winning beach" where I made a mental note to let Tahia play here at the conclusion of our visit to Smoo Cave.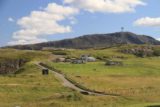 So we took some photos and scouted the beach. Then, we continued the drive further east of town when we saw more signs for the Smoo Cave. And sure enough, there was a car park here with toilets as well as some interpretive signs fronting steps going down to the base. As we left the car park at 3:25pm, we could see down below there was a brown stream making its way out to the ocean, and we knew that was where the cave entrance should be.
As we made our way down to the base, we crossed over a bridge over the brown stream, and there it was… the big cave entrance. So we anxiously made our way into the cave as did other people who were here as well. Inside the main chamber, we saw some artificial lighting on the upper walls as well as some open potholes. But then we saw a wooden walkway leading into another room, but we saw some red signs indicating that the walkway was closed. And we could see that the only way to see the waterfall inside this cave was from going onto this walkway.
There were a couple of guys past the barricade and signs of this walkway, but they were wearing hard hats and it was clear that they were trying to fix the wooden walkway that was apparently storm damaged from the recent storms. So it could very well be that we just missed our opportunity to see Smoo Cave literally by a few weeks (before the remnants of Hurricane Bertha changed the weather pattern for good this year).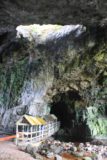 It was a royal bummer that we came all the way up here only to see the waterfall would not be accessible. Other people had the same reaction we did as they'd stare at the closure and see the workers do their thing. One asked one of the hard-hatted workers with headlamp if he could go see the falls, but got the predictable "no" due to public safety.
And so we were back at the car at 4pm. Clearly disappointed, we salvaged our visit up to Durness by going back to the visitor center to let Tahia play in the sand at the beach there. After all, for both Julie and Tahia, they didn't do any excursions to this point. They opted to stay in the car for the Corrieshalloch Gorge with the Falls of Measach, then they couldn't do the boat tour to Eas a Chual Aluinn Waterfall with lots of wildlife and geology and photo ops of the landscape of Glencoul. That was too bad.
And now that they were denied the waterfall in Smoo Cave, the beach was the first out-of-the-car activity they'd have besides eating at the Kylesku Lodge. So ten minutes later, we were at the beach, and Tahia enjoyed herself playing in the sand building her mound that she called a sand castle. Julie stayed in the car (still) to read her kindle as she was still affected by the cold that Tahia gave her.
At about 4:35pm, we were back at the car. And now it was time to head back in the direction of Inverness, for everything we would do from this point forward would be south of this point.
But to salvage something as I had forsaken Clashnessie Waterfall earlier in the day, I decided to make the detour there on the way back to Inverness. The GPS made it seem like it wouldn't take long to get there. However, when we ultimately got to the B869 road, we saw that the single-track road persisted and was more dangerous than we thought.
The road was narrow and steep, while it was full of blind turns and even blind summits where we'd go up and not even see the ground until we made it to the summit and face downwards. With such sharp and surprising turns, we had to take it even slower there. There was even one incident where a van nearly hit us head on around a turn. Plus another incident where I had to back up to a passing place to let someone else get through.
The bottom line was that even though it was 14 miles from the vicinity of Glencoul to Clashnessie, the drive easily took at least 45 minutes to an hour.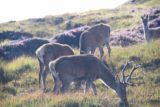 At least with the stressful driving, we did get a bit of a pleasant surprise when we saw a group of deer grazing by the road. Our view was against the sun and we didn't want to spook them so I didn't bother moving the car much. However, we took pleasure in taking photos from where we could from the car despite the non-optimal lighting.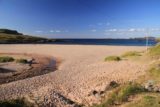 Finally at 6:10pm, we mercifully made it to the village of Clashnessie. At the car park here, we could see there was another beach, but this time, the water was calm. So that was an opportunity to let Tahia get close to the water without worrying about getting sucked into the ocean.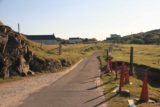 Julie finally got her out-of-the-car activity by accompanying Tahia to the calm beach of Clashnessie Bay, while I solo'ed the hike to the Clashnessie Waterfall, thinking it would be a pretty straightforward affair.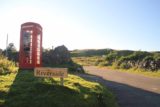 There was a sign by the car park showing that the waterfall route required me to walk along the road through the village towards the other end where a sign would lead me between some farms or private properties towards the waterfall path.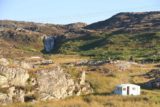 So I did what the sign said, then made my way through some sheep-shared grassy areas before going onto an unpaved driveway (some muddy patches), then I ultimately reached the entrance of some private residence with a decent frontal view of Clashnessie Falls except further progress to get closer meant I had to go across some stepping stones.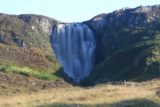 Unfortunately, the stream was in very high flow, and the stepping stones didn't look very doable without some parts where I might have to wade across the fast-moving stream. With hiking sticks, I might have entertained doing this traverse, but I wasn't willing to risk getting my camera drenched if I had a fall so I turned back to the car park.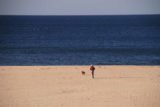 Julie and Tahia saw from the beach that I was headed back to the car park, and they made their way there too, but when I re-examined the sign at the car park for the waterfall path, I saw there was indeed the "alternate" route, which said there were "issues". I wasn't sure what the issues were, but since the sanctioned path was too dangerous given the high flow of the falls, I wasn't to be denied and I went on the alternate path.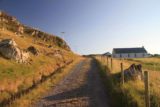 So I quickly made my way past the gate urging people to leave the gate closed, then I walked on the driveway before I went by (not through) another gate as the trail degenerated into grass following a sheep wall. The path was very uneven and muddy throughout going this way, and I was glad that I put on my hiking boots instead of going in Chacos here.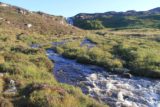 So I sloshed my way through some patches of midges, muddy bogs hidden in the thick grass and flowers, and then eventually got past the stepping stones part before I'd ultimately find myself in front of the impressive Clashnessie Waterfall.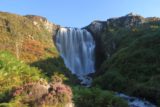 It was misty here, and the falls was in shadow as the sun was becoming more orange as the day was waning. Plus with a lot of driving remaining to get back to Inverness, I knew that it would be an eventuality that I would have to drive in the dark when I'm sure deer might be out.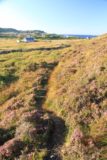 Finally at 7:25pm, I was back at the car park. Julie wondered where I went, but I explained to her the situation, and now we were all reunited once again with the final drive to end this day.
Julie didn't like the fact that we were about to skip dinner so I made it a point to quickly make our way to Ullapool, where I'm sure there ought to be a takeaway place to eat. By 8:40pm, we made it there. It was too bad that we were worried about making it back to Inverness because the sunset was surreal.
The sun and sky were so red against the backdrop of the Atlantic Ocean and some of the silhouettes of shapely mountains near Ullapool, that it reminded me of our Norwegian sunset in Narvik, Norway back in Summer of 2005. I regreted not taking the opportunity to stop the car and witness the sunset. After all, in a place as rainy as Scotland, how often does sunsets like this occur?
Anyways, we got some fast food takeaway of burger and chicken nuggets (Julie didn't want fish and chips), and then we were driving in the fading light as it eventually became dark.
Fortunately, we finally made it to the Bishop's Park Inverness Apartments at 10:25pm as we finally called it a day. There wouldn't be much sleep on this night because tomorrow, we had it in our minds to go to the Isle of Skye while the weather was still forecast to be good…