Day 14: SKYE IS THE LIMIT
We must have slept through our alarms given the late sleep last night because we awoke at 6:25am, which was well after the 6am alarm. And knowing that we had a bit of a drive ahead of us, we rushed to be out the door, which we accomplished at 7:25am.
Given that the plan for today was to drive all the way to the Isle of Skye to bag a couple of waterfalls, I was hoping that we had left by 7am instead of nearly a half-hour later, but it was what it was, and I hoped that we didn't have to pass that many slow-moving vehicles.
Fortunately for us, there weren't that many slow-moving vehicles, and the lorries thinned out along the north or western shores of Loch Ness.
Eventually we got all the way past where I had hiked a couple of days earlier near Morvich, and then we spotted an attractive castle that was right in a loch. This was something we never expected to do on this day so we decided to pull into a fairly large car park area for what turned out to be the Eilean Donan Castle (I think it's pronounced "EL-un-DOH-nun") at 8:45am.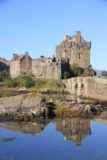 Given the beautifully clear morning we were having, this castle was the perfect photo subject. It was too bad that I was hoping to make it back to Urquhart Castle, which I knew would be closing somewhere around 5pm or 6pm (last admission was close to an hour before), and we still had a ways to go before reaching the waterfalls in the Isle of Skye that I had targeted all along, while also lunching at Portree.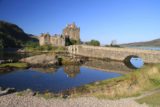 So we spent a few minutes here but perhaps not as long as we should have (i.e. going all the way up to the castle for other photo ops from the inside out). So it wasn't until about 9:15am that we left just when a tour bus started to show up and the car park was getting busier.
At this point, the road to the Isle of Skye was pretty much full of queues as just about everyone it seemed was on the road, including large lorries. So there was no way we could be going 50-60mph as the GPS expected and it was more like 40-50mph or slower on average for the rest of the way.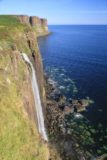 Finally at 10:40am, we arrived at the well-signed car park for Kilt Rock. As expected, the place was busy, but there were some parking spots that we managed to capitalize on. The short stroll to a large lookout area with fences to keep people back from the cliffs was already busy with people, and I could see that there was only a limited spot amongst all this open space where you can get the best views of both the Kilt Rocks and the Mealt Falls.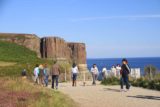 Indeed, this could very well have been the best waterfall we had seen on this trip (well, that was what Julie thought though I thought Gaping Gill was also pretty good) mostly because it plunged right into the ocean with the eccentric Kilt Rock formation in the backdrop. The Kilt Rocks looked like basalt formations, and apparently someone thought they looked like kilts.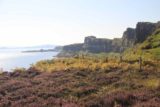 When we went to the other side of the lookout, we could see against the sun more attractive cliffs. However, the view was somewhat compromised by a very large mud puddle that kept anyone from getting right up to the fence to take photos without getting ankle deep in mud. I guess that just attested to how much rain had fallen in this area the past few weeks (and the bad taste of not being able to see the waterfall at Smoo Cave yesterday reinforced this).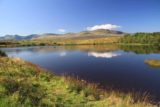 Anyways, we killed a little more time buying a box of squat lobsters (which were more like a Scottish version of crawfish except they seemed easier to eat) then eating them in the car park at 11:20am. And fifteen minutes later, we continued on our way.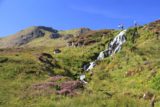 At about 12pm, we saw a roadside cascade called Bride's Veil Falls. This was just past the busy car park for the hike to the Old Man Storr formation, which was a pinnacle jutting up next to some cliffs high above us. Someone who worked here said something to the effect that it was an hour each way, which was something we couldn't do.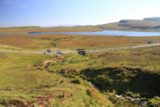 Anyways, the Bride's Veil Falls was easy to see as I could photo them right from the road, but we also scrambled a little bit for a closer look. Despite how muddy it was to get up, I didn't have problems getting to the top of the short cascade in my Chacos. But what made this falls nice was that the sun was behind us for perfect backlighting, and I was able to compose photos with the cascade fronting some attractive mountains in the background.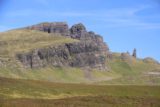 Off to one side of the falls, I was also able to see the Old Man Storr. And I wondered in hindsight whether I should have crossed the creek to take a photo from the other side to show the falls with the pinnacle in the background. Oh well, in any case, now we were all looking forward to having a lunch at Portree to recharge before heading back to Urquhart Castle on Loch Ness before they close.
At 12:20pm, we were back at the car, and 15 minutes later, we found parking at a main car park in Portree. It turned out that the town center itself wasn't much.
There was an attractive square to chill out, but other than that, Wentworth Place was just like an ordinary street lined with shops.
We ultimately stopped for a lunch of a panini and soup (for Julie's worsening cold), and then we intended to buy some groceries at a co-op here until we saw how long the queue was. At least Julie did stock by a chemist or pharmacy to pick up some cough medicine to alleviate some of the chest congestion she was getting at this point.
By 1:40pm, we were back in the car. We didn't have time to do the coastal walk that very well could have been the best excursion to do while in Portree, but I did catch a glimpse of the colorful houses against the harbor that made the 90-minute oastal walk as attractive and recommended as it was.
For the next couple of hours, both Tahia nad Julie were in the car napping. I myself was fighting a little road fatigue as I found myself following slow-moving tour buses and was getting tranced by them. And when it got to a point when one tour bus caught up with another for a queue of three back-to-back, I finally said enough was enough and made the difficult task of passing them.
Fortunately by this point, Julie woke up from her nap and helped be a second pair of eyes to aim real high to see if there was oncoming traffic where the road was open enough to see at a concave turn. And eventually one-by-one, we passed by them all before getting to the town of Invermoriston where we'd eventually get back onto the A82.
By about 3:45pm, we finally arrived at Urquhart Castle (pronounced "ERK-hart"). We were probably here an hour before the last admission, which meant that we could have a fairly relaxed tour of this castle ruins. In hindsight, we probably could have spent a little more time in Eilean Donan as well as doing the coastal walk in Portree, but then we'd have to worry about rushing to get to this castle before they closed.
Nonetheless, we paid for the admission, then watched the short 8-minute movie about the history of this castle and how it became what it became today, then we walked onto the ruins themselves. Naturally, it was a pretty popular spot with both tour groups and tourists of the Loch Ness area. Perhaps the idea of a castle ruin on the loch that the Loch Ness Monster made famous was really the association that was needed to have a big time busy attraction.
Still, at least we got some really neat views of the castle and the loch juxtaposed, while we also got some nice views looking in both directions of the narrow Loch Ness itself. We explored as many nooks and crannies of the Urquhart Castle as we could before we had our fill of this place.
By about 5:25pm, we were back in the car, just as the place was emptying out for the last admission to this place was around a half-hour or more ago. We'd then follow a large caravan of cars all the way to Inverness as a lot of people were probably headed back for dinner just like we were.
We headed straight for a Tesco Metro supermarket at 5:55pm before returning to the apartment. We were now pretty well stocked, and we even bought a tub on ice cream knowing that we still had a couple of more nights, and perhaps we should save on a little money buying desserts at around 5 pounds or more each time (almost $10 USD) each time.
At were eventually back at the apartment at 6:30pm, and then about 40 minutes later, we finally started walking along the Ness Walk towards the city center. It turned out that there was a fairly charming but modern pedestrian-only shopping arcade and street, and on both sides of the main bridge and River Ness were churches all around with spires pointing up into the sky. Meanwhile, we could see the Inverness Castle bathed in soft afternoon glow across the river as well as from right underneath it on the same side as the river.
The castle also looked modern, which we could tell because of how even the walls were, instead of ruffled with the texture of rocks stacked one on top of another to make the castles.
Eventually after being turned away at some TripAdvisor-recommended restaurant, we settled on this place called McGonagall's, which served some good venison as well as salmon. It was a pretty satisfying meal, but we refrained from doing the sticky toffee pudding dessert this time given our tub of ice cream back at the apartment as well as breathing in some cigarette smoke that seemed to go right into the restaurant from the outside as they had left the door open.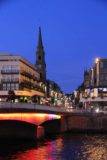 By 9:25pm, we had taken the Ness Walk back to the apartment from the other side of the river, where we could finally call it a day. We had one more day of touring the Loch Ness area before heading out towards Fort William and Ben Nevis, and from what I heard about the forecast, it would be one last day of fine weather before the weather would turn again…