Day 42 (July 24, 2018 – Frankfurt, Germany): "Savoring The Last Of German Romanticism"
I awoke at 6:35am, which was well past my alarms. With no real agenda for today, I didn't mind sleeping in then letting most of the morning slip by as we spent that time getting packed and organized for the journey home. Since we were dropping off the rental car later on today, it only made sense that all the time spent now to get our stuff together would save the stress later when the TGV schedule would loom.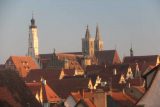 While we were taking our time in our apartment, we were getting our last looks out the windows towards the St Jakob's Cathedral as well as some people already starting to walk the old city walls.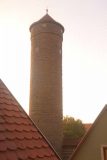 So after having a self-cooked breakfast, it wouldn't be until about 9:40am when we finally got around to loading up the car.
And at 10am, we finally left the charming Rothenburg ob der Tauber.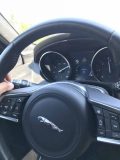 During the drive on the autobahn, I tested the speed limit of the rental car, and I saw that actually this Jaguar could go above 199km/h as we got as high as 205km/h (though the GPS said we never really got higher than around 185km/h). In any case, I never really got comfortable driving at those speeds, especially with the precious cargo that I was carrying.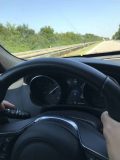 Anyways, Julie had this idea that we should make a stop at Wurzburg on the way to Frankfurt. She read reviews of the town and really wanted to do the Residenz as well as the old town plus the bridge over the River Main looking towards the fortress.
Eventually at 10:45am, we went from the zooming on the A7 towards the A3, where we were faced with some snarling stau (stopped traffic). Fortunately, we were able to leave the autobahn for the B8, which then led us into the city center of Wurzburg. However, we then had more stau around the city center.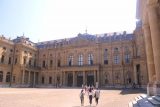 So it wouldn't be until about 11:15am, we finally managed to park in the open-air cobblestoned parking lot before the Residenz in Wurzburg. Even though the lot was full, they had one of those systems where we waited until a spot opened up, and then the machine would dispense a ticket to get in. We only waited around 5 minutes before we were finally able to get in and park the car.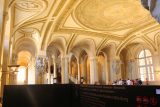 At that point, we promptly went into the Residenz, where we paid 15 euros for 2 adults as Tahia was able to get in for free. However, once again, they were sticklers for not allowing photographs (not even photo bags or small backpacks acting as purses) so we had to use a locker where putting in a 1 euro coin deposit would release the key, and then we could get our money back if we properly returned the key (so this locker use was free).
Once again, without an audio guide, we promptly went up the stairs and then into a pair of very grand rooms. Even though it was about 11:30am at the time, we managed to catch up with the 11am English speaking tour. However, they seemed to really dwell on the large room and so Julie had this idea to go visit the apartment rooms without a guide.
However, I had a feeling that the guided tour might go to rooms that wouldn't be accessible without a guide, and sure enough it happened when we were too deep in the apartments. By the time we made our move back to the main entry room at the top of the steps, the English-speaking tour guide closed the door and now we were left straggling along some other German speaking tours before we could finally get in.
The first tour we latched onto was a kiddie tour, and after listening incomprehensively to some spiel of the big room, their tour then ended and that was it.
However, there was then a second more adult German-speaking tour, and eventually after spending even more minutes waiting for the spiel to end, then we were able to walk into the more blinged out rooms, where apparently the parents of Maria Theresia had occupied. Again, we didn't get a whole lot out of the tour since we couldn't process much of what was spoken in German (even with all my language lessons and all; there's no substitute for actually having lived there for a bit of time and using it everyday).
Basically, these tour-guide-only-rooms were probably about 4 or 5 rooms. Perhaps the only thing I got from the German was that the first room we went into was the Guest Antechamber and the next room was some kind of Audience Room. Other than that, I couldn't tell this from that.
After the guided rooms were done, we then walked on our own through a few more hallways and rooms exhibiting some exhibits showing the before (where available) and the damage done to some of the key rooms in the Residenz. Like with Rothenburg, apparently it took an American officer to help with the restoration or at least save what was left to give this place a chance at restoring some of its past glory into the museum that's making Germany money at the moment.
Then, after passing through the gift shop, we were finally able to get into the apartment rooms that didn't require a guided tour (and that screwed us up in terms of being ditched by the English-speaking tour in the first place).
Those were basically smaller rooms that had re-created furnishings. Given that we had already spent well over an hour here, it kind of went like a blur. Julie read on TripAdvisor that someone claimed this experience was better than Versailles and Neuschwanstein, but I wasn't so sure about that.
While the bling factor was definitely there, I still don't think it was a very fulfilling experience, especially since no pictures could be taken.
Finally, we left the inside part of the Residenz and then proceeded to walk within the heat to check out the hofkirche (again no photos in there), and then the gardens. The gardens was quaint and manageable though the heat definitely ensured that we spent as much time in the shade as we reasonably could.
Some of the surrounding buildings in the distance enticed us to want to visit them though we knew time was limited and we had to be choosy.
After getting our fill of the gardens behind the Residenz building, we then returned to the car park at 1:15pm where the car was baking hot. After paying the 4 euro for the two-plus hours of parking, we then drove closer to the zentrum, where we found a car park structure.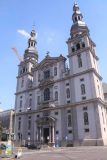 That particular car park structure had this interesting system where a guy was manning the kasse but he also issued out a ticket with an assigned parking space. We'd later have to pay him to get an exit token. But at least with this assigned parking space, we were guaranteed a place to park.
And so we drove up what seemed like several tight spirals before getting to our assigned 53 spot at 1:30pm. Once there, we then walked back down the structure and then into the city center as we went looking for a lunch spot first before doing a little more sightseeing of the city.
After some figuring out where the general direction of the zentrum was, we'd eventually land at some random Dave and Dean cafe or restaurant, which got Julie's attention because it was apparently as Californian as you can get in Germany in terms of a healthy food chain. By now, Julie was sick of Germanic food while also worrying about gluten so this was just what we needed.
We managed to get ourselves some kind of quinoa bowl with salmon and avocado in one bowl as well as some kind of Mexican-like chicken rice salad with salsa in another bowl. Tahia got some kind of chicken avocado sandwich. That was a pretty quick and efficient meal since it was self-catered after we placed our order.
Once we wrapped up this meal, we did some more walking in the heat as we tried to stay in the shade as well as walking close to the shops along the way because each entrance gave out a blast of AC coming from the inside for momentary relief from the 31C or so day (at least according to the car's thermometer when we were driving).
Eventually, we'd arrive at a really interesting platz that at first was narrow with a fountain, and it was behind some kind of reddish church building or something. But when we went to the other side of it, we were then in a plaza that was very wide as it was surrounded by that church, some other charming buildings, and some restaurants in another corner including another Dave and Deans that seemed bigger and in a more happening spot. This must have been the Marktplatz.
As we meandered some more, we then got towards some kind of town hall building with another interesting church with a pair of spires in the background. Looking in the other direction, we could see a cobblestoned road going uphill, where we knew that it was going onto a bridge over the Main River.
So we continued up onto that bridge, which was exposed to the scorching hot sun. Yet, we could finally check out the bridge with its flank of Romanesque statues as well as flowers on the railings near each of the statues. Looking to the other side of the bridge, we could see an impressive Fortress in a scene that kind of reminded us of the Festnung Hohensalzburg in Salzburg.
Still, something was missing from these views while we were on the bridge so we then walked back to some stairs where we then followed briefly along the River Main until we got to a somewhat shady spot where we could look back over the river with the fortress fronted by the Romanesque bridge. While the lighting wasn't idea (this was probably more of a morning spot), it was still beautiful and we got our views before we started heading back.
The walk back pretty much followed the tram tracks as we made our way back towards the car park. There were lots of people out and about, and we were glad to have checked out this pretty charming town that was kind of an afterthought to me when the day started.
By 3:20pm, we eventually got back to the car and its well-needed air-conditioning. Being in a parking garage, it wasn't as baking hot as it was at the Residenz.
After paying the 2.5 euros for the couple of hours we had spent in the city center of Wurzburg, we then could finally start driving towards Frankfurt. While there were still some sluggish traffic on the way out of Wurzburg, at least that stau that we saw on A3 on the way into Wurzburg was not there anymore.
That said, in between stretches of gunning it at over 160km/h without speed limits, there were lots more stretches of road construction and narrowing lanes. So it wasn't the free-flowing autobahn that we were hoping.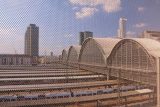 In any case, we'd eventually get back to the familiar parking garage next to the Frankfurt Hauptbahnhof at about 5:15pm. By this time, the car reported that the temperatures here were a whopping 36C! And when we were unloading the car, we could definitely feel the heat even in the shade of the garage!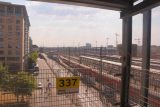 Anyways, this was the first of the accommodations where Julie switched us from an apartment to a hotel room mainly for the location. And it turned out to be a very wise move because the Tokoyo Inn Hotel was just across the street from our car park. With the amount of luggage we had to lug around combined with the heat, that was just what the doctor ordered.
So we promptly checked into the hotel first (though in our attempts to get there, we managed to drop one bag full of glass water bottles and one broke with water in it). Aside from that little snafu, we finally were into our room at 5:45pm, which as expected, was very cramped though they had some welcome card that suggested that there's space under the bed for our luggages.
Once we got settled, we then promptly headed back downstairs at 6:10pm to return the car keys, try to see what money we're getting back from that diesel exhaust fluid service that we went to a Jaguar dealer for, and then be on our way to sightseeing Frankfurt with a dinner in there.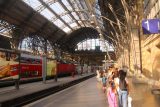 As we went back out into the heat, we were at least glad that the shadows were longer at this time in the afternoon. We promptly walked back into the familiar Frankfurt Hauptbahnhof and over to the Hertz kiosk, where we once again had to wait for someone to get his keys before we were finally able to do our thing. Seems like waiting had been synonymous with this rental car experience.
Too bad that nice young lady that helped us out when we were checking the car out was no there today. Instead, we were conversing with some Indian clerk, who told us that he couldn't support us getting reimbursed for the diesel exhaust fluid service we did back in Salzburg nearly 4 weeks ago. He'd eventually tell us that he has to check with his boss, whom we wouldn't hear from until tomorrow some time by email.
I kind of had a bad feeling about this given his dismissiveness of our situation. I don't think he even looked at our contract and the date of that receipt we showed him (which was barely two weeks into a six-week rental). He was more focused on the "blue" being only 20 euros to fill up by yourself instead of over 100 euros to have the Jaguar dealer do it.
Of course, we argued with him that we were in no position to take guesses at how to do this considering there was no obvious hole to put the blue in, the car manual was completely in German, and if we guessed wrong, the car would be even more disabled and we'd be out even more money (not to mention out more time for waiting for the car service).
So I knew that we did the right thing by going to the dealer. If anything, the blue wasn't topped off when we got out of the garage, and that shouldn't be our burden.
Well, given our last two experiences with Hertz clerks (one in Salzburg and now back in Frankfurt), I guess we got the sense that these clerks really don't know what they're doing. They're just there to issue the keys and process returns and payments, and that's about it. If we listened to the last two clerks, then for sure we would have been stranded or some other disaster that we luckily avoided by doing the right thing. Heck, it was even fortunate for us that we managed to find the Jaguar dealer in Salzburg and that we were staying four days there so we had the time to take care of this.
Anyways, that left a bit of a sour taste in our mouths, and mentally we were prepared to see if we could file a travel insurance claim for this. I wasn't sure if we could also file a claim for the ticket cancellation for getting the wrong date for the TGV.
But with that done, now, we could finally do our walk of Frankfurt at 6:40pm. And so we went down the familiar street we were at earlier on in the trip, and it didn't take long before we settled on this Indian Restaurant called "Am Doori" or something like that. It was funny how in all the big cities on this trip (Salzburg, Innsbruck, and now Frankfurt), we had Indian food.
Well, after having a pair of mango lassi, chai, chicken tikka (no curry), and some kind of curried prawns, all with sides of garlic naan, Indian-spiced fries, and spinach, we wound up with a pretty expensive dinner (especially for an Indian place) at over 48 euros.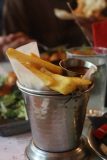 Still, as we were sick of the German-Austrian food, the Indian food was nice and it fueled us for the remainder of our last night in Germany.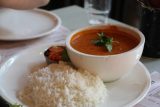 By 7:55pm, we were finally done eating. Since the restaurant had no AC, it was also quite hot in the restaurant so all of us were sweating beads (which the hot food and spices further exacerbated).
Just starting our walk was a bit of a relief and the longer shadows caused by the waning day also helped to cool us down somewhat even though we were now moving.
The walk pretty much continued along the same street we were on (Kaiser Strasse, I think). We didn't go one street over to the Rick Steves-recommended Red Light District, which Julie contended was inappropriate for Tahia. She was probably right about that though I was curious about it.
Regardless, we then found our way to a park area with a giant Euro sign as well as some giant high-rises, which was one thing that was noticeably absent throughout our trip. For while just about every city that was bombed and rebuilt chose to re-create the past, it seemed like Frankfurt embraced the future and was definitely quite the typical modern city as far as this was concerned.
Still, we then ambled around some quieter streets as we tried to find the altstadt of Frankfurt. And it wouldn't be until what seemed like another 20 minutes or so later when we'd finally find the charming square surrounded by half-timbered buildings, some churches, and a charming rathaus with a tourist info office (closed by this time well after 8:30pm) that had an attractive facade.
After soaking in this charming plaza, we then walked onto the bridge over the Main River, which was also teeming with people walking about along both banks of the river as well as the bridge itself. In the usual European way, it seemed like locks were also everywhere on the railings and girders. I guess this was now the fashionable way to leave graffiti as they were probably harder to remove than the unsightly spraypaint or scratchings.
So with the fading light of the day and the rising (nearly-full) moon, we were checking out the beautiful Frankfurt skyline as well as looking across the river towards its older side further to our right as well.
It was quite a relaxing stroll, and it was a fine way to experience the last of the Romantic parts of Germany before we started to walk back to our accomodation.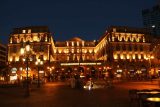 We were looking forward to using the U-bahn to get back to the hauptbahnhof (main train station), but when we eventually walked back to the Hauptwaschen stop, we then saw that we needed to use the S-bahn to go west, and that none of the S-bahn entrances were working. So that meant that we were going to walk all the way back to the hotel.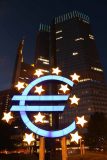 Eventually, it wouldn't be until about 10:40pm when we finally made it back to the hotel room. We were by now a hot and sweaty mess despite the darkness. We had to have walked at least 30 minutes in each direction, but it was a charming and atmospheric time spent for our last night in Germany.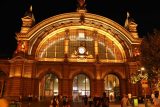 Of course the cramped quarters of our room didn't make for a comfortable stay, but we were just here to sleep. And now it was time get cleaned up, catch our shut eyes, and be ready for the TGV back to Paris tomorrow as the end of our epic 6-week trip was coming to a close…
Visitor Comments:
No users have replied to the content on this page