Day 43 (July 25, 2018 – Paris, France): "Foodie Exuberance"
It was 5am when I awoke. With the TGV departure looming at 06:58, I was already packed and ready to go since last night. However, I needed to get caught up on the blogging before it was time to check out and have a quick breakfast at 6:30am sharp. Julie didn't have her alarm going until about 5:30am.
When Julie awoke, it then became a pretty hectic dash to get ready, wrap up the packing (especially the stuff in the fridge), and then head downstairs and check out with our belongings before going for the breakfast as soon as possible.
When we went downstairs at 6:25am, we saw that there were easily a dozen people or so waiting in the lobby for the included breakfast. Apparently we weren't the only ones with the same thought, but when they said brekkie started at 06:30, they really meant it. So the brekkie room was suddenly buzzing as soon as one staff member gestured for people to come in.
As expected, with this being a Japanese hotel chain, we knew that it was primarily an Asian breakfast. And we didn't mind this one bit considering it was included and the room rate was 80 euros for the night, which was dirt cheap considering the location as well. If we had more time, I probably would have helped myself to more of the miso soup and onions, which was quite good. The rest of the brekkie was standard fare of a limited selection of schinken or round-sliced salami, rice, breads, and hard-boiled eggs.
It was barely 6:40am when we left the Tokoyo Inn with our luggages and then proceeded to carry and wheel our belongings to the train station just across the street. Even with the ideal location, it still wasn't until about 6:55am when we got onto the correct train and seat numbers so we really did work up a sweat despite the fairly cool morning.
With all the chaos that went on, we really didn't get a chance to capture the beautiful god beam scene where the morning light left sun rays emanating from a cloud as we were eating breakfast.
Well, it was good that we did what we did because right at 06:58 sharp, the train took off bound for Paris at the Gare de l'Est. It went in the reverse direction as when we first got to Frankfurt from Paris so this train made stops in Mannheim, Karlsruhe, Strasbourg, and then finally Paris.
During the train ride, I had quite a bit of trouble sleeping. I think the same happened to Julie so we were trying to figure out how we should spend our time in Paris and savor every last bit of this trip before going home where we knew a huge list of things to get done were waiting for us.
At around 8:20am when the train was somewhere between Karlsruhe and Strasbourg, I managed to use the included WiFi (perhaps this was a first-class thing?) to book timed tickets for the Versailles Palace for tomorrow morning first thing. The thinking was that after seeing all the historical buildings from the Hapsburgs (just about all of them didn't allow photos), we couldn't help but notice how much of a French influence there was there, especially concerning Versailles. So now with this much perspective, why not see the real deal once again (Julie and I last saw this back in 2012 but we truthfully didn't remember much of the experience)?
At 9:10am, I was still having trouble sleeping and Julie spent a good deal of time on TripAdvisor still figuring out or planning out our upcoming time spent in Paris so we had some of the remaining cooler stuff. During this time, it looked like the TGV was topping out at 319km/h, which was way faster than the fastest speed on the autobahn we did at about 205km/h (and even that made me feel a little uncomfortable considering the safety of the precious cargo I was carrying).
Finally at 10:45am, we got off the somewhat early-arriving train at the Paris Gare de l'Est. Then, Julie had us wait across the street at a quiet corner where we'd use the Uber app and get whisked away towards the Intercontinental Le Grande where we'd spend the next two nights. One of those nights was a rewards night but we had to pay up the nose for the other night so the average ended up being around 200 euros per night.
Even though we knew how to use the metro system, with the amount of stuff we were carrying and the Summer heat in the city, we thought it was wiser to just get taxi'ed or Uber'd to our destination.
Sure enough the driver showed up after roughly an eight minute wait in the sun, and we went the 2km to the hotel, which looked like it was undergoing some extensive renovation. We got there at about 11:25am.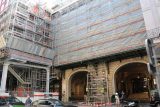 We checked in our bags with the porters thinking that it was too early to check in. But it turned out that our room was indeed ready. That said, Julie had made a booking for 12pm at Le Souffle again (to have the real-deal souffles one last time before it would be a while before having this again), and so we operated as if we couldn't check in until some time after lunch.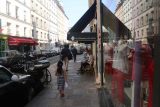 Anyways, we quickly proceeded to this gluten free bakery where Julie was really looking forward to having gluten free croissants. And when we got there (I believe the place was called Helmut Newcake and it was barely a few minutes walk from our accommodation), we then picked up some of the goodies there, then proceeded to eat them on the way to Le Souffle.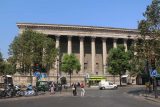 Julie was so blown away by the quality of the croissants that she wanted us to go back to have some more. However, we were running late in terms of getting to our lunch reservation. So she punted that visit until after lunch.
On the walk to Le Souffle, since we were coming in from the north (which was a part of the city we hadn't really gotten to see much), we were passing by some interesting buildings. One had a bunch of columns by the Rue de la Madeleine. There were other hidden old world buildings like some tall dom.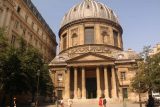 It was kind of amazing how seemingly nonchalant Paris' old world buildings nestled amongst other modern buildings could be. Contrasting this with Germany, where the old world was definitely embraced but almost overtly so. In Paris, it just seemed like it was no big deal, and this accidentally running into one old world building after another was just one of those things that made me appreciate this city even more.
I know the women love this place for the shopping and high fashion, which was clearly on display just making our walk, but that mix of old and new certainly reaffirmed to me why Paris was indeed one of the great cities of the world.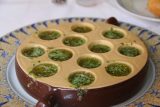 Anyways, at around 12pm sharp, we arrived at the familiar Le Souffle where once again we were seated by the window and once again we were one of the first to show up.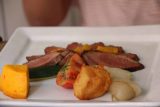 For our lunch course this time around however, we went all a la carte instead of the Le Tout Souffle menu like before. I think the memory of our lasts time here was that we had over-ordered and were really stuffed. This time, Tahia didn't get her own thing and I didn't have an appetizer souffle.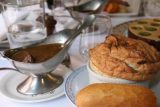 Speaking of the souffle, I had the beef bourgignon main souffle instead of the chicken and mushrooms with cheese souffle, which I think I had last time. Julie had the same duck dish and we all splurged on a dozen escargots though Tahia and I used our bread to really soak up the garlic butter that the snails were drenched in.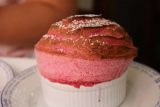 As far as dessert was concerned, Julie and Tahia shared the gluten free raspberry souffle, but I switched things up by having this souffle called Marquise, which was basically chocolate souffle using vanilla cream spiked with quite a bit of rum in it. I did this instead of doing chocolate sauce in chocolate souffle, which I felt was a bit overly chocolaty.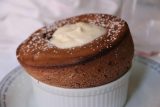 And once again by the time lunch was over, we were all satisfied and thoroughly convinced that when it came to souffle, there simply wasn't anyone that did it quite like this place. Of course, now the lunch room was buzzing with people so once again we were wise to have gotten the early start, the great service, and the quality food as always.
Just like with the first time we were here 6 years ago, it pretty much ruined all other future souffle experiences, and given all the disappointments we've had ever since that first visit, we expected no different this time around. So doing this place twice on our long trip seemed justified as far as we were concerned.
After the lunch, we then walked back in the general direction of our accommodation. We made one quick detour back at the Helmut Newcake gluten free bakery, but when we got there, the gluten free croissants were all gone. So I guess Julie may have to make do without it anymore since tomorrow we were expecting to be at Versailles and to be visiting Julie's relatives later in the day for lunch.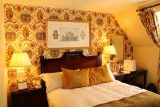 So by 1:55pm, we made it back to the room. That was where we saw that they had brought up our stuff, and the room itself was actually not bad size-wise, especially when compared with the Toyoko Inn experience in Frankfurt.
Considering how hot and sweaty we were after walking here, the AC room was quite a welcome feeling, and Julie took full advantage as she actually did a power nap before we were heading back out at 2:55pm.
The plan for the rest of the evening was to visit the Sacre Coeur as well as the Trocadero. Basically we were out to do things we didn't do the first time. Julie was also hoping to visit the Moulin Rouge.
As we made our way to the subway, we were told that there was some kind of anti-pollution promotion going on so all-day everywhere tickets were being sold at 3.8 euros per person, which was actually quite a steal considering that the cost was already covered on one round-trip fare.
So we gladly did that and promptly made use of the subways to make our way to the Trocadero. By about 3:55pm, we made it there where it was quite hot as it was exposed to the hot sun and the surface was radiating heat. Still, that didn't stop hundreds or maybe thousands of people from checking out this elevated view of the Eiffel Tower.
It appeared that they didn't let us get all the way to the railing for the fountain shot of the Tour Eiffel, which I recalled we were able to do last time we were here six years ago. So our visit wasn't very long, and we did our obligatory photos before heading back down to the temporary relief of the underground.
Next, after taking a few metro lines (including a couple of real stuffy ones), we ultimately made it to the Anvers stop where we then proceeded to walk up to the Sacre Coeur up some happening uphill shopping lane. As we were having ourselves an Amorino gelato as well as briefly checking out some kind of chocolate shop where they had giant chocolate works of Notre Dame, some kind of bull, Arc de Triomphe, etc. (I swore they used to hae one of a stilleto heel back during our first visit), we then proceeded with the hot and sweaty uphill walk to get right up to the impressive cathedral.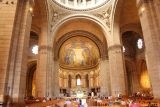 By about 5:15pm, we were finally inside the Sacre Coeur where we were all a hot and sweaty mess. It wasn't much cooler inside, and the signs said no photos were allowed but we saw that the order was pretty much ignored by lots of people so I followed suit while being discreet about it.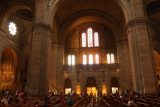 I don't think we had ever been inside the Sacre Coeur experience so it was quite an interesting treat though it lacked some of the old world bling that we had seen in other cathedrals throughout Germany. Still, this was a very busy cathedral and lots of people were filing in and out of here.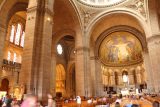 After having our fill of the Sacre Coeur at 5:35pm, we then headed back down into the heat and humidity and ultimately into the subway where we then made our way towards the L'Escargot Montorgueil. The first time Julie and I went here, it was closed for some kind of renovation. But now that it was finally open, we could clearly see that this place was packed with tourists.
Anyways, it was pretty hot inside the restaurant, and we probably went through several glasses of cold water, which the friendly waiter kept swapping out for us. And while the service was slow (because he alone was serving so many different tables), we ultimately had the traditional escargot (which was totally the bomb here), seared foie gras (which was also quite good), some frog legs (which was ok), and a steak with foie gras on it (that was ok because the steak was done a little too medium).
We topped it all off with a creme brulee.
In any case, this slow dinner was also pretty expensive at around 114 euros. But at least we could say we finally got to try out this place, and now we know how really good escargot tasted like as we never had it quite like they way these guys did it. I guess the key thing was that the garlic butter had to be very heavily garlicked and plentiful.
Finally at 8:15pm, we were done with dinner. As we were busy looking up Moulin Rouge tickets during the long dinner, Julie got the bad news that it wouldn't be available until Saturday (when we would be long gone and back home). So I guess the original cabaret show would have to wait until our next trip to France, whenever that would be.
Thus, we were in no real hurry to do anything later in the day though we did hold out hope of at least checking out the Moulin Rouge exterior during the twilight.
However, when Julie saw that there was a convenience store right across from the L'Escargot Montorgueil, we then went there and bought some creme fraiche and other things that needed refrigeration. And thus, we were forced to go back to our room, which we promptly did by 9pm. Once we felt the cool AC, Julie decided that she wanted to call it a day and not bother with going to the Moulin Rouge.
And so ended this pretty eventful day in Paris. With tomorrow being a pretty full day of visiting Versailles early in the morning and then visiting Julie's cousins (parents), we'd then see what other things we could accomplish to savor the last of our epic trip.
So far, it seemed like our time in Paris were primarily foodie runs. But I guess as they say, "the way to a woman's heart is through her stomach" and perhaps this is very true here (especially since Julie viewed Paris as quite the gluten free haven that she really struggled with throughout Germany and Austria).
Even though our trip was primarily for Germany and Austria, I got the feeling that Julie and Tahia still embraced Paris more than any other experience we've done. I guess this city has that kind of effect on the women and girls in this family…
Visitor Comments:
No users have replied to the content on this page