Day 44 (July 26, 2018 – Paris, France): "Family Ties"
It was about 5am when I awoke, where I did the typical routine of getting caught up documenting yesterday's happenings by blogging.
During the rest of the early morning, we had some self-bought cold breakfast food as well as getting all ready for a full day of activities. Among the cold stuff we had for brekkie was some creme fraiche with about 40% fat from Normandie. They were really good, and that gave Julie and I the idea to try to buy some more of the stuff for tomorrow morning when we unwind the day.
Speaking of activities, on tap for today was going to the Palais de Versailles, which we knew was the one that inspired all the Hapsburgs stuff we had been seeing (but not photographing) up to this point.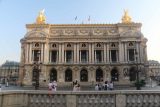 It wasn't until about 7:35am when we were finally heading out. I knew it was in our best interest to get to the Versailles Palace before they opened at 9am due to the long security lines as well as the volume of people that descend upon the site. So I was a little worried that we didn't head out of the hotel room earlier.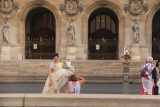 In any case, we asked some random employee working at the Opera subway station, and it was a good thing Julie took the initiative to ask because there were several train stops on the RER that weren't working due to construction and/or renovation. So he was very specific in the direction we took citing that we had to connect with the RER C line to Versailles Rives Gauche at the Javel stop.
So we executed on this plan as we ultimately got to the final train stop at 8:35am at the Versailles Rives Gauche station. Then, another ten minutes later, after walking a ways to the front face of the Versailles Palace, we ten stood in a rather short line compared to the ridiculously long unbooked ticket line, which was totally out in the open just as the sun and the associated heat was beating down on everyone in the main courtyard.
We got there at 8:45am.
So that meant that we had to wait about 15 minutes in the shorter line instead of a reported 2 hours or so on the unbooked line. In fact, that other line was already out to the front entrance gate where the initial security baggage checks and ticket verifications were taking place. But I couldn't imagine how much worse it would be for those waiting in that much longer security line without the reservations, especially out in the sun as it was already getting hot this early in the morning.
What a waste of valuable vacation time as well as an overall bad experience!
Eventually, the main door opened right at 9am, and it looked like our shorter line was the first to move as we went inside, then past some Francois Holland sign, and then past another security check (more airport-like) before getting past one last ticket scan as we finally were free to roam about the interior of the Versailles Palace.
Following the path of the tour, we quickly found ourselves moving from one building to the next. In so doing, we got some shots of the golden-trimmed exterior of the back-side of the U-shaped building which seemed to be a signature shape of the royal residences or palaces that we've seen throughout this trip. If indeed the Hapsburg buildings as well as the Bavarian royalty buildings assumed this shape based on the Versailles designs, then this made a lot of sense.
Once we were on the other side, we then went through some gallery showing the scale of the Versailles complex and other paintings and stuff along the way. Then, we went upstairs to the residences and that was when the tour of the grand rooms finally began.
By that time, it was already pretty crowded with people and as tour groups started pouring in, it only got worse. With no air conditioning in each of the rooms, it also got quite a bit stuffy as each visitor contributed their 98.7F along with water vapor from sweat and breath. Only the open windows (where available) offered some degree of relief.
Unlike the last time where Julie and I made a beeline for the famous Hall of Mirrors Room, we took a little more time trying to listen to the audio guide while also taking pictures as we went from room to room. But this was proving to be a bit too much especially when contending with the crowds so we then switched gears and did the similar strategy of taking what pictures we could (especially in the Hall of Mirrors) before backtracking and then trying to enjoy each room with the audio guide when picture taking wasn't as important.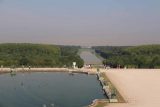 That meant going against the grain from the Hall of Mirrors to the colored rooms (antechambers and what not), but at least we could better understand what was going on.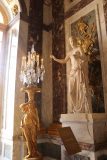 Speaking of taking pictures, that was one thing that Julie and I realized that was quite different from the German and Austrian royal experiences. Here, we were able to freely take non-flash pictures but we also had to contend with the longer queues and the crowded rooms. In the German and Austrian experiences, it was much more controlled as they either had timed entry tickets and automated turnstiles that were supervised and/or there some degree of traffic control was right at the point-of-purchase.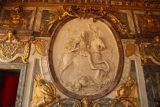 They even had security people make sure you used the cloakrooms (garderobe) to put packs away, and they had plenty of people checking for that as well as people checking for people taking pictures.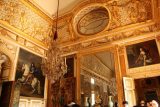 So on the one hand we could pay more attention to the audio guides while also not dealing with as much craziness, on the other hand, we couldn't take pictures and thus take memories of our visit. I'm not sure which I'd rather prefer, but at least being able to appreciate our memories of the experience still made me prefer the Versailles experience better although I'm sure the French could take a hint from what the German's and Austrian's did with their royal museum experienes.
Anyways, after the Hall of Mirrors, apparently they closed off the Peace Room and the subsequent rooms thereafter in that direction due to renovations. In fact, after the Hall of Mirrors, we then went past some more renovation jobs before getting to the Gallery of Battles which had a very grand hallway and reminded me very much of the Louvres experience.
However, in this case, all the paintings depicted battles concerning the French royalty and they were typically victories. In these paintings, there was definitely blood and dead bodies, and there was no such Romanticism seen in the Ludwig Castles as well as other painted scenes seen in the German-speaking countries.
Eventually after getting through more rooms and hallways, we then were about to conclude our visit before Julie realized that we somehow missed the Women's apartments. And it turned out that we had to backtrack, then go outside (not to the gardens though), and then go into the far end of the U-shaped layout of the buildings.
We did this at 10:40am, so while we gave ourselves an 11am deadline to get moving back to the train and head over to Chinatown to meet Julie's relatives that we had planned to meet for lunch today (at around 12pm noon), this part of our visit became a bit rushed when I realized that the audio guide did go into great detail on each room but for the last few rooms of the tour, I couldn't finish what they were saying. This was especially the case considering how hot and crowded each room became just like with the rest of the tour.
So by about 11am, we were done with the chateau visit but we totally didn't bother going to the back of the chateau to re-experience the gardens once again. But seeing how extensive they were and also seeing that there was a separate part of the palace to visit (concerning the Trianon buildings in the far northeast of the complex), we knew we had no time and we were already probably running late.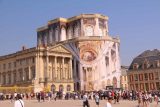 By about 11:25am, we finally made it back to the Versailles Rives Gauche train stop. Along the way, we noted that the security line had gotten even bigger than when we started. Plus, there were ambulances on the long side of the line to perhaps help people struggling with the heat and dehydration. Indeed, the conditions were no joke.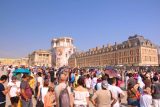 However, when we got past the turnstiles with our anti-pollution ticket (what a great value!), we saw that we had just missed the train that would have taken us back from quai 3. So now we had another 15 minute wait to get to where we needed to go for lunch, and that certainly didn't help our cause in terms of meeting Julie's relatives for lunch at 12.
By about 11:40am, we finally took off with the next train, and then we pretty much tried to plot out how we were going to cut across to the southeast part of Paris where the Chinatown was. Ultimately, we were supposed to meet at the Port de Choisy stop, which was actually directly accessed from the Tram 3a line that started at Pont de Garigliano and actually went all the way to Port de Choisy directly. However, we had never really taken the trams before in Paris, and given the RER closures we weren't quite sure if our plan would work.
However, we'd eventually find our way to the Tram 3a line at 12:05pm, and then we had many stops before finally arriving at the Port de Choisy stop. Even though the tram at first had some AC, as more and more people got on as we got deeper into the city, the hotter it got. Before we knew it, we were sweating bullets once again.
Finally at 12:30pm, we made it to the Port de Choisy stop, and then we walked towards the McDonalds that was the meeting place. After Julie called them as we got there and didn't find anyone, they then found us as they were chilling out at the Galerie across the street. At that point, we spent some time waiting as there were more relatives that were apparently on their way to seeing us.
And from that point on, we spent nearly the next 2.5-3 hours having chats over Vietnamese food at some pho place. Even though one of the relatives said that this place was known for the pho (as they made the flavor differently than most pho places), Julie contended that it was way too hot to have pho so we ended up with vermicelli dishes along with eggrolls and spring rolls as well as a papaya salad. Everyone pretty much got their own thing and we didn't do it family style.
Eventually, we'd get back to taking the metro bound for the Opera stop at 3:20pm. This was after convincing one of Julie's cousins (who was a taxi driver) that we were better off taking the metro since there was a direct line that went from Port de Choisy all the way to Opera. He was the one person that we shouldn't mention the word "Uber" to though we knew that when it came to going back to the airport tomorrow, we'd have to do it as Julie didn't want to trouble him, especially if he was going to do it at no cost to us.
So back in the metro, we had to contend with a pretty busy line in one of the old school trains that didn't have air conditioning. So it was quite hot and stuffy and Tahia, especially, had to fight off sleep as we were getting closer to the Opera stop.
By about 4pm, we finally got to the back entrance to the Opera (for visits and not for some other entrance for performances or something that required more expensive tickets), and we were relieved to feel that there was actually air conditioning as we were getting past the bag and ticket checks! Nice!
However, once we got into the historical parts of the complex, it was back to the Versailles experience somewhat. Although it wasn't quite as crowded as the Versailles experience, there were still lots of people taking pictures and there were also quite a few tour groups (especially Chinese ones).
Still, it turned out to be quite the grand experience as there were high-ceilinged rooms with elegant marble steps and huge columns as well as paintings on the ceiling with blinged out chandeliers. Indeed, it was like another Versailles but in the middle of the city right next door to the Intercontinental Le Grande Hotel that we were staying at. And now Julie and I could see why some rooms costed upwards of 600 euros per night if they were facing the Opera.
There was even a Hall of Mirrors-like hallway with hanging chandeliers and very grand statues and paintings on the ceilings and the walls. Julie was telling me that she believed this place inspired or had a lot to do with the Phantom of the Opera (which might explain why some people bought and wore masks), and it was also the same place they held ballets such that it was the setting for one of Tahia's movies concerning someone who followed her dreams to perform at the ballet here (I believe it was called "Leap" or something like that).
We also checked out the grand audience room with the balconies each with velvet seating. And we started to make the association that all those luxury and suite seatings in the sporting arenas that we were familiar with had gotten their ideas from this place! Not only that, but such grandeur of this place definitely made the Munich theater or performance center look like nothing more than a souped up movie theater by comparison.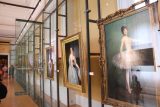 They definitely don't make opera houses like this anymore!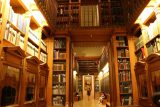 Once we had our fill of the main hallways and rooms, we then checked out the balcony overlooking a very busy roundabout as well as several rooms and galleries in the mezzanine floors, including a library that reminded us of the ones we saw in Austria (though the one at the Opera was a bit humbler albeit still elegant and Old World by comparison).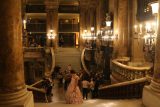 Finally at 5:15pm, we were done with our visit and returned to our room to at least get some relief with the air conditioning. That gave us some time to hydrate, check into to our international flight to home tomorrow, and do a little more research on what we were going to do for the rest of the evening.
By 6pm, we were heading out once again into the heat and humidity that was reminiscent of say New York City in the Summer.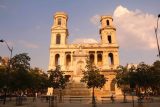 We ultimately headed towards the St Sulpice stop where we were on an errand to pick up macarons at Pierre Herme for both ourselves as well as a good friend who asked that we pick some stuff up for her to bring home.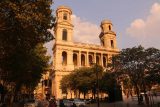 It took some time to figure out the metro system to get there in the first place, especially when we had to walk towards the store (though we stumbled upon the impressive church of St Sulpice along the way), but then it wouldn't be until about 6:55pm when we finally accomplished our mission though there was quite a bit of communication issues between Julie and one of the ladies helping us out.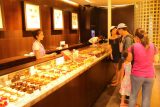 So once that was done, we then headed back to the metro and then got off at the Mabillon stop to return to this place called the Little Breizh Cafe, which was a cute little spot that Julie and I visited back on our first visit to Paris together in 2012.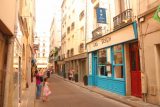 However, when we finally got there at 7:15pm, it turned out that this place didn't have air conditioning, and for the next hour or so, we'd spend it sweating beads.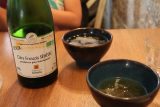 Still, they were generous with giving us cool tap water (geeze it was nice to not get nickel-and-dimed and charged for tap water), and we also indulged in some Brittany Apple Cider (I think we had the sweeter Sehedic Cidre or something like that), which was alcohol fermented from apples – a specialty of Northern France, especially Brittany and Normandie.
And then we had ourselves more traditional galettes of L'Oree du Bois (mushrooms, cheese, bacon bits, and sunny-side-up egg), Super Complet (like a Croque Monsieur of ham-and-cheese with sunny-side-up egg), and a Sardine Galette. Those were the savory ones we got, but then we followed that up with a sweet crepe using gluten free galette of nutella with chantilly and cooked banana complemented with a scoop of tasty vanilla ice cream.
By the end of the meal at 8:15pm, we were done with our last indulgence. However, as we were really fatigued by the heat and humidity (especially in Tahia's case as she was ready to sleep), we ultimately decided to head back to the hotel room to end the day instead of trying to squeeze in one last twilight touring of the Notre Dame and Seine River. That just wasn't in the cards given the conditions.
So eventually at 9:05pm, we were back at the hotel room and its air-conditioned confines once again after making a stop at a Monoprix along the way between the Madeleine stop and the Intercontinental Le Grande Hotel. And so after giving our 70+ euros worth of macarons to the reception to store in the refrigerator, we then made it back to our room to call it a night – our last night on this epic trip through the heart of Europe.
We had quite a bit of stuff to do for tomorrow before getting to the airport (like finishing up with the packing, eating a quick cold breakfast, etc.), but for sure, we better not forget about those Pierre Herme macarons on the way out!
Visitor Comments:
No users have replied to the content on this page