Day 34 (July 16, 2018 – Val Gardena, Italy): "The Makeup"
It was about 12:30pm when we starting driving out of the car park for the Umbalfalle.
The drive out of the Umbal Valley involved going through some stretches of rain (mostly the thick droplets of water that we came to know when a T-storm finally started dropping its load). We'd eventually pass through some of the cells and into the partial sunlight as we entered the now-busy city of Lienz. However, instead of going deeper into the stau (stopped traffic), we turned at the roundabout and continued towards the signs for Bozen and Sillian in the direction of Italy.
That drive involved quite a bit of following caravans of slow trucks. In passing one of the trucks, I had to abort a passing attempt when a car was heading back in the other direction and I really had to put on the brakes to avoid rear-ending the slow truck. But aside from that heart-stopping moment, the drive went frustratingly along as we'd have to follow another really slow truck that caused a long line of cars and pretty much make what should have been a fairly smooth drive along the B100 (becoming the SS49 in Italia) into a frustratingly sluggish one.
That said, we already started seeing some of the dramatic Dolomite Mountains that somehow Julie and I didn't really get to see on our first trip to Italy back in 2013. Even though we had been spending several nights in Bolzano, we only visited Barbiano and Campo Tures, and the Dolomite Mountains didn't seem as pronounced over there. So that was the main reason why I wanted us to return to Northern Italy on this trip so we could at least try to get into the heart of the Dolomites. And it looked like that decision to come by and spend some time here going this way was already paying off.
Another thing I noticed was that the price of diesel in Italy was dramatically more than what we were paying in Austria! For example, I was routinely seeing prices of 1.71 Euros for a liter of diesel in Italia while we paid as little as 1.17 Euros in Austria. I even paid 1.39 euros in one gas stop in Germany on the way to Lindau and thought I was getting ripped off. So I made up my mind that I was going to hold out on filling up on diesel before returning to Austria and filling up cheaply once again. I sure hoped that I'd have enough in the tank to pull that off as I still had over 600km to go before it'd go empty according to the gauges.
Still, the traffic (there were definitely lots of cars going both directions here), the random police stops (luckily we weren't stopped), and the somewhat frustrating drive due to the truck before us, with limited time and places to pull out conveniently to try take in the views ensured that this part of our drive would only exist in memory and not so much in pictures.
Even when we got off the SS49 as that slow truck appeared to be headed further beyond Brunico and towards Bolzano or at least the Autostrada that I knew was there, we then took an even twistier and narrower road going south along the SS224. Things were moving somewhat fine until we encountered yet another truck that was going slow and with the blind curves and narrow roads, it was getting even harder to pass this guy even though there wasn't as much traffic going the other way (though there was still enough to make me jittery about taking chances).
Ultimately, we'd then turn off and drive the SS243 Road, which was even more steep and twistier as we were entering the town of Colfosco. This particular town seemed to be well-situated as it was surrounded by the bare Dolomite peaks and we even saw an attractive plunging waterfall nestled in one of the crevaces of the Dolomite finger-like peaks.
At first, the GPS threw me off making me think that we had to keep driving, but when I stopped at a pullout and re-routed, then I saw that the waterfall we saw was indeed the Cascate del Pisciadu, which was one of the waterfalls I had targeted on the way to Val Gardena, where we were spending the next couple of nights.
In backtracking towards where I thought might be a suitable trailhead (there was an adventure park so I knew Tahia could keep herself occupied while I'd do the hike), we stopped at a couple of pullouts at around 3:20pm, where we could look across the valley and right at the Cascate del Pisciadu. Although it was somewhat against the sun, the atmosphere of clanging cow bells from cows grazing further upslope of us and soaking in the scenery before us of the Dolomite Mountains with the cascate before us definitely made the place already seem atmospheric.
So this was what Julie and I had been missing from our first visit to Italia!
Continuing on, we drove back through the town of Colfosco, and then finally parked at the large parking area at 3:40pm (paying a euro for an hour as we thought it would only take that long), where I did the hike solo to the Cascate del Pisciadu (not sure if this was the correct trailhead or not), while Julie and Tahia could have fun at the Adventure Park.
I think Tahia was really determined to do all the obstacle courses, but there were height restrictions starting at 110cm and above, and we weren't sure if Tahia could qualify for some of the harder ones as she wanted to do them all.
So I geared up, and proceeded to go on the hike, where a sign said it was only 5 minutes to something relating to the waterfall. Well, it turned out that that 5 minutes only took me to the trail that led to the waterfall, which was another whopping 50 minutes away! I guess we were going to stay here longer than we thought.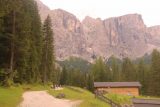 In any case, I kept going while at the same time trying to soak in the beautiful Dolomite scenery surrounding the town of Colfosco. The forested path would briefly reveal the scenery as it kept gradually going uphill while being surrounded by trees. There were lots of people on the trail, and I was back to that confusion where I wasn't sure how to greet other people (with "Buongiorno" or "Gruewss Gott"). So I found myself just saying "Hallo" to be safe (it was only if I managed to overhear conversations in the languages that I was familiar with before I knew how to greet them, but that didn't happen often).
Anyways, the Dolomite peaks that contained the Cascate del Pisciadu continued to loom large over me as the trail pretty much passed right along the base of the cliffs. There were a couple more sections of cascades that were spilling towards the trail, which were bridged at those sections. But I knew that they weren't the Tre Cascate (as some of the signs seemed to suggest).
Finally at around 4:40pm, I'd make it to a small clearing where there was a trail junction as well as a small WC. The joining trail apparently was only 20 minutes walk to some car park so I guess the path that I took wasn't the closest one for this hike. Regardless, I knew that Julie and Tahia were occupied with the adventure park so I knew the right decision was made to start a little farther away given the circumstances.
Anyways, there were also views of the Dolomite Peaks in the direction of Colfosco so there was definitely a bit to hold me here.
But it was also where I could look right up at some of the tiers of the Cascate del Pisciadu. A sign suggested that it was still 5 minutes more to get up to the falls, and I went ahead and did that.
However, after briefly going up the steep rocky track, I got to a bridge that said the trail was closed. I wasn't sure why it was the case as the bridge appeared to be in good shape, but I presumed that it must have something to do with the rockfall danger since we were pretty much right at the base of the Dolomite cliffs.
Yet, there was no view of the cascades from this spot so after following a trail of use, I saw that the next step would be to cross the creek. While other people got their shoes wet to make the crossing, I went back down to the bridge, then crossed the bridge behind the barricade and then made my way up to the end.
At this vantage point, the waterfall was spraying some mist on me, but in looking downhill, I got sweeping panoramas of the Dolomite Mountains backing Colfosco as well as some nasty-looking thunder cells in the distance looing darm and brooding over other Dolomite peaks in the distance.
After documenting the falls and having my fill of this spot, I then went back down at around 5pm and resumed the hike back to the car park, where I'm sure they were waiting longer than the hour we paid for.
Eventually by about 5:35pm, I was back at the car. Meanwhile, Tahia went on the pink obstacle course some 5 times though Julie didn't know that each time Tahia went on it, it costed additional euros so she wound up spending about 19 euros for the experience. Since the pink course was one that Tahia could do herself, at least Julie didn't have to accompany her and pay extra for herself.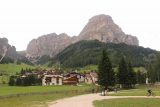 Regardless, it was now getting late and we still had to make our way to Val Gardena.
The road remained narrow and twisty. There were a couple of traffic light sections where we had to wait for one-way traffic to pass.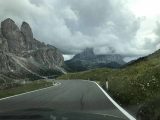 There were also more brooding dark clouds and even a few flashes of lighting in the distance as we were making our way to Val Gardena. So even though the weather seemed to hold up in Colfosco, in Val Gardena, the T-storm predictions were most likely to have occurred.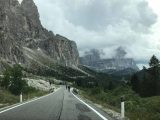 Still, even though it was a mere 8km to get from Colfosco to Val Gardena, it still took us around 45 minutes before we'd finally arrive at the Residence Antares in the heart of Val Gardena at around 6:20pm.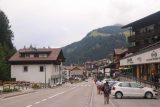 Unfortunately, the parking situation at the accommodation was such that we had to park parallel in a narrow lane following the lead of some SUV. I was worried that our car would get clipped, but it seemed like we had no choice.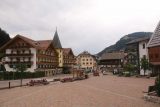 Regardless, we checked in, unpacked in the really cramped hotel studio room turned apartment, and then ran some errands like grocery shopping at the Spar nearby before finally having dinner at this place called the Restaurant Boutique Nives or something like that at around 7:30pm. Julie picked this place because they served up gluten free fare, and it was apparently Michelin rated.
The service was very slow at this restaurant because apparently there was a party of 40 people upstairs. So our dining experience turned out to be over 2 hours long.
Still, we enjoyed the appetizer of cep dumplings as well as a local deer sirloin. However, the South Tyrolean pork ribs were nothing more than BBQ ribs and Julie was disappointed with that.
The dessert was an interesting chocolate variation that included ice cream in the middle surrounded by three different varieties of chocolate. Everyone loved that dessert, and the thing was that the entire meal was gluten free (though still heavy in sugar, I'm sure).
When we were finally done with dinner at around 9:35pm, all of the sudden the town of Val Gardena went from being dead to happening. It appeared that they closed off the main drag through town, and that lots of families were out and about checking out the exhibits and stands in town. We weren't sure if we had to pay to do those so we just kept checking out the scene though not partaking in any activities. I guess we just got too conditioned to being nickel-and-dimed, and we weren't into spending more than we had to on this trip.
After an unexpected stop at the Cafe Mozart, where we got yet another course of dessert of a gluten free cake (more like a brownie), a couple scoops of gelato (of vanilla and black forest flavors), and some kind of fruit tart that Tahia was eye-ing, we'd finally be back at the apartment at 10:05pm, where we could finally get settled in our cramped room, get cleaned up, and then finally call it a night…
Visitor Comments:
No users have replied to the content on this page