Day 35 (July 17, 2018 – Val Gardena, Italy): "Dolo-Dynamites"
It was about 5am when I awoke. Like with most of the trip, this was about the time I was always getting up, but I wasn't expecting Julie to be getting up anytime soon because I was going to spend the next couple of hours going to a waterfall on my own so the ladies could sleep in.
After getting caught up on the blogging, I then went into the car at 6:30am. Being unhappy with the parking situation at the Residence Hotel Antares (as it seemed like all guests were left fighting for what little parking space was available while there was a seemingly empty garage downstairs that we weren't sure how you could access it), I was surprised that still no one vacated their parking spots.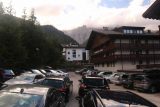 In fact, there were even more cars that showed up and people had to use their imaginations to carve out a parking spot without worrying about getting clipped by some other driver perhaps not as careful or as skilled at navigating through such tight spaces.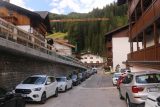 And of course, I was at least relieved that I didn't see damage so far on our car, which was probably in the most precarious situation in a driving lane where any car passing through had to be careful about not clipping our tires or our mirror that was folded in already.
Anyways, the drive out of Val di Gardena was uneventful and mostly filled with speedy motorists who were local and well more familiar with these tight curvy roads than I could ever be. So I found myself tailed pretty easily in my short drive, but at least they had somewhere to go that was in shorter distance than me so they'd be out of my rear view after a minute or two.
After passing through a couple of tunnels and entering the neighboring town of Santa Cristina, I then followed the signs for Mt Pana before parking at a free 90-minute space near the chairlifts leading towards the summit of Mt Pana (of course it wasn't operational at this time of the morning). I got there at 6:50am, which was much sooner than I anticipated considering how long of a drive it was from Colfosco to Val di Gardena yesterday even though the maps suggested that I only went a little over 8km yet it took me nearly an hour thanks to the one-way traffic lights, the tight curves, and the narrowness of the roads.
Anyways, I quickly got geared up not sure how long of a hike I should be expecting, and then I proceeded to walk along the road past the chairlift and up the steep and narrow road before reaching the first switchback. Along this walk, I was following signs saying "Cascate Pisciadoi" or something like that, and at first, it made me wonder if it was talking about the falls I saw yesterday in Colfosco, which was called Cascate del Pisciadu. But perhaps the word "Pisciadu or Pisciadoi" or whatever I thought I saw might have been Ladin for waterfall? Who knows?
As I left the road at the first switchback, I then continued up what seemed to be someone's driveway. At the top of the driveway, there was an accommodation. There was also a narrower trail switching back to go further uphill towards Mt Pana. However, I was more interested in the waterfall and so I noticed that there were signs beyond the accommodation's archway so I went there.
Once I saw the signs, it still pointed the way to another trail that left behind the accommodation and followed some fences. So I did that, then after rounding a bend, I saw the tall and impressive Cascata di Tervala. Actually, I'm not sure if this was the formal name of the waterfall since I didn't see any signage suggesting that was its name, but since it was practically adjacent to the accommodation of the same name, I presume that was how it got its name (whether formally or informally).
So I took some time taking pictures and videos of it as I had it all to myself. With the partly cloudy skies, I was also able to look in the other direction towards the main road and tunnel entrance below as well as parts of the town of the quiet St Cristina. In the distance, I could see the silhouettes of more amazing Dolomite Massifs against the morning sun that hadn't yet penetrated those clouds.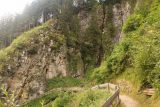 It was quite the reward for such a short hike, and it certainly made this waterfalling attraction quite worthwhile. However, even as I was soaking in the moment, I noticed that the trajectory of the stream still went over another drop, which suggested that it was supposed to be visible as I would drive the main strada statale into the tunnel going in the other direction. It also made me realize that perhaps I should walk past my parking spot and towards a more direct view of the falls to see what it might look like with that lower tier in the context of the road tunnel.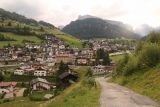 As I was also basking in the falls and documenting the experience, there was one lady who was making her way down from higher up on the trail and eventually made it to the same bridge fronting the waterfall that I was standing on. Strangely, she got to the bridge, then turned around and went uphill without saying a word. Strange.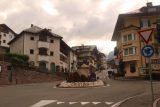 Regardless, once I had my fill of this spot, I then went back down towards the 90-minute car park spots (I wondered how tight this parking would be later in the day), and then continued walking past the roundabout and going up the sloping Strada Paul. As I got higher, I could see the cloud-capped Mt Pana (where that cable car or chairlift was supposed to go), and I was able to capture in unison Mt Pana, Cascata di Tervala, and the road tunnel.
There was some private accommodation or residence driveway where perhaps the most complete view was but I treaded lightly and didn't linger for too long on their property. I just stayed by the nearly non-existent shoulder of the narrow road trying not to get clipped by passing motorists.
Then, as I was looking at the town maps, I saw that there was supposed to be a second cascata somewhere around that Strada Paul. So I decided that perhaps I should get back into the car and go look for it. And I started doing that at around 7:35am.
But after parking the car in a couple of spots along the Strada Paul and fruitlessly finding where the waterfall was supposed to be according to that map, I eventually gave up on this search just as the loud church bells were clanging at 8am in the morning.
At 8:10am, I was back at the Residence Hotel Antares, where only one car vacated their spot all this time! Luckily for me, it happened to be a better spot deeper in the limited space car park where some six cars carved out parking spaces in the middle of a cul-de-sac space. The person who had vacated parked in the middle of the three columns so that made my job easier.
Then, I got back into the apartment to rejoin Julie and Tahia who were having breakfast.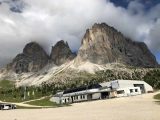 It wouldn't be until about 9:20am when we finally left the Residence Antares to start the day of touring the Dolomites. I was worried about our late start because there were definitely a lot of cars on the road now. And the places of stau (stopped traffic) primarily at the one-way traffic lights further added to the delays. There was also a big traffic jam at the car park for the Passo Sella, which was where there were three big Dolomite Massifs together (might be called the Sasso Lungo Group) that totally reminded me of Torres del Paine in Chilean Patagonia.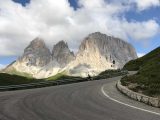 In fact, that association was made me think of the Dolomites as the European Patagonia, except it was way more developed and less wild than its South American counterpart. Anyways, while people were fighting to get parking at 5 euros for the day at the Passo Sella, we kept driving towards Sass Pordoi, which was the recommended spot during my research.
Unfortunately, we were also headed into cloudier spots so I was concerned that the view would be impacted just like it was at the Grossglockner High Alpine Road in the morning. Still, we made the commitment, continued driving more winding and narrow roads, went past another one-way traffic light, and even was stopped so a chopper could swoop by and pick up some building material before hauling it away (I guess it was cheaper to chopper things in and out than to try to haul building materials on these difficult roads).
Eventually at 10:10am, we were finally at the car park for Sass Pordoi, where there were plenty of spots in the lower lot. It was quite chilly out here, which contrasted mightily with the relatively warm and somewhat muggy weather we had been dealing with throughout this trip up to this point. So we dressed in thicker clothes knowing that it was probably going to be even colder up at the Sass Pordoi plateau.
Speaking of which, we could see the cable car going nearly straight vertically up from one station to the next. Unlike the Zugspitze, there were no intermediate pylons to keep the cables taught. Instead, it was all station to station and that cable seemed to sag quite a bit on its harrowing ascent and descent.
After paying nearly 60 euros for our round trip ticket (there was no way we were going to hike this back down), we then got into the seilbahn where there was no line and people crowded into the gondola. It was hard to take pictures under these conditions as the cable car made its ascent, where I noticed there was a thin cascade spilling near a steep trail that some people were willing to hike up.
Once we made it to the top, as expected, it was quite cold. In fact, someone said in Italian that it was "cinque grados" or something to that effect (i.e. 5 degrees C). So even as I was taking pictures as we walked generally towards the east, my hands were getting numb.
For some reason, we spent a bit too much time on the plateau side, which was pretty much nothing but barren rocks with a few giant cairns that people spent time posing next to. There were also supposed to be views looking back towards the Sasso Lungo Group except there was a cloud patch that kept making us feel like the views had a ceiling thereby blocking the full view of it from our heights.
Looking further to the east, there were even more clouds as well as more trails and some chopper activity as it seemed some kind of building or construction of what not was occurring in that direction. Since there was not much to see in this direction, we didn't linger here for much longer and we had it in our minds that perhaps we should head back down soon. But we wouldn't do this until we at least got our money's worth checking out the western side of the plateau where the views might be better.
Sure enough when we did get to the other side, we asked ourselves why we bothered spending as much time as we did on the rockier eastern side. And so we spent even more time checking out the commanding views back down towards the cable car station we had parked at as well as some towns in the distance providing the necessary subject to give the Dolomite Mountains surrounding them that sense of perspective.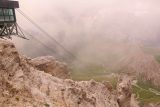 And while the views of the Sasso Lungo Group remained cloud covered from this plateau, at least I noticed that there was a giant cross fronted by some kind of pit or dropoff that was fronting it. That made me curious about seeing what it was and when I finally went down there, I saw that there was actually a natural arch!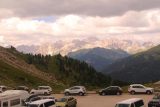 Once I had my fill of this spot, I rejoined Julie and Tahia back at the cable car station as we were all cold, out-of-breath from the high altitude, and ready to move on after finally having our fill of the Sass Pordoi. Compared to the Eagle's Nest and Zugspitze, Julie thought that the views here didn't compare to what she got to experience at Hallstatt when they did the Salt Mine Tour and got commanding views from the top up there.
Still, we did it, and got to experience what I thought was the heart of the Dolomites. Now, we were planning on returning towards Val di Gardena before continuing on towards the town of Castelrotto, which was a Rick Steves mention in both his books and his videos.
So we eventually returned to the car at 11:40am, where the car park was now full (so I guess we wound up beating the rush). Then, we drove back through the twisty and narrow roads all the way back towards Passo Sella, where Julie thought that might have been the better Dolomite experience based on the internet pictures she was seeing from the mobile with the Orange Holiday plan sim card.
So we briefly stopped at one of the rare pullouts as we approached the Passo Sella village, and got our fill of the impressive Patagonia-like Sasso Lungo Group in all its glory. I'm sure we probably could have pulled over in one of the higher vantage points but they were taken by other motorists, and the largest pullout of the all was closed for some reason.
Finally at 12:35pm, we were back at the Val di Gardena, where I was a little more relieved that perhaps the most difficult driving in the Dolomites was over (too many close calls with such tight roads and large cars making wide turns or taking up too much of the road when passing by each other).
Julie took a few minutes to ask the info center about gluten free options, but apparently, the TI was closed so she asked the hotel about any gluten free pizza places but I wondered if they might misunderstand her as gluten free pizzas was a bit of a novelty and only available in big cities where competition would be tight and more of these novelties would be a thing in such cities.
So onwards we drove towards Castelrotto, and eventually we'd find some free 60-minute parking at the Spar near the center of the seemingly quiet town where it didn't seem at all obvious that there was a central parking area for tourists.
We got there at 1:10pm, put on the blue clock on the dash to let any authorities know when we arrived at the car park and show them that we were within the hour limit, and then walked towards some place in town for a lunch. Julie was still determined to find something gluten free, but we'd eventually be directed to this Hotel zum Turm Restaurant.
The meal was actually pretty delicious as we wound up getting spinach ravioli drenched in olive oil, while Julie had a gluten-free roast pork dish, and I had some kind of venison sirloin steak, which never seemed to disappoint in these parts.
Of course, they didn't serve tap water so we had to buy a 1L bottle at about 4 euros, which was a crazy 10x markup, but that was pretty customary as it seemed that the nickel-and-dime nature of Europe as a whole had to ensure that they were making money off your visit one way or another. And that might explain why it was common to see Europeans just stopping by to have a drink and then leaving without eating anything.
Regardless, after paying our 65 euro lunch, we then headed up to the "post card view" of Castelrotto backed by Dolomites (after I went back to the Spar to change the blue clock again so we'd buy ourselves another hour).
We walked up the sloping narrow path past the Hotel zum Turm then continue our way up towards some kind of chapel area at the top of a hill. Along the way, we saw that the best views were in front of a trio of statues of people on crucifixes with Jesus in the middle. Looking back at Castelrotto from this vantage point, we could see the familiar view of the church tower rising high over the town backed by the shadowy peaks of the Dolomites in the background.
Clearly, this view would have been nicer in the late afternoon when the sun would cast a softer glow instead of shadows, on the Dolomites, but we weren't going to linger here longer than we needed to. So after having our fill, we then returned back down to the Spar to do some last-minute groceries, and then we finally were back in the car at 3pm.
Our impression of Castelrotto was that it was indeed not touristy as there were no tour buses, it was quiet, and while there were visitors, there weren't many of them. So it was actually quite a relaxing experience compared to the more touristy and crowded experiences at all the other places we checked out like Colfosco, Val di Gardena, and even Passo Sella, and Sass Pordoi.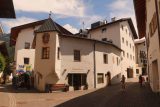 Anyways, the drive back to Val di Gardena was pretty uneventful, and we ultimately made it back to our accommodation at 3:35pm, where we finally scored a pretty decent parking spot that didn't require imagination to carve out our own space for.
From there, we killed the next couple of hours doing laundry while letting Tahia have her fill in the swimming pool area, which was quite busy with kiddies and adults sharing the rectangular pull fringed by an artificial waterfall and some artificial rock walls. I sat there keeping an eye on Tahia who kept to herself in a corner of the pool that appeared to be most shallow.
Meanwhile, Julie did load the drier while also getting an extra towel from the reception so Tahia could dry off after she was done.
It wasn't until about 6pm when we headed out for dinner as Julie decided that while in Italy, we should enjoy some semblance of Italian cuisine one last time before re-entering Austria tomorrow.
At first, we made a walk towards her first choice of a pizzeria in town as apparently they were supposed to have some gluten free options. The walk up there included some decent views of the adjacent Dolomites as we were exploring parts of town we hadn't really explored in our time here until now.
Unfortunately, when we rocked up to the desired pizzeria, it was closed as apparently lots of places were closed on Tuesdays.
So we went back towards a place closer to our accommodation, where they could make a couple of dishes gluten free, but the pizzas were in no way gluten free. So Tahia got her own wheel of margherita pizza while I tried one with arugula and prosciutto toppings.
In the end, it was a lot of food, but it was a bit more reasonably priced than what we had paid for lunch. And so when we got back to our apartment at 7:30pm, we saw that the town was once again dead, and that we closed down the day pretty uneventfully as we had a relatively easy day for a change that was relatively light on activities, and did enough laundry to last us the remainder of this trip.
We were counting down the days to the end of this epic trip, where on the one hand, we were looking forward to some semblance of normalcy (and less nickel-and-diming bleeding money on this trip) though at the same time, I wasn't looking forward to the rat race and the monotony of that kind of existence.
I guess the reality of this world is that you can never have it all. Like in all things in life, you have to take the good with the bad, and stay in the moment. And that's the mentality going forward as we try to savor the rest of this trip while not exceeding our credit line which was actually getting up there given how expensive this trip was turning out to be (not to mention the backlog of work ahead of me when I get home)…
Visitor Comments:
No users have replied to the content on this page